description

Stefano's RomeCabs is pleased to offer long distance non-stop private transfers between Italy's major cities.

This private Rome - Saturnia transfer service is offered with the following pick up and drop off options:
- Transfer from Rome to Saturnia / Terme di Saturnia
- Transfer from Saturnia / Terme di Saturnia to Rome
Rome - Saturnia Transfer Prices


For up to 2 Persons: 260 EUROS
For up to 4 Persons: 280 EUROS
For up to 6 Persons: 300 EUROS
For up to 8 Persons: 350 EUROS
* Listed Prices are for Daytime Driver Services Booked and Provided between 7:00 AM - 7:00 PM.
Night Time services 7 PM - 7 PM are EXTRA. Please send us an email for Night Time Rates
** DATES on the Booking Form Calendar that are NOT Selectable, are NOT AVAILABLE.
** Please include your full DROP OFF ADDRESS in the Special Request Box of your Booking Form

Enjoy a comfortable and relaxing travel experience in your private deluxe vehicle driven by your English speaking Personal Driver from Rome to Saturnia (Terme di Saturnia), or from Saturnia to Rome.
Traveling through Italy safely and effortlessly has never been easier with our convenient Pick Up and Drop Off at your hotel accommodation or Rome's airports.
When booking our Rome - Saturnia transfer service you will relish not having to depend on limited train or bus schedules and routes, find your way through crowded and often chaotic train stations, figure out how to reach your hotel accommodation, or deal with the difficulties of carrying heavy luggage. With our Private Transfer Service you will arrive at your final destination relaxed and ready to continue your holiday in Italy.
Our Long Distance Private Transfers are an ideal option for families with children, seniors, travelers with mobility issues, or discerning travelers who look forward to traveling through Italy comfortably, safely, and effortlessly.
During our Rome to or from Saturnia transfer, your luggage will travel secured inside the vehicle's luggage compartment for a worry-free journey.

FIUMICINO AIRPORT - SATURNIA TRANSFERS
Upon request, we also offer the following airport transfers to and from Saturnia:
Fiumicino (or Ciampino) Airport to Saturnia / Terme di Saturnia
Fiumicino Airport ( or Ciampino Airport) to Saturnia / Terme di Saturnia
For Fiumicino / Ciampino Airport to Saturnia Transfer, please send us an email with the information below:
Flight Arrival Date and Time
Arrival Airport Name
Number of Persons in your party
Your Drop Off Location in Saturnia
For Saturnia to Fiumicino / Ciampino Airport Transfer, please send us an email with the information below:
Flight Departure Date and Time
The Number of Persons in your party
Your Pick Up Location in Saturnia
Our Reservation Specialist will be happy to assist you with information, price quotes, and reserving your preferred transfer service.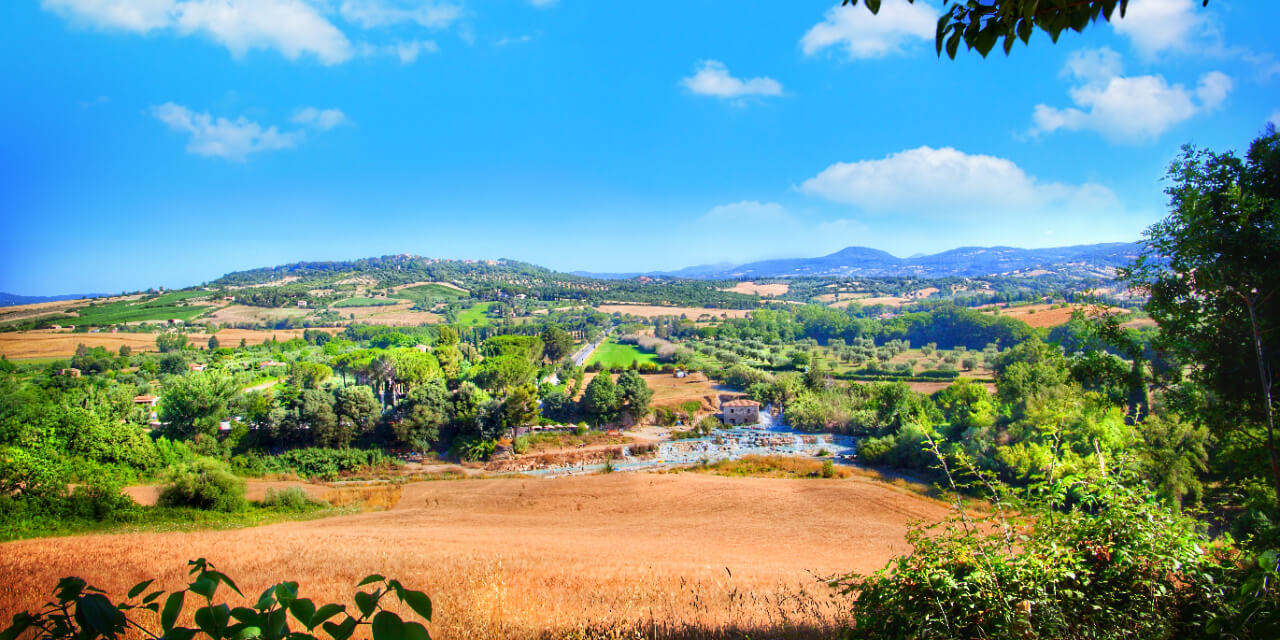 CUSTOMIZABLE DRIVER SERVICES AND TOURS FROM SATURNIA
Long Distance transfers between Saturnia and other cities in central Italy
Personal Driver Services from Saturnia
Private Day Tours from Saturnia
- Private Driver Services from Saturnia / Terme di Saturnia Resort -

Upon request, we are pleased to offer private Driver Service from Saturnia / Terme di Saturnia Resort.
If you wish to shop, visit towns in the vicinity, enjoy wine tastings or an evening out, you can rely on us to provide you with private driver services from your hotel or resort in Saturnia.
Your English speaking Private Driver will be at your service to offer guidance and assistance throughout our service.
Contact us via email for more information and customized price quotes for your unique driver service needs.
- Private Tours from Saturnia Resort -

Stefano's RomeCabs is one of Rome's leading touring company for more than 17 years providing quality private Tours in Italy with English speaking Drivers.
On our private day tours from Saturnia you can enjoy the picture-perfect Tuscany and its captivating medieval villages, explore the epochal wonders of Rome, discover the charms of unspoiled Umbria, and visit the enthralling Roman Countryside from Terme di Saturnia Resort or any other accommodation in Saturnia.
All our tours and driver services are private and customizable to your preferences.
We offer private deluxe air conditioned vehicles with English speaking Drivers for your comfort, enjoyment, and safety on our tours from Saturnia.
Simply send us an email with the details of your tour request, and our Tour Specialists will be happy to assist with planning your Private Tours from Saturnia.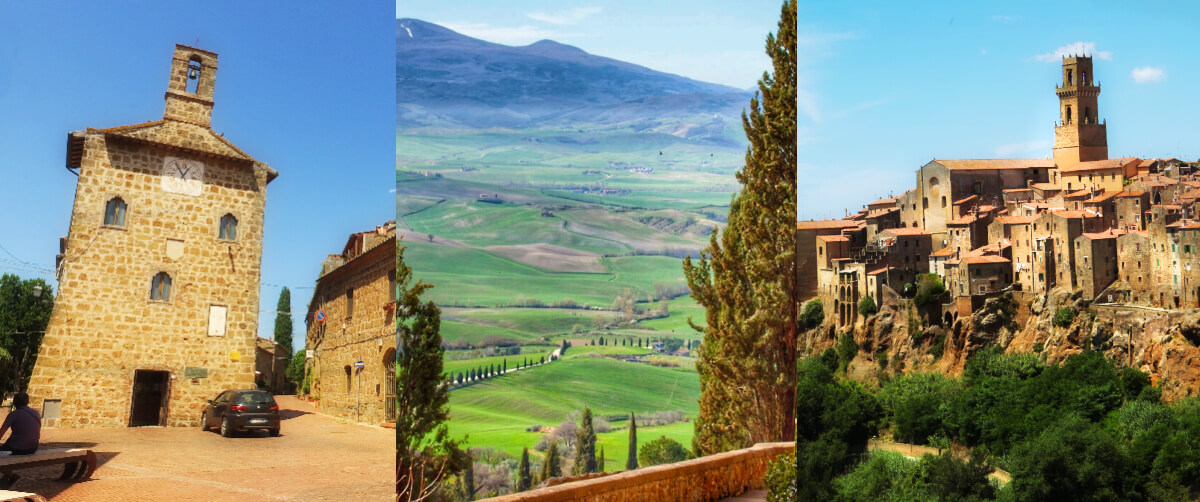 - Private Transfers between Saturnia and other cities in Italy -

If your Italy vacation includes stays in different cities and towns in central Italy, we can also provide Long Distance Transfers to and from Saturnia and other major cities such as Florence, Siena, Civitavecchia, Amalfi, Sorrento, Positano, Naples, etc.
Our long distance transfer services with your own Private Driver will make your travels through Italy convenient, comfortable, and safe.
- Sightseng Transfers between Saturnia and other Cities in Italy -

Maximize your sightseeing opportunities in Italy on your long distance transfers between Saturnia and other cities such Rome, Civitavecchia, Florence, Siena, Amalfi Coast, Sorrento, or Naples. Enjoy stops along the way to visit towns, villages or places of interest for a fun filled day of discoveries and exploration.
Simply send us an email and our expert staff will be delighted to assist you with an itinerary that would best compliment your journey.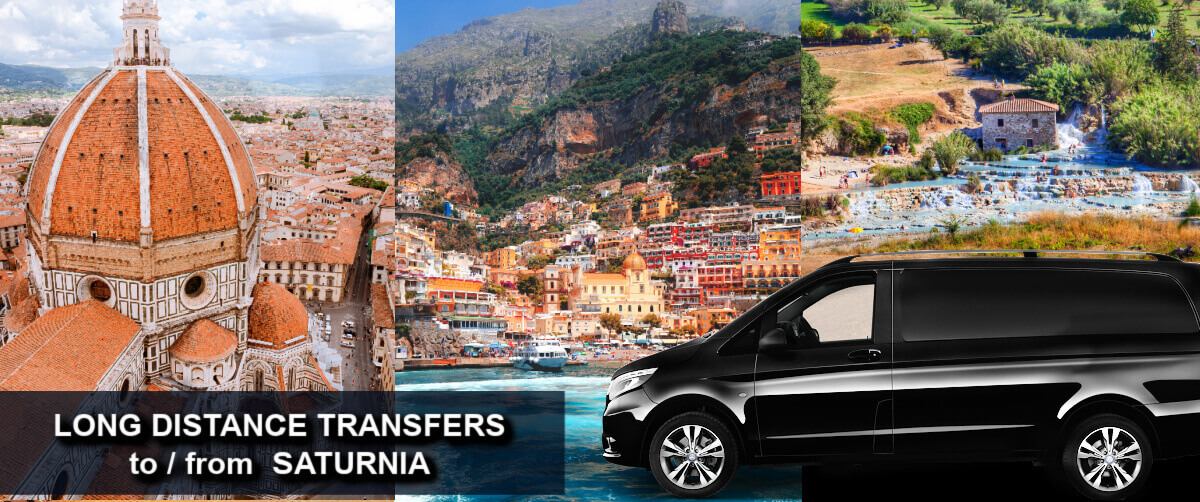 Thank you for booking our Rome - Saturnia Transfer service, and for choosing Stefano's RomeCabs for your private Transfers and Tours in Italy. We look forward to being of service to you in Italy!
Important Information

PLEASE READ THE INFORMATION BELOW AND ACCEPT THE TERMS OF SERVICE AND PRIVACY POLICY BEFORE BOOKING.


PAYMENT OPTIONS:
Payment for this Rome - Saturnia Transfer can be made in EUROS directly to your driver on the Date of Tour, or prepaid in advance via PayPal or Credit Card
If you wish to PREPAY via PayPal or Credit Card, you may do so online when CONFIRMING your booking by SELECTING your preferred option of payment.
CANCELLATION POLICY
We kindly ask that cancellations be made at least 7 days prior to Date of Service. Cancellations can only be accepted by E-Mail and confirmed by our office. Cancellations are not accepted via phone, text message, or 3rd party.
** Cancelations for PREPAID SERVICES will be refunded the Net Rate we receive from your prepayment. Net Rate: actual service price minus PayPal/Credit Card fees retained by PayPal/Credit Card as they do not reimburse us the fees they retain from your payment.


LUGGAGE
Sedans priced for 1-2 passengers can accommodate up to 2 standard suitcases and up to 2 small carryons.
Minivans for up to 8 passengers can accommodate up to 6 suitcases and up to 6 carry-ons in TOTAL. If you anticipate bringing luggage in excess of what the standard 8-seater vans can accommodate, please inform us prior to booking this service so we can help ensure that everyone and their luggage will travel safely inside the vehicle.

Private Driver MEETING POINT at hotel / accommodation:


Your private driver will meet you inside the lobby of your hotel or resort, or in areas permitted by your hotel management.

For Apartments or B&B's without a lobby, your driver will meet you outside the main entrance of your Pick Up Address.
* DOOR TO DOOR SERVICE is possible if your accommodation address is not in a traffic or parking restricted area. In case you are staying in an area with traffic and/or parking restrictions, your driver will park as close as lawfully possible and meet you outside at your address for your pick up and accompany you to the parked vehicle, or accompany you to your hotel address from the parked vehicle for drop offs.

SATURNIA THERMAL SPRINGS


For more than 3,000 years since the classical eras of Greeks, Etruscans and Romans, the thermal springs of Saturnia have been frequented for its sulfuric therapeutic and relaxing properties.
Rich in mineral deposits and warm temperatures at approximately 99.5 ºF / 37.5 º C, the thermal springs of Saturnia were considered a gift from the gods by the ancients.
Today, the sulfuric springs of Saturnia boast multiple waterfalls and natural pools of thermal water making it a wonderful destination for a relaxing holiday in Italy!
Travelers who wish to experience the thermal springs in their natural setting, can visit the public thermal pools free of charge. Many travelers also enjoy an extended stay at the various resorts and spas in Saturnia for a perfect way to relax and be pampered on your vacation.
Be sure to also visit the quaint historic village of Saturnia just a short distance from the thermal springs. The ancient town is named after the ancient Roman pagan god Saturn (or Saturnus in Latin).
One of the many legends surrounding Saturnia tells us that Saturn grew weary of fighting wars with humans and sent a thunderbolt to earth creating an enchanted spring of warm sulfurous water to pacify humans. Another unusual legend of the middle ages tells us that Saturn's thunderbolt caused fissures on earth's surface that were portals to hell - thus explaining the steaming pungent water spilling out.