description
Getting from Rome to Florence has never been more exciting!
We invite you to turn your long-distance transfer between Rome and Florence into a wonderful sightseeing transfer in Tuscany with stops to visit and enjoy two of the region's most enchanting historic cities: Siena and San Gimignano.
This Rome / Florence with a visit to Siena and San Gimignano sightseeing transfer service is also possible in reverse from Florence to Rome.
For pick-up and drop-off locations outside of Rome or Florence, please send us an Email for a price quote.



Rome - Florence with visit to Siena and San Gimignano Price List:


For up to 2 Persons from Rome Hotel: 700 EUROS
For up to 4 Persons from Rome Hotel: 750 EUROS
For up to 6 Persons from Rome Hotel: 800 EUROS
For up to 8 Persons from Rome Hotel: 900 EUROS
* You may also do a QUICK PRICE CHECK using the Price Check & Booking form on the Right Side of this page. Once you receive the PRICE QUOTE based on the information you input, you may proceed to SUBMIT your Tour Request.
** Dates on the Booking Form Calendar that are NOT Selectable, are NOT AVAILABLE.
Your Stefano's RomeCabs personal driver will pick up you at your hotel accommodation from where you will enjoy a relaxing drive and sightseeing opportunities without the unnecessary worries and burdens of carrying your own luggage everywhere on buses, trains, metros and taxis, while dealing with restrictive train schedules, tickets and chaotic train stations.
You will simply enjoy the scenic journey and visit two of Tuscany's most resplendent towns.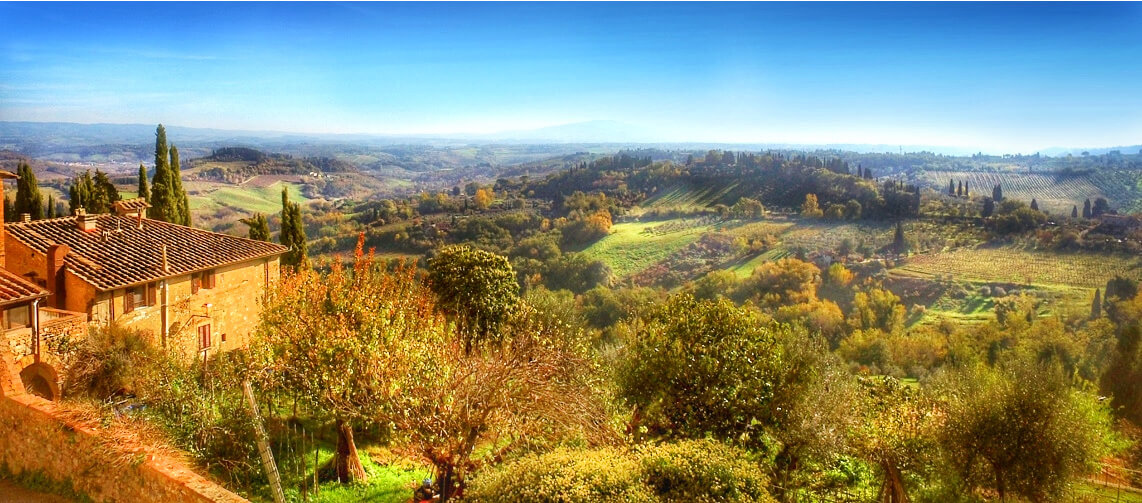 You will have the benefit of your private deluxe vehicle and personal English speaking Driver at your service.
At the end of your journey you will arrive at your new hotel accommodation so you can begin your new adventures rested and happy.


SIENA


Your Rome to Florence transfer begins with a leisurely drive through the quiet countryside until you reach Tuscany.
Siena is one of Italy's most visited Tuscan towns, famous not only for its well preserved medieval architecture, but for the renown Palio, an extremely precarious horse racing around the perimeter of the town's main square every July 2 and August 16.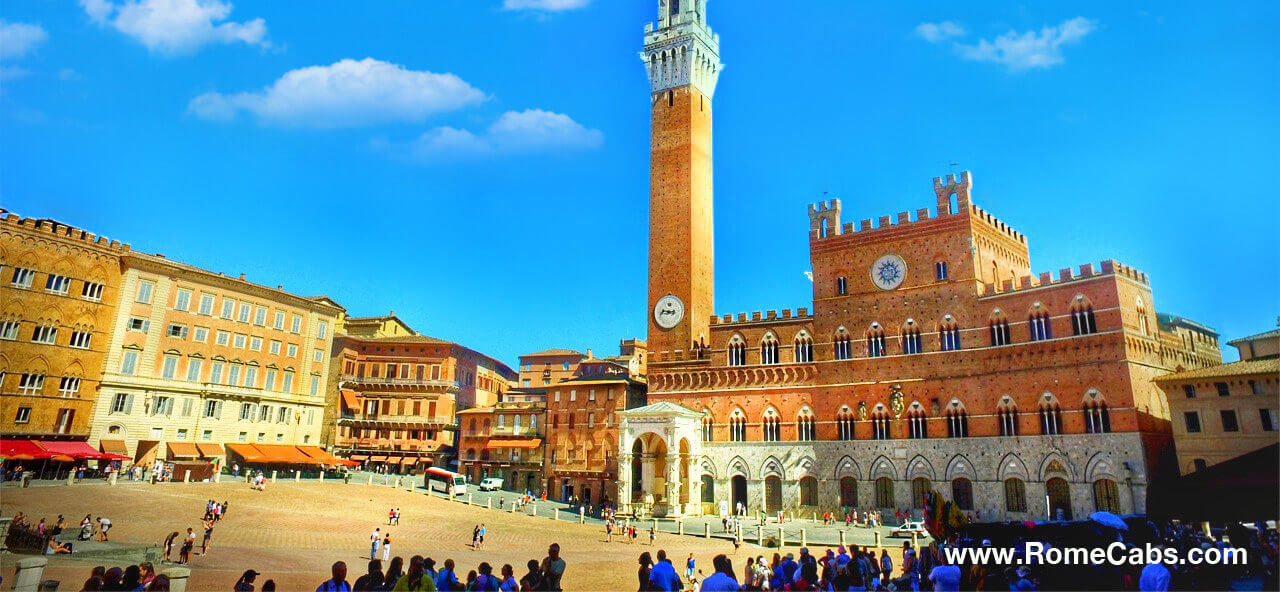 Siena is small enough in size to be enjoyed on foot for a lovely sightseeing experience of it's pedestiran friendly streets and spacious squares.
The lively town is brimming with outdoor cafes, boutiques and shops that sell locally crafted products, and with the beautifully preserved medieval buildings you feel you've just traveled back in time a thousand years while enjoying modern day conveniences.|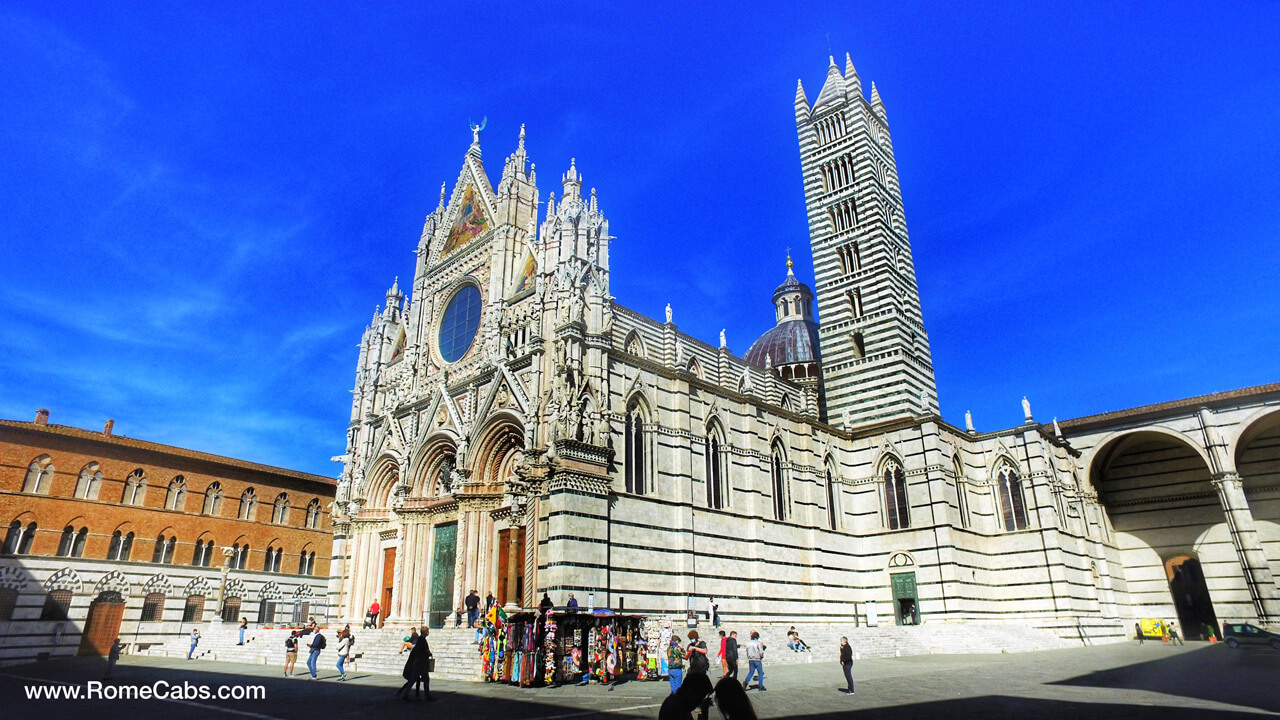 Lunch will be either in Siena or San Gimignano depending on if your departure city is Rome or Florence. You driver can make suggestions for lunch, or you may discover hidden culinary treasures on your own. In Tuscany food is delicious everywhere!
SAN GIMIGANO


Resting on a hilltop overlooking the Elsa Valley, San Gimignano has one of the most recognizable skyline earning its nickname the Medieval Manhattan of Tuscany.
During the Medieval Era well to do families built towers to solidify their prestige in society. San Gimignano preserved 14 of its original 72 towers which have become its international symbol and local pride. Its historic center is a UNESCO World Heritage Site. Among these magnificent towers you will find narrow winding lanes that add to the charm of this medieval town.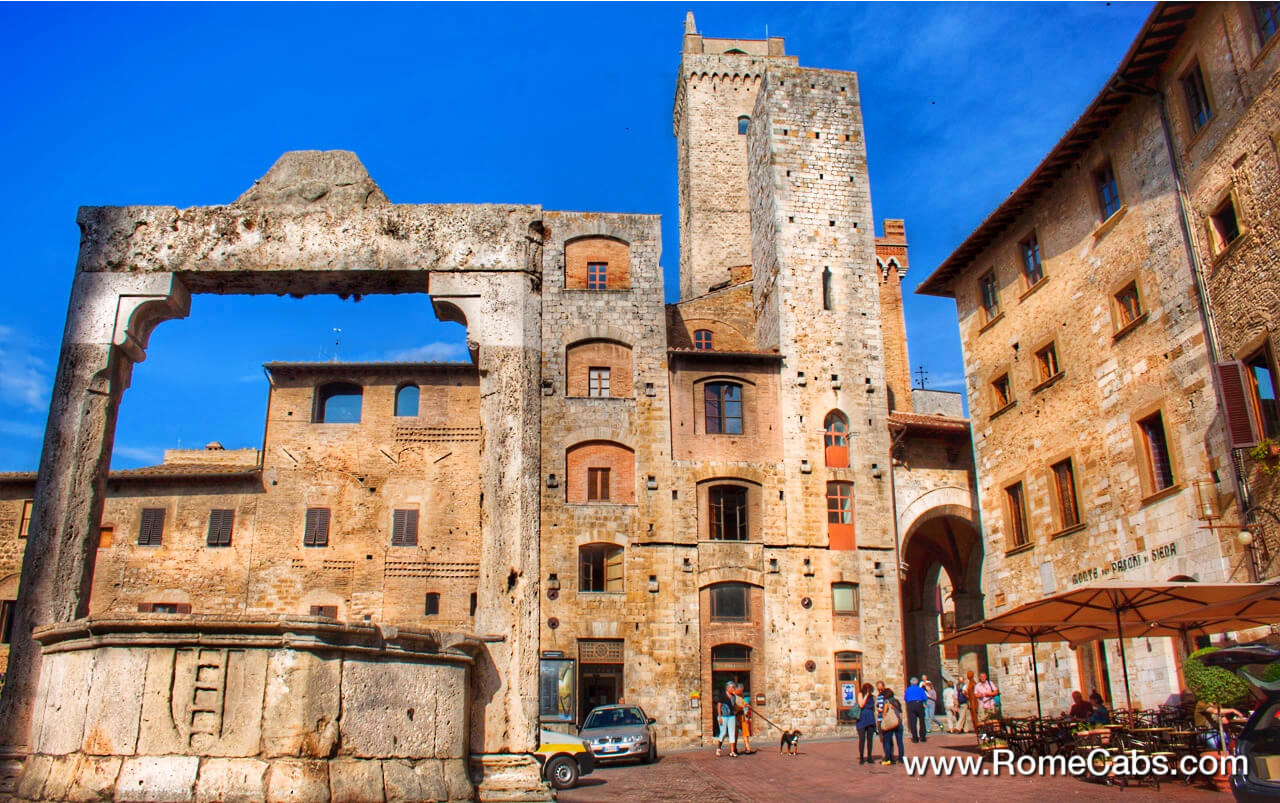 The main square and focal point in town is Piazza della Cisterna, a delightful triangular square surrounded by impressive medieval houses, palaces and towers that surpass rooftops. Cafes, gelato shops and boutiques offer locally crafted products and delicacies.
In the center of the square is the restored 14th century well on whose steps locals and visitors gather together to enjoy the view that surrounds them, and also to enjoy some of the most delicious gelato in Tuscany that is available at the gelato shops right in the square.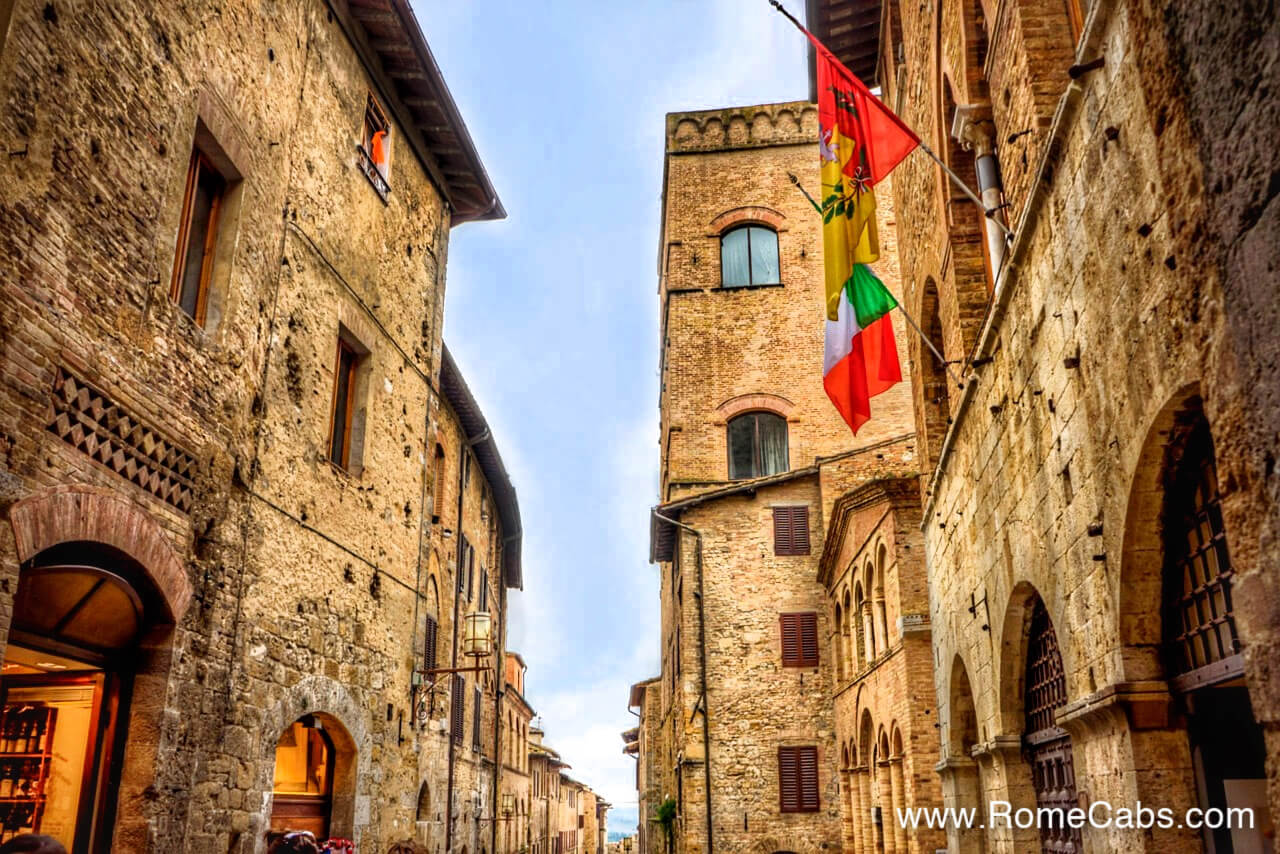 From here you will continue on your journey through Tuscany to your final destination.
Thank you for booking our Rome - Florence with visit to Siena and San Gimignano Sightseeing Transfer and choosing Stefano's RomeCabs for your Italy Private Transfers and Tours. We look forward to welcoming you to Italy!
Important Information

PLEASE READ THE INFORMATION BELOW AND ACCEPT THE TERMS OF SERVICE AND PRIVACY POLICY BEFORE BOOKING.


PAYMENT OPTIONS
Payment for this Tour can be made in EUROS directly to your driver on the Date of Tour, or prepaid in advance via PayPal or Credit Card online upon request. (See Cancellation policy below)
CANCELLATION POLICY
We kindly ask that cancellations be made via E-mail at least 7 days prior to Date of Service.
Cancellations are accepted only via E-mail so your cancellation is on record. We do not accept cancellations by phone, text message, or 3rd parties.
** Cancelations for PREPAID SERVICES will be refunded the Reduced Net Rate we receive from your prepayment. Reduced Net Rate: actual service price minus PayPal/Credit Card fees retained by PayPal/Credit Card as they do not reimburse us the fees they retain from your payment.
YOUR PRIVATE DRIVER
This service includes a Private Driver is not a licensed tour guide.
In order to be in compliance with Italian laws, your driver will not be permitted to accompany you to sightsee or act as a guide away from the vehicle. Your Private Driver remain with the vehicle while you SELF TOUR away from the vehicle.
Private Driver MEETING POINT at hotel / accommodation:
Your private driver will meet you inside the lobby of your hotel or in areas permitted by your hotel management.

For Apartments or B&B's without a lobby, your driver will meet you outside the main entrance of your Pick Up Address.


* DOOR TO DOOR SERVICE is possible if your accommodation address is not in a traffic or parking restricted area. In case you are staying in an area with traffic and/or parking restrictions, your driver will park as close as lawfully possible and meet you outside at your address for your pick up and accompany you to the parked vehicle, or accompany you to your hotel address from the parked vehicle for drop-offs.
LUGGAGE
Sedans priced for 1-2 passengers can accommodate up to 2 standard suitcases and up to 2 small carryons.
Minivans for up to 8 passengers can accommodate up to 6 suitcases and up to 6 carry-ons in TOTAL. If you anticipate bringing luggage in excess of what the standard 8-seater vans can accommodate, please inform us prior to booking this service so we can help ensure that everyone and their luggage will travel safely inside the vehicle.