Payment method:Cash, Paypal, Credit card

starting time:9:00 AM
highlights
Turn your Civitavecchia Port Transfer into an exciting Pre Cruise Tour experience
Maximize your Italy sightseeing opportunities prior to your ship's departure
Walk in the footsteps of Ancient Romans as you visit the ancient Roman port harbor of Ostia Antica
Less crowded than Pompeii, surrounded by natural setting, the beautifully preserved ruins of Ostia Antica is one of the top must see places outside of Rome.
Enjoy lunch near Ostia Antica before departing to Civitavecchia
Convenient transfer directly to your ship inside the Port of Civitavecchia
Fantastic way to begin your cruise journey!
Enjoy a higher level of personal attention and flexibility on our private tours and transfers by car
* This tour is only offered from Rome hotel/accommodation. This tour is NOT valid for pick up in other cities or airports (Fiumicino or Ciampino)
* Please read ALL the information on the tour page before booking to ensure this tour meets your expectations. If you have any unanswered questions let us know. Tour Requests are confirmed based on availability.
itinerary
Pick up from Hotel with drive Ostia Antica
2 Hour visit inside Ostia Antica
Lunch at a local restaurant near Ostia Antica
Transfer to Civitavecchia
included
Private Deluxe Vehicle
English Speaking Driver
Transportation to the Cruise Port
All Italy Taxes
Highway Tolls, Parking Fees, road expenses
not included
Admission tickets to Ostia Antica
Tour Guide / Walking Tour
Lunch
Gratuities (if pleased with service received from your driver)
Licensed Tour Guide for Ostia Antica can be reserved at Additional Tour Guide Fee
description
Maximize your sightseeing opportunities prior to embarking on your cruise on our Ostia Antica Pre Cruise Tour with Civitavecchia Transfer, and explore the ruins of one of ancient Rome's most prominent cities.
This Ostia Antica Pre Cruise Rome Tour is valid only for hotels in Rome, it is NOT valid from hotels in Fiumicino. Please contact us via email for price quotes from Fiumicino


OSTIA ANTICA PRE CRUISE TOUR PRICE LIST


For up to 4 Persons from Rome Hotel: 450 EUROS
For up to 6 Persons from Rome Hotel: 500 EUROS
For up to 8 Persons from Rome Hotel: 550 EUROS



* This pre-cruise tour is only offered from Rome hotel/accommodation. This tour is NOT valid for pick up in other cities or airports (Fiumicino or Ciampino)
* You may also do a QUICK PRICE CHECK using the Price Check & Booking form on the Right Side of this page. Once you receive the PRICE QUOTE based on the information you input, you may proceed to SUBMIT your Tour Request.
** Dates on the Booking Form Calendar that are NOT Selectable, are NOT AVAILABLE.
As you stroll through the remarkably preserved ancient buildings and structures, you will be walking in the footsteps of the ancients Romans in a real Roman city that thrived more than 2,000 years ago.
Your personal English speaking Driver will pick you up at your hotel or accommodation in Rome and take you on a relaxing drive to Ostia Antica. Your luggage will remain locked inside the vehicle's luggage compartment along with your Driver who will wait with the vehicle while you visit the archaeological park of Ostia Antica. After enjoying a local lunch nearby, your personal driver will take you on a leisurely drive directly to your cruise ship inside Civitavecchia Cruise Port.
OSTIA ANTICA

One of the most famous ancient Roman cities, Ostia was a thriving and prosperous harbor city located near the mouth of Tiber River. Tradition tells us that Ostia was founded in late 7th century BC by Ancus Marcius, the 4th king of Rome.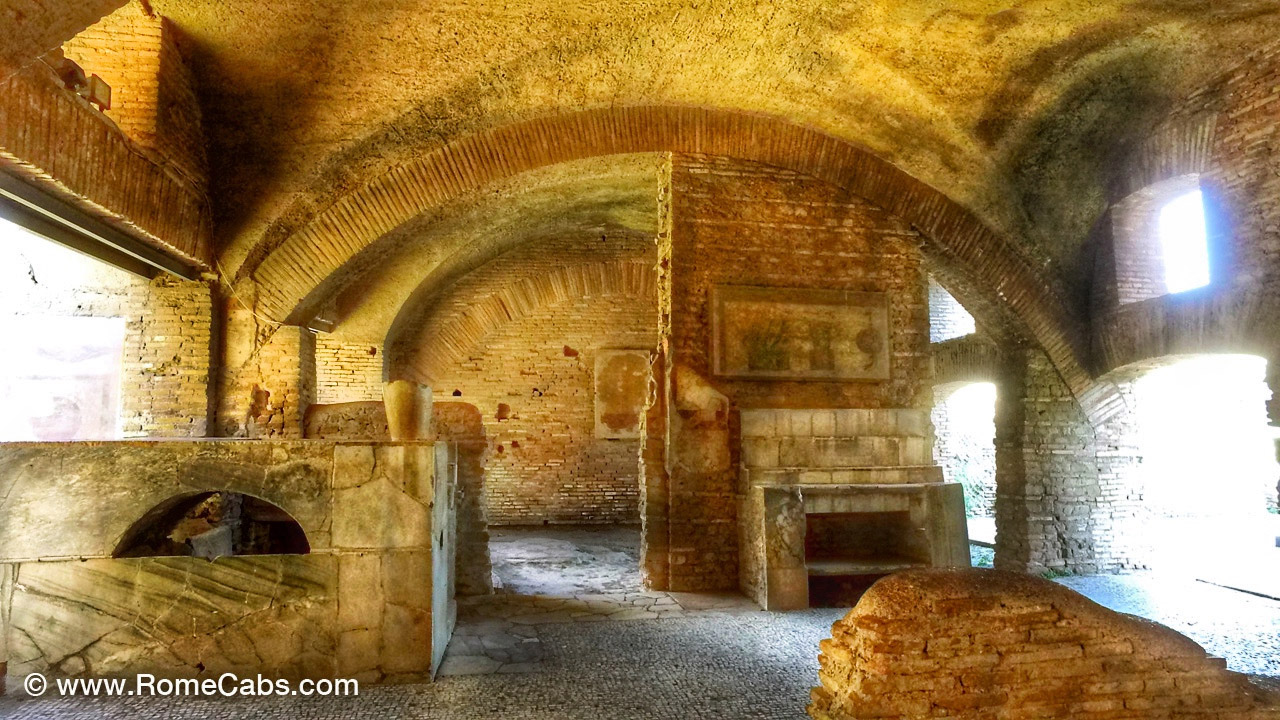 By 2nd century BC, Ostia grow in size and prominence with about 50,000 inhabitants and boasted spectacular building projects that included multi level apartment buildings, opulent villas for the elite, eateries, bakeries, temples, bath houses, intricate floor mosaics and vibrant wall frescoes, public forums, theaters and commercial centers.
Historic and economic events, as well as malaria that plagued Ostia in subsequent centuries led to near sudden abandonment of this once great city, leaving the structures and architecture behind intact. It wasn't until later on during the Baroque Era that Ostia was plundered of its stones and marble to be used in various other architectural projects from Pisa all the way to the Coast of Amalfi. Works of art that was looted found its way into private collections.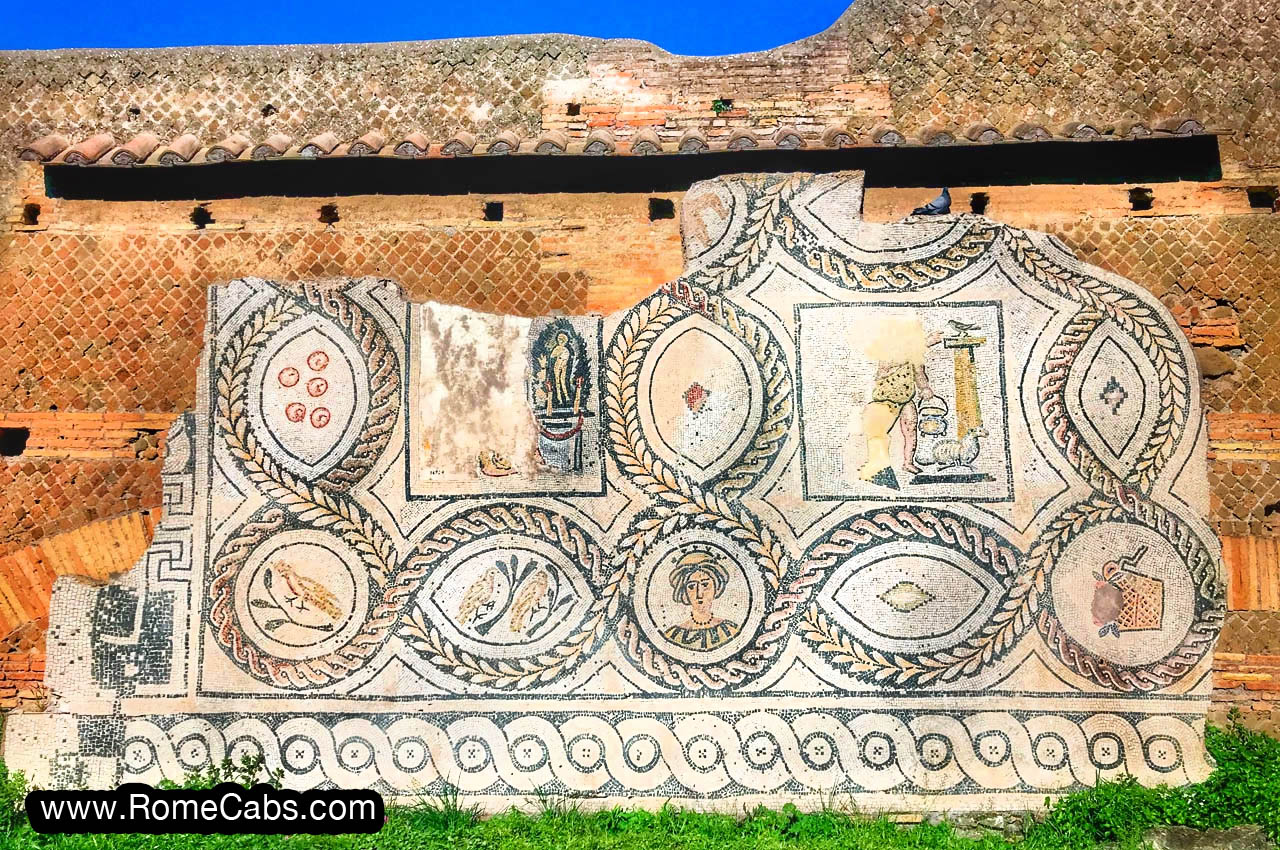 Fortunately, early 20th century brought a renewed public interest in Ostia, and intense archaeological excavations during the late 1930's to early 1940's revealed this beautiful ancient city that offers visitors the personal and unique experience a real Roman city and the opportunity of walking in the footsteps of the ancients who once lived and thrived here more than 2,000 years ago.
After your visit exploring the ancient archaeological part of Ostia Antica, your driver will take you to a nearby local restaurant where you may enjoy a nice lunch before departing for Civitavecchia to embark on your cruise!
Thank you for booking our Ostia Antica Pre-Cruise Tour with Civitavecchia Transfer, and for choosing Stefano's RomeCabs for your Italy Private Shore Excursions! We look forward to showing you beautiful places in Italy!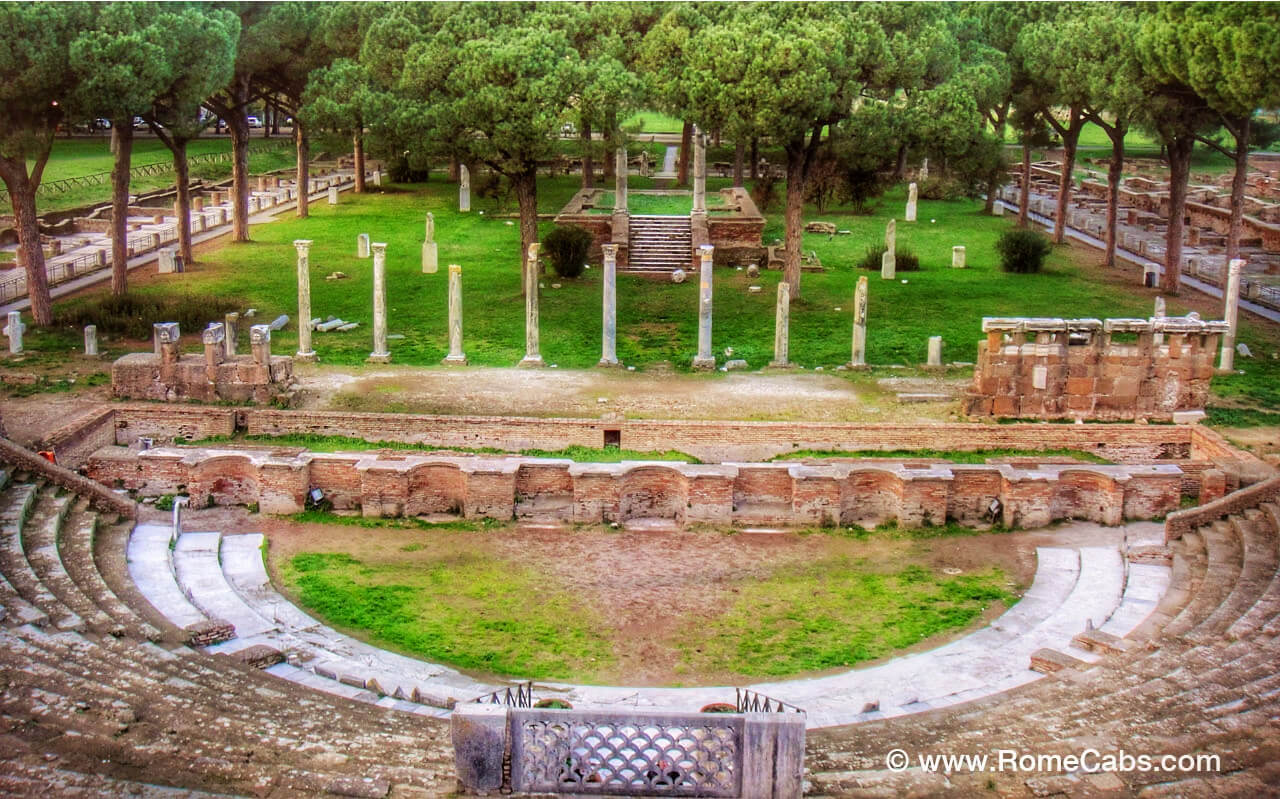 Important Information

PLEASE READ THE INFORMATION BELOW AND ACCEPT THE TERMS OF SERVICE AND PRIVACY POLICY BEFORE BOOKING.

PAYMENT OPTIONS
Payment for this Ostia Antica Pre Cruise Tour can be made in EUROS directly to your driver on the Date of Tour, or prepaid in advance via PayPal or Credit Card online when you confirm your Tour.
If you wish to PREPAY you may do so online when CONFIRMING your BOOKING by SELECTING your preferred option of payment.

CANCELLATION POLICY
We kindly request that cancellations be made at least 7 Days prior to Date of Service.
Cancellations must be made in writing via E-Mail and confirmed by our office as assurance. We do not accept cancellations by telephone, text message, or 3rd party.
** Cancelations for PREPAID SERVICES will be refunded the Net Rate we receive from your prepayment. Net Rate: actual service price minus PayPal/Credit Card fees retained by PayPal/Credit Card as they do not reimburse us the fees they retain from your payment.
ADMISSION TICKETS
OSTIA ANTICA Tickets are currently 12 Euros per person. Tickets can be purchased at the site before entering. Ticket prices may go up in price when exhibitions are held inside the site.
* Admission Ticket prices are subject to change without notice.


YOUR PRIVATE TOUR DRIVER
This is a Tour by Car with only a personal English Speaking Private Driver who is NOT a licensed tour guide. Without reserving a Tour Guide, you would SELF TOUR inside Ostia Antica.
Italy's laws prohibit Drivers from guiding or accompanying guests Your driver will be obliged to remain with the vehicle while you visit sites. For this reason we recommend private licensed tours, sites and monuments if you require in-depth information. Otherwise, without reserving a tour guide you will SELF TOUR during your visit to Ostia Antica.


PRIVATE GUIDED TOUR OPTIONS
You may reserve a Licensed Tour Guide for an informative 2 HOUR private walking tour inside OSTIA ANTICA.
Please inquire within for more information and Tour Guide fees and to reserve your private tour guide for Ostia Antica.
Tour guides do not work for us, however we are happy to make arrangements on our clients' behalf and reserve professional licensed tour guides upon request.
MEETING POINTS TO MEET YOUR DRIVER
At ROME HOTEL / ACCOMMODATION:
Your driver will meet you inside the lobby of your hotel or in areas permitted by hotels.
For Apartments or B&B's without a lobby, your driver will meet you outside the main entrance of your Pick Up Address.
* If your hotel or accommodation is on a street or in an area restricted to vehicle traffic, your driver will park as close as lawfully possible and meet you on foot at your Address, and accompany you to your parked vehicle.



Ostia Antica Pre Cruise Tour TIPS:


On your visit to Ostia Antica, please wear comfortabel walking shoes and clothing on this tour.
You will be walking on uneven terrain inside the archaeological park of Ostia Antica. This tour may NOT be suitable for visitors with mobility issues.
There are many opportunities to take photographs and videos in Ostia Antica, cameras for photos and videos are recommended!
During the hot and sunny summer months please use sunscreen, and wear sunglasses and a summer hat.