description
Enjoy an entertaining and fun evening under the Roman stars on our Rome At Night Tour in the comfort of your own private deluxe vehicle driven by your personal Rome Cabs English speaking Driver eager to help you create lasting memories you'll cherish forever.
You will enjoy seeing Rome's most famous monuments, popular sites, and famous squares that are breathtaking at night and spectacularly different than day time. This tour is a perfect compliment to our informative Rome in A Day tour.


No visit to Rome is complete without experiencing the Eternal City at Night!
Recommended pick up time from your Rome hotel is 8:00 PM .
ROME AT NIGHT TOUR PRICE LIST


For up to 2 Persons from Rome Hotel: 180 EUROS
For up to 4 Persons from Rome Hotel: 200 EUROS
For up to 6 Persons from Rome Hotel: 220 EUROS
For up to 8 Persons from Rome Hotel: 240 EUROS
* The Tour is not valid from other cities or airports.
** You may also do a QUICK PRICE CHECK using the Price Check & Booking form on the Right Side of this page. Once you receive the PRICE QUOTE based on the information you input, you may proceed to SUBMIT your Tour Request.
*** Dates on the Booking Form Calendar that are NOT Selectable, are NOT AVAILABLE.
Enjoy a preview of the magic of Rome at night in our Tour VIDEO:


Your unforgettable night tour by car includes a stop in Colosseum Square to view from outside Rome's most famous ancient monument, the Colosseum. If you enjoy its magnificence during the day, you'd be amazed at its evocative transformation at night.
You will drive through the roundabout of stunning Piazza Venezia, Vittorio Emanuele II, where you will enjoy the splendid monument dedicated to Italy's first king. The wedding cake by the Romans, is made of pure white carrara that appears to glow at night bathed in lights.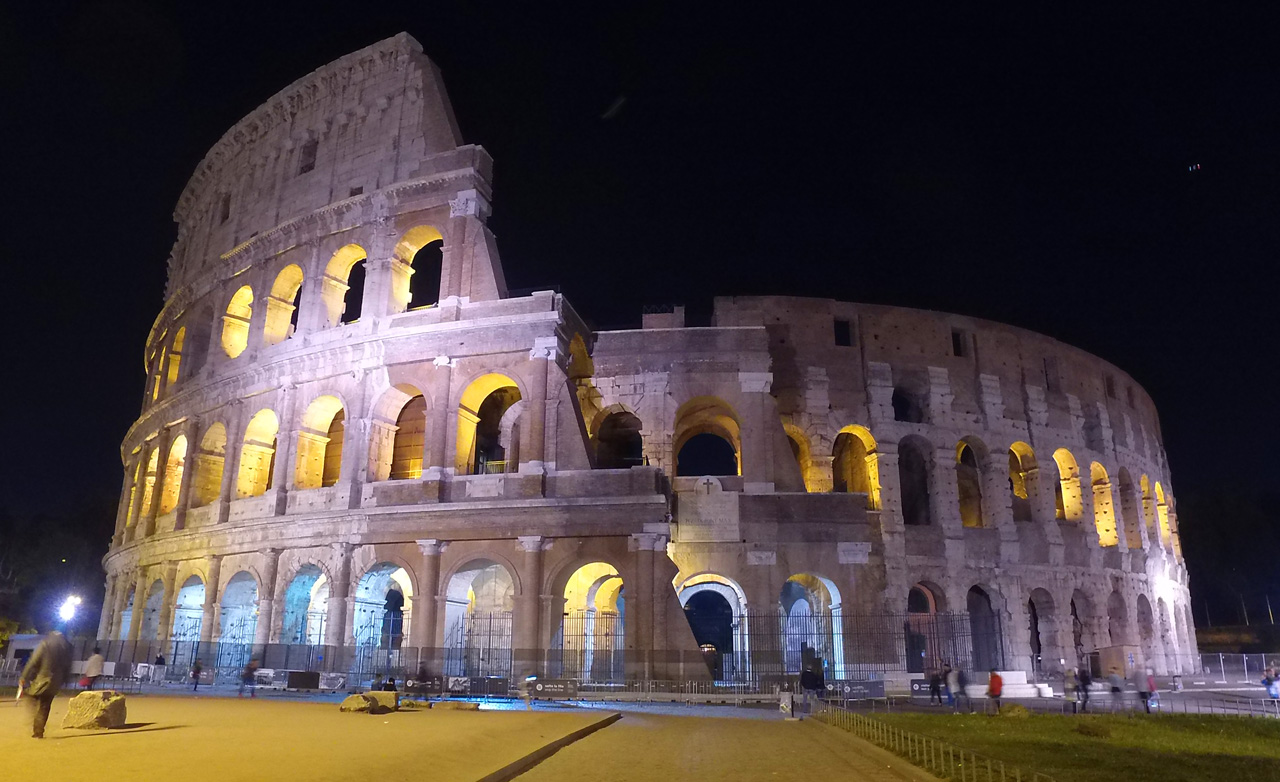 Nearby is Via dei Fori Imperiali, lined with various ancient imperial forums, most noticeable being Trajan's Forum and Market with the famous Trajan's Column.
Always enjoyed at night is the Trevi Fountain, a spectacle of spellbinding lights dancing on water pouring from its original 1st century BC aqueduct, Aqua Virgo. The Trevi Fountain at night was also featured on Fellini's Italian classic, "La Dolce Vita".
Seeing the ancient Roman Pantheon from the outside during the day is quite amazing, but at night under the stars it's majestic.
The Spanish Steps is also a sight to see at night. Its wide sweeping stairway is a popular gathering place for locals and visitors alike, and it's a happening place both day and night.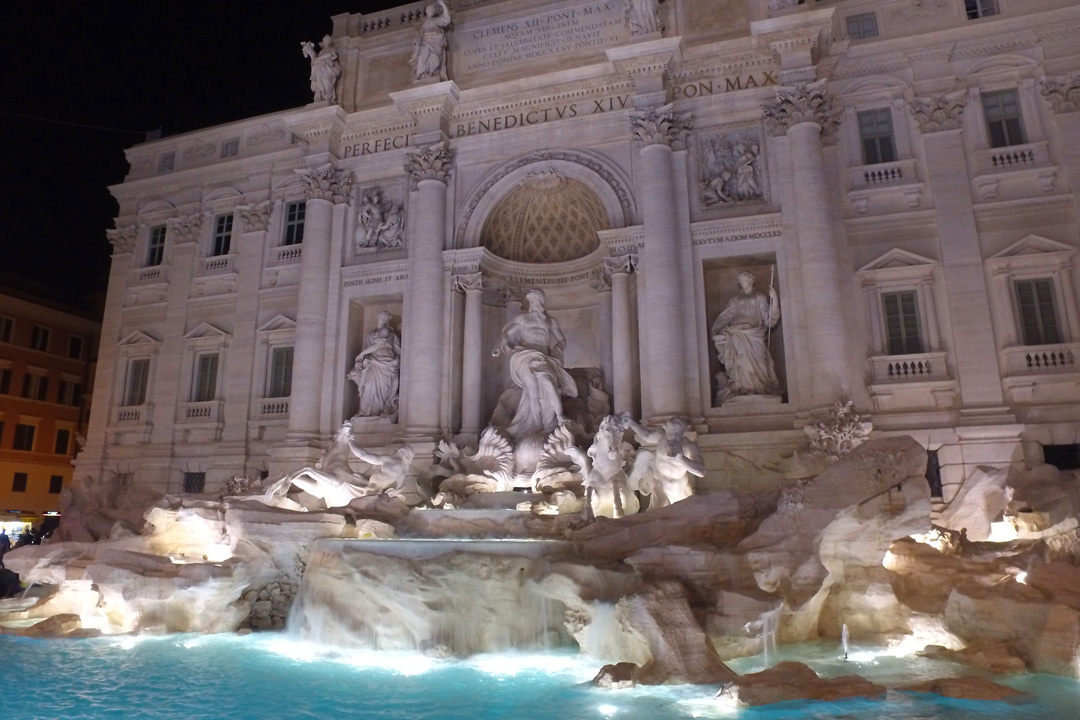 Drive to the Vatican for a stop in St. Peter's Square at night is always a must. Graze in reverence at St Peter's Basilica, one of the most classic images in Rome, and a stunning sight to behold at night.
On top of the Gianiculum Hill you can take in the panoramic vista of Rome with a spectacular view of sparkling lights, luminous church domes and a sea of roof tops resting beautifully under a blanket of stars.
After your unforgettable evening enjoying Rome at night, your personal driver will take you back to your hotel.
Thank you for choosing Stefano's RomeCabs for your tours, shore excursions and transfers. We hope to see you soon in beautiful Rome!
Important Information

PLEASE READ THE INFORMATION BELOW AND ACCEPT THE TERMS OF SERVICE AND PRIVACY POLICY BEFORE BOOKING.


* This Rome at Night tour is designed for those who have already experienced Rome. This is not a rich historical, cultural, or architectural information tour. There is no entrance into any sites as they are closed at night.
PAYMENT OPTIONS
Payment for this Tour can be made in EUROS directly to your driver on the Date of Tour, or prepaid in advance via PayPal or Credit Card online upon request. (See Cancellation policy below)
CANCELLATION POLICY
We kindly ask that cancellations be made via E-mail at least 7 days prior to Date of Service.
Cancellations are accepted only via E-mail so your cancellation is on record. We do not accept cancellations by phone, text message, or 3rd parties.
** Cancelations for PREPAID SERVICES will be refunded the Reduced Net Rate we receive from your prepayment. Reduced Net Rate: actual service price minus PayPal/Credit Card fees retained by PayPal/Credit Card as they do not reimburse us the fees they retain from your payment.
YOUR PRIVATE DRIVER
Your private tour driver is not a Licensed Tour Guide. Only licensed tour guides are permitted to accompany guests to sightsee on foot away from the vehicle. Your driver will be obliged to stay with the vehicle while you sightsee.
Your Private Driver will drop you off as close to the sites as legally possible and in accordance to the Municipality and Traffic laws of Rome


ROME AT NIGHT TOUR - Information and Tips:
Our popular Rome at Night tour by car is designed to create a joyful and entertaining evening tour for those who have already experienced Rome during the day.
This is not a tour rich in historical, cultural, or architectural information.
This tour does not include entrance into any sites are they are closed at night.
There are many opportunities to take photographs and videos, so have your cameras charged!
As this is not an informative tour, you enjoy the freedom and flexibility to sightsee, take photographs, and just enjoy an evening out in the Eternal City.
Rome at Night tour is a perfect way to see Rome under the stars when your stay in Rome is short, you are exhausted from sightseeing throughout the day, and an excellent choice during the colder months when the temperature at night makes it too chilly to walk around Rome on foot.
Rome at night under the stars is very romantic, and a special experience to be shared with a loved one.
Enjoy the difference between Trevi Fountain during the Day and Trevi Fountain at Night in our VIDEO: