description
RomeCabs' Rome in 2 Days tour by car offer you the wonderful opportunity to truly experience the Eternal City and what it has to offer across two days at your leisure so you have the opportunity to explore Rome's famous highlights as well as hidden treasures in the comfort of your private deluxe vehicle driven by your English speaking Private Driver.



ROME IN 2 DAYS TOUR PRICE LIST


For up to 2 Persons from Rome Hotel: 800 EUROS
For up to 4 Persons from Rome Hotel: 840 EUROS
For up to 6 Persons from Rome Hotel: 940 EUROS
For up to 8 Persons from Rome Hotel: 1,000 EUROS



** You may also do a QUICK PRICE CHECK using the Price Check & Booking Form on the Right Side of this page. Once you receive the PRICE QUOTE based on the information you input, you may proceed to SUBMIT your Tour Request.
*** Dates on the Booking Form Calendar that are NOT Selectable, are NOT AVAILABLE.

Enjoy a preview of the exceptional sites in Rome that await you, in our Rome in 2 Days Tour VIDEO:

DAY 1 of ROME IN 2 DAYS TOUR

Bask in the architectural wonders of Ancient Rome


Your first day of Rome in 2 days will begin with a journey through time to the glory of Ancient Rome as your Driver will take you to visit the iconic Colosseum and the Roman Forum from where the Roman empire was ruled.
The Colosseum is the world's most famous elliptical amphitheater that has inspired not only the imagination of people worldwide with the legendary events that took place in its arena but inspired engineers and architects to create modern versions of this ancient sports stadium.
The ancient amphitheater was built in 72 AD on top of Emperor Nero's Golden House (Domus Aurea), the expansive and luxurious private residence of the emperor.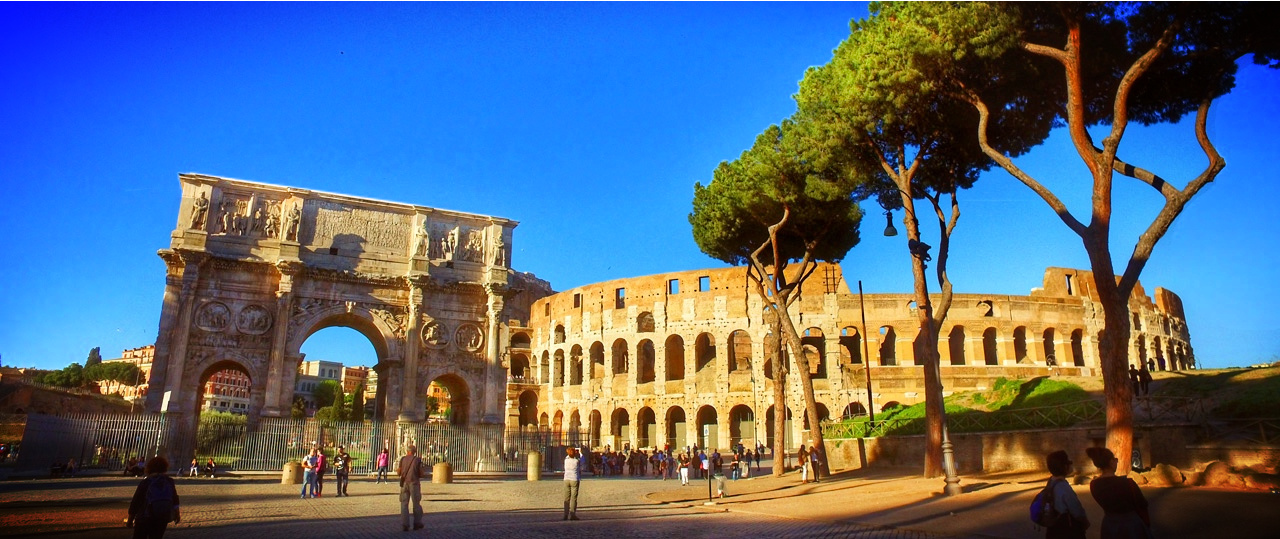 Across the Colosseum, you will visit the ancient Roman Forum, often described as the most celebrated public forum in the world! Situated in the small valley between the Capitoline Hill and Palatine Hill, for centuries the Roman Forum served as the nucleus of all the most important affairs of the Empire: political, religious, commercial, and judicial.
Your journey will continue with a leisurely drive to the famous Via Appia Antica (Ancient Appian Way), which was once called:

Appia teritur regina longarum viarum
"the Appian way is the queen of the long roads"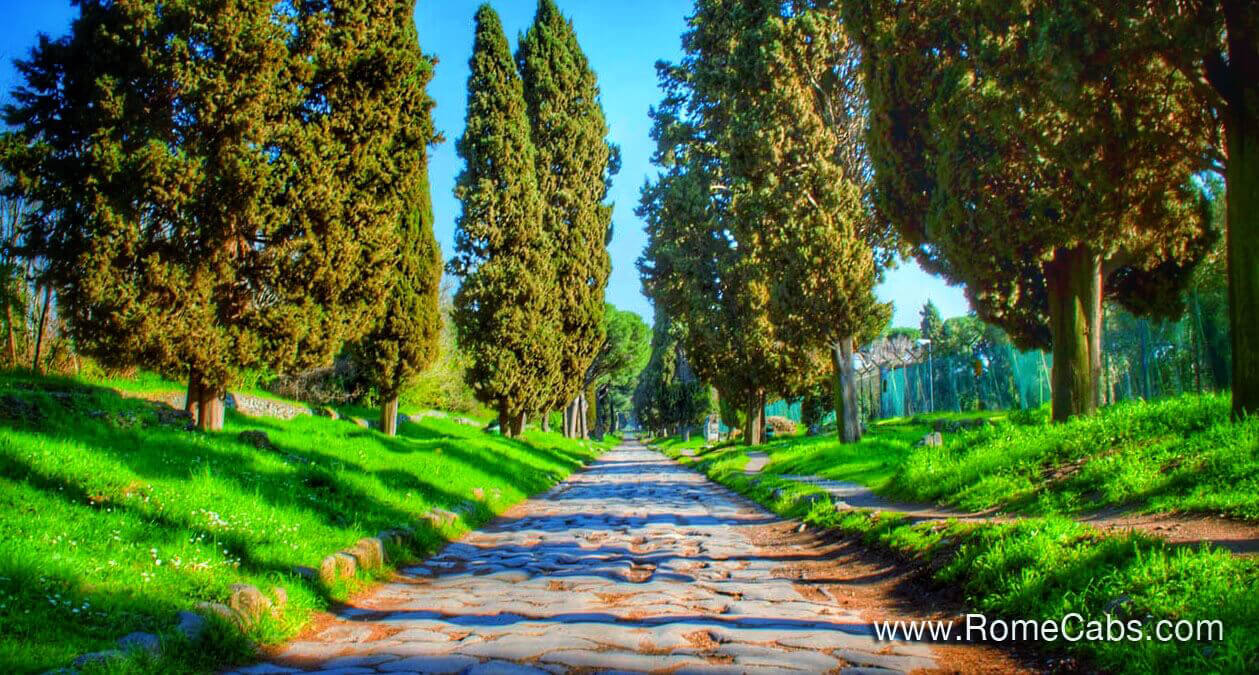 This remarkable ancient Roman road built in 312 BC is recounted in the Christian tradition that it was along the Appian Way that Peter tried to escape Rome when he encountered a divine vision of Christ which inspired him to return to the city and face his certain martyrdom.
As you make your way along Via Appia, you will stop for a visit to the early 2nd and 3rd century AD Catacombs that were underground receptacles of the dead. Burial was at that time forbidden within the city walls, therefore miles of underground labyrinthian tunnels were hewn out of the tuffa stone so the early Christians could bury their dead.
You will have free time on your own to enjoy LUNCH at a local restaurant or trattoria of your choice. Your driver will be happy to offer suggestions based on your tastes.
Delight in Rome's lively Squares for a taste of La Dolce Vita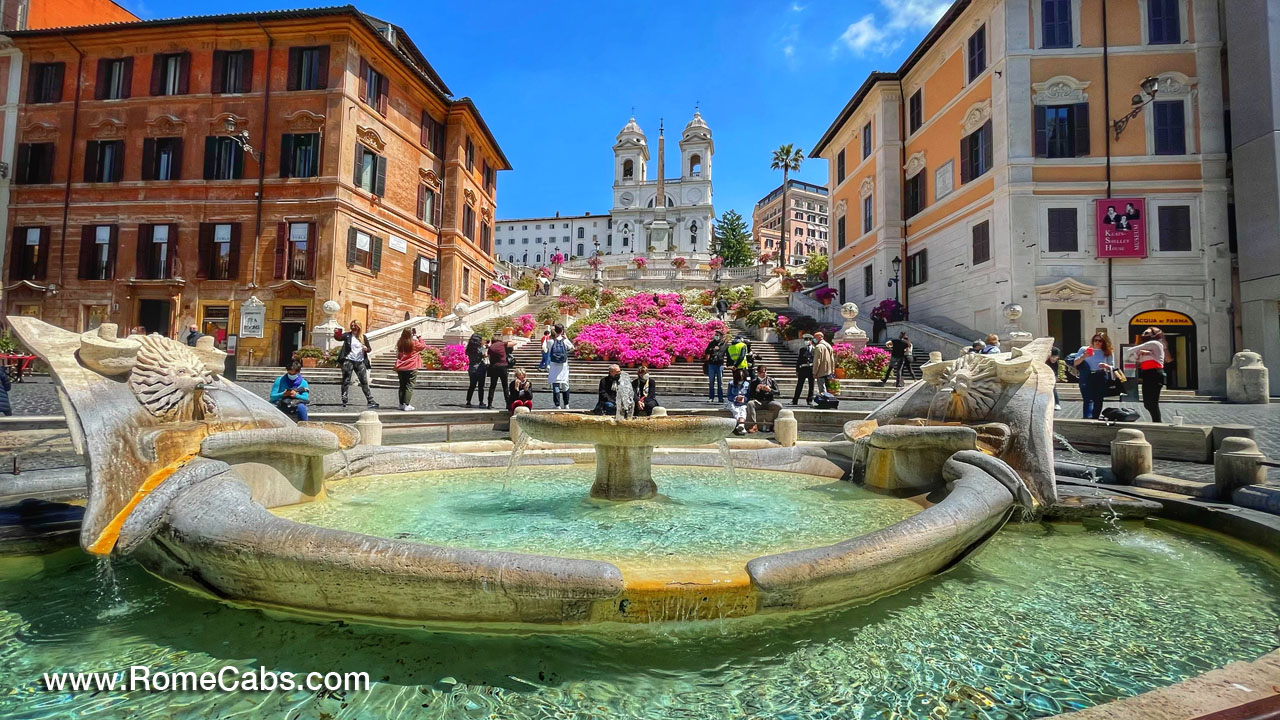 After lunch, your chauffeured tour will continue with a stop at the Spanish steps (Piazza di Spagna) famous for its elegant winding stairway that scales all the way up to the French church of Trinita dei Monti and the obelisk (Obelisk Sallustiano) is a smaller version copy of the large original obelisk once belonging to Pharaoh Ramses II that is currently gracing Piazza del Popolo.
At the foot of the staircase, you will notice a large gathering of people around a fountain in the shape of a shallow boat typically used for carrying wine to the port of Ripetta. This is the "Fontana della Barcaccio" (The Fountain of the Old Boat), a 1600's Baroque fountain attributed to Pietro Bernini, the father of the famous sculptor Gian Lorenzo Bernini.
Another famous piazza in Rome your Driver will take you to is the beautiful Piazza Navona.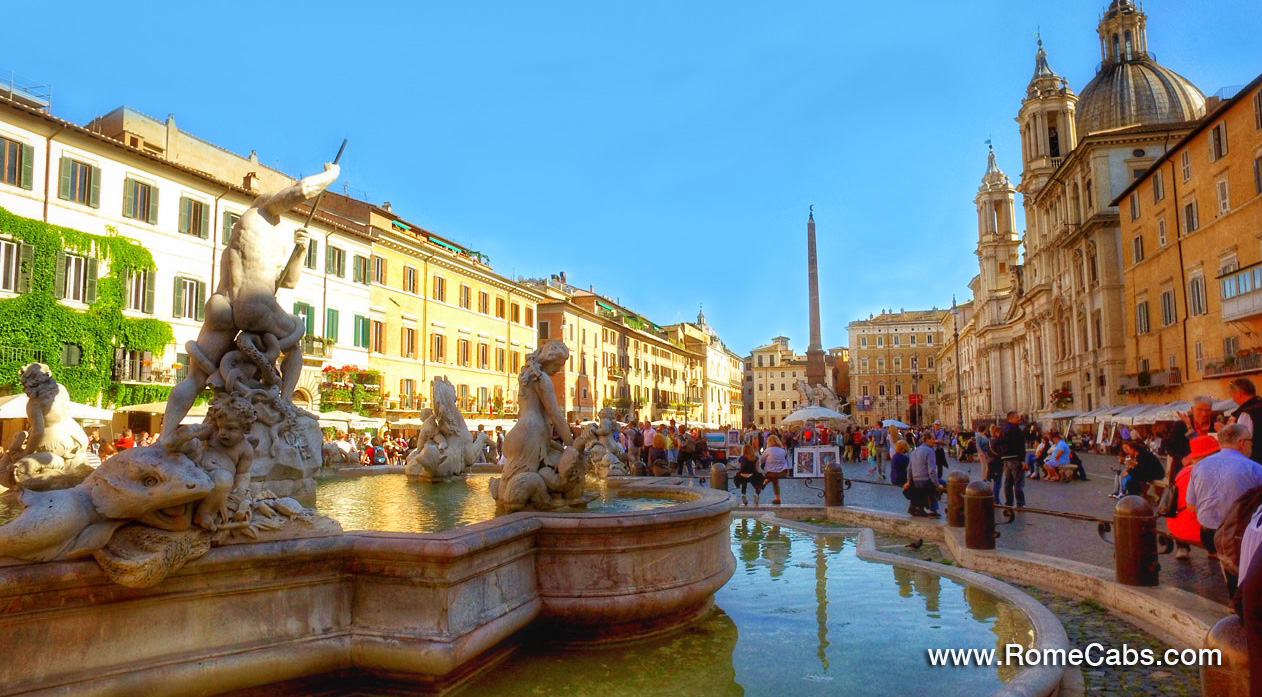 Filled with light and sculpture, this unique piazza takes its oblong shape from the outline of the ancient Circus Domitianus (Domitian's Stadium) that once stood here. Its centerpiece is the Bernini's Fontana dei Quattro Fiumi (The Fountain of Four Rivers) which artistically and symbolically represents the four known rivers during the 1600s, the Nile River, the Danube River, the Rio River, and Plate River.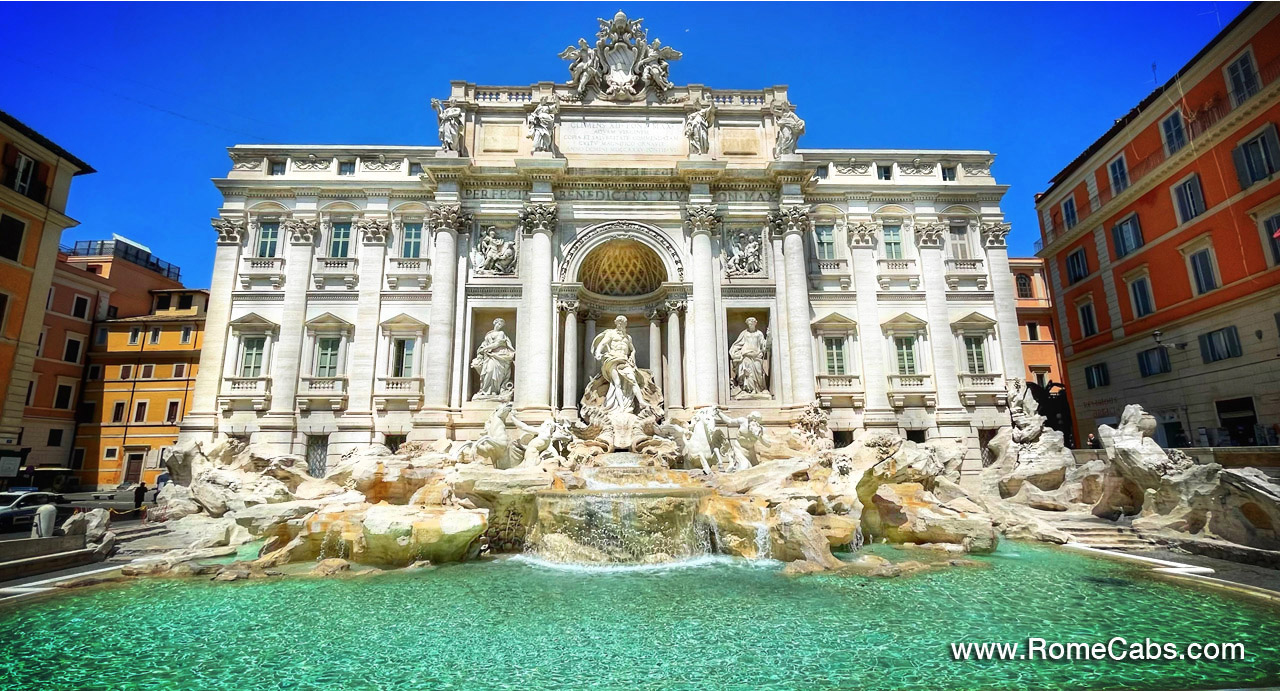 One of the most iconic squares in Rome that was featured in classic films such as "La Dolce Vita" and "Three Coins in a Fountain" is the large Baroque Fontana di Trevi (The Trevi Fountain). Hundreds and thousands of people a day toss a coin into the fountain, hopeful that the tradition of tossing a coin in the fountain will ensure their return to Rome.
Not to be missed is Piazza della Rotonda, dominated by the magnificent Pantheon.
One of the most recognizable ancient Roman monuments still in use today is the Pantheon. Initially, an ancient Roman temple dedicated to all the Roman gods, it was converted into a church in 609 AD and became the burial place for Italy's royalty including King Vittorio Emanuele II, King Umberto I, and his Queen Margherita....as well as famous Renaissance artists like Raphael.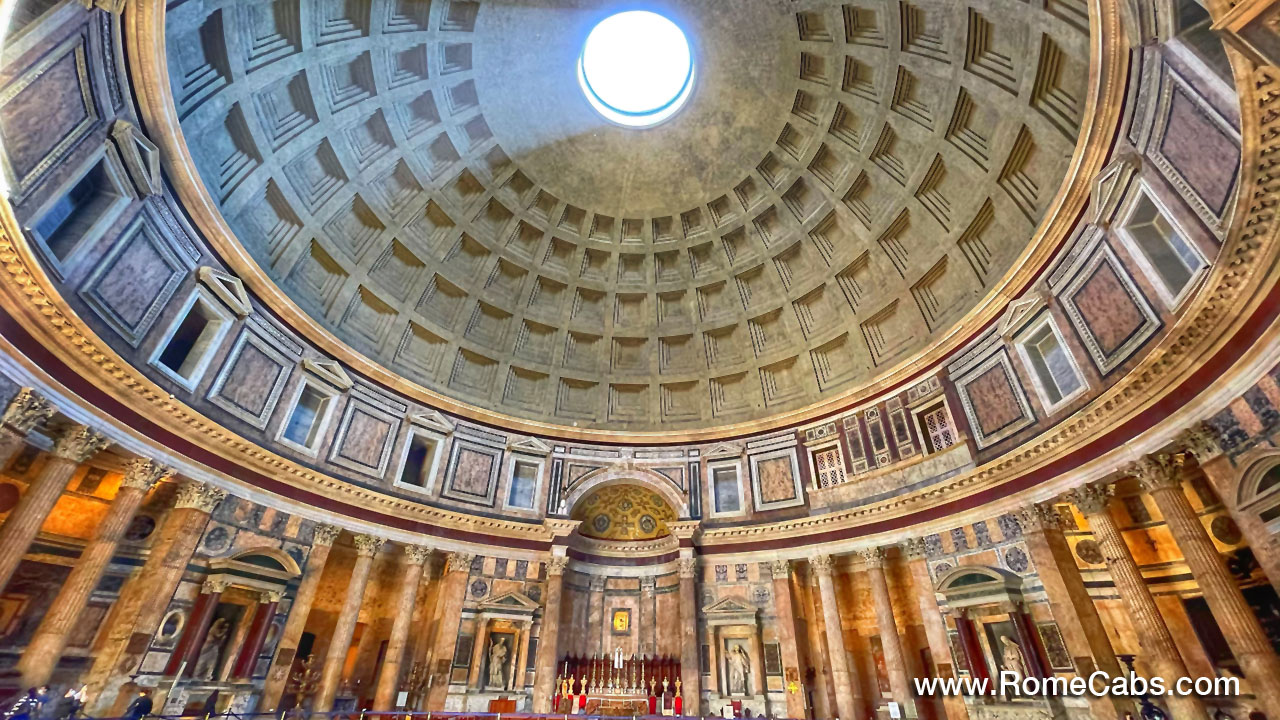 As you stand inside the Pantheon and look up to the center of the large coffered dome, you will notice the oculus (in Latin for "eye") that serves not only as an architectural necessity but provides light as well as natural elements to flow into the building. Drainage holes are strategically placed to drain the water from the rain.
This marks the end of your First of your Rome in 2 Days Tour. From here your driver will bring you back to your hotel after a wonderful day exploring Rome.
** NOTE: the Pantheon now requires ADMISSION TICKETS to be booked in advance at specific time slots. See BELOW for more information.
DAY 2 of ROME IN 2 DAYS TOUR


Explore some of Rome's top off the beaten path sites and hidden surprises


Your journey through Rome continues as your Driver will meet you at your hotel accommodation, your day will begin with a visit to Campo dei Fiori, one of Rome's most famous squares that comes to life each weekday morning with its open-air market where you will experience a market day in Italy!
This bustling market has been taking over the square each morning since the late 1800s. Discover a vibrant cornucopia of everything from farm-fresh fruits and vegetables beautifully displayed in a burst of color and fragrance, to clothing, kitchen wares, souvenirs, and countless local Italian products and delicacies to tempt your palate.
Campo de' Fiori translates to "field of flowers", a name that was first given to this place during the Middle Ages when it was actually a meadow. Flowers are still part of this square but sold by vendors in beautiful bouquets for any and all occasions.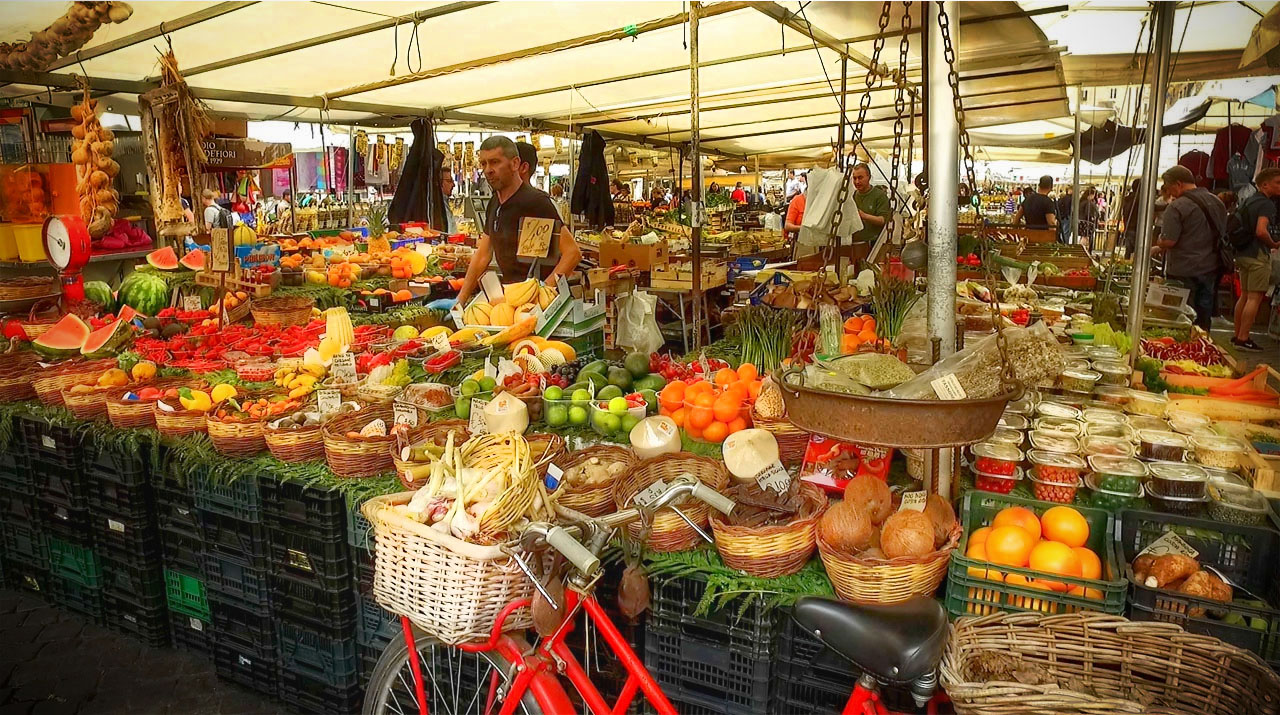 A short drive away through Rome will take you to the lovely Aventine Hill, one of the Seven Hills upon which Rome was built in ancient times, but today is an elegant residential area of Rome that includes two places of interest treasured by off-the-beaten-path enthusiasts: Giardino degli Aranci (The Orange Garden that's a well-kept secret of the locals) and the Secret Keyhole.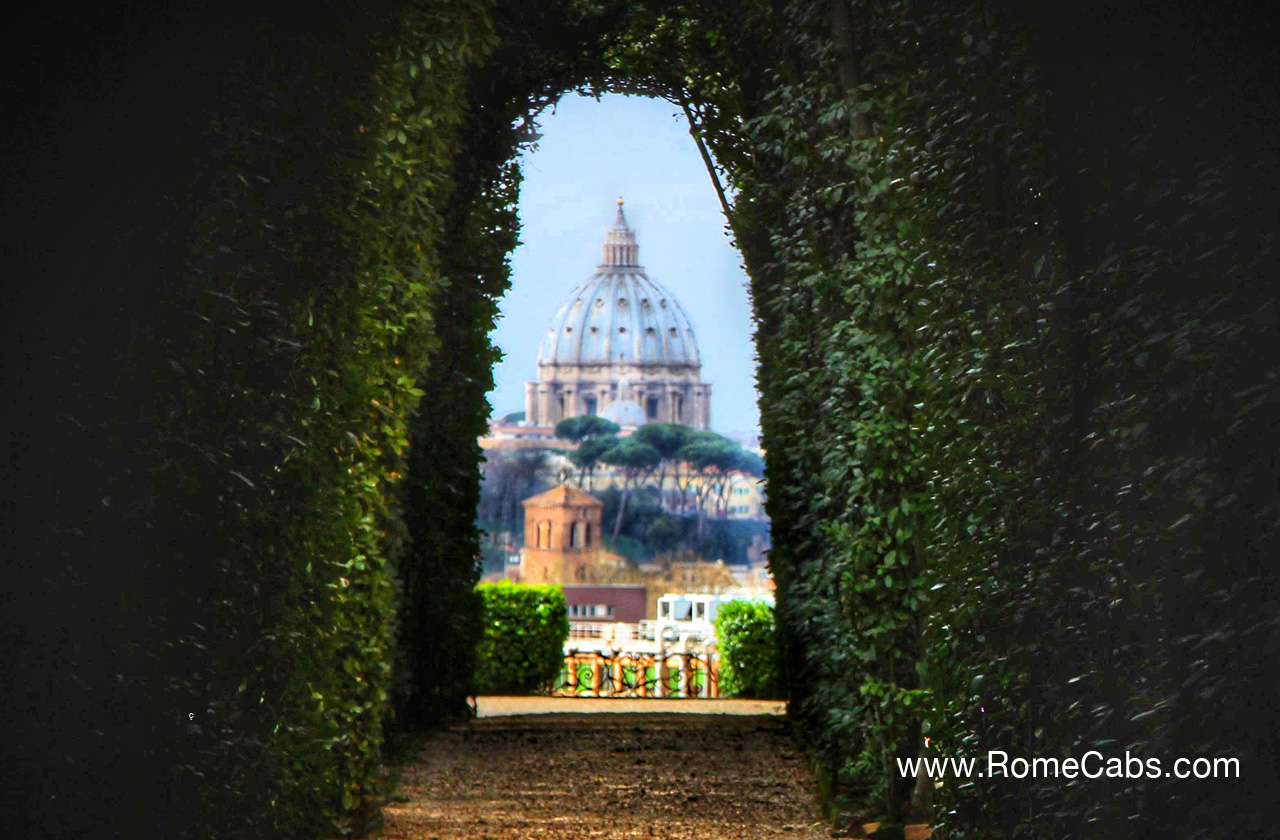 Inside you will find a lovely small grove of orange trees. In the spring, the fragrance of the blossoms attracts locals who delight in a quiet afternoon in this cozy park. Tradition has it that St Catherine of Siena made candied orange peels from the trees in this garden as a gift for the pope.
The garden terrace will reveal a lovely panorama of Rome with the Tiber River below, and the dome of St Peter's Basilica in the distance.
In the nearby small and charming 18th century Piazza of the Knights of Malta, you will find a rather ordinary door with a peculiar keyhole that reveals an enchanting view of the misty dome of St Peter's Basilica, beautifully framed by green manicured trees in the garden just beyond the door.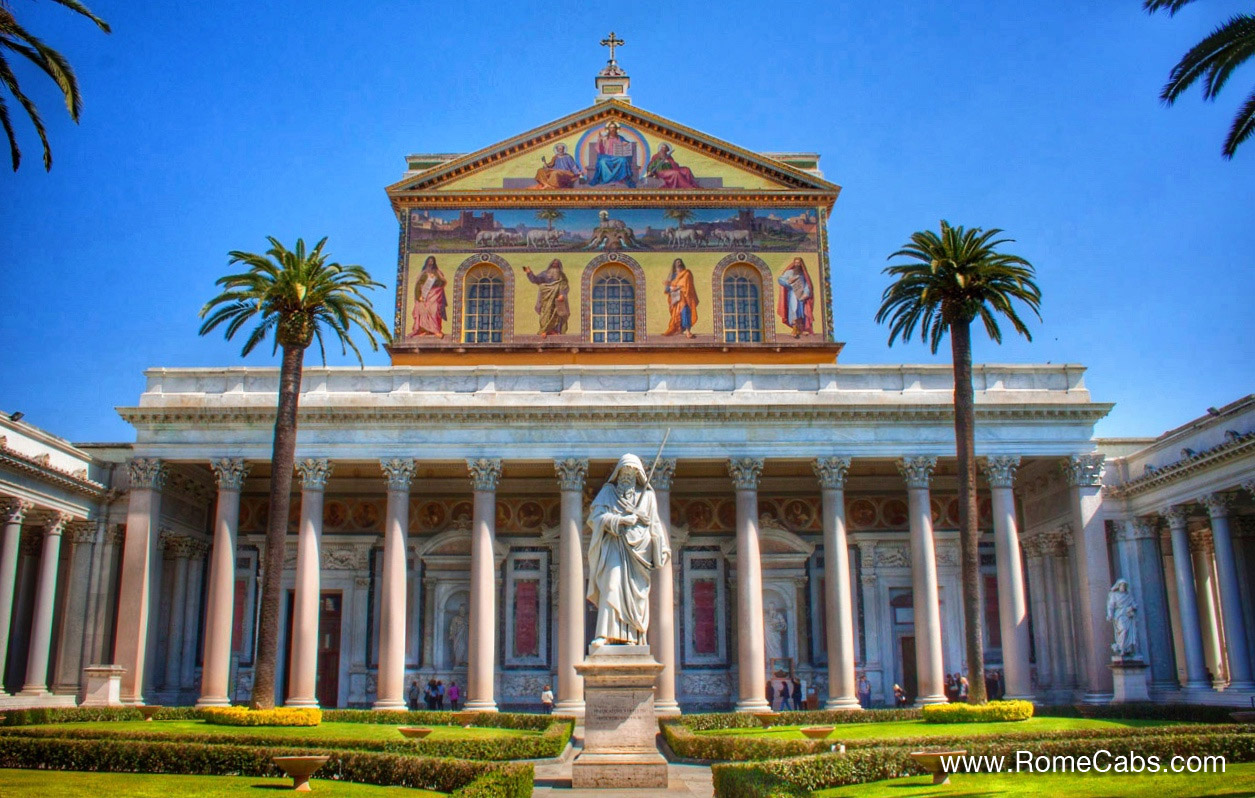 Your Rome in 2 Days Tour will continue with a visit to St Paul Outside the Walls, the second largest basilica in Rome and one of the four Papal Basilicas. This Basilica was originally built in the 4th century by Emperor Constantine over the burial site of Saint Paul the Apostle, and it is currently one of the top pilgrimage destinations for millions of Christians around the world.
This beautiful basilica was destroyed by fire in the early 1800s, but with the generosity of donors across the continents, the basilica was perfectly restored to its previous glory which you can admire today.
One of Rome's most imposing and famous ancient Mausoleums is Castel Sant'Angelo, the original 2nd century AD tomb of ancient Roman Emperor Hadrian that was later converted into a fortress, a castle to offer safety and protection to the popes during dangerous times of war and sieges, and a prison.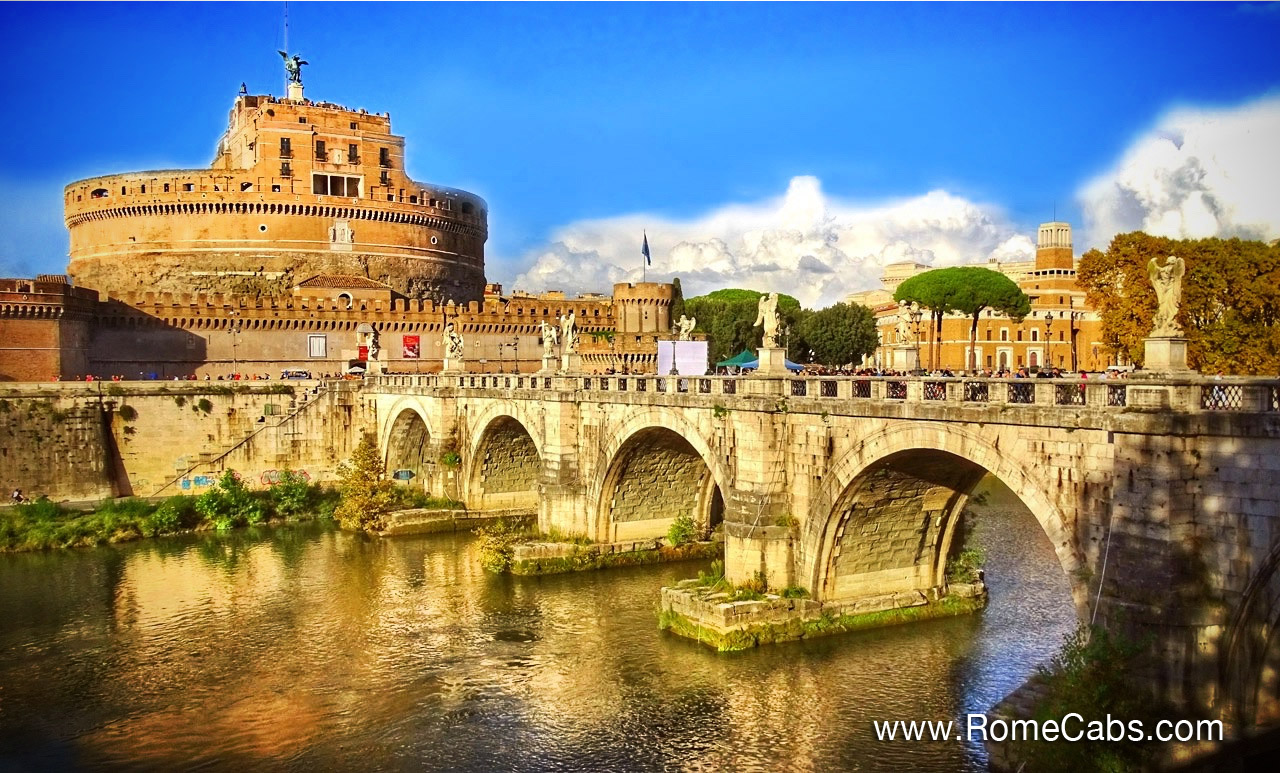 The name "Castel Saint Angel" was given when supposedly Archangel Michael appeared on top of the mausoleum sheathing his sword signaling the end of the terrible plague of 590. You can see the statue representing this legendary event on top of the castle.
The top of the castle offers a splendid view of the Vatican and a stunning panorama of Rome that's not to be missed!
Lunch will be at a local restaurant or trattoria of your choice.


THE VATICAN - admire grand masterpieces at the Vatican Museums and Sistine Chapel
After lunch, your driver will take you to visit the smallest country in the world: Vatican City. Your visit will begin with the Vatican Museums with one of the most extensive and compelling collections of masterpieces in the world including the greatest artists such as Leonardo da Vinci, Michelangelo, Raphael, Giotto, Caravaggio, Titian, and more from antiquity to the Renaissance.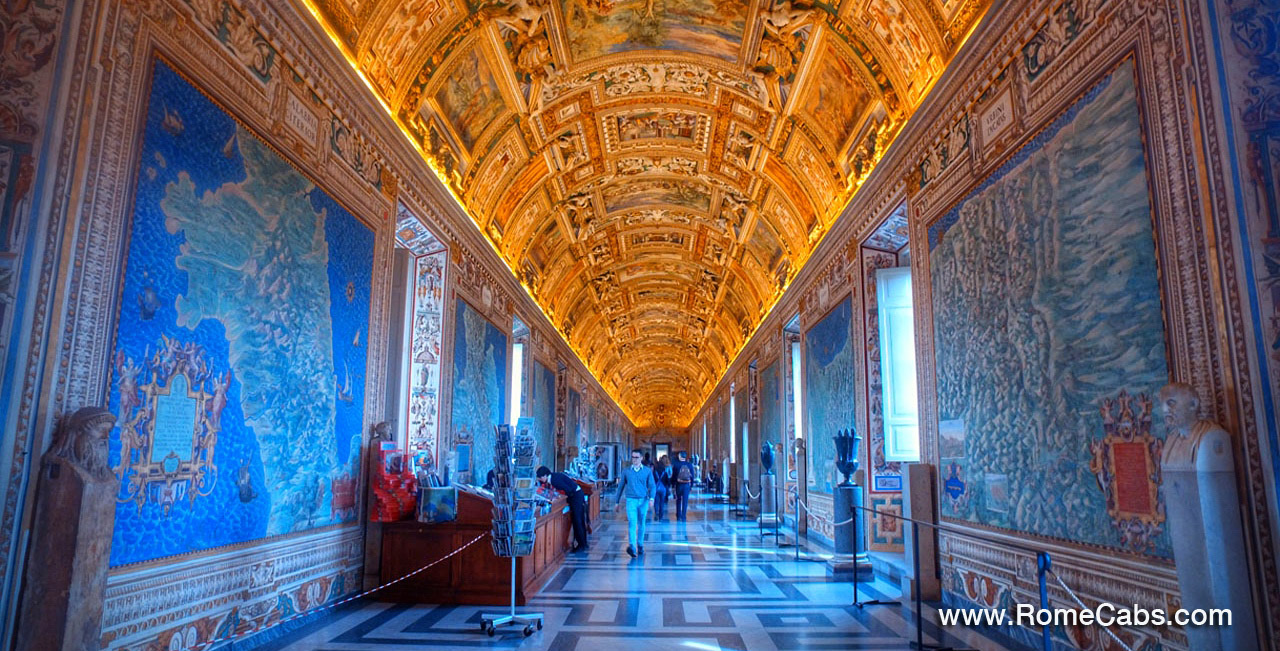 Among the most popular and visited galleries and Halls are the Raphael Rooms, Hall of the Maps, Gallery of the Tapestries, the Pinacoteca, and the highlight of everyone's visit: the Sistine Chapel that features Michelangelo's famous frescoes.
IMPORTANT INFORMATION Regarding visiting Saint Peter's Basilica


If visiting St Peter's Basilica is important to you, we strongly recommend reserving a Licensed Tour Guide for your Vatican visit. In addition to providing an informative guided walking tour of the Vatican Museum Highlights and the Sistine Chapel, a tour guide can also GUARANTEE you quick access to Saint Peter's Basilica through the special backway shortcut entrance designated for "Visitors with Tour Guides Only".
Without a Tour Guide to access the basilica, you would be required to exit the Museums and access the Basilica from St Peter's Square where you may find potentially long security lines that may prevent you from having sufficient time to also visit the Basilica. We cannot guarantee you will be able to also visit St Peter's Basilica without a licensed tour guide if you run out of time.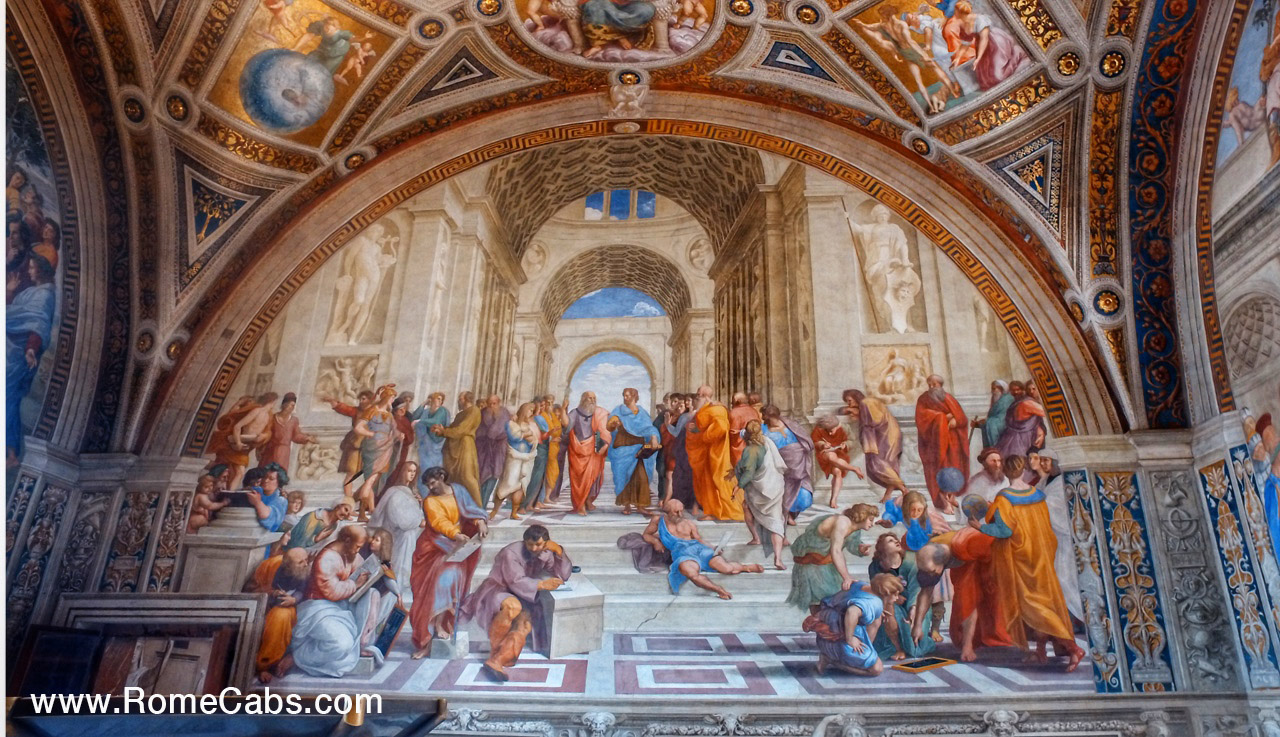 Important Information

PLEASE READ THE INFORMATION BELOW AND ACCEPT THE TERMS OF SERVICE AND PRIVACY POLICY BEFORE BOOKING.


PAYMENT OPTIONS
Payment for this Tour can be made in EUROS directly to your driver on the Date of Tour, or prepaid in advance via PayPal or Credit Card online upon request. (See Cancellation policy below)
CANCELLATION POLICY
We kindly ask that cancellations be made via E-mail at least 7 days prior to Date of Service.
Cancellations are accepted only via E-mail so your cancellation is on record. We do not accept cancellations by phone, text message, or 3rd parties.
** Cancelations for PREPAID SERVICES will be refunded the Reduced Net Rate we receive from your prepayment. Reduced Net Rate: actual service price minus PayPal/Credit Card fees retained by PayPal/Credit Card as they do not reimburse us the fees they retain from your payment.
ADMISSION TICKETS:

PANTHEON Admission Tickets:
The Pantheon now requires ADMISSION TICKETS that currently cost 5 EUROS Per Person to be booked in advance at specific time slots. We will provide you with the LINK to the Ticket Website and recommended Time Slot to book your tickets in advance.

* COLOSSEUM TICKETS (Skip Ticket Lines):
The price of Colosseum standard Admission Tickets booked online is currently 14 Euros per person (prices are subject to change without notice). Please check the link below.
Select your print at home and get them with you in order to avoid long lines.
If you are from United States, please select "United States" (or Stati Uniti in Italian) when prompted to select your country of origin.
CLICK HERE to purchase Colosseum Tickets


Colosseum Tickets tend to sell out quickly even far in advance. In case Colosseum Tickets are no longer available, you will enjoy seeing the Colosseum from the outside with a stroll through Colosseum Square.
Please note that the Colosseum requires all visitors to clear security, which may result in unexpectedly long wait times in security lines. This applies to ALL visitors, including advance ticket holders.


* VATICAN MUSEUM TICKETS - Skip the Ticket Line


Upon confirming the tour, you will be provided with LINKS and INSTRUCTIONS to purchase your Colosseum Tickets and Vatican Museum Tickets in advance online via authorized websites. You will be required to bring your Ticket VOUCHERS with you so they can be converted into actual tickets on-site.
These tickets are NON-REFUNDABLE once purchased as the Colosseum and Vatican Museums do NOT issue refunds on purchased tickets of any kind.


* CASTEL SANT'ANGELO TICKETS:
The price for Castel Sant'Angelo tickets is currently 10.50 Euros per person purchased on-site upon arrival or you may pre-purchase them in advance online. Prices are subject to change and may be a line to the ticket office, although much shorter than at previous sites.


* CATACOMBS VISIT TICKETS:
The entrance fee to visit the Catacombs is currently 8 Euros per person to be purchased on arrival, and it includes a group-guided tour available in different languages.


* Please Note that prices for entry tickets are subject to change pending occasional exhibitions, changes are always the discretion of the monuments and museums. We accept responsibility for ticket changes that may occur after you book this tour.
* Churches in Italy may close for private religious affairs with no advance notice. In such cases, the church is replaced with another beautiful church.
YOUR TOUR DRIVER
This tour provides a Tour Driver who is NOT a licensed tour guide. You will SELF TOUR away from the vehicle, unaccompanied by your driver.
Italy has strict laws that protect licensed tour guides, so it is unlawful for tour drivers to act and guide guests to sightsee from the vehicle. Your Driver will be happy to offer basic information while at the vehicle but will be obliged to stay with the vehicle while you sightsee.
* For your safety inside the moving vehicle, please do not distract the driver while s/he is driving, especially during traffic conditions.
* Your Driver will drop you off as close to the sites as close as legally possible and in accordance with the Municipality and Traffic laws of Rome.
LICENSED ROME TOUR GUIDES
To enhance your tour experience, we will highly recommend a professional private licensed tour guide.
The most important works of art in the world. We highly recommend reserving a private Licensed English Speaking Tour Guide to accompany you on a 2 hour guided tour through the Vatican Museums, Sistine Chapel, and St Peter's Basilica to enhance your experience and knowledge of the most unique places in the world.
Please contact us for Guided Tours of the Colosseum with Roman Forum, and/or the Vatican and we will be happy to assist with Tour Guide options and Tour Guide Fees.
Tour Guide fees are paid directly to the guide in EURO currency at the end of their tour service.

Please inquire via E-Mail for Tour Guide Fees and Booking Information.

IMPORTANT TOUR GUIDE DISCLAIMER: Private licensed tour guides are not employees or affiliates of RomeCabs as they operate independently. We receive no compensation or benefit in any way from the guides. We recommend their services based on their lawful qualifications, expertise, professionalism, and reliability, but we have no control over the style of tours they provide.
Please be advised that RomeCabs accepts no responsibility or liability for the style of tours Private Guides provide as they are not part of RomeCabs company. By allowing us to book a private guide on your behalf, you are entering an agreement that you fully understand and accept all the conditions above with no exception.

ROME TRAVEL TIPS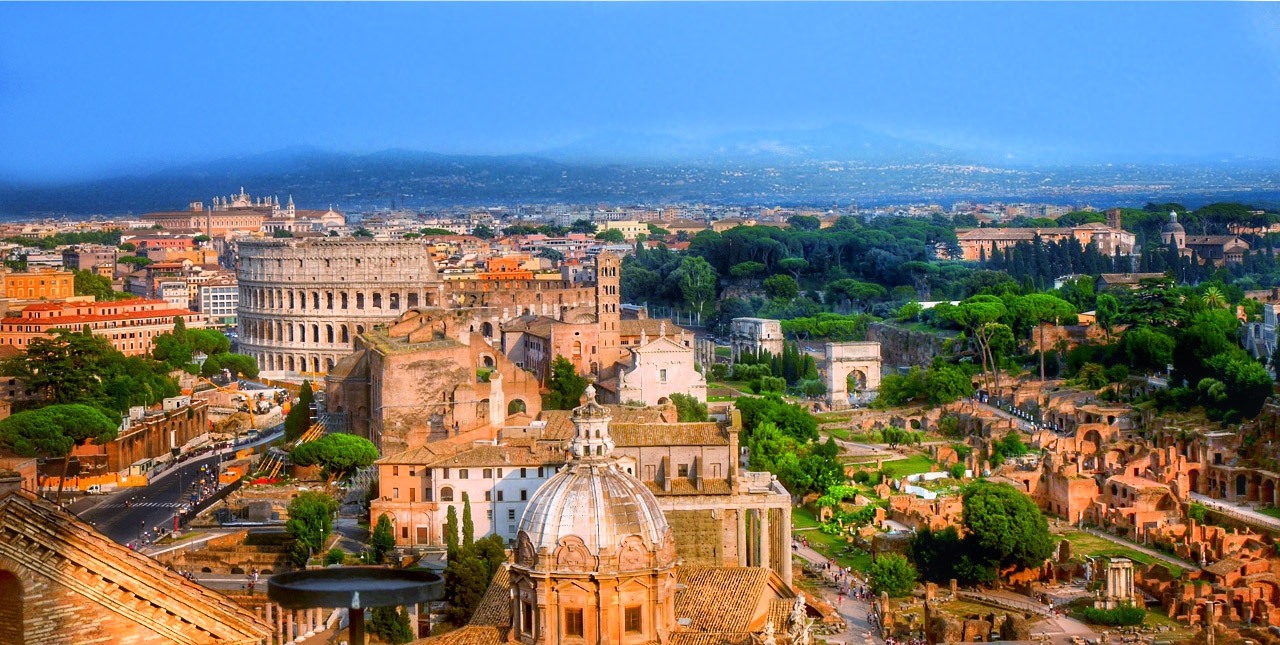 Tips for Visiting the Colosseum
It's advisable to bring a bottle of water, sunscreen, and a hat to protect your head and shade your face during the summer months as it becomes quite hot and sunny while visiting the Colosseum and Roman Forum.
*** Due to security checkpoints installed at the entrance of the Colosseum, wait lines can be expected. ***

All visitors are obliged to pass through security, including ticket holders. Wait lines vary. Any delays associated with visiting the Colosseum are outside of our control.

Tips for visiting Rome's famous Squares
The area around the popular sites can become quite crowded, especially during the peak travel months, so be aware of your belongings and keep them close to you. Do not accept 'gifts' from street vendors approaching tourists around the fountain. Rome is a very safe city, but as with any place in the world, it is good to travel with common sense.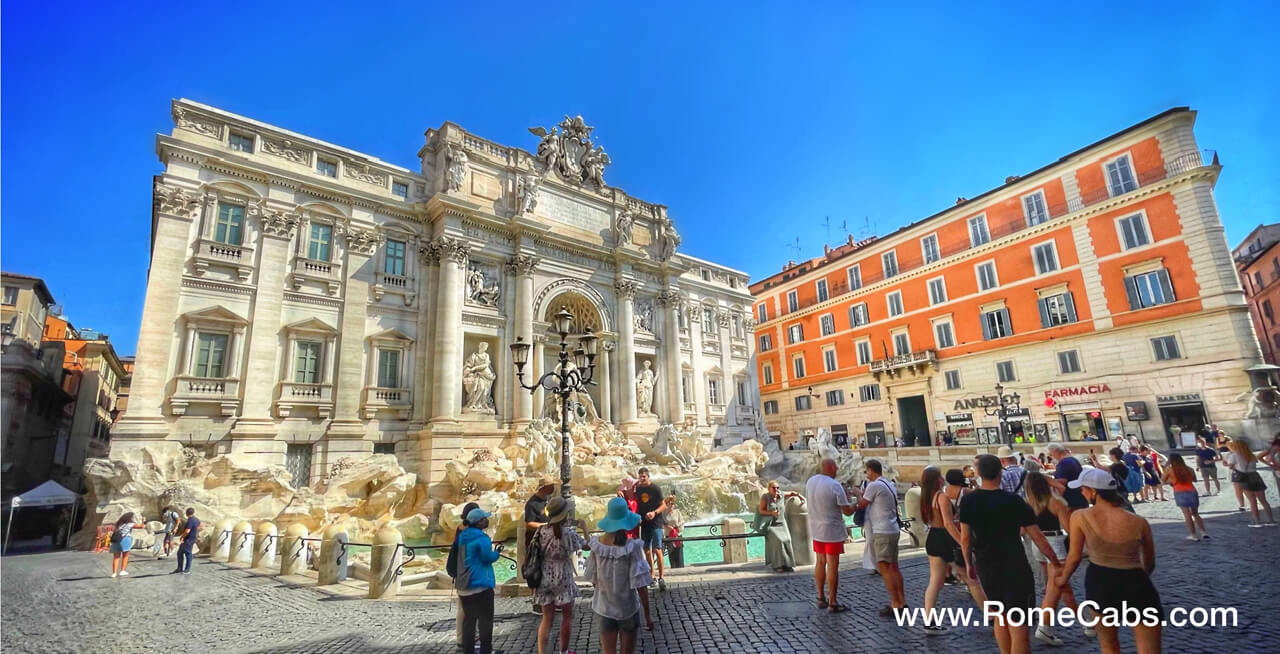 Tips for visiting the Vatican Museums:
Photography and videography are permitted throughout Vatican Museums, with exception of sensitive areas where flash photography is forbidden. Please check the signs that advise you of this. You may use flash photography and videography freely inside St Peter's Basilica.
Any form of photography and videography is strictly forbidden inside the Sistine Chapel.
Please note that during the summer months the Vatican Museums are very crowded, often hot, and it may or may not be an enjoyable experience for everyone who is sensitive to crowds and heat.

Tips for visiting Saint Peter's Basilica at the Vatican:
There is no dress code for visiting the Vatican Museums, but there is a modesty dress code to enter the Sistine Chapel and St Peter's Basilica: no bare shoulders or bare knees. Capri-type pants are acceptable for ladies and men can wear shorts that are long enough to cover the knees.
Ladies, if you wear a tank-top, bring a scarf or shawl to cover your shoulders. Persons who don't respect the modesty dress code are turned away and denied entrance into this holy church as well as the Sistine Chapel.


READ MORE FROM OUR TRAVEL BLOG: