Payment method:Cash, Paypal, Credit card

starting time:8:00 AM
highlights
Enhance your Transfer between Rome and Sorrento / Amalfi Coast with a Tivoli villas tour
Self Tour the vast ancient Imperial complex of Emperor Hadrian at Hadrian's Villa
Delight in a stroll through the opulent Renaissance Villa d'Este and its Italian Gardens
Travel comfortably in your private deluxe vehicle with English speaking driver
Your luggage will travel safely with you inside the luggage compartment of your deluxe vehicle
Convenient hotel accommodation pick up and drop off for optimal way to travel through Italy
Enjoy a higher level of personal attention and flexibility on our private tours and transfers by car
* Please include your complete DROP OFF ADDRESS in the Request Box of your booking form
* On MONDAYS, you will only visit Hadrian's Villa for 2 Hours as Villa d'Este is CLOSED
* Please read ALL the information on the tour page before booking to ensure this tour meets your expectations. If you have any unanswered questions let us know. Tour Requests are confirmed based on availability.
itinerary
Pick up at your Hotel or Accommodation
Visit Hadrian's Villa - 1 hour
Visit Villa d'Este - 1 hour
Journey to your final destination
** NOTE: On Mondays, you will visit Hadrian's Villa for 2 Hours as Villa d'Este is closed
included
Private Deluxe Vehicle
English speaking Driver
All VAT and Italy Taxes
Highway Tolls
Parking Fees
not included
Admission Tickets
Tour Guides / Walking Tours
Lunch
Gratuities
description
Getting from Rome to Amalfi or Sorrento has never been more fun!

On our Private Sightseeing Transfer from Rome to, from Amalfi Coast / Sorrento with a visit to Tivoli Vilas, your Stefano's RomeCabs English speaking Private Driver will conveniently pick up you at your hotel accommodation, and you will enjoy a leisurely drive in your private deluxe vehicle with the wonderful opportunity to visit the famous Tivoli Villas.
When you book our Italy sightseeing transfers, you do not have to worry about carrying your own luggage, traveling on public buses, trains, metros, and taxis, managing restrictive train schedules, or dealing with chaotic train stations. Just relax on your journey, and enjoy visits to some of Italy's most remarkable locations.
This sightseeing transfer is offered as:
Rome to Amalfi Coast or Sorrento
Amalfi Coast or Sorrento to Rome
Rome to Amalfi Coast, Sorrento with Tivoli visit Price List:
For up to 4 Persons: 650 EUROS
For up to 6 Persons: 700 EUROS
For up to 8 Persons: 750 EUROS
* You may also do a QUICK PRICE CHECK using the Price Check & Booking form on the Right Side of this page. Once you receive the PRICE QUOTE based on the information you input, you may proceed to SUBMIT your Tour Request.
* Dates on the Booking Form Calendar that are NOT Selectable, are NOT AVAILABLE.
** NOTE: On Mondays, you will visit Hadrian's Villa for 2 Hours as Villa d'Este is CLOSED
*** Be sure to include your complete Hotel Drop Off Address in the Special Request Box of your booking form.
HADRIAN'S VILLA
On your way from Rome to Amalfi Coast or Sorrento, you will stop to visit the 2 remarkable villas in Tivoli: Hadrian's Villa and Villa d'Este.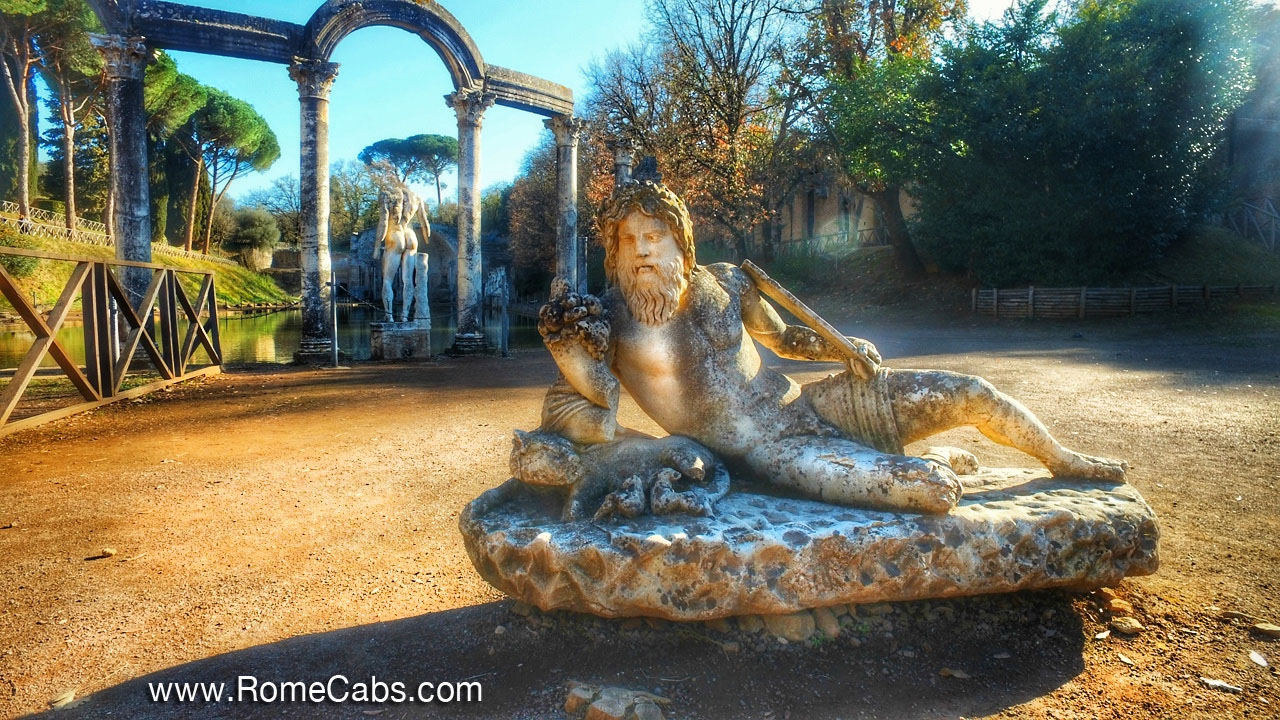 Hadrian's Villa (Villa Adriana) is a vast imperial complex whose ruins are a testament to the original grandeur and beauty built by Roman Emperor Hadrian as a countryside retreat from where the Emperor is known to have ruled the entire Roman Empire.
The self-sufficient imperial complex was comprised of over 30 buildings, including the imperial palace, temples, libraries, theaters, baths, pools, and gardens built and decorated to resemble many of the monuments and sites he had admired during his travels around the Roman Empire.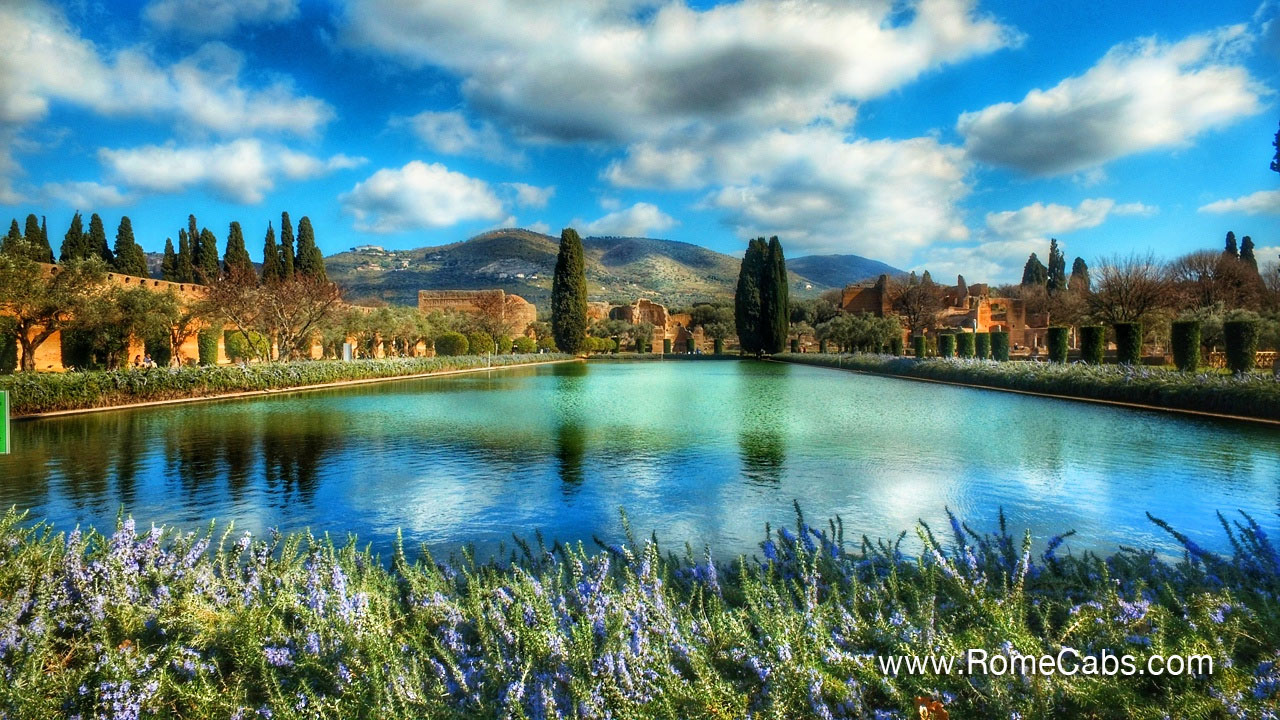 As you stroll through the spacious Imperial residence and among the ancient ruins, you will be amazed by the imposing architecture from the distance as well as close-up.
VILLA D'ESTE

The enchanting Villa D'Este built by the cardinal Ippolito D'Este is comprised of an opulent residential villa adorned with beautiful frescoes and Italian-style gardens is considered one of the most beautiful residences of the Renaissance.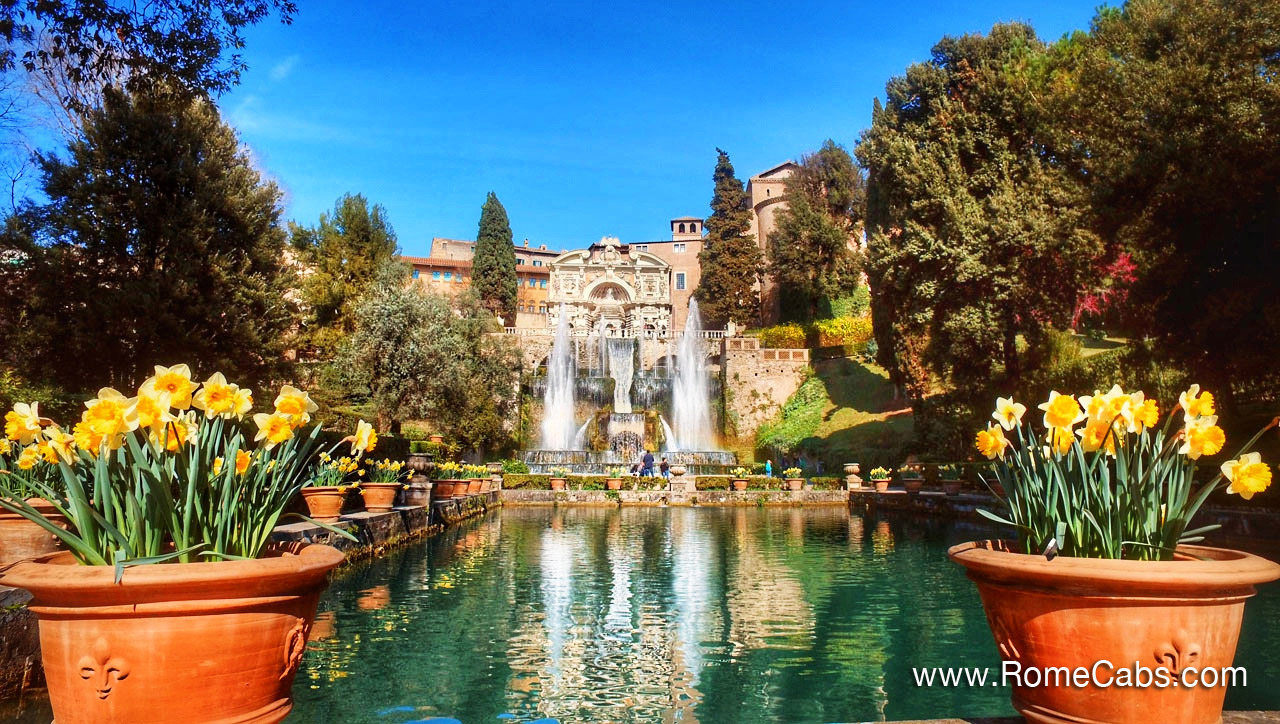 Villa d'Este's numerous fountains throughout the sloped manicured green gardens created a delightful symphony of sounds of water gushing directly from the Aniene River. Promenading through these elegant gardens is a relaxing, peaceful and awe-inspiring experience.
From here, your private driver will take you on a relaxing journey to Amalfi Coast or Sorrento.


On MONDAYS, you will only visit Hadrian's Villa for 2 Hours as Villa d'Este is CLOSED
Thank you for booking our Rome to Amalfi / Sorrento with a visit to Tivoli Sightseeing Transfer, and for choosing Stefano's RomeCabs for your private Transfers and Italy limo tours. We look forward to showing you beautiful places in Italy!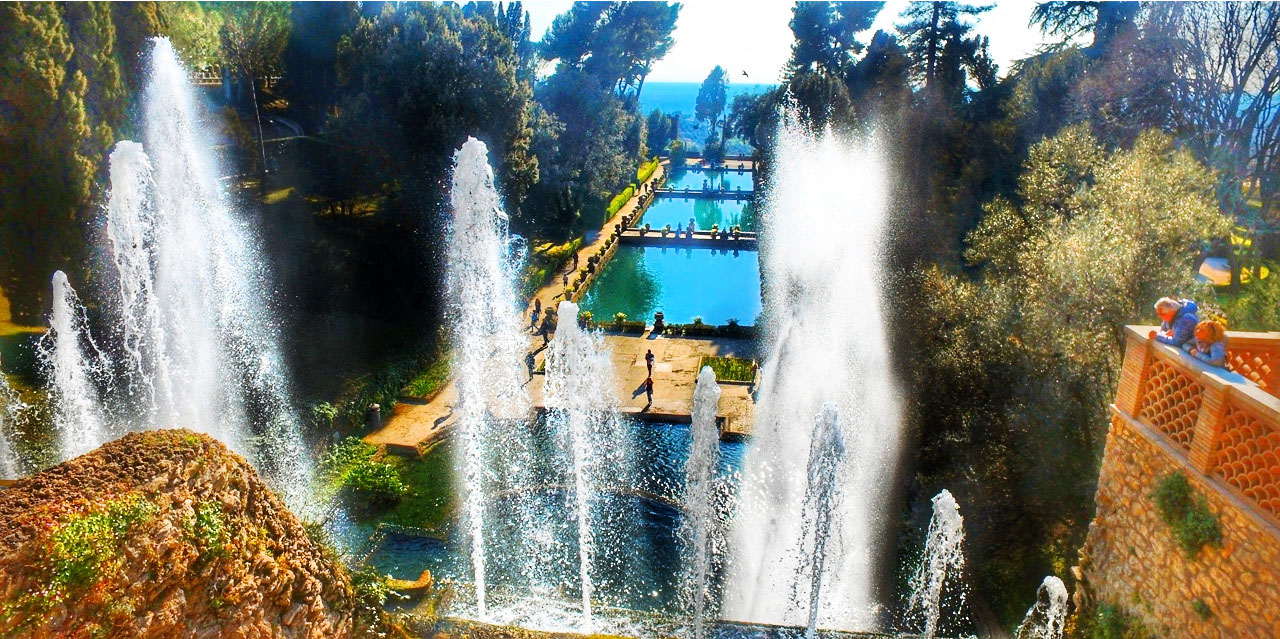 Important Information

PLEASE READ THE INFORMATION BELOW AND ACCEPT THE TERMS OF SERVICE AND PRIVACY POLICY BEFORE BOOKING.


* This Rome to Amalfi Coast / Sorrento sightseeing Transfer is NOT recommended on Mondays if you wish to visit BOTH Vilas as Villa d'Este is CLOSED on Mondays. Only Hadrian's Villa is open on Mondays.
PAYMENT OPTIONS
Payment for this Tour can be made in EUROS directly to your driver on the Date of Tour, or prepaid in advance via PayPal or Credit Card online upon request. (See Cancellation policy below)
CANCELLATION POLICY
We kindly ask that cancellations be made via E-mail at least 7 days prior to Date of Service.
Cancellations are accepted only via E-mail so your cancellation is on record. We do not accept cancellations by phone, text message, or 3rd parties.
** Cancelations for PREPAID SERVICES will be refunded the Reduced Net Rate we receive from your prepayment. Reduced Net Rate: actual service price minus PayPal/Credit Card fees retained by PayPal/Credit Card as they do not reimburse us the fees they retain from your payment.
TIVOLI ADMISSION TICKETS PRICES
Hadrian's Villa: currently 10 Euros per person
Villa d'Este: currently 10 Euros per person
* Admission Ticket prices are subject to change without notice.
** On MONDAYS, you will only visit Hadrian's Villa for 2 Hours as Villa d'Este is CLOSED
YOUR PRIVATE PRIVATE DRIVER:
Your Private Driver is not a licensed tour guide, therefore your Driver cannot lawfully accompany guests to sightsee or act as a guide away from the vehicle.
In order to comply with Italy laws that prohibit unlicensed guides from accompanying visitors to sightsee on foot, your driver is obliged to remain with the vehicle with your luggage safely locked inside the luggage compartment of the vehicle while you sightsee and visit Hadrian's Villa and Villa d'Este.
You will SELF TOUR inside the Villas in Tivoli.
You have the option to also request to book a Licenced Tour Guide for a 2 HOUR informative guided tour of Hadrian's Villa.
ADDITIONAL TIVOLI TOUR GUIDE OPTION:
Tour Guide for Private 2 HOUR tour of Hadrian's Villa can be arranged upon special request. Please contact us for Tour Guide Fee and to reserve a private guide for this visit to Hadrian's Villa.
LUGGAGE
Sedans priced for 1-2 passengers can accommodate up to 2 standard suitcases and up to 2 small carryons.
Minivans for up to 8 passengers can accommodate up to 6 suitcases and up to 6 carry-ons in TOTAL. If you anticipate bringing luggage in excess of what the standard 8-seater vans can accommodate, please inform us prior to booking this service so we can help ensure that everyone and their luggage will travel safely inside the vehicle.


Private Driver MEETING POINT at hotel / accommodation:
Your private driver will meet you inside the lobby of your hotel or in areas permitted by your hotel management.

For Apartments or B&B's without a lobby, your driver will meet you outside the main entrance of your Pick Up Address.
* DOOR TO DOOR SERVICE is possible if your accommodation address is not in a traffic or parking restricted area. In case you are staying in an area with traffic and/or parking restrictions, your driver will park as close as lawfully possible and meet you outside at your address for your pick up and accompany you to the parked vehicle, or accompany you to your hotel address from the parked vehicle for drop-offs.
TIPS for visiting the Tivoli Villas:


Please wear comfortable shoes and clothing on your visit to Tivoli villas
Hadrian's Villa is an archaeological site with dirt and uneven terrain..
Villa d'Este gardens are situated on a terraced slope that includes steps and passages at an incline.
The gardens, as well as the villa, include steps and flights of stairs when exploring the estate. This location may not be suitable for wheelchair users.
During the summer months, we recommend you wear sunscreen, sunglasses and summer hats.
There are plenty of opportunities to take photographs, so be sure to have plenty of batteries and film in your cameras