description
Please CONTACT US via Email for availability and booking information


SAN GIMIGNANO AND SIENA TOUR PRICE LIST


For up to 4 Persons from Livorno Port: 750 EUROS
For up to 6 Persons from Livorno Port: 800 EUROS
For up to 8 Persons from Livorno Port: 900 EUROS
** You may also do a QUICK PRICE CHECK using the Price Check & Booking form on the Right Side of this page. Once you receive the PRICE QUOTE based on the information you input, you may proceed to SUBMIT your Tour Request. The Dates in the Calendar that are NOT Selectable are NOT AVAILABLE.
** Dates on the Booking Form Calendar that are NOT Selectable, are NOT AVAILABLE.

WATCH: Enjoy a preview of the remarkable Tuscan tous in our San Gimignano and Siena Tour Video:


This shore excursion is perfect for those who have already visited Florence and wish explore the beautiful Tuscan countryside and its stunning medieval towns. On this tour you will have the opportunity to do just that: enjoy the splendor of Tuscany and two of its most famous towns: San Gimignano and Siena.
The beauty of Italy is not just in its aesthetic landscapes, but it the rich history upon which it's rooted in that is reflected in the historic Medieval and Renaissance towns so beautifully preserved that you feel you've not only travelled in Tuscany, but travelled in time as well.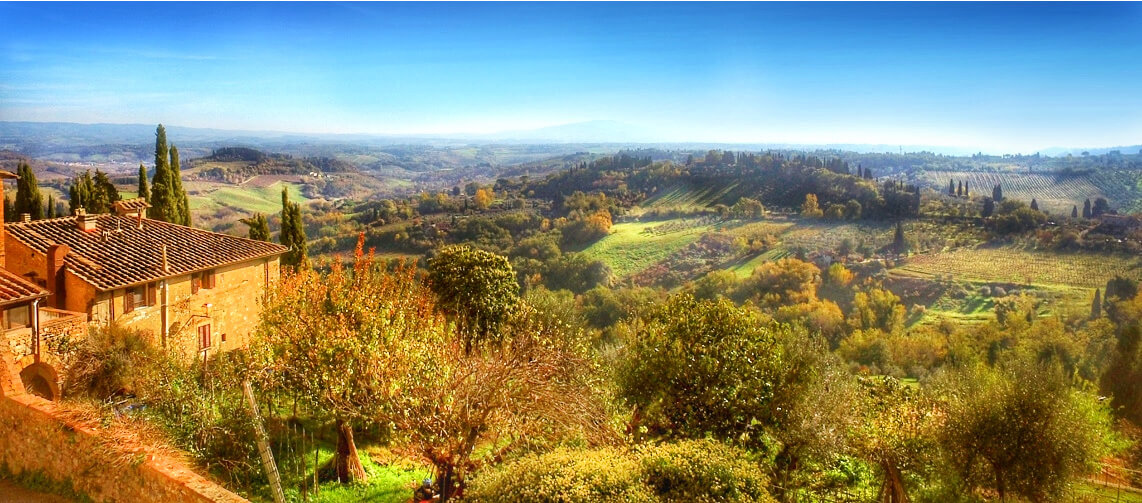 SAN GIMIGNANO - the Medieval Manhattan of Tuscany


As your drive through the Tuscan countryside continues, you will notice one of Tuscany's most recognizable skylines made up of a dozen medieval towers that have earned San Gimignano the nickname "The Medieval Manhattan of Tuscany".
An ancient village once stood here called Silvia, named after one of its ancient Roman founders Muzio and Silvio, two brothers who fled Rome and settled here, but the town was later renamed after the Saint Geminianus, Bishop of Modena, whose intervention is credited to saving the town from Attila the Hun's invaders.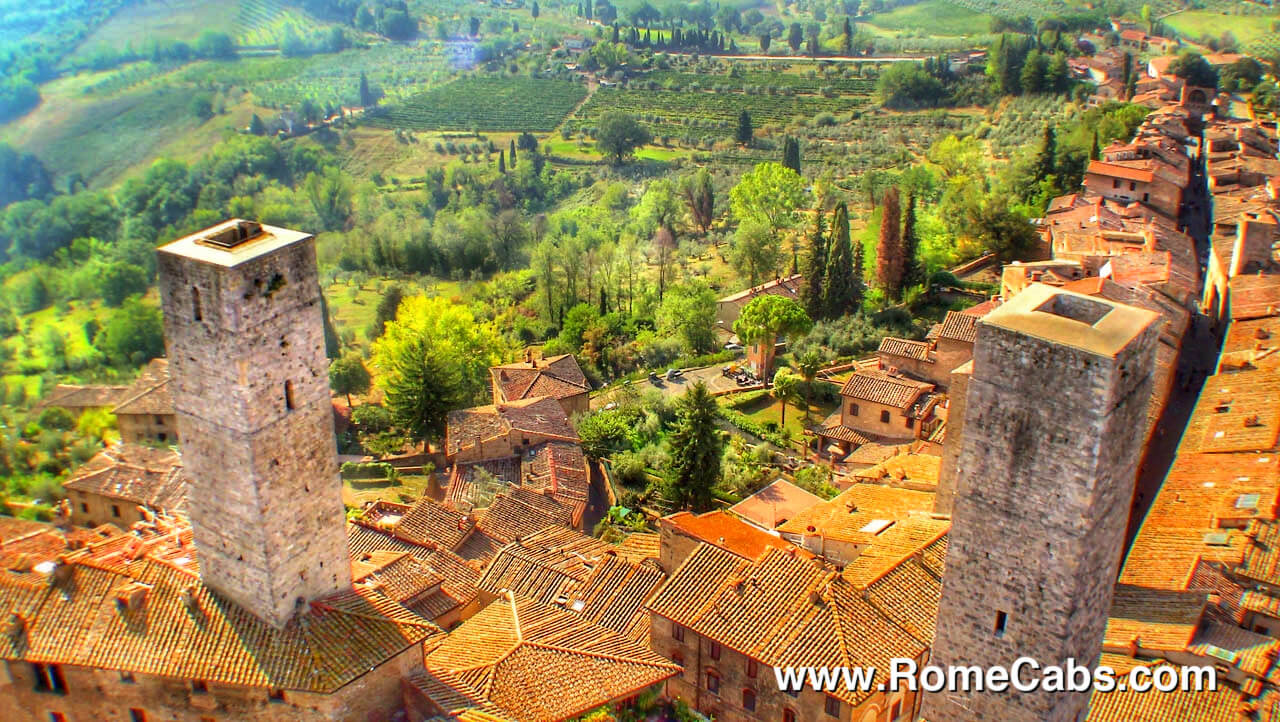 San Gimignano's prominent location along the pilgrim road Via Francigena provided the town with a great financial boost during the Medieval era that afforded its affluent locals comprised of merchants and moneylenders the possibility to build 72 towers, prestigious symbols that established their economical and political power in the community.
Over the centuries, only 14 towers survived, becoming San Gimignano's international symbol and pride and granting the town's historic center its distinguished status as a UNESCO World Heritage Site.
While in San Gimignano, you have free time on your own to explore the charming medieval town and enjoy lunch at a local restaurant or trattoria. Your driver can offer suggestions for a restaurant, but in Tuscany food is considered a local pride and you can't go wrong with eating at any of the local eateries.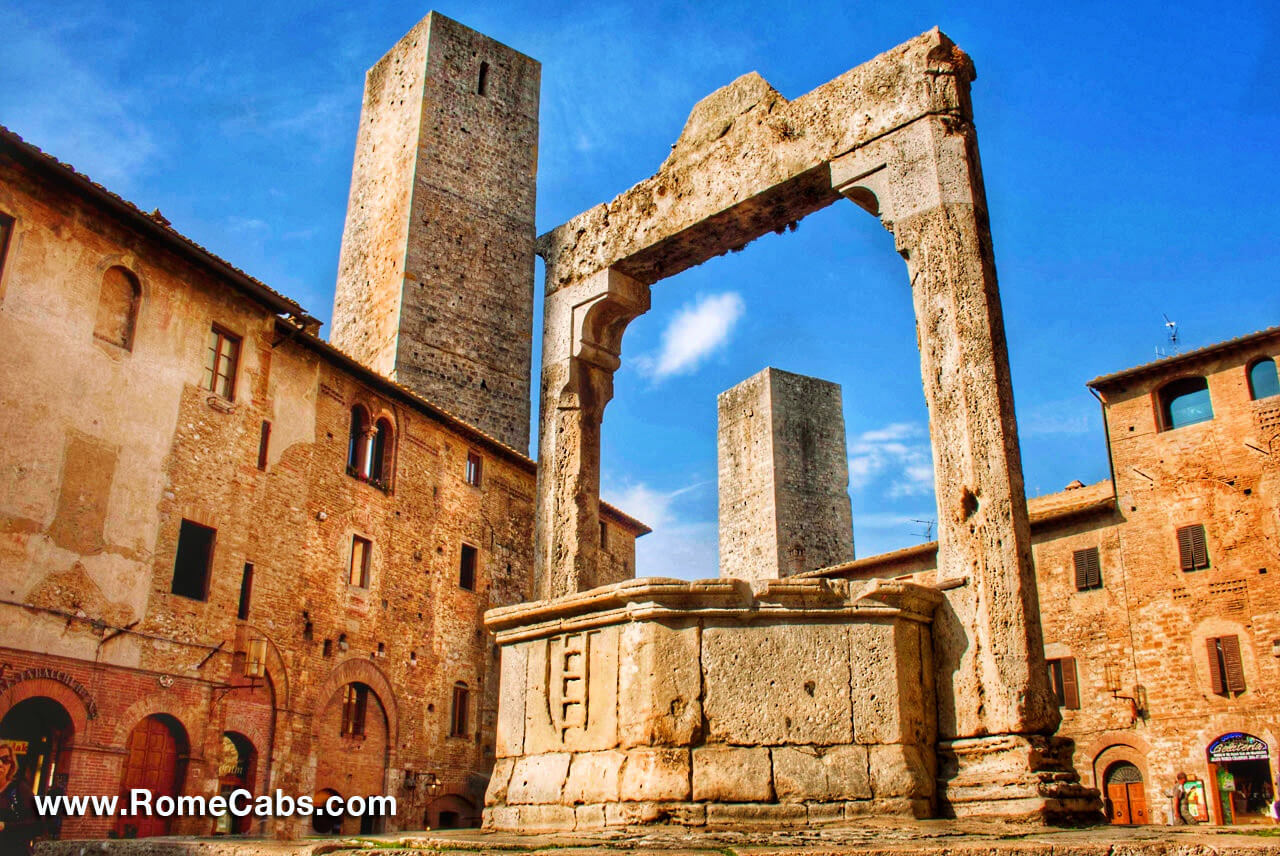 Not to be missed is the town's main square, the lively and lovely Piazza della Cisterna named after the 14th century well that is situated in the center of the square.
The square is surrounded by architecturally eclectic medieval palaces and historic buildings, as well as a variety unique shops, cafes, boutiques, and some of the Tuscany's best gelato!
Lunch can be enjoyed at either in San Gimignano or Siena - both towns excell in local Tuscan traditional cuisine at local restaurants or trattorias.


SIENA - the jewel of Tuscany


Siena enjoys a history stretching back to the days when it was an ancient Roman colony, evolving into a prosperous medieval town that rivaled its powerful neighbor Florence.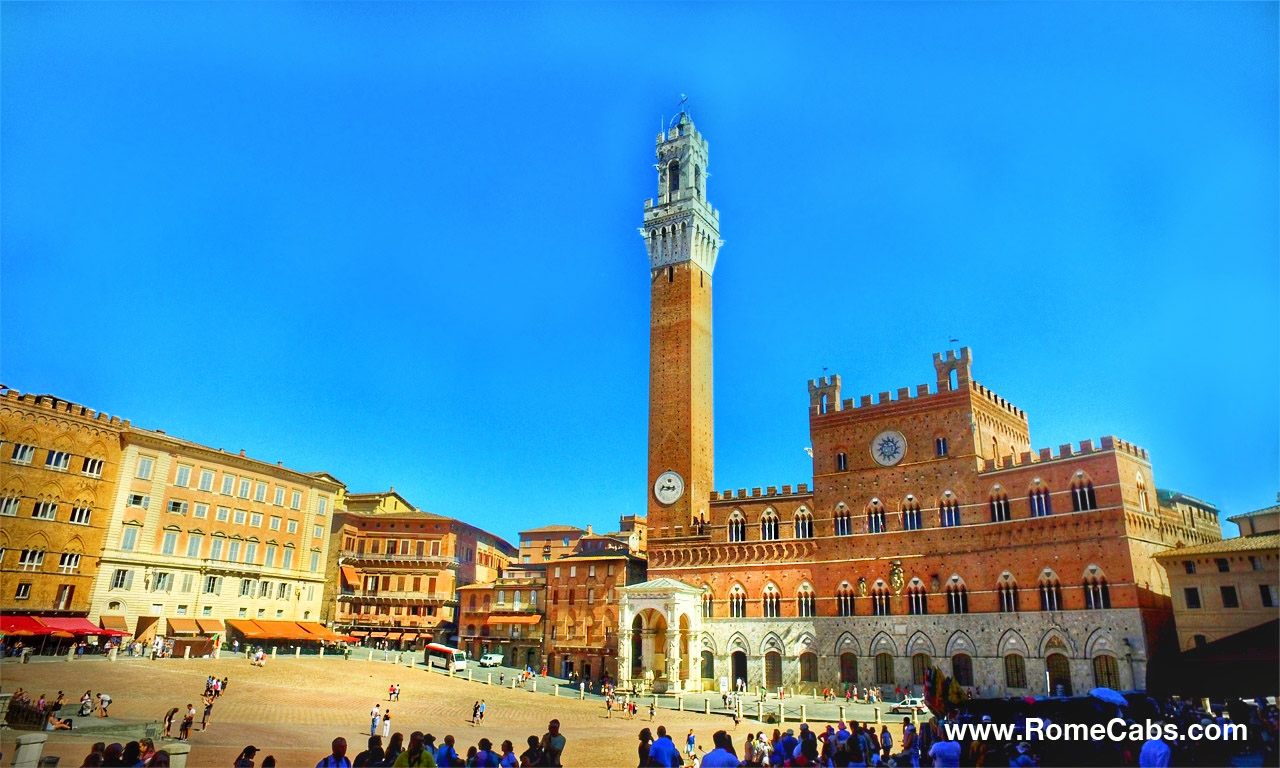 Closely connected to its ancient traditions is the famous Palio delle Contrade horse race that takes place twice each summer inside the perimeter of the town's main square, Piazza del Campo.
The scallop shaped square is the town's focus point and the traditional meeting place for the locals. The lively square is surrounded by outdoor and indoor restaurants and cafes, shops and boutiques, stunning historic buildings and palazzi (palaces).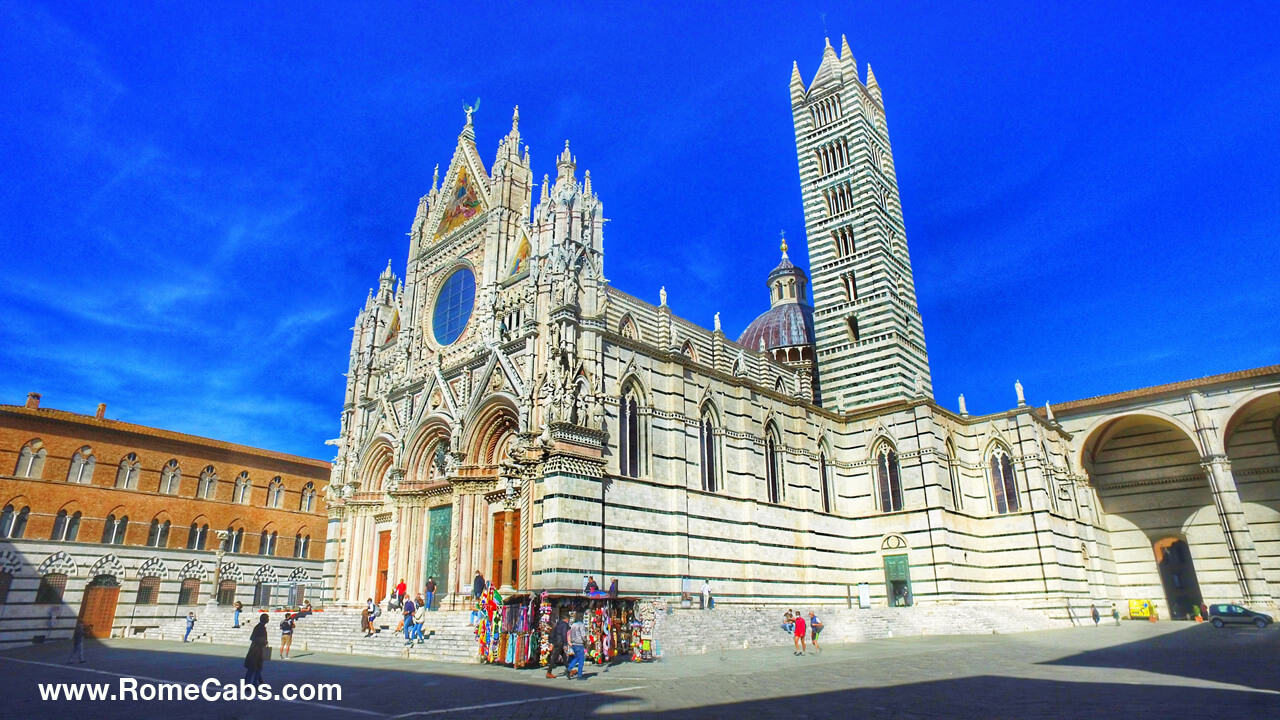 Siena has historically been famous for its fine craftsmanship, and you will be pleased to discover that the nearby characteristic lanes brim with merchants that still continue this ancient tradition with offerings of unique locally crafted goods.
Thank you for booking our San Gimignano and Siena Shore Excursion from Livorno, and for choosing Stefano's RomeCabs for your Italy Private Excursions. We look forward to showing you Italy!
Important Information

PLEASE READ THE INFORMATION BELOW AND ACCEPT THE TERMS OF SERVICE AND PRIVACY POLICY BEFORE BOOKING.

PAYMENT OPTIONS
Payment for this Tour can be made in EUROS directly to your driver on the Date of Tour, or prepaid in advance via PayPal or Credit Card online upon request. (See Cancellation policy below)
CANCELLATION POLICY
We kindly ask that cancellations be made via E-mail at least 7 days prior to Date of Service.
Cancellations are accepted only via E-mail so your cancellation is on record. We do not accept cancellations by phone, text message, or 3rd parties.
** Cancelations for PREPAID SERVICES will be refunded the Reduced Net Rate we receive from your prepayment. Reduced Net Rate: actual service price minus PayPal/Credit Card fees retained by PayPal/Credit Card as they do not reimburse us the fees they retain from your payment.
YOUR PRIVATE TOUR DRIVER
This San Gimignano and Siena tour provides an English-speaking Private Driver who is NOT a Licensed Tour Guide.
Italy's laws prevent Drivers from acting as tour guides and accompany guests away from the vehicle to sightsee. Your Private Driver will be obliged to remain with the vehicle while you SELF TOUR away from the vehicle.
MEETING POINT AT LIVORNO CRUISE PORT
Your driver will meet you on the Pier next to your Ship at your scheduled pick-up time holding a sign with the NAME in your reservation.

Please do NOT leave the ship area, and do NOT take a shuttle bus outside the port.