description

On this RomeCabs private Shore Excursion to Pisa and Lucca from La Spezia, you will enjoy a fun filled day in two of Tuscany's most famous cities well regarded for their profound history, charm and architectural beauty.
Your shore excursion begins with a relaxing drive through the charming Tuscan countryside to your first destination.
Please CONTACT US via Email for availability and booking information

PISA AND LUCCA FROM LA SPEZIA TOUR PRICE LIST


For up to 4 Persons from LA SPEZIA Cruise Port: 900 EUROS
For up to 6 Persons from LA SPEZIA Cruise Port: 980 EUROS
For up to 8 Persons from LA SPEZIA Cruise Port: 1,100 EUROS



* You may also do a QUICK PRICE CHECK using the Price Check & Booking form on the Right Side of this page. Once you receive the PRICE QUOTE based on the information you input, you may proceed to SUBMIT your Tour Request.
** Dates on the Booking Form Calendar that are NOT Selectable, are NOT AVAILABLE.
*** If your cruise ship docks in Livorno, we also offer this Pisa and Lucca Shore Excursion from Livorno.

PISA


Pisa is one of the most visually recognized town in Italy for its iconic "Leaning Tower" that has made Pisa one of Italy's most famous places.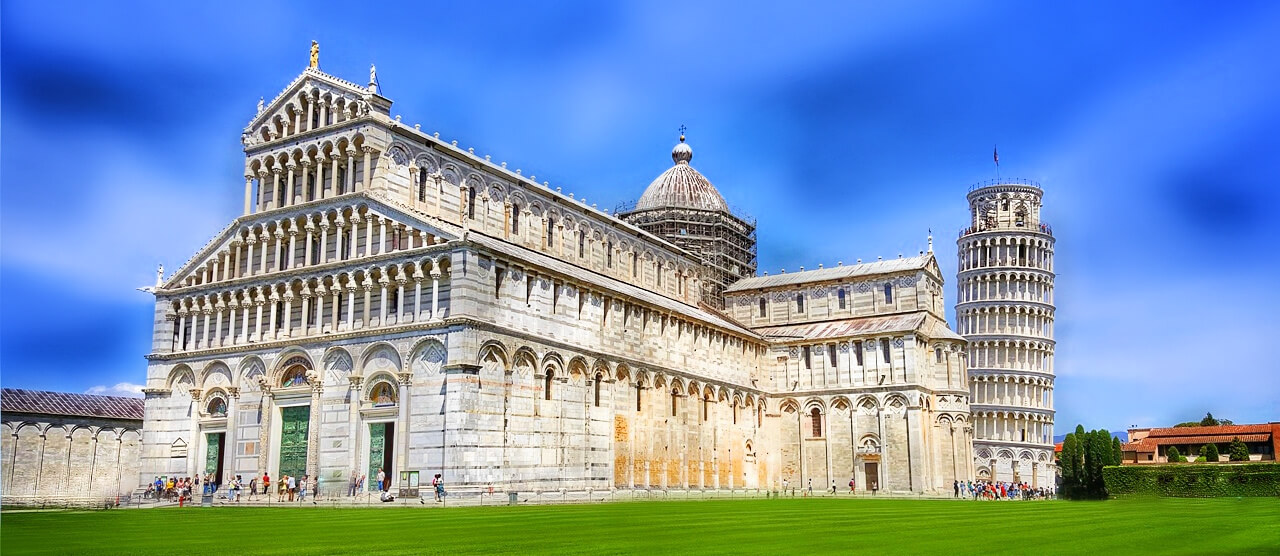 While in Pisa, you will have the opportunity to enjoy the main Piazza dei Miracoli (Square of the Miracles), one of the world's most remarkable Romanesque architectural complexes that contains Pisa's most sacred religious monuments: the Cathedral, the Baptistery, the Leaning Tower of Pisa, and the Monumental Cemetery (Camposanto Monumentale). The entire square including its magnificent structures is a UNESCO World Heritage Site.

LUCCA


From Pisa your journey continues further into Tuscany to Lucca.
Lucca is fabulous medieval town situated on a plateau at the foot of the Apuan Alps and is encircled by impressive and well-preserved Renaissance era city walls that have been transformed into a pedestrian promenade. Lucca's flat setting makes it ideal for leisurely strolls and bicycle rides on spacious streets lined with varieties of shops, historic medieval buildings and fine Renaissance architecture.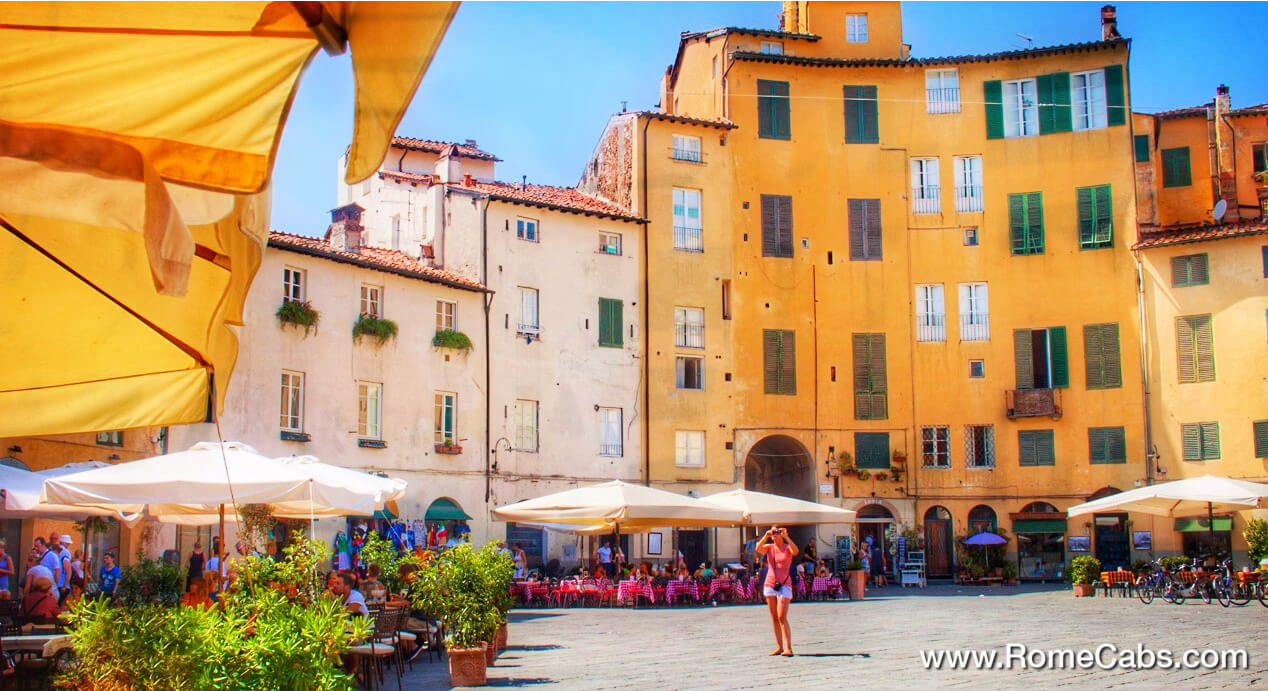 Grand palaces, magnificent churches, towers, lively squares, and ancient Roman monuments showcase Lucca's extensive history that precedes Ancient Rome.
Reminders of Ancient Rome can be seen in Piazza dell' Anfieatro, the elliptical square whose ring of delightful warm toned asymmetric buildings define the outer edge of the 2nd century AD Roman amphitheater that once stood here. Segments of this ancient amphitheater are still visible as they were incorporated into walls of medieval buildings that were erected right into the ancient structure.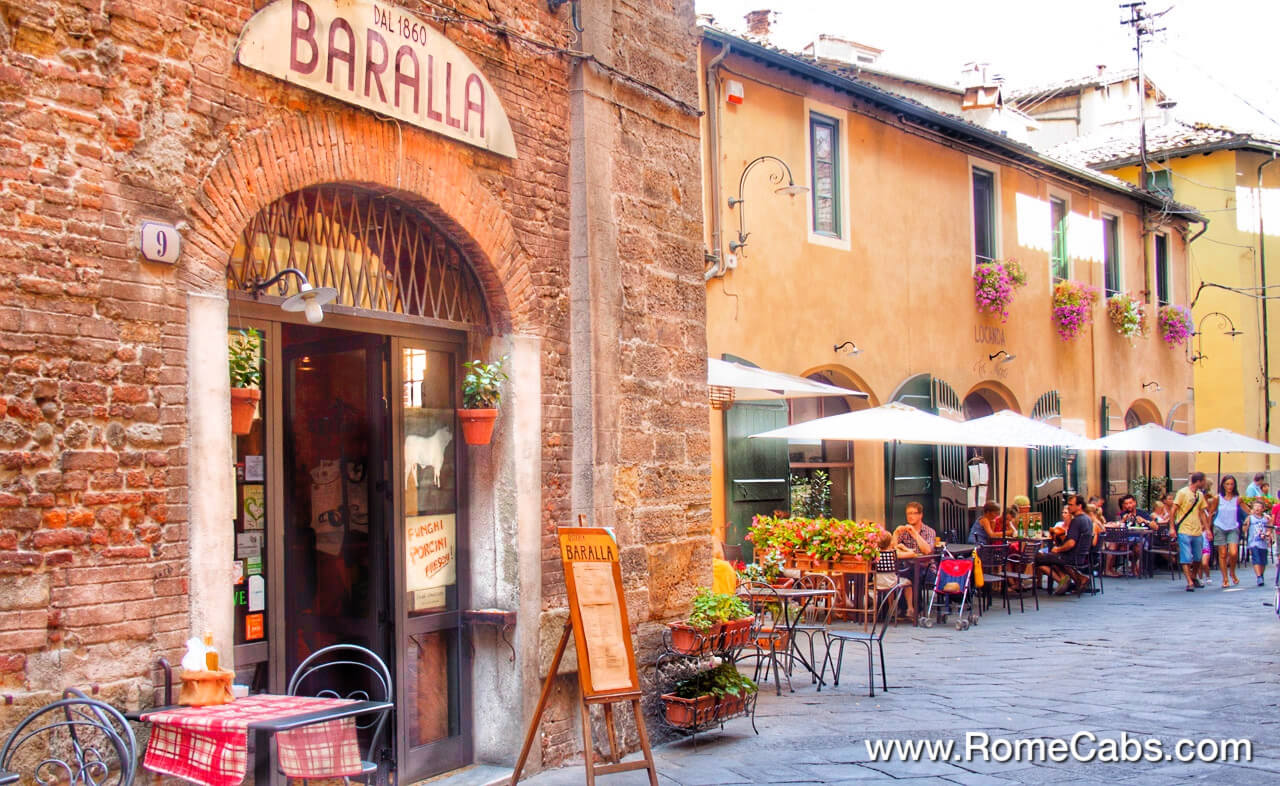 Lucca is also well known for its superb Tuscan restaurants and lunch can be enjoyed at any restaurant or trattoria in Lucca. Tuscans take great pride in their culinary mastery.
From Lucca you will enjoy a restful drive through Tuscany's unforgettable countryside back to La Spezia port.

Thank you for choosing Stefano's RomeCabs for your private excursion to Pisa and Lucca from La Spezia Cruise Port. We look forward to showing you Italy!
Important Information

PLEASE READ THE INFORMATION BELOW AND ACCEPT THE TERMS OF SERVICE AND PRIVACY POLICY BEFORE BOOKING.



PAYMENT OPTIONS
Payment for this Pisa and Lucca from La Spezia Shore Excursion can be made in EUROS directly to your driver on the Date of Tour, or prepaid in advance via PayPal or Credit Card online when you confirm your Tour.
If you wish to PREPAY you may do so online when CONFIRMING your BOOKING by SELECTING your preferred option of payment.
CANCELLATION POLICY
We kindly ask that cancellations be made by E-mail at least 7 days in advance.
Cancellations are accepted only via E-mail so your cancellation is on record. We do not accept cancellations by phone, text message, or 3rd parties.
** Cancelations for PREPAID SERVICES will be refunded the Net Rate we receive from your prepayment. Net Rate: actual service price minus PayPal/Credit Card fees retained by PayPal/Credit Card as they do not reimburse us the fees they retain from your payment.
PISA VISIT
To make the most of your tour and have time to enjoy as much of Florence as possible, this tour does NOT include a climb on top of the Leaning Tower. If you prefer to climb on top of the Leaning Tower please let us know so we include this request in your tour records, and you would be required to purchase advance tickets and reduce the time you would otherwise spend enjoying Lucca.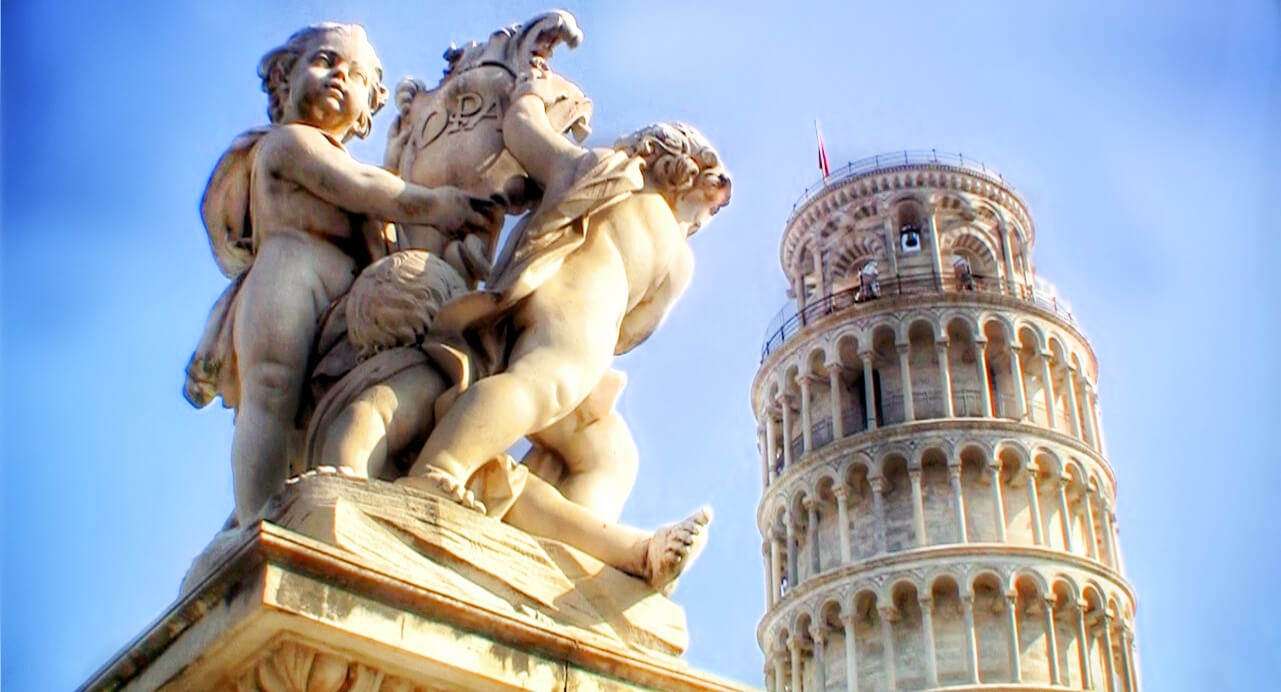 YOUR PRIVATE TOUR DRIVER
This Pisa and Lucca from La Spezia Shore Excursion provides an English speaking Private Driver who is not a Licensed Tour Guide.
Italian laws permit only Licensed Tour Guides to accompany guests away from the vehicle to sightsee on foot. To be in compliance with the laws, your driver will be obligated to remain with the vehicle while you are sightseeing.
On this tour you will SELF TOUR on foot when away from the vehicle.
DRIVER MEETING POINT FROM PORT OF LA SPEZIA
Due to limited space and security measures, vehicles are NOT permitted to enter the port of La Spezia. Cruisers are required to take a shuttle bus from their ship to exit the port. Your driver will meet you at the Bus Stop holding a sign with the name in your reservation.