description

Getting from Rome to Florence has never been more exciting!
Our Rome to Florence with visit to Orvieto Sightseeing Transfer turns your long distance transfer from Rome to Florence into an enjoyable day excursion with a stop at one of Italy's most beautiful and significant location in Umbria.
Your personal Stefano's RomeCabs Driver will pick up you at your hotel accommodation from where you will enjoy a relaxing drive and sightseeing without any worries and hassles of carrying your luggage everywhere, making your way through crowded train stations and public transportation.
At the end of your sightseeing transfer you will arrive rested and refreshed so you can begin your new adventures!
You will have the benefit of your private deluxe vehicle and personal English speaking Driver.
Rome - Florence Transfer with visit to Orvieto Price List:


For up to 4 Persons: 690 EUROS
For up to 6 Persons: 800 EUROS
For up to 8 Persons: 950 EUROS

* You may also do a QUICK PRICE CHECK using the Price Check & Booking form on the Right Side of this page. Once you receive the PRICE QUOTE based on the information you input, you may proceed to SUBMIT your Tour Request.
** Dates on the Booking Form Calendar that are NOT Selectable, are NOT AVAILABLE.
*** Be sure to include your complete Hotel Drop Off Address in the Special Request Box of your booking form.
Enjoy a visual journey of Orvieto on our Private sightseeing Transfer Rome to/from Florence with visit to Orvieto:


Your Sightseeing Transfer from Rome to Florence with a visit to Orvieto will begin with a pleasant drive through the Roman countryside to Umbria where you will stop in Orvieto, a medieval wander perched above a volcanic plug, which is a volcanic rock formation created when magma hardens within the vent of an active volcano.
Here you will have 2 hours free time to enjoy as you wish. Your luggage will remain safe inside the vehicle with your driver while you sightsee.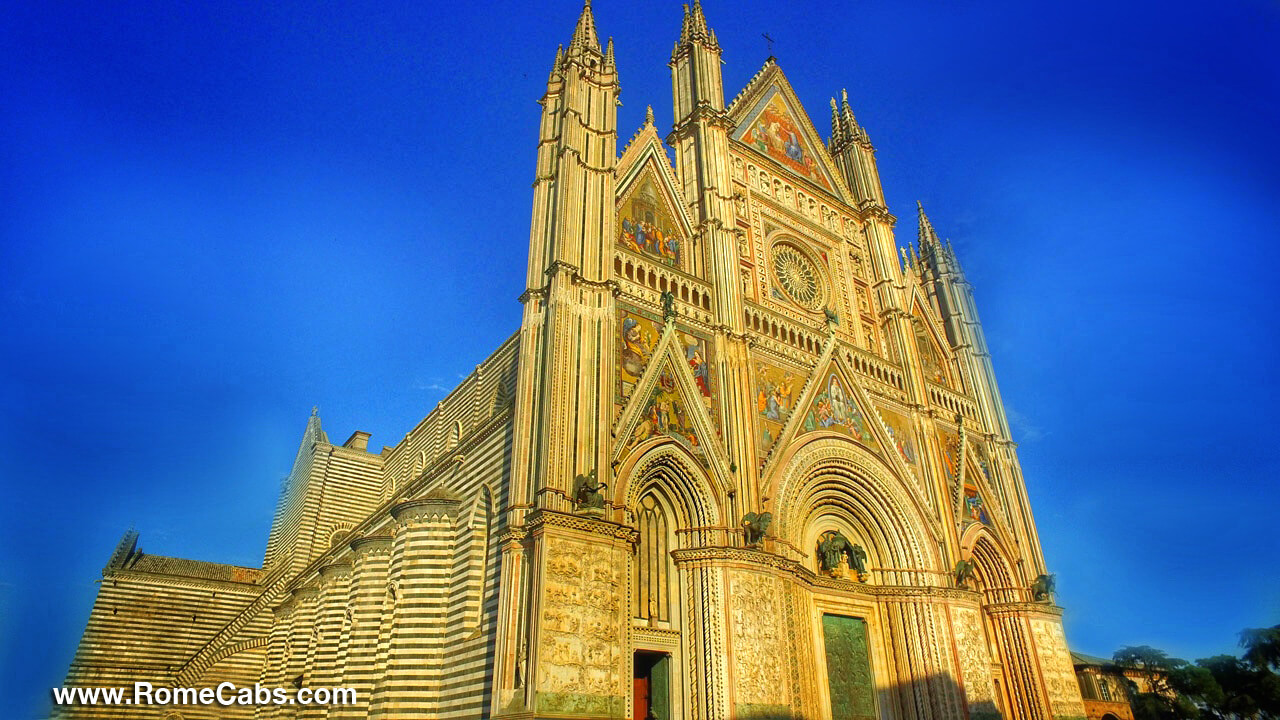 The most imposing architectural beauty in Orvieto is the stunning 14th century Cathedral whose construction began in 1290 and continued for nearly 300 years. The ornate mosaic facade glistens in sunlight. Inside the Cathedral are beautiful chapels and frescoes by famous artists of that time such as Fra Angelico and Signorelli.
Well known for its local cuisine and wine, Orvieto has restaurants for lunch and wine shops as well as cantinas for an opportunity to sample the local wine only available in Orvieto.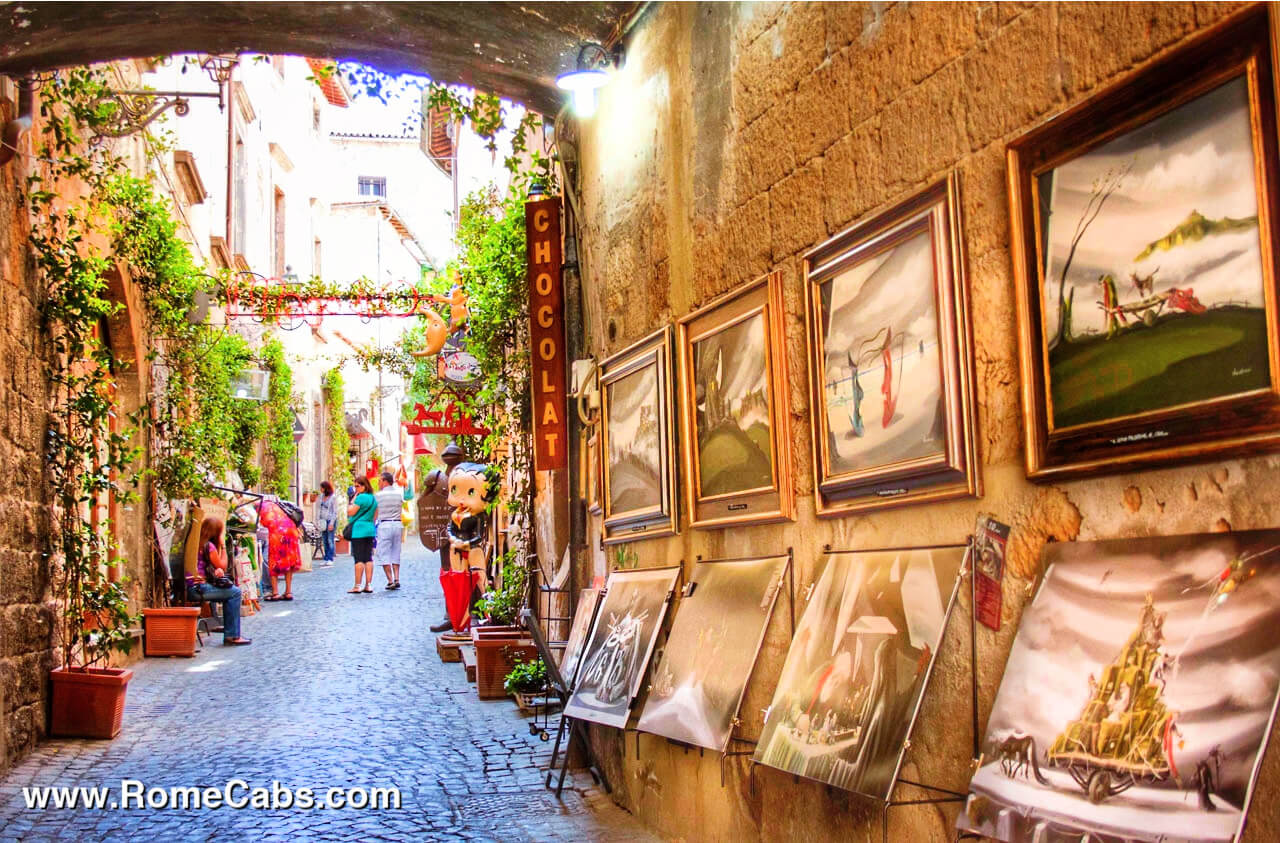 The region has been producing wine since the middle age, and its excellent wines are mainly white wines made from a blend of mostly Grechetto and Trebbiano.
Orvieto's spacious streets and lanes are perfect for strolling. Opportunities for shopping are plentiful, especially at the many gourmet markets and shops where local artisans showcase unique hand crafted ceramics, whimsical wooden objects and unique sculptures, lace works, and jewelry of exceptional beauty.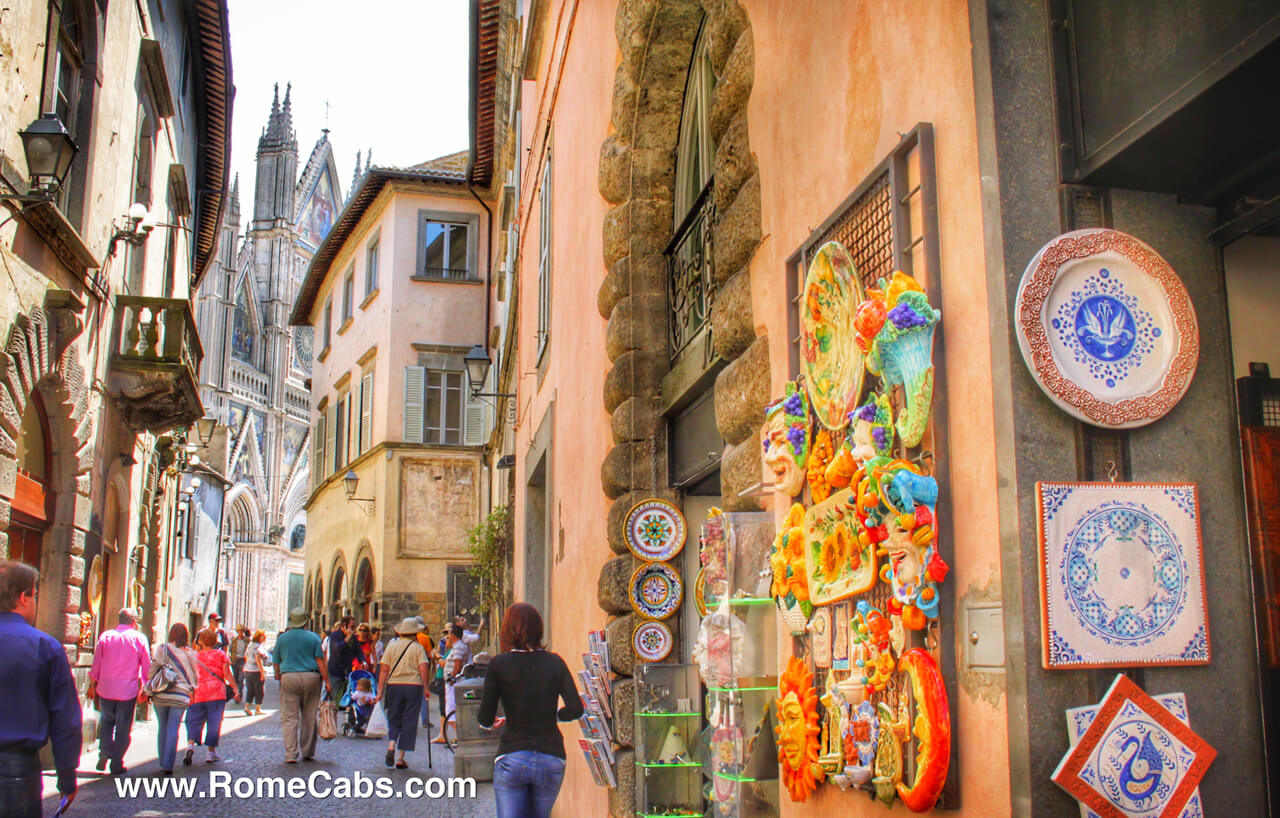 From here you will continue your journey to your final destination.
Thank you for booking our Private Sightseeing Tranfer Rome - Florence with visit to Orvieto for a wonderful way to enjoy more of Italy on your vacation. We look forward to showing you beautiful places in Italy.
Important Information

PLEASE READ THE INFORMATION BELOW AND ACCEPT THE TERMS OF SERVICE AND PRIVACY POLICY BEFORE BOOKING.

PAYMENT OPTIONS
Payment for this Tour can be made in EUROS directly to your driver on the Date of Tour, or prepaid in advance via PayPal or Credit Card online upon request. (See Cancellation policy below)
CANCELLATION POLICY
We kindly ask that cancellations be made via E-mail at least 7 days prior to Date of Service.
Cancellations are accepted only via E-mail so your cancellation is on record. We do not accept cancellations by phone, text message, or 3rd parties.
** Cancelations for PREPAID SERVICES will be refunded the Reduced Net Rate we receive from your prepayment. Reduced Net Rate: actual service price minus PayPal/Credit Card fees retained by PayPal/Credit Card as they do not reimburse us the fees they retain from your payment.
YOUR PRIVATE DRIVER:
Your Private Driver is not a licensed tour guide, therefore cannot lawfully accompany guest to sightsee away from the vehicle. Your Driver will be obliged to remain with the vehicle while you SELF TOUR away from the vehicle.
Door to Door service is possible if your accommodation address does not have traffic or parking restrictions. In cases of traffic and/or parking restrictions, your driver will park as close as lawfully possible and either meet you outside at your address for your pick up and accompany you to the parked vehicle, or accompany you to your hotel address from the parked vehicle for drop offs.


LUGGAGE
Sedans priced for 1-2 passengers can accommodate up to 2 standard suitcases and up to 2 small carryons.
Minivans for up to 8 passengers can accommodate up to 6 suitcases and up to 6 carry-ons in TOTAL. If you anticipate bringing luggage in excess of what the standard 8-seater vans can accommodate, please inform us prior to booking this service so we can help ensure that everyone and their luggage will travel safely inside the vehicle.




Private Driver MEETING POINT at hotel / accommodation:
Your private driver will meet you inside the lobby of your hotel or in areas permitted by your hotel management.

For Apartments or B&B's without a lobby, your driver will meet you outside the main entrance of your Pick Up Address.


* DOOR TO DOOR SERVICE is possible if your accommodation address is not in a traffic or parking restricted area. In case you are staying in an area with traffic and/or parking restrictions, your driver will park as close as lawfully possible and meet you outside at your address for your pick up and accompany you to the parked vehicle, or accompany you to your hotel address from the parked vehicle for drop offs.