Buon giorno and welcome to Stefano's RomeCabs Travel blog.
Summertime seems to be the favorite time of the year for millions of visitors and cruisers to visit Rome. Long days for maximum sightseeing opportunities, bright sunny days that define summer, and warm breezy evenings for enjoyable dinners at outdoor restaurants.
While bright sunny days are beautiful, they can also be hot. Brutally hot sometimes, especially in August – ferragosto.
The key to enjoy Rome in the hot summer months is to stay cool. By staying cool you feel more refreshed, less tired, more energetic, and enjoy yourself more. You can certainly survive Rome in the summer while having the time of your life! We will show you how below.
10 Ways to Survive Rome in the Summer


(* CLICK TO WATCH THE VIDEO)



1 Take advantage of the public water fountains in Rome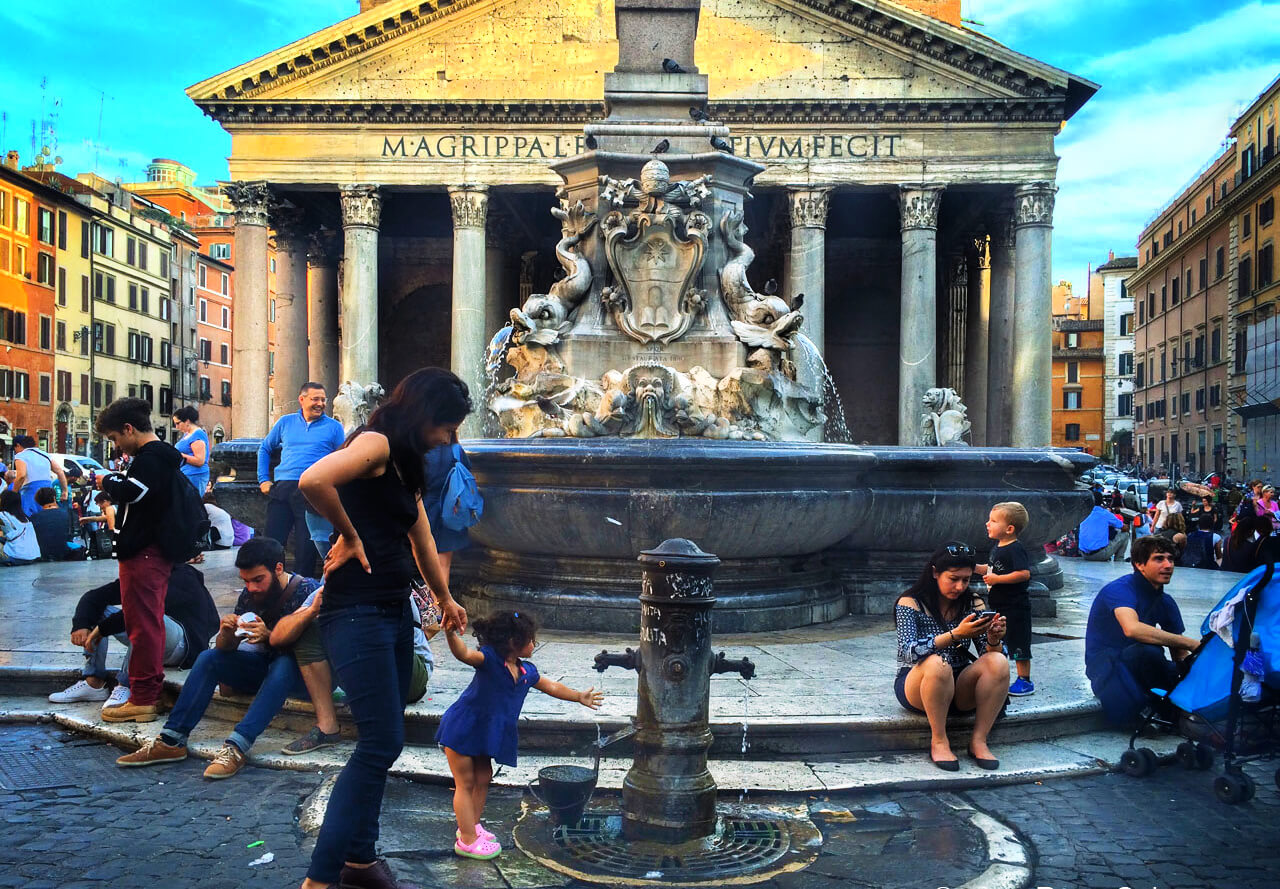 Possibliy the top way to survive Rome in the summer is staying hydrated. Bring a reusable water bottle with you and refill it at the many water fountains throughout Rome.
Most of the fountains gush fresh natural drinking water that is cold and refreshing. The Romans have enjoyed this water 2,000 years ago. And when in Rome….
2 Indulge in cold and frozen summer treats




There area also delicious ways to survive Rome in the summer! With all the walking and sightseeing you'll be doing in Rome, you can indulge in some famous Italian delights that will treat your taste buds and refresh you.
Enjoy a Gelato (Italian ice cream) from one of the many gelaterias in Rome, a cool slice of watermelon from the Cocomero stands (cocomero means watermelon in a Roman slang), a shakerato (iced and shaken coffee drink), or a grattachecca (a Roman fruit drink made from shaved ice and fruit juice or syrup.



3. Visit the "COOLEST" sites!



Staying cool is another important way to survive Rome in the summer. While many sites in Rome are hot (such as outdoor monuments and museums), some are quite cool – temperature wise.
Rome's churches offer tired and hot travelers a respite from the outdoor heat within its dimly lit and beautifully adorned heavy stone interiors
Two fabulous Roman churches within walking distance from the Colosseum have underground excavations that are both cool in terms of temperature and amazing.
The San Clemente Basilica takes you on an underground journey into the bowels of Rome to explore the previous 4th century AD church beneath it with amazing frescoes and mosaics still intact, and then descend further in time to 1st century AD Ancient Rome and admire ruins of Roman structures and rooms including a pagan Mithraic temple still intact with the altar of Mithras.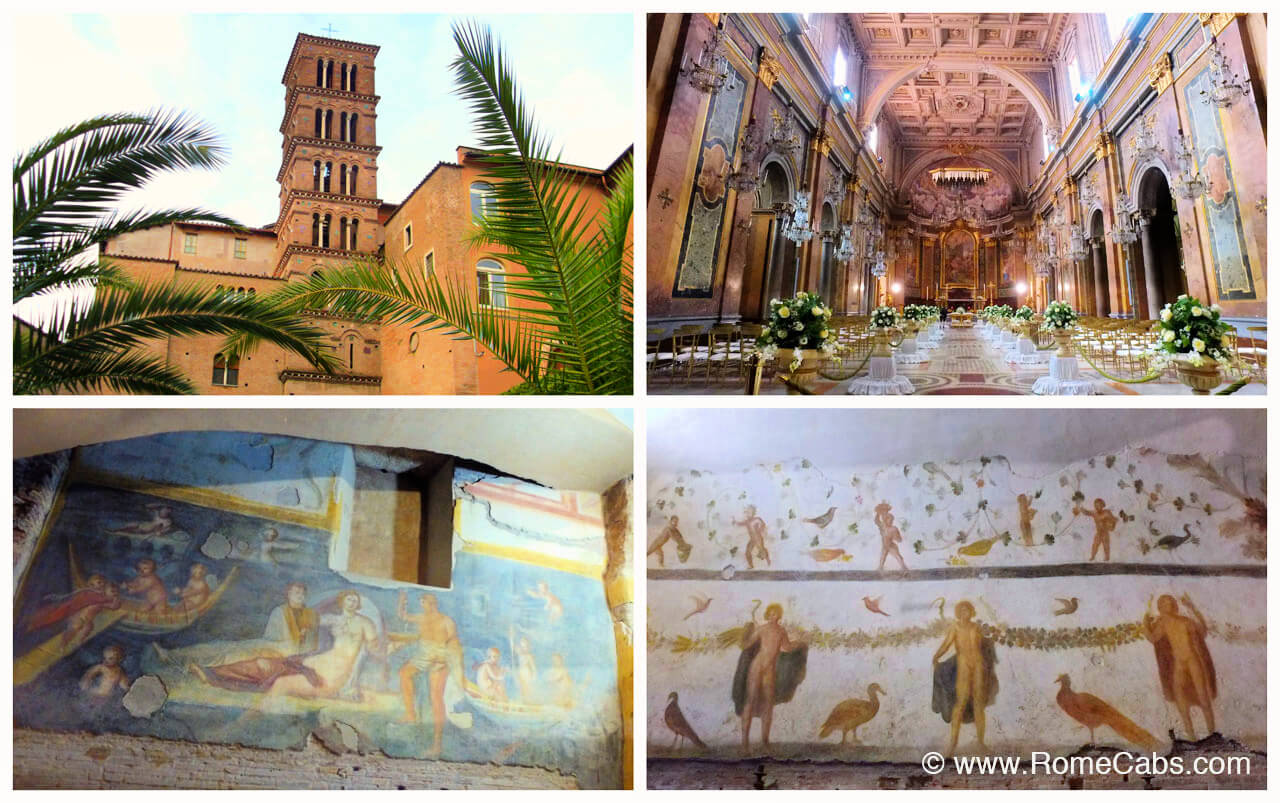 Also near the Coloseum on Celio Hill is the Santi Giovanni e Paolo Basilica (The Saints John and Paul Basilica) with the underground Case Romane (Roman Houses). John and Paul were Roman soldiers and brothers who were maryred for their faith.
One buried beneath the church and later excavated, the Roman Houses (Case Romane) are a series of about 20 underground chambers that once belonged to Roman noble houses and residential buildings. Many rooms have still retained gorgeous Roman frescoes and mosaics to admire.
A small museum showcases artifacts found during the excavations.


4. Go to the Park!


Borghese Gardens, regarded by many as a mini "Central Park" of New York, a small island of nature in the midst of a large cosmopolitan city of stone, bricks, and cement.
Escape the hot stone streets and buildings of Rome to a relaxing place surrounded by nature. Spend a summer afternoon under the shade of the forested park, have a picnic, rent a rowboat on the lake, or explore the gardens on a rented segway or bicycles. Borghese gardens makes surviving Rome in the summer a walk in the park!
5. Avoid Long Security Lines Under the Sun

The Colosseum and Saint Peter's Basilica have security checkpoints all visitors must clear prior to entering (with lines formed outside!).
The best way to avoid lengthy queues and wait times is to arrive first thing in the morning when the sites open so you will be among the first to enter. Not only you will avoid security lines, but arriving first you will feel like you have the place to yourself.
Another way to avoid the security lines at St Peter's Basilica is to visit it after you complete your Vatican Museums guided tour. From the Sistine Chapel there is an entrance that will take you through the backway to St Peter's Basilica for quick access with a licensed tour guide.
This entrance is reserved for guided tours only, if you will be self touring you may or may not be permitted to enter by the Security Guards stationed inside the Sistine Chapel.
For a private guided tour of the Vatican Museums, Sistine Chapel, and St Peter's Basilica you can book licensed tour guide through My Rome Guides.
6. Book Museum and Monument Tickets in Advance-
Avoid Long Ticket Lines – in the Heat or under the Sun

Again, popular monuments like the Colosseum and museums like Vatican Museums welcome tens of thousands of visitors a day. This results in long ticket lines that can last hours.
You can bypass these long ticket lines by booking your Colosseum and Vatican Museum tickets in advance.
The Vatican Museums and Colosseum require a time slot when booking your tickets. If you plan to spend a lot of time at the Museums, booking your tickets when the Museums first open is a great idea.
If you do not have much time to spend at the Vatican Museums, book your tickets right after lunch. That's when most of the large group tours have left the Museums.
On our Rome Tours that include a Vatican Museum tickets, we suggest 1:30 – 2:00 PM time slot right after lunch. This way our guests also have the opportunity to visit the Colosseum first thing with early morning time slots when the security lines are shortest and the temperatures cooler.
The Colosseum tickets are valid for 2 days and includes the Colosseum, Roman Forum, and Palatine Hill.

7. Visit Hot Sites First Thing in the Morning -


They are Cooler and Less Crowded




Mornings in Rome are cool, the temperatures rise as mornings fade into mid day and then into hot afternoon before they cool again in the evening.
Monuments like the Colosseum, archaeological sites like the Roman Forum and Palatine Hill, and crowded museums like the Vatican Museums (as they are not air conditioned) are best visited first thing in the morning when they open if you are sensitive to heat.
The brick and stone Colosseum intensifies heat as the hot sun beams over Rome, offering very little in terms of shade and places to sit and rest.
The Roman Forum and Palatine Hill have shaded areas to sit and rest, but you will be doing quite a bit of walking to cover the sites entirely.
The Vatican Museums are not air conditioned (it's difficult to install air conditioning system when every inch of walls and ceilings are masterfully painted centuries ago and risk of damaging the precious artwork is enormous), and the thousands of visitors crammed together shoulder to shoulder are bound to generate more heat inside the already hot galleries and hallways.
Not only you will have an enjoyable visit while it's still cool out, but you will also benefit from fewer crowds.
8. Tour Light: Leave Big Heavy Backpacks Behind


It's common for tourists to pack their backpacks with guide books, large bottles of water, extra clothes, electronics, cameras, snacks, etc…
Carrying all this extra weight not only will make you feel more tired and lethargic in the summer, but hotter too!
Bring a lighter or smaller camera on your trip, download information on your smartphone or tablet to avoid carrying heavy guide books, bring a small portable water bottle and refill it at various water fountain in Rome, and leave "what ifs" at your hotel.
9. Avoid Public Transportation in the Summer


Buses, Metros, and commuter trains are generally NOT air conditioned and very hot and crowded in the summer. Those who live in Rome and depend on public transportation daily to commute can attest to this unpleasant experience that is part of daily life for commuters.
Many bus stops are under the sun. On Sundays and in August, the buses and metros operate infrequently making waiting for a bus in the sun longer and more treacherous.
Group your sightseeing itineraries so they are in close proximity to each other to avoid overly relying on hot, crowded, and slow public transportation. Avoiding the ot and crowded public transportation as much as possible with careful planning is another easy way to survive Rome in the summer.
10. Book a Private Transfer and Tour - Enjoy Rome Comfortably!


This is possibly the easiest and most fun wa (and luxurious) to survive Rome in the Summer!
You can avoid hot and crowded public transportation, walking for miles, exhausting heat, and lengthy ticket lines by booking a private Rome tour by car.
With temperatures soaring between 90-100 degrees on some days in the summer many of our clients have scrapped the DIY option of exploring Rome in scorching heat and opted to tour Rome in the comfort of their private deluxe Air Conditioned vehicles driven by their personal knowledgeable English speaking Driver and enjoy more of Rome in cool comfort and style.
Our clients have been able to see more of Rome in a single day than in a number of days on their own.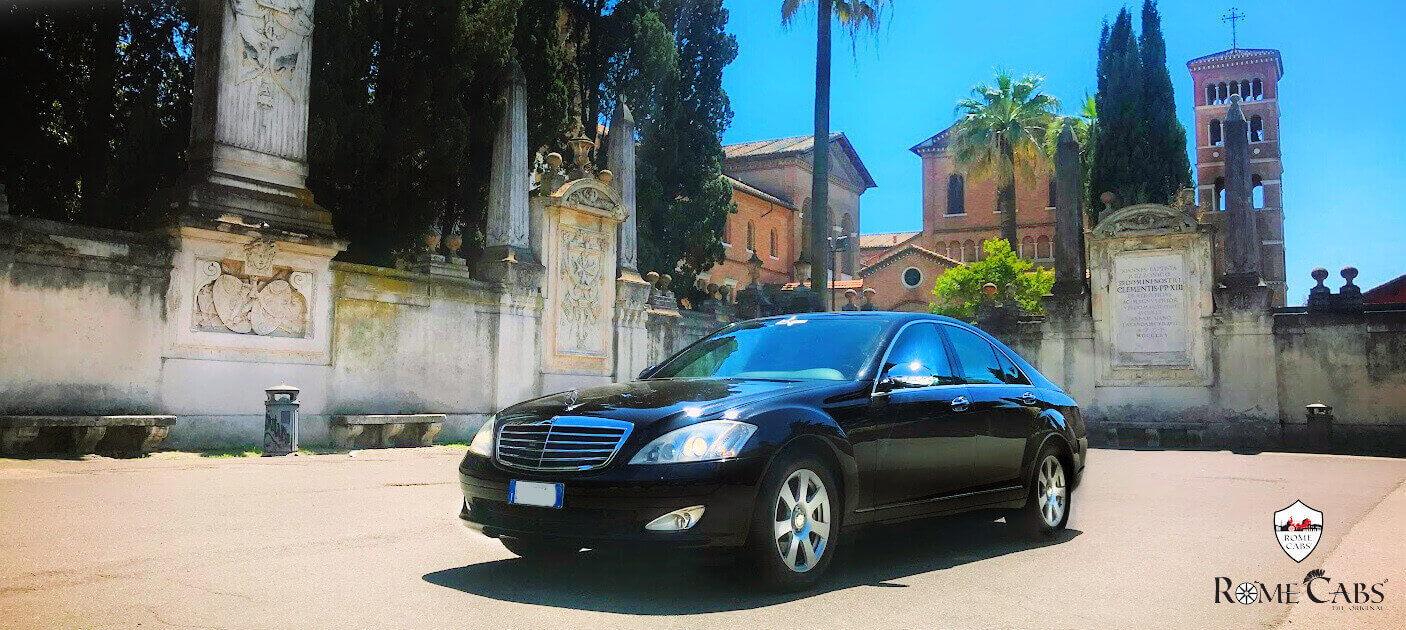 To see if a private tour of Rome is right for you, please visit our website at and browse our Tours of Rome.
You will find a wide variety of exciting private Rome Tours by RomeCabs, and also by our sister company Stefano Rome Tours.

Thank you for reading our 10 Easy Ways to Survive Rome in the Summer travel blog.
For more travel tips, advise, information and inspiration, we invite you to browse through our travel blogs as well as our YouTube Travel Channel.