Ciao, benvenuto a Roma! Hello and welcome to Rome!
Thank you for booking your transfer with Stefano's Rome Cabs, Rome's leading company for Airport and Cruise Port Transfers, Day Tours and Shore Excursions from Italy's top cruise ports. Your safe and comfortable arrival into Rome from the airport is our top priority.
Here, we show you How to Meet your private driver in Rome at Rome's Fiumicino Airport
Once you've arrived at Rome's Fiumicino Airport, you must first clear customs, retrieve your luggage at the appropriate carousel, and then follow the signs to the exit doors to meet your RomeCabs chauffeur!
There are 2 terminals you could exiting from: Terminal 1 and Terminal 3, depending on the airline you're flying with. However, most international flights arrive at Terminal 3.
MEETING POINT AT TERMINAL 3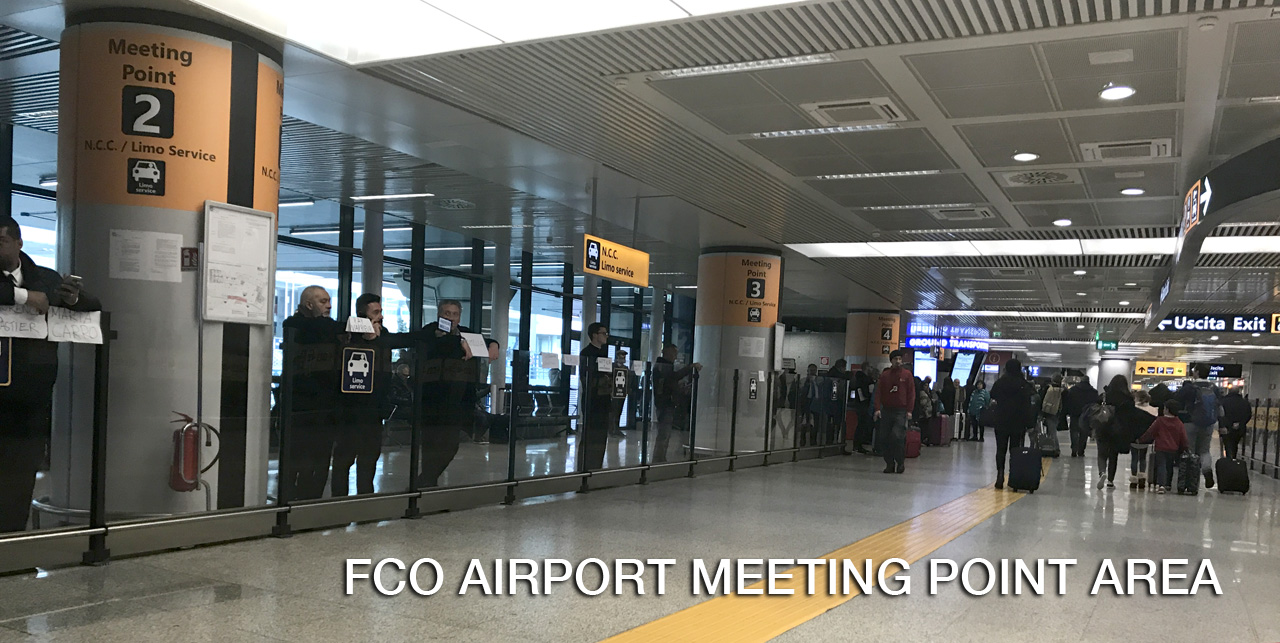 From Terminal 3, you will exit through the doors from the security restricted baggage claims area, and enter the Main Waiting Hall where travelers are met by friends, family, and of course, their private drivers.
Meeting your RomeCabs Driver at the deisignated meeting area is easy.
Upon exiting the doors into the waiting area, you will see a designated area for ALL drivers marked by multiple large round columns with LIMO DRIVER and N.C.C. lables on top of the columns.
Simply look for your driver holding a sign with YOUR NAME in YOUR RESERVATION in the area where all other drivers will be waiting for their clients as well.
MEETING POINT AT TERMINAL 1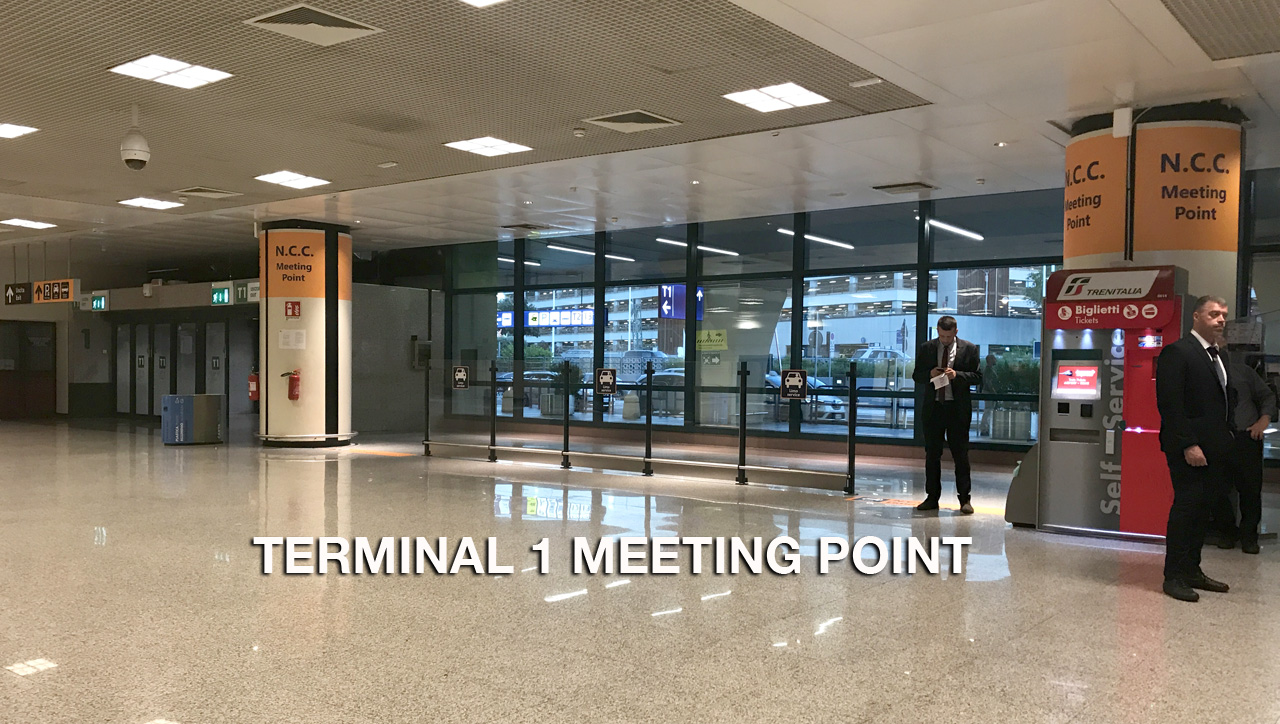 If you are flying with KLM, AirFrance, or are flying domestically within Italy, you'll be arriving at Terminal 1.
Your driver will meet you near the designated Meeting Point Column in the Main Waiting hall area after you exit from Baggage Claims area. This terminal is much smaller and much less crowded than Terminal 3.
Please keep in mind:


If your flight arrives at Terminal 5, Terminal 3, or Terminal 2, you will exit through TERMINAL 3.
If your flight arrives at Terminal 1, you will exit through TERMINAL 1.


If for some reason you do not notice your RomeCabs Driver, please do not exit the airport to the taxi waiting area outside. Private drivers never pick up their clients at the curbside as this is prohibited at FCO Airport.


If you have trouble finding your chauffeur, please call us immediately.


From a US cell phone, dial: 011-39-339-352-5028
or from an Italian pay phone or local cell phone dial 339-352-5028


Public payphones are located right near the Meeting Points area and are coin and credit card operated.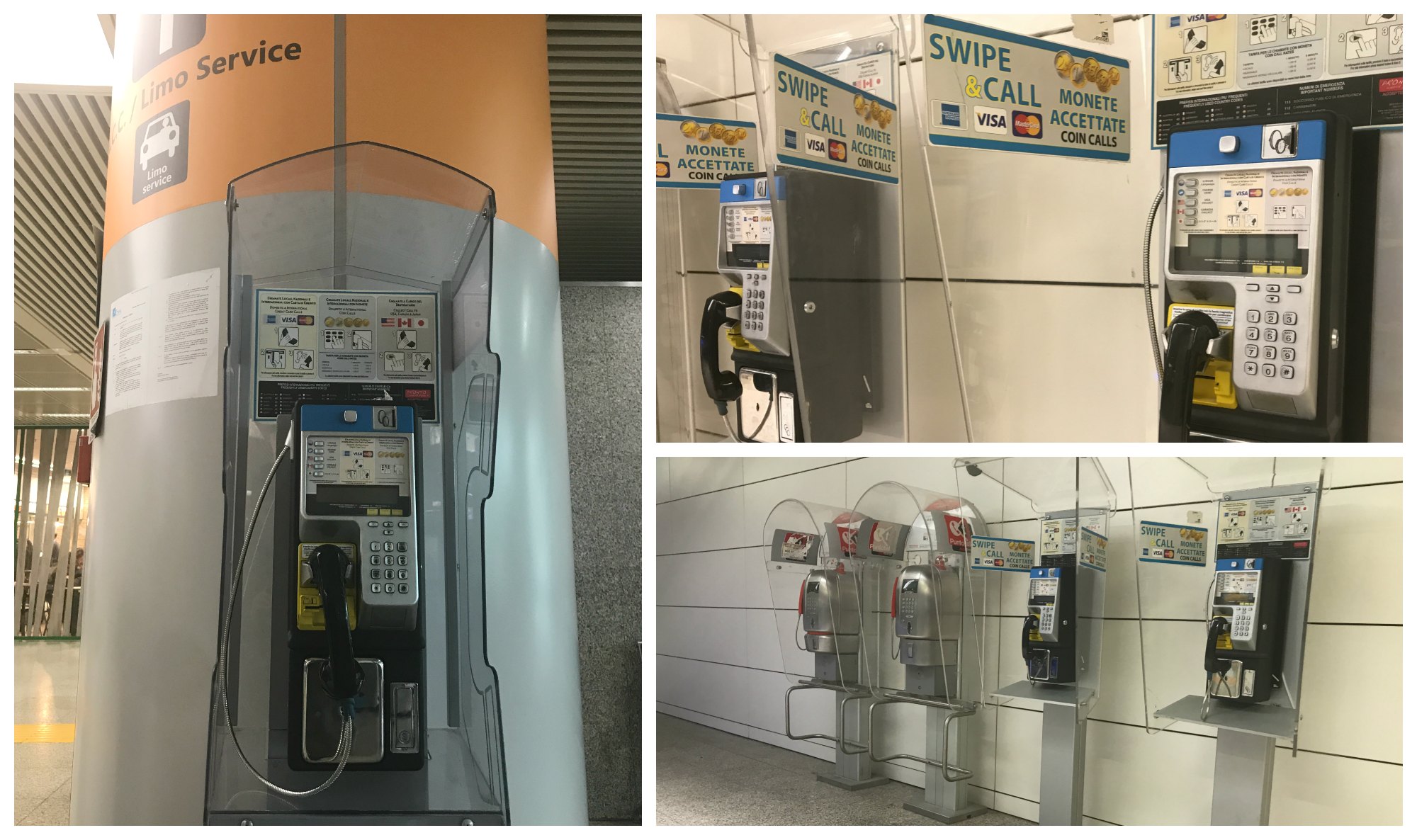 UNFORESEEN CIRCUMSTANCES: flight and/or luggage delays


Sometimes unforeseen circumstances do happen! If expecting delays arriving into Rome please contact RomeCabs by phone or text message immediately.
Email notices may not reach your Driver in time to make last-minute changes as it takes up to 24 hours to reply to the high volume of emails received each day throughout the day and emails are replied to in order received.
However, you are only able to send an email, please write URGENT in the subject line so it will be given priority.


If your luggage is delayed or missing, please get in touch us immediately by phone or text message at the same telephone number so we can notify your Driver of the delay and we continue to wait. Or, a member of your party can come out to the Meeting Point and inform your chauffeur of the delays. Re-entry into the luggage area is possible as long as you hold on to both your boarding pass and passport.
DRIVER MEETING TIME:


Your Driver will arrive at the Designated Meeting Point area approximately 40 minutes after your originally scheduled flight arrival in order to give you time to pass through customs and collect your luggage.
UNEXPECTED EARLY ARRIVALS:


If your flight arrives unexpectedly earlier than your originally scheduled pick-up time as per your reservation, please know that each terminal has an excellent cafe that serves great coffee and pastries with table service for your convenience that you can enjoy until your driver arrives for your scheduled pick-up time.
As Drivers have PREVIOUS SERVICES, and as EARLY FLIGHT ARRIVALS ARE NOT ANNOUNCED FAR ENOUGH IN ADVANCE, we cannot guarantee the driver will be able to arrive earlier than scheduled for UNEXPECTED EARLY FLIGHT ARRIVALS.
If your flight arrives UNEXPECTEDLY EARLY, please make yourself comfortable at any of the CAFES inside the MAIN WAITING HALL, and wait for your ORIGINAL PICK UP TIME. Your driver will arrive on time as per your original reservation.
CONFIRM YOUR NAME AND DESTINATION WITH YOUR DRIVER:


Because it's possible that more than one person can share the same or similar last name at a time, please ask your Driver to confirm your final destination, hotel name or address, and the quoted fare of your transfer. Only your personal Rome Cabs Driver will have this information.
After you meet your Driver in Rome and confirm your information, he or she will accompany you to your deluxe vehicle parked in the airport-designated parking area for Driver Service vehicles, just across the street near the main parking garages.
Please note that due to airport security reasons, car service vehicles cannot park at curbside and/or be left unattended and you will be required to walk a few minutes to your vehicle.

Travelers with MOBILITY ISSUES or unable to a few minutes to the Designated Parking Area are encouraged to reserve in advance a COMPLIMENTARY WHEELCHAIR ASSISTANCE through their AIRLINE COMPANY so they will be met by a FCO Airport staff member with a wheelchair from the airplane all the way to the parked vehicle.
HELPFUL TIPS FOR YOUR FCO ARRIVALS and DEPARTURES

To make exiting the airport with luggage much easier, we suggest using a luggage trolley located at the luggage carousels.
Your Driver will assist you with your luggage as much as possible, but for multiple luggage pieces, trolleys at the airport are highly recommended for both your arrivals and departures!
Turn your airport transfer into an exciting experience by taking advantage of Rome Cabs exclusive VIP Transfer Service and enjoy a personalized introduction to our Eternal City in style and comfort.
We also invite you to consider our many private day tours and shore excursions in Rome, Roman Countryside, Tuscany, Umbria, Naples, Amalfi Coast, and beyond.
For more information on our exclusive VIP Transfer Service, tours and shore excursions, please visit our website. We invite you to also visit our sister company Stefano Rome Tours which specializes in Day Tours by Car with English-speaking Drivers.
And now, enjoy your drive into Rome, and have a wonderful time wherever your travels will take you through Italy.
Thank you for choosing Stefano's RomeCabs for your transfers, tours, and shore excursions. We look forward to seeing you soon in Rome!