Buon giorno and thank you for visiting Stefano's RomeCabs, Rome's premier company for private Civitavecchia Transfers.
More and more cruisers discovered the benefits of organizing their own Privately Shared Port Transfers instead of booking a regular shuttle service.
Perhaps they learned from experience that shuttle services don't always saved them more money, but it sure added a lot more unexpected wait times, unpredictability and stress to their transfers.
It's so easy to create your Own Privately Shared Transfers with fellow cruisers… and here is why YOU should give it a try on your next cruise!
Why Private Shared Port Transfers are better than Shuttle Services
1. You are in control of who shares your transfers

You decide the number of persons in your group depending on your preference is personal space inside the vehicle.
If traveling with excess luggage and require additional luggage space, then reduce the number of persons in your group.
On our website we inform our clients the maximum luggage capacity per vehicle, so you can plan accordingly to enture everyone in their group and their luggage can travel comfortably and safely.


On standard generic shuttle services, travelers have told us they had to travel with small luggage literally on their lap because there was no more room in the luggage compartment as the company they booked with maxed out the passenger seats.


SAVE on time and additional hotel pick ups/drop offs:


Group with another party or family large enough to fill up the vehicle with the maximum passengers of your choice with just 1 additional hotel stop.
As long as all hotels are centrally located in Rome, you save on driving time and money as each additional centrally located hotel stop is just 10 Euros extra for additional hotel stop.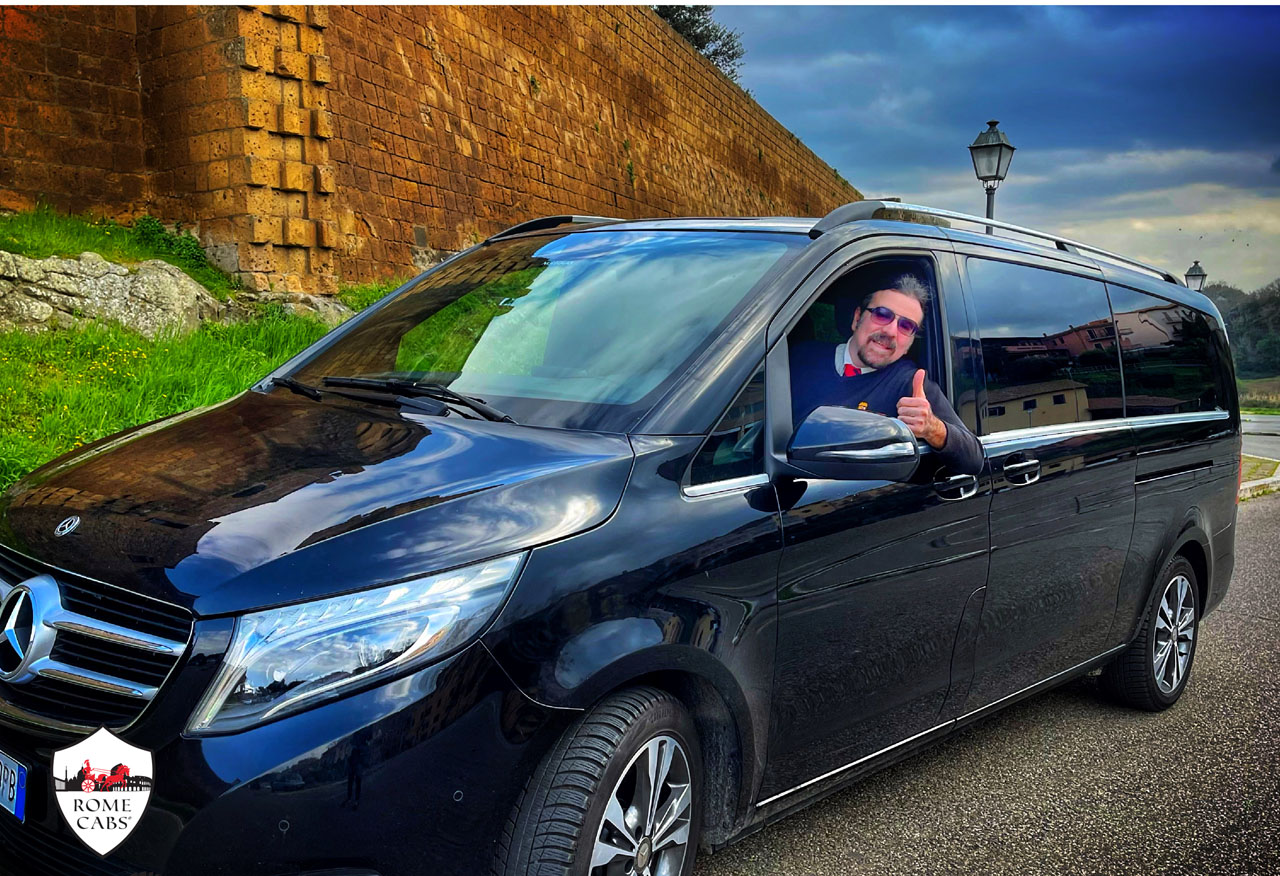 2. You know the price everyone will equally pay

Our Transfer rates are published on our website, so you know the prices in advance and everyone pays their own equal share.
On generic shuttle services some travelers complained that other passengers on in their vehicle paid different rates, therefore some were charged more than others.
On your privately shared port transfer with RomeCabs, everyone pays their equal share.
3. Privately Shared Transfers can cost LESS than shuttle services!

This is great news for families and friends traveling together.
Some shuttle services charge 69 Euros per couple to/ from Civitavecchia. This is a nice saving for 2 persons who don't mind spending untold time waiting for their shuttle to arrive, wait for the shuttle to collect other passengers at the port, and the unknown multiple hotel stops.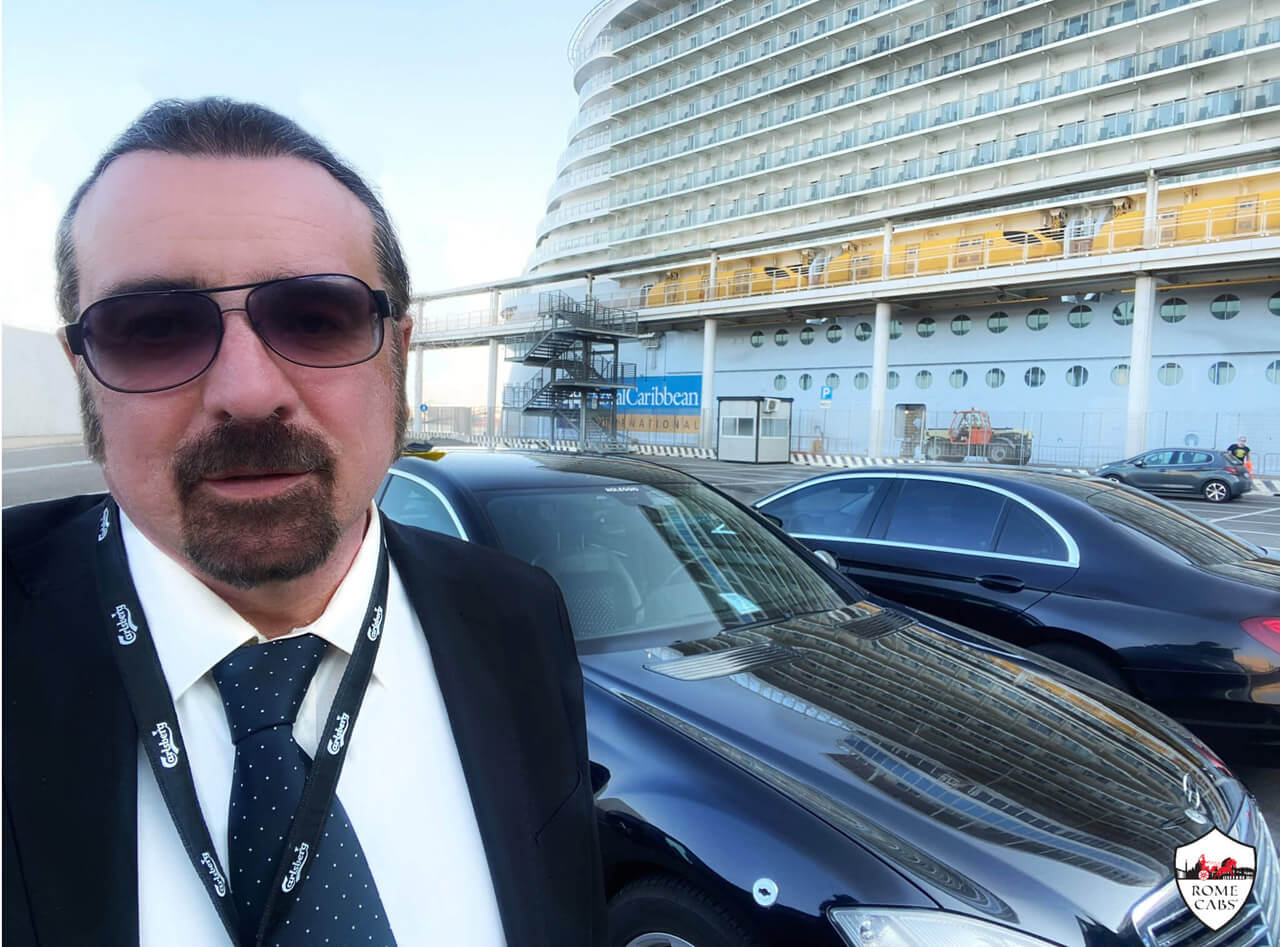 However, when that number jumps to 4 passengers, the price becomes comparable to a standard private transfer for party of 4 (without the hassles of multiple pick ups, drop offs, and extra drive time).

In other words, if you are a family of 4, you pay almost the SAME for a PRIVATE TRANSFER just for YOUR family as on a shuttle service were to share your vehicle with up to 4 other passengers.
But for 6 persons, the SHUTTLE SERVICE price jumps to 207 Euros, and for 8 persons it becomes 276 Euros.
At that point a PRIVATE TRANSFER for a party of 6 is LESS EXPENSIVE at 170 Euros than a shared shuttle at 207 Euros.
A private transfer for 8 persons with Stefano's RomeCabs is 200 Euros (as opposed to 275 Euros for a 8 passenger shuttle!).


** Even with each additional pick up or drop off at just 10 Euros more a private shared transfer is much less expensive for 8 persons than a shuttle service.


As you can see… when you book a regular shuttle service you don't always save money. Sometimes you end up paying MORE for a shuttle than a private transfer service!
With Stefano's RomeCabs you have the option of either reserving your own PRIVATE PORT TRANSFER, or your own PRIVATELY SHARED PORT TRANSFERS and SAVE!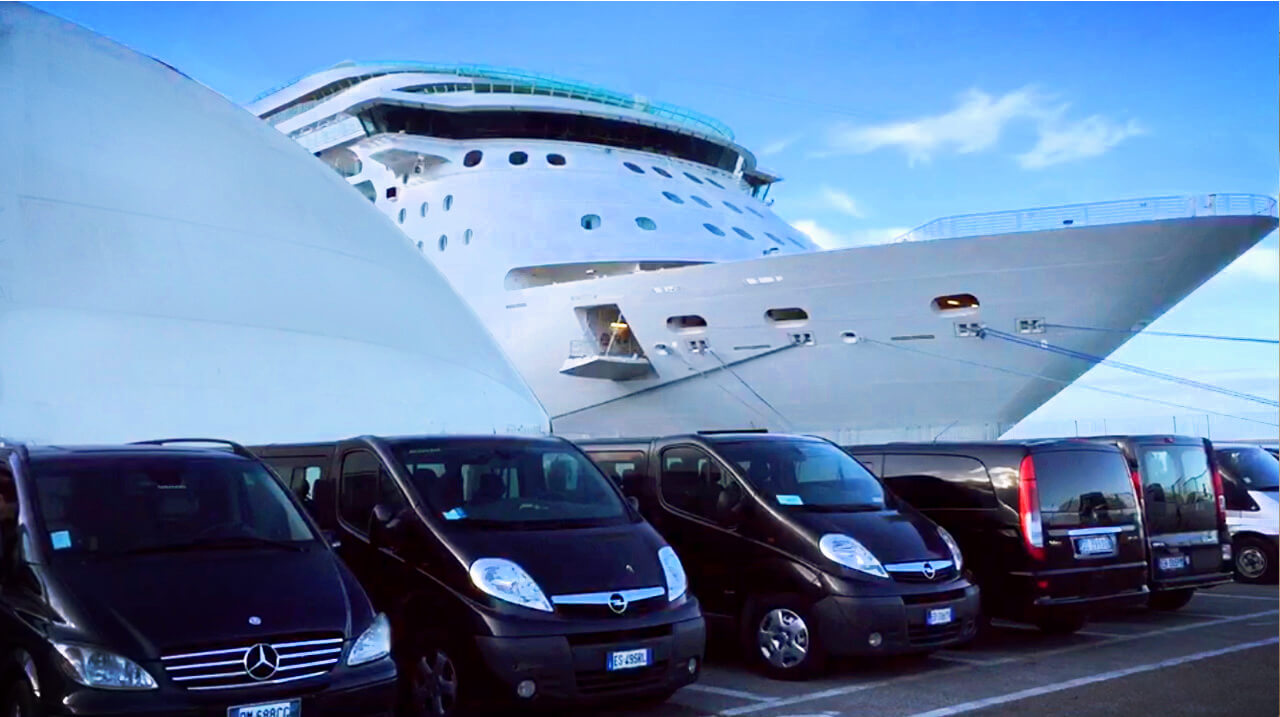 4. You are in control of your pick up time

With a generic shuttle service, clients are NOT in control over the timing of the service, the number of other hotel pickups, what other hotels you have to travel to in order to pick up more passengers, or how long these additional hotel pick ups will take. They have to more or less take their chance because they don't have this information ahead of time.
When you book a Private Shared Transfers, you know in advance the number of hotel stops and where the other hotels are because YOU are in control of your reservation.
By creating private shared transfers with others from your own ship it saves you time and makes the transfer more predictable when everyone disembarks together from the same ship. Sometimes different ships disembark late or at different times adding uncertainties with pick up times.
HOW DO YOU CREATE OUR OWN PRIVATE SHARED CIVITAVECCHIA TRANSFERS?

It's as easy as 1, 2, 3:
Join Cruise Critic, the leading website for cruising information where thousands of members share information and create etheir own private shared transfers and tours.


Place an Ad on Cruise Critic Roll Call and invite other fellow cruisers from your ship who need transfers similar to yours.

For example: others staying in central Rome pre cruise and also needing a transfer to the same cruise ship….. Or others needing a transfer from Civitavecchia to the same airport you flying out from at similar time as you.


Book your transfer online via our website, and in the

Special Request Box

include the Lead Name of the additional parties joining you, their E-Mail Address, and pick up / drop off details if different from yours.






If you have any questions on how to book a private shared transfer online, just send us an email and we will be happy to walk you through the simple process.


On your Private Shared Transfer with Stefano's RomeCabs you combine the best of 2 worlds: savings of a shuttle service with the full control and convenience of a private transfer.


Now you know Why Private Shared Port Transfers are better than Shuttle Services. No wonder so many cruisers are catching on to this cost effective convenient concept and never going back to standard shuttle services again!
For more information on our Civitavecchia Transfers, to book your Private or Private Shared Transfers, or to contact us, please visit our website below:
Thank you very much for Choosing Stefano's RomeCabs, and we look forward to seeing you soon in Italy!
Warmest Regards,

Stefano's RomeCabs Team
RECOMMENDED on Cruise Critic by Cruisers