Buon giorno and welcome to Stefano's RomeCabs, Rome's premier company for Private Transfers and Day Tours.
Are you planning to stay in Fiumicino?


Many travelers choose to stay in the city of Fiumicino overnight to be close to FCO (Fiumicino Airport) either to rest after a long international flight and start their cruise from Civitavecchia or tour through Italy rested and refreshed…. or post-cruise and the end of their travels to be close to the airport for an early flight the next morning.
But staying near the airport doesn't mean you have to stay secluded at an "airport hotel" cooped up in your room or with nothing to do except the hotel amenities.

FIUMICINO - the city

Fiumicino means "little river"….and along the main street Via della Torre Clementina runs a small river, an off shoot from the main Tiber River nearby (the Tiber River also runs in Rome as well).
Fiumicino has a large fishing center on the sea coast, so you'll be sure to see many fishing boats docked along the river, and much of the fresh fish caught daily by the fishermen immediately make their way to the local restaurants. The local restaurant owners and merchants are the first in line to grab the best catches of the day right off the boats as they arrive.
* WHERE TO STAY IN FIUMICINO? *




While there are hotels adjacent to the airport, you have also the option of staying in the town of Fiumicino itself for a more local flavor and experience.
Here are a couple of suggestions where you can stay that's within short walking distance from Via delle Torre Clementina.
Address: Via delle Scuole, 32, 00054 Fiumicino Roma
Phone: 06 6504 8389
Hotel class: 4 stars
Offers Airport Transportation at surcharge
3 kilometers from FCO Airport
36 Rooms, comfortably furnished with elegant desk, TV, free wi-fi, minibar, Air Conditioning, Heating, safe box.
Via Portuense, 2470
00054 Fiumicino – Rome
Phone +39 06 999351 – Fax +39 06 99935888
info@romeairporthotel.it
Offers shuttle bus at surcharge
147 Rooms either king size or 2 twin size beds, 10 accessible rooms, 26 executive rooms, 4 junior suites Pay TV, wi-fi connection, Air Conditioning, Telephone

* WHERE TO EAT IN FIUMICINO? *


Staying in a fishing town means you will always enjoy the freshest fish, straight from the fishermen's boats at restaurants and eateries just across the street.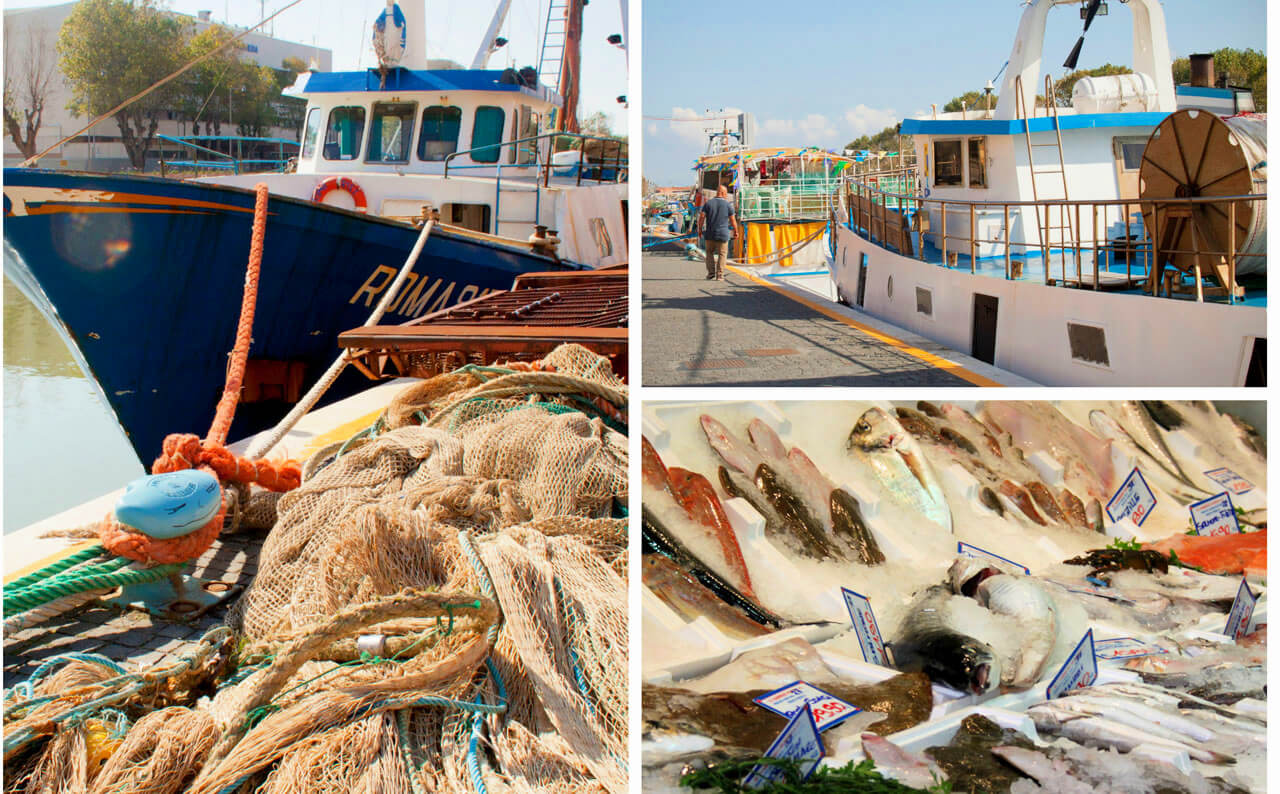 If you are interested in a lovely sit down lunch or dinner in a classy restaurant that offers excellent menu choices, a long time local favorite is Bastianelli da 1929. Yes, this family owned restaurant has been serving satisfied customers since 1929! With both elegant indoors and comfortable outdoors seating, you can't go wrong for a memorable culinary experience at Bastianelli's.
Via di Torre Clementina, 88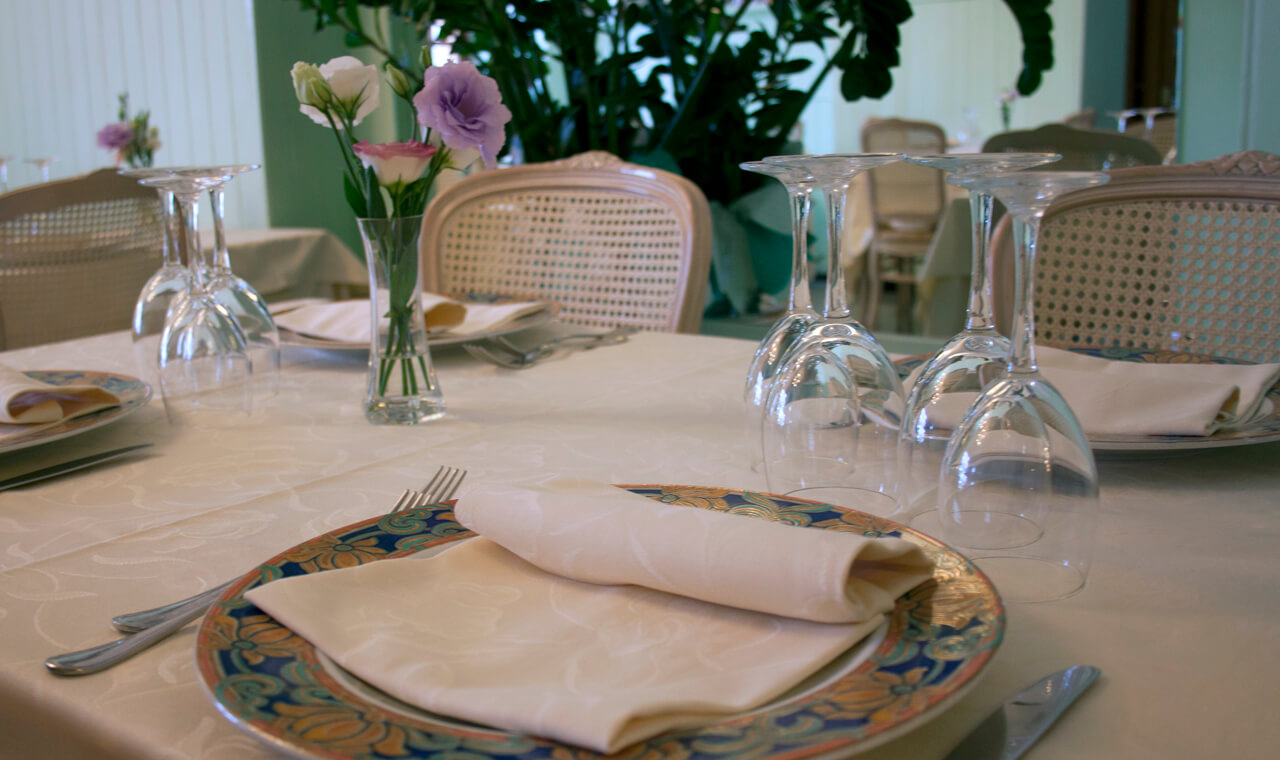 Porchetta da Tonino


Not to be missed in Fiumicino is fried calamari (or fried calamari and shrimp combo), a local favorite street food on the go.
While several eateries serve them on the go or sit down, one particular place that stands out is "Porchetta da Tonino", and you can't miss the green building, an island in itself, standing between the street and the spacious sidewalk. Outdoor picnic style tables shaded underneath large umbrellas provide a very casual eating atmosphere.
The fried calamari is definitely not the defrosted type, it is fresh and thinly coated in a light batter for a crispy outside and a soft tender inside that melts in your mouth. You can enjoy the calamari on a plastic plate seating down at a table, or on the go served inside a large coarse paper cone. A lemon wedge and a wooden skewer so you don't get your fingers dirty is all you need to enjoy this local fast food! No marinara sauce here…with the calamari so fresh and delicious by itself, you don't need any added sauces!
If fried calamari is not your thing, you can try other delicacies they serve, including "porchetta", or roasted pork sandwiches and various side dishes.

Pizzeria Marina


If you think you've already had the best pizza by the slice in Italy, you haven't tried Roberto Cecchione's pizzas at "Pizzeria Marina" - the World Champion of Pizza!
In a country already known for the best pizza, it's definitely NOT easy being a world champion, so you'll just have to come here and sample the various pizzas created by the pizza maestro himself and let your taste buds judge for themselves!
Don't just settle for one topping. Pizza by the slice in italy is prepared in large rectangular trays and sold by weight according to how large you'd like to have your pizza slices cut for you, so you can sample a variety of toppings in smaller slices if you wish.
Via Torre Clementina 194/D

Gran Caffe Conti


Have a sweet tooth and crave an afternoon coffee for a pick me up and a pastry? The locals go to Gran Cafe Conti, for the best pastries and coffee in the area.
And don't worry about what the "coffee experts" say, Italian baristas won't look at you like you just landed from Mars if you order a cappuccino in the afternoon. Cappuccinos are not restricted only to breakfast. Tell the critics that even Italians themselves indulge in the frothy elixir after lunch and in the afternoon without batting an eye.
Address: Via delle Ombrine, 44,
telephone: 06 650 5502
* WHAT TO DO WHILE STAYING IN FIUMICINO? *




While there is technically no visitor attractions in the town of Fiumicino itself other than a stroll along the main street, you can enjoy some of the very interesting surroundings just a short drive away.
Ostia Antica


About 15 minutes away from Fiumicino by car (or taxi) is Ostia Antica: Rome's version of Pompeii. Unlike Pompeii which is a few hours away from Rome in Naples, Ostia Antica offers you the opportunity to see what the actual Ancient Rome was like more than 2,000 years ago!

Very well preserved, and less congested by tourists than Pompeii, Ostia Antica is a great archaeological park where you can walk in the footsteps of ancient Romans and explore ancient apartment buildings, temples, shops, pubs, public baths, amphitheater, commercial centers and more. Bringing a guide book will help you discover the most interesting sites in Ostia Antica and understand what these ancient sites and ruins used to be.

Ostia Beach

If you prefer to hit the beaches and seaside instead, head to the nearby beaches of Ostia Lido. Ostia Beach is a hot spot for Italians, but if you don't want to lounge on the beach, the town itself is a lovely place to stroll on the pier, admire the eclectic architecture (a cross between South Beach Art Deco style and Old World style villas), and enjoy the cafes and restaurants.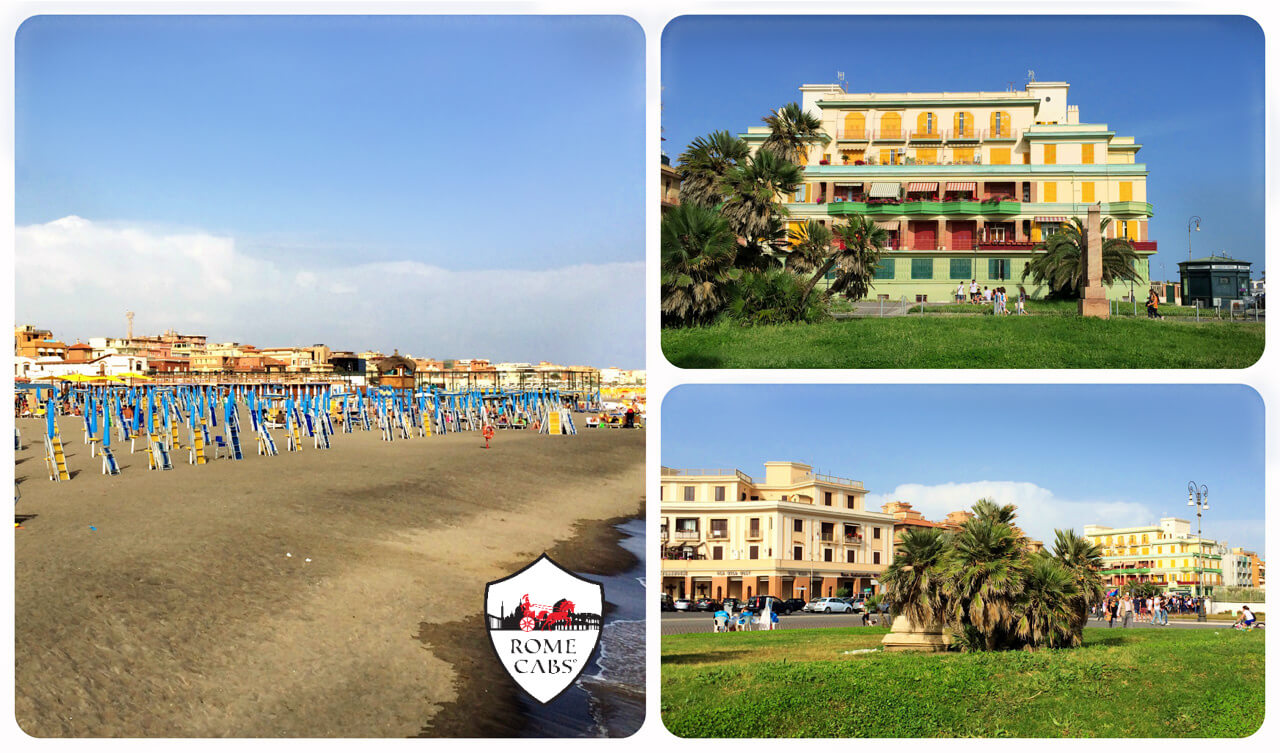 While there, be sure to try the "krapfen" at the Krapfen del Bar Armando Pagila in Piazza Arco Marzio just across from the beach. When you first step in, you'll feel you stepped into a 1950's joint – possibly because it hasn't changed much since the 1950's.
Locals who are pushing 50 themselves remember coming to this place as kids, and it was just the same then as it's now… and serving the same krapfen the locals keep coming back for more. Once you get over the nostalgic decor, you'll be reminded why you came here: the piping hot "krapfen" that are regularly replenished by the baker in the room just behind the counter.
Similar to doughnuts, the Krapfen come in 2 styles: plain and cream filled, both options powdered with sugar. There's almost always a long line…. but if it looks like your turn is coming up and there are no krapfen left, rejoice!! This means that the next batch is on its way, and you'll be the first to get your hands on these krapfen as soon as they come out, hot and delicious!
And don't get just 1 – get 2 or 3…. you can never eat just one! And you'll save time avoiding waiting in lines again for seconds or thirds.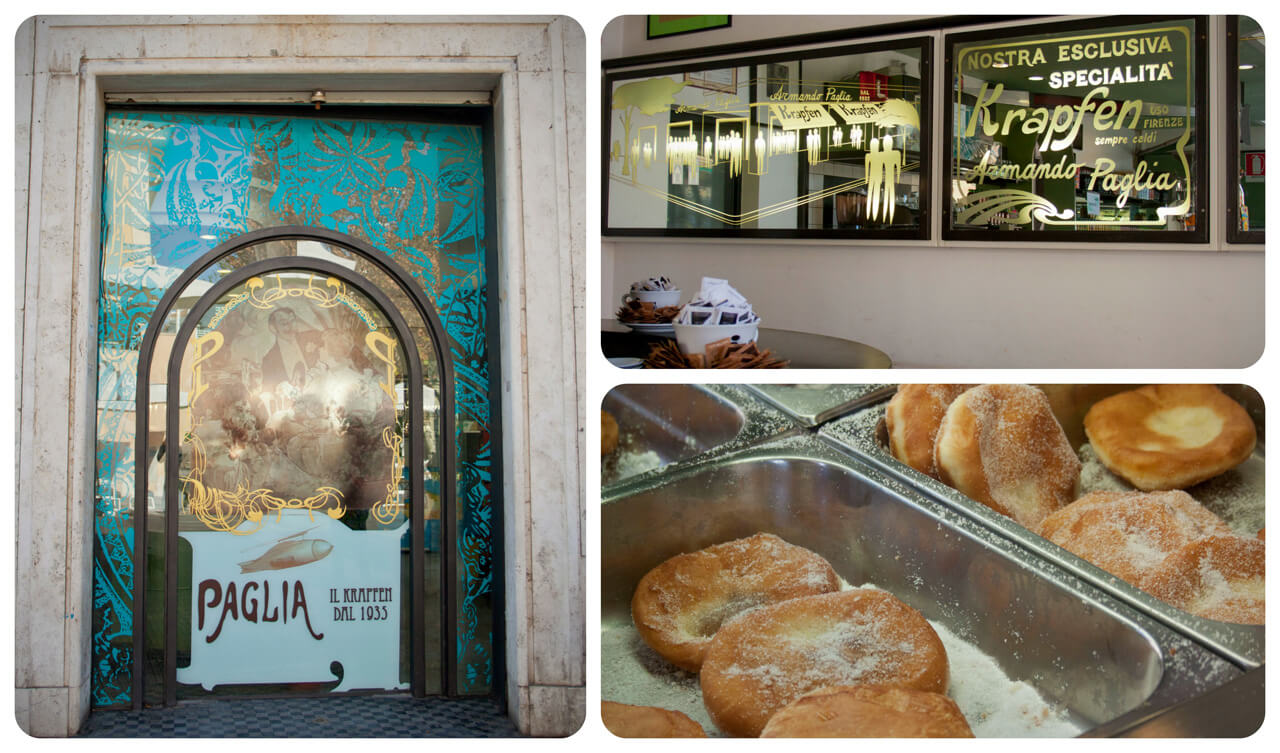 We hope this suggestions help make your stay in Fiumicino more enjoyable.

Staying in Civitavecchia Pre Cruise or Post Cruise?


Don't miss our previous travel post: What do See and Do in Civitavecchia (Travel Tips for Cruisers)
For more information about us, our driver services and tours by car, please visit our website
Please click below for any of the following services:


Thank you very much for visiting us, and we look forward to welcoming you to Rome!
The RomeCabs Team