description
When it comes to olive oil tasting, cheese tasting, and wine tasting tours from Rome, Tuscany is the chosen destination as it offers something delicious and exciting for everyone.
Wine, cheese, and olive oil have been produced on the Italian peninsula for thousands of years and the locals have spent quite a long time perfecting their exquisite craft.
Enjoy the flavors and aromas of Tuscany on our extended Taste of Tuscany Tour to Montepulciano and Pienza where you will sample local wines at an esteemed wine estate, learn the art of extra virgin olive oil tasting, try the world-famous Pecorino di Pienza cheeses, and visit the remarkable historical towns of Montepulciano and Pienza. We will pick you up at your hotel in Rome at 8 AM, and you will arrive back at your hotel at approximately 7 PM.



A TASTE OF TUSCANY TOUR PRICE LIST


Minimum 2 persons from Rome Hotel 600 EUROS
For up to 4 persons from Rome Hotel 650 EUROS
For up to 6 persons from Rome Hotel 700 EUROS
For up to 8 persons from Rome Hotel 750 EUROS

* ADDITIONAL Not included in our Tour Fees:
Oil Mill Tour and Olive Oil tasting in Tuscany: approx 20 Euros Per Person
Wine Tasting at a Tuscan winery a selection of 4 wines at the winery: approx 25 Euros Per Person
Cheese tasting at local shops in Pienza at guests' discretion: approx 5 Euros per person


** You may also do a QUICK PRICE CHECK using the Price Check & Booking Form on the Right Side of this page. Once you receive the PRICE QUOTE based on the information you input, you may proceed to SUBMIT your Tour Request.
*** Dates on the Booking Form Calendar that are NOT Selectable, are NOT AVAILABLE.

A TASTE OF TUSCANY TOUR OVERVIEW:
EXTRA VIRGIN OLIVE OIL TASTING IN TUSCANY
Extra virgin olive oil is an expression of ancient traditions resulting from centuries of knowledge of olive trees (Olea Europea) and oil production methods.



On this Taste of Tuscany tour, you will have the opportunity to visit a family-owned oil mill (frantoio) operated by two true Tuscan ladies who proudly carry on their father's legacy and passion for producing top-quality extra virgin olive oil.
Learn the art of olive oil tasting and impress your family and friends back home with your newly acquired knowledge of traditionally crafted extra virgin olive oil with an introductory visit to the oil mill. Your driver will be on hand to assist with translations as needed.
MONTEPULCIANO'S FAMOUS NOBLE WINES

While Tuscany is world-famous for its exceptional wines, Montepulciano reigns the "King of all Wines" according to the 17th-century poet Francesco Redi in his famous poem, "Bacchus in Tuscany".

Noble Wine of Montepulciano (Vino Nobile di Montepulciano) is one of Tuscany's classic reds favored by Italy's royalty and aristocracy since the 15th century. Vino Nobile di Montepulciano has also been elevated to the prestigious DOCG status - Denominazione di Origine Controllata e Garantita, guaranteeing its exceptionally high standards and quality. Enjoy wine tasting in Tuscany at a wine estate sampling 4 excellent wines the estate produces.
PECORINO DI PIENZA CHEESE TASTING

For travelers with a discerning palate for gastronomic delights, not to be missed on a Tuscany tour from Rome is savoring the famous Pecorino di Pienza cheese. This prized cheese is made from the milk of ewes that graze upon the lush pastoral grasslands surrounding Pienza.

SIGHTSEEING IN MONTEPULCIANO AND PIENZA

You will also enjoy free time on your own for sightseeing exploration in Montepulciano and Pienza, two of Tuscany's remarkable historical hilltop towns surrounded by the enthralling Valley of Orcia (Val d'Orcia) and Valley of Chiana (Val d'Chiana) that have inspired poets and artists, and graced postcards and movie screens.


For more detailed descriptions and important tour information, please READ ON:
A TASTE OF TUSCANY TOUR: Detailed Information
Olive Oil Tasting and Oil Mill Visit in Tuscany

Your Taste of Tuscany tour from Rome begins with a relaxing journey traversing the bucolic countryside into the heart of southern Tuscany in the beguiling Montepulciano region comprised of gentle landscapes where vineyards and olive orchards thrive, and gentle sheep graze.
Your first stop for olive oil tasting in Tuscany will be at an in-town family-owned frantoio (oil mill) that has been producing extra virgin olive oil for six decades.

Extra-virgin olive oil is the highest quality oil, produced according to specific parameters (such as mechanical cold pressing) aimed at creating the purest and healthiest oil and protecting the oil's flavor and nutritional benefits.



Relish a taste of 4 types of Extra Virgin Olive Oil where you will gain an understanding of how to recognize the organoleptic qualities of extra virgin olive oil. During your olive oil tasting, you will learn how to taste olive oil like a professional (hint: the oil is not drizzled on bread). Learn the art of olive oil tasting from the olive oil makers themselves!

You also have the opportunity to purchase your preferred extra virgin olive oil from the oil mill to enhance your Mediterranean dishes, impress your dinner guests, and as cherished gifts for your chef and foodie friends and family back home.
Wine Tasting at a winery in Montepulciano

Your Taste of Tuscany Tour continues with wine tasting at a well-established estate winery close by where you will sample noble reds produced primarily from the local Sangiovese grapes that characterize the Montepulciano area and make up the estate's hundreds of acres of vineyards.



The winery's dedication to quality viticulture, tradition, and organic agriculture is expressed in its excellent wines that boast intense aromas and defined character with wide-ranging appeal to international palates.

You will savor 4 wines in the modern wine tasting hall of the wine estate surrounded by rows of vines, olive trees, and cypress trees. With every sip, you will appreciate the special bond created between land, man, and culture. Raise a glass to your unforgettable sojourn to this winery perfectly set in the idyllic Tuscan countryside.

Don't miss the occasion to also shop for your favorite bottles of wines from the winery for you or to bring as treasured gifts to your loved ones. With the winery's international shipping, you can even splurge on a case of your preferred vintages to be delivered to your home.

After your wine tasting at the winery, you will join your driver for a drive along scenic Tuscan roads towards Montepulciano for a tasty lunch and sightseeing.



LUNCH: Picnic with a View or Restaurant lunch in Montepulciano


Pending weather between spring and fall, temperature, and availability of picnic tables during lunchtime, you may choose to enjoy an outdoor picnic on a Tuscan cheese farm that boasts a gourmet shop with gastronomical delights that include award-winning artisan Pecorino di Pienza cheeses, cold cuts, various local delicacies such as artisan jams, sauces, and honey, locally produced wine and craft beer.



The picnic tables have been set up in the shop's garden surrounded by olive groves and breathtaking views of Montepulciano and the Temple of San Biagio for a truly unforgettable picnic with a view! Due to their excellent cheese and their glorious views, this cheese farm is very popular with consummate travelers eager for a unique Tuscan experience.

If an outside picnic is not possible due to inclement weather, uncomfortable temperatures, or lack of availability of picnic tables….or if you simply prefer a relaxing restaurant meal, you will enjoy lunch in Montepulciano at any of the local restaurants in town.

Learn more about enjoying a Picnic with a View in Montepulciano further down this page.
MONTEPULCIANO - "The King of All Wines"
Montepulciano is a captivating medieval and Renaissance town majestically situated on a hill hilltop surrounded by enchanting valleys and soft rolling hills that are characteristic of Tuscany's idyll landscape.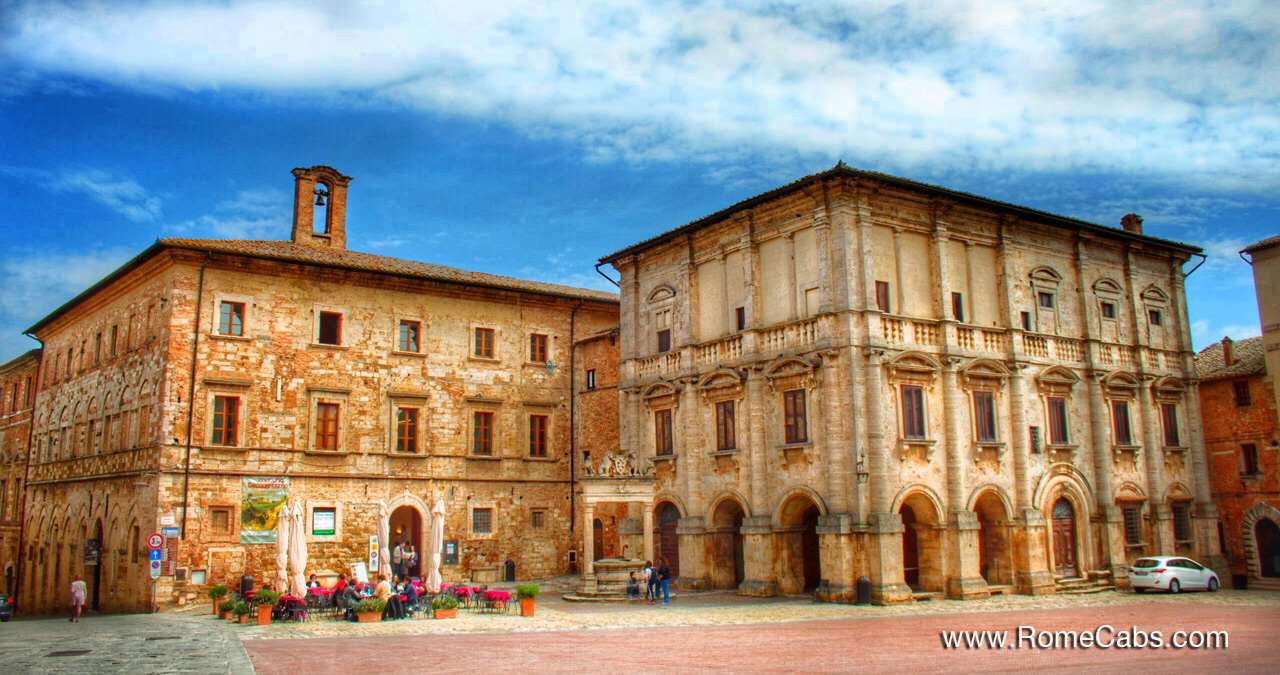 Brimming with interesting architecture, local charm, and excellent wine, you will see why Montepulciano is one of Tuscany's most sought-after destinations. The town's main square is the spacious Piazza Grande located on top of the town surrounded by imposing palaces and the town's Cathedral. The medieval city walls that encircle the town will reward you with breathtaking views of the Tuscan countryside.

Pedestrian-friendly medieval streets lined with imposing palazzi will lead you to many of Montepulciano's treasures: local artisan shops, gastronomic boutiques, enoteche, and wine cellars with plenty of additional opportunities to sample local wines.

Additional wine tastings and visits to wine cellars (cantine) in Montepulciano are possible at local wine shops (enoteche) owned by various local wine producers that offer visitors an abundance of regional wines and local delicacies that will delight wine lovers.
PIENZA - The Renaissance Utopia


Pienza is named after Pope Pius II who helped transform this once humble medieval village into a 15th-century Renaissance utopia. Not surprisingly, the historical center of Pienza is a UNESCO World Heritage Site. For being such a tiny village, you won't have to wonder what to see and do in Pienza.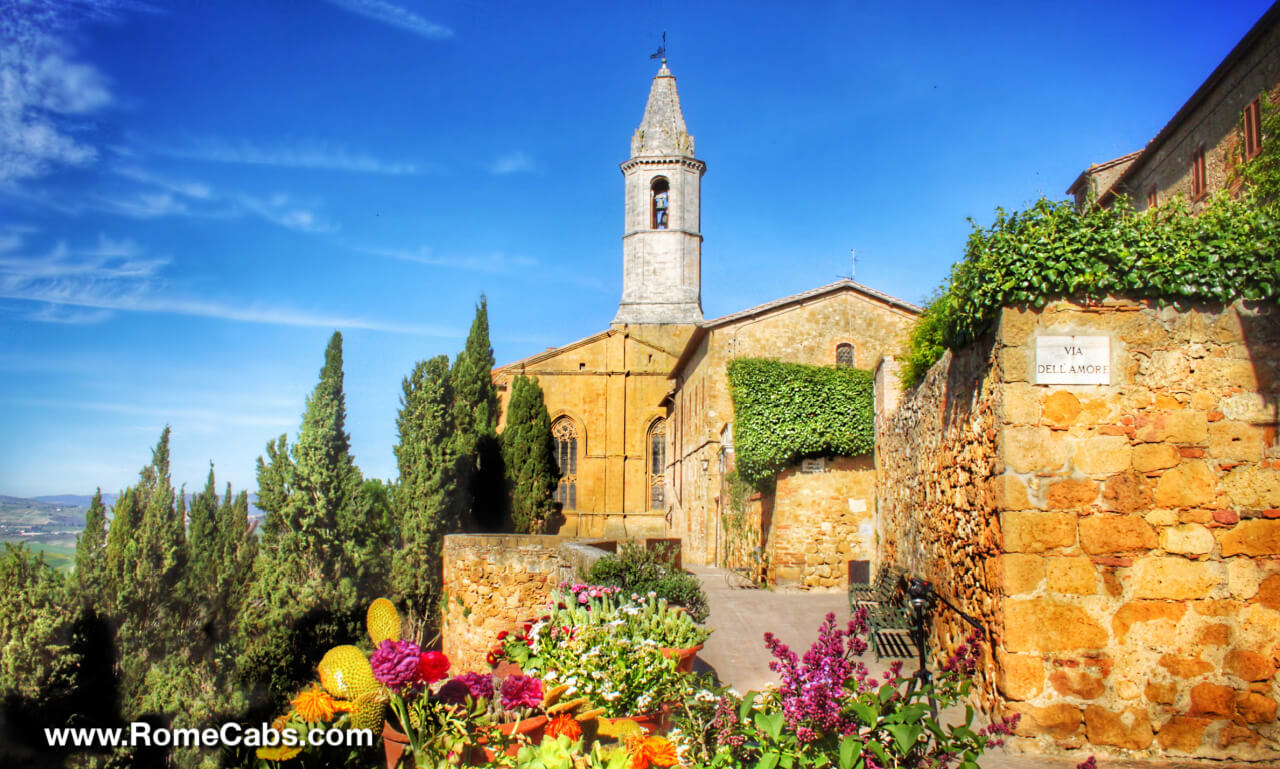 Charming streets and alleys lined with shops, boutiques, cafes, and restaurants add to the enchantment of this village and make it perfect for a stroll. Narrow lanes with romantic names like Via dell' Amore (Street of Love) and Via dell Baccio (Street of the Kiss), and Via della Fortuna (Street of Fortune) lead you to a panoramic terrace on top of the city walls where you will be in awe by the spellbinding Val d'Orcia which is also a UNESCO World Cultural Landscape.

For travelers with a discerning palate for gastronomic delights, Pienza's other claim to fame is the local production of the finest pecorino cheese in Italy. Pecorino di Pienza is made from the milk of ewes that graze upon the surrounding lush pastoral grasslands.

Delight your palate with pecorino fresco (soft fresh cheese) or pecorino stagionato (aged pecorino mixed with different subtle flavors) and discover these distinct traditional flavors. You will find many local gastronomic boutiques throughout Pienza that sell pecorino cheese, some that also offer cheese tastings at a nominal fee.
From here you will join your driver again for a leisurely journey back to Rome, committing to memory the flavors, aromas, and the idyll beauty of Tuscany.


Our clients who booked this tour also enjoyed the following tours:
Important Information


PLEASE READ THE INFORMATION BELOW AND ACCEPT THE TERMS OF SERVICE AND PRIVACY POLICY BEFORE BOOKING.

PAYMENT OPTIONS for this Taste of Tuscany Tour
Payment for this Tuscany Tour can be made in EUROS directly to your driver on the Date of Tour, or prepaid in advance via PayPal or Credit Card online when you confirm your Tour.
Winery / Wine Tasting fees are paid directly to the winery and are NOT included in our Tour Fee.
If you wish to PREPAY our Tour Fee you may do so online when CONFIRMING your BOOKING by SELECTING your preferred option of payment.
CANCELLATION POLICY of this Tuscany Tour
All Cancellations must be made in writing to us via E-Mail and confirmed by our office at least 7 days in advance. Cancellations are not accepted by phone, text message, or 3rd party.

** Cancelations for PREPAID SERVICES will be the Net Rate we receive from your prepayment. Net Rate: actual service price minus PayPal/Credit Card fees retained by PayPal/Credit Card as they do not reimburse us the fees they retain from your payment.
YOUR PRIVATE TOUR DRIVER
This Taste of Tuscany Tour provides an English-speaking Driver who is NOT a licensed tour guide or a sommelier.
Italian laws permit only licensed tour guides to accompany guests to sightsee on foot away from the vehicle.
In order to comply with Italian laws, drivers are obliged by law to remain with the vehicle while guests sightsee on foot. Drivers are happy to offer basic touristic information while at the vehicle, however you will SELF TOUR on your own when away from the vehicle.
Information about olive oil and wine can be provided by the experts at the establishments you visit.


Tuscany Oil Mill Visit and Olive Oil Tasting
Your visit to the oil mill lasts approximately 30 minutes, which includes a brief tour of the oil mill and extra virgin olive oil tastings. Guests are welcome to shop for their preferred extra virgin olive oil from the oil mill without any rush. Your driver will be at hand to offer assistance with translation due to the oil mill owners' limited (yet always improving) English skills.
Oil Mill visit and tasting fees are currently 20 Euros Per Person, payable directly to the oil mill.
*Fees are subject to change at the establishment's discretion without notice.
WINE TASTING IN TUSCANY: Price, information:

** Winery fees are approximately 25 EUROS Per Person payable directly to the Winery.
Winery fees are NOT included in our tour fee in order to offer our guests flexibility. Wine tasting fees are subject to change at the winery's discretion without notice. Only guests of minimum drinking age in Italy (18 years) can partake in wine tasting. Guests who cannot or prefer not to partake in wine tasting can enjoy the relaxing atmosphere of the wine estate.
Advance reservations are required for winery tours and are subject to availability.
Your winery visit will last approximately 1 hour. The winery visit time is booked in accordance with the winery's fixed visit schedule and is subject to availability.
This winery visit does NOT include a winery /cellar tour as tours are not offered at suitable times and are not compatible with the duration and itinerary of this tour which allows you to see and do as much in one day.
TIPS: Picnic with a View on a Cheese Farm in Montepulciano

If you wish to enjoy an outdoor picnic for lunch, here is a general guideline: At the farm gourmet shop, you will be provided with a picnic basket equipped with bread, a cutting board, cutlery, glasses, napkins, paper plates, and placeholders for 2.50 Euros Cover Charge.
Then, you fill your basket with your choice of farm-fresh pecorino cheeses, cold cuts, and salamis you wish to taste. Each item you choose will be cut or sliced in the quantities you request (deli counter style). In addition, you may also purchase salads, farm-fresh yogurt, jams, and honey to accompany cheeses, as well as local wines, craft beer, or mineral water.

Once you've filled your picnic basket with your preferred delicacies, you pay at the counter and select a shaded picnic table in the garden for a unique Tuscan outdoor picnic.






PLEASE NOTE: Please consider that when having a picnic outdoors surrounded by nature you might have to contend with occasional flying insects (flies, bees) and seasonal outdoor temperatures.
If these are a concern for you, you may choose lunch at a restaurant in Montepulciano. Neither our company or the cheese farm owners are responsible for nature being nature. Evaluate your options carefully prior to choosing your preferred location for lunch.


How to Taste Wine / 5 Wine Tasting Tips:


SEE - See the color, depth, and intensity of the wine in your glass. The color also indicates the types of grapes used or if the wine was aged in wood.
SWIRL - Swirling aerates the wine and allows oxygen to "open it up" revealing its complexities
SNIFF/ SMELL - It's essential to sniff the wine before tasting it as a wine's quality can be judged by its aroma.
SIP - Take a larger than normal sip and hold it in your mouth for 3-5 seconds to taste the characteristics of the wine's flavor: sweetness, bitterness, fruitiness, alcohol...
SAVOR - The taste doesn't just end once you swallow the wine. The finish is the duration of time the essence of the wine lingers and stays with you. A long finish is ideal, especially when the overall taste of the wine leaves you craving another sip.



How is VINO NOBILE DI MONTEPULCIANO made

Montepulciano's red wines are generally made from a minimum of 70% Sangiovese and up to 20% of other varieties such as Canaiolo, and a small amount of other local varieties including Colorino and Mammolo. Including these additional grape varieties renders Montepulciano's red wines a little softer when they are young. Many producers also prefer to make their top Nobile wines from 100% Sangiovese grapes.
The aging of Vino Nobile of Montepulciano takes a minimum of 2 years (3 years for riserva), of which 12 months are aged in oak barrels. The prescribed long aging period gives the wine balance and roundness. You are welcome to inquire more about Vino Nobile di Montepulciano during your wine tasting visit to the winery.
Please Taste Wine Responsibly


We wish for all our clients to enjoy our Tuscany wine tours. Only guests who are of legal drinking age in Italy can participate in wine tastings. Guests who are not of legal drinking age or do not wish to participate in wine tastings can enjoy sightseeing and a leisurely visit to the winery.
For your enjoyment of this tour, we urge you to please wine taste responsibly and never on an empty stomach. Please evaluate your personal tolerance of wine consumption and refrain from overindulging as it will interfere with your enjoyment of this tour.
RomeCabs does not accept responsibility for guests' personal wine tasting decisions should they be excessive and interfere with their tour enjoyment. Guests who overindulge and wish to return back to their hotel sooner will not be reimbursed for shortening their tour.