description

Our Pompeii and Sorrento Tour from Rome offers you the opportunity to enjoy an exciting journey into Italy's stunning region of Campania to visit the ancient Roman city of Pompeii that's an UNESCO World Heritage Site and taste the flavors of the seaside town of Sorrento in the comfort of your own private deluxe vehicle driven by your personal Stefano's Rome Cabs English speaking Driver eager to help you have a most unforgettable experience in Italy.
POMPEII AND SORRENTO TOUR PRICE LIST


For up to 4 Persons from Rome Hotel: 620 EUROS
For up to 6 Persons from Rome Hotel: 680 EUROS
For up to 8 Persons from Rome Hotel: 750 EUROS
* You may also do a QUICK PRICE CHECK using the Price Check & Booking form on the Right Side of this page. Once you receive the PRICE QUOTE based on the information you input, you may proceed to SUBMIT your Tour Request.
** Dates on the Booking Form Calendar that are NOT Selectable, are NOT AVAILABLE.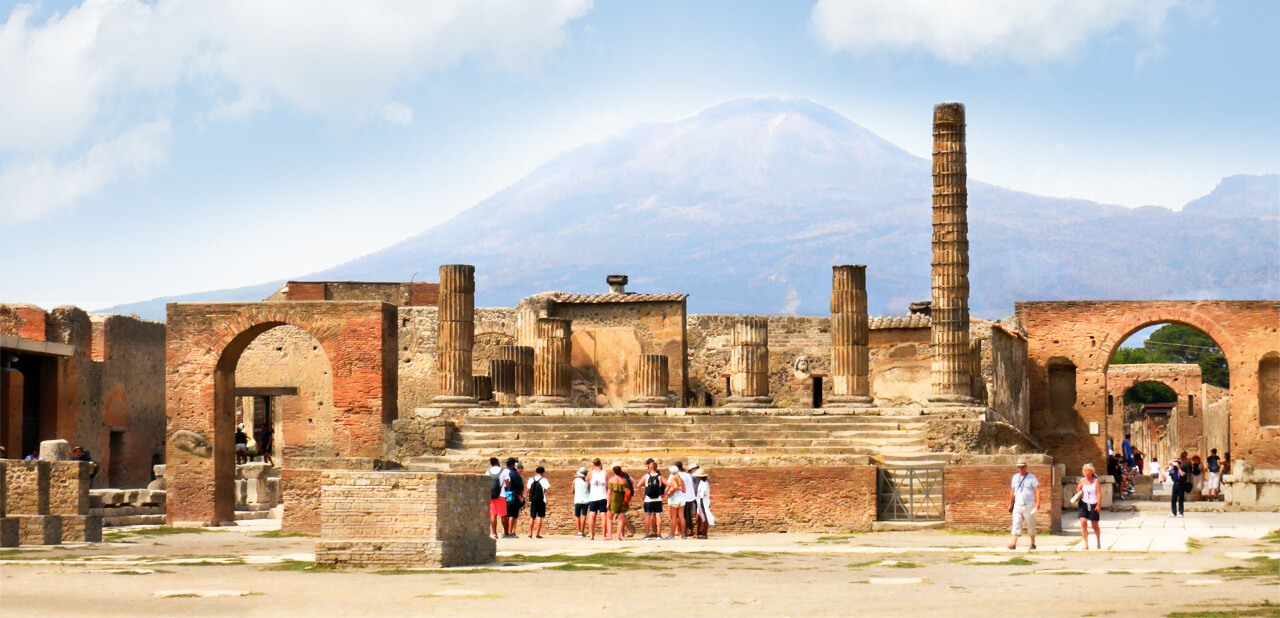 POMPEII


Your Pompeii and Sorrento Tour begins with a relaxing drive to southern Italy to the region of Campania.
Your first stop will be at the archaeological park of Pompeii, a once prosperous ancient Roman commercial town of about 11,000 people that became frozen in time entombed in volcanic mud when Mount Vesuvius erupted in 79 AD.
Pompeii is believed to have been founded in the 7th or 6th century BC by the Osci, ancient Italiac people of Campania, and conquered by Rome in 80 BC.
It remained lost for about 1,500 years until its discovery led to excavations which continue even today. Buried under tons of ash, this ancient town and its artifacts have been kept well preserved for so long due to lack of air and moisture.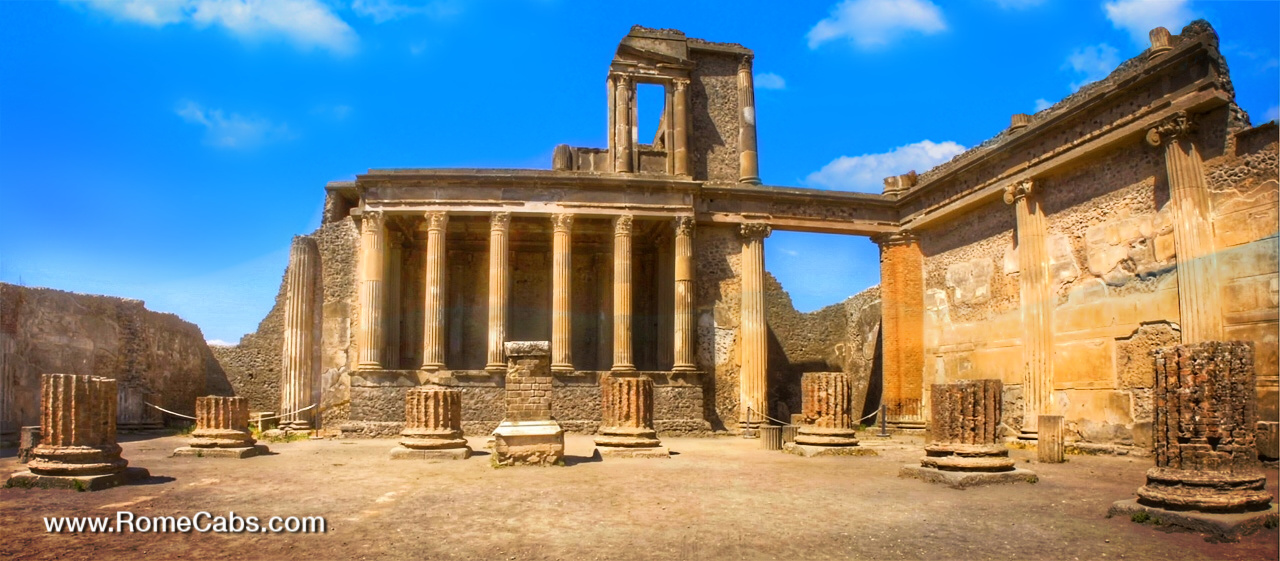 Pompeii will give you a hauntingly beautiful and detailed insight into the ancient world of the Romans for an unforgettable experience of this ancient town that disappeared in a flash.
Along the distressed cobble stone streets you can walk in the footsteps of the ancient locals and venture through the well preserved ruins of once impressive villas decorated with vivid frescoes, apartment buildings for the working class, bars, bakeries, stores, and workshops.
Surprisingly, Pompeii has been a "tourist attraction" for about 250 years, and currently visited by approximately 2.5 million visitors each year.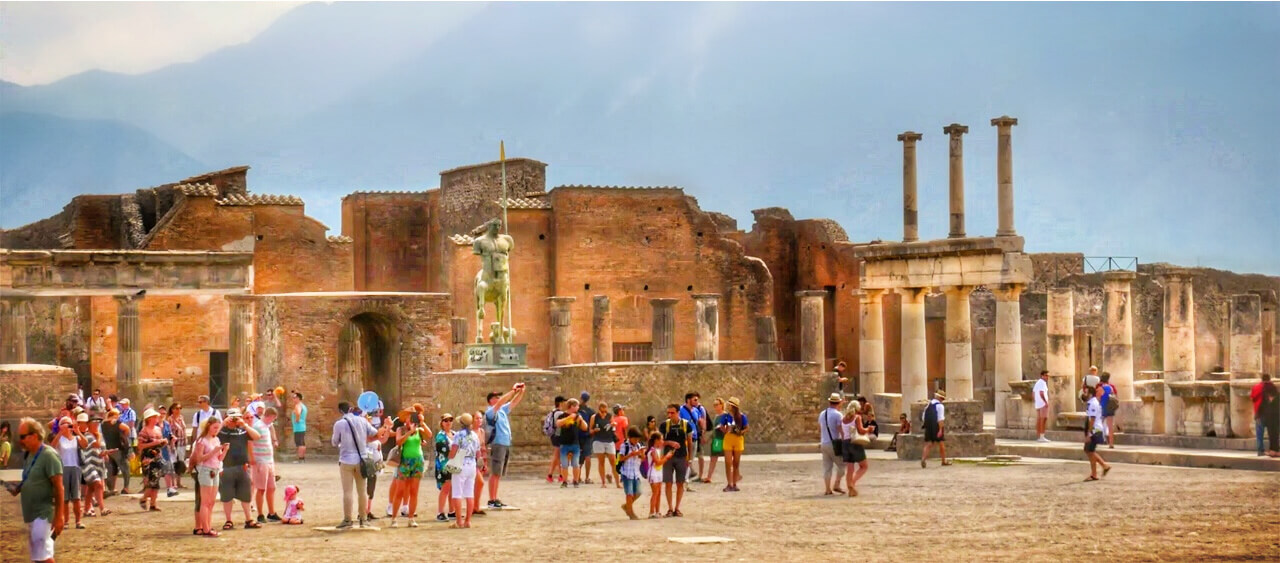 To get the most out of your visit to Pompeii we highly recommend a local licensed guide whose extensive knowledge and detailed narrative will enhance your experience and understanding of this captivating ancient Roman city.
See the IMPORTANT INFORMATION section below for more information on private guided tours of Pompeii.
SORRENTO


From here your Pompeii and Sorrento day tour continues with a pleasant drive to the splendid coast town of Sorrento that overlooks the Bay of Naples and Mount Vesuvius for lunch at a local restaurant and some time for exploration.
Sorrento is one of the most charming seaside towns of southern Italy, inspiring music (recall the famous "Torna a Surreinto" - Come Back to Sorrento) and poetry, good food and fresh sea air.
Sun kissed building facades in warm colored pastels, worn by time, while made so beautiful by it will greet you as you explore the quaint streets and alleys.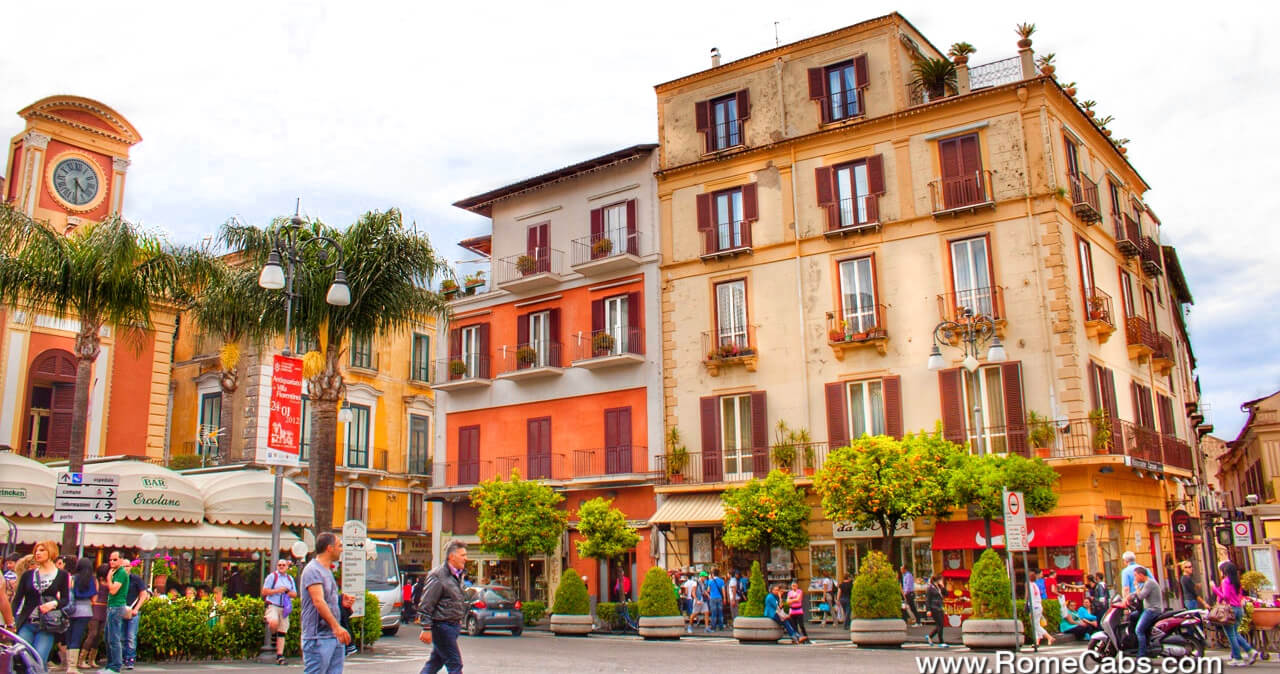 You will also have free time on your own for a relaxing stroll through its narrow lanes lined with galleries, cafes, and boutiques featuring an abundance of local products such as the famous Sorrento Limoncello.
You will discover shops sell fine souvenirs such as ceramics, marquetry, and lacework. Sorrento is a fabulous place if you like to shop!
Don't miss the famous "Corno" - red horns shaped like chilly peppers said to ward off the "evil eye" and is considered a good luck charm.
Pulcinella is a masked puppet show type character, reputedly a prankster. He is the unofficial mascot of Sorrento, and you will see Sorrento full of them!



After a wonderful visit in Sorrento, you will enjoy a relaxing drive back to Rome where your day tour will finish with your turn to your hotel accommodation.
Thank you for booking our Pompeii and Sorrento tour from Rome, and for choosing Stefano's RomeCabs for your Italy private tours. We look forward to showing you beautiful places in Italy!
Important Information

PLEASE READ THE INFORMATION BELOW AND ACCEPT THE TERMS OF SERVICE AND PRIVACY POLICY BEFORE BOOKING.


PAYMENT OPTIONS
Payment for this Tour can be made in EUROS directly to your driver on the Date of Tour, or prepaid in advance via PayPal or Credit Card online upon request. (See Cancellation policy below)
CANCELLATION POLICY
We kindly ask that cancellations be made via E-mail at least 7 days prior to Date of Service.
Cancellations are accepted only via E-mail so your cancellation is on record. We do not accept cancellations by phone, text message, or 3rd parties.
** Cancelations for PREPAID SERVICES will be refunded the Reduced Net Rate we receive from your prepayment. Reduced Net Rate: actual service price minus PayPal/Credit Card fees retained by PayPal/Credit Card as they do not reimburse us the fees they retain from your payment.
YOUR PRIVATE TOUR DRIVER
This tour provides and English speaking Private Driver who is not a Licensed Tour Guide.
Italy enforces stringent laws and regulations to protect official licensed guides that make it illegal for Drivers to act as a tour guide and accompany guests to sightsee inside monuments, museums, historic centers, or piazzas. Your Private Driver will be obliged to remain with the vehicle while you SELF TOUR away from the vehicle.

* Drivers touring from Rome can offer basic information of the Campagna region, but they do not possess in-depth knowledge as a local expert of the region. If you prefer in-depth information on Sorrento and the region in general, you may request a private tour guide to accompany you in Sorrento as well.
* SAFETY FIRST: Driving through traffic-prone Naples and on the windy road to Sorrento may at times require your Driver's full attention on the road and refrain from distracting commentary while driving. For your personal safety inside the vehicle, we thank you for your understanding and cooperation.
POMPEII ADMISSION TICKETS
Entry ticket price for Pompeii is currently estimated at approximately 18-19 Euros per person to be purchased on-site upon arrival.
** Admission Ticket prices to attractions are always subject to change without notice and are not guaranteed to remain the same after booking this tour.
PRIVATE GUIDED TOUR OF POMPEII:
If you would like to reserve a private licensed tour guide for a 2 HOUR guided tour of Pompeii, please let us know and we will be happy to assist with a price quote for a 2 Hour Guided Tour of Pompeii with a professionally licensed tour guide.

IMPORTANT TOUR GUIDE DISCLAIMER:
Private licensed tour guides are not employees or affiliates of Rome Cabs as they operate independently as a separate entity. We only book the private guided tours on your behalf as a complimentary service for our clients. We receive no compensation or benefit in any way from the hired guides for booking their services for our clients. We recommend their services based on their lawful qualifications, expertise, professionalism and reliability and we have no control of the style of tours they provide.
POMPEII AND SORRENTO TOUR TRAVEL TIPS:


Please wear comfortable shoes and clothing on this tour. Pompeii is an archaeological site with uneven terrain. Please mind your steps at all times.
If you tour departs from Rome and you wish to extend the tour past 5 PM, you may do so at a rate of 50 Euros extra per hour. Just let your driver know you would like to stay longer, and he or she will be more than happy to accommodate your wishes.
Please note that unexpected traffic delays and road closures in Naples area may happen which are beyond our control. We accept no responsibility of unexpected road closures that may cause traffic delays which extend the duration of your driving time either arriving into or leaving Naples and Sorrento.
On weekends, national holidays, and the month of August thre may be unexpected traffic delays due to the popularity of Sorrento and Amalfi Coast region among Italians and Europeans traveling by car. Please be aware of this possibility if you wish to book your tour during these times.