description
Rome in 3 days with Stefano's RomeCabs offers you an in-depth experience of Rome as we take you on a 3-day expedition of Rome's famous squares, extraordinary museums, historical churches, and iconic Ancient Roman monuments.
Journey through time as you explore Rome from its ancient days as the Roman Empire to the splendor of the Renaissance Era, as well as modern life and Italian culture that's the fabric of Rome.
ROME IN 3 DAYS TOUR PRICE LIST


For up to 2 Persons from Rome Hotel: 1,150 EUROS
For up to 4 Persons from Rome Hotel: 1,200 EUROS
For up to 6 Persons from Rome Hotel: 1,350 EUROS
For up to 8 Persons from Rome Hotel: 1,500 EUROS



** You may also do a QUICK PRICE CHECK using the Price Check & Booking Form on the Right Side of this page. Once you receive the PRICE QUOTE based on the information you input, you may proceed to SUBMIT your Tour Request.
** Would you like to Start your Rome in 3 Days Tour from Civitavecchia Post Cruise? Send us an email for price quotes and information.
*** Dates on the Booking Form Calendar that are NOT Selectable, are NOT AVAILABLE.

WATCH a preview of the best places to see and visit in Rome on our Rome in 3 Days Tour VIDEO:
NOTE: The itinerary and tour description for the first 2 days in Rome, as well as detailed information about the service, is available on the tour page of ROME IN 2 DAYS TOUR
During the Rome Tour Day 1 and Rome Tour Day 2 of the ROME IN 3 DAYS TOUR you will have the opportunity to visit the following sites:
The Colosseum
Roman Forum
the Catacombs
Ancient Appian Way
Spanish Steps
Piazza Navona
Trevi Fountain
The Pantheon
Campo dei Fiori Market
St Paul Outside the Walls Basilica
Castel Sant'Angelo
The Vatican ( Vatican Museums, Sistine Chapel, and St Peter's Basilica )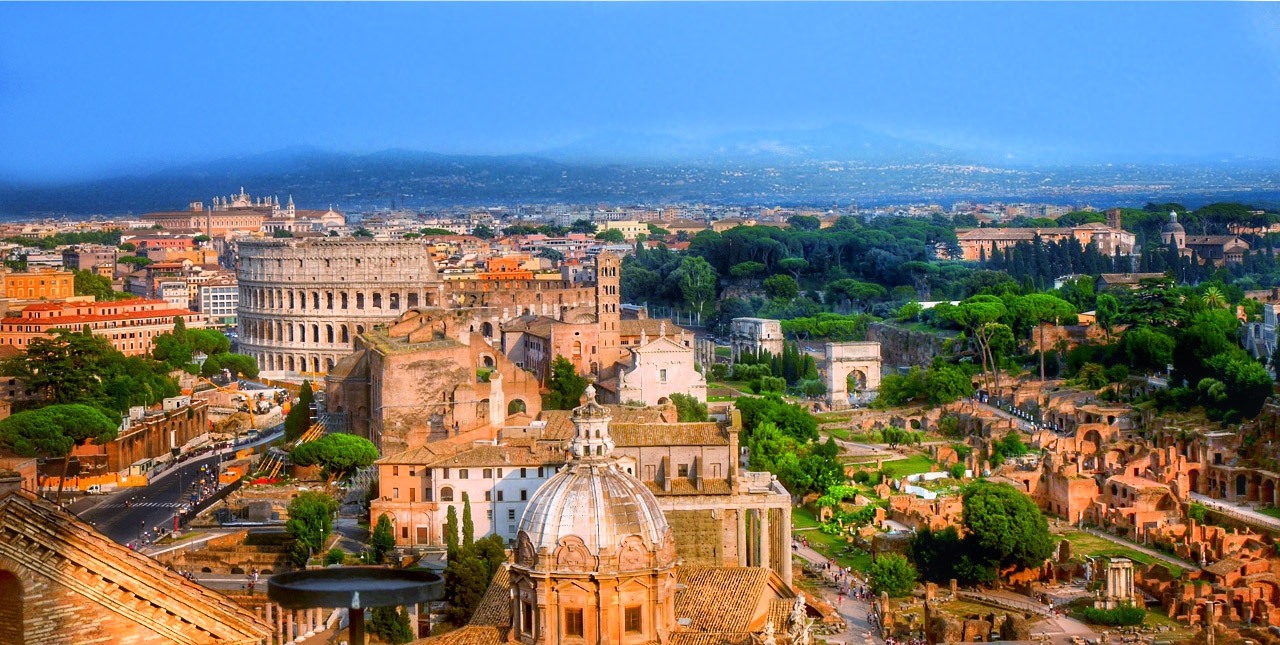 DAY 3 - ROME IN 3 DAYS TOUR


Your English-speaking driver will pick you up at your hotel and whisk you off to explore Rome!
On your 3rd day of your exciting Rome in 3 Days Tour, your adventures in Rome with continuous visits to more compelling museums, churches, ancient monuments, and squares that broaden your experience in Rome.



BATHS OF CARACALLA - the monumental Imperial Baths of Ancient Rome


Italians' love for thermal baths and recreation is not a recent fad, but a tradition that extends way back to the days of Ancient Rome.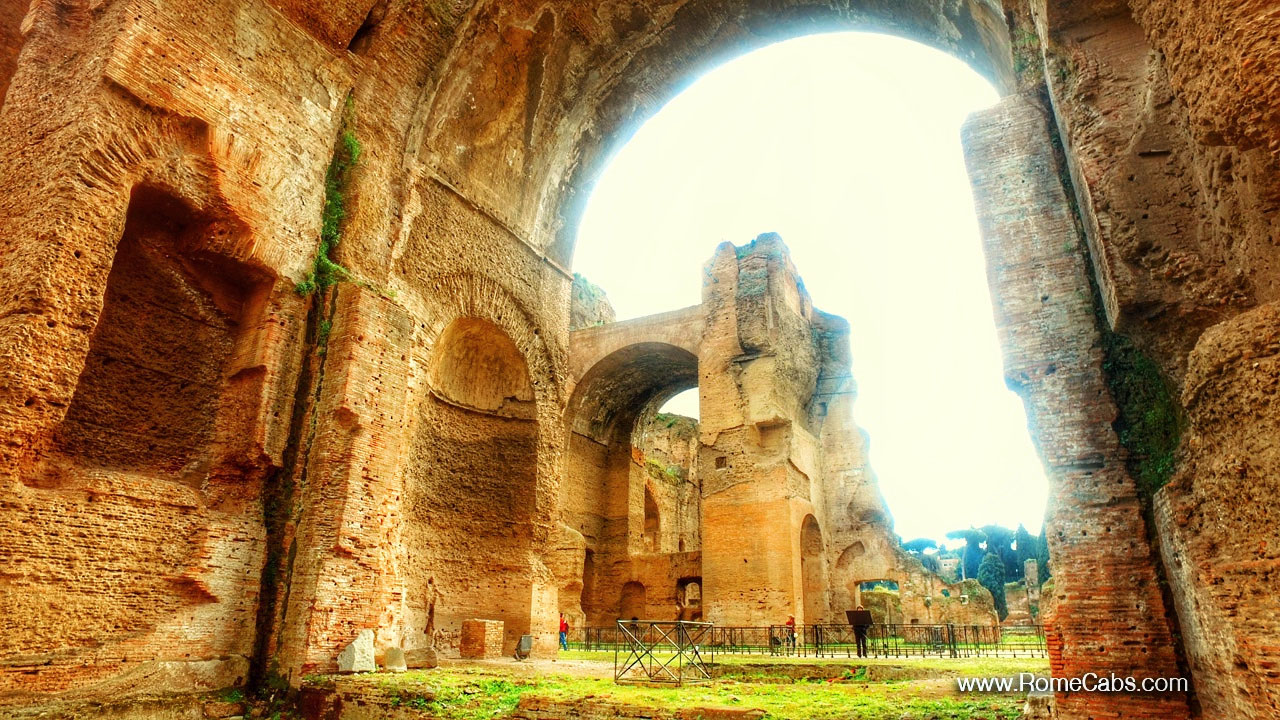 On our Rome in 3 Days Tour, you will have the opportunity to visit one of the most splendid ancient health spas that surely inspired awe in the ancient Romans: the Baths of Caracalla.
This impressive and well-preserved surviving example of an Imperial bath and the recreational complex was built in the early 3rd Century AD by Emperor Caracalla and was able to accommodate up to 10,000 people at a time, with 1,600 bathers in an extensive area covering about 1 million square feet.
This enormous bath complex included an Olympic-size swimming pool (called natatio), hot baths (caldarium), cold baths (frigedarium), and exercise areas (palastrae).
Opulent architectural elements of marble and columns, as well as artistic decorations of mosaics and sculptures That were once part of this luxurious bath complex, can be found scattered around Italy's piazzas, churches, buildings, and museums.
Aside from being a health spa, it was also a learning center with large public libraries in both Latin and Greek and conference rooms. Gardens and shops also occupied the premises. The Baths of Caracalla were not meant for mere cleanliness and relaxation, but it served as a center for people to meet, network, and conduct business.



CAPITOLINE MUSEUMS - crowning achievements in art from Classical to Renaissance eras
Capitoline Hill was one of the Seven Hills upon which Rome was founded.
Today, visitors can enjoy a visit to the Capitoline Museums, one of the "must-see" museums in Rome located inside 3 palaces that surround the trapezoidal square conceived by Michelangelo. In the center of the square is a bronze copy of Emperor Marcus Aurelius - the original can be seen inside the museum.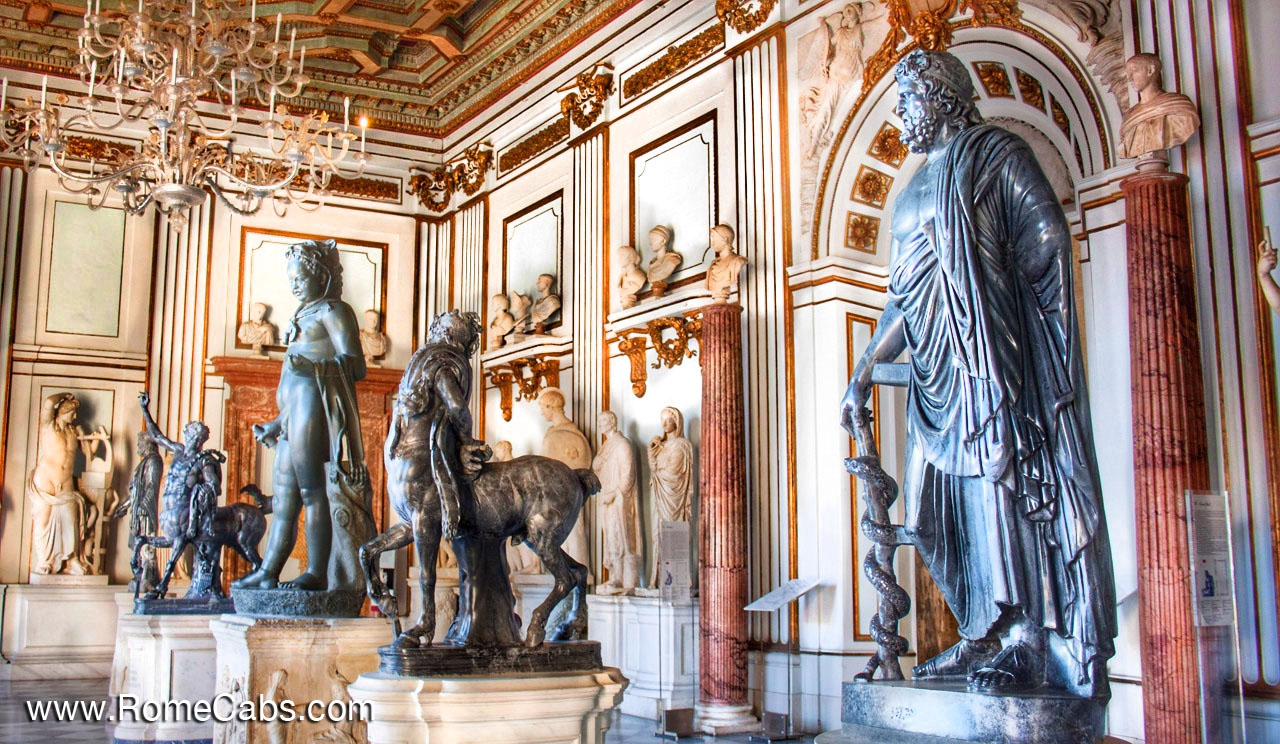 The Capitoline Museums house a vast collection of ancient Roman, Greek, and even Egyptian statues, reliefs, vases, sarcophagi, mosaics, busts, and artifacts of great interest, Medieval and Renaissance Art, jewels, coins, sculptures, and famous you are sure to Recognize.
Among the most treasured and Recognized pieces are the bronze " She Wolf nursing Romulus and Remus ", the Capitoline Gaul ", " Cupid and Psyche"," Capitoline Venus", " Medusa", the epigraphic collection of Ancient Roman funerary inscriptions That Gives you a glimpse into the personal lives of ancient Romans, Commodus as Hercules, the enormous ancient bronze statue of Marcus Aurelius, and more.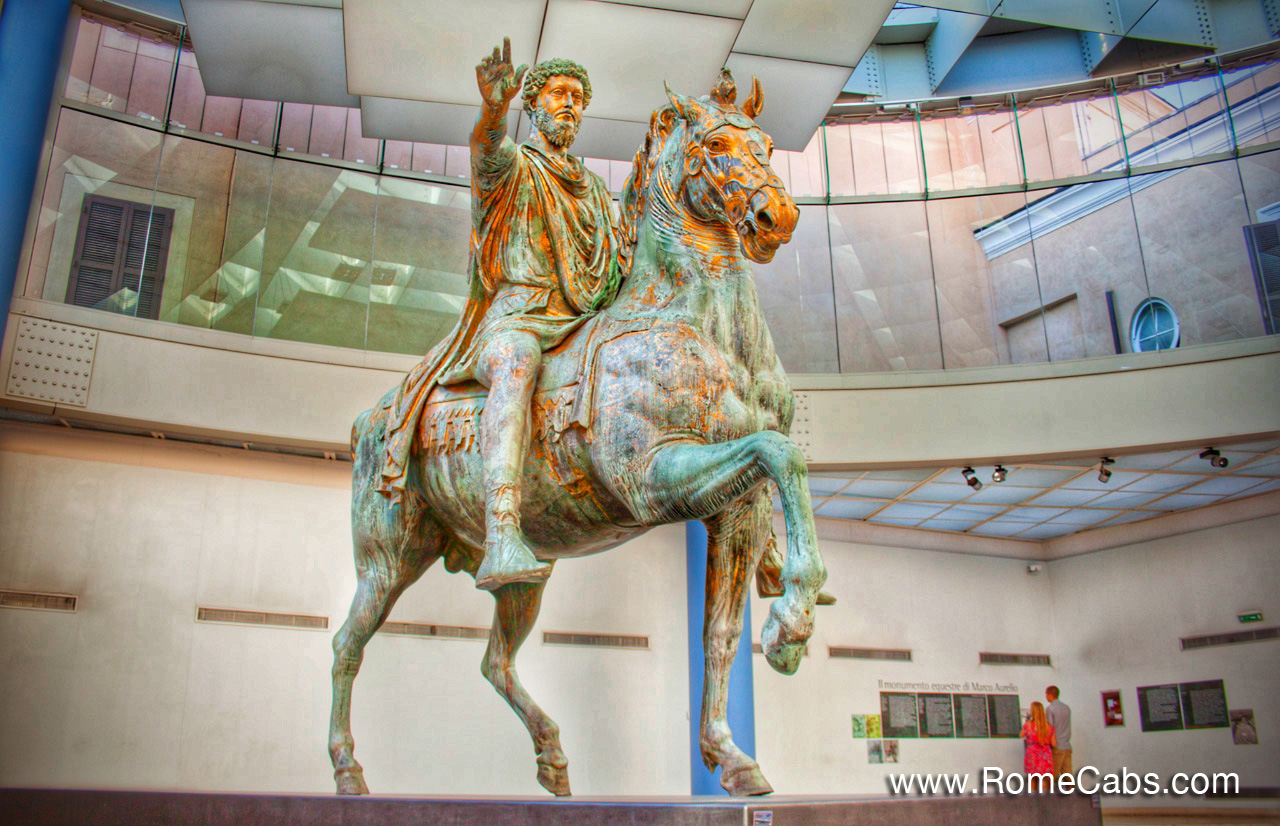 Welcome free time on your own for lunch that you will enjoy at a local Italian ristorante or trattoria of your preference. Your driver will be happy to offer suggestions for eateries.



SAINT JOHN IN LATERAN Papal Archbasilica, the oldest basilica of Western World



The Papal Archbasilica of St. John Lateran, commonly known as St. John Lateran Basilica is the cathedral church of the Diocese of Rome and the official ecclesiastical seat of the Bishop of Rome, who is also the Pope (currently Pope Francis I).
Dedicated to John the Baptist and John the Evangelist, the Basilica of St. John Lateran is the oldest and the first of the four Papal Basilicas of Rome, known as
" Omnium Urbis et Orbis Ecclesiarum Mater et Caput ", or "Cathedral of Rome and of the World."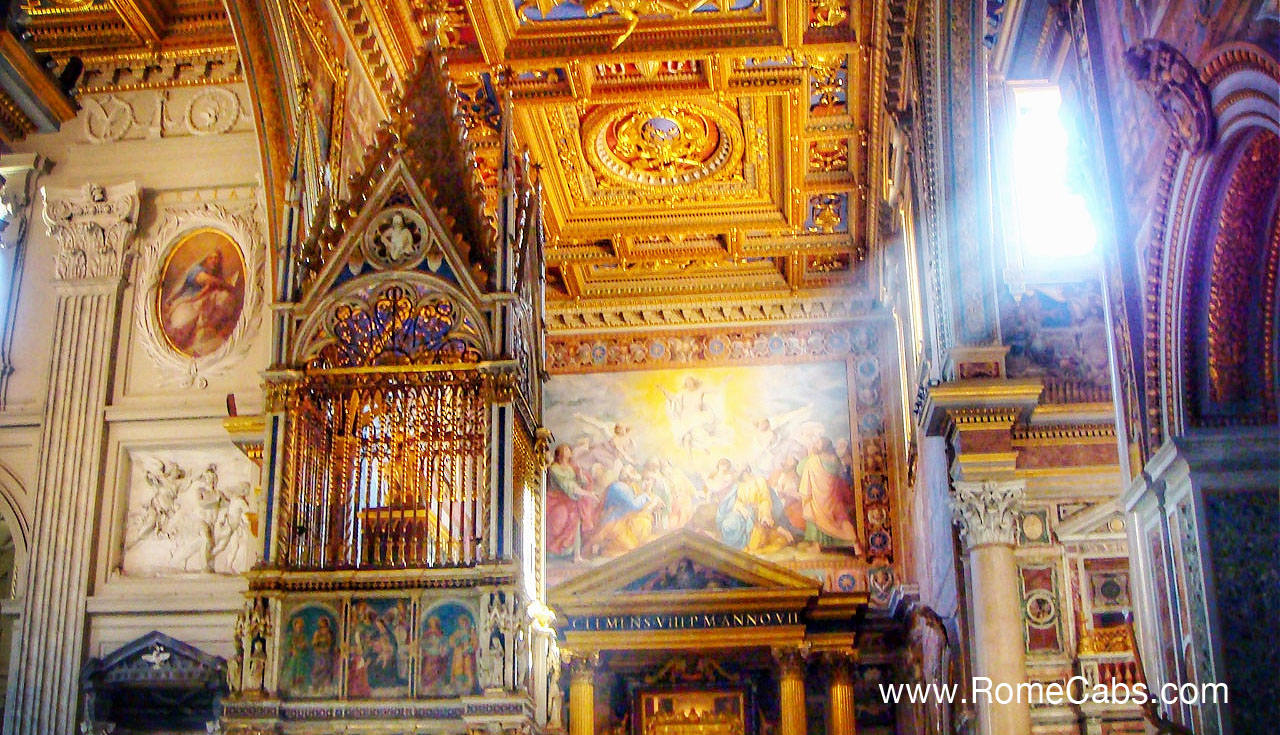 Built by Emperor Constantine in the 4th century, St John Lateran was the first church built in Rome on top of the ancient palace of the family of the Lateran. In the 2nd century military barracks were established by Emperor Septimius Severus. Emperor Constantine the barracks demolished and built the cathedral of Rome on top dedicating it to the savior in 318 AD.
The Basilica has been rebuilt several times after being burned, sacked, and destroyed by earthquakes. In the mid-1700s a new facade was created.
There is much of interest to see today inside the basilica: the central bronze doors are of Roman origins from the Senate House (the Curia), at the left end of the porch is a statue of Roman Emperor Constantine discovered among the ruins of the Baths of Diocletian.
Statues of the Apostles and Evangelists beautifully stand in niches inside the ship, the stunning 14th-century canopy above the Altar of the Holy Sacrament, is believed to contain a cedar table used by Christ and tombs of six popes, and beautiful 14th-century Cosmatesque pavement that is a perfect example of this technique ornamental floor.
TRASTEVERE - Old World Charm in the heart of Rome


Trastevere is the charming neighborhood of Rome across the Tiber River, as the name Indicates in Latin: "trans Tiberium "translates to" beyond the Tiber".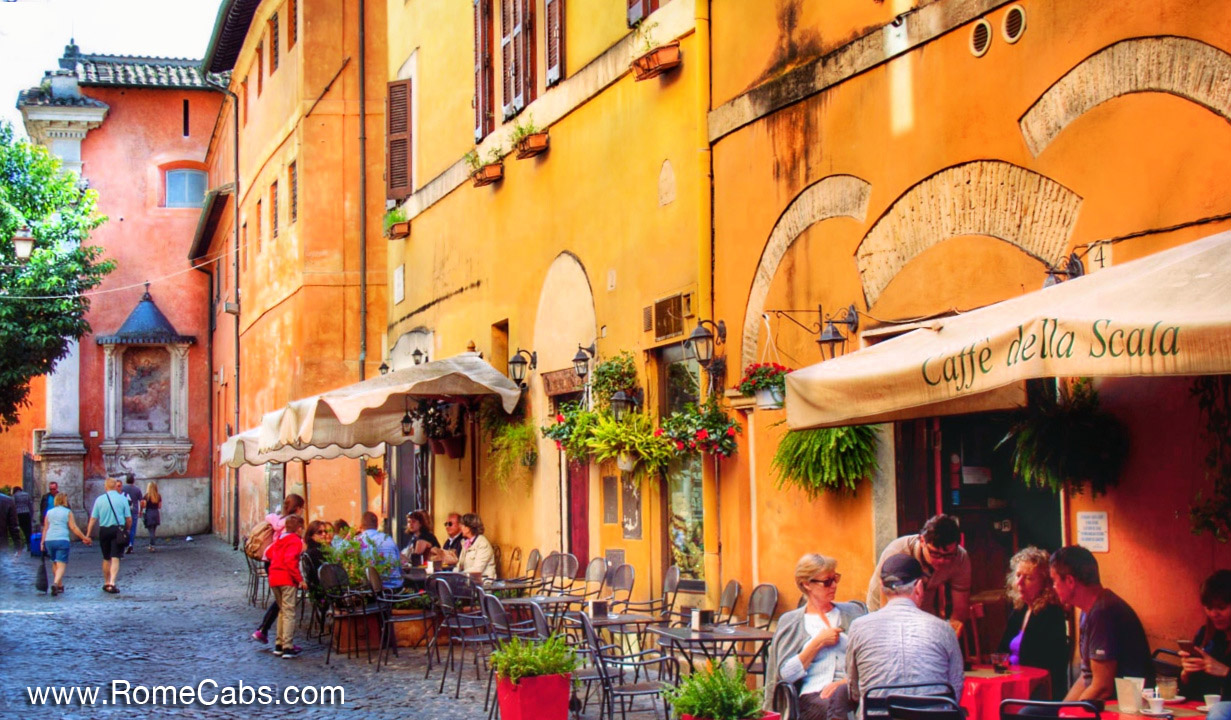 This is perhaps the closest you will come to see Old World Rome as the neighborhood retained its characteristic charm with narrow cobblestone streets, medieval buildings with ocher and sienna aged facades, hanging ivy, and unique boutiques Likely you will not find in the rest of Rome.
The most popular square is Piazza Santa Maria in Trastevere, named after the beautiful church of Santa Maria in Trastevere. This is perhaps one of the oldest churches in Rome since the 4th Century AD and likely where the first Mass was openly celebrated in Rome.


What we see now is the 12th-century reconstruction, but elements inside the church are still from as back as to 4th century.
The lovely fountain in the center of the square that attracts quite a gathering on its steps is the original work of Donato Bramante with later additions by Gian Lorenzo Bernini and Carlo Fontana. However, it is believed that this fountain has been here since the 8th century.
Your last day in Rome will not be complete without a stop on top of Janiculum Hill for a sweeping view of Rome below to admire it from the vantage point of this popular terrace. From church domes and the dome of the Pantheon to ancient monuments and modern buildings, you will see Rome stretched out before you. This is one of the most memorable ways complete your Rome in 3 Days tour.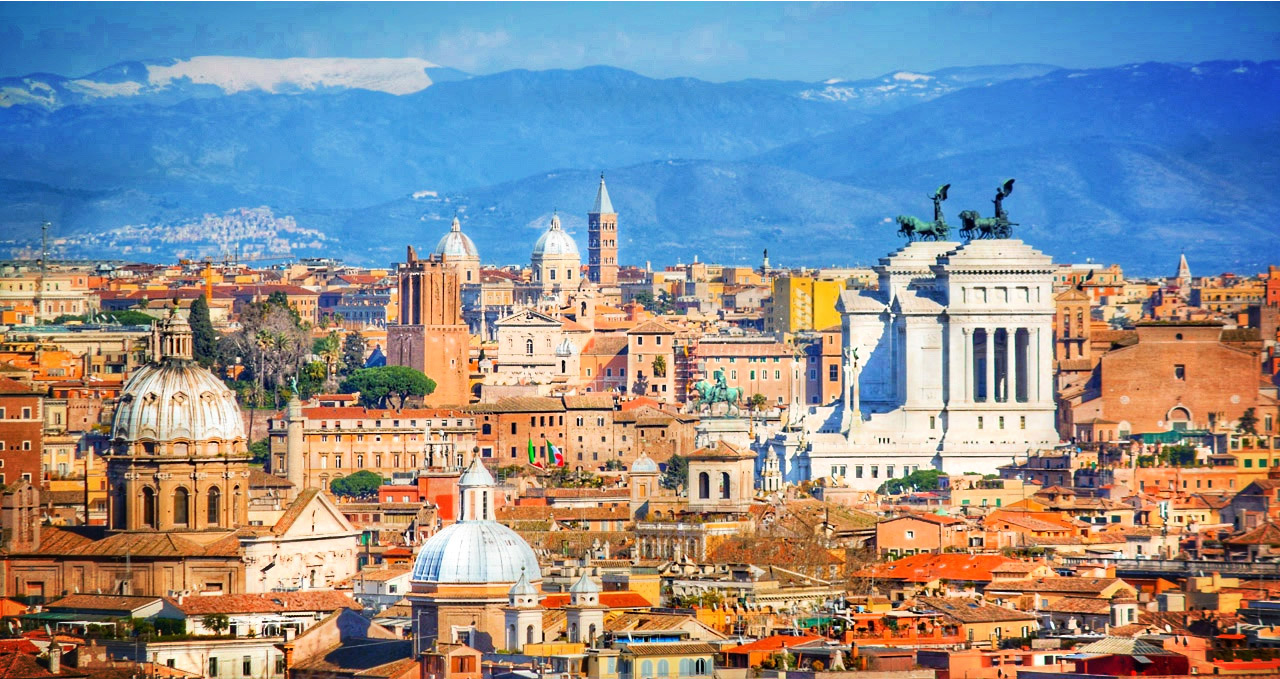 Important Information

PLEASE READ THE INFORMATION BELOW AND ACCEPT THE TERMS OF SERVICE AND PRIVACY POLICY BEFORE BOOKING.

PAYMENT OPTIONS
Payment for this Tour can be made in EUROS directly to your driver on the Date of Tour, or prepaid in advance via PayPal or Credit Card online upon request. (See Cancellation policy below)
CANCELLATION POLICY
We kindly ask that cancellations be made via E-mail at least 7 days prior to Date of Service.
Cancellations are accepted only via E-mail so your cancellation is on record. We do not accept cancellations by phone, text message, or 3rd parties.
** Cancelations for PREPAID SERVICES will be refunded the Reduced Net Rate we receive from your prepayment. Reduced Net Rate: actual service price minus PayPal/Credit Card fees retained by PayPal/Credit Card as they do not reimburse us the fees they retain from your payment.
ADMISSION TICKETS:

* COLOSSEUM TICKETS (Fast Track Tickets)
Price of Admission Tickets booked online Colosseum standard is currently 14 Euros per person.
Upon booking this tour, you will be provided with LINK and INSTRUCTIONS to purchase your Non-Refundable Colosseum Tickets from the official ticket website.


* VATICAN MUSEUMS TICKETS


Admission Tickets to Vatican Museums are currently 21 EUROS ** PER PERSON
** NOTE: Admission ticket prices are subject to change up or down without notice.
Upon confirming the tour, you will be provided with LINKS and INSTRUCTIONS to purchase your Colosseum Tickets and Vatican Museum Tickets in advance online via authorized websites. You will be required to bring your Ticket VOUCHERS with you so they can be converted into actual tickets on site.
These tickets are NON-REFUNDABLE once purchased as the Colosseum and Vatican Museums do NOT issue refunds on purchased tickets of any kind.
Vatican Museums are closed on Sundays and tickets can not be booked for the last Sunday of the month that has a free entry (with extremely long lines). Your Vatican visit will be scheduled on a day that the Vatican Museums are open.

* CAPITOLINE MUSEUMS:
No Line Admission Tickets are currently 13 Euros per person including children 6 years and up (ticket prices can vary depending on any special showings inside the museum). Tickets can be Purchased on-site on the day of the tour as there are rarely long lines.
Capitoline Museums are CLOSED on Mondays, December 25, January 1 and May 1.

* BATHS OF CARACALLA

Admission tickets are currently 6 Euros per person and children 6 years and up. Tickets can be Purchased Directly on-site upon arrival.

* CASTEL SANT'ANGELO:

Current tickets are approximately 10.50 Euros per person.
Tickets may be purchased online on site upon arrival, with some wait times at the ticket office. Ticket prices vary depending on whether or not special exhibitions are taking place on the date of your visit. If you wish to pre-purchase your tickets online in advance, let us know and we will be happy to provide you with the proper link to the online ticket office.

*** IMPORTANT: Ticket prices are at the discretion of the monuments and museums and may change without notice between the time you book this tour and the actual tour dates. We accept no responsibility for changes in ticket prices after you book the tour.
YOUR ROME TOUR DRIVER

Private Tour Drivers are professionally licensed chauffeurs, they not licensed tour guides. On this tour, you will SELF TOUR while away from the vehicle without being accompanied by your driver.
Italy implements stringent laws protecting licensed tour guides, thus it is unlawful for Tour Drivers to act as guides and Accompany guests away from the vehicle to sightsee. Your driver will be Obliged to REMAIN with the vehicle while you sightsee on your own.
For your safety inside the moving vehicle, please do not distract the driver while s / he is driving, Especially During traffic conditions.
Your private driver will drop you off as close to the sites as close as legally possible and according to the Municipality and Traffic laws of Rome.
PRIVATE LICENSED ROME TOUR GUIDES

We can book independent Licensed Rome Tour Guides for our clients upon request for in-depth walking tours at key attractions.
The most requested sites for Private Rome Tour Guides are the Vatican (2 HOURS) and Colosseum and Roman Forum Combination Tour (Duration 2 Hours)


VATICAN TOUR GUIDE IS HIGHLY RECOMMENDED for informative guided tour of the highlights of the Vatican Museums, Sistine Chapel and Saint Peter's Basilica. Private Tour Guides also offer assistance with converting your Museum Ticket Vouchers into actual Tickets on arrival and assist you to access Saint Peter's Basilica to help make your Vatican tour as enjoyable and effortless as possible.
Please contact us for TOUR GUIDE FEES and booking information.
Payment is made ​​for private guides Directly to the guides in Euro funds at the end of Their guided tours. Tour Guides do NOT work for us.

IMPORTANT TOUR GUIDE DISCLAIMER: Private licensed tour guides are not employees or affiliates of Rome Cabs as they Independently operated. We place the reservations for private guided tours with My Rome Guides on Behalf of our clients as a complimentary service. We receive no compensation or benefit in any way from the guides. We recommend Their services based on Their lawful qualifications, expertise, professionalism and reliability, but please note we have no control of the style of tours they Shops provide.
ROME TRAVEL TIPS


Tips for visiting the Colosseum and Roman Forum
During the warm months, be sure to bring bottled water, sunscreen and a hat to protect our head and shade your face as it can be quite hot and sunny while visiting the Colosseum and Roman Forum.
*** Due to security check points installed at the entrance of the Colosseum for ALL visitors to clear prior to entering the monument, security lines with unpredictable wait times can be expected.
10 Simple Tips for Visiting Rome in the Summer
Tips for visiting Rome's popular Squares
The areas surrounding top attractions can be quite crowded, especially during the peak travel months. Be sure to mind your personal belongings at all times and keep them close to you. Do not accept 'gifts' from street vendors or strangers approaching tourists around the squares. Rome is a very safe and friendly city, but as with any place in the world it is advised to travel with common sense.


Tips for visiting the Vatican Museums:
Throughout the Vatican Museums, photography and videography is permitted with exception of sensitive areas where flash photography is forbidden. Please check the signs that advise you of this in order to protect delicate works of art. You may use flash photography and videography freely inside St Peter's Basilica.
Inside the Sistine Chapel photography and videography is prohibited.
During the summer months, the Vatican Museums are very crowded and often hot. This may or may not be an enjoyable experience for persons who are sensitive to crowds and hot temperatures.

Tips for visiting Saint Peter's Basilica:
There is no dress code for visiting the Vatican Museums, but there is a modesty dress code enforced to enter the Sistine Chapel and St Peter's Basilica.
Bare shoulders and bare knees are FORBIDDEN. Visitors who don't respect the modesty dress code are denied entrance.
Capri-type pants, dresses, and skirts that cover the knees are acceptable for ladies. Men can wear shorts that are long enough to cover the knees.


What to Wear when Visiting the Vatican?


HELPFUL TIPS: Bring a scarf or shawl to cover your shoulders if you plan to wear sleeveless tops.