description
*** IMPORTANT: VATICAN MUSEUM TICKETS SELL OUT FAST. VATICAN MUSEUM VISIT IS NOT GUARANTEED:

We cannot guarantee the availability of Vatican Museums Tickets as they tend to sell out almost immediately. In case the Vatican Museums Tickets are SOLD OUT, we are happy to offer other exciting Rome tours such as Panoramic Rome tour, Tour Rome as Romans Do, or our popular Rome Town & Country Tour.


Our Rome in A Day Tour is chauffeur-driven with the unique opportunity to explore and experience Rome's sublime ancient monuments, remarkable churches, famous piazzas, and more!

Experience the best of Rome as your English-speaking Private Driver introduces you to Rome's fascinating culture, history, delicious flavors, and hidden secrets that are here waiting for you to enjoy. Journey through the Eternal City in the comfort and safety of your private deluxe vehicle.


This tour does NOT include visits inside the Colosseum or Pantheon due to unpredictably long security/entry lines and extreme difficulty in obtaining time slot tickets.
** NOTE: TOURING ON A SUNDAY?

If you are touring on a Sunday, please book our Panoramic Rome Tour or Tour Rome as Romans Do tours as the Vatican Museums are closed on Sundays and this Rome in A Day Tour cannot be booked "as-is" on a Sunday.



ROME IN A DAY TOUR PRICE LIST


For Rome Tours starting from Rome hotel:


For up to 4 Persons from Rome Hotel: 420 EUROS
For up to 6 Persons from Rome Hotel: 470 EUROS
For up to 8 Persons from Rome Hotel: 500 EUROS

For Rome Shore Excursion from Civitavecchia


For up to 4 Persons from Civitavecchia Cruise Port: 580 EUROS
For up to 6 Persons from Civitavecchia Cruise Port: 620 EUROS
For up to 8 Persons from Civitavecchia Cruise Port: 680 EUROS
* You may also do a QUICK PRICE CHECK using the Price Check & Booking Form on the Right Side of this page. Once you receive the PRICE QUOTE based on the information you input, you may proceed to SUBMIT your Tour Request.
** Dates on Booking Form Calendar that are NOT Selectable are NOT AVAILABLE. On SUNDAYS, please book our ROME IN A DAY ON A SUNDAY TOUR as the Vatican Museums are closed on Sundays.

COLOSSEUM SQUARE - bask in the grandeur Ancient Roman architectural wonders

Your Rome in A Day Tour begins with a stop in Colosseum Square that is dominated by the enduring iconic symbol of Rome and its imperial magnificence: The Colosseum.
This tour does NOT include a visit inside the Colosseum. See information below
The amphitheater was built in 72 AD over the previous Domus Aurea (Golden House), the vast and opulent personal domain of Emperor Nero.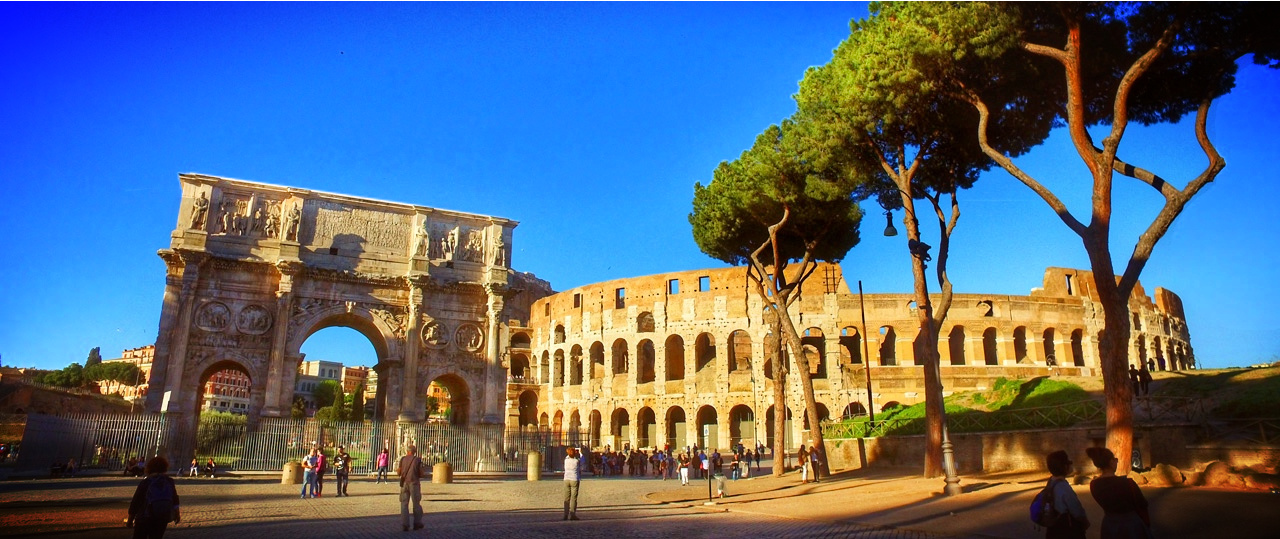 Its original name is the Flavian Amphitheater after the family name of Emperor Vespasian who initiated its construction for public use, contrasting Emperor Nero who used it for his personal interest. The amphitheater took the name Colosseum from the Colossus of Nero, an ancient towering bronze statue of Nero depicted as the pagan sun god Apollo.
As you stroll around Colosseum Square enjoying the ancient Roman atmosphere, be sure to view (and photograph!) the Colosseum from different angles to capture the unique beauty of this imposing monument.
Near the Colosseum, you can also see the impressive Arch of Constantine, the elaborate Victory Arch of the 4th century AD Emperor Constantine that made Christianity legal during the pagan times when Christians were persecuted for their religious beliefs.
CIRCUS MAXIMUS - the Ancient Roman chariot-racing stadium





Your Rome tour continues with a short drive to the nearby Circus Maximus. The outline remains of the once large ancient Roman stadium where thrilling chariot races took place for the pleasure of Roman citizens and royalty alike. In the spina (spine) in the center of the stadium serving as part of the dividing barrier, once stood Obelisco Flaminio, the obelisk currently in the center of Piazza del Popolo.
The majestic backdrop behind the Circus Maximus is Palatine Hill. On this exclusive hill overlooking the city is where the villas of the emperors and Rome's elite were built.


CAPITOLINE HILL - a picture-perfect panorama of the Roman Forum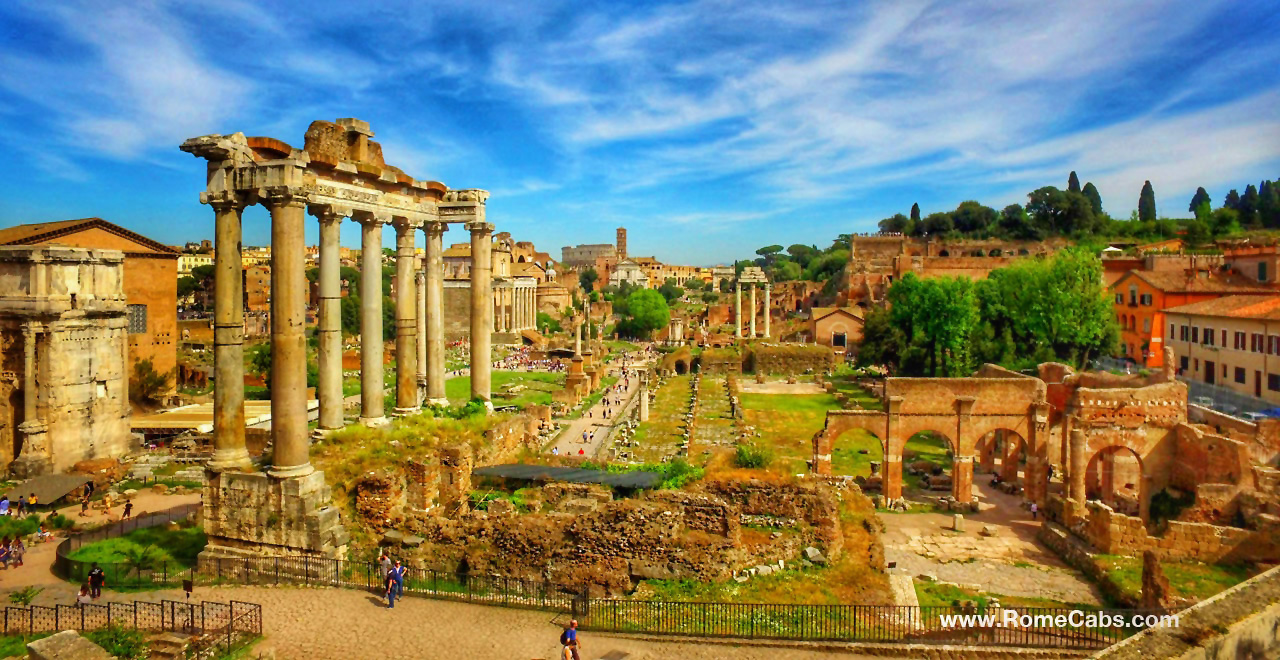 Your next stop on your Rome in A Day tour will be at the top of the Capitol Hill (Campidoglio). From here you have the vantage point view of the entire Roman Forum, a stunning portion of the Palatine Hill to the right, and the Colosseum in the far distance. This is also a very popular spot for amazing photographs and group photos, so make sure you have your cameras handy.
DRIVE BY PIAZZA VENEZIA


Next to the Capitoline Hill is the imposing Piazza Venezia that gives prominence to the palatial Vittorio Emanuele II Monument, dedicated to the first king of unified Italy.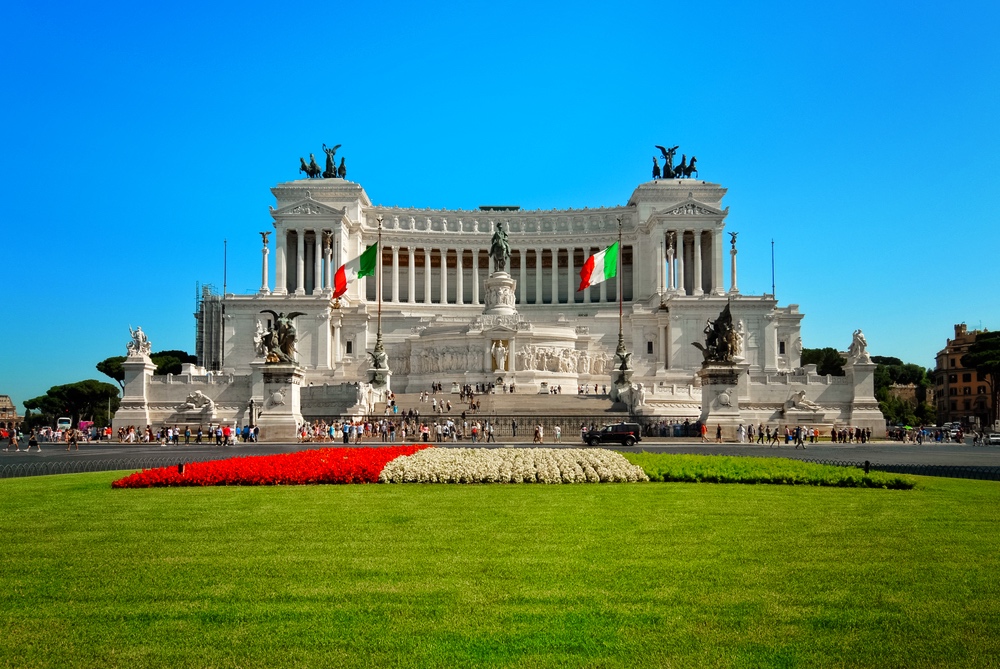 The monument is built of fine white marble from Botticino, Brescia, and boasts grand stairways, lofty Corinthian columns, sculpted fountains, a huge bronze equestrian sculpture of Vittorio Emanuele II, and two statues of the pagan goddess Victoria riding on quadrigas (a chariot drawn by four horses abreast).
PIAZZA NAVONA - Rome's Charismatic Square

Your next stops on your Rome in A Day Tour are Rome's lively squares.
The cheerful Piazza Navona is a symphony of fountains in an oblong square made colorful by a variety of colorful paintings and drawings exhibited by local artists, embraced by earthy-colored historic buildings.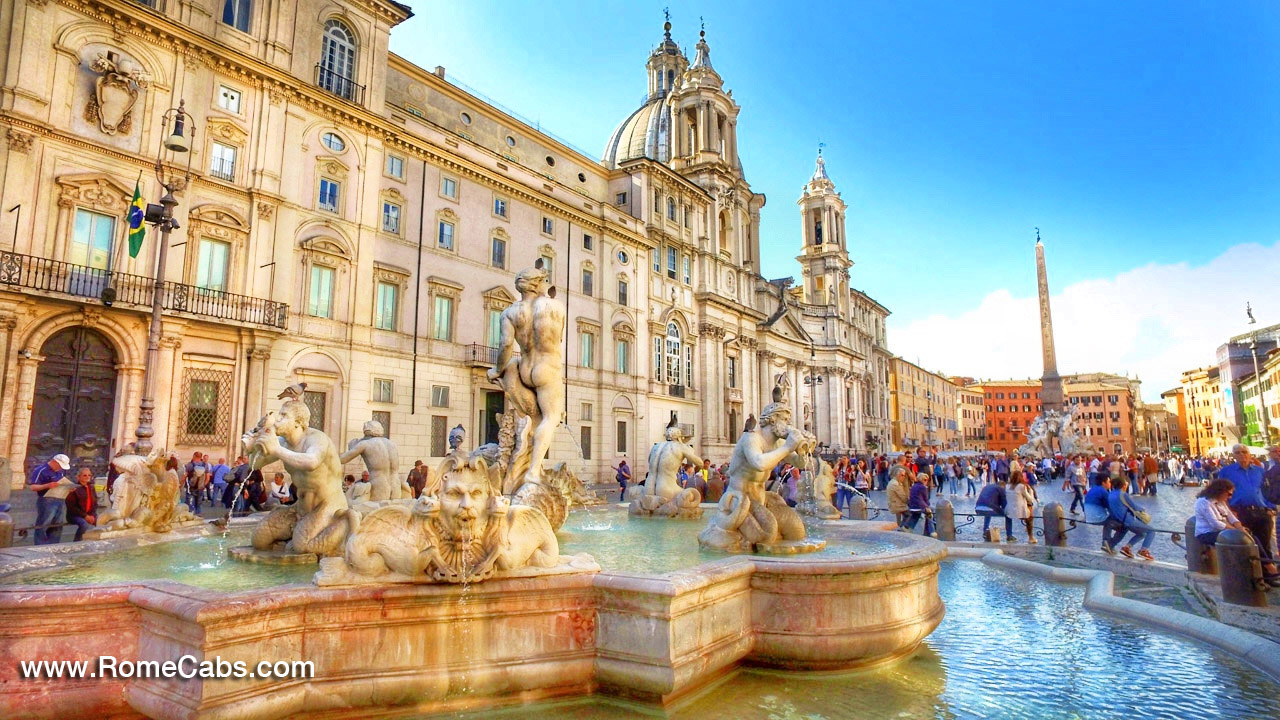 Piazza Navona takes its unique shape and name from the ancient 1st century AD Roman stadium by Emperor Domitian that was used for athletic competitions. The square today rests over the interior arena of this ancient stadium. The name Navona is rooted in the ancient word for games, 'agones'.
The magnificent centerpiece is the 17th-century fountain by Gian Lorenzo Bernini: Fountain of Four Rivers (Fontana dei Quattro Fiumi). This fountain represents the four major rivers of the four known continents of that time: Nile (Africa), Danube (Europe), Ganges (Asia), and Rio de la Plata (America). Above the fountain is an ancient Egyptian obelisk commissioned by Pope Innocent X giving height and dominance to this elaborate fountain.
PIAZZA DELLA ROTONDA - Rome's Iconic Square

Get ready to be captivated by the lively Piazza della Rotonda, adorned with a remarkable baroque fountain and crowned by a towering 20-foot obelisk from ancient Egypt. This exquisite masterpiece, originally crafted by Pharaoh Ramses II for the Temple of Ra in Heliopolis, exudes an aura of magnificence.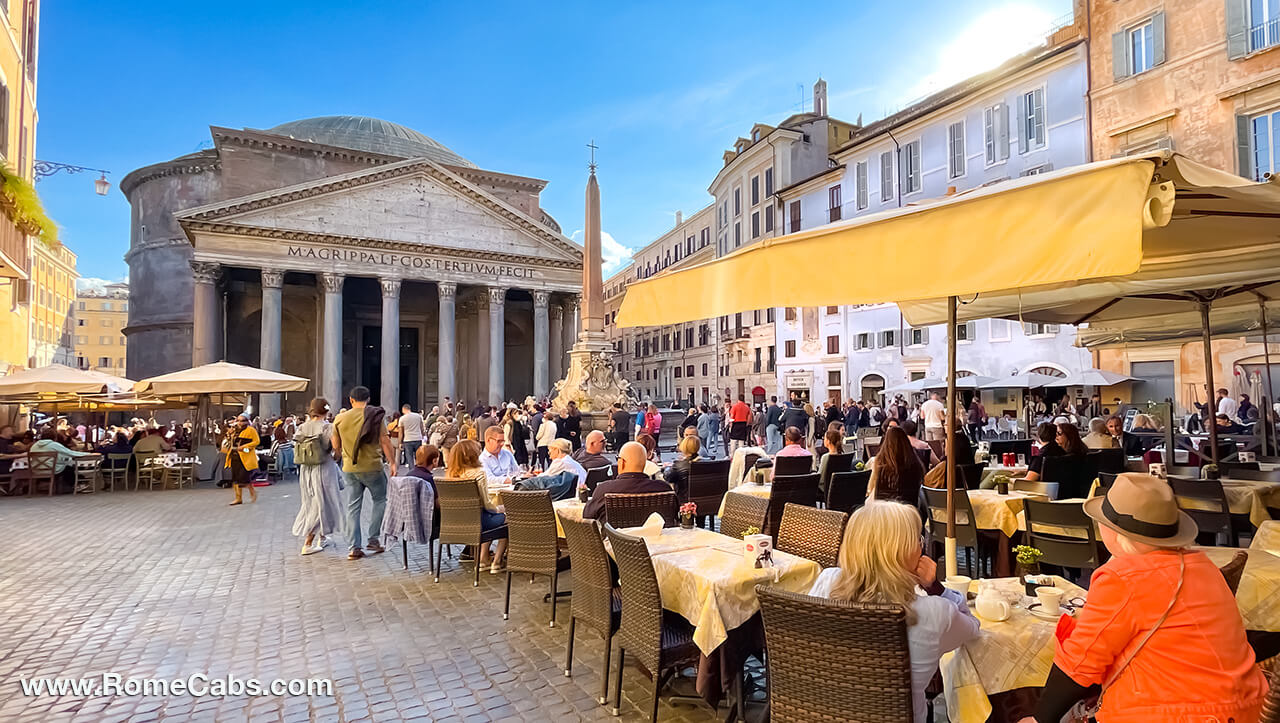 Take a moment to admire the awe-inspiring grandeur of the Pantheon, a true architectural marvel that reigns supreme over the square. Its commanding presence effortlessly captures the attention and admiration of all who behold it.
As you leisurely explore this enchanting square, allow yourself to be transported to a bygone era by the elegant facades of pastel-colored historical palazzi that gracefully embrace the square, perfectly complementing the irresistible charm of Piazza della Rotonda.
Wander through the square, meandering around the Pantheon. Indulge in the delights offered by the charming shops and treat your taste buds to the ultimate pleasure of savoring Rome's finest gelato from one of the nearby gelaterias.
Let yourself be carried away by the enchantment of Piazza della Rotonda as you soak in its vibrant energy, marvel at its architectural wonders, and embrace the rich history and allure that this captivating square has to offer.
PLEASE NOTE: Entry into the Pantheon is not included in the tour due to excessively long entry lines, even for visitors with pre-booked tickets, that are exceedingly difficult to secure.
THE TREVI FOUNTAIN - the world's most famous Baroque Fountain

Your Rome in a Day Tour will take you to the famous Trevi Fountain, the largest Baroque fountain in Rome - you can hear the symphony of water fountains from a block away.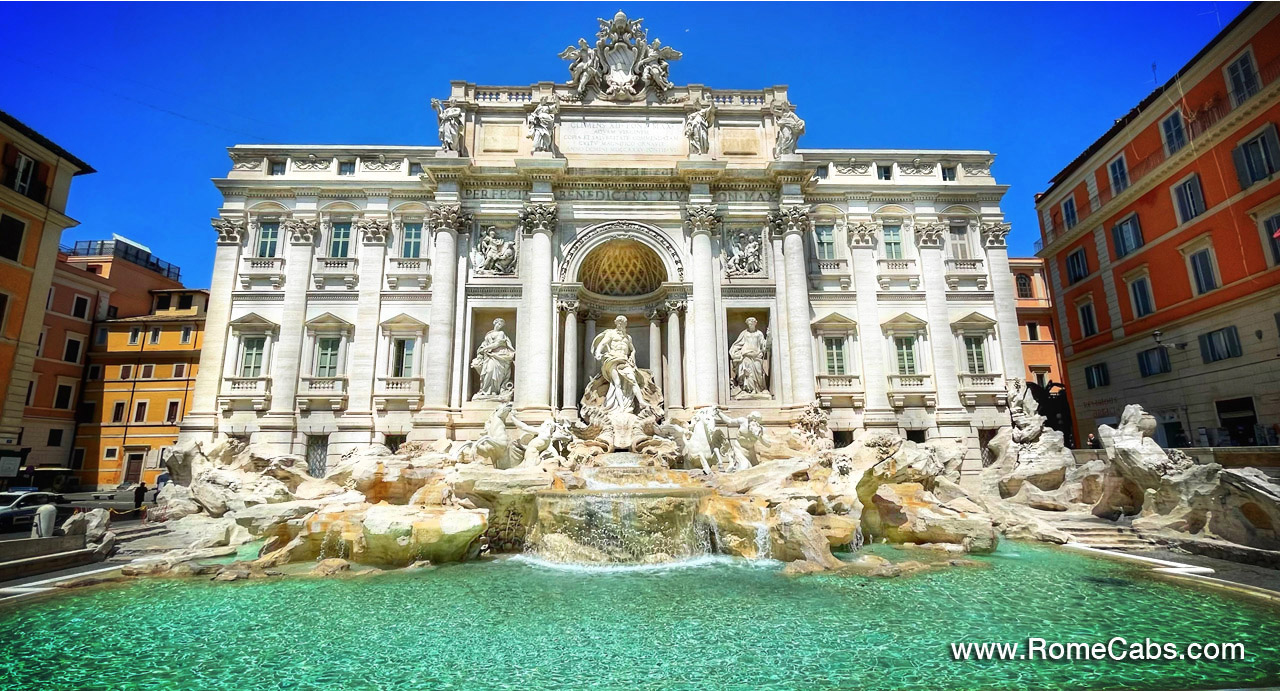 Tradition has it that if visitors throw a coin into the fountain, they will be assured a return to Rome, two coins will lead to a new romance and three will ensure marriage. Nearly 3,000 Euros are thrown into the fountain daily and are collected at night. The money has been used by a charity to subsidize a supermarket for Rome's less fortunate.
The Trevi fountain was also the setting of the classic movie Three Coins in a Fountain and Federico Fellini's famous film La Dolce Vita.



SPANISH STEPS - Rome's elegant square with a majestic sweeping stairway


Your next visit on our Rome in A Day Tour will be the famous Spanish Steps with its elegant 18th-century winding stairway that connect the square below to the French church of Trinita dei Monti above.
The Obelisk Sallustiano that graces the top of the stairs was erected in 1789 as a smaller version copy of the large original Egyptian obelisk belonging to Pharaoh Ramses II that is currently the centerpiece of Piazza del Popolo, and as you've previously seen, it first belonged in Circus Maximus.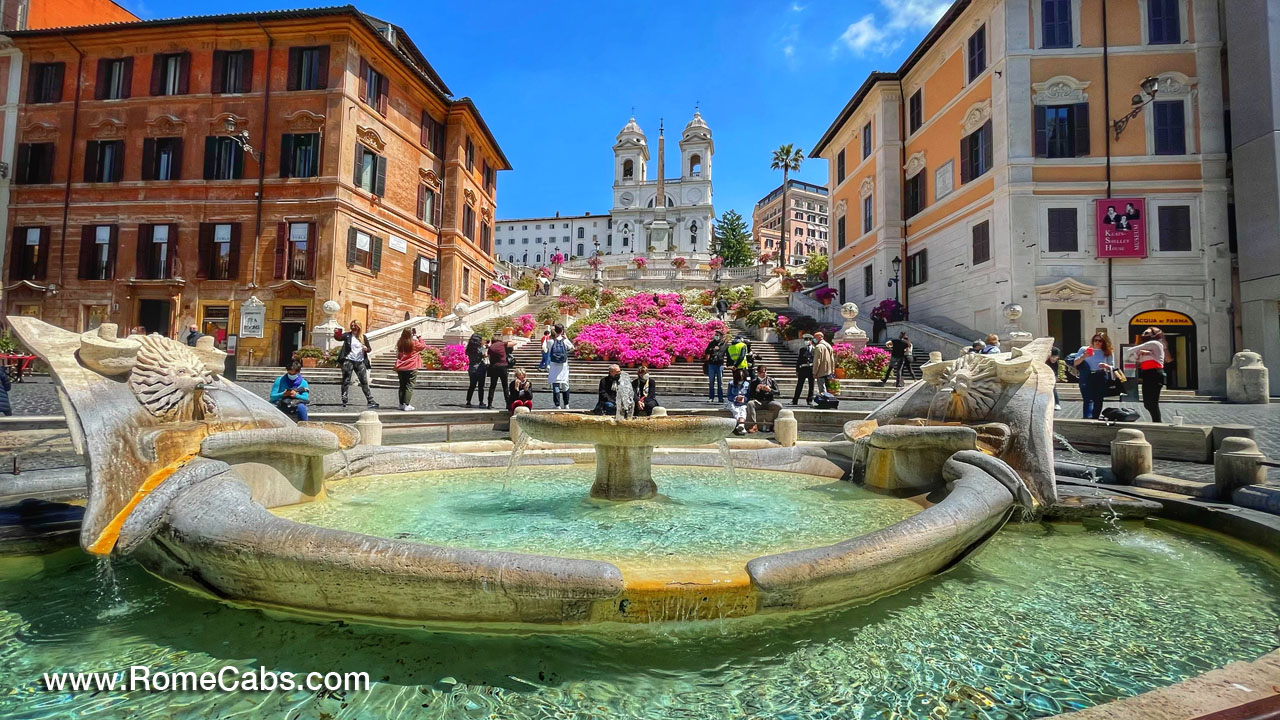 As you stand facing the Spanish Steps, the lovely pink-toned building to your right is the house where the famous English poet John Keats lived and died in 1821. Currently, it's the Keats-Shelley Memorial House.
Below the staircase is an early 1600s Baroque fountain, "Fontana della Barcaccio", or "The Fountain of the Old Boat", a type of shallow boat particularly used for carrying wine to the port of Ripetta. This distinctive fountain is attributed to Pietro Bernini, the father of the famous sculptor Gian Lorenzo Bernini.
The Spanish Steps earned its name after the Spanish Embassy that was located there in 1647 and later transformed into the Spanish Embassy to the Holy See.
Afterward your visit to the Spanish Steps you will stop for a quick traditional Italian lunch.
THE VATICAN MUSEUMS and SISTINE CHAPEL
** NOTE ** Vatican Museums Tickets SELL OUT FAST! We cannot guarantee the possibility to visit the Vatican Museums if tickets are no longer available. We can suggest alternate tours or sightseeing options.

No Rome Tour or shore excursion from Civitavecchia is complete without a visit to the Vatican Museums.
After enjoying free time on your own to enjoy lunch at a nearby restaurant or trattoria of your choice, you will have the opportunity to visit the smallest country in the world, the Vatican (also known as Vatican City).
Your first stop will be the Vatican Museums, where you will be amazed and delighted at the extensive compelling collection of masterpieces including Michelangelo, Leonardo da Vinci, Giotto, Caravaggio, Perugino, Titian, Raphael, and a vast treasure of classic sculptures from antiquity.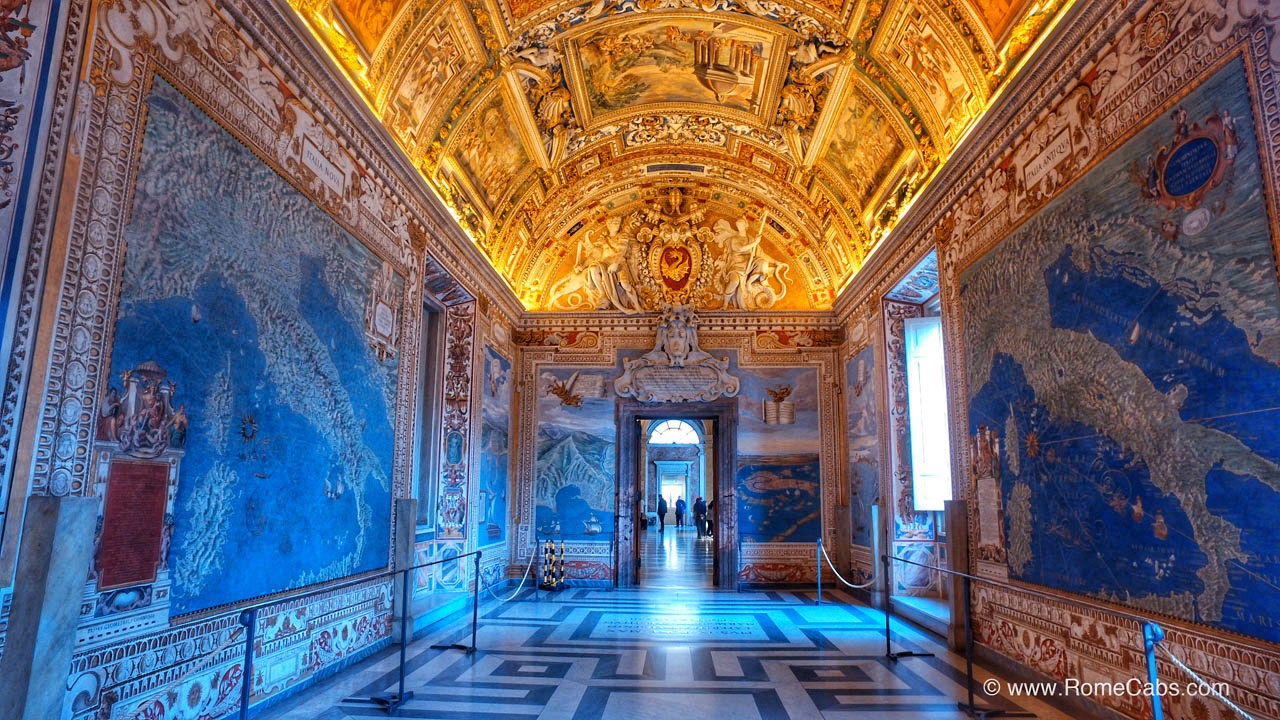 Among the most widely visited galleries and halls are Raphael Rooms, the Gallery of Tapestries, Hall of Maps, the Pinacoteca, and the most famous chapel in the world: the Sistine Chapel.
This marks the end of your Rome in A Day tour / Rome Shore Excursion from Civitavecchia with Stefano's RomeCabs.



** VATICAN MUSEUMS are CLOSED on SUNDAYS. If you wish to book a Rome Tour on a Sunday let us know, we can offer other options for your enjoyment.
*** Vatican Museums Tickets are SELLING OUT FAST and availability is NOT GUARANTEED
This tour does NOT include a Private Tour Guide of the Vatican.

Thank you for booking our Rome in A Day Tour and for choosing Stefano's RomeCabs for your Private Rome tours and Transfers.


Our guests who booked this Rome in A Day Tour by car also enjoyed the following popular tours:


Important Information

PLEASE READ THE INFORMATION BELOW AND ACCEPT THE TERMS OF SERVICE AND PRIVACY POLICY BEFORE BOOKING.


* PLEASE NOTE* This Rome in A Day tour "as is" is not bookable or available on SUNDAYS as the Vatican Museums are CLOSED on Sundays. Please contact us via email so we may offer other options or tours suitable on Sundays.


PAYMENT OPTIONS
Payment for this Tour can be made in EUROS directly to your driver on the Date of Tour, or prepaid in advance via PayPal or Credit Card online upon request. (See Cancellation policy below)
CANCELLATION POLICY
We kindly ask that cancellations be made via E-mail at least 7 days prior to Date of Service.
Cancellations are accepted only via E-mail so your cancellation is on record. We do not accept cancellations by phone, text message, or 3rd parties.
** Cancelations for PREPAID SERVICES will be refunded the Reduced Net Rate we receive from your prepayment. Reduced Net Rate: actual service price minus PayPal/Credit Card fees retained by PayPal/Credit Card as they do not reimburse us the fees they retain from your payment.
VATICAN MUSEUMS TICKETS
NOTE: Admission ticket prices are subject to change and ticket prices cannot be guaranteed
*** VATICAN MUSEUM TICKETS SELL OUT FAST!! ***
We cannot guarantee the availability of Tickets if they sell out before you have the opportunity to purchase them. In case the Vatican Museums Tickets SELL OUT, you may substitute the Vatican with other sites in Rome.
Upon confirming the tour, you will be provided with LINKS and INSTRUCTIONS to purchase your Colosseum Tickets and Vatican Museum Tickets in advance online via authorized websites. You will be required to bring your Ticket VOUCHERS with you so they can be converted into actual tickets on-site.
These tickets are NON-REFUNDABLE once purchased as the Colosseum and Vatican Museums do NOT issue refunds on purchased tickets of any kind.
YOUR ROME IN A DAY PRIVATE TOUR DRIVER
Rome in A Day Tour is a chauffeur-driven tour with a Private Driver who is not a Licensed Tour Guide.
Only licensed Tour Guides may accompany or guide you at the sites you visit.
Italy has strict laws and regulations in place to protect licensed tour guides, this makes it unlawful for Tour Drivers to act as tour guides and accompany guests to sightsee away from the vehicle. In order to comply with Italy's laws, Tour Drivers may not guide guests to sightsee and will be obliged to remain with the vehicle while you sightsee.
On this Rome in A Day Tour by car, you will SELF-TOUR the attractions you visit away from the vehicle, unaccompanied by your private driver. This tour does NOT include a tour guide.
Rome traffic can be quite chaotic and requires the driver's full attention, please refrain from distracting your driver while s/he is driving as your safety inside the moving vehicle is always our top priority.
Your private driver will stop as close to the sites as possible in accordance with traffic and Municipality laws and regulations.
MEETING POINTS TO MEET YOUR ROME DRIVER


At ROME HOTEL / ACCOMMODATION:
Your private driver will meet you inside the lobby of your hotel or in areas permitted by hotels.

For Apartments or B&Bs without a lobby, your driver will meet you outside the main entrance of your Pick Up Address.

* If your hotel or accommodation is on a street or in an area restricted to vehicle traffic, your driver will park as close as lawfully possible and meet you on foot at your Address, and accompany you to your parked vehicle.

MEETING POINT FOR SHORE EXCURSIONS FROM CIVITAVECCHIA
The port of Civitavecchia (the port of Rome) is one of the major Mediterranean ports where cruise lines stop for Shore Excursions. Your private driver will meet you on the Pier next to your Ship inside Civitavecchia Port at your scheduled pick-up time holding a sign with the NAME in your reservation.

Please do NOT leave the ship area, and do NOT take a shuttle bus outside the port.

Look for your private driver in the same area as ALL drivers will be waiting for their clients. Once you meet your driver, your Rome shore excursion will begin with a leisure drive from Civitavecchia to Rome.


VISITING ST PETER'S BASILICA IS NOT GUARANTEED ON THIS TOUR


This Rome in A Day tour does NOT guarantee the possibility of also visiting St Peter's Basilica
The Vatican has imposed regulations restricting access to St Peter's Basilica from inside the Vatican Museums.
Security Lines required to clear in order to visit the Basilica may be UNPREDICTABLY LONG, and you may NOT have sufficient time on your tour to visit the Basilica if you run out of time.
Guests on Shore Excursions are required to depart from Rome at a specific time, and may NOT have time to visit the Basilica if encounter long security lines.
Guests on Day Tours from Rome Hotel may EXTEND the tour at an additional cost to accommodate the extra time required to clear security and enter the Basilica.


ROME IN A DAY TOUR TRAVEL TIPS

Tips for visiting Vatican Museums:
Photography and videography are permitted throughout Vatican Museums, with the exception of sensitive areas where flash photography is forbidden. You may use flash photography and videography freely inside St Peter's Basilica.
Any form of photography and videography is strictly forbidden inside the Sistine Chapel.


Tips for visiting Rome's famous piazzas:
The area around the Trevi Fountain and Spanish Steps can become quite crowded, especially during the peak travel months, so be aware of your surroundings and keep your belongings close to you. Do not accept 'gifts' from street vendors approaching tourists around the fountain. They may offer you roses, but if you choose to accept, you will be expected to pay or give a tip to them.


Tips / Dress Code for visiting Vatican St Peter's Basilica and other religious venues:
Please remember to dress appropriately when visiting religious venues such as St Peter's Basilica that enforce modesty dress code: no bare shoulders or bare knees. Capri-type pants are completely acceptable for ladies and men can wear shorts if they are long enough to cover the knees.

ROME TOURS TRAVEL TIPS and INFORMATION FROM OUR BLOG:


Rome Day Tour Feedback from our Customers


"Hi Stefano, We used your service for two excursions, an airport transfer and a Civitavecchia port transfer.
We were extremely pleased with your service on both excursions...." ~ Ken and Cheryl
Using RomeCabs during our visit made or vacation one of the best experiences we have ever had visiting a foreign country. ~ Ed & Sandy Berry, USA
"I did an airport transfer, port transfer and a tour... The drivers were helpful and polite and professional. The tour guide of Rome and the Vatican was beyond expectations..." ~ Barbara Miller