description
Sundays in Rome are almost a tradition. It's a day of savoring moments of La Dolce Vita, strolling through iconic squares, visiting remarkable churches, basking in the grandeur of ancient Roman monuments, delighting in local cuisine for lunch, cherishing a tasty artisan gelato, and experiencing the quintessence of the Eternal City of Rome.
Our Tour Rome as Romans do tour is an extension of our signature Rome in A Day Tour that is not available on Sundays as the Vatican Museums are not open on Sundays. We invite you to Tour Rome as Romans do as we share with you the essence of our city. Without restrictive time slot tickets to crowded time-consuming monuments, this leisurely and flexible tour can be enjoyed by everyone.
ROME IN A DAY ON A SUNDAY TOUR PRICE LIST


For Rome Tour starting from Rome hotel:
For up to 4 Persons from Rome Hotel: 390 EUROS
For up to 6 Persons from Rome Hotel: 420 EUROS
For up to 8 Persons from Rome Hotel: 450 EUROS

For Rome Shore Excursion from Civitavecchia:
For up to 4 Persons from Civitavecchia Cruise Port: 550 EUROS
For up to 6 Persons from Civitavecchia Cruise Port: 600 EUROS
For up to 8 Persons from Civitavecchia Cruise Port: 650 EUROS
* You may also do a QUICK PRICE CHECK using the Price Check & Booking Form on the Right Side of this page. Once you receive the PRICE QUOTE based on the information you input, you may proceed to SUBMIT your Tour Reservation Request.
** The Booking Form is NOT to be used for inquiries. For inquiries, please send us an email.


This tour available both as a Day Tour from Rome hotel and Shore Excursion from Civitavecchia is a carefully crafted chauffeur-driven tour that offers you the opportunity to explore and experience Rome's sublime ancient monuments, remarkable churches, and famous squares. Savor a relaxing break for lunch at a local restaurant or trattoria of your choice (your driver will be happy to offer recommendations), and don't miss out on a tasty gelato too!
Experience the best of Rome as your English-speaking Private Driver introduces you to Rome's rich culture, history, and treasured places that are waiting for you to discover them. Journey through the Eternal City in the comfort and safety of your private elegant Mercedes vehicle and enjoy a higher level of personal attention and flexibility on our luxury Rome tours in English.
Below are detailed descriptions of the top sites in Rome suggested in this tour and other important information. The order of the itinerary may change, especially to accommodate the Papal Mass that results in the closing of the Basilica. The morning pick-up times are recommended to enjoy some of the most popular sites before huge crowds arrive.
SAINT PETER'S SQUARE


As you step into Saint Peter's Square, you almost immediately feel the embrace of the large oval colonnades that, as expressed by Gian Lorenzo Bernini, "are the maternal arms of the Church". This masterpiece elliptical forecourt was designed to accommodate the greatest number of people who could attend the Pope's blessings.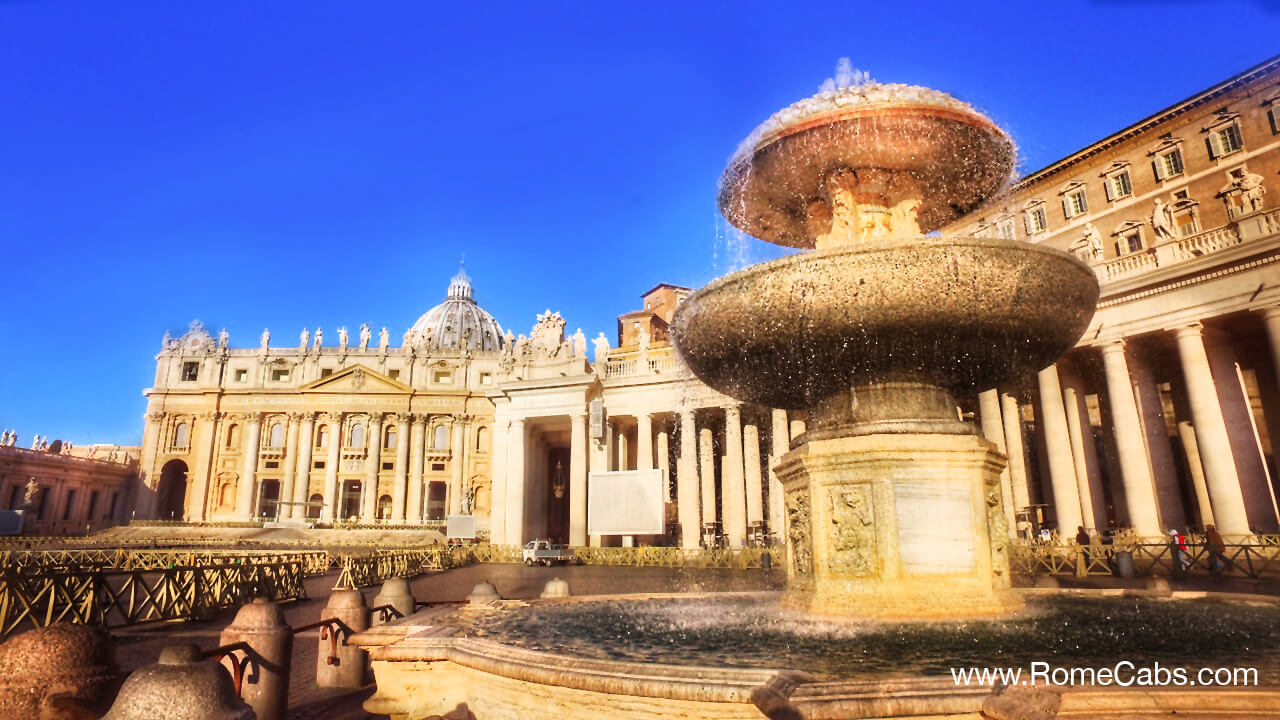 Saint Peter's Basilica that overlooks the square is the Papal Basilica of Saint Peter in the Vatican and the largest church in Christendom. Some of the Renaissance's most illustrious sculptors, architects, and artists such as Bramante, Raphael, Michelangelo, Bernini, and Maderno have contributed to creating this architectural and artistic wonder.
If the Basilica is not closed due to Papal Mass or events, or if the security lines are not too long you might also have the opportunity to visit inside the Basilica. The current Saint Peter's Basilica was commissioned in 1506 by Pope Julius II to replace the earlier 4th-century basilica that was built by Emperor Constantine above the burial site of Saint Peter, one of Christ's Apostles. Construction lasted 120 years until it was completed in 1626.

NOTE: On Sundays and Wednesdays the Basilica is closed in the mornings until noon due to Papal Mass. It would not be possible to visit the Basilica in the mornings on the Days it's when it's closed due to Papal Mass or if the security lines are too long. Please see additional information below regarding security checkpoints at the Vatican and dress codes to visit Rome churches.
THE PANTHEON

The Pantheon is a former Roman temple dedicated to all gods that was later converted into a Catholic church in 609 (Basilica of Saint Mary and the Martyrs). This version was rebuilt by Emperor Hadrian in 126 AD on the site of an earlier temple by Marcus Agrippa that was destroyed by fire. In honor of Agrippa, Hadrian preserved Agrippa's inscription carved on the pediment of the temple that you can also see in person: M·AGRIPPA·L·F·COS·TERTIVM·FECIT ( "Marcus Agrippa, son of Lucius, made [this building] when consul for the third time.)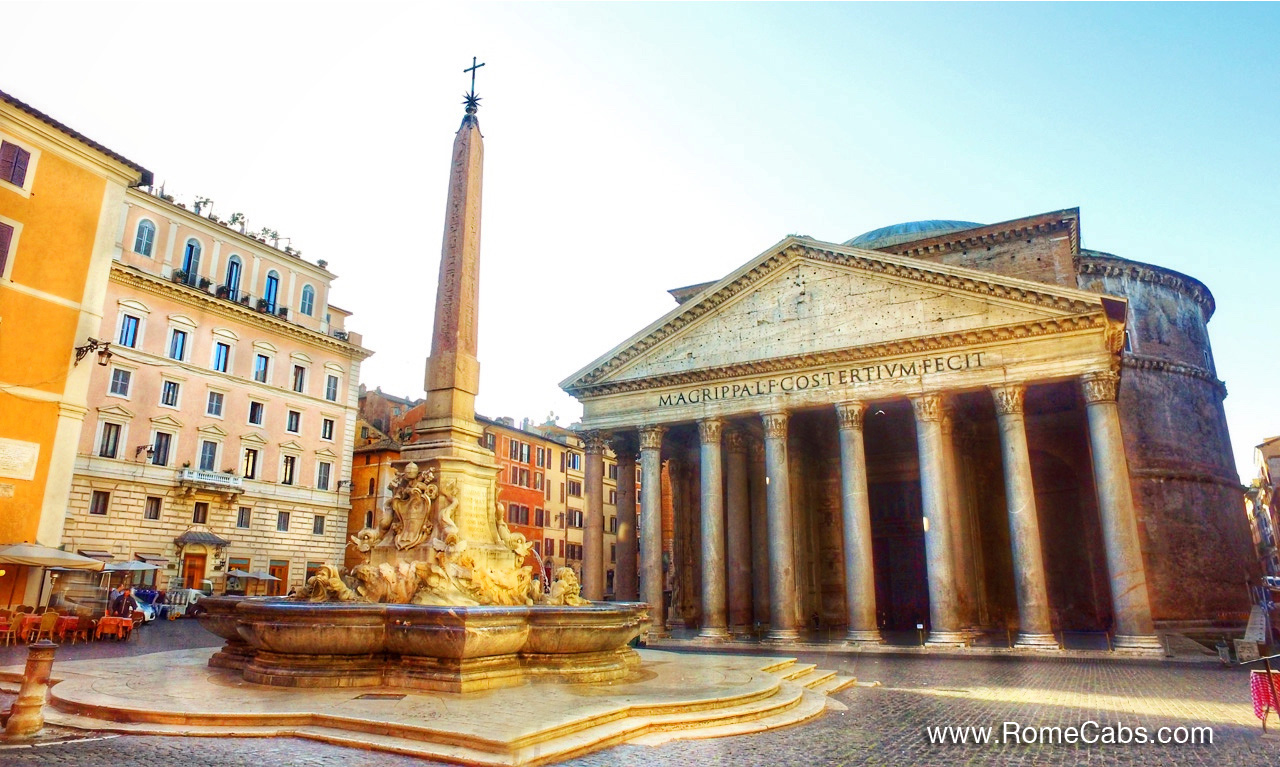 The Pantheon is the best-preserved ancient Roman building in Rome, and quite possibly also the best-preserved building of its age in the world! Its coffered dome has been an architectural inspiration for centuries. The Pantheon also serves as a tomb of some of Italy's most illustrious figures such as King Vittorio Emanuele II, King Umberto I, Queen Margherita of Savoy, and the Renaissance artist Rafael.
When you look up to the center of the coffered dome, you will notice the oculus (Latin for 'eye') that has always been open to nature's elements from sunshine to rain. When rain falls through the oculus, it falls to the floor and is carried away through underground drainage systems.
** If you are touring on weekends, you will need to book your Pantheon Entry Tickets in advance at suitable time slots. See more information below.
PIAZZA NAVONA

Next on your Rome on a Day on a Sunday are the famous squares of Rome. The lively Piazza Navona features three fountains in an oblong square that takes its unique shape from the 1st century AD ancient Roman sports stadium by Emperor Domitian upon whose arena the square was built. The name Navona evolved from the ancient word for games, 'agones'.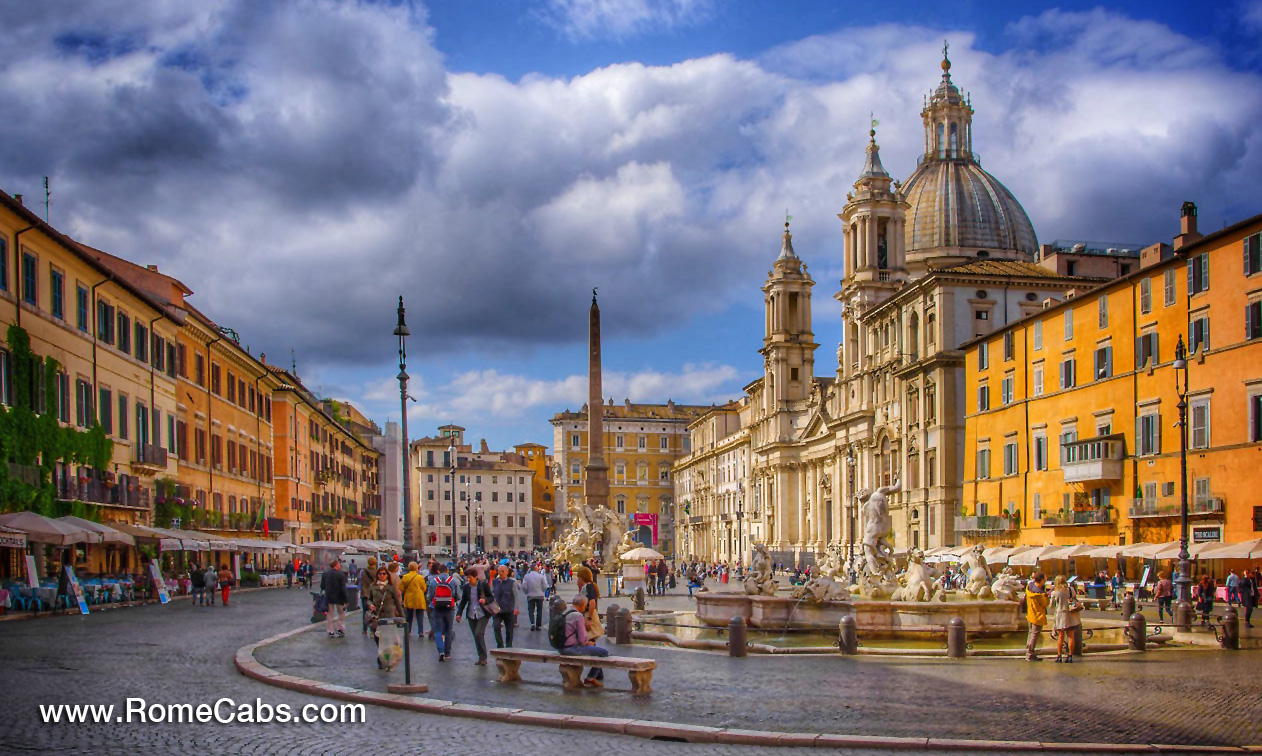 The magnificent centerpiece is the Fountain of Four Rivers (Fontana dei Quattro Fiumi), the 17th-century fountain by Gian Lorenzo Bernini. This elaborate fountain represents the four major rivers of the four known continents of that time: Nile (Africa), Danube (Europe), Ganges (Asia), and Rio de la Plata (America). Above the fountain is an ancient Egyptian obelisk commissioned by Pope Innocent X offering height and dominance to this magnificent fountain.
Today, this charming square is made even more vibrant by the colorful paintings and portraits exhibited by local artists, and the earthy-colored historic buildings that surround it.
SPANISH STEPS
The famous Spanish Steps will greet you with its elegant 18th-century winding stairway that connects the square below to the French church of Trinita dei Monti above. The Spanish Steps earned its name after the Spanish Embassy that was located there in 1647 before it was later transformed into the Spanish Embassy to the Holy See.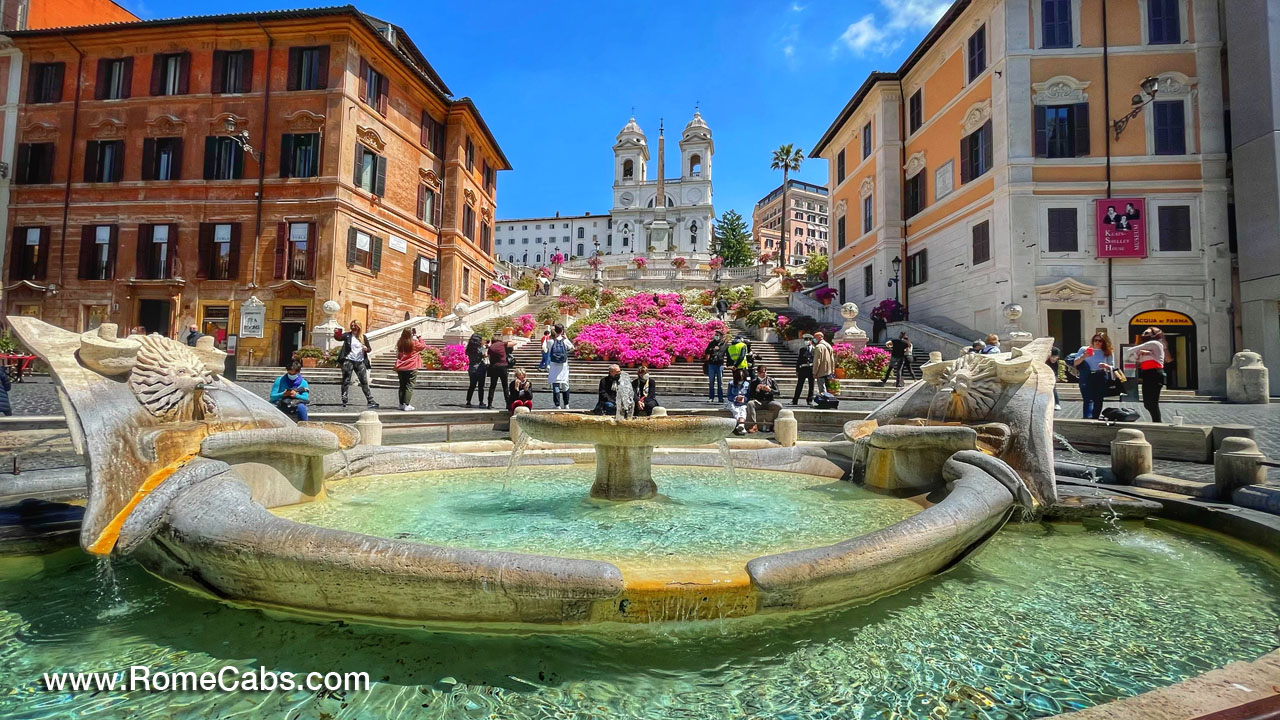 At the foot of the staircase in the square below is an early 1600s Baroque fountain, Fontana della Barcaccio ("The Fountain of the Old Boat"). This type of shallow boat was particularly used for carrying wine to the port of Ripetta. This unique fountain is attributed to Pietro Bernini, the father of the famous sculptor Gian Lorenzo Bernini.
COLOSSEUM SQUARE
Revel in vestiges of the glory and magnificence of the Roman Empire as you stroll through the Colosseum Square. Bask in the grandeur of the Colosseum where the gladiators and others valiantly fought, stand in the shadow of the Arch of Constantine, and glimpse at ruins visible from the Roman Forum and Palatine Hill nearby.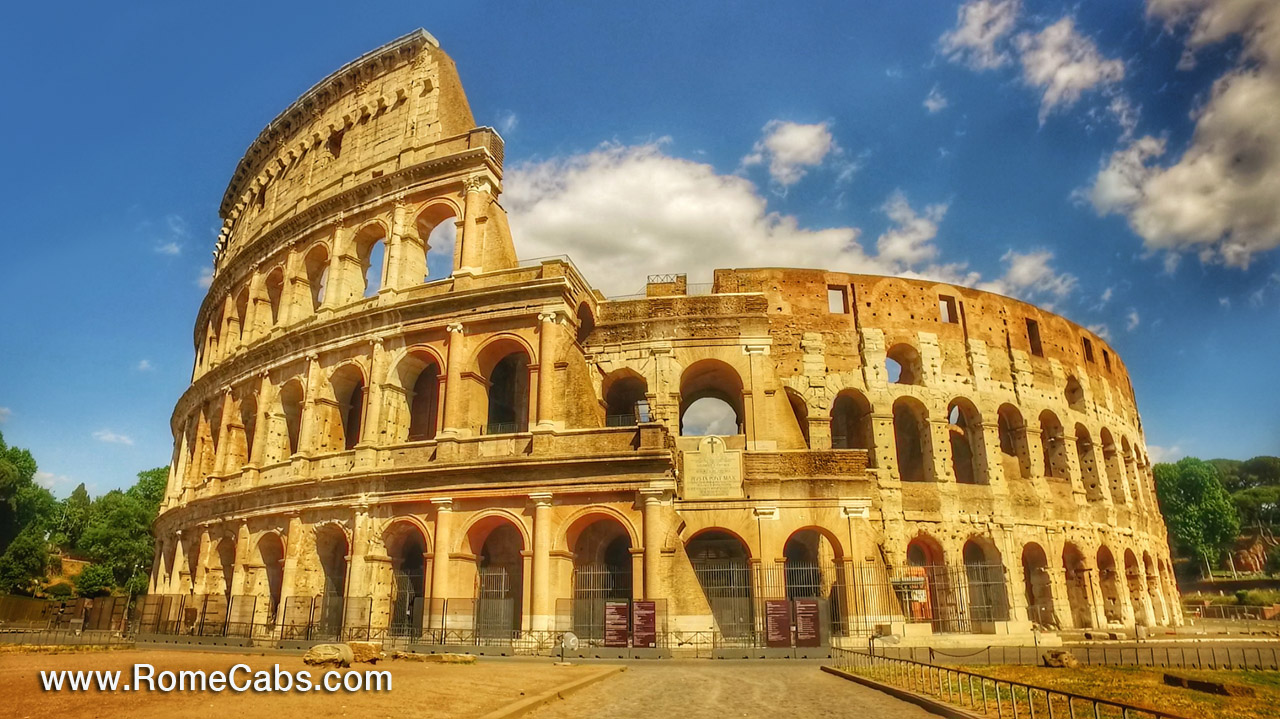 The Colosseum was built in 72 AD over the previous Domus Aurea (Golden House), the vast and opulent personal domain of Emperor Nero. The Colosseum was originally called the Flavian Amphitheater, named after the family of Emperor Vespasian who initiated its construction for public use. Its popular moniker, Colosseum, was a nickname given to the monument due to the Colossus of Nero that was erected next to it. The Colossus of Nero was an ancient towering bronze statue of Nero depicted as the pagan sun god Apollo.
As you stroll around Colosseum Square be sure to view (and photograph!) the Colosseum from different angles to capture the unique beauty of this imposing monument.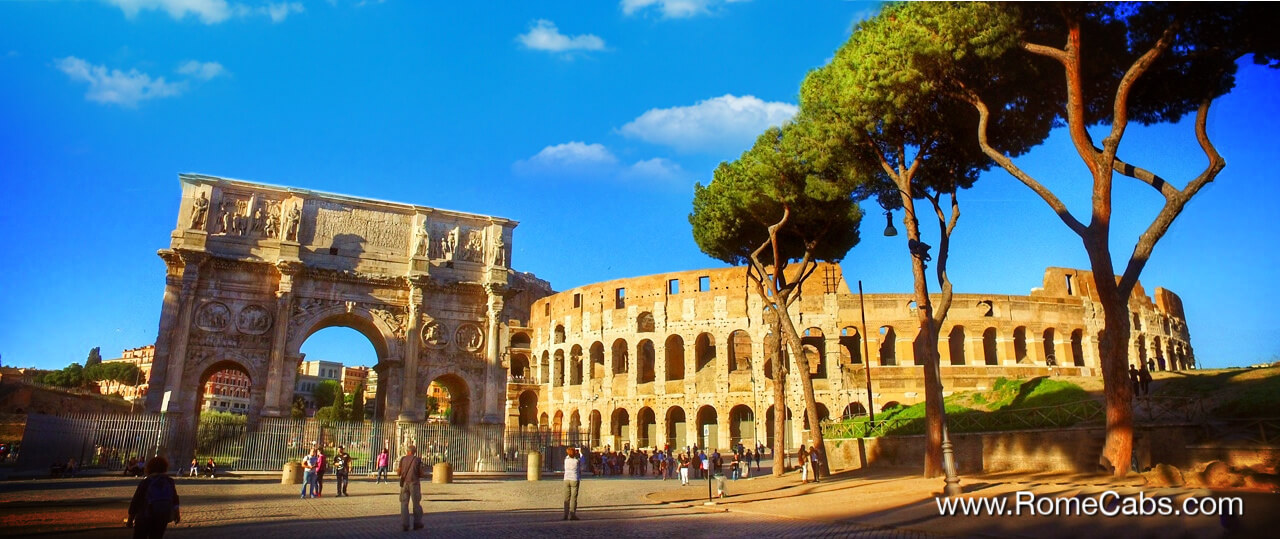 Near the Colosseum stands the impressive Arch of Constantine, the elaborate Victory Arch of the 4th century AD Emperor Constantine. Emperor Constantine is known to have legalized Christianity in Rome when Christians were persecuted for their religious beliefs.
CIRCUS MAXIMUS
Your Rome on a Day on a Sunday tour continues with a short drive to the nearby Circus Maximus.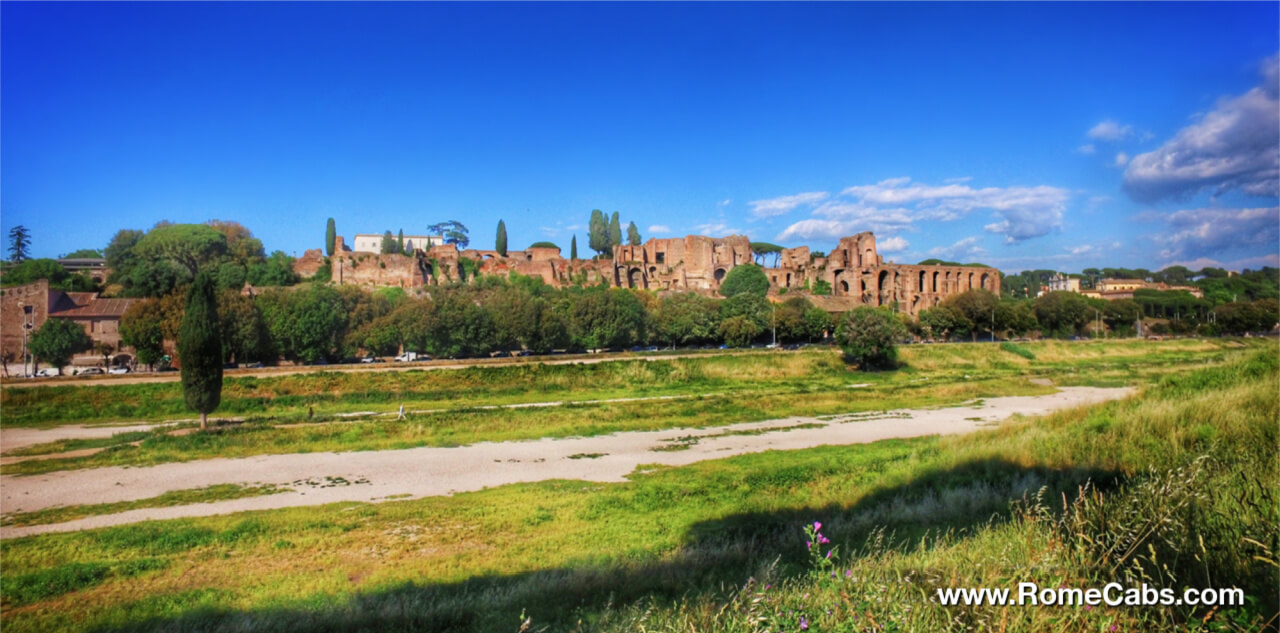 Only a faded outline remains of the once impressive Ancient Roman stadium where thrilling chariot races were held for the pleasure of Roman royalty and citizens. On the spina (spine) that served as a dividing barrier along the center of the stadium once stood Obelisco Flaminio, the obelisk currently in the center of Piazza del Popolo.
The once opulent Palatine Hill where Rome's emperors and elite built their luxurious villas serves as an exquisite backdrop to the Circus Maximus.
CAPITOLINE HILL
From a terrace on the top of Capitol Hill (Campidoglio), you have the vantage point view of the entire Roman Forum, with a stunning portion of the Palatine Hill to the right, and the Colosseum in the background. This is also a very popular view that graces postcards and iconic images of Rome. Be sure to bring your cameras and capture this captivating view that you will cherish forever.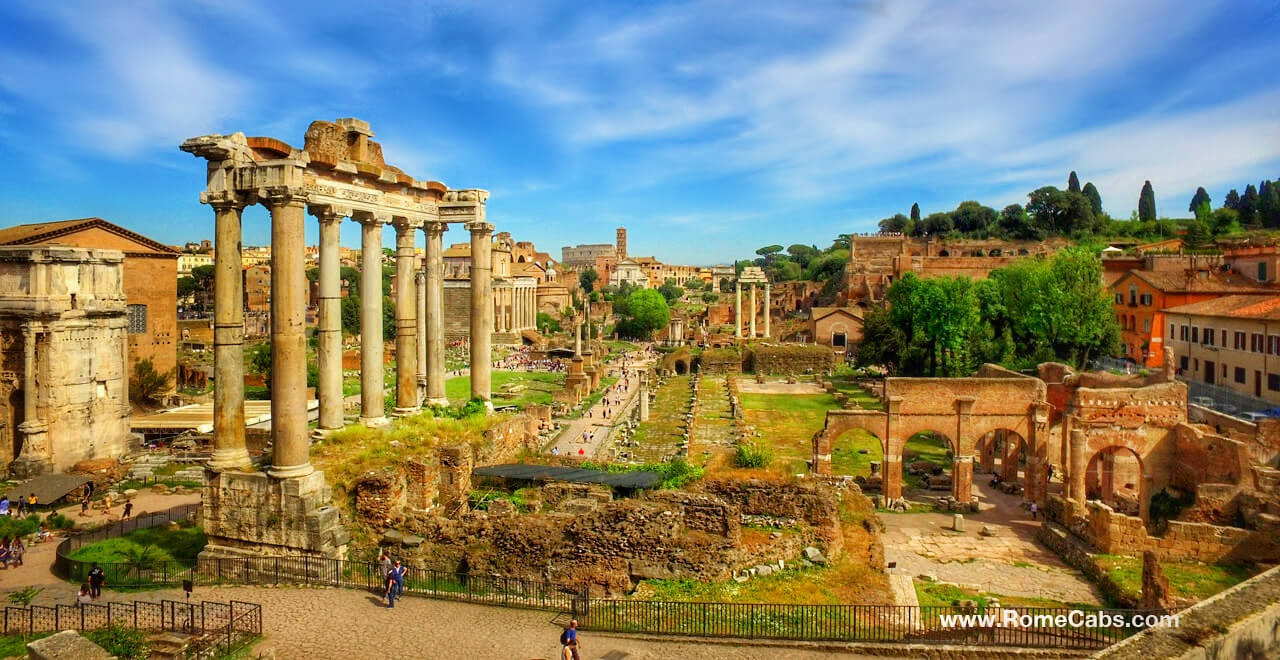 JANICULUM HILL


Your Rome in a Day on a Sunday is not complete without a stop on Janiculum Hill for a beguiling panoramic view of Rome admired from the vantage point of this popular hilltop terrace.
From church domes and the dome of the Pantheon to ancient monuments and modern buildings, you will see glorious Rome stretched out before you.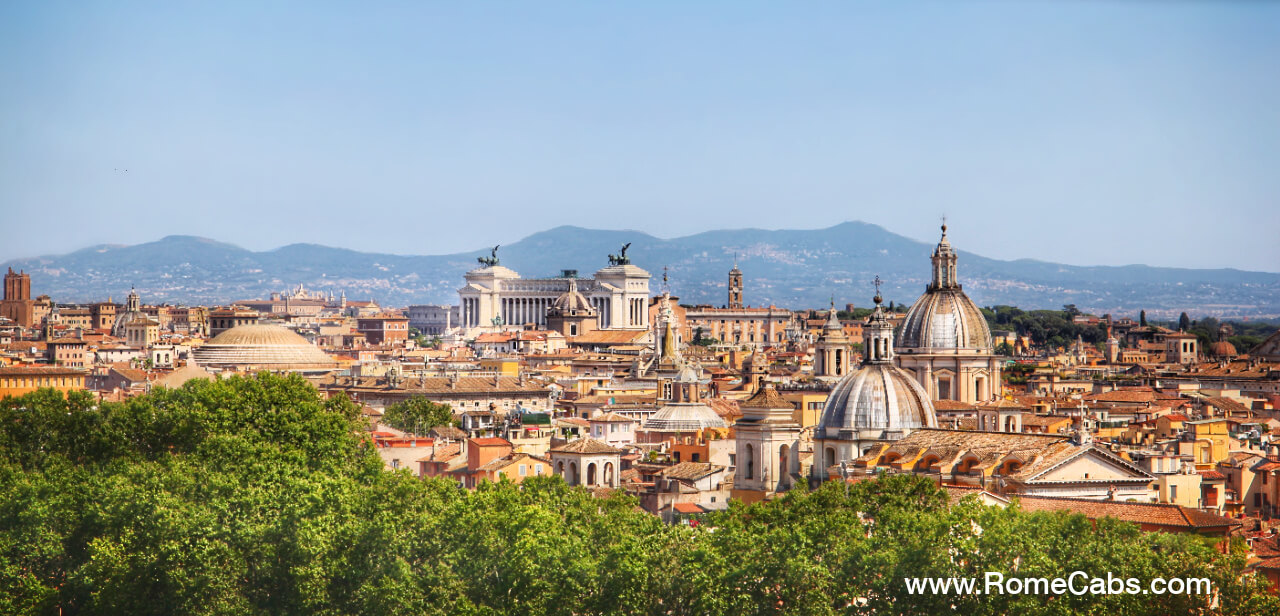 From here, your private driver will take you back to your hotel in Rome or your cruise ship in Civitavecchia.

Thank you for booking our Rome in a Day on a Sunday tour and shore excursion from Civitavecchia, and for choosing Stefan's RomeCabs for your Rome Tours and Italy Shore Excursions. We look forward to showing you beautiful places in Italy!
Important Information

PLEASE READ THE INFORMATION BELOW AND ACCEPT THE TERMS OF SERVICE AND PRIVACY POLICY BEFORE BOOKING.



PAYMENT OPTIONS
Payment for this Tour Rome like Romans Do can be made in EUROS directly to your driver on the Date of Tour, or prepaid in advance via PayPal or Credit Card online upon request.

CANCELLATION POLICY
Cancellations can be made at least 7 days in advance (and a REDUCED NET RATE Refund for prepaid services) so we can recuperate the loss and your reserved driver does not lose work for that day.
Cancellations must be made via E-Mail and confirmed by our office. We do not accept cancellations by telephone, text message, or 3rd party.
** Cancelations for PREPAID SERVICES will be refunded the REDUCED Net Rate we receive from your prepayment. Net Rate: actual service price minus PayPal/Credit Card fees retained by PayPal/Credit Card as they do not reimburse us the fees they retain from your payment.
YOUR PRIVATE TOUR DRIVER
Tour Rome as Romans Do Tour is a chauffeur-driven tour with a Private Driver who is not a Licensed Tour Guide. Only licensed Tour Guides may accompany or guide you at the sites you visit.
Italy has strict laws and regulations in place to protect licensed tour guides, this makes it unlawful for Tour Drivers to act as tour guides and accompany guests to sightsee away from the vehicle. In order to comply with Italy's laws, Tour Drivers may not guide guests to sightsee and will be obliged to remain with the vehicle while you sightsee.
On this Tour Rome as Romans Do Tour by car, you will SELF TOUR the attractions you visit away from the vehicle, unaccompanied by your private driver. This tour does NOT include a tour guide.
Rome traffic can be quite chaotic and requires the driver's full attention, please refrain from distracting your driver while s/he is driving as your safety inside the moving vehicle is always our top priority.
Your private driver will stop as close to the sites as possible in accordance with traffic and Municipality laws and regulations.
MEETING POINTS TO MEET YOUR DRIVER


At ROME HOTEL / ACCOMMODATION:
Your private driver will meet you inside the lobby of your hotel or in areas permitted by hotels.

For Apartments or B&B's without a lobby, your driver will meet you outside the main entrance of your Pick Up Address.

* If your hotel or accommodation is on a street or in an area restricted to vehicle traffic, your driver will park as close as lawfully possible and meet you on foot at your Address, and accompany you to your parked vehicle.

MEETING POINT AT THE PORT OF CIVITAVECCHIA
The port of Civitavecchia (the port of Rome) is one of the major Mediterranean ports where cruise lines stop for Shore Excursions. Your private driver will meet you on the Pier next to your Ship inside Civitavecchia Port at your scheduled pick-up time holding a sign with the NAME in your reservation.

Please do NOT leave the ship area, and do NOT take a shuttle bus outside the port.

Look for your private driver in the same area as ALL drivers will be waiting for their clients. Once you meet your driver, your Rome shore excursion will begin with a leisure drive from Civitavecchia to Rome.
PANTHEON ENTRANCE TICKETS on WEEKENDS
If you book this tour on a Saturday or Sunday, you will need to schedule your Pantheon Entrance Ticket in advance. The Pantheon currently requires Entry Tickets at specific Time Slots on weekends. We will provide you with the links and a suitable time slot for your Pantheon Visit. Be sure to book them early as the time slots get booked up fast!



IMPORTANT INFORMATION REGARDING VISITING ST PETER'S BASILICA:
There are security checkpoints stationed in St Peter's Square that all visitors must clear in order to access Saint Peter's Basilica. Security Lines might be UNPREDICTABLY LONG.


Tips / Dress Code for visiting Vatican St Peter's Basilica and other religious venues:
Please remember to dress appropriately when visiting religious venues such as St Peter's Basilica that enforce a modesty dress code: no bare shoulders or bare knees. Capri-type pants are completely acceptable for ladies and men can wear shorts if they are long enough to cover the knees. Learn more about how to dress when visiting churches in Rome, Italy.


Tips for visiting Rome's famous piazzas:
The area around the Trevi Fountain and Spanish Steps can become quite crowded, especially during the peak travel months, so be aware of your surroundings and keep your belongings close to you. Do not accept 'gifts' from street vendors approaching tourists around the fountain. They may offer you roses, but if you choose to accept, you will be expected to pay or give a tip to them.