description

Our Post Cruise Tour Rome as Romans Do from Civitavecchia is designed to let you savor Rome as the locals do. Say goodbye to the hustle and bustle of tourist-packed attractions and the challenges of securing timed entry tickets. Instead, embark on a leisurely journey through the heart of Rome, rich in culture and history, all while making the most of your day following disembarkation in Civitavecchia.
Uncover the hidden secrets of famous piazzas, admire timeless Ancient Roman monuments, and explore hidden gems that have captured the hearts of Romans for centuries. Enjoy a delectable lunch at a local trattoria in Rome's Trastevere old-world neighborhood, considered the soul of Rome, and savor the city's culinary traditions passed down through generations.
Don't forget to leave room for a mouthwatering gelato that will sweeten your memories of Rome. As you walk in the footsteps of emperors, artists, and visionaries, create unforgettable memories that will forever weave the magic of Rome into your heart.
POST-CRUISE TOUR ROME AS ROMANS DO FROM CIVITAVECCHIA

For up to 4 Persons from Civitavecchia Cruise Port: 550 EUROS
For up to 6 Persons from Civitavecchia Cruise Port: 600 EUROS
For up to 8 Persons from Civitavecchia Cruise Port: 650 EUROS


* You may also do a QUICK PRICE CHECK using the Price Check & Booking Form on the Right Side of this page. Once you receive the PRICE QUOTE based on the information you input, you may proceed to SUBMIT your Tour Reservation Request
* This Tour concludes at a hotel in Rome. If your final drop-off is in a different city or at the airport, please send us an email for a customized price quote
** The Booking Form is NOT to be used for inquiries. For inquiries, please send us an email

Your RomeCabs English-speaking driver will meet you at 8:00 AM on the pier, right next to your cruise ship, ensuring an early start to your post-cruise tour of Rome. Departing from Civitavecchia, your scenic journey through the Italian countryside will take approximately 90 minutes, bringing you to the heart of Rome. The tour will conclude at approximately 5 PM when your driver drops you off at your hotel in Rome. Throughout the tour, your luggage will travel with you safely stored in the vehicle's designated luggage compartment.
COLOSSEUM SQUARE: A Glimpse into Rome's Ancient Glory
One of the standout features of our Rome tours is the enchanting Colosseum Square. As you wander through this expansive square, you'll be immersed in the echoes of ancient tales, where remnants of a glorious past speak in hushed tones.
Set your eyes on the majestic Colosseum, a place where gladiators and heroes once engaged in valiant combat, and stand humbled before the imposing Arch of Constantine, a symbol of the great Emperor's triumphs.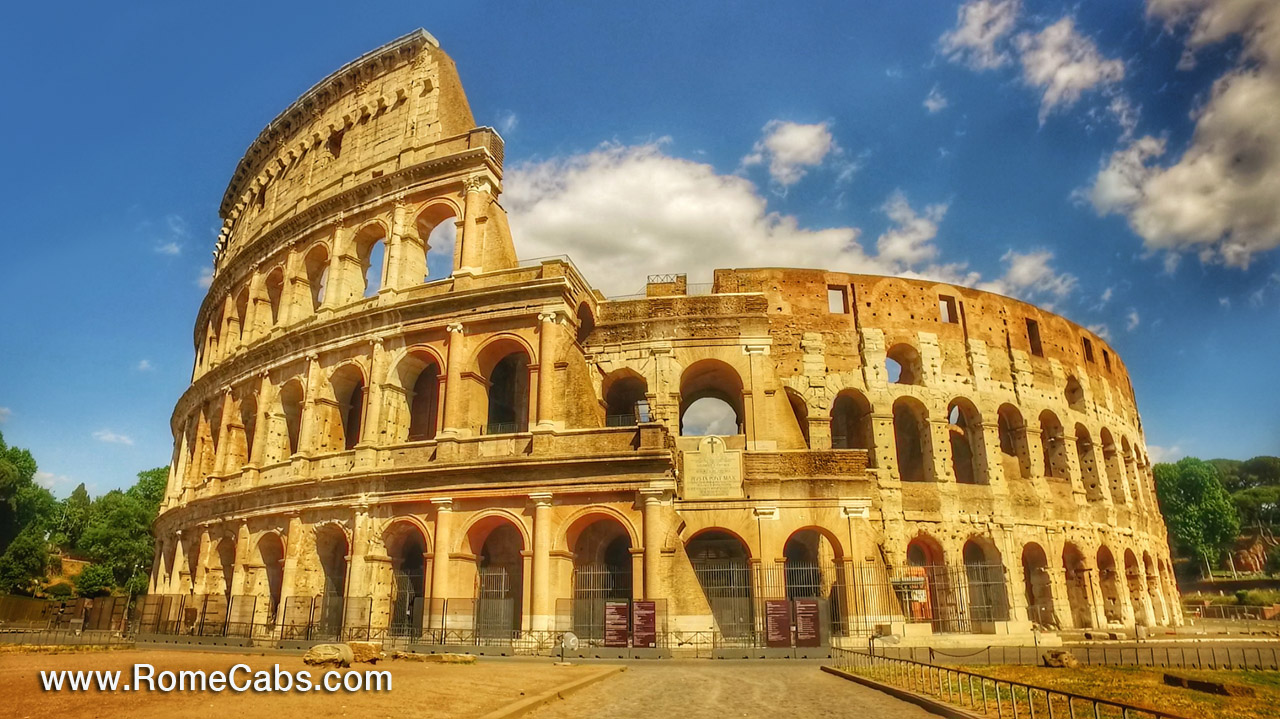 The Colosseum, built in 72 AD, rose from the same grounds that once held Emperor Nero's opulent Golden House, the Domus Aurea. Originally known as the Flavian Amphitheater, this architectural marvel was meticulously crafted under the patronage of Emperor Vespasian's family and served as a venue for grand public spectacles.
Its enduring moniker, the Colosseum, derives from the colossal presence of the ancient bronze statue of Emperor Nero, representing him as the pagan sun god Apollo, proudly overlooking the amphitheater.
As you stroll through Colosseum Square, take a moment to capture the essence of the Colosseum from different vantage points, ensuring you immortalize its unique beauty through the lens of your camera.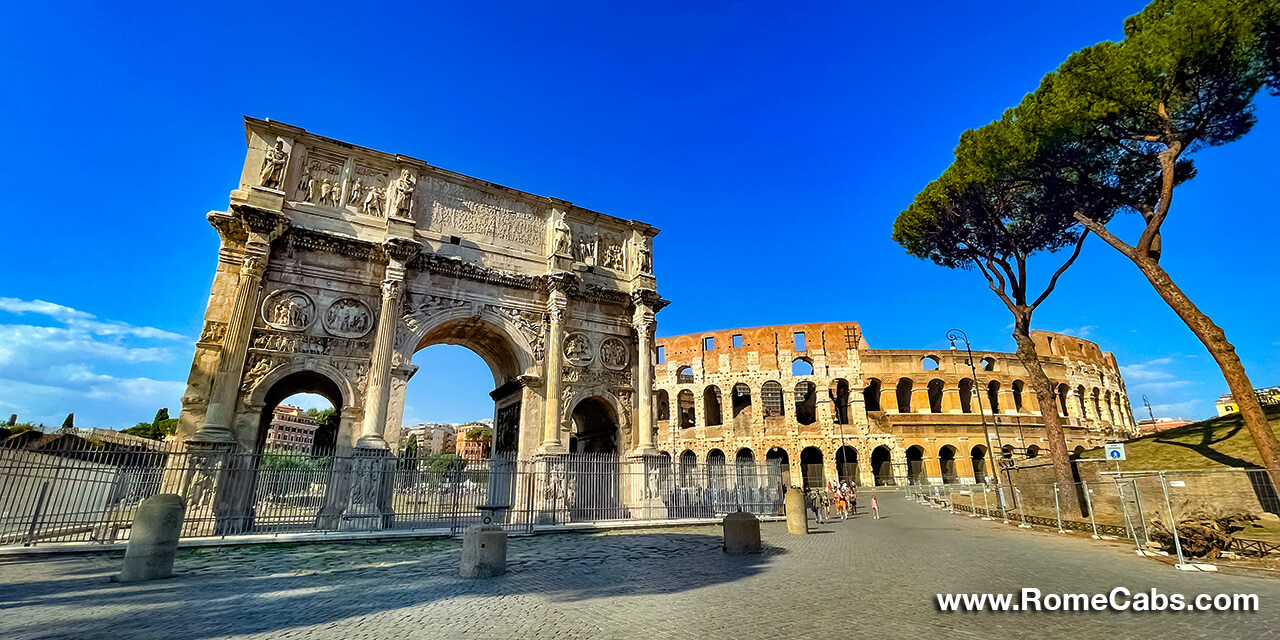 And, just a stone's throw away, you'll find the imposing Arch of Constantine, a monumental triumphal arch erected in the 4th century AD to commemorate the victories of Emperor Constantine. This influential ruler forever changed the course of history by legalizing Christianity, a faith that was once persecuted in Rome.
Please note that on this tour, we offer an external view of the Colosseum. Visiting the interior of the Colosseum is not included due to the significant challenges in securing timed entry tickets and the potential for extended security lines, which could disrupt the tour's schedule.
CIRCUS MAXIMUS - Ancient Roman Stadium


Continuing your Rome post-cruise adventure, a brief drive takes you to the nearby Circus Maximus. Here, you'll encounter faint echoes of the once-magnificent Ancient Roman stadium that thrilled audiences with breathtaking chariot races, capturing the imagination of both Roman royalty and citizens.
Along the stadium's central divider, known as the spina, once proudly stood the renowned Obelisco Flaminio, which now graces the center of Piazza del Popolo.
As you immerse yourself in the surroundings, the majestic Palatine Hill emerges as a breathtaking backdrop to the grandeur of Circus Maximus. Today, Circus Maximus has transformed into a cherished public park, embraced by locals and serving as the venue for numerous festivals and concerts.
AVENTINE HILL - A Hidden Roman Gem
Atop the majestic Aventine Hill, a hidden gem awaits, offering enchantment in the heart of Rome. Aventine Hill, one of the seven hills that formed the city over 2,700 years ago, has held great significance since ancient Roman times. Even during the Roman Empire, it was a prestigious residential area for influential and wealthy citizens. The hill was renowned for its picturesque beauty and became a coveted location for opulent villas and grand estates.

Within this ancient splendor and serene greenery, you'll discover the Garden of the Oranges, a verdant oasis that calls both travelers and locals to find solace within its lush embrace. As you wander along its pathway, an expansive view of Rome unfurls, captivating you with its spell of awe and serenity.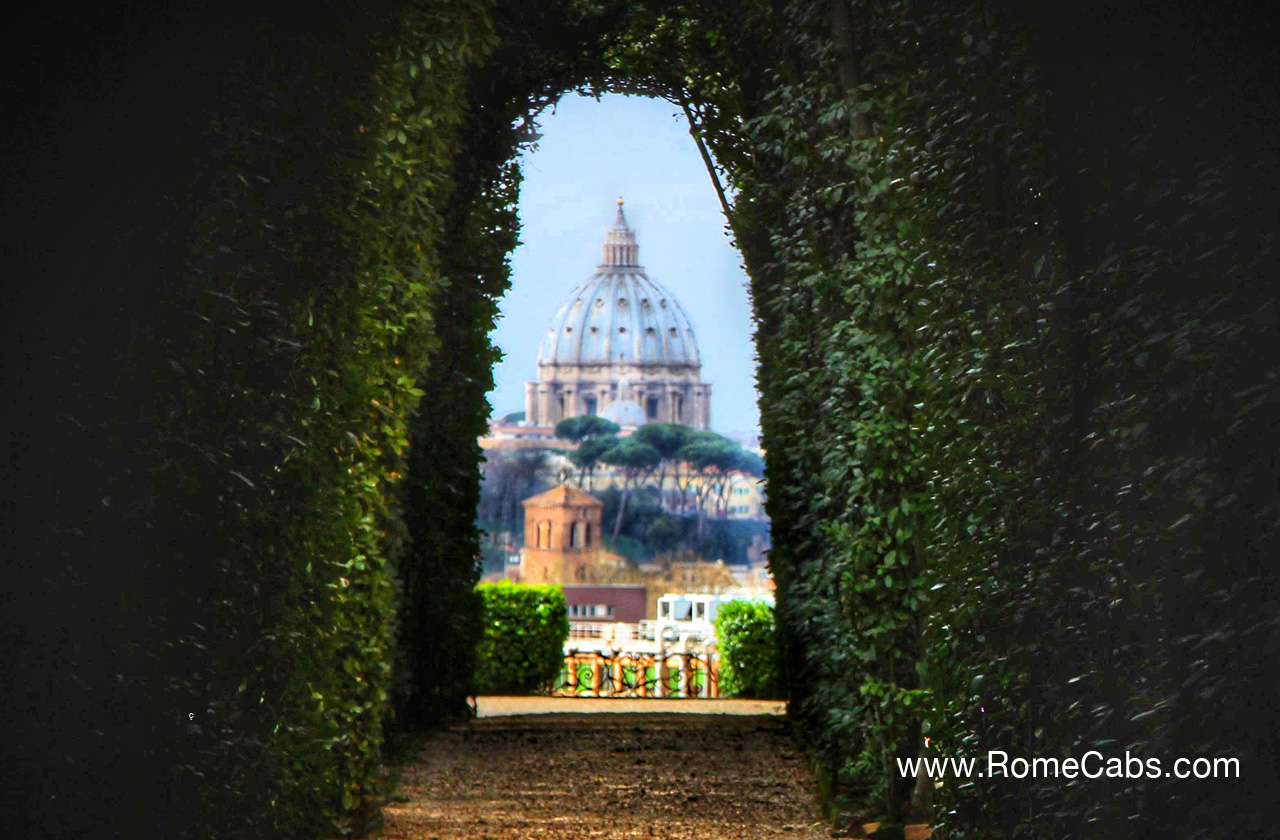 Venture further to explore the Piazza of the Knights of Malta, where a humble keyhole offers a mesmerizing glimpse into another world. Peering through this small portal reveals a masterpiece of perspective: the iconic dome of St. Peter's Basilica perfectly framed by meticulously trimmed hedges. Here, art, architecture, and a touch of mystery intertwine, evoking a sense of wonder that transcends time.

A visit to Aventine Hill, with its Garden of the Oranges and the enigmatic Keyhole, is an invitation to step into a realm where history, nature, and intrigue harmoniously converge.
JANICULUM HILL - Panoramic View of Rome
High above the bustling streets of Rome, Janiculum Hill, also known as Gianicolo in Italian, offers one of the most spectacular panoramic views of the city, thanks to its lofty elevation. With ancient origins, this hill was settled by the Etruscans prior to the rise of Rome.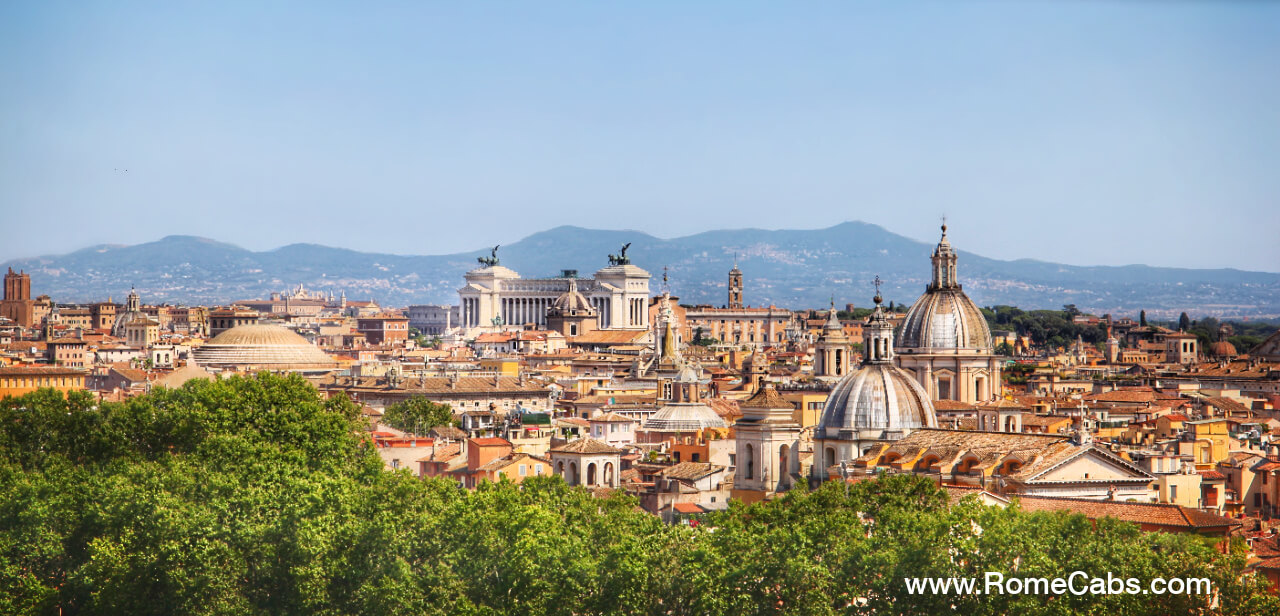 Positioned strategically, it served as a defensive stronghold, keeping a vigilant watch over the winding Tiber River and the sprawling landscape below. Legend has it that the name "Janiculum" derives from Janus, the Roman god of beginnings and transitions, reflecting its role as a gateway connecting Rome to the wider world.
From the terrace atop Janiculum Hill, soak in the awe-inspiring panorama that encapsulates the eternal charm of Rome. Ornate church domes rise gracefully, competing for your attention in a harmonious display of architectural marvels. Among these domes, the iconic Pantheon dome stands tall, symbolizing Rome's indomitable spirit and timeless allure.

As your gaze sweeps across the expansive vista from Janiculum Hill, remnants of ancient Roman wonders come into view on the right: the magnificent silhouette of the Colosseum and the weathered ruins of imperial palaces atop Palatine Hill. Here, time weaves a tapestry as ancient monuments harmoniously coexist with modern structures, creating a captivating tableau that narrates the story of Rome's rich history.
TRASTEVERE - Old World Charm across the Tiber River
If you Rome as Romans do, you can't miss Trastevere, the charming old-world neighborhood across the Tiber River. With its meandering alleyways and enduring allure, Trastevere encapsulates the very soul of Rome and holds a special place in the hearts of its residents. Here, old and new seamlessly coexist, and a sense of "la dolce vita nostalgia lingers in the air.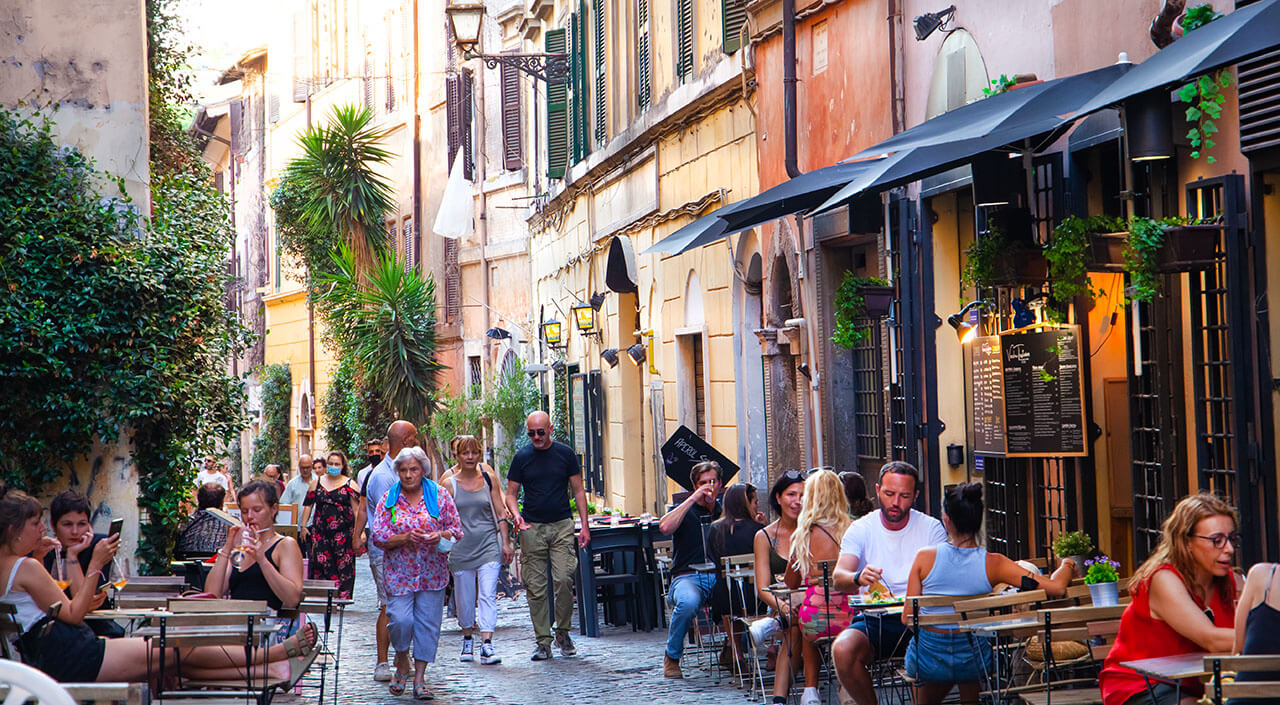 Take a leisurely stroll through winding alleyways where time-worn facades adorned with vibrant colors and cascading vines paint a picturesque tableau. Trastevere offers more than just the charm of a bygone era; it's a place where the vibrant heartbeat of Roman life pulses with vitality.
Discover the vibrant Piazza Santa Maria, a bustling square pulsating with life. Here, the majestic Basilica di Santa Maria in Trastevere proudly stands, an architectural gem that embodies the character of this historic neighborhood.
Dating back to the 4th century, Santa Maria in Trastevere is one of Rome's oldest churches, celebrated for its stunning facade adorned with intricate mosaics. Within its hallowed interior, visitors find a treasury of magnificent frescoes, ornate coffered ceilings, and a profound sense of serenity that envelops them as they explore this venerable place of worship.
No visit to Trastevere is complete without indulging in its culinary delights. Settle in for a delightful lunch at a local trattoria and relish the authentic flavors of traditional Roman cuisine, crafted with love and expertise handed down through generations.
ST PETER'S SQUARE - A Marvel of Grandeur and Faith

Prepare to be enthralled by the historical and spiritual significance of St. Peter's Square. As you step into this vast expanse, you'll find yourself surrounded by stunning architectural wonders. Allow the extraordinary atmosphere to envelop you as you wander through this square.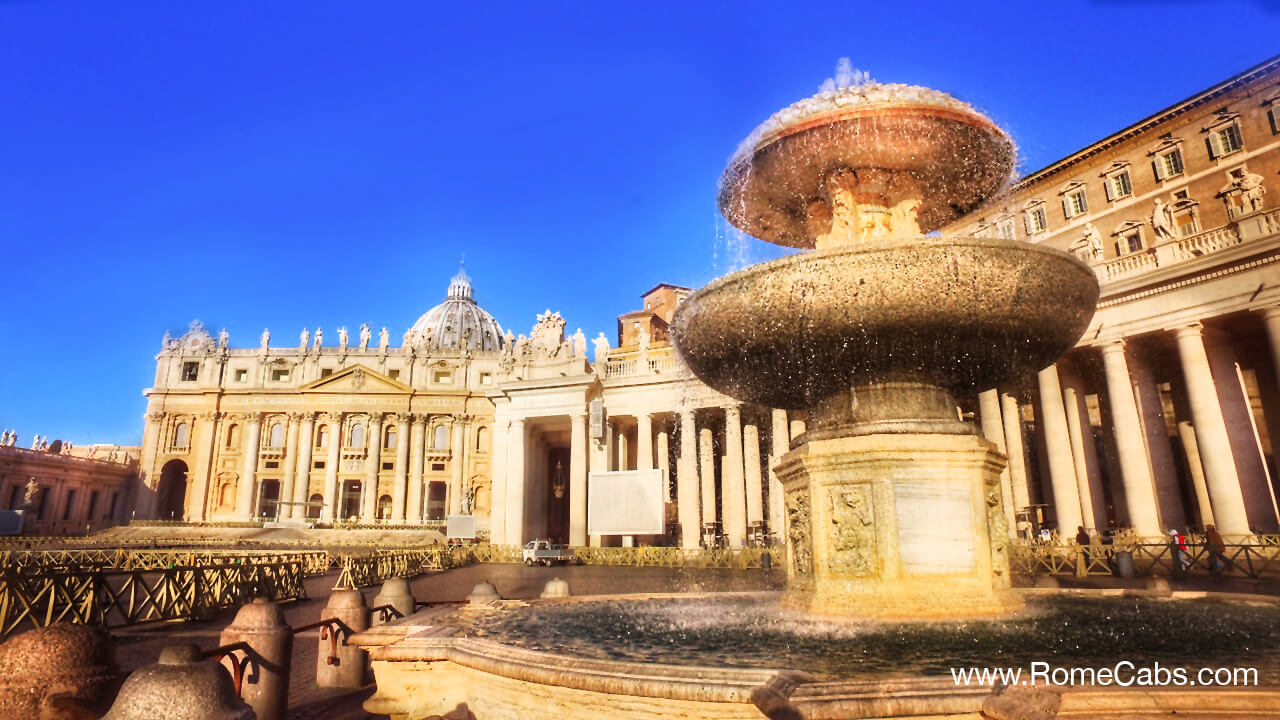 Gian Lorenzo Bernini's iconic colonnades, like welcoming arms, beckon you to explore the heart of the Catholic Church. This square has witnessed countless papal ceremonies and welcomed visitors from across the globe.
The focal point is the magnificent St. Peter's Basilica. Its majestic dome, a symbol of Renaissance genius designed by Michelangelo, reaches for the heavens. This iconic basilica, the world's largest church, holds profound religious significance as the final resting place of Saint Peter, one of Jesus Christ's apostles.
At the square's center, an Egyptian obelisk rises, a symbol of ancient power and spiritual enlightenment. The square also features twin fountains: one crafted by Carlo Maderno and the other by Gian Lorenzo Bernini.
NOTE: A visit inside St. Peter's Basilica is not guaranteed due to potentially long security lines that may hinder your visit and limit your sightseeing in Rome.
Piazza della Rotonda: Where Past and Present Converge


Step into the lively ambiance of Piazza della Rotonda, where the magnificent Pantheon and a stunning baroque fountain take center stage.
The square's focal point is a soaring 20-foot Egyptian obelisk, meticulously crafted by Pharaoh Ramses II for the Temple of Ra in Heliopolis. Its undeniable grandeur is nothing short of mesmerizing and will leave you utterly captivated.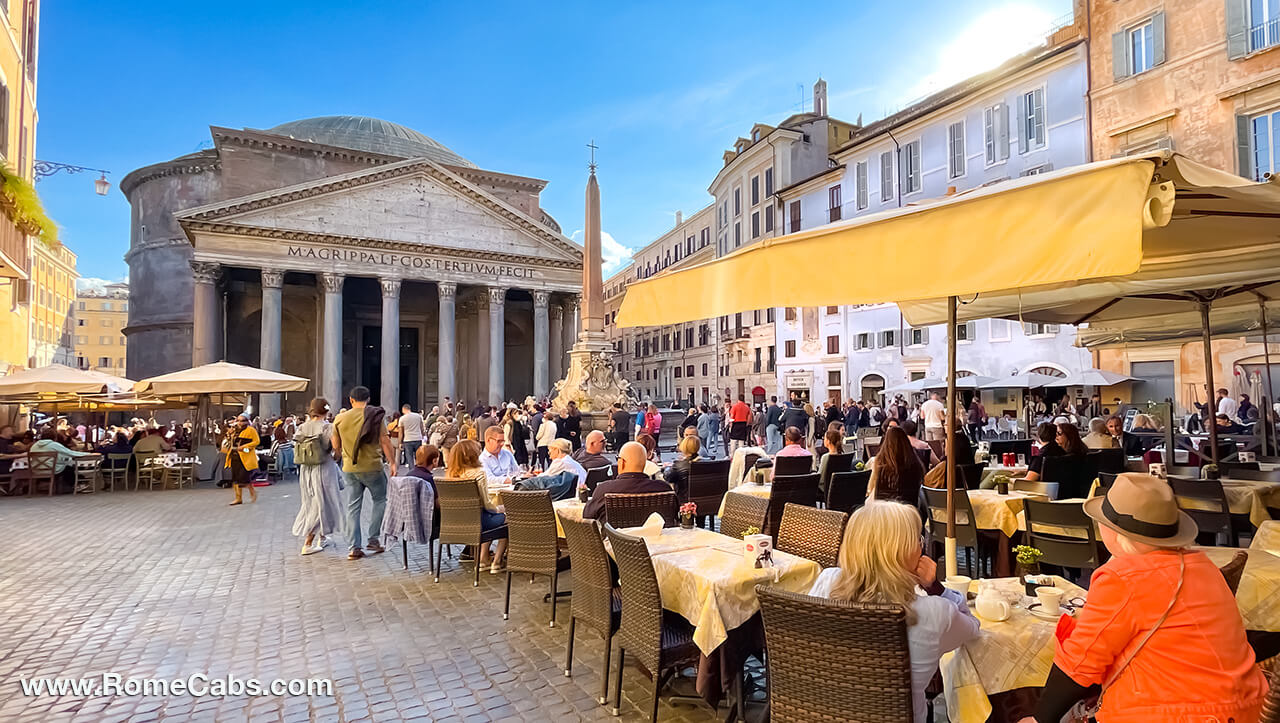 Take a moment to bask in the magnificence of the Pantheon, an architectural masterpiece that effortlessly commands attention and evokes a profound sense of wonder.
Indulge in the spirit of leisure as you explore the square, enveloped by charming pastel-hued historical facades. Meander along the Pantheon's enchanting surroundings, discover local shops filled with unique treasures, treat your taste buds to a delectable gelato from a nearby gelateria, and surrender to the irresistible charm that has made Piazza della Rotonda and its surroundings a timeless favorite for generations of curious travelers and local Romans alike.
NOTE: A visit inside the Pantheon is NOT included in the tour due to excessively long entry lines, even for visitors who have pre-booked tickets which are extremely difficult to obtain.
PIAZZA NAVONA - Eternal Magic


Piazza Navona, a lively square distinguished by its unique oblong shape, takes its name from the ancient word "agone", signifying games, as it was built upon the remains of Emperor Domitian's 1st-century AD sports stadium.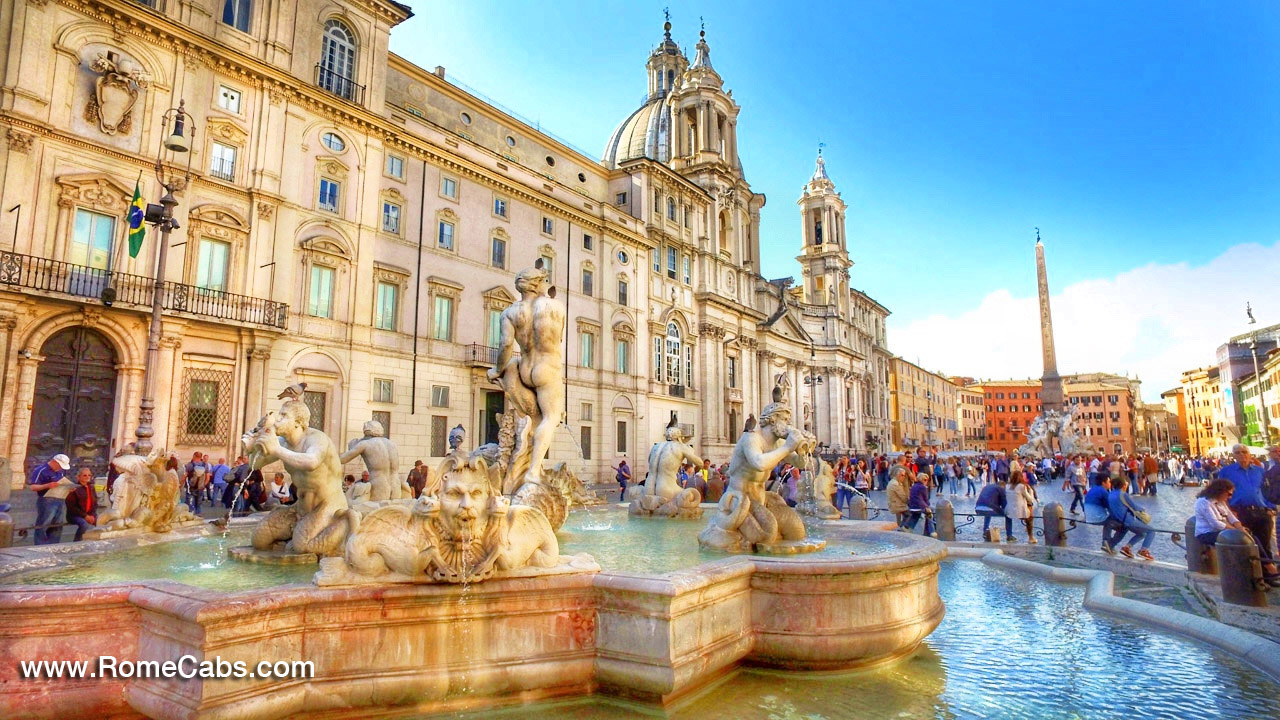 At the heart of this lively square stands the magnificent Fountain of Four Rivers (Fontana dei Quattro Fiumi), a masterpiece by Gian Lorenzo Bernini from the 17th century. This intricate fountain symbolizes the four great rivers of the known continents at that time: Nile (Africa), Danube (Europe), Ganges (Asia), and Rio de la Plata (America). Overlooking the fountain is an ancient Egyptian obelisk, a gift from Pope Innocent X, bestowing grandeur and prominence upon this remarkable creation.
Today, the square's allure is enriched by vibrant paintings displayed by local artists, entertaining street performers, and the historical buildings that embrace the square, creating a lively atmosphere beloved by both locals and visitors. Piazza Navona is a testament to the enduring charm of Rome, where history and life converge in harmonious splendor.
TREVI FOUNTAIN - A Timeless Baroque Marvel

Approaching the timeless masterpiece of Trevi Fountain, you'll be captivated by the melodious symphony of cascading water that lures you closer.
This architectural masterpiece, dating back to the 18th century, derives its name from the convergence of "tre vie" (three roads) at this very spot.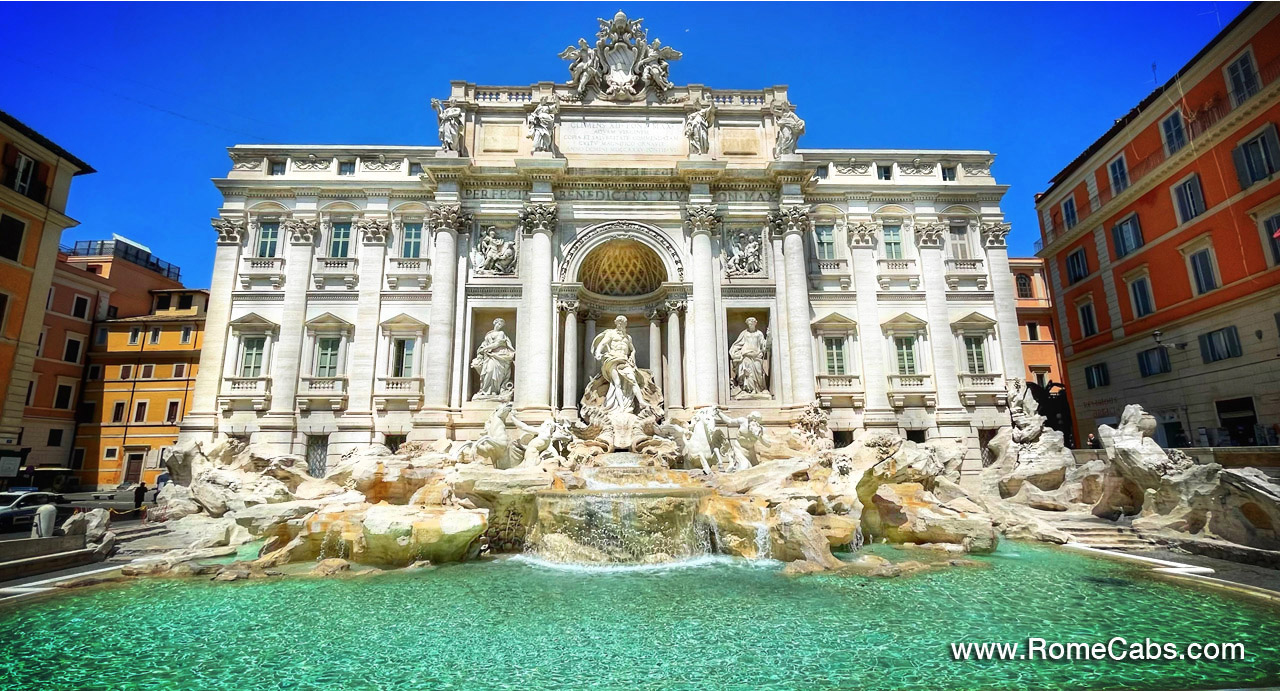 The fountain's grand statues, featuring Oceanus at its center, encircled by Tritons and mythical sea creatures, exude a sense of majesty and the enduring bond between Rome and the sea. The fountain is fed by the waters of the ancient Aqua Virgo aqueduct constructed in 19 BC, imbuing the city with a profound sense of history and vibrancy.
According to legend, tossing a coin into Trevi Fountain with your right hand over your left shoulder into the fountain guarantees your return to the Eternal City. Participating in this charming tradition, your aspirations blend with the shimmering ripples, joining the wishes of countless others.
As you soak in the magnificence of Trevi Fountain, you'll find yourself transported to iconic cinematic moments that have graced the silver screen. From Anita Ekberg's playful wading in "La Dolce Vita" to the romantic escapades of Audrey Hepburn and Gregory Peck in "Roman Holiday", this enchanting landmark has left an indelible mark in classic films, capturing the hearts of movie enthusiasts worldwide. It's no wonder that Trevi Fountain holds a special place in the hearts of local Romans.
SPANISH STEPS - An 18th-Century Elegance
The renowned Spanish Steps, a graceful masterpiece dating back to the 18th century, welcomes you with their sweeping, winding ascent. This iconic landmark traces its name back to the Spanish Embassy that once occupied this spot in 1647, later becoming the Spanish Embassy to the Holy See.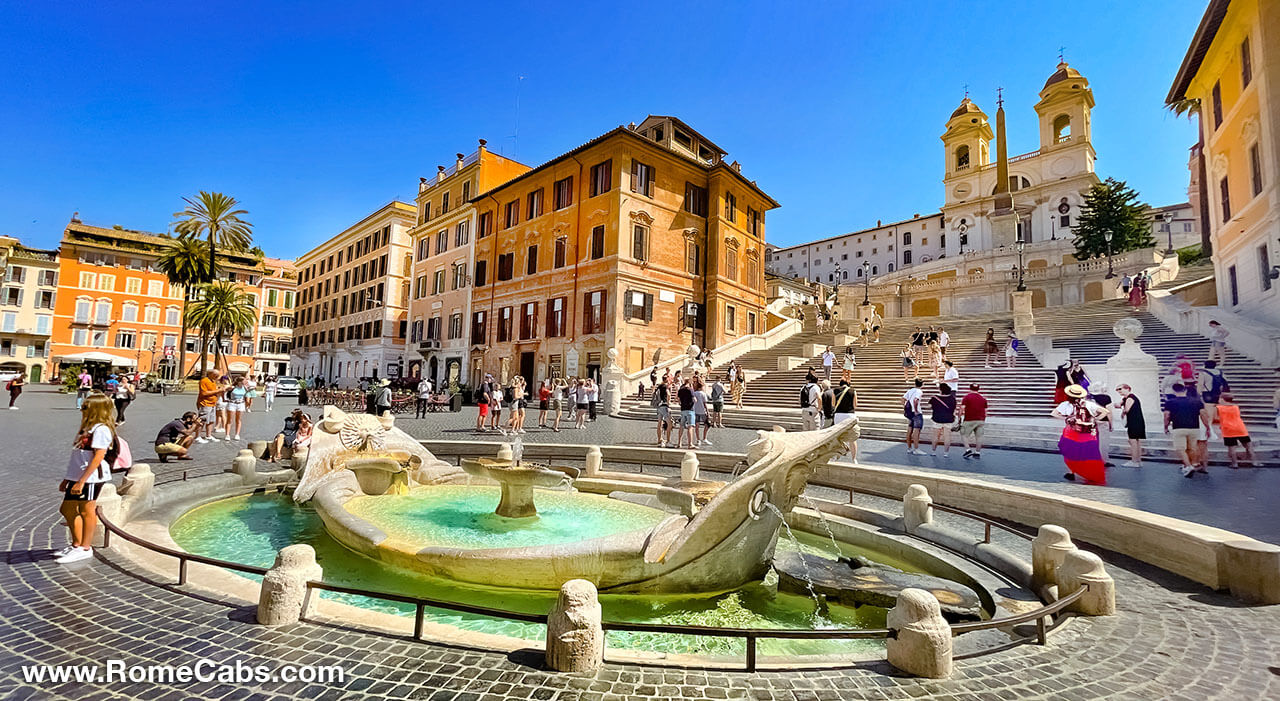 The iconic steps built upon a slope connect the bustling square below (Piazza di Spagna) to the French church Trinità dei Monti fronted by the tall obelisk.
At the base of the stairs, you'll encounter the "Fontana della Barcaccio" (The Fountain of the Old Boat), a splendid Baroque creation attributed to Pietro Bernini, the father of the renowned sculptor Gian Lorenzo Bernini. This fountain pays homage to the wine-carrying boats of Ripetta's port.
As your gaze drifts over the Spanish Steps, let your eyes wander to the right, where the Keats-Shelley Memorial House stands as an everlasting tribute to poets John Keats and Percy Bysshe Shelley. Within this palazzo, John Keats both lived and found his eternal resting place in 1821.
As you ascend the Spanish Steps, immerse yourself in the harmonious blend of architectural splendor and historical significance that has transformed this iconic landmark into a cherished gathering place for generations of local Romans.


As your Post Cruise Tour Rome as Romans Do comes to a close, you will bid arrivederci to these timeless treasures of Rome, deeply revered by generations of locals and visitors. With a heart full of fond memories and your camera filled with cherished photos, your personal driver will now take you to your Rome hotel at approximately 5 PM, ensuring the magic of this day stays with you.

Thank you for booking our Rome post-cruise tour and for choosing Stefano's RomeCabs for your private tours of Rome and excursions from Civitavecchia. We look forward to showing you beautiful places in Italy!


If staying in Rome post-cruise, why not continue your dream vacation with a day trip to Tuscany, a Wine Tasting Tour from Rome, or escape the bustling city for a Rome countryside escape? Many of our guests staying in Rome post-cruise have enjoyed these private day tours from Rome: