Buongiorno and welcome to Stefano's RomeCabs, Rome's top-rated company for private tours in Rome, and Rome Shore Excursions from Civitavecchia.
Rome, the Eternal City, is not only known for its iconic landmarks but also for its vibrant local culture and hidden gems. To truly immerse yourself in the heart and soul of Rome, it's essential to go beyond the tourist sites and discover the authentic experiences that make this city so enchanting.
In this blog post, we will share seven valuable tips that will help you experience Rome like a local unlocking the secrets and treasures that lie off the beaten path.
From exploring neighborhood markets to indulging in traditional cuisine, these tips will guide you on an unforgettable journey through the authentic side of Rome so you may create memories that will linger in your heart long after you've bid arrivederci to the Eternal City.
7 Tips to Experience Rome Like a Local: Authentic Experiences
1. Stay at hotels in Rome's local neighborhoods
If you're seeking an authentic Roman experience and yearn to immerse yourself in the local culture, consider staying at hotels or apartment rentals in charming neighborhoods of Rome such as Trastevere, Monti, Monteverde, Aventine Hill, or Prati away from the tourist hotspots. While these neighborhoods may be a bit further from the main tourist attractions in the historical center, the rewards are immeasurable.
By staying in these local enclaves, you'll have the opportunity to feel like a resident rather than a tourist and discover the true heartbeat of Rome. Lose track of time in neighborhood markets, where colorful displays of fresh produce and aromatic spices tempt your senses. Seek out family-run trattorias and osterias, where generations-old recipes are passed down with pride, and flavors dance on your palate, telling stories of tradition and culinary heritage.
Give up your hotel breakfast, and head out to the nearest neighborhood cafe and enjoy a local breakfast tradition: cappuccino and cornetto (pastry such as a croissant). How about delight in a Maritozzi, Rome's sweet tradition? You'll see locals enjoying this morning ritual right at the counter without sitting at a cafe table. If you're in a hurry to get on with your sightseeing, walk up to the cafe counter, order a cappuccino, choose your preferred cornetto, and enjoy this morning treat at the counter together with the locals in your neighborhood.
Staying in Trastevere:
Settle into a cozy apartment rental tucked away in the cobbled streets of Trastevere, where every corner reveals a snapshot of authentic Roman life. Wake up to the sound of church bells echoing through the narrow alleyways and savor your morning cappuccino at a bustling café, where locals greet each other like old friends.
Staying in Monti:
Consider the vibrant district of Monti, where boutique hotels exude a bohemian charm and artistic spirit. Step out onto the sun-kissed streets, weaving through the labyrinth of vintage shops and artisanal workshops. Lose yourself in the rhythm of the neighborhood, as the scent of freshly baked bread lingers in the air and lively conversations spill from open windows for a taste of local life.
Staying in Prati:
In Prati, a chic and elegant district, you'll find charming boutique hotels that blend seamlessly with the historic buildings lining the streets. Immerse yourself in the sophisticated atmosphere as you stroll along Via Cola di Rienzo, a shopper's paradise in Rome filled with boutiques, artisanal shops, and delightful pastry shops offering tempting treats. Pause for a moment in Piazza Cavour, where locals gather to enjoy a coffee or engage in lively conversations, their animated gestures reflecting the passionate spirit of Rome.
Staying in Monteverde:
For a greener escape, head to Monteverde, a leafy oasis away from the city's hustle and bustle. Picture yourself in a quaint apartment rental overlooking the enchanting Villa Pamphili Park, where you can take leisurely walks like locals amidst verdant gardens and discover hidden fountains and ancient ruins. Breathe in the scent of blooming flowers, relishing the serenity and tranquility that surrounds you.



Staying on Aventine Hill:
For a taste of local life intertwined with history, seek out the enchanting residential areas around the opulent Aventine Hill. Nestled within the shadow of ancient ruins, and beautiful gardens with spectacular views of the city, you'll find elegant accommodations that transport you to a bygone era.



Can you book a car service for tours and transfers if staying in local neighborhoods in Rome?


It's possible to get around Rome with ease and there are many options from public transportation, taxis, Uber, and you may also hire car service in Rome to get around seamlessly like a local (while leaving the driving to actual locals experienced in Rome's chaotic traffic).
If you choose to stay in a local neighborhood, on our Rome Private Transfer Services, we can provide Rome Airport transfers, Transfers from Rome to Civitavecchia, and long-range transfers from Rome to other cities in Italy from any hotel or accommodation in Rome.
Many of our guests who stay in local neighborhoods book Rome private tours by car for the optimal ease and convenience of exploring the best of Rome while also experiencing the charms of local neighborhoods away from the noisy and chaotic touristy center.
When booking Rome private tours, or any of our day tours from Rome to Tuscany, day trips from Rome to the Countryside, or tours to Amalfi Coast from Rome, we can pick you up and drop you off at any Rome accommodation for optimal convenience.


Leave the struggles of DIY sightseeing behind, and Tour Rome as a Roman Local but in the comfort of your private deluxe vehicle and personal English-Speaking chauffeur to navigate the eternally chaotic streets of Rome's historic center.

Embrace the opportunity to feel like a local, to walk in their footsteps, and to unlock the true essence of Rome. So, step away from the touristy places and let the magic of Rome's local neighborhoods embrace you.
2. Explore Rome Neighborhoods Off the Beaten Path
One of the best ways to experience Rome like a local is by exploring its diverse neighborhoods.
Wander beyond Piazza Navona and the Colosseum along cobblestone streets and discover local trattorias and vibrant nightlife. Explore Monti for its trendy boutiques, artisan shops, and cozy cafes. Discover charming local shops, and interact with the residents to get a taste of the authentic Roman lifestyle.


MONTI Neighborhood of Rome


Monti is a vibrant and historic neighborhood located between two of Rome's famous landmarks, the Colosseum and the Roman Forum, making it an ideal base for exploring the city's ancient wonders. Monti is one of Rome's oldest neighborhoods, tracing its roots back to the Roman Empire. It was once part of the Suburra, a densely populated area that served as a hub for merchants, artisans, and freedmen.
Adorned with vibrant colors and adorned balconies, the buildings of Monti proudly showcase their architectural diversity. Elegant Renaissance palaces, humble medieval dwellings, and lively street art fuse together seamlessly, forming a tapestry that tells the tale of Rome's ever-evolving identity.
The heart of Monti finds solace in its picturesque piazzas. Piazza della Madonna dei Monti, the beating heart of the neighborhood, pulses with a vibrant spirit. Here, locals and visitors converge, sharing laughter and conversations over frothy espresso cups, their voices intermingling with the melodies of street musicians, painting the air with a symphony of joy.
TRASTEVERE: Quaint, bohemian neighborhood


Trastevere has a rich history dating back to ancient Rome. Its name, which means "across the Tiber" reflects its location on the opposite side of the river from the city center within walking distance of famous landmarks like the Colosseum, Roman Forum, and Vatican City.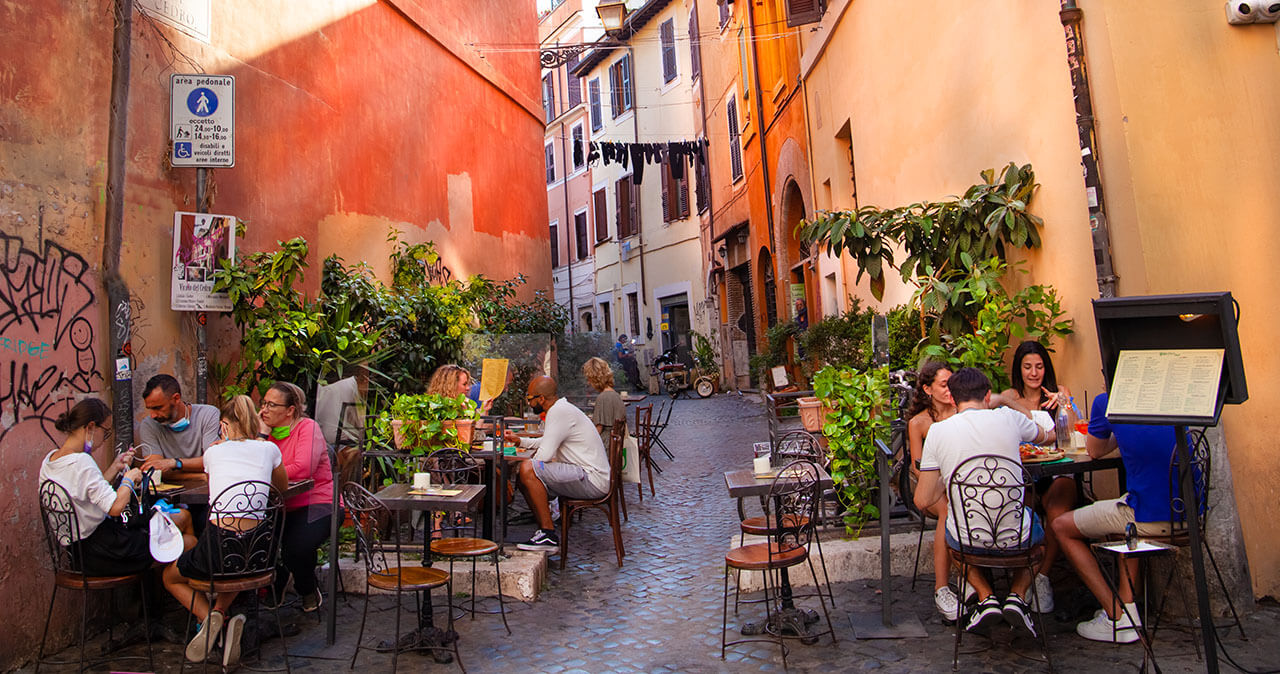 Its winding alleys are lined with colorful ivy-clad buildings, some of which still retained their medieval character. Laundry hangs lazily from wrought-iron balconies, creating a picturesque scene that is quintessentially Roman. With its narrow streets, vibrant atmosphere, and bohemian charm, Trastevere has become a popular destination for both locals and tourists.
Trastevere is renowned for its authentic Roman ambiance. It has managed to maintain a strong sense of community and a distinct identity. As you wander through its streets, you'll encounter a mix of locals going about their daily lives, small family-owned businesses, and traditional trattorias.
Trastevere is a place where time seems to slow down, inviting you to savor every moment.
This neighborhood is a tapestry of artisan workshops, eclectic boutiques, and lively trattorias. The aroma of freshly baked pizza and simmering pots of pasta wafts through the air, enticing you to indulge in the delectable flavors of Roman dishes, such as carbonara and cacio e pepe, or indulge in delicious thin-crust Roman-style pizza. The neighborhood's dining establishments often exude a cozy and authentic atmosphere. The locals, with their passionate gestures and warm smiles, add a touch of authenticity to the ambiance.
Trastevere's beating heart is undoubtedly Piazza di Santa Maria in Trastevere. This enchanting square is adorned with the glittering facade of the Basilica of Santa Maria, its golden mosaics shimmering in the sunlight. Take a moment to absorb the tranquility of the fountain at the center, surrounded by artists capturing the essence of the neighborhood on their canvases.


3. Sample Traditional Roman Cuisine in Rome
To truly experience Rome like a local, indulge in the city's traditional cuisine. Seek out authentic trattorias and family-run osterias, where you can savor classic Roman dishes (Cucina Romana). Here are some of the local favorites to try during your visit in Rome:

Spaghetti alla Carbonara is a classic pasta dish with a sauce made with egg yolks, guanciale, black pepper, and grated Pecorino Romano.
Cacio e Pepe is a traditional Roman pasta dish with a sauce made with black pepper and grated Pecorino Romano.
Saltimbocca is a Roman-style dish made of veal with prosciutto crudo, sage, white wine, butter, and flour. Saltimbocca is a shortened version of "salta in bocca", which simply means 'jump in the mouth'.
Supplì are delicious fried rice balls, either filled with beef ragout and mozzarella, or chicken giblets, mincemeat, or cheese.
Carciofi alla Romana are tasty Roman-style whole artichokes filled with minced garlic and parsley and cooked in olive oil.
Carciofi alla Giudia is exquisite Jewish-style whole artichokes deep-fried in olive oil that take on the appearance of a bloomed flower. You can enjoy this local delicacy at any of the restaurants in the Jewish Quarters in Rome.





Don't forget to pair your meal with a glass of local wine and finish with a creamy gelato from a neighborhood gelateria or a refreshing grattachecca Romana, a traditional Roman frozen drink.
To experience Rome like a local, you must savor its incredible culinary offerings. Dine at neighborhood osterias, trattorias, and gelaterias that are popular with locals. Don't forget to pair your meals with local wines and finish with a delicious scoop of gelato.
4. Visit Local Markets in Rome
To truly connect with the local food culture, visit Rome's bustling markets where you can immerse yourself in the sights, sounds, and aromas of fresh produce, regional specialties, and artisanal products.
Explore the bustling stalls of Campo de' Fiori market, Testaccio Market, or Mercato di Trionfale where locals shop and immerse yourself in the sights, sounds, and aromas of fresh produce, regional specialties, and artisanal products.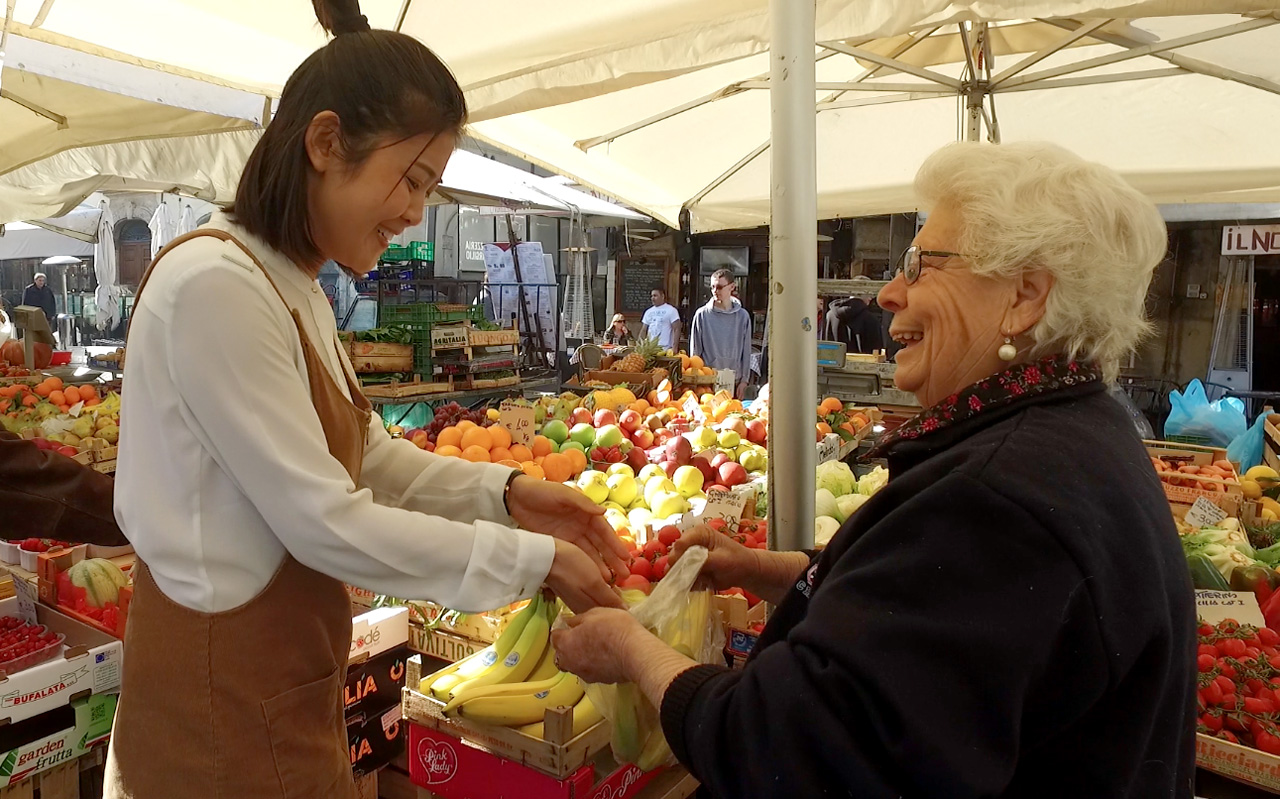 Engage with vendors, sample local delicacies, and perhaps even pick up ingredients for a homemade picnic in one of Rome's picturesque parks, or a taste of Rome to take home.
5. Take a Passeggiata in Rome


Embrace the Italian tradition of the passeggiata, an afternoon or evening stroll often taken by locals. Join in by wandering through Rome's charming streets and piazzas during the late afternoon or early evening hours.
Enjoy the vibrant atmosphere, observe locals going about their daily routines, and perhaps stop for an aperitivo at a local bar to savor the relaxed and sociable ambiance.


Where can you enjoy a passeggiata in Rome?
Via del Corso
This iconic street stretches from Piazza del Popolo to Piazza Venezia and offers a lively atmosphere with cafes, street performers, and elegant shops. The enticing window displays beckon you to explore their treasures. The boulevard comes alive with the sights and sounds of the bustling street.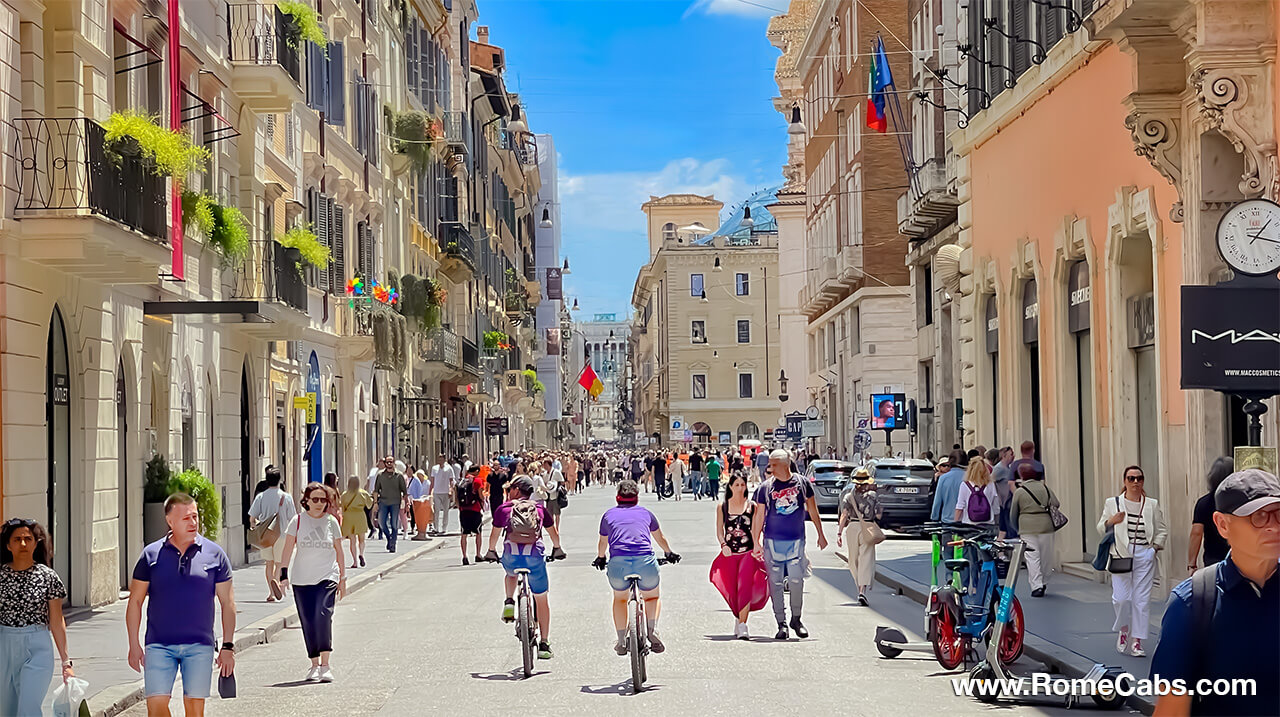 Couples walk hand in hand, families with children laughing and playing, and friends engaged in animated conversations. It's a time-honored tradition, a ritual that brings people together, and you feel the sense of community in the air.
As you walk along Via del Corso, you marvel at the architectural wonders that line the street. Majestic palaces, centuries-old churches, and grand facades stand as a testament to Rome's rich history. The symmetrical beauty of Piazza Colonna and its towering column catch your eye, while the intricate details of the buildings whisper stories of empires and legacies.
From Via del Corso you may also veer and stroll along the luxurious Via dei Condotti towards the Spanish Steps, the elegant stairway that captures your attention with its splendor.
Enjoying a passeggiata along Via del Corso is an experience that immerses you in the essence of Rome. It allows you to feel the pulse of the city, witness its history and culture, and become a part of its living tapestry

Piazza Navona
Immerse yourself in the vibrant atmosphere of Piazza Navona, a bustling square filled with street performers, artists, and charming cafes. Admire the beautiful Fountain of the Four Rivers. Savor some gelato or a beverage at an outdoor cafe, enjoy the lively ambiance, people watch, and indulge in "dolce far niente", or do "sweet nothing" - the pleasant feeling of doing nothing except to "be".


Campo de' Fiori
Wander through the bustling Campo de' Fiori, a lively square known for its vibrant market during the day. In the evening, it transforms into a vibrant nightlife hub with bustling bars and restaurants. Sip on a glass of wine at a traditional wine bar, immersing yourself in the vibrant Roman ambiance.


Via dei Coronari
Take a stroll down Via dei Coronari, a picturesque street lined with antique shops and art galleries. Admire the beautifully preserved buildings and browse through the unique collectibles and art pieces on display.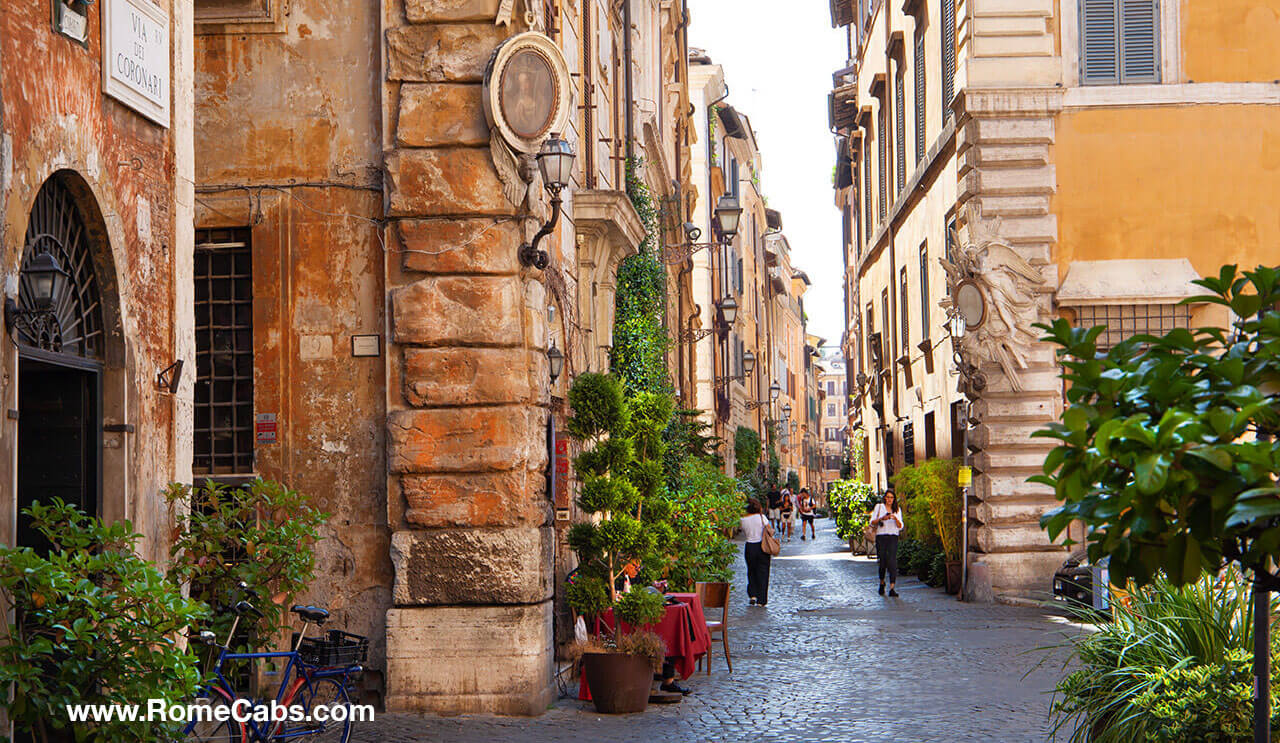 ​​Castel Sant'Angelo
Walk along the banks of the Tiber River to reach the majestic Castel Sant'Angelo. Admire its imposing architecture and enjoy a romantic stroll on the nearby Ponte Sant'Angelo, from where you can admire the picturesque view of the river and the city.


Via dei Fori Imperiali
Via dei Fori Imperiali is a majestic boulevard that spans between the Colosseum and Piazza Venezia that offers a breathtaking journey through ancient Roman history. As you stroll along Via dei Fori Imperiali, you'll encounter iconic landmarks like the Roman Forum and the Imperial Fora, providing a glimpse into the grandeur of ancient Roman civilization.


Pincio Terrace
End your early evening passeggiata at the Pincio Terrace, located at the top of the Spanish Steps. From this vantage point, you can admire a stunning panoramic view of the city, as the lights twinkle and illuminate the landmarks of Rome.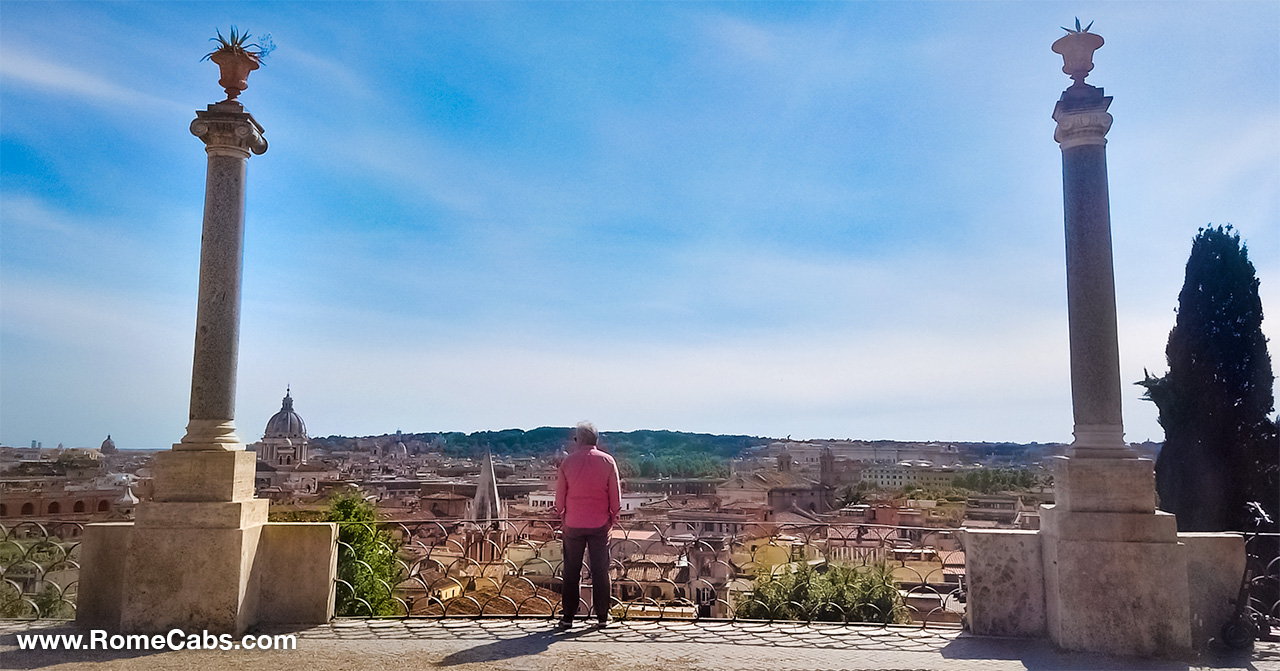 6. Engage with Local Festivals and Events in Rome
Stay updated on local festivals and events taking place during your visit. Rome hosts a variety of cultural and traditional celebrations throughout the year.

Easter in Rome:
Easter is a significant religious celebration in Rome, and the city comes alive with various events and processions. The Pope delivers the Easter Mass in St. Peter's Square, attracting pilgrims and visitors from around the world.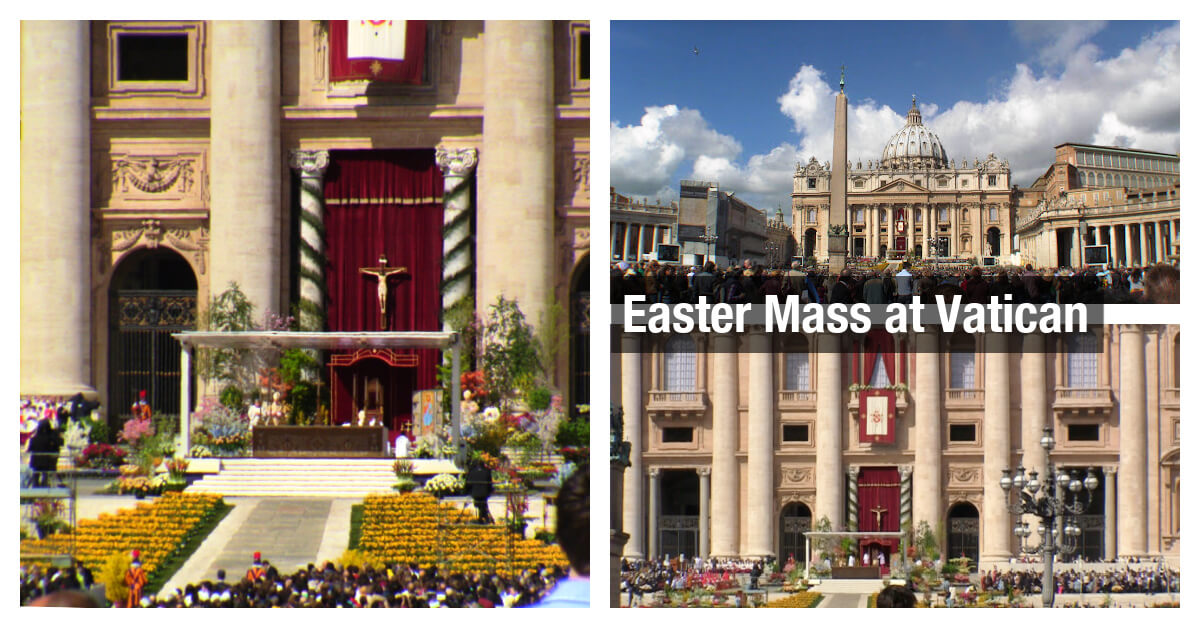 Rome Birthday Celebrations (Natale di Roma)
Rome celebrates its birthday on April 21st, marking the founding of the city. Festivities include historical reenactments, parades, concerts, exhibitions, and fireworks. The Circus Maximus often hosts grand spectacles to commemorate the occasion.


Festa della Repubblica (Republic Day)
On June 2nd, Italy celebrates its Republic Day with military parades, concerts, and various cultural events. The main parade takes place in Via dei Fori Imperiali, leading to the Roman Forum, and is attended by locals and tourists alike.


Estate Romana (Roman Summer Festival)
From June to September, Rome hosts the Estate Romana (Rome Summer Festival), a summer festival filled with concerts, outdoor film screenings, art exhibitions, and theater performances held in various venues across the city, especially along the Tiber River. The festival aims to promote cultural activities and enliven the Roman summer nights.
Christmas in Rome

There are many great reasons to visit Rome in the winter. During the Christmas season, Rome hosts several enchanting markets. These markets offer a festive ambiance with stalls selling crafts, decorations, local food, and drinks.

If you are traveling to Italy during Christmas, we dedicated a blog to the best Italian Christmas Traditions to enjoy in Italy.
Remember to check the specific dates and events for each festival, as they may vary slightly from year to year. Participating in these festivals allows you to immerse yourself in Rome's cultural heritage and experience the vibrant spirit of the city.
7. Visit Off-the-Beaten-Path Historical Sites in Rome
While iconic attractions like the Colosseum and Vatican City are a must-visit and are always crowded with tourists, delve deeper into Rome's history by exploring lesser-known historical sites.
Stroll along Rome's empire roads that are drenched in fascinating history.
Discover the Baths of Caracalla, the Appian Way, the Catacombs of San Callisto, Janiculum Hill, Aventine Hill, or Borghese Gardens. These sites offer fascinating insights into Rome's rich past and beautiful nature without overwhelming crowds.
Catacombs of San Callisto:
Venture outside the city center to the Appian Way, where the Catacombs of San Callisto await. Descend into these ancient burial grounds and navigate through a labyrinth of tunnels that served as resting places for early Christians. Marvel at the frescoes, tombs, and crypts, and reflect on the fascinating history and religious significance of this subterranean world.
Via Appia Antica:
Escape the crowds and take a leisurely stroll along the historic Via Appia Antica, one of the oldest and most important Roman roads. This serene pathway is dotted with ancient tombs, ruins, and catacombs, offering a serene retreat from the bustling city. Immerse yourself in the picturesque countryside views as you wander along the cobblestones, imagining the footprints of ancient Romans who once walked this very path.
Baths of Caracalla:
Step back in time as you discover the majestic ruins of the Baths of Caracalla. While not entirely off the radar, this site is often overshadowed by the Colosseum and Roman Forum. Explore the vast complex of thermal baths, once a social hub for ancient Romans.
Marvel at the towering walls, intricate mosaics, and grand halls that showcase the architectural prowess of the time. Wander through the extensive grounds and imagine yourself as a Roman citizen indulging in leisurely bathing rituals or watching theatrical performances in the adjacent auditorium. The Baths of Caracalla offer a captivating glimpse into everyday life during the Roman Empire.
Borghese Gardens:
Escape the city's hustle and bustle by immersing yourself in the serene beauty of the Borghese Gardens. Located near the famous Spanish Steps, this sprawling green oasis provides an ideal retreat for both locals and tourists seeking tranquility.
Stroll along winding paths shaded by ancient trees, discover hidden sculptures, and revel in the fragrance of blooming flowers, or peddle a boat on the scenic lake.
The gardens also house the renowned Galleria Borghese, where you can admire exquisite artworks by masters such as Bernini and Caravaggio. Take a moment to relax, have a picnic, or rent a rowboat on the tranquil lake, as you bask in the essence of a true Roman escape.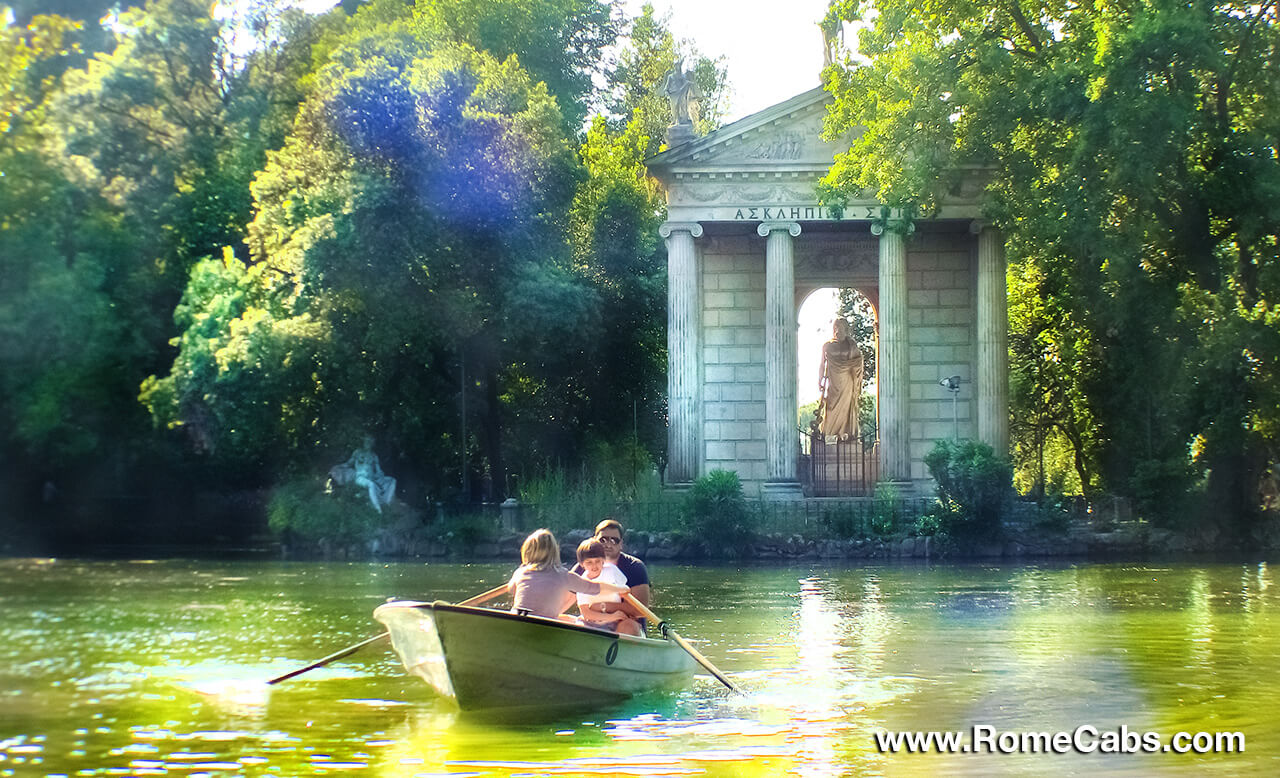 Aventine Hill:
Escape the tourist crowds and venture to Aventine Hill, a peaceful neighborhood with a rich historical and cultural heritage. Start your journey at the iconic Keyhole of the Knights of Malta, where you can peek through and witness a stunning view of St. Peter's Basilica perfectly framed.
Take a leisurely stroll along the picturesque streets, lined with charming churches and hidden gardens. Don't miss the beautiful Orange Garden (Giardino degli Aranci), where you can relax and enjoy panoramic views of the city. Aventine Hill offers a serene retreat and a chance to experience Rome like a local.

Janiculum Hill:
For breathtaking panoramic views of Rome and a taste of local history, make your way to Janiculum Hill. Located just west of the Vatican, this elevated vantage point offers sweeping vistas of the city's iconic landmarks. Enjoy a leisurely stroll along the hill's tree-lined paths, passing by charming cafés and lesser-known monuments.
At midday, listen for the firing of the cannon, a tradition that dates back to the 19th century and signals the city's noon. Capture the picturesque scenery from the Giuseppe Garibaldi statue and embrace the tranquility of this hidden gem, cherished by locals for its captivating vistas and peaceful atmosphere.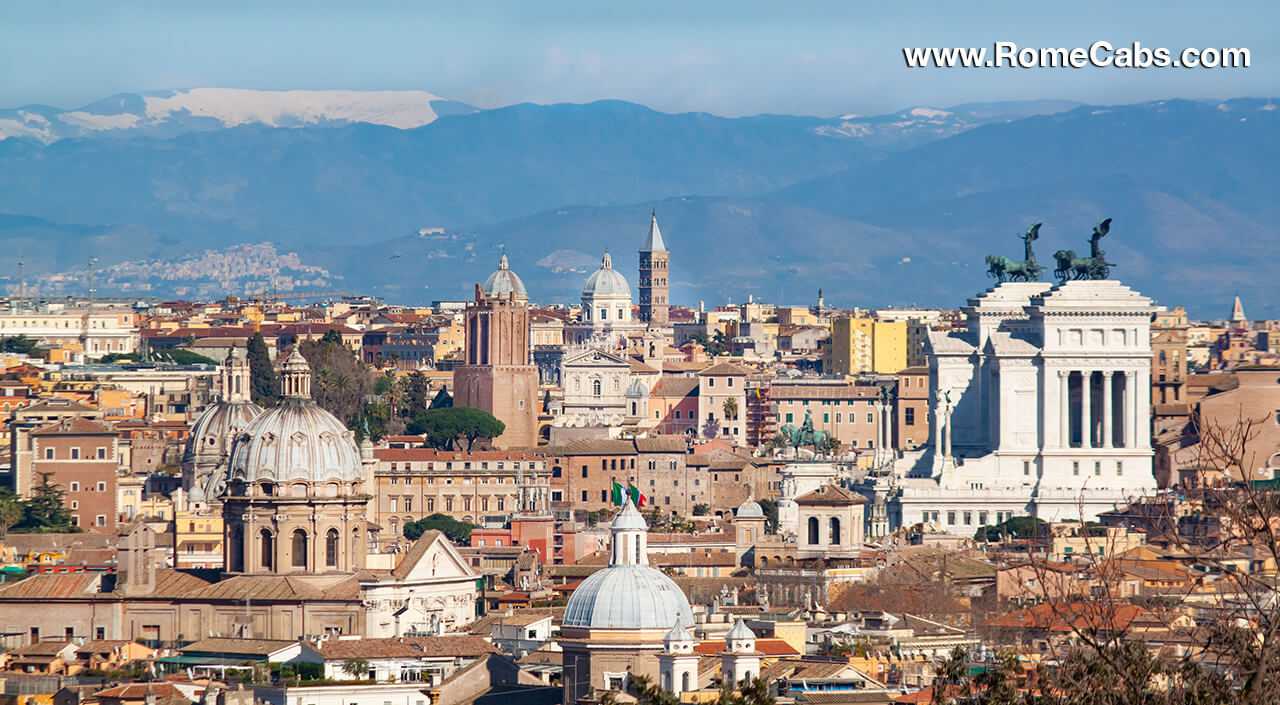 Park of Aqueducts:
Escape the bustling city center and explore the Park of Aqueducts, a hidden oasis that showcases the ingenuity of ancient Roman engineering. Here, you'll find remnants of majestic aqueducts, including the impressive Aqua Claudia and Aqua Marcia. Take a leisurely walk or rent a bicycle, as you follow the paths flanked by towering arches and lush greenery. As you immerse yourself in the peaceful ambiance, you'll gain a deeper appreciation for the ancient infrastructure that once sustained Rome.


Villa Doria Pamphilj:
For an off-the-beaten-path green escape, head to Villa Doria Pamphilj, Rome's largest landscaped public park. This vast park offers an idyllic setting for a leisurely stroll or a peaceful picnic among lush gardens, fountains, and manicured lawns. Discover hidden pathways, admire ancient ruins, and visit the Casino del Bel Respiro, a splendid villa within the park. Villa Doria Pamphilj provides a rejuvenating retreat and a chance to unwind in nature, just like the locals do.


Ostia Antica:
Just a short journey from Rome lies the extraordinary ancient port city of Ostia Antica. This remarkably preserved archaeological site offers a glimpse into the daily lives of the Romans during the height of the Roman Empire.
Wander through the well-preserved streets, explore the intricately decorated houses, and marvel at the remains of the amphitheater and the impressive Baths of Neptune. Ostia Antica's uncrowded atmosphere and captivating ruins make it an ideal destination for those seeking an authentic and immersive historical experience.
Rome's off-the-beaten-path historical sites offer an authentic local experience, allowing you to delve deeper into the city's rich history and cultural heritage. Embark on this path less traveled, and let the city's secrets unfold before you, creating memories that will last a lifetime.
Rome is a city that reveals its true essence when you venture beyond the well-trodden path. By embracing the tips we've shared in this blog, you can unlock a world of authentic experiences and immerse yourself in the local culture. From exploring hidden neighborhoods to savoring traditional cuisine, from engaging in the passeggiata to discovering off-the-beaten-path gems, Rome offers a tapestry of moments that will leave an indelible mark on your soul.
So, trade the tourist checklist for a local's perspective, and let Rome weave its magic around you. Slow down, wander aimlessly, and let the city surprise you with its hidden treasures. Interact with the warm-hearted Romans, sipping espresso at a local café or engaging in lively conversations at a neighborhood market. Discover the pleasure of savoring artisanal gelato or indulging in the simple joy of people-watching in a charming piazza.
Remember, the true beauty of Rome lies not only in its iconic landmarks but also in the authentic experiences that unfold when you live like a local. It's in the small moments, the unexpected encounters, and the connections you forge with the city and its people.
At RomeCabs, we believe that the best way to experience Rome is to immerse yourself in its local culture. So, pack your curiosity, your adventurous spirit, and your desire to truly connect with Rome, and let us be your guide as you embark on an authentic journey through the eternal city.


As you bid farewell to Rome, carry with you the echoes of laughter, the taste of exquisite flavors, and the vibrant energy that permeates every corner of this ancient city. And remember, Rome (and RomeCabs) will always welcome you back, ready to offer new surprises and authentic experiences, waiting to be discovered by those who dare to embrace the path less traveled.
See you soon in Italy!


ALSO READ:

* Find us online also on: