Buongiorno and welcome to the travel blog of Stefano's RomeCabs.

It's no coincidence that Romance begins with Roma. Rome is indeed a romantic city, and in true Italian style, it also combines romance with sweets. In this travel blog, we will introduce you to the maritozzi and why they're important on Valentine's Day. Revel in this tasty Roman dessert that has been around since ancient times.



MARITOZZI: Rome's Sweet Tradition
What are maritozzi?


Maritozzi are sweet Italian buns that are fluffy and light, evenly split and filled with fresh delicate whipped cream, and dusted with powdered sugar. Maritozzi are generally enjoyed as deserts, or as a breakfast pastry with a cappuccino.
Maritozzo = singular
Maritozzi = plural
The "zz" in Maritozzo / Maritozzi is pronounced just like in pizza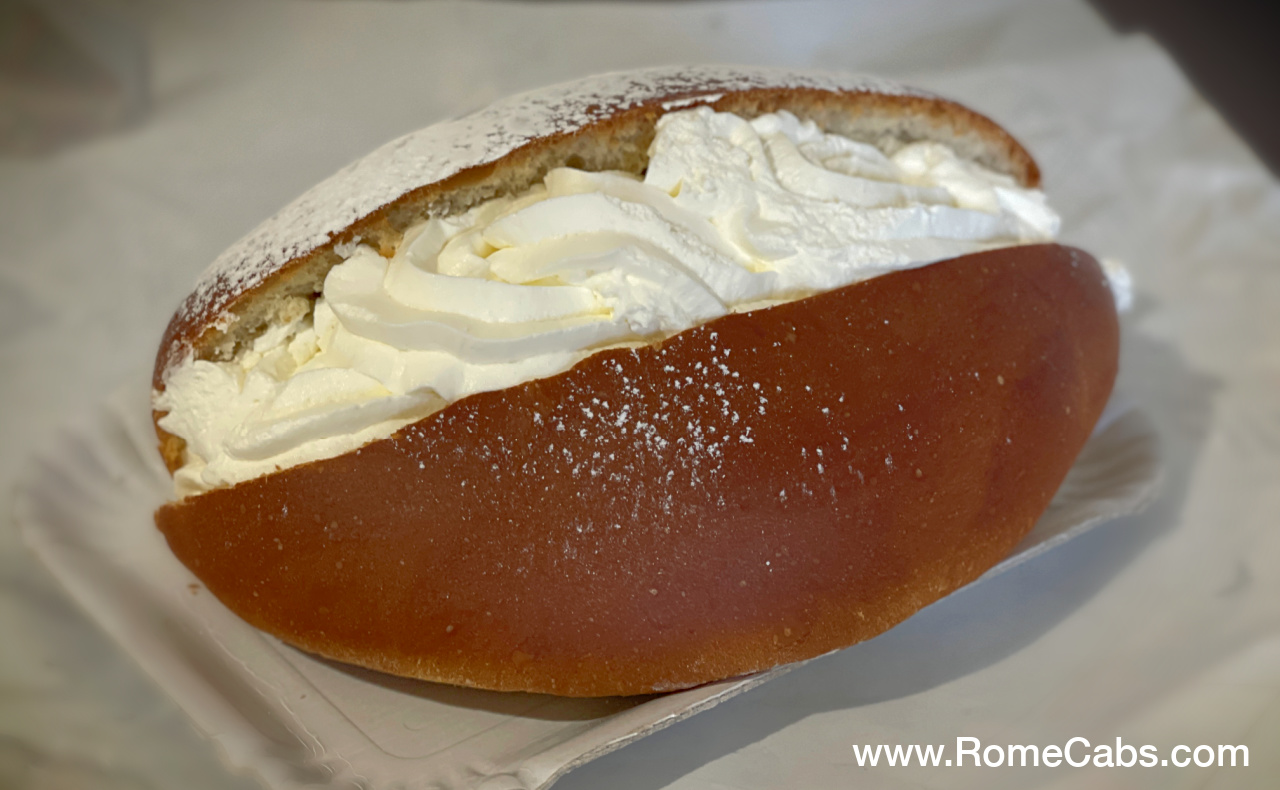 Where did the maritozzi originate from?


The maritozzo originated in ancient Rome as loaves for laborers. This ancestor of the modern maritozzo was a larger and simpler loaf made of flour, eggs, oil, salt, and sweetened with raisins and honey. It is believed that for centuries maritozzi served as sustenance for laborers who stowed their daily provisions in leather or fabric saddlebags when they worked away from home.
It appears that in the Middle Ages these loaves became a sort of dessert eaten especially during Lent (nicknamed "er Santo Maritozzo"). The maritozzo was the only exception during the liturgical fasting period of Lent when sweets were banned. These medieval maritozzi were smaller like buns, and the dough was enriched with raisins, pine nuts, and candied fruit.

What do maritozzi have to do with Valentine's Day?


The maritozzo further transformed into a traditional sweet for engaged couples to be given by the future husband as a gift of good luck to the bride-to-be on the first Friday of March (today's Valentine's Day). This cake was decorated with sugar that represented two pierced hearts, and sometimes a ring was hidden inside (the bride-to-be had to be careful biting into her gifted maritozzo!).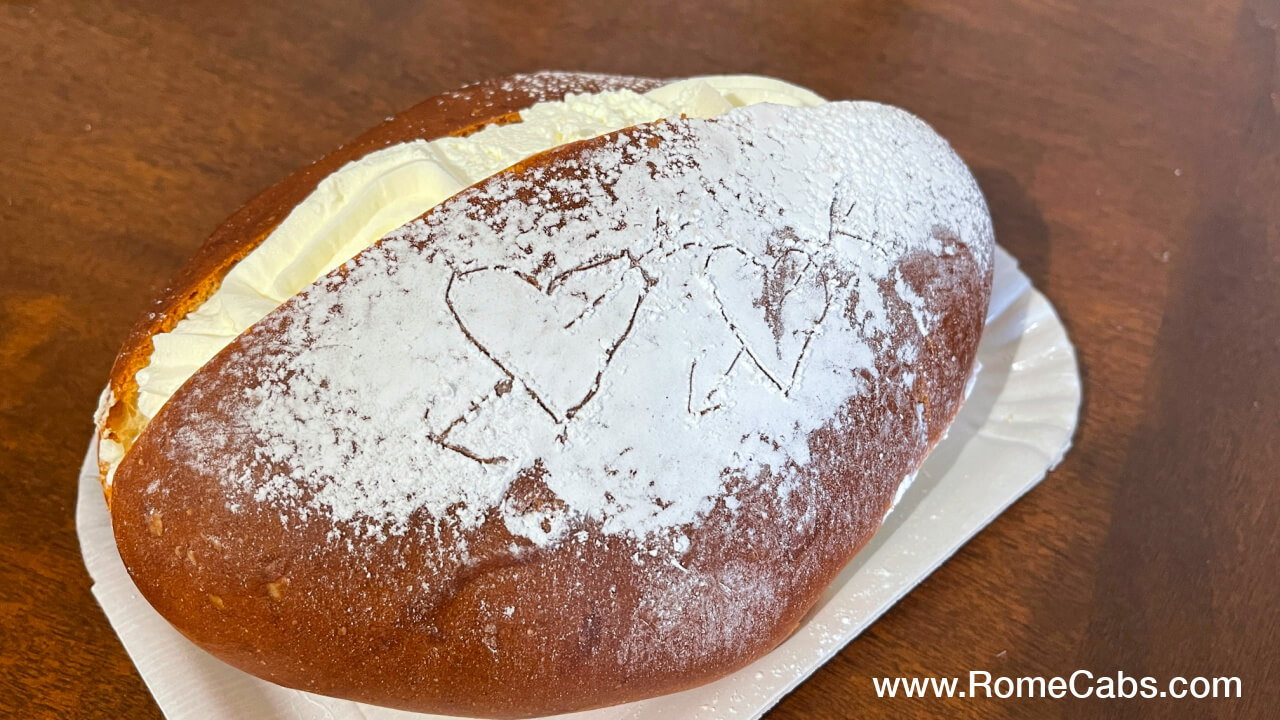 The name martiozzo is derived from the word "marito" which means husband in Italian. In some areas of Rome's Lazio region, this desert is also called "Panmarito" or "Maritello".

Today, maritozzo is a lovely dessert to be gifted (or enjoyed) on Valentine's Day….. and on any day of the year!
Where can I find maritozzi?


You can find these sweet brioche-style buns throughout Rome (as well as central and southern Italy) at local pastry shops. Cafes also sell smaller maritozzi among their breakfast and dessert pastries, but if you want to experience the finest of maritozzi, purchase one at a local pastry shop.


"Vorrei un maritozzo" - I would like a maritozzo
"Vorrei due maritozzi" - I would like two maritozzi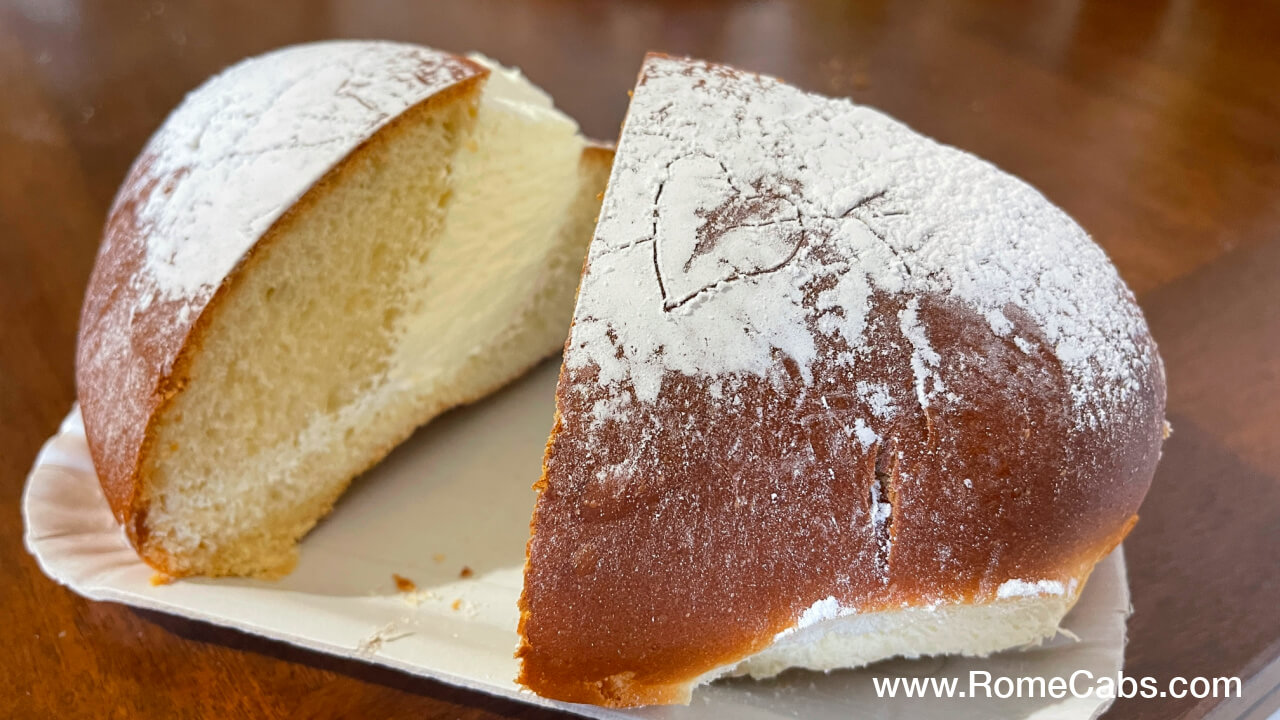 In addition to the traditional creamy maritozzi, you can sometimes find maritozzi with pine nuts and raisins, covered with chocolate, or savory maritozzi filled with burrata or fish.
There is also a Maritozzo Day held in Rome in early December to celebrate this beloved Roman edible mascot.

When you tour Rome on our Rome City Tours, be sure to ask your personal driver to take you to a local pastry shop where you can enjoy a tasty Roman maritozzo.


Can I make my own maritozzi?


If you can't visit Rome (or just can't wait to try a maritozzo before your trip to Rome), you can make your own maritozzi at home. There are many recipes online and the basic ingredients include flour, yeast, milk, honey, eggs, oil, and whipped cream.


Also Read:


Thank you for reading our Maritozzi: Rome's Sweet Tradition travel blog. We invite you to visit our website and browse through our collection of Rome Tours and Shore Excursions from Civitavecchia. We look forward to showing you beautiful places in Italy!

Find us online also on: