Buongiorno and welcome to Stefano's RomeCabs! La Dolce Vita is frequently uttered in the same breath as Italy. It means "the sweet life", the kind of good life one can discover in Italy. The secret to the Italian La Dolce Vita could well enough start with cake for breakfast!

While different nationalities begin their day with breakfast cereals, eggs, pancakes, ham, or sausages, Italians choose cakes and other pastries for breakfast. Roman breakfast cakes are a common breakfast treat at home, in cafes, and at hotel breakfast buffets. The mouthwatering aroma of a ciambella baking in the oven of the hotel kitchen early morning announces a tasty breakfast on its way.

We at Stefano's RomeCabs love this sweet Italian breakfast tradition, and our clients frequently stop at a local Roman cafe for one more Roman breakfast cake and cappuccino or espresso on our Rome Pre-Cruise Tours before they embark on their voyage at sea. For many cruisers, it's that one last special morning treat they can savor in Rome before their Mediterranean cruise.
ROMAN BREAKFAST CAKES
Why do Italians eat sweets for breakfast?

… Besides starting off their day on a sweet note, that is.

That's a good question for which there can be many answers.

First, like so many things in Italy, breakfast cakes are an Italian tradition (just like eggs and bacon are a breakfast tradition in other cultures). How this tradition started is anyone's guess, although speculations are plenty. Perhaps it started at some point in history with Italians only having a few staple ingredients at hand, or that Italians preferred sweets in the morning instead of salty food, protein, and carbs.|

Italians tend to eat dinner late at night (consider restaurants in Italy don't even open for dinner until 7:00 PM or so). Early birds in Italy are those who arrive at the restaurant when the doors first open at 7 PM and it's still empty. It's not uncommon to sit down for dinner either at a restaurant or at home at 8 PM or later. Eating so late at night means Italians don't wake up hungry in the morning, therefore a light breakfast of coffee and cake is enjoyed as a "morning snack" and is preferred to protein-packed heavy American or English breakfast options.

You might wonder about the benefit of starting your day eating cake. You're probably imagining Italians stuffing their faces with sugary desserts for breakfast! For starters, Italian breakfast cakes are not fat and sugar-laden rich cakes like cupcakes with frosting, syrupy pancakes, or sugary breakfast cereals. Italian breakfast cakes are lighter and not excessively sweet as they have less sugar content. Basic, few, and simple ingredients are key to classic Italian baking.

There's just enough sugar in Roman breakfast cakes or pastries to increase energy levels, some carbs for medium-term energy, some fats for slow-release energy, and some protein in milk and caffeine in your Italian coffee to tide you over until lunch - the most important meal of the day!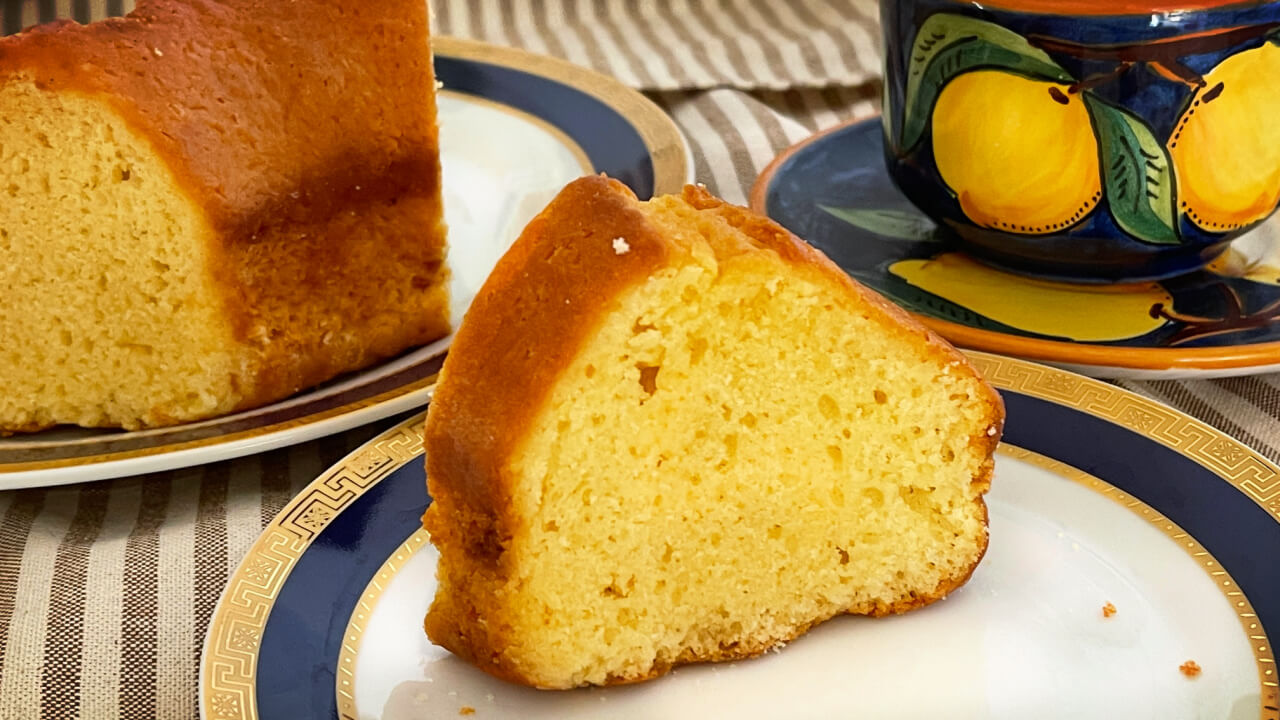 What are Roman Breakfast cakes?


By now you understand that Roman breakfast cakes are not the type of cakes you might imagine with sugary frosting. Most Roman breakfast cakes tend to be ring-shaped sponge cakes that have the distinctive shape of a large donut or bundt called ciambella or ciambellone. Fragrant but not too sweet, Roman breakfast cakes pair well with your morning coffee or a glass of milk (they're perfect for dunking in your coffee or milk).

Different regions of Italy have their own breakfast cake traditions, but they are mostly variations of the classic Ciambella.

If you think the Italian word "ciambella" is difficult to remember, just think Ciao Bella.

Ciambella is also what's referred to as "doughnuts" in Italy, however, doughnuts are not what Italians eat for breakfast.
What is Ciambella?

As already mentioned, the Italian ciambella is a ring-shaped sponge cake that's a breakfast treat in many Italian breakfast homes, hotel breakfast halls, and at cafes.

The classic Ciambella recipe calls for flour, salt, baking powder, milk, eggs, sugar (or honey), oil, and vanilla. The light and spongy texture is created by whisking the eggs with sugar, and adding the liquids while vigorously whisking the composition until frothy.

Different regions in Italy create their own traditional twists to the classic ciambella by adding various flavors such as cinnamon, rose water, or aniseed. Ciambella can be topped or decorated with powdered sugar, pine nuts, roasted chopped almonds or pistachios, or marmalades.

You can enjoy a classic lemon ciambella (Ciambella al limone) flavored with lemon juice or zest, or a marbled bi-colored ciambella (ciambella bicolore) with chocolate for a black and white effect. Top your ciambella with fruit preserves or fresh berries.
If you relish the idea of waking up to a sweet start on your vacation in Italy, you will not be disappointed! Whether at your hotel breakfast buffet or at a local cafe, your tastebuds will be delighted by a variety of Roman breakfast cakes (as well as pastries) to choose from. You will soon realize that ciambella for breakfast could easily become a life-long love affair.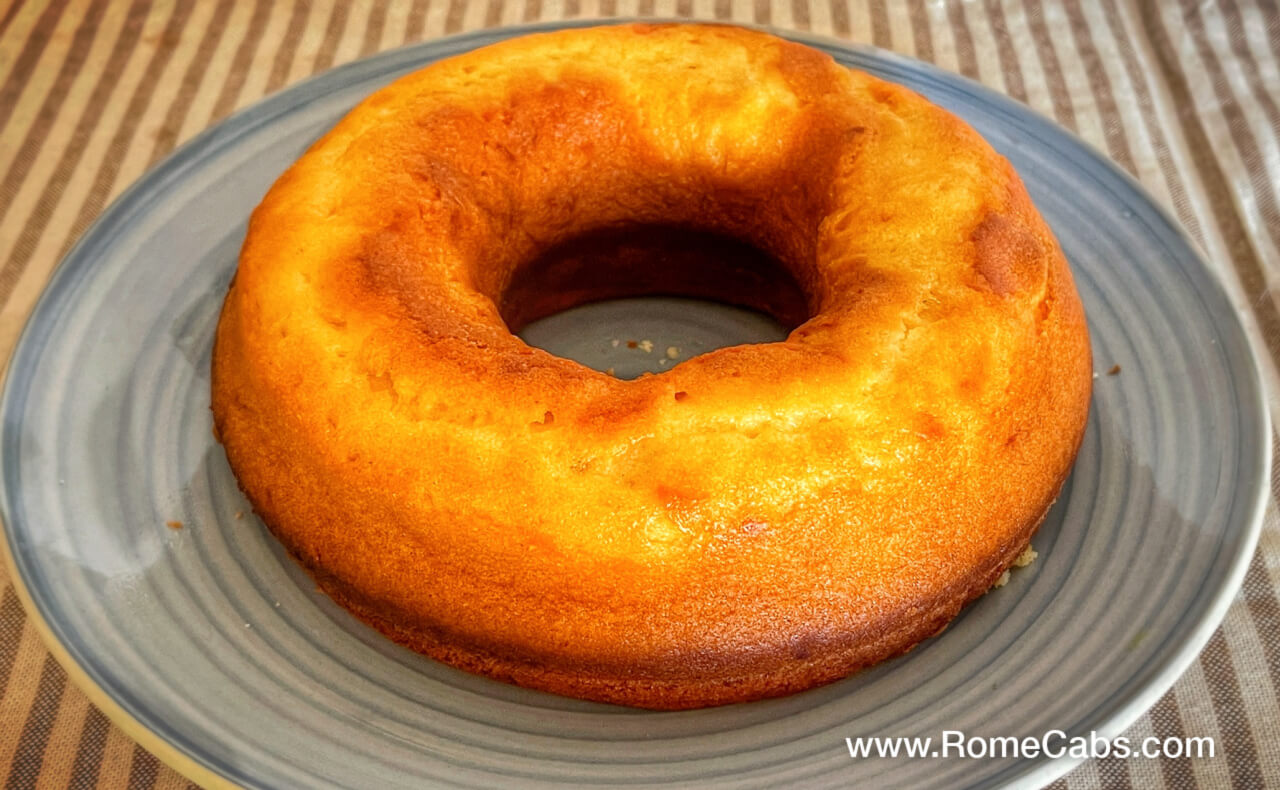 Where can I get Roman breakfast cakes in Italy?


You can enjoy a variety of Roman breakfast cakes (ciambella and more) at just about any cafe, and at your hotel or B&B.
If you are touring Rome on one of our Pre Cruise Tours, Shore Excursions from Civitavecchia, or Post Cruise Tours, you may indulge in a Roman breakfast cake at a local cafe in the Eternal City - just ask your personal driver to take you there!
Don't think that you can only savor these Roman breakfast cakes while on vacation in Italy. With so many recipes online, you too can re-create your favorite ciambella at home that will bring back sweet memories of Rome.
Find us online also on: