Buongiorno and welcome to Stefano's RomeCabs, Rome's leading company for private tours in Italy. Let's talk about one of everyone's favorite things: PIZZA!

Probably the most famous pizza in the world is the Neapolitan-style pizza. With its thick chewy crust baked to perfection and fresh simple toppings, Naples pizza is unmistakenly delicious. This famous dish draws millions of tourists to Naples for a taste of its authentic flavors.

You don't necessarily have to travel to Naples to enjoy a Naples pizza. On our Shore Excursions from Naples and day tours from Rome to Amalfi Coast, our clients can relish excellent and authentic Neapolitan pizzas also in Sorrento and other notable nearby seaside towns. Naples pizza is a tradition embraced by the entire region neighboring Naples, so travelers and cruisers don't necessarily have to go to Naples to savor this local treat.

Naples pizza has been around for almost 2 centuries with plenty of time to be tweaked to perfection. But did you know that the concept of "pizza" goes back to ancient times? Let's take a delicious journey into the delicious history of Naples pizza.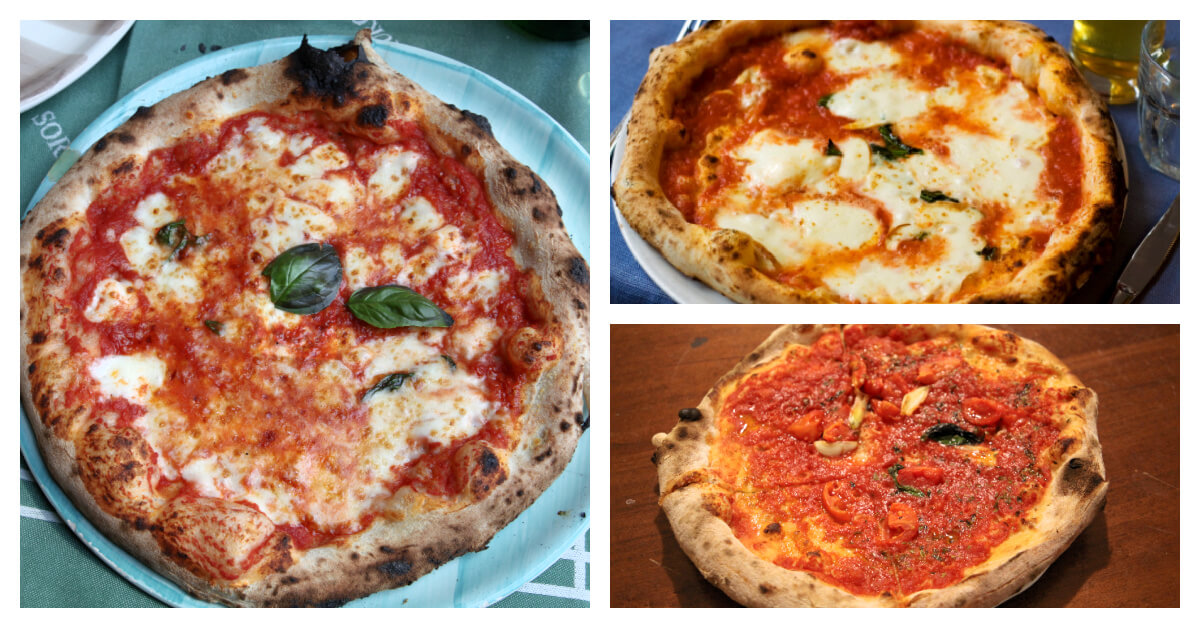 The History of Naples Pizza
How ancient is pizza in Italy?

The history of pizza is about as ancient as Italy itself. Bygone civilizations such as the Etruscans and Ancient Romans were already producing simple flatbreads with simple toppings resembling focaccia, which was referred to by the Romans as panis focacius.

The word "pizza" was first documented in 997 AD in Gaeta, an ancient coastal city south of Rome in the region of Lazio. By the 16th-century, pizza became a common simple dish among the indigent people of Naples.

How the Tomato transformed Naples Pizza


With the tomato being such an essential ingredient of pizza and the star of Italian cuisine, one would think that the Italians invented the tomato! But tomatoes didn't even exist in Italy (or Europe) before they were introduced from the Americas.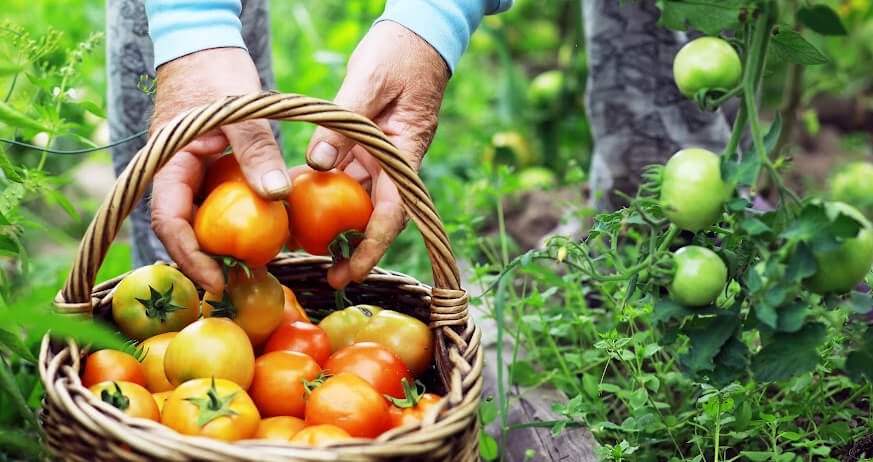 During the mid 16-th century Spaniards brought the tomato fruit - tomatil as it was known back then - to the Italian peninsula from Peru when they explored the Americas. Before the tomato became an essential ingredient of pizza and Italian cuisine, this curious foreign fruit was actually shunned, considered at best inedible, and at worst poisonous. The well-heeled of that time preferred to indulge in meats, whereas consuming fruits and vegetables was considered peasant food. In Italy, the tomato was initially named pomi d'oro (golden apple) and over time it evolved into the modern-day pomodoro.

It took about a century for the tomato to be integrated into recipes, and the earliest tomato sauce recipe was published in 1694 by a Neapolitan chef named Antonio Latini in his cookbook "Lo Scalo alla Moderna" (the Modern Steward). He mentioned that tomatoes combined with onions and herbs created an interesting sauce that enhanced all sorts of dishes, especially meat.

It's not surprising that as the tomato became popular among the poor, it found its way into their "cucina povera" (poor people's food), and grew into a culinary icon. And that's when the modern variation of pizza topped with tomatoes was conceived.
Who invented pizza in Naples?

Modern pizza that we know and love today evolved in Naples's poorer areas back in the late 18th century to the early 19th century when adding tomato to the flatbread became a local sensation. By 1807 there were 54 pizzerias registered in Naples, and within a few decades, the number doubled.

In Naples, the local traditional pizzas come in two types: Pizza Marinara and Pizza Margherita. Although over time many different pizza toppings were invented and have become a staple of modern pizzas, these two are still Naples' classic pizzas.


The origins of Pizza Marinara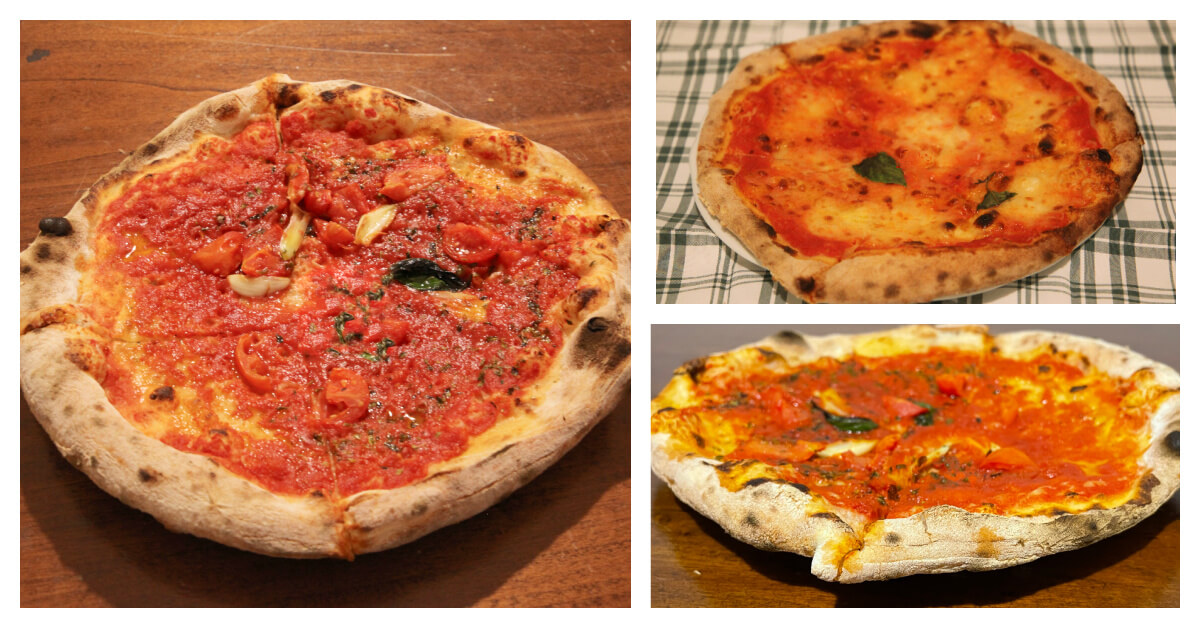 Pizza Marinara took its name from the seafarers who ate this particular pizza prepared by their wives when they returned home from their fishing expeditions in the Bay of Naples. The seafarer's wife, la marinara, traditionally topped the pizza with tomato, oregano, garlic, and extra virgin olive oil.

For modern-day pizza-lovers, this cheeseless pizza also grew into a vegetarian delight!

The origins of Pizza Margherita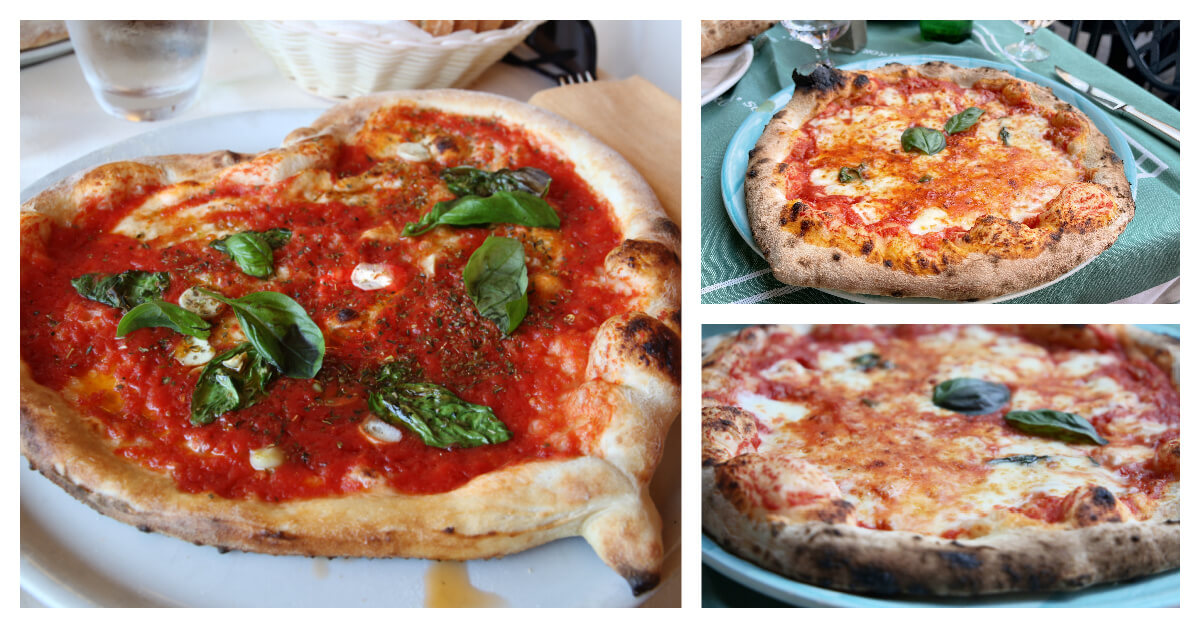 Pizza Margherita is largely attributed to a baker by the name of Raffaele Esposito who worked at a restaurant in Naples named "Pietro….e basta così" (Pietro…. and that's it). Legend tells us that in 1889 Raffaele invented the Pizza Margherita in honor of Queen Margherita of Savoy and King Umberto I who came to visit.

The ingredients of his pizza represented unified Italy's flag: Green (using fresh basil leaves), White (mozzarella), and Red (tomato sauce). This restaurant was established in 1880 and it's still in business renamed "Pizzeria Brandi".
What makes Neapolitan pizza dough different?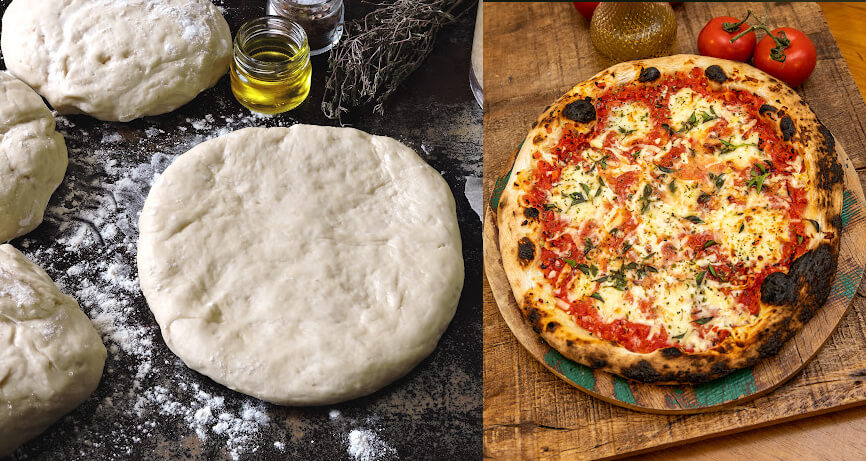 What makes Naples' pizza so famous is not just the toppings! The classic Naples pizzas are soft, pliable, and chewy, making them quite different from Rome's thin and crispy pizza crust. The Neapolitan pizza dough is simple using only water, salt, yeast, and highly refined wheat flour, but the complexity of the dough is found in its fermentation period which can range from 12 hours to a few days.
Certified Authentic Naples Pizza:

Did you know you can eat a certified Neapolitan pizza? In 1984 Italy founded the True Neapolitan Pizza Association (Associazione Verace Pizza Napoletana) in Naples which set specific standards to create an authentic Neapolitan pizza. A restaurant must apply for this certification and faithfully follow the strict philosophy and methods.


How is authentic Naples pizza made?
The pizza makers (i pizzaioli) must not roll the pizza dough with a rolling pin or use any mechanical means. The dough must be shaped into a pizza using the fingers, and the pizza must be a maximum of 35-centimeter diameter and ⅓ of a centimeter thick in the center. Scroll down and watch the VIDEO of a pizza chef making a beautiful Naples pizza.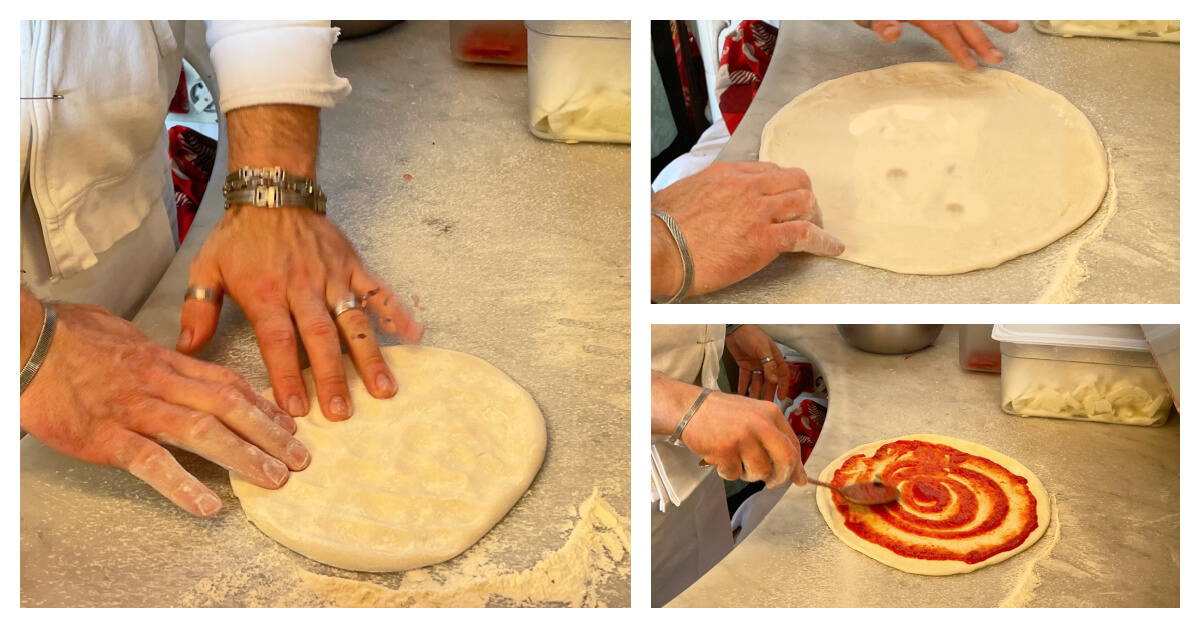 The pizza dough is then topped in a clockwise direction with uncooked pureed San Marzano tomatoes that grow on the fertile volcanic plains of Mount Vesuvius. The mozzarella can be one of the two options: Fior di Latte made from cow's milk, and mozzarella di Bufala made from local water buffalo milk. Only fresh basil and extra-virgin olive oil will do.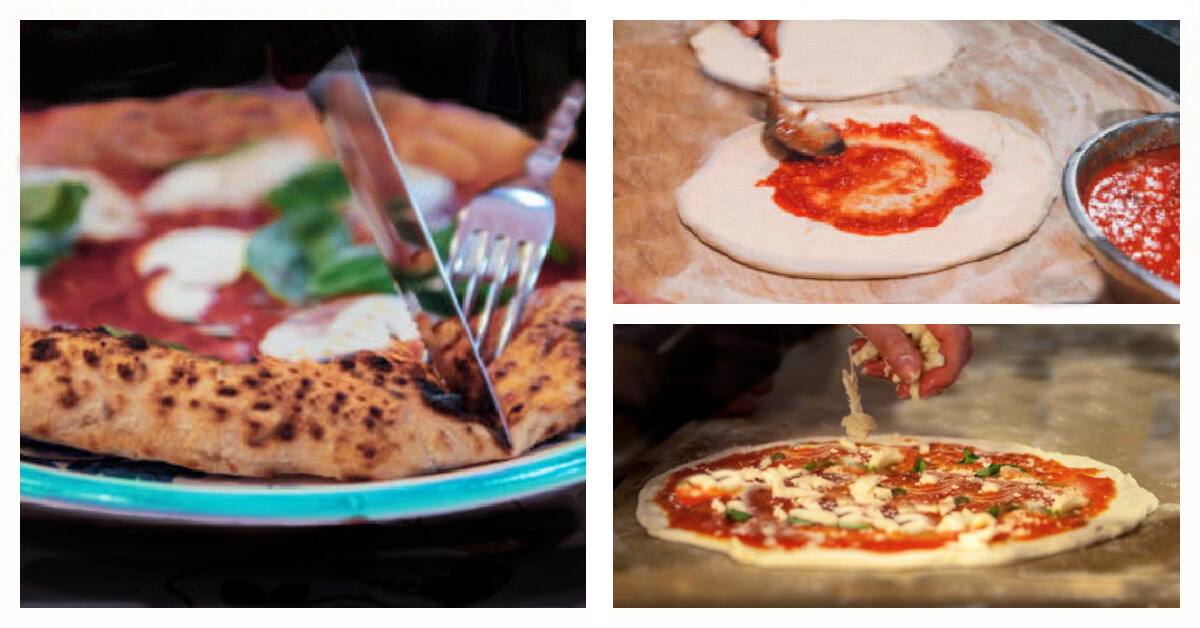 Authentic Neapolitan pizzas are then baked for about 60-90 seconds at a minimum of 800 F inside stone igloo-shaped wood-fire ovens similar to the ancient Roman ovens that were excavated in Pompeii. When cooked properly in the intense heat, the crust will bubble up and be charred in some spots.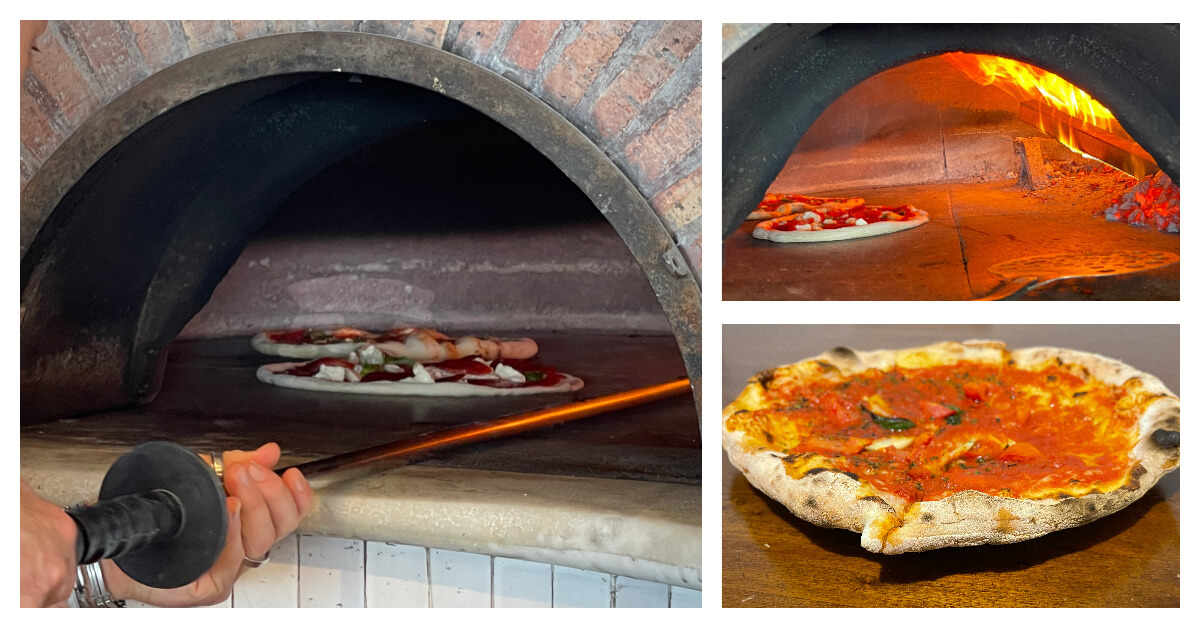 This personal size Neapolitan pizza is designed to be eaten hot and fresh, with gooey melted mozzarella cheese and the soft plum tomatoes that together create an excellent savory flavor that makes Napoli's pizzas legendary!


Can I eat a Neapolitan pizza on our shore excursions and tours from Rome to Amalfi Coast?

Next time on an Amalfi Coast shore excursion from Naples or an Amalfi Coast tour from Rome, be sure to have lunch at a pizza restaurant in Sorrento or Positano and enjoy an authentic Neapolitan-style pizza in Italy!


The only drawback to going to Naples for pizza on a shore excursion from Naples port or a day tour from Rome is the infamously chaotic Naples traffic and long wait times at the best pizzerias that would make day tours and excursions unpredictable with potential delays. The good news is that the Neapolitan pizza in Sorrento and Positano is just as good as in Naples but enjoyed in a more serene relaxing atmosphere by the sea.

If you are vacationing in the Amalfi Coast and Naples area, head to Naples directly for a certified Naples pizza while spending a day sightseeing in this characteristic Italian city.




And now we wrapped up the tasty history of Naples pizza. If you're craving a pizza right now, you're not alone!

Thank you for reading our travel blog, and be sure to visit our website for various Tours in Italy and Italy Shore Excursions from top cruise ports. We look forward to showing you beautiful places in Italy!
Find us online also on: