description


TIVOLI VILLAS AND GARDEN - 6 HOUR TOUR FEE:
For up to 4 persons from Rome Hotel 300 EUROS
For up to 6 persons from Rome Hotel 350 EUROS
For up to 8 persons from Rome Hotel 400 EUROS
*** Dates on the Booking Form Calendar that are NOT Selectable, are NOT AVAILABLE.


If you wish to extend your Tivoli Tour to include additional time to enjoy a visit to the charming town of Tivoli with time for lunch, please book our TIVOLI TOUR 8 HOUR from Rome option.

Enjoy a preview of Villa d'Este and Hadrian's Vilal in our Tivoli Villas and Garden Tour VIDEO:


Enjoy our Tivoli Villas and Garden 6 Hour private tour by car from Rome with English speaking Private Driver and explore the two splendid villas: Hadrian's Villa (Villa Adriana), and Villa d'Este.
Your personal RomeCabs English speaking Driver will pick you up at your Rome hotel or accommodation your private deluxe vehicle and take you on a relaxing drive into the countryside to Tivoli.
Both Hadrian's Villa and Villa D'Este are UNESCO World Heritage Sites.
HADRIAN'S VILLA - the impressive Imperial Complext of an Roman Emperor


While in Tivoli, you will have the opportunity to explore the magnificent ancient 2nd century AD Roman imperial complex built by Roman Emperor Hadrian as his countryside retreat from Rome.
Hadrian's Villa is a vast complex across a vast area of about 250 acres where more than 30 magnificent buildings once stood, including the imperial palace, theaters, temples, libraries, and baths.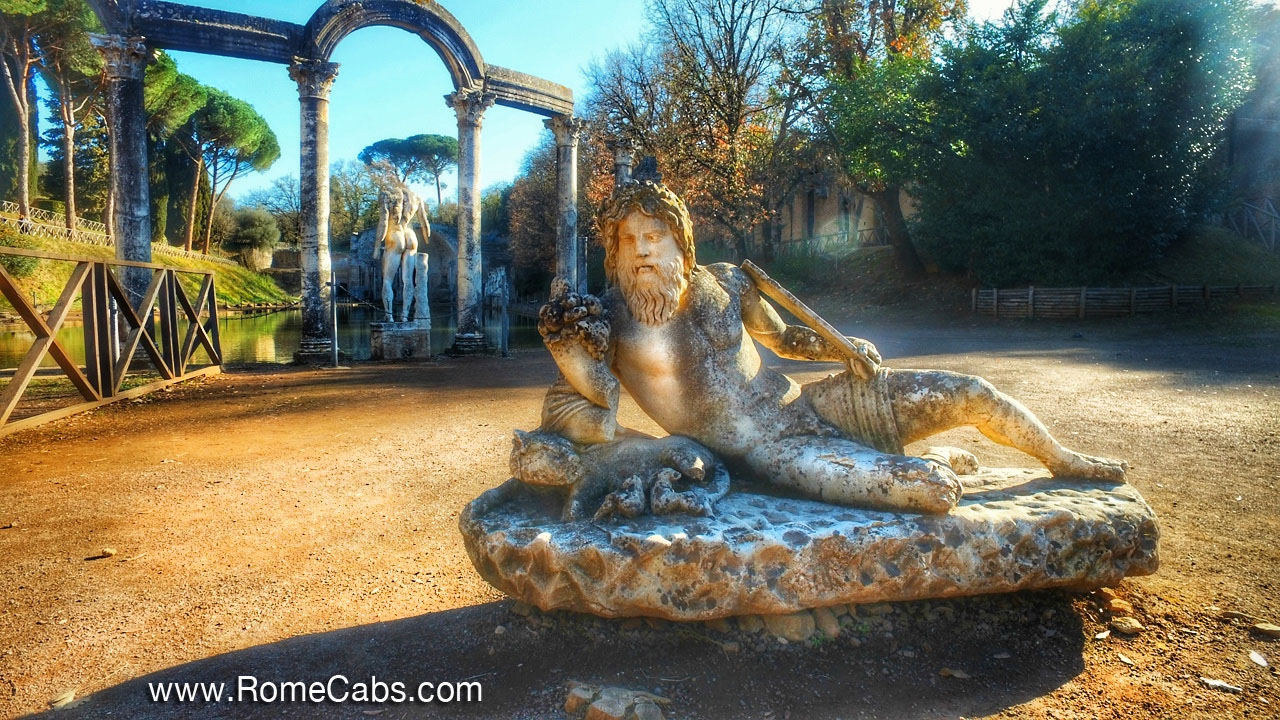 In addition, the Emperor also built landscaped gardens and pools, making his countryside escape so self sufficient that was able to govern the Roman Empire from here (while avoiding the chaos of Rome). It is believed that many of the structures were inspired by various cultures from Hadrian's extensive travels across the Empire.
Here you will self explore on your own the imposing ruins in a park-like setting, while you imagine what this enormous place must have looked like in its ancient Roman glory covered with marble and adorned with statues.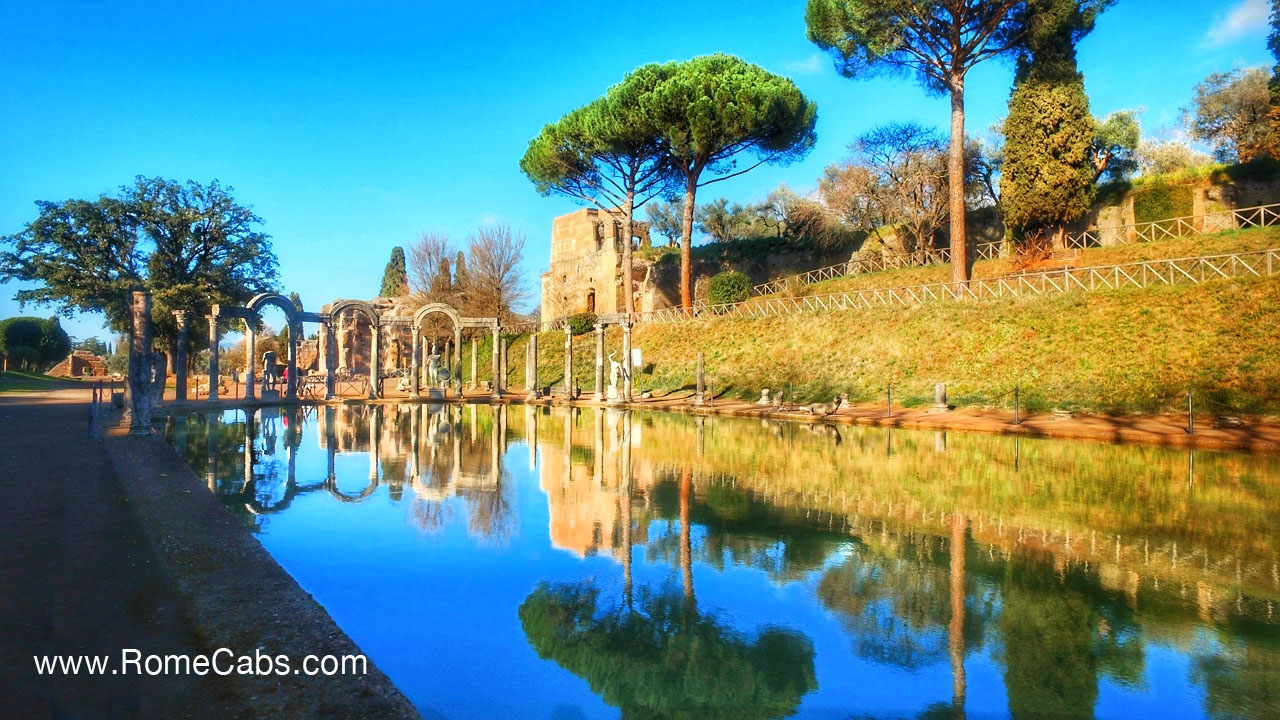 VILLA D'ESTE - the opulent Renaissance Villa and Italian Gardens


Fast forward several centuries to Villa d'Este and you will find yourself inside a 1500's Renaissance villa with splendid lush terraced Italian gardens and a symphony of fountains throughout. Built by cardinal Ippolito D'Este, the elegant villa adorned with opulent frescoes and motifs is considered one of the most beautiful Renaissance residences.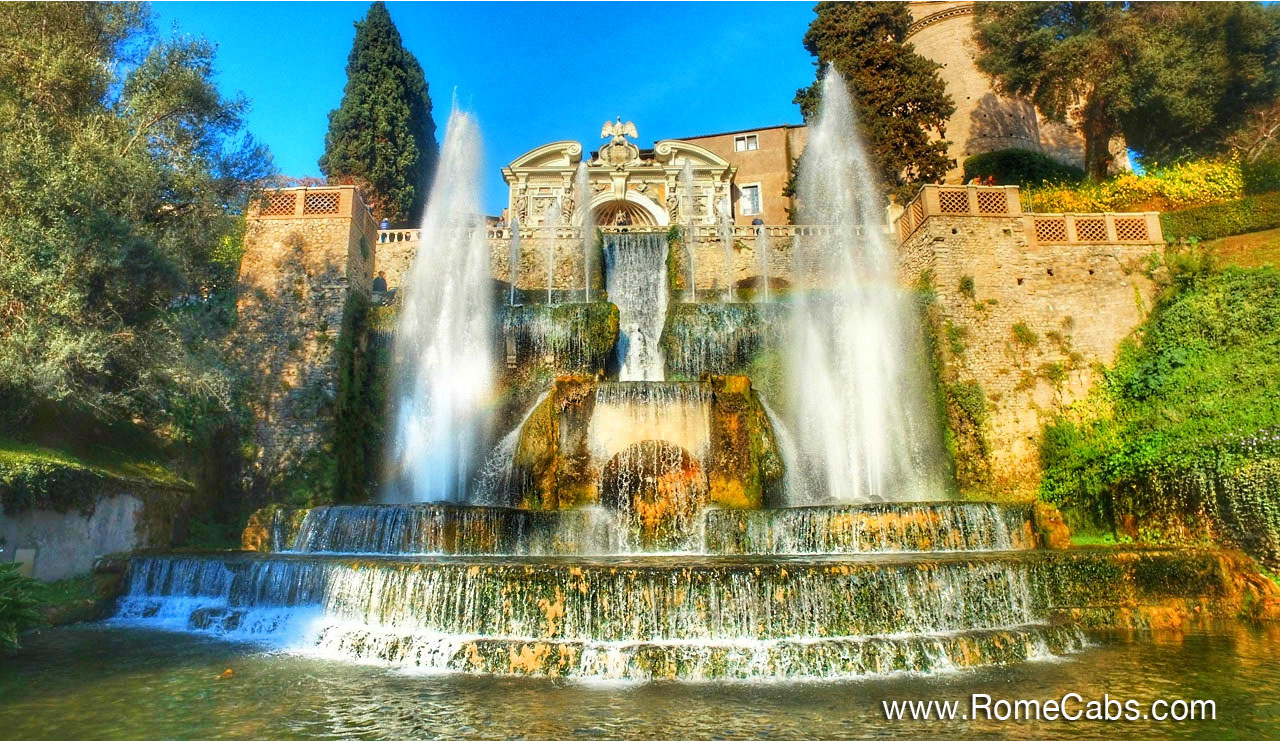 On a relaxing stroll through the garden pathways, you will be delighted at the many extraordinary fountains you will discover along the way. You will be amazed by the many large cascading waterfalls, hundreds of basins, pools, spouts and water jets - all working by force of gravity without pumps, with water supplied by the Aniene River.
No visit to Rome is complete without a day trip to Tivoli's Villa d'Este and Hadrian's Villa.
Once you complete your visits, your English-speaking private driver will take you on another relaxing journey back to your accommodation in Rome.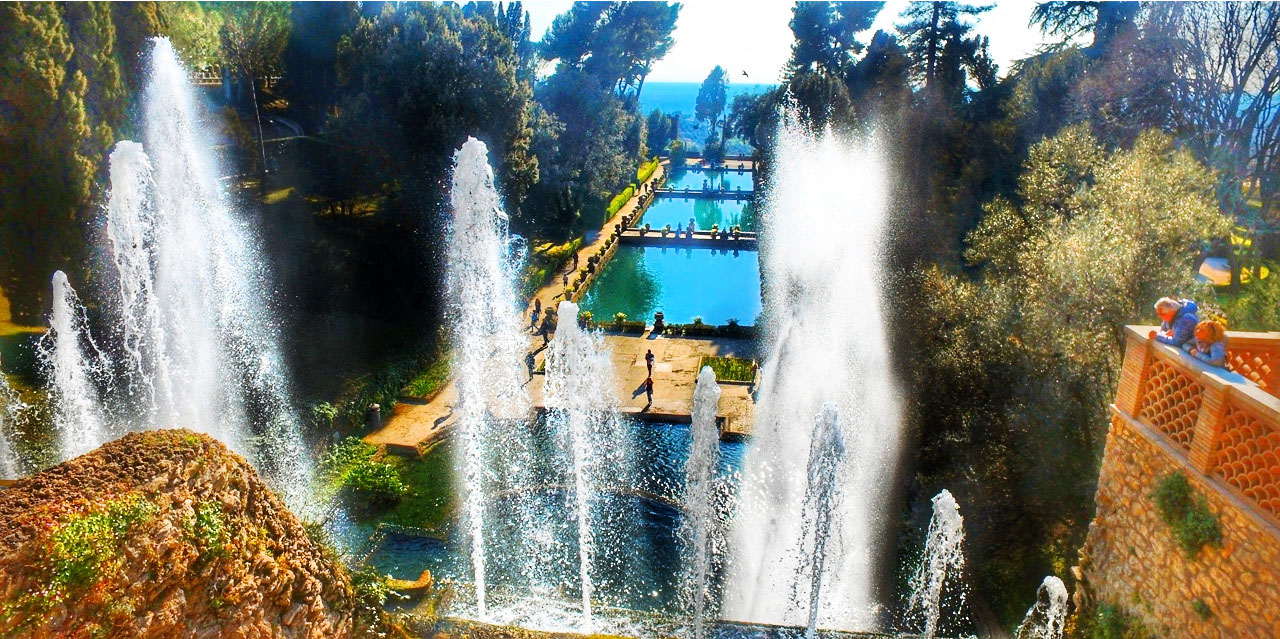 Thank you for booking our Tivoli Villas and Garden Tour and for choosing Stefano's RomeCabs for your private Day Tours from Rome and Italy Private Excursions.


Important Information

PLEASE READ THE INFORMATION BELOW AND ACCEPT THE TERMS OF SERVICE AND PRIVACY POLICY BEFORE BOOKING.


* This Tivoli Villas and Garden Tour from Rome is NOT offered on Mondays as Villa d'Este is closed for visits on Mondays
PAYMENT OPTIONS
Payment for this Tour can be made in EUROS directly to your driver on the Date of Tour, or prepaid in advance via PayPal or Credit Card online upon request. (See Cancellation policy below)
CANCELLATION POLICY
We kindly ask that cancellations be made via E-mail at least 7 days prior to Date of Service.
Cancellations are accepted only via E-mail so your cancellation is on record. We do not accept cancellations by phone, text message, or 3rd parties.
** Cancelations for PREPAID SERVICES will be refunded the Reduced Net Rate we receive from your prepayment. Reduced Net Rate: actual service price minus PayPal/Credit Card fees retained by PayPal/Credit Card as they do not reimburse us the fees they retain from your payment.
TIVOLI VILLAS ADMISSION TICKETS:


Hadrian's Villa: currently 12 Euros per person
Villa d'Este: currently 16 Euros per person. On Mondays, Villa d'Este opens at 2:00 PM

COMBO TICKETS (Hadrian's Villa and Villa d'Este): currently 26 EUROS per Person. Be sure to request COMBO TICKETS at the ticket counter of the first Tivoli villa you visit on this tour
* Admission Ticket prices are subject to change without notice.
YOUR PRIVATE TOUR DRIVER
This Tivoli Villas and Garden tour from Rome provides an English-speaking private driver who is not a Licensed Tour Guide
In order to comply with Italy laws that prohibit unlicensed guides from accompanying visitors to sightsee on foot, your driver is obliged to remain with the vehicle while you sightsee and visit Hadrian's Villa and Villa d'Este. You will SELF TOUR the Tivoli Villas unaccompanied by your driver.

ADDITIONAL TOUR GUIDE OPTION:
Licensed Tour Guide for Private 2 HOUR tour of Hadrian's Villa can be arranged upon request. Please contact us for the Tour Guide Fee and to reserve a private guide for this visit.
Visiting Tivoli Villas Tips


Please wear comfortable clothing and walking shoes on this tour.
Hadrian's Villa is an archaeological site with dirt and uneven terrain, please mind your step.
Hadrian's Villa and Villa d'Este may not be suitable for guests with mobility concerns due to uneven terrain and stairs required to explore these locations
Villa d'Este gardens are situated on a terraced slope that includes steps and incline walkways. The gardens, as well as the villa, include steps and flights of stairs when exploring the estate. This location may not be suitable for wheelchair users.
During the summer months, we recommend wearing sunscreen, sunglasses, and summer hats to protect yourself from the strong sun.
Be sure to bring your cameras as you will find many picture-perfect places while exploring Hadrian's Villa and the gardens of Villa d'Este