Buon giorno and welcome to Stefano's RomeCabs, Rome's leading company for Civitavecchia Transfers and Tours.
Do you prefer not to do a full day tour from Civitavecchia Cruise Port but instead just leisurely enjoy a few preferred of locations in Rome at your own pace?
PRIVATE CIVITAVECCHIA ROUND TRIPPORT TRANSFERS WITH ROMECABS

You can make the most of your day in DYI Rome tour from Civitavecchia Cruise Port enjoying Ancient Rome and the Vatican without worries about transportation between Civitavecchia and Rome and all the risks associated with public transportation and trains in Italy.
We at Stefano's RomeCabs have have been offering cruisers for more than 15 years hassle free and timely private transportation on YOUR Schedule between Civitavecchia and Rome.
When you book your Civitavecchia Cruise Ship Transfers with us, you are guaranteed safe, on time, worry free and predictable transportation for up to 8 PERSONS in a van from your cruise ship to your preferred drop off location in Rome, and then in the afternoon pick up from your preferred location back to your ship for on time arrival.
Using private transfers from your Ship to Rome, and then back to your ship also allow you MORE time to enjoy Rome as your otherwise time wasted on buses and trains will be replaced by fun filled sightseeing to make the MOST of your DIY Rome tour from Civitavecchia Cruise Ship.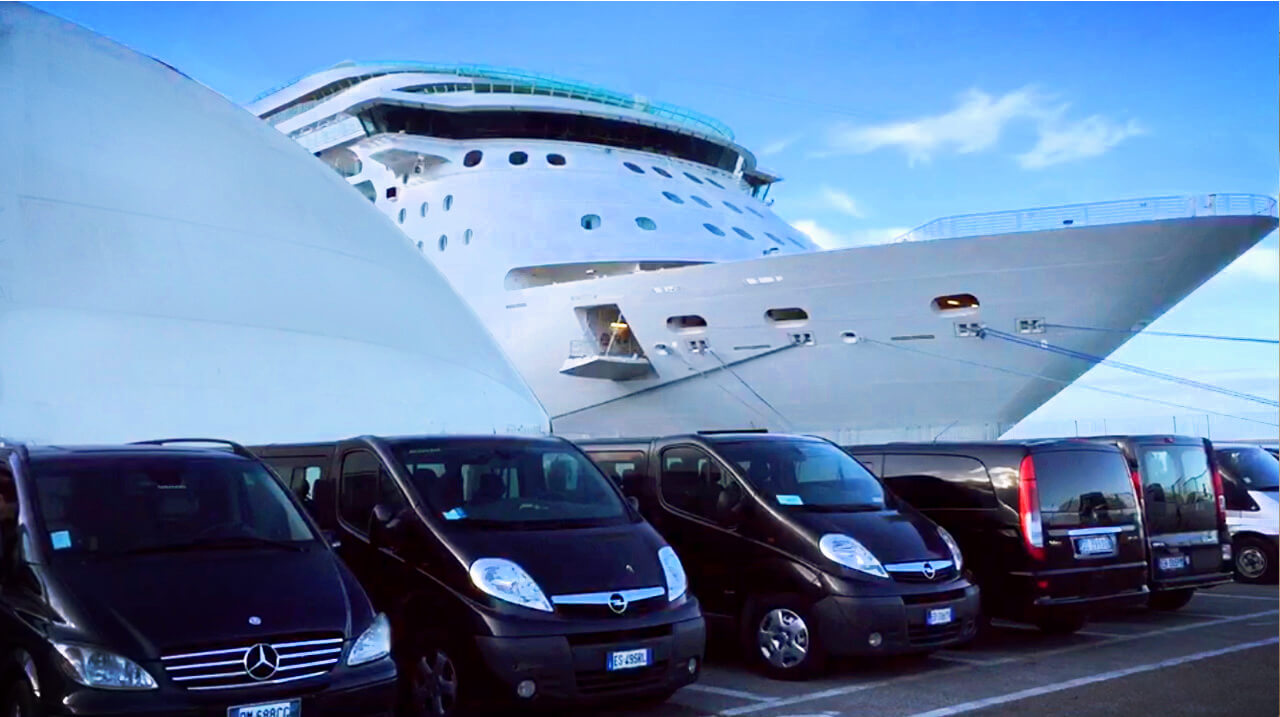 ALTERNATE TRANSPORTATION OPTIONS

Another less reliable option that also takes much longer and cuts your sightseeing opportunities in Rome is public transportation.
Although frequently used by Cruisers, public transportation may not be a suitable option for cruisers who wish to maximize their time in Rome, prefer reliable and timely transportation, travel with children, are elderly, or mobility impaired, or are worried about missing their ship.
PUBLIC TRANSPORTATION / TAXIS from your Ship to Rome:


Public Transportation is quite time-consuming as you would require multiple buses from your Ship to the main Port Gate, and then to the train station (or walk for 30 minutes from Port Gate to Train Station in Civitavecchia).
Commuter trains are sometimes slow and even run behind schedule.
Train Schedules are infrequent on Sundays, holidays, and August.
Frequent public transportation strikes have also caused thousands of cruisers and travelers to be left stranded.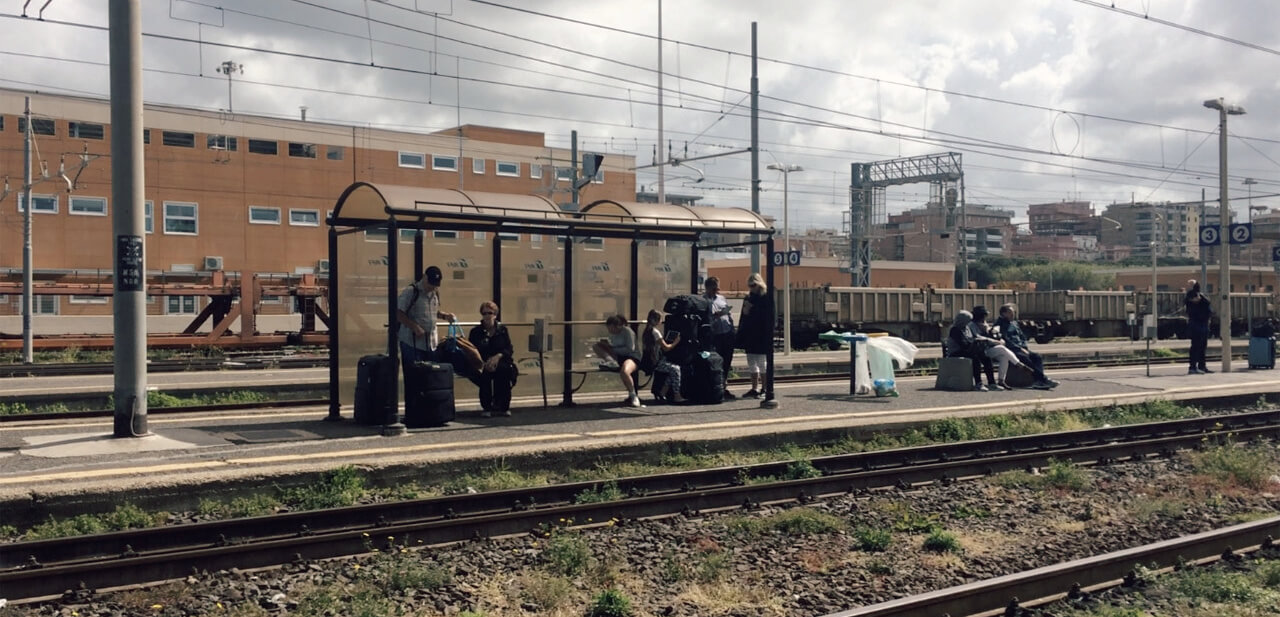 From Termini station, you would be required additional public transportation such as Metros (and sometimes metro stations shut down in Rome due to repair issues).
Public Buses run LESS frequently than years past, and trains and metros are subject to public transportation strikes leaving thousands of cruisers stranded at the port for the day. Due to budget costs, the city of Rome also removed many disabled buses from use and not replaced them with new safe buses, therefore creating less reliability for bus use in Rome as they run less frequently and are therefore far more crowded.



ROME CITY TAXIS:
Due to limited Civitavecchia Taxis (largely white vans that can accommodate up to 8 passengers), most cruisers are unable to use a local Civitavecchia taxi to get to Rome (and most Civitavecchia taxis charge 200 euros and up for transportation to Rome).
From Rome, most Rome Taxis are small economy cars not suitable for more than 3-4 passengers requiring multiple taxis if you are a family or group of up to 8 persons, and they can only drop off passengers at the Port Gate (which requires you to take the additional bus shuttle to your ship) as most Rome taxis do not have security clearance and access into the cruise port.
Taxi drivers usually do not speak English, making it difficult for foreigners to communicate their needs.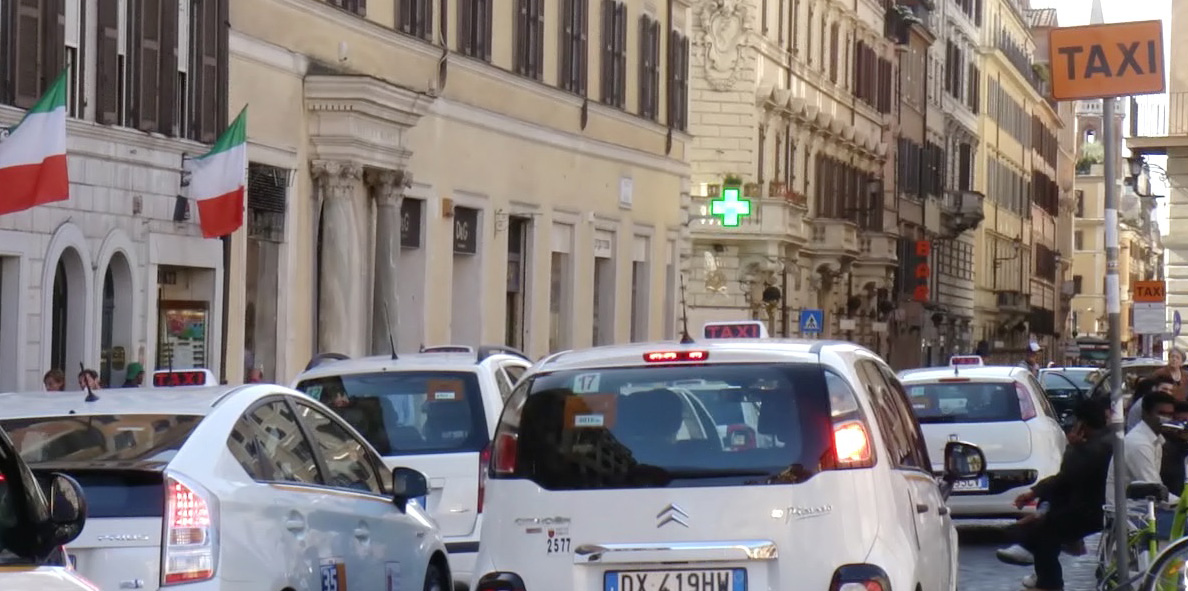 Considering the many instances where public transportation and taxis have failed Cruisers, we set out to offer Cruisers who wish to tour Rome on their own safe, comfortable, and reliable transportation between their Cruise Ship in Civitavecchia and Rome to maximize their sightseeing time in Rome, and take away the hassle and struggles of the not-so-reliable public transportation.
DIY Rome tour from Civitavecchia Cruise Ship
(Ancient Rome and the Vatican)
If Ancient Rome and the Vatican are your main interests in Rome, we offer a suggested itinerary to make the most of your DIY Rome tour from Civitavecchia Cruise Ship.
Morning Pick up from your Ship at Civitavecchia Cruise Port


To arrive in Rome as early as possible to get your day off started first thing in the morning, we suggest a 7:30 – 8:00 AM pick-up time to arrive in Rome by 9:00-9:30 AM.
Travel time from Civitavecchia to Rome is about 1.5 hours.


* Drop off at the Colosseum to begin your visit to Ancient Rome.



VISIT ANCIENT ROME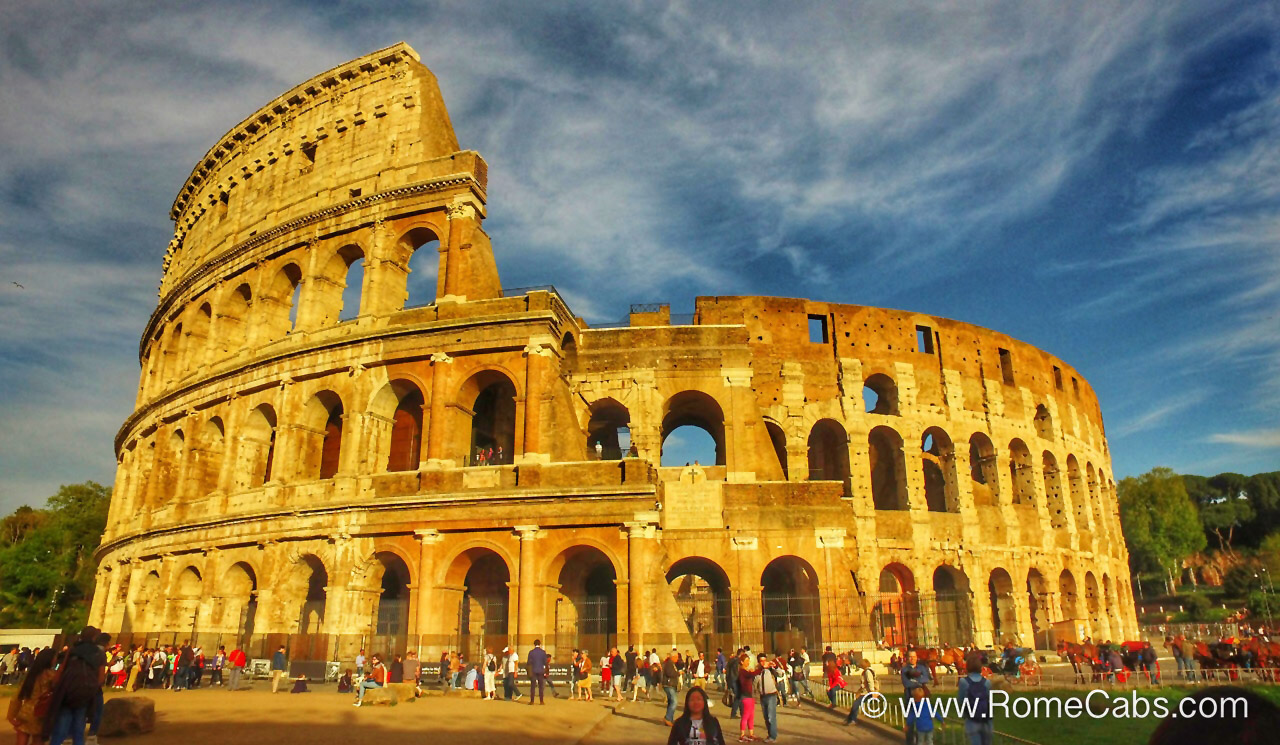 You may use the SAME Admission Tickets to visit both the Colosseum and Roman Forum together.
Allow about 1 hour per site.
Following your visit to the Colosseum and Roman Forum, proceed with a stroll along Via dei Fori Imperiali to admire the other ancient Roman forums including the famous Trajan's Forum, Trajan's Market, and Trajan's Column.
Proceed a bit further to Piazza Venezia to catch a glimpse of the massive white marble Monument dedicated to Italy's King Vittorio Emanuele II.
From here you may either take a City Taxi or arrange for Uber (for a private driver with a larger deluxe vehicle option as most taxis are small economy cars) to take you to Piazza Risorgimento near the Vatican for your afternoon visit.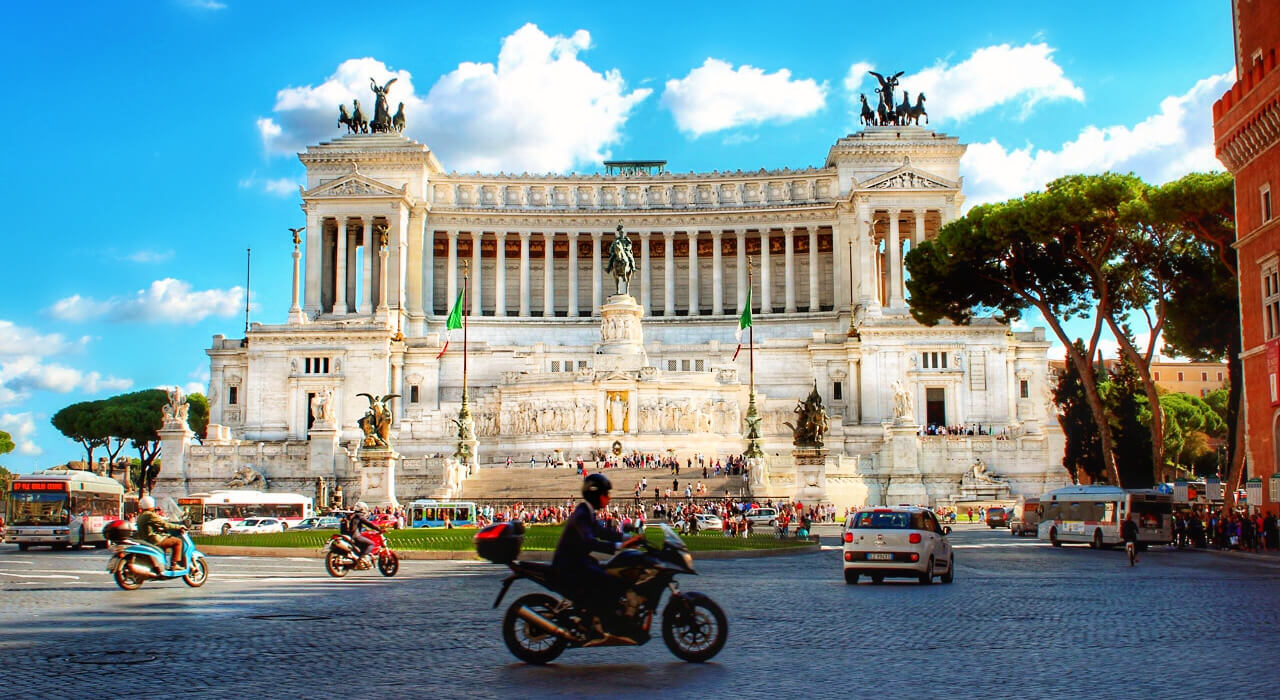 VISIT THE VATICAN
Piazza Risorgimento is an ideal stop before your Vatican Museums visit as it's close to the Vatican Museums, and offers many different restaurants, panini shops, cafes, and gelato for either a relaxing sit down lunch, or a quick bite if you are short on time before your Vatican Museums visit.

The suggested visit time for the Vatican is 2 – 3 hours for a quick highlight of the Museums, Sistine Chapel, and St Peter's Basilica.


If you prefer a 2-hour visit, purchase your Vatican Museum tickets at 2 PM Time Slot at the latest.
If you prefer a 3-hour visit, purchase your Vatican Museums Tickets at 1 PM Time Slot.


NOTE: Be sure to purchase your Vatican Museum Tickets in ADVANCE to skip the long ticket lines. Tickets go on sale within 60 DAYS of the Date of Visit. Do not wait until the last minute, Vatican Museums tickets sell out fast!


* VISITING ST PETER'S BASILICA *

At the time of this blog, the Vatican has imposed a NEW REQUIREMENT that only Guided Visitors (visitors accompanied by a Licensed Tour Guide) can access the Basilica through the shortcut from the Sistine Chapel.
If you SELF TOUR, you will need to exit the Museums, walk around the Vatican to St Peter's Square and attempt to enter there after you clear security. Security lines can be unpredictably long (often up to 1 hour or even more or more during busy travel season). If SELF TOURING, allow minimum of 3 hours or so for the Vatican so you may have enough time to also try and visit St Peter's Basilica pending time and security line situation.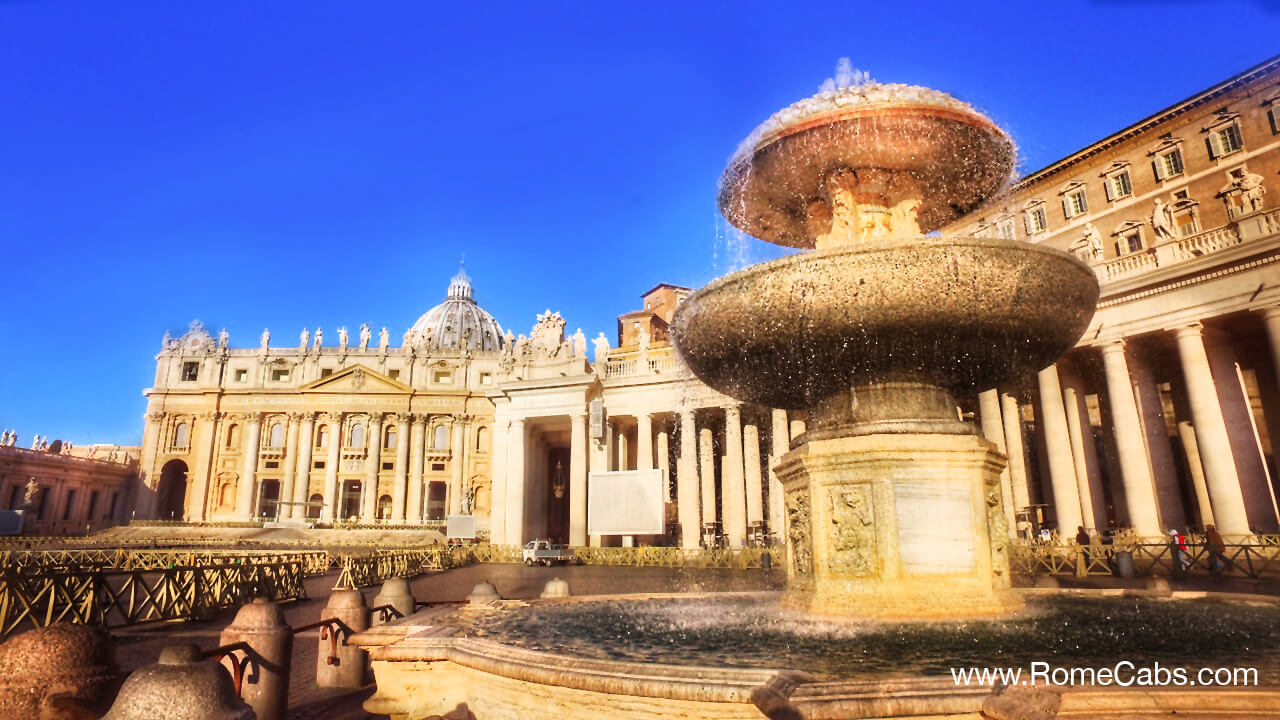 To get your tickets at the best price, purchase them directly from the VATICAN MUSEUMS TICKET WEBSITE


* Pick up from the Vatican in the Afternoon *


You may pre-arrange your pick up either near the Museums Exit or near St Peter's Square at 4:00 PM to return to your ship in Civitavecchia.
Recommended departure time from Rome for cruise ships that leave at 7 PM from the port is 4:00 PM.
After sightseeing all day and enjoying the wonders of Rome, the last thing you want to have to worry about at the end of the day is how to get to the train station in Rome, not missing your train, and making it to the cruise port on time so you don't miss your ship. Having a professional driver waiting for you to whisk you back to your ship is the best ending to the perfect DIY Rome tour from Civitavecchia Cruise Ship.


For more information about booking your own private Civitavecchia Cruise Ship Transfers on your DIY tour in Rome, please visit our website's Civitavecchia Transfer page.
We look forward to welcome you to Rome!
The RomeCabs Team