description
Experience living history with us and explore the Seven Wonders of Ancient Rome Tour as you walk in the footsteps of Roman emperors, generals, and gladiators on this exciting day tour from Rome
Rome was the last of the world's greatest ancient civilizations that had a profound impact on today's architecture, engineering, politics, and entertainment among many others, leaving behind iconic monuments testament to Roman impressive achievements.
In this Stefano's Rome Cabs' exclusive Seven Wonders of Ancient Rome Day Tour from Rome and Shore Excursion from Civitavecchia, you can visit these world renowned ancient sites that have endured through the millennium and continue to astonish contemporary architects and engineers, inspire humanity's imagination, and fill its visitors with a sense of timeless civilization.
You'll be driven through Rome in your private deluxe vehicle driven by your own personal English speaking Driver to Rome's unforgettable ancient wonders: Colosseum, Circus Maximus, Baths of Caracalla, Via Appia, Park of the Aqueducts, Pantheon, and Trajan's Forum.
ANCIENT WONDERS OF ANCIENT ROME TOUR PRICE LIST


For tours from Rome hotel:

For up to 2 Persons from Rome Hotel: 380 EUROS
For up to 4 Persons from Rome Hotel: 400 EUROS
For up to 6 Persons from Rome Hotel: 425 EUROS
For up to 8 Persons from Rome Hotel: 450 EUROS


For Shore Excursions from Civitavecchia:

For up to 2 Persons from Civitavecchia Port: 480 EUROS
For up to 4 Persons from Civitavecchia Port: 525 EUROS
For up to 6 Persons from Civitavecchia Port: 600 EUROS
For up to 8 Persons from Civitavecchia Port: 650 EUROS
** You may also do a QUICK PRICE CHECK using the Price Check & Booking form on the Right Side of this page. Once you receive the PRICE QUOTE based on the information you input, you may proceed to SUBMIT your Tour Request.
WATCH: Enjoy a preview of the Seven Wonders of Ancient Rome on our Tour VIDEO:


THE COLOSSEUM
"The largest and most famous Roman amphitheater"


Your first stop will be at one of the most recognizable monuments in the world and the iconic the symbol of Rome: the Colosseum. Considered one of the greatest examples of Roman architectural and engineering achievements, this elliptical amphitheater is on the list of Wonders of the World.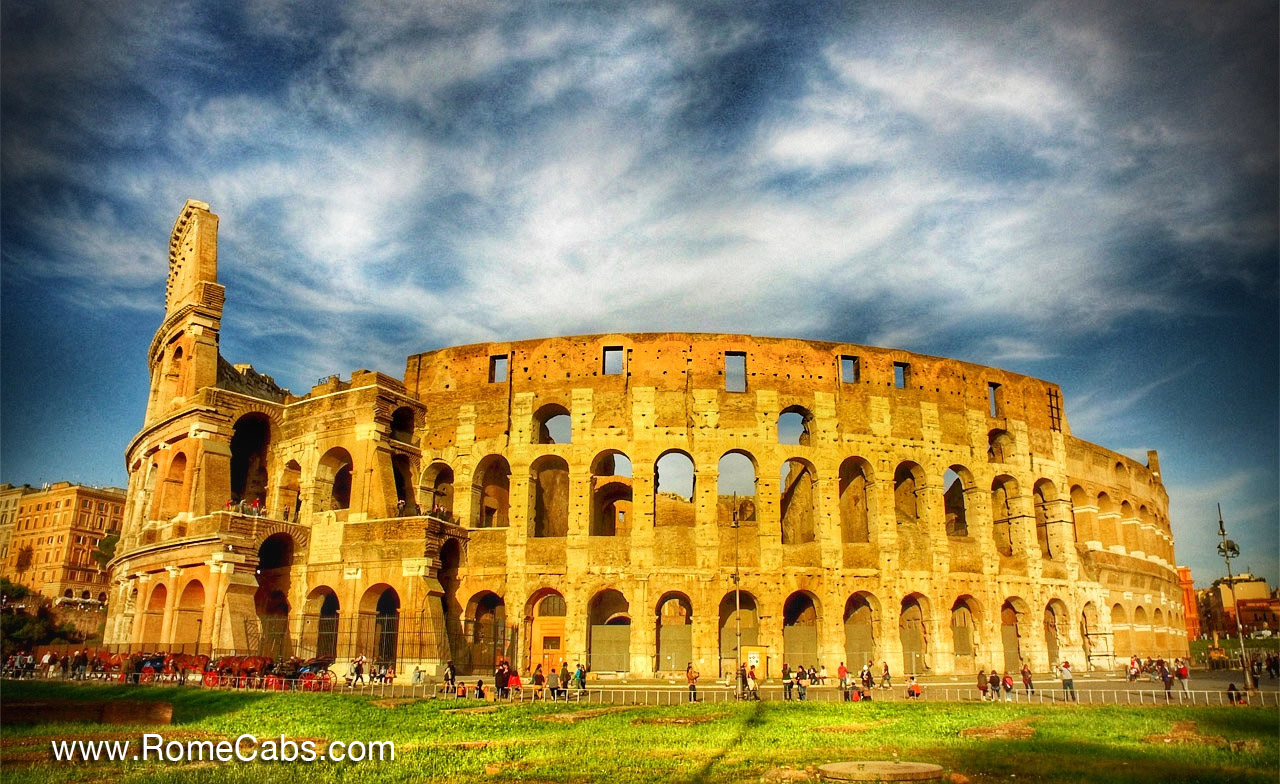 Built in 72 AD by Emperor Vespasian over an area that once was Nero's Golden House, it is estimated that it required over 4,600,000 cubic feet of travertine stone blocks set in place without mortar, but held together by 300 tons of iron clamps.
An engineering feat in itself considering the lack of modern equipment, the Colosseum was engineered to seat up to 50,000 spectators and was primarily used for gladiatorial games and other public spectacles such as animal hunts, re-enactments of famous battles, mock sea battles, mythological plays, and executions.
On this visit you have the opportunity to enter the Colosseum where all the action took place for nearly 4 centuries!
** NOTE ** Colosseum Tickets SELL OUT FAST and we cannot guarantee the possibility of visiting inside the monument. In case Colosseum Tickets are SOLD OUT on your date and time slot, you will see the Colosseum from the OUTSIDE.
CIRCUS MAXIMUS
"Largest chariot racing and sports arena of Ancient Rome"


Nearby is the remains of the first and largest stadium for public games built in the entire Roman Empire, and the model that inspired many more since. At over 2,000 feet long and nearly 400 feet wide, and accommodating more than 150,000 spectators, it continues to hold the prestigious title as the world's largest stadium ever built.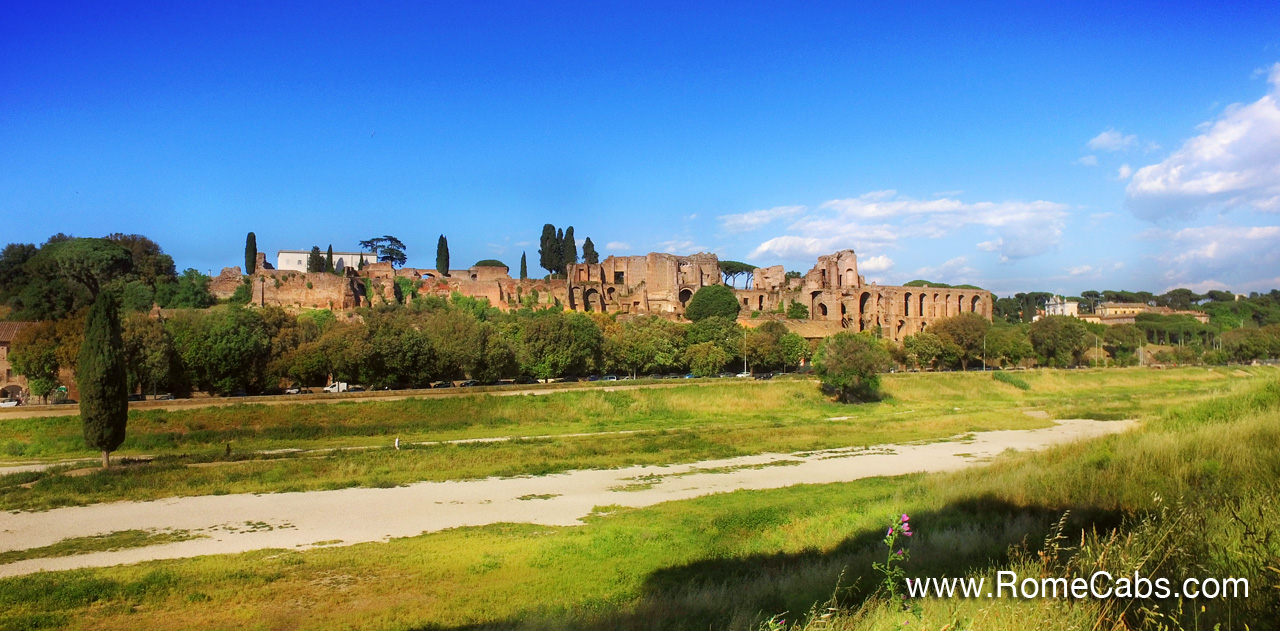 Famously known for its death defying chariot racing, Circus Maximus also hosted gladiatorial games, animal hunts, plays, religious and public ceremonies and elaborate parades.
Today, all that survives of Circus Maximus is its outline with the spina in the center, and over time it's been transformed into a public park with a spectacular view of the once prestigious Palatine Hill behind it.
BATHS OF CARACALLA
"Rome's greatest bath complex ever built"

From here you will visit Baths of Caracalla, the Imperial bath and spa complex that certainly inspired awe in in the ancients themselves. Italians' love for thermal baths and recreation dates way back to the days of Ancient Rome. The Baths of Caracalla were not just thermal baths, but the most impressive and well preserved surviving example of an Imperial bath and recreational complex in Antiquity.
Built by Emperor Caracalla in approximately 212 AD, the bath complex was able to accommodate up to 10,000 people at a time with 1,600 bathers in a vast area covering approximately 1,000,000 square feet.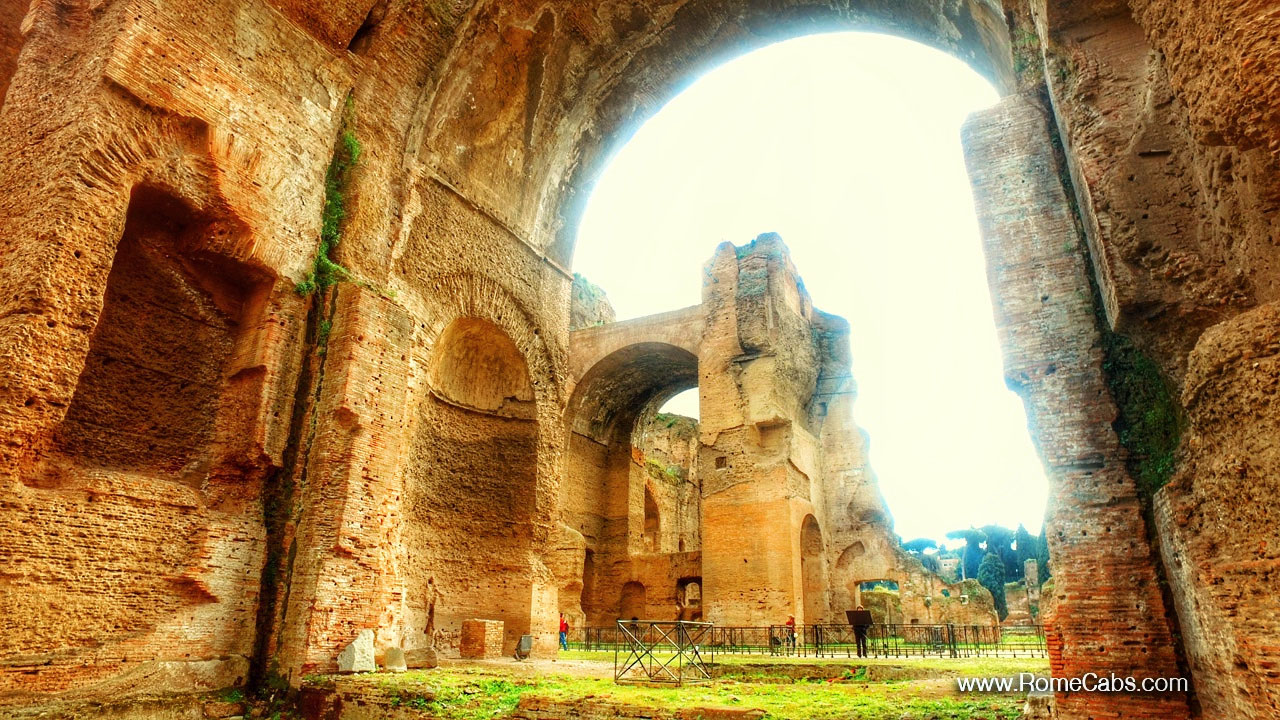 The massive complex included an Olympic size swimming pool (natatio), a cold baths (frigidarium), a hot baths (caldarium), and exercise courts (palastrae). Throughout an intricate two level subterranean network of rooms and passageways were service areas that operated the baths, and systems that drained liquid waste into underground sewage channels.
The interior of the baths was once richly adorned with architectural opulence that included 252 columns - some 16 of which weighed approximately 50 tons. Many priceless columns, sculptures, mosaics and statues that once belonged inside the baths can be found scattered throughout Italy in churches, piazzas, buildings and museums.
Aside from bath areas, the complex also included large public libraries in Greek and Latin, gardens, and shops. Business meetings were often held here in conference rooms. For Ancient Romans, bathing was not just a normal function of cleanliness and relaxation, it was also a common way for people to connect, network, mingle and conduct business.
ANCIENT APPIAN WAY
"Regina Viarum" ~ Queen of the Roads


There is truth in that during ancient times, "all roads lead to Rome", as Romans were excellent road builders...and Via Appia (Ancient Appian Way) is testament to that. Named after the magistrate who initiated its construction, Appius Claudius Caecus, the road was built to connect Rome to Capua at a time when the region of Campania was forming a joint political existence with Rome.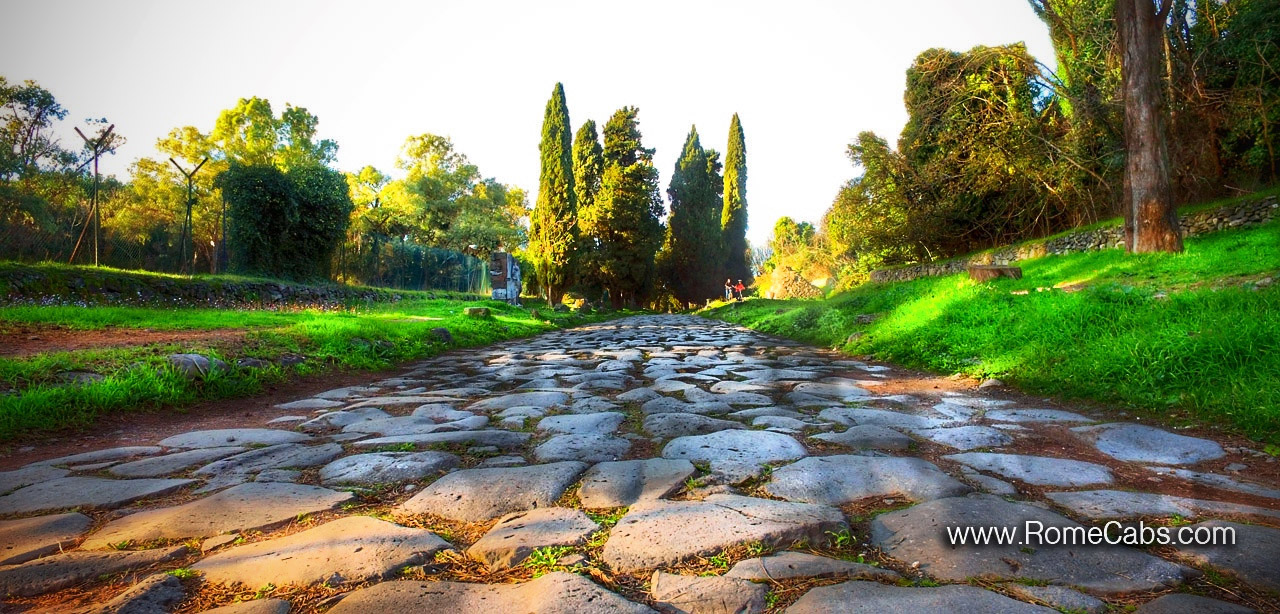 Built in 312 B.C., Via Appia is remarkably straight with few exceptions due to topographical factors. During ancient times, surveyors were only able to create straight routes. Along the way, "pit-stops" were created where horses could be changed and travelers could eat and rest.
The Ancient Appian Way is impressively well preserved where you can get an overall idea of what an ancient Roman road used to be like. Within the original stones, you can see the grooves created by chariot and wagon wheels that traveled through here for centuries.
LUNCH
Enjoy free time on your own for a delicious Lunch at a traditional Italian restaurant or trattoria as you prefer for an authentic Italian culinary experience. Your driver will be happy to offer suggestions for eateries you may choose from.
PARK OF THE AQUEDDUCTS
The Roman Aqueducts: "Rome's lifeblood"


After lunch we will continue to the Park of the Aqueducts.
Bringing fresh water to Rome gave the city the possibility to grow and flourish, and this was done through the incredible achievements of aqueducts.
Roman engineers understood the principles necessary to allow water to move uphill and downhill through the aqueducts as it traveled long distances. While large portions of the aqueducts were underground, some were above ground, especially as the aqueducts neared the city of Rome.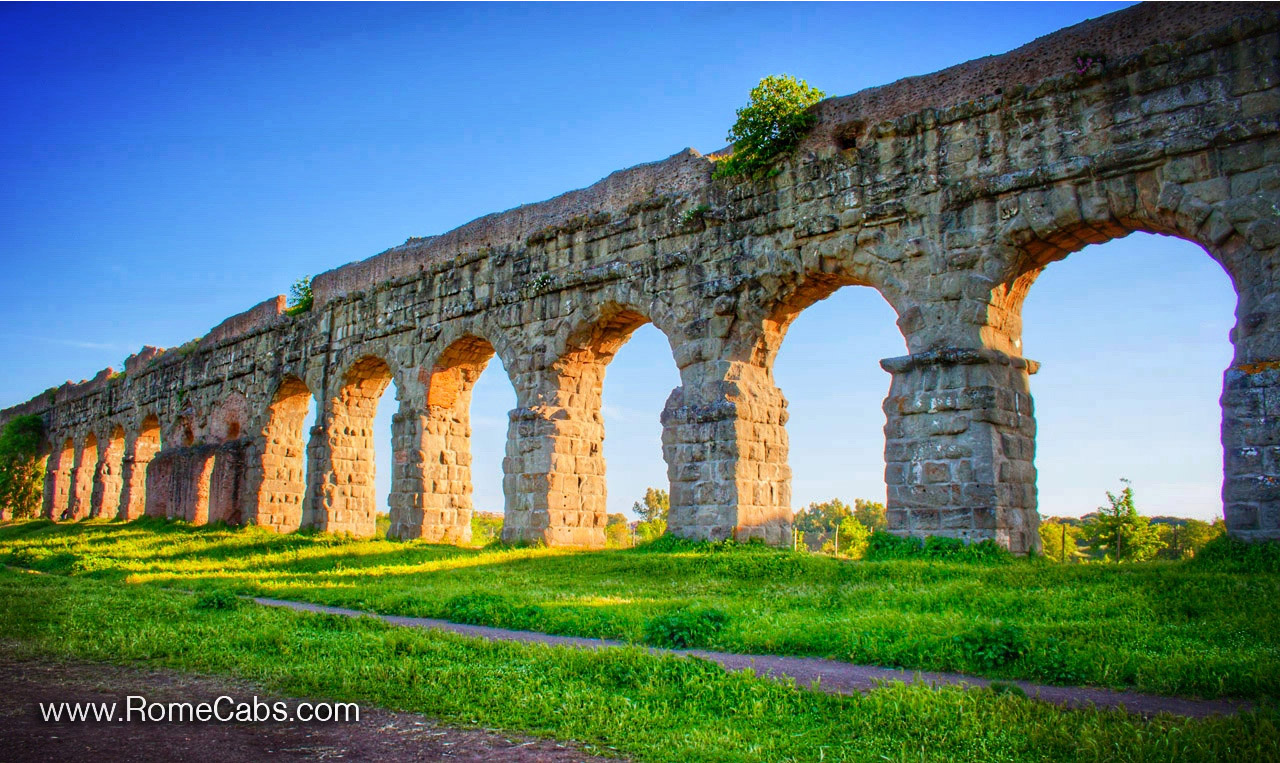 Fresh water was brought from the distant hills and it generously poured from Rome's many public fountains. Some of these ancient aqueducts continue to be in use today in varying capacities.
In the Park of the Aqueducts you can see the majestic beauty of what remains of some of the seven major aqueducts recognized by their distinguished arches that supported the flow of water.


THE PANTHEON
"The temple to all gods"


Our next stop is in the charming Piazza della Rotonda to visit the Pantheon, one of the most impressive architectural monuments of Ancient Rome. After nearly 2,000 years, this ancient monument is also the longest in continuous use in the world, its survival due to its exceptional strength and stability, and its 7th century conversion into the church of St Mary of the Martyrs.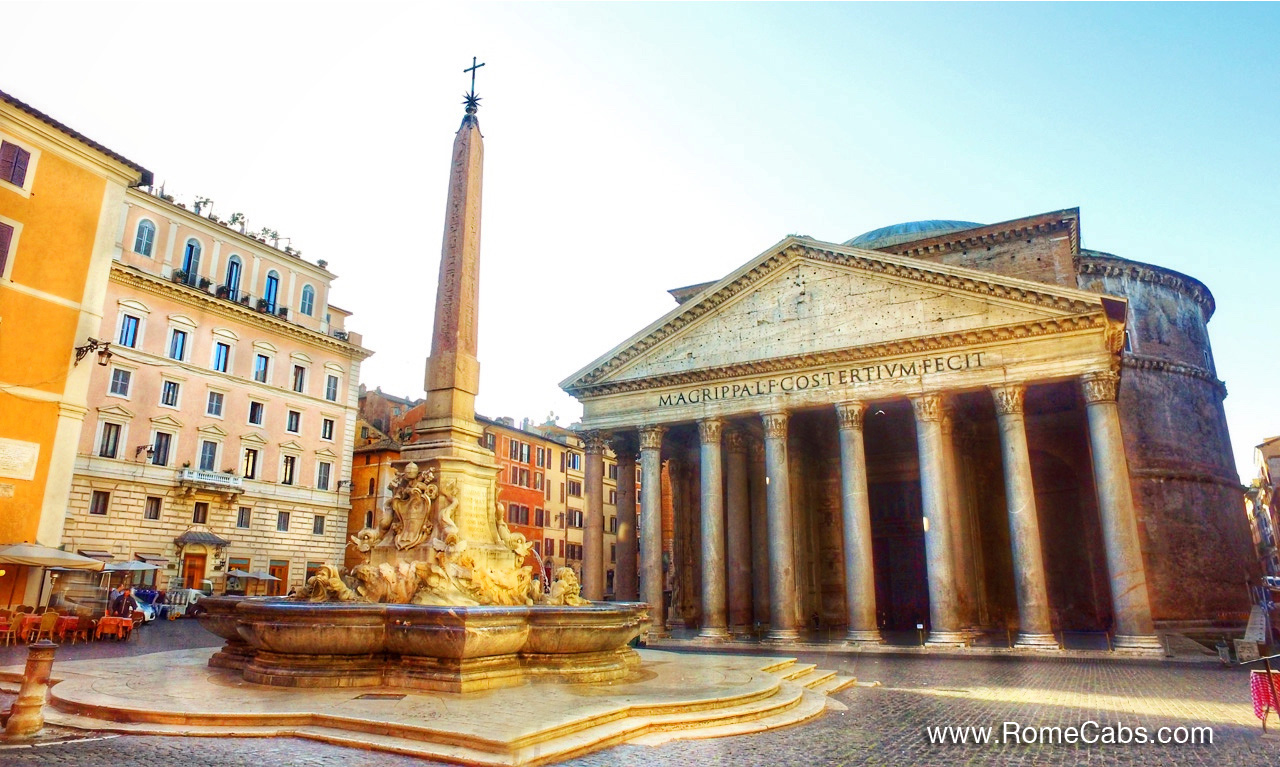 A captivating historical fact about the Pantheon is that the building we see now is the third Pantheon that was built on this very spot: the original was built by Marcus Agrippa circa 27 AD but burned in the great fire of Rome in 80 AD. The second Pantheon was rebuilt by Emperor Domitian, but it was struck by lightning 30 years later and burned down as a result.
The current Pantheon was built by Emperor Hadrian in 125 AD and dedicated to its original builder, Marcus Agrippa - the dedication inscription can be boldly seen on the front. The miracle material discovered by the Romans, concrete, enabled them to create monuments that withstood the test of time.
What the Pantheon is most famous for is its impressive dome that has inspired architects for centuries. It was also the largest concrete dome in the world until the 1958 CNIT building in Paris. In the center of the coffered dome is the oculus, a round opening that allows light and the weather to enter inside the circular interior.
Inside the Pantheon are also tombs of some of Italy's most illustrious: famous artist Raphael, and Italy's former kings Vittorio Emanuele II, and Umberto I with his wife Queen Margherita. While the original purpose for the Pantheon remains unknown, its own name indicates that it was a temple dedicated to all gods.

** NOTE: the Pantheon now requires ADMISSION TICKETS to be booked in advance at specific time slots. See BELOW for more information.
TRAJAN'S FORUM
Possibly the world's first commercial center and shopping mall

The last and the largest of the Imperial Fora, Trajan's Forum is a testament to Ancient Rome's golden age of architectural wonders by ambitious Emperors. Throughout the remaining ruins you can imagine the opulence that overwhelmed succeeding emperors, like Emperor Constantinus who visited from Constantinople. Historian Marcellinus who was likely present during such a visit wrote:
"He (Constantinus) stood there transfixed, surveying with an astonished eye the gigantic fabric, of such grandeur that it defies description and can never be replicated by mortals."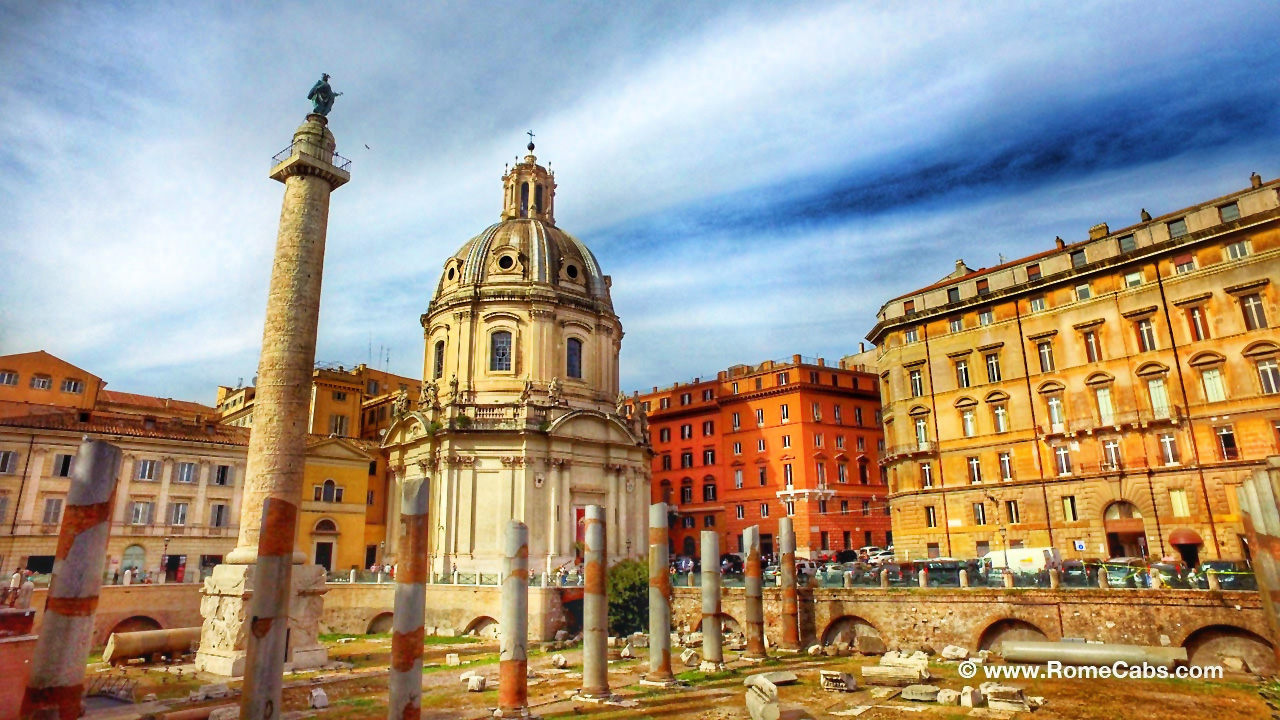 Inside this great complex you can see the famous Trajan's Column, a victory column comprised marble bands that detail Trajan's successful military campaign against Dacia (present day Romania) whose spoils paid for the construction of the forum. Below you'll see numerous foundations and columns that once belonged to Greek and Latin libraries, Hall of Liberty, Temple of Trajan, and Basilica Ulpia.
In the background in a semi circle once stood the unprecedented Trajan's Market, the ancestor of today's shopping centers that also functioned as civil and administrative centers.

This marks the end of the Seven Wonders of Ancient Rome tour with Stefano's RomeCabs. Your private driver will now return you back to your hotel in Rome or your cruise ship in Civitavecchia.
Rome's history is vast, complex and enduring....thus the sobriquet Eternal City.
Our guests who booked this Seven Wonders of Ancient Rome tour also enjoyed the following popular tours:
ORVIETO - delight in a day trip from Rome to Umbria and visit the ancient hilltop city of Orvieto well regarded for its local cuisine, wine, and gorgeous hand-crafted ceramics.
ASSISI TOUR FROM ROME - walk in the footsteps of Saint Francis and Saint Claire on your visit to this remarkable magical town in the heart of Umbria
POMPEII, SORRENTO AND AMALFI COAST - dedicate a day trip to explore the ancient ruins of Pompeii (a UNESCO Heritage Site), and stroll the fabled seaside resort towns of Sorrento and Positano on Amalfi Coast. You may even subsitute Pompeii with Herculaneum, another remarkable UNESCO site with well preserved ruins.
Important Information

PLEASE READ THE INFORMATION BELOW AND ACCEPT THE TERMS OF SERVICE AND PRIVACY POLICY BEFORE BOOKING.



PAYMENT OPTIONS
Payment for this Tour can be made in EUROS directly to your driver on the Date of Tour, or prepaid in advance via PayPal or Credit Card online upon request. (See Cancellation policy below)
CANCELLATION POLICY
We kindly ask that cancellations be made via E-mail at least 7 days prior to Date of Service.
Cancellations are accepted only via E-mail so your cancellation is on record. We do not accept cancellations by phone, text message, or 3rd parties.
** Cancelations for PREPAID SERVICES will be refunded the Reduced Net Rate we receive from your prepayment. Reduced Net Rate: actual service price minus PayPal/Credit Card fees retained by PayPal/Credit Card as they do not reimburse us the fees they retain from your payment.
ADMISSION TICKETS


* Ticket prices are subject to change without notice. Below are only estimated ticket prices.
PANTHEON Admission Tickets:
The Pantheon now requires ADMISSION TICKETS that currently cost 5 EUROS Per Person to be booked in advance at specific time slots. We will provide you with the LINK to the Ticket Website and recommended Time Slot to book your tickets in advance.

COLOSSEUM TICKETS (skip Ticket Lines):

The price of Colosseum standard Admission Tickets booked online is currently approximately 18 Euros per person. Prices are subject to change without notice.
* Even with advance-purchased tickets, ALL visitors must still clear security prior to entering the monument, therefore you may experience unpredictably long Security Lines.
Upon confirmation of your tour, you will receive detailed instructions and links to pre-purchase your Colosseum tickets in advance. Colosseum Tickets are NON-REFUNDABLE once purchased.
** NOTE: Colosseum tickets sometimes SELL OUT QUICKLY in advance and suitable time slots may NOT be available. In case Colosseum Tickets are sold out on your tour date, you may enjoy seeing the Colosseum from outside as you enjoy a stroll through Colosseum Square, and visit another famous square in Rome.

BATHS OF CARACALLA Admission Tickets
Admission Tickets are approximately 8 - 10 Euros per person and can be purchased upon arriving at the site. Admission Ticket prices can change without advance notice and are not guaranteed.
Please note that some sites throughout Rome may close without notice. If sites on the itinerary are closed, they will be replaced with other exciting places in Rome.
YOUR PRIVATE ROME TOUR DRIVER
This tour provides an English-speaking Private Driver who is not also a Licensed Tour Guide.
Italy's stringent laws prohibit Drivers from acting as a guide and/or accompanying guests away from the vehicle to sightsee inside monuments, museums, churches, or squares. In order to be in compliance with the laws, Drivers are obliged to remain with the vehicle while you sightsee.
On this tour by car, you will SELF TOUR when visiting sites unaccompanied by your driver.
* If you wish to have a private licensed tour guide accompany you to any of the sites for a private guided tour, please inquire with us for a quote and to book a guide for you.
MEETING POINTS TO MEET YOUR DRIVER


At ROME HOTEL / ACCOMMODATION:
For tours starting from Rome accommodation, your private driver will meet you inside the lobby of your hotel or in areas permitted by hotels.

For Apartments or B&B's without a lobby, your driver will meet you outside the main entrance of your Pick Up Address.

* If your hotel or accommodation is on a street or in an area restricted to vehicle traffic, your driver will park as close as lawfully possible and meet you on foot at your Address, and accompany you to your parked vehicle.

MEETING POINT AT CIVITAVECCHIA CRUISE PORT
For Shore Excursions from Civitavecchia Cruise Port, your private driver will meet you on the Pier next to your Ship at your scheduled pick-up time holding a sign with the NAME in your reservation.

Please do NOT leave the ship area, and do NOT take a shuttle bus outside the port.

Look for the driver in the same area as ALL private drivers will be waiting for their clients.



SEVEN WONDERS OF ANCIENT ROME TOUR TIPS:


Please wear comfortable shoes and clothing during tours.
There are plenty of opportunities to take photographs and videos on this tour, so be sure you have plenty of film and batteries, and your cameras handy!
During the summer months, it's safest to wear sunscreen, sunglasses, and a hat to keep the hot sun off your head.
COLOSSEUM SECURITY CHECK POINT:

Security checkpoints are put in place at the Colosseum resulting in potentially long waiting times to enter the site. The wait line varies in length and is required of all visitors, including those with pre-purchased tickets. To avoid excessive wait times and possibly missing other important sites due to Colosseum-related delays, we suggest shore excursions starting from Civitavecchia at 7:30 AM Pick-up Time.
Otherwise, if you prefer to not deal with crowds and potentially long security lines, you may choose to not visit inside the Colosseum and just see it from outside.
Did you know? - Roman Monuments Interesting Facts & Tips


The real name of the Coliseum is Flavian Amphitheater, after the family name of Emperor Vespasian.
Colosseum is an informal name given to the amphitheater due to the colossal bronze statue of Nero, Colossus Neronis, that once stood in front of the amphitheater.
The Baths of Caracalla complex measured 337 x 328 meters.
The cisterns used in the Baths of Caracalla had the capacity to hold up to 2 million gallons of water brought in from the Marcian Aqueduct.
It took approximately 9,000 workmen 5 years to complete the imperial bath complex.
READ our detailed Travel Blog for more information on the Seven Wonders of Ancient Rome.
If you find the security lines at the Colosseum too long for your preference, you may use the same tickets to visit the Roman Forum nearby. Watch the video below of the ROMAN FORUM: