Buongiorn and welcome to RomeCabs, the top-rated transfer company in Rome.
Dreaming of sun-kissed beaches, enchanting cliffside views, and the unmistakable charm of the Amalfi Coast? Look no further than the idyllic town of Positano, a jewel nestled along the shores of this Italian paradise.
As you step off the plane at Rome Airport with excitement courses through your veins, the choice of a private transfer from Rome Airport to Positano or public transportation becomes a pivotal decision that holds the power to shape your travel experience.
Should you embrace the thrills and quirks of local buses and trains, immersing yourself in Italian public transportation? Or does your heart yearn for a seamless, door-to-door transfer that ensures comfort, ease, and precious moments of relaxation as you traverse the winding roads to Positano? RomeCabs, a trusted name in private transfers, beckons you with promises of personalized service and a journey tailored to your needs.
Throughout this blog, we'll delve into how to get from Rome Airport to Positano by either booking a private transfer or using public transportation, the pros and cons of both options and dissect the nuances that make each unique. From cost considerations to costs, convenience, comfort, and flexibility, we'll leave no stone unturned in our quest to help you make an informed decision that sets the stage for an unforgettable journey.
So fasten your seatbelts and prepare to uncover the best route from Fiumicino Rome Airport to Positano for your dream escape.
How to get from Rome Airport to Positano:
Public Transportation vs. Private Transfer


Public Transportation from Rome Airport to Positano

Public transportation from Fiumicino / Rome Airport to Positano typically involves a combination of trains and buses. Here is a brief description of the typical route that you can further research for schedules and prices:
Upon arrival at Rome Airport, take the Leonardo Express to Rome's main train station, Roma Termini. The express train runs approximately every 15 minutes and takes about 30 minutes to reach Rome.
From Termini, you can catch a high-speed train to Naples. The journey from Rome to Naples takes approximately 1 to 2 hours, depending on the train you choose. Consider also additional time necessary to reach the Leonardo Express train platform at the airport, and waiting times at Termini Station for your train to Naples.
Once you arrive at Naples Central Station, you will need to make your way to the Circumvesuviana station, which is a separate train station located underground. From there, you can take the Circumvesuviana train to Sorrento. The train journey takes around 1 hour.
In Sorrento, you will need to transfer to a SITA bus that travels along the scenic Amalfi Coast. The bus journey from Sorrento to Positano takes approximately 30 to 40 minutes, depending on traffic and road conditions.
You will need to research the timetables in advance to see how they can be organized based on your flight arrival time at Fiumicino Airport, and organize your public transportation connections accordingly.
Advantages of Public Transportation from Rome Airport to Positano


Cost-Effective: Public transportation, including trains and buses, offers more affordable options compared to private transfers. If you're traveling on a tight budget or prefer to allocate your funds to other aspects of your trip, taking public transportation can help you save money.
Regular Departures: Trains and buses from Rome to Positano have frequent departure schedules, providing you with flexibility in choosing a departure time that suits your needs.
Research Connections: By carefully selecting the right train and bus routes, you can minimize the number of transfers and enjoy a relatively straightforward journey.
Disadvantages of Public Transportation from Rome Airport to Positano:
Time-Consuming: Public transportation typically involves multiple connections, which can significantly increase travel time. Waiting for connections, adhering to schedules, and dealing with potential delays can be time-consuming, especially if you have limited time to spend in Positano.

Schedule Conflicts: Public Transportation is unsuitable for all flight arrivals, especially those flying into Rome's Airport in the afternoon or at night.
Complexity and Coordination: Coordinating different modes of public transportation can be challenging, particularly if you are unfamiliar with the routes and schedules. It requires careful planning, understanding the connections, and potentially changing platforms or stations, adding an element of complexity to your journey.
Limited Luggage Space: Public transportation, such as trains and buses, may have limited space for luggage. If you are traveling with large suitcases or multiple bags, finding adequate storage space can be challenging. This may result in inconvenience and discomfort during your journey.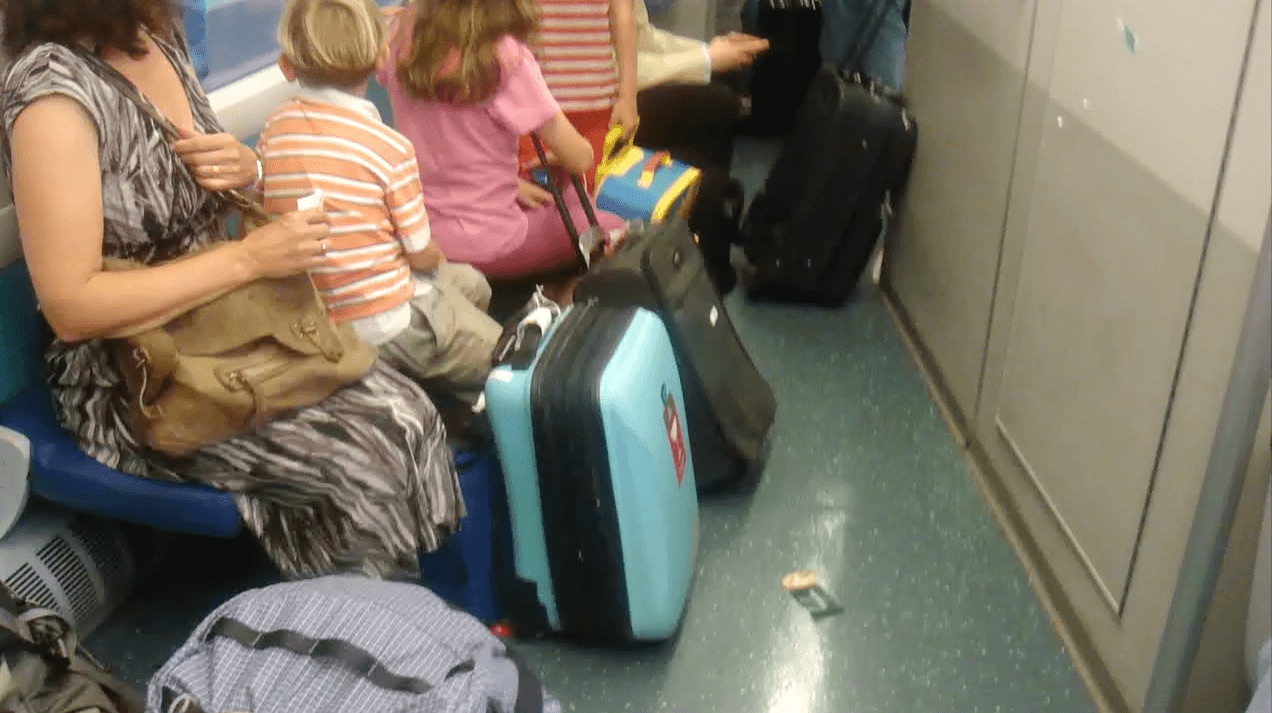 Crowded During Peak Times: Trains and buses can be crowded, especially during peak travel seasons or rush hours. Limited seating and standing in crowded aisles can make the journey less comfortable, particularly if you have heavy luggage or prefer a more relaxed travel experience.


When considering public transportation options for traveling from Rome Airport to Positano, it's important to take into account the safety aspects of train stations, particularly Termini Station in Rome and Napoli Centrale in Naples. While public transportation can be a cost-effective and efficient way to reach your destination, it's crucial to remain vigilant and pay attention to your valuables.

Both train stations are busy transportation hubs that connect various train lines. As with any bustling train station, it attracts a diverse range of travelers, including tourists and locals. While the station itself is generally safe, it is important to be mindful of your belongings and take necessary precautions against pickpocketing and theft.
How to stay safe at Termini Station and Naples Train Station:
To minimize the risk of theft or loss, here are some essential tips to keep in mind when using public transportation:
Purchase your train tickets in advance or online to avoid ticket kiosks inside the train station that attract pickpockets
Stay alert and aware of your surroundings at all times. Avoid distractions and keep a close eye on your belongings.
Use bags or backpacks that have secure closures and consider carrying a money belt or a hidden pouch under your clothing for extra security.
Keep your valuables, such as passports, wallets, and electronic devices, in secure and concealed pockets. Avoid displaying expensive jewelry or carrying large amounts of cash.
Be cautious of strangers approaching you with offers of help with tickets at ticket kiosks, giving you a hand with luggage, or engaging in distracting behaviors. Please exercise caution when accepting assistance and ensure that it is from authorized personnel or trustworthy individuals.
Avoid leaving your belongings unattended, even for a brief moment. If you need to use restroom facilities or purchase something, take your belongings with you or ask a trusted travel companion to keep an eye on them.
By remaining vigilant and taking these precautions, you can enhance your safety and reduce the risk of theft or loss while using public transportation. Remember, it's always better to be proactive and prioritize the security of your belongings to ensure a smooth and worry-free journey.
Using Public transportation with young children, lots of luggage, or mobility concerns?
While public transportation offers certain advantages, it may not always be the most suitable option for families with young children, travelers with a lot of luggage, or individuals with mobility issues when traveling from Rome Airport to Positano. Here are some reasons why:


Accessibility Challenges: Public transportation systems, such as trains and buses, may present challenges for individuals with mobility issues. Limited accessibility features like ramps, elevators, or designated spaces for wheelchairs or strollers can make it difficult to navigate through stations and board vehicles comfortably. This can cause inconvenience and may not be ideal for those with mobility limitations.
Inconvenience with Young Children: Traveling with young children often involves additional considerations and requirements. Public transportation may not provide the convenience and flexibility needed when managing strollers, car seats, or carrying bags of essentials for the little ones. Dealing with crowded trains or buses, limited storage space, and the need to change vehicles multiple times can be challenging and overwhelming for families with young children.


Difficulty with Luggage: Public transportation systems are not always designed to accommodate large amounts of luggage. Travelers with a lot of baggage may find it inconvenient to carry or maneuver their belongings through crowded platforms and vehicles. Limited storage space on trains and buses can also be an issue, making it hard to ensure the safety and security of personal belongings. Carrying a lot of luggage around can be difficult and exhausting.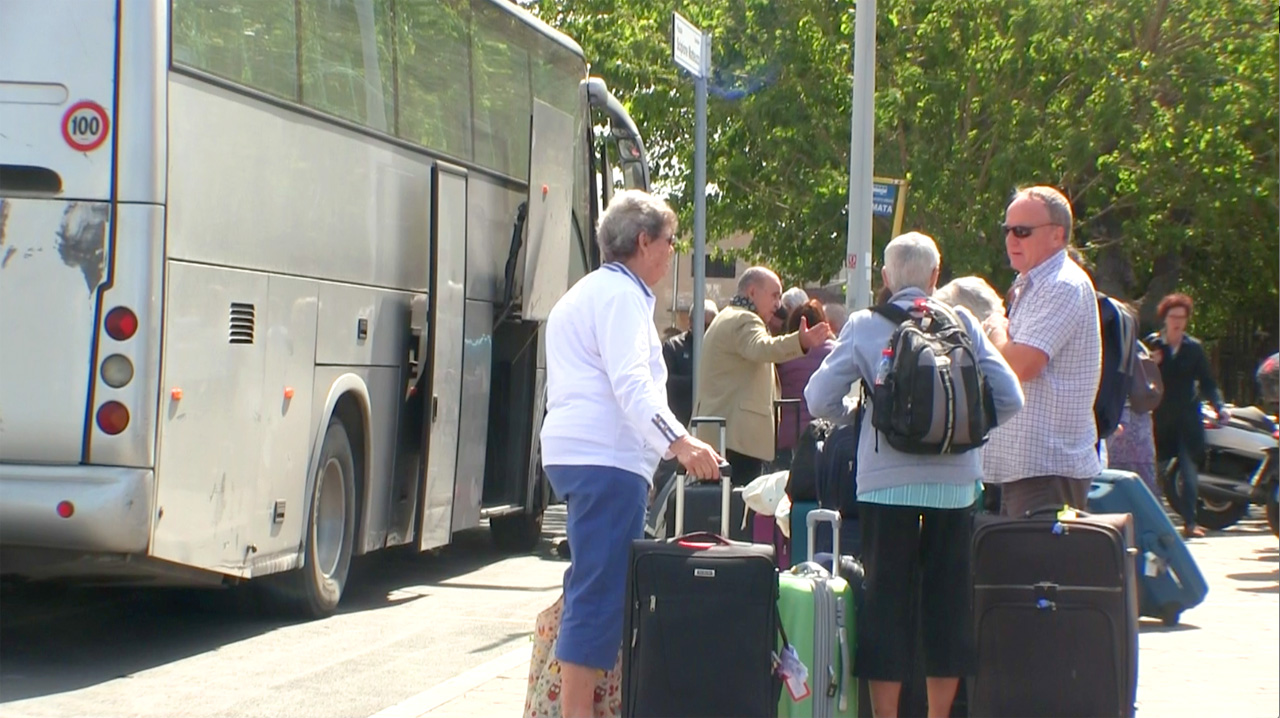 Long Travel Times: Public transportation from Rome Airport to Positano usually involves multiple transfers and can be time-consuming. This may not be ideal for families with young children who may become tired, restless, or impatient during long journeys.


Safety Concerns: When traveling with young children or carrying a significant amount of luggage, safety becomes a primary concern. Public transportation systems can be crowded, especially during peak travel times, increasing the risk of accidents, pickpocketing, or loss of belongings.

It's important to assess your specific travel needs and consider the potential challenges associated with public transportation when traveling with young children, carrying a lot of luggage, or having mobility issues. While public transportation can be a cost-effective option for many, it may not always provide the necessary convenience, comfort, and safety required for certain individuals and family dynamics. In such cases, booking a private transfer can offer a more suitable and tailored travel experience.
Private Transfer from Rome Airport to Positano:
Private transfers from Rome Airport to Positano can be arranged through various transportation providers. These services offer a convenient and comfortable way to travel directly from the airport to your destination in Positano without the need for multiple transfers or navigating public transportation.
Advantages of Private Transfers from Rome Fiumicino Airport to Positano:
Personalized Service: Booking a private transfer ensures a convenient and seamless travel experience. Your driver will meet you at the airport, assist with your luggage, and take you directly to your destination in Positano. This door-to-door service eliminates the need to navigate public transportation or find your own way to your accommodation.
Convenience and Comfort: Private transfers offer comfortable and well-maintained vehicles with modern amenities. You can relax in a spacious, air-conditioned environment, enjoying a peaceful and private atmosphere throughout the journey. Whether you want to rest, work, or admire the scenery, a private transfer provides a comfortable and personalized travel experience.
Safety and Security: Private transfers offer a more controlled and secure environment, ensuring the safety of both passengers and their possessions.

You can travel with peace of mind, knowing that your luggage is securely stored in the vehicle and monitored by the driver. Additionally, private transfer services typically employ experienced drivers who are well-versed in safe driving practices, further ensuring a secure journey.

Enhanced Privacy and Exclusivity: Private transfers provide a private and exclusive travel experience. You can enjoy the journey with your family or travel companions without the presence of other passengers. This allows for a more intimate and relaxed atmosphere, especially for discerning travelers who value privacy and exclusivity.
Time Efficiency: Private transfers are known for their efficiency and timeliness. RomeCabs offers a direct transfer from Rome Airport to your accommodation in Positano. There are no multiple stops or detours along the way, ensuring a swift and efficient journey.
Experienced drivers are familiar with the routes and traffic conditions, enabling them to plan the most efficient journey to Positano. This can help you minimize travel time and maximize your time spent exploring the destination.

Ideal for Families with Children: Traveling with children can be challenging, especially when dealing with strollers, car seats, and bags of essentials. Private transfers provide a hassle-free convenience for families with children by eliminating the need to navigate crowded public transportation with young children. You can enjoy a comfortable and easy journey in a spacious vehicle specifically tailored to accommodate your family's needs.
Preferred option by Senior Travelers and Travelers with mobility concerns: Private transfer services typically offer personalized assistance tailored to the needs of senior travelers or individuals with mobility issues. Professional drivers offer assistance such as helping with luggage, offering a hand while boarding or disembarking, and accommodating any specific requirements. This personalized assistance ensures a smoother and more enjoyable journey. With private transfers, your luggage is safely stowed inside the vehicle luggage compartment for a hands-free journey
Flexibility and Customization: With a private transfer, you have the flexibility to customize your itinerary. RomeCabs understands that travel plans can change, so they offer flexibility in scheduling. If your flight is delayed or if you need to adjust your pickup time, we are willing to accommodate these changes whenever possible.


Turn your long-distance transfer into an exciting day trip
If you wish to make stops at scenic viewpoints, visit nearby attractions, or explore charming villages along the way, we offer Sightseeing Transfers in Italy that combines long-range transfers with sightseeing opportunities to enhance your trip to Italy. This level of flexibility allows for a personalized and tailored journey.
For example, we offer transfers to Positano with a stop in Pompeii.
How to book a private transfer from Rome Airport to Positano:


Research transportation providers: Look for reputable companies that specialize in airport transfers or car services. You can find them through online search engines, travel websites, or recommendations from fellow travelers.
RomeCabs has built a reputation for its reliable and professional service. We prioritize punctuality, ensuring that you reach your destination on time and without any unnecessary delays.
At RomeCabs, we pride ourselves on delivering exceptional customer service. Whether you have questions during the booking process or require assistance during your transfer, you can rely on RomeCabs' friendly and knowledgeable staff to provide the support you need.


Booking your private transfer from Rome Airport to Positano: Visit the chosen provider's website or contact them directly to make a reservation. Provide details such as your arrival date, time, and flight information. Specify that you need a transfer from Rome Airport (Leonardo da Vinci-Fiumicino Airport or Ciampino Airport) to Positano.

Our user-friendly booking form will ask you for all the important information necessary to provide you with a private transfer from Rome Airport to Positano.
Vehicle suitable for your needs: Depending on the size of your group and luggage, be sure to provide the correct number of passengers and luggage. Vehicles usually include sedans and minivans.


Pricing and payment: Ask for a quote or check the pricing details on the provider's website. Ensure that you understand the terms and conditions, including any cancellation policies. Make the necessary payment arrangements, which are typically done online in advance or on the date of service.


Confirmation: Once the booking is complete, you should receive a confirmation email with all the necessary details, including the meeting point at the airport and the driver's contact information. Keep this information handy for your arrival.


Arrival and transfer to Positano: Upon your arrival at Rome Airport, follow the instructions provided by the transfer provider to locate your driver. When you book with RomeCabs, your personal RomeCabs driver will be waiting for you at the designated Meeting Point in the arrivals area, holding a sign with your name on it. This personalized meet-and-greet service adds a touch of convenience and eliminates any confusion about finding your driver.
Disadvantages of Private Transfer:


While private transfers from Rome Airport to Positano offer several advantages, there are also a few potential disadvantages to consider:


Higher Cost: Private transfers are generally more expensive compared to public transportation options. If budget is a significant factor for you, a private transfer may not be the most cost-effective choice.

Dependent on Traffic Conditions: Although private transfers aim to provide a timely and efficient journey, they are still subject to traffic conditions. Unexpected delays, road congestion, or accidents can impact travel time and this is most common on weekends and during the summer during peak travel season near the Naples and Amalfi Coast region.

While drivers usually have experience in navigating these challenges, it's important to consider potential delays and not plan important events shortly after your arrival without taking into consideration potential travel delays.
Availability: Private transfer services may have limited availability, especially during peak travel seasons. It is advisable to book well in advance to secure your desired transfer time and vehicle type necessary for your transfer.
For families with young children, travelers with a lot of luggage, senior travelers, travelers with mobility issues, and discerning travelers, booking a private transfer from Rome Airport to Positano ensures a seamless, comfortable, and personalized journey. With its numerous advantages, private transfers offer a superior level of convenience, safety, flexibility, and tailored service that caters to the specific needs of these travelers.
When it comes to traveling from Rome Airport to Positano, the choice between public transportation and private transfer ultimately depends on your preferences, budget, and convenience.

Public transportation offers a more economical option. However, it involves multiple transfers and can be time-consuming and exhausting, especially if you have heavy luggage or are unfamiliar with the routes.

On the other hand, private transfer services, like RomeCabs, provide a seamless and comfortable journey, ensuring a stress-free start to your vacation. With professional drivers, personalized service, and a direct route, private transfers offer convenience, reliability, and efficiency. While it may come at a higher cost, the value of a private transfer lies in the convenience, comfort, and peace of mind it provides.

Ultimately, the choice is yours, and we hope this blog has provided you with the necessary information to make an informed decision. Whichever mode of transportation you choose, we wish you a fantastic trip to Positano, filled with unforgettable moments and incredible experiences.
Thank you very much for reading our blog and for choosing Stefano's RomeCabs for your private tours in Italy!


* Find us online also on: