Buon giorno and welcome to Stefano's RomeCabs, Rome's premiere company for Transfers, Day Tours and Shore Excursions. Many of our clients and friends abroad ask us:
Should you visit Rome in Spring? YES!

Spring in Rome is one the most beautiful time of the year. Visiting Rome in Spring months such as April and May will delighted you and your family with the warm and mild weather, blooming flowers, spring festivals, fewer crowds, and excellent seasonal food.
10 Reasons you'll will LOVE Rome in spring

1. WARM WEATHER


Spring brings warm and sunny weather after a wet and chilly winter season. The pleasant warm weather ideal for sightseeing without bundling up with heavy jackets and without the sweltering heat of the summer months.
It's the Goldilocks of seasons: not too cold, not too hot. During the day the temperatures can average to mid 60's to mid 70's. At night, you can expect around 50 degrees. With mild temperature, you can also enjoy a meal at restaurants with outdoor tables.
TIPS for visiting Rome in Spring:


Dress in layers.

Morning and evening can still be chilly, but midday and afternoons are often warm. Light scarfs for mornings and evenings, sweaters that you can remove during the day and stow into your day bag or purse, or light jackets that you can remove and wrap around your waist mid day are often helpful.
Pack some portable travel size umbrellas in case you encounter some spring showers.
Caught outdoors during a spring shower?
Dash in any of the many cafes and enjoy a coffee, a glass of wine, or a snack. Or, visit some of the nearly 1,000 churches in Rome that are often centuries old that are architectural and artistic masterpieces. Near the Pantheon? Sneak in to watch the rain fall through the oculus on top of the dome.
After the rain, you can take some stupendous photos of historic buildings or monuments reflecting in small pools of water that form on the wet ground.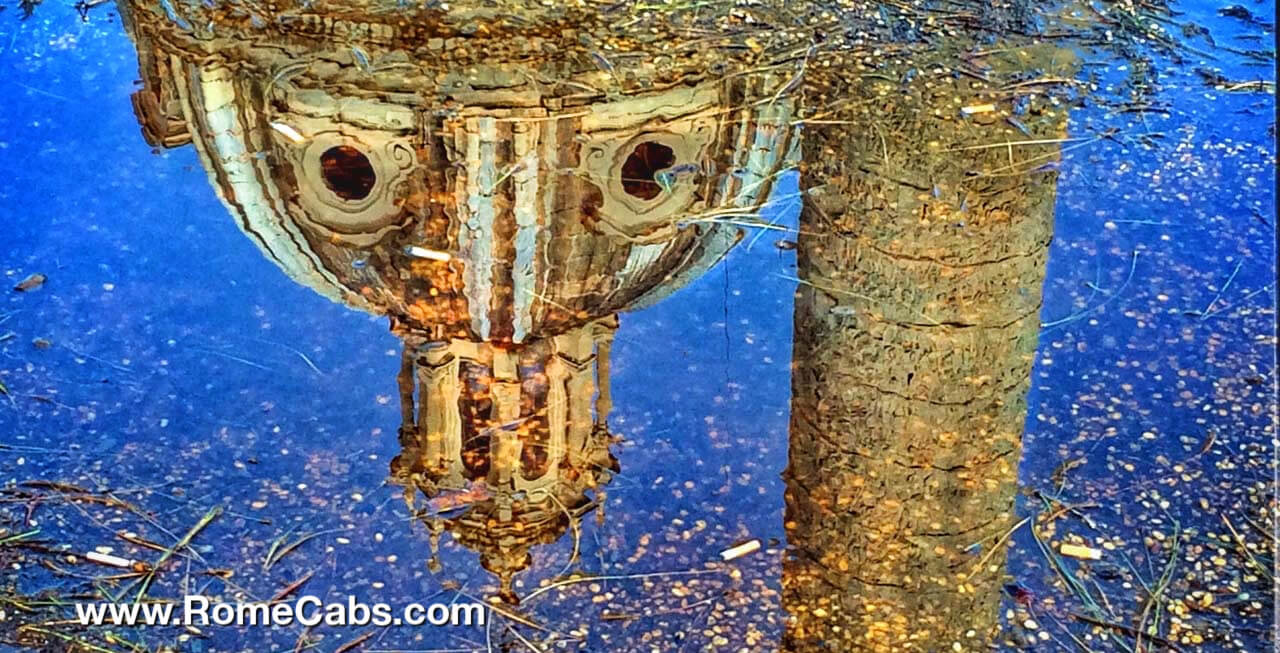 2. SHOULDER SEASON


Traveling during shoulder season as its perks as there are not as many tourists overcrowding the attractions like during summer months, airlines have better tickets offers, and hotels have more vacancies with prices that haven't peaked yet.
Unlike fall shoulder season, in the spring you have increasingly warmer weather and longer days to look forward to during trip in Italy.
3. ROME IS A COLORFUL BLOOM OF FLOWERS

Spring has always been associated with flowers, and in Rome you come to expect it.

HANGING WISTERIA



Starting around mid April wisterias bloom in fragrant bunches hanging from overhead vines. You can find these lavender colored beauties along Via Margutta (near Spanish Steps), near Vittorio Emanuele Monument in Piazza Venezia, Roman Forum, along with many other neighborhood places in Rome.
AZALEA FLOWERS ON SPANISH STEPS



The much anticipated annual Spring Festival (Festa di Primavera, Mostra delle Azalee), turns the Spanish steps into a blaze of color as thousands of bright red and pink azalea shrubs in pots are placed on the steps of this landmark in late April – early May. The dates vary every year depending on weather and when the azaleas are in bloom.


ORANGE BLOSSOMS
Orange blossoms with their inviting fragrance makes a visiting the Orange Garden (Giardino degli Aranci) on Aventine hill in Rome a wonderful park to visit in spring. The panoramic view of Rome from the terrace of this park (officially named Savello Park) is worth a visit in itself.
Nearby is the "Secret Keyhole" that surprises many visitors who did not know what to expect when urged to take a peek through a keyhole in the Piazza of the Knights of Malta.
THE ROSE GARDEN



One of Rome's best-kept spring secrets is the Rose Garden (Roseto Comunale), also located at the foot of Aventine Hill across from Circus Maximus.
During the warm spring months between late April and mid-June, a profusion of 1,100 rose varieties bloom in a multitude of colors and fragrances, making this one of the most romantic, tranquil, and delightful parks to visit in the spring (and an ideal respite from the crowds and noise of Rome city life).
The Rose Garden is usually open between April 21 and June 19 during the flowering period, on average from 8:30 AM to 7:30 PM with free entry.



CHERRY BLOSSOMS



For a short period from mid-March through the first week of April (depending on weather), you can enjoy the blossoming of Sakura, the Japanese cherry trees that blossom along the lake in the EUR district of Rome. These cherry blossoms that dot the artificial lake are a tribute to the Japanese tradition of Hanami, a festival that celebrates the arrival of Spring.

Elsewhere in Rome, bright and colorful Flowers in bloom can also be seen throughout many of Rome's neighborhoods such as Trastevere and parks such as Borghese gardens
4. BIRTHDAY OF ROME


Everyone celebrates their birthday, so why not Rome? Officially, Rome's birthday is celebrated on April 21 according to an ancient tradition that Rome was founded on this date in 753 BC by Romulus (whose twin brother was Remus).
On Sunday closest to April 21, hundreds of historical re-enactors (many from throughout Europe) parade in historically authentic costumes that represent various eras of Ancient Rome including the Etruscans (the pre-Roman civilization in Central Italy that Rome conquered and absorbed into their own culture). The historic parade takes place from approximately 10 AM to 4 PM.
Fireworks and light shows that vary from year to year, as well as historic events and re-enactments held in Circus Maximus, make this a much-anticipated event that reminds locals and visitors of Rome's strong ties of its distant past whose ancient monuments are still a fabric of this vibrant city.


5. EASTER


SEE THE POPE
Easter is a very busy time in Rome and at the Vatican. If you happen to be in Rome during Easter time, you can catch a glimpse of the Pope leading the Way of the Cross inside the Colosseum on Good Friday, and Easter Mass held in Saint Peter's Square.
Tickets (free of charge but must be requested in advance) are required for most events and expect huge crowds (therefore order your tickets months in advance as they are difficult to obtain!) If you can't obtain a ticket don't worry, you can still be present outside the perimeter of St Peter's Square as all the masses held there are screened live in the square in front of the Basilica that you can watch from the perimeters.

EASTER PAPAL MASS


IMPORTANT EASTER DATES and EVENTS:


Ash Wednesday: (First day of Lent, 46 days before Easter Sunday.) The Pope will hold Mass in the Saint Peter's Basilica at 5 PM.
Palm Sunday: Blessing of the Palms, Procession, and Holy Mass (held 1 week before Easter) in St Peter's Square at 9:30 AM (tickets required)
Holy Thursday: (Thursday before Easter Sunday) Chrism Mass in St Peter's Basilica. at 9:30 AM (tickets required)
Good Friday: (Friday before Easter Sunday) Celebration of the Lord's Passion, at St Peter's Basilica at 5:00 PM (tickets required)
* Way of the Cross: at the Coliseum at 9:15 PM (no tickets required)
Holy Saturday: (1 day before Easter) Easter Vigil Mass, held in St Peter's Basilica at 8:30 PM (tickets required)
Held on Easter Sunday:
- Easter Sunday Mass in St Peter's Square at 10:15 AM (tickets required)
- "Urbi et Orbi" Blessing at 12:00 Noon in St Peter's Square. (no tickets required)

DELICIOUS EASTER DELIGHTS
CHOCOLATE EASTER EGGS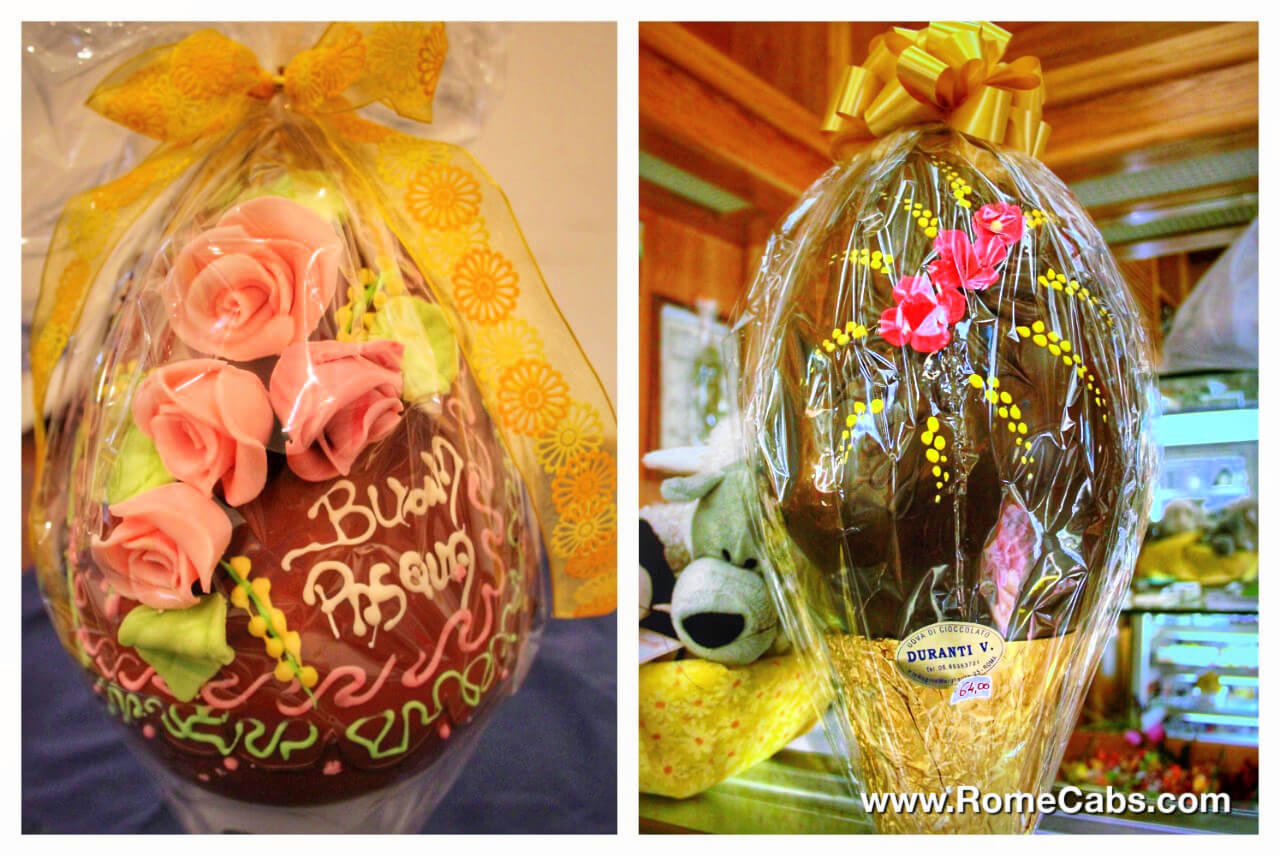 Expect to find small to large beautifully decorated from simple to ornate chocolate Easter Eggs at pastry shops throughout Rome. Many are quite large and fancy delicious works of art!
COLOMBA




Similar to the Christmas panettone, this delicious Easter version is in the shape of a dove. You can find them at most markets throughout Rome.
PIZZARELLE

During Passover, try some delicious Pizzarrelle – sweet honey-soaked matzo fritters that are a Jewish Passover tradition. You can find them at various bakeries and shops in the Jewish Quarters of Rome (walking distance from Piazza Venezia, behind Teatro Marcello).
6. SPRING SEASONAL FOOD

Italians relish their in-season fruits and vegetables (they even create entire festivals celebrating certain seasonal foods!), and different seasons bring various foods to the table in Italian homes and restaurants.
In spring Roman artichokes are in season. Try fried Jewish Artichokes (alla Carciofi giudia) served at local restaurants in the Jewish Quarter. The entire artichoke is deep-fried to golden brown, the outer leaves crispy like potato chips, yet the heart is sweet and tender.

If you are on one of our Rome Tours or Civitavecchia Shore Excursions, you may request to enjoy lunch at a local restaurant in the Jewish Quarters as many specialize in this delicious local traditional treat.



Roman artichokes (carciofi alla romana) is a very popular Roman appetizer served at many local restaurants. The artichokes are simmered with olive oil, green herbs and garlic.




Also a unique spring specialty is the "puntarelle". A variant of chicory, the young tender puntarelle shoots have a mild bitter taste, and are served with a light dressing of anchovy, garlic, vinegar and salt.
Another Italian specialty that heralds spring are Fave e Pecorino: young tender fava beans eaten right out of the pod together with aged pecorino cheese (cheese made from sheep's milk), enjoyed the old fashioned way.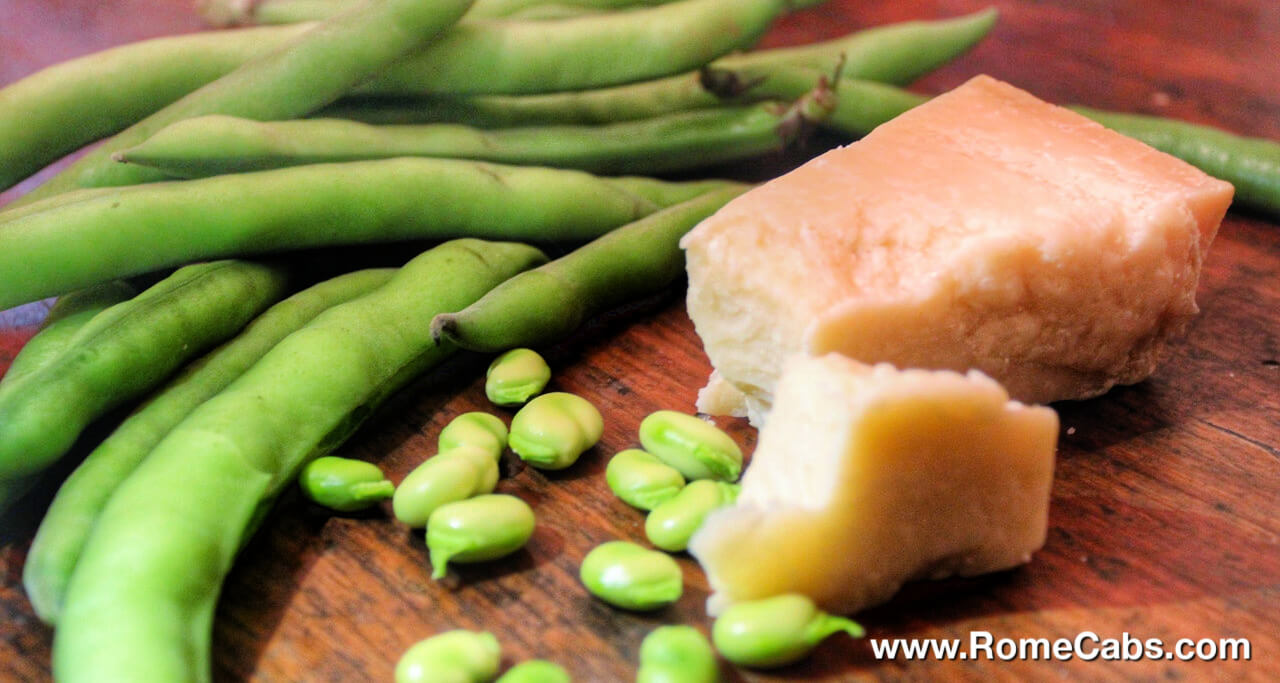 If you drive along country roads outside of Rome, you are bound to run into some roadside stands selling in season vegetables and fruits straight from the farms.
7. CELEBRATE SPRING WITH GELATO




While gelato (the famous Italian froze ice cream treat) can be enjoyed any time of the year, and gelato parlors stay open all year round to satisfy your craving for this frozen Italian delicacy, there's no better time than spring to commence a season of Gelato stops as you meander through Rome.
Look for "artigianale" gelato (artisan gelato) that use fresh and in season ingredients. The commercial gelato is more brightly colored and eye catchy, however, due to artificial colorings and flavors it's not as delicious as artisan gelato that is hand crafted and dedicated to quality.
If you are touring with us on a day tour from Rome or Shore Excursion from Civitavecchia be sure to devote a visit to a gelateria and enjoy this special Italian frozen treat in spring, summer, fall and winter!

Some excellent artisan Gelato parlors to try in Rome:

* Cremeria Monte Forte (next to the Pantheon across the taxi ranks)
* Old Bridge (in Piazza Risorgimento near the Vatican Museums, and in Trastevere on Via della Scala, 69/70)
* San Crispino (near Trevi Fountain on Via della Panetteria, 42)
* Flor (near Roman Forum on Via Cavour, 337)
8. ART FESTIVALS


On various occasions, including spring, a deeply rooted organization of professional artists called "100 Painters of Via Margutta" have set up an open air gallery along the narrow street of Via Margutta more than 100 occasions since they were established in 1953.
Via Margutta itself has been an artistic oasis since the mid 1800's, as you can see by the many galleries that line this enchanting short street.
More than 100 artists display their diverse works of art that you can admire and purchase. The dates always vary between late March to May, but if you happen to be in Rome during the exposition, you shouldn't miss it!
Via Margutta, 51 is also the famous address in the movie classic "Roman Holiday / Vacanze Romane" starring Audrey Hepburn and Gregory Peck. The famous Italian filmmaker Federico Fellini also lived on Via Margutta. The maestro also frequented the nearby cafe in Piazza del Popolo: Bar Canova, that has become highly associated with the beloved filmmaker.
9. DAY TRIPS FROM ROME


Spring is gorgeous not only in Rome, it's also idea for day trips from Rome either on your own, or one of our tours. Balmy weather is perfect for walking without heat exhaustion, and the daylight is longer to make the most of your days.
The greenest grass and fields, spring flowers, and trees in bloom also make for picturesque colorful scenery that are unique to this time of the year.
We and our sister company Stefano Rome Tours offer a wide variety of day tours from Rome and shore excursions from Civitavecchia, here are a few day tours from Rome that are fabulous in spring.

From Rome, enjoy a day in Tivoli to visit Hadrian's Villa (Villa Adriana) and the Renaissance gardens and villa of Villa d'Este. Wisteria, spring flowers, and blooming trees make visiting Tivoli perfect in spring.
This popular countryside tour takes you on a journey through the ages: Renaissance era with a visit to the imposing Bracciano Castle (considered one of the most beautiful and best preserved feudal castles in Europe), the Medieval hamlet of Ceri for a delicious traditional Italian lunch, and the ancient Etruscan era as you explore the Etruscan Banditaccia Necropolis in Cerveteri.
Walk in the footsteps of the Romans and Etruscans with a visit to the archaeological site of Ostia Antica – a real Roman city considered better preserved than Pompeii, and explore the Banditaccia Etruscan Necropolis in Cerveteri.
PIENZA AND MONTEPULCIANO



Tuscany in spring is just breathtaking! The green soft undulating hills, flowers that dot the countryside and window vases, sheep grazing on herbs in the valleys, the songs of the birds and the buzz of the bees add to the charm of of springtime.
Day trip from Rome to the historic towns of Pienza and Montepulciano take you to the most picturesque region of Tuscany, where you will enjoy the spring atmosphere, the delicious local wine, cheese and Tuscan cuisine. Without the throngs of tourists that come in the summer, spring is the perfect time to visit Tuscany!
10. A STROLL (OR PICNIC) IN THE PARK




Rome is not just a city of ancient bricks and cobblestones…. You will find many green oasis in an otherwise city of ancient stones. In the summer locals flock to parks in Rome to relax, escape the heat, have a picnic, or enjoy various activities.
In the spring, these parks are particularly enjoyable due to fewer crowds, and blooming spring flowers and trees.
If you need a break from the crowds of the Colosseum and Vatican, or just need a rest from back to back sightseeing, plan an afternoon at the park to enjoy a relaxing stroll in nature, have a picnic, or rent a bike to explore the park.
Borghese Gardens


The most famous park in Rome are the Borghese Gardens, also the home of Villa Borghese which is one of the top museums in Rome.
The grounds are shaded by umbrella pine trees perfect to spread a blanket and enjoy a picnic. Secret gardens, temples, fountains, artificial lake with rowboats, a zoo, cafes and stations to rent bikes and segways make Borghese gardens an ideal park that offers so much.
If you wish to have a picnic in Borghese Gardens, there are various supermarkets in the vicinity, as well as a daily farmer's market between 8 AM – 2PM from Monday to Saturday for fruits and vegetables wrapping the block of via Metauro and via Salaria (located a few blocks from the exit gate behind Villa Borghese). Mini-markets / convenience stores are also in the same neighborhood where many locals go to buy picnic items such as bread and cold cuts for sandwiches, water, soft drinks, juices, and snacks.



Pincian Hill

Above Piazza del Popolo is Pincio (Pincian Hill). This is the idea location to access the gardens if you don't mind the steep path upward. You will be rewarded with awe inspiring views of Rome.

Villa Doria Pamphili

Located on Gianicolo hill in the Monteverde neighborhood of Rome, Villa Doria Pamphili is the city's largest landscaped public park. The actual mid 17th century villa is closed for visits, but the Renaissance style gardens with tree lined pathways, panoramic terrace views, fountains, and lush grass makes this one of the top parks to enjoy in Rome.


Orange Gardlen on Aventine Hill

Officially named Savello Park, the Orange Garden (giardino degli aranci) is a charming garden on top of Aventine Hill known for the orange trees growing inside the park, the lovely terrace of view of Rome, and shady benches.
In spring it's particularly splendid when the orange blossoms are in bloom with their delightful perfume.

Just a short walking distance away in Piazza of the Knights of Malta is the Secret Key Hole that you don't want to miss. Don't know what that is? FIND OUT HERE, or show up and follow everyone else who is peeking through the key hole and be surprised!
Villa Ada

Located in a more residential area of Rome (Via Salaria, 275), this tranquil park is most loved by the locals who often come to this large 450 acre park known for wide variety of flora and fauna to enjoy picnics, walk (or bike) along its windy paths, or just enjoy the peaceful nature the park offers.
Park of the Aqueducts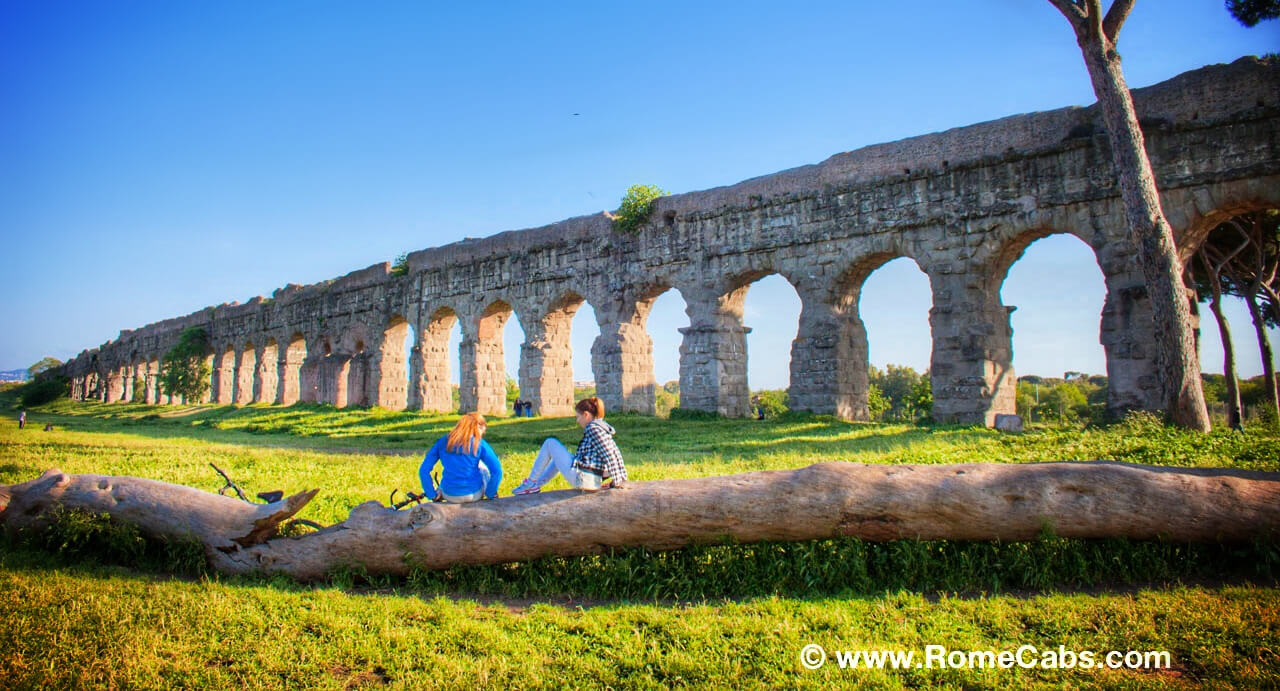 Named after the ancient Roman aqueducts that fed natural spring water to ancient Rome, the Park of the Aqueducts is on the perimeters of Rome.
This is a rustic unofficial park (Via Lemonia, 256) – nothing fancy like Borghese Gardens of Villa Pamphili, but then again, you gaze upon these imposing ancient wonders of Ancient Rome while contemplating the engineering feats of 2,000 years ago! – that is enjoyed by locals who come here to enjoy picnics, jog, stroll along the ruins, read, play music, or walk their dogs… or you might even find grazing sheep in the far distance.

Thank you for reading our blog SPRING IN ROME – 10 Reasons you'll LOVE Rome in Spring. For more information about our Day tours from Rome, Shore Excursions from Italy's main cruise ports, as well as transfers in Italy, please visit our website.
We look forward to welcoming you to Rome and to showing you beautiful places in Italy!
The RomeCabs Team