Buon giorno and welcome to Stefano's RomeCabs, Rome's leading company for Private Tours from Civitavecchia, Day Tours from Rome, and Shore Excursions from Italy's top cruise ports.
Each year hundreds of thousands of cruisers dock at the Cruise Port of Civitavecchia for the day, enjoying Rome or the Roman Countryside from their ship.
Many cruisers ask: Why book private tours from Civitavecchia when there are also bus tours and group shuttle tours?
While cruisers have options from Civitavecchia such as bus tours organized by the cruise line or local bus tour companies or trains and public transportation, we would like to offer information regarding private tours from Civitavecchia and how they can help you enhance your shore excursion experience, and offer efficiency, comfort and convenience at fair prices.
10 Reasons WHY Book Private Tours
from Civitavecchia


1. See and do MORE in 1 day private tours from Civitavecchia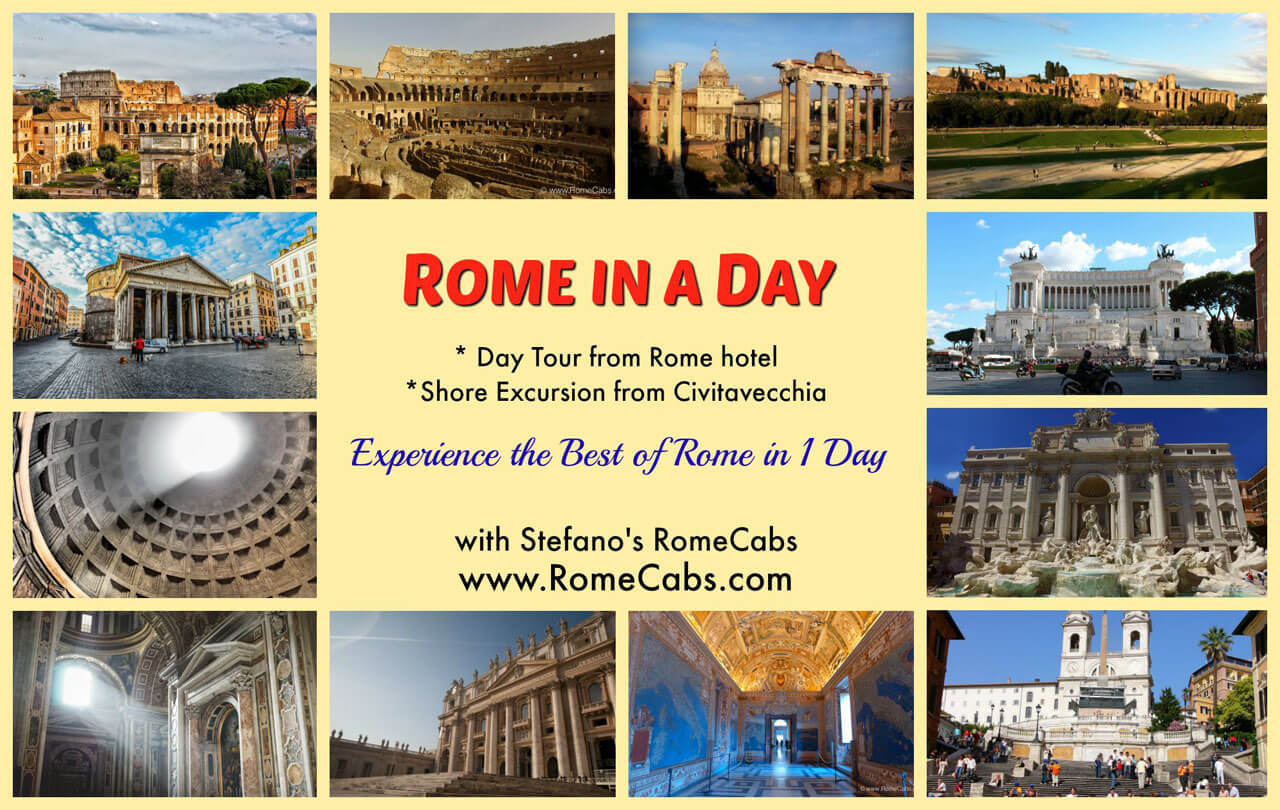 The reason Why book private tours from Civitavecchia is having the luxury of your private comfortable deluxe vehicle all to yourself - no crowded buses and no group tours with strangers.
Private Tours from Civitavecchia are always offered in small vehicles from sedans to minivans of up to 8 passengers, with access throughout the historic centers where buses cannot access. Only vehicles of up to 8 passengers have permission to access all the piers inside the cruise port.
Trains and public transportation are not always and consistently reliable in terms of delays, missing your train, bus or metro, or transportation strikes to accurately predicting your itinerary in advance, therefore your time available to see Rome can be greatly reduced to just a few locations while worrying about getting back to your ship on time.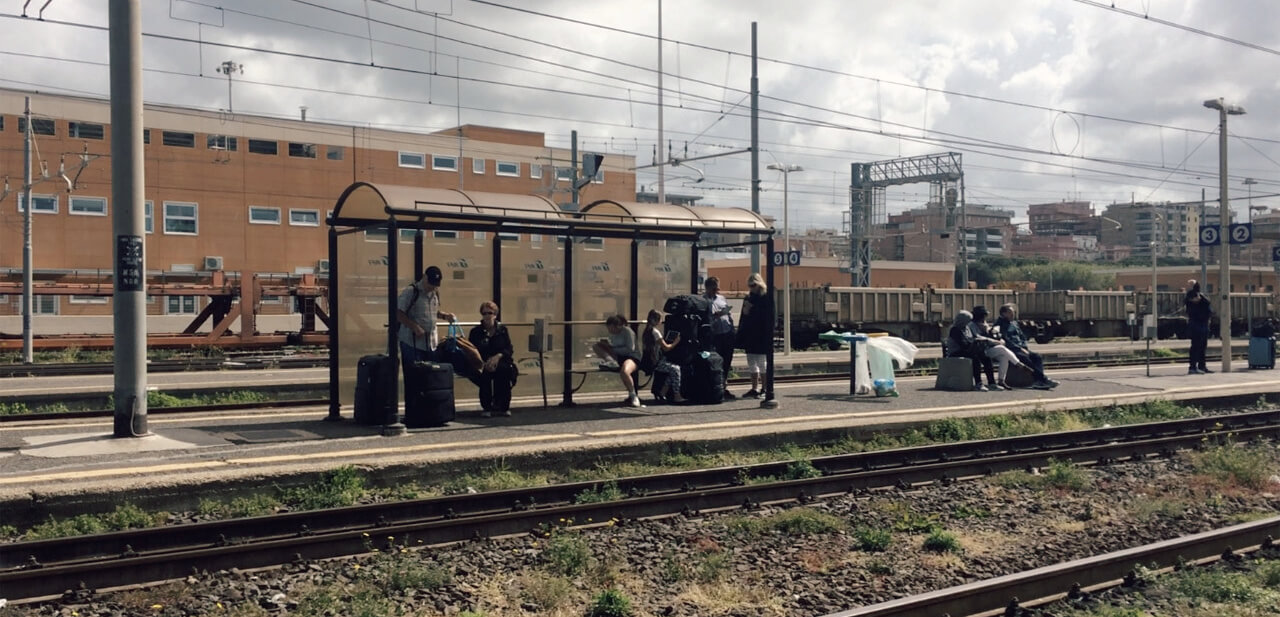 Because on private tours you are driven around the city directly to each location you visit, you have the opportunity to see and do more in a single day by car than by any other means.
2. NO need to Research or Plan your tour.
Private Tours offer a variety of fun tour itineraries to choose from
Private tours by car relieves you of hours and hours of researching must see attractions, organize your itinerary, or worry about getting from place to place on foot or public transportation. In fact, our tour itineraries will inspire you to explore amazing places you never knew existed and we can fit MORE in one day by car than what you could imagine doing on your own.

(WATCH: Rome in a Day Shore Excursion Video - Why book private tours from Civitavecchia)
Unlike Cruise Ship Bus Tours that have VERY LIMITED ITINERARIES due to the strict bus access restrictions and extensive walking that consumes precious touring time, Private Tours take you to enjoy MANY MORE locations.
We offer a variety of tour itineraries to please many interests. Our tour pages are filled with detailed information, descriptions, photos and even videos to inspire, educate and prepare you for your day in Rome on your private tour with us.
There is nothing for you to do except to book your preferred tour, purchase your tickets in advance (we can even help you with that!) and you're all set!
3. Private Tours from Civitavecchia offer Pick Up and Drop Off
on the Pier next to your Ship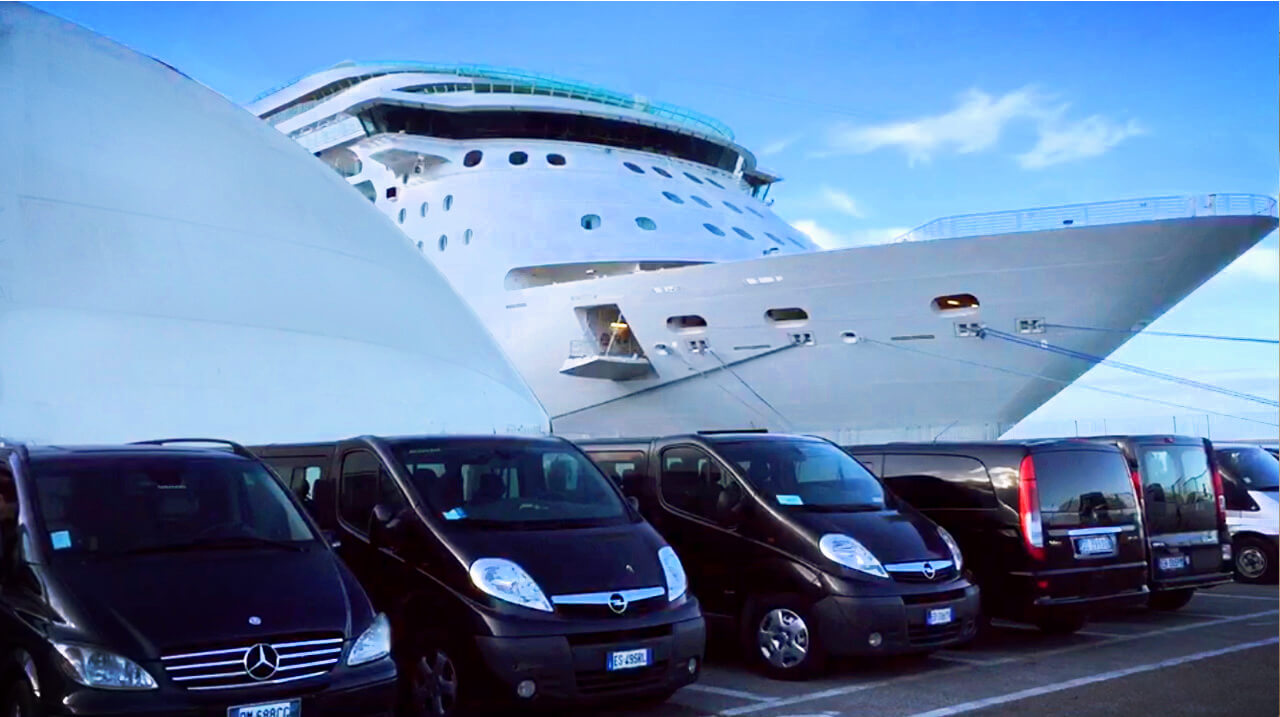 On private tours from Civitavecchia, your personal English speaking Tour Driver will meet you right on the pier next to your ship for optimal convenience, and quick departure to your tour destination. It doesn't easier and get more convenient than this!
On private tours from Civitavecchia you will not need to waste time on shuttle buses to the main port gate to board your tour bus (and same routine on the way back), or worry about getting to the train station and back again.


4. Private Tours are ideal and Safest for Families with children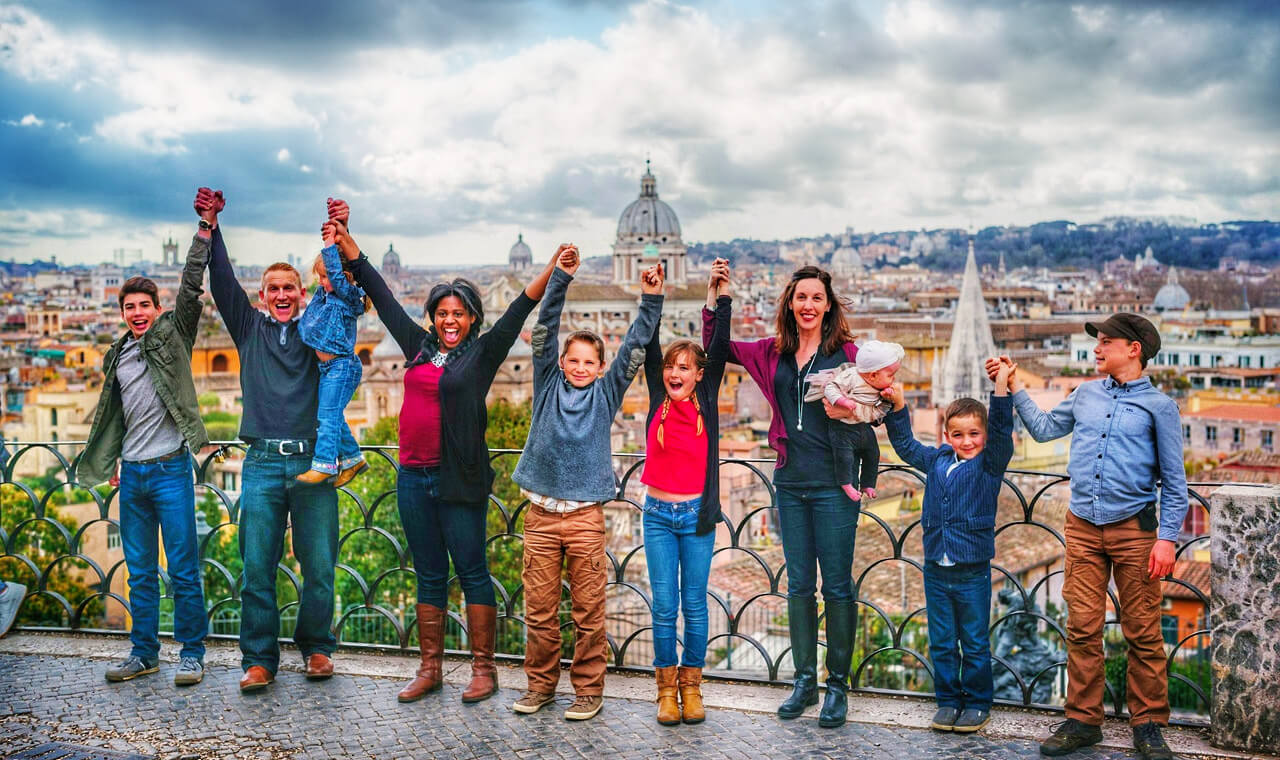 On private tours from Civitavecchia you and your family will travel in your private vehicle driven by your personal driver so you will be safe and protected as you make your way around Rome visiting amazing places.
Booking a private tour from Civitavecchia will make you feel like you are with a friend driving you around his or her city showing you the most amazing places you can imagine.
You can customize your private tour to exclude places that may be too exhausting for the children, and include places that they might enjoy more.
On private tours from Civitavecchia you and your family are not merely numbered passengers on a bus, and you don't have to fend for yourselves on public transportation in a foreign country where you don't speak the language with small children to take care of.
5. Private Tours are Perfect for travelers with mobility issues
including senior travelers and wheelchair users
For senior travelers and travelers with mobility issues, touring by car is the easiest, most convenient, and most comfortable way to tour from Civitavecchia.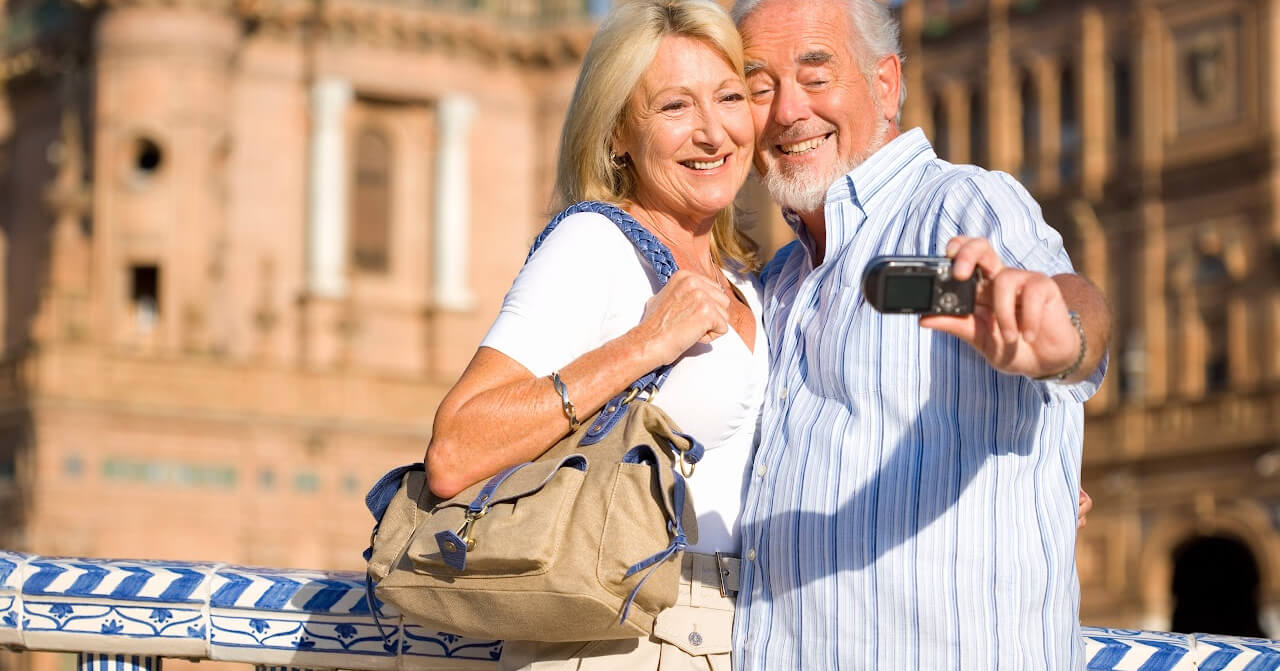 By minimizing excessive walking, tours by car make it easier for all travelers to enjoy the tour. And if there are some attractions that are too physically challenging for some members of your group, they can simply stay with your personal driver comfortably and safely.
For wheelchair users who can get in and out of the vehicle with minimal assistance, tours by car are also very suitable as their foldable wheelchair can be stowed in the luggage compartment of the vehicle and used as necessary when sightseeing through the city.
Because private tours from Civitavecchia are customizable, sites that may not be suitable for everyone in the group can be substituted with other sites that can be better enjoyed by everyone together.


A very popular and more relaxing tour for travelers who cannot withstand long periods of times walking and standing, is POSTCARD ROME TOUR FOR CRUISERS offered by our Sister Company STEFANO ROME TOURS
Due to the flexibility of private tours, guests can enjoy the tour at their own pace… there is no group to keep up with and no train to catch! Your personal driver will show you as much as possible at your own pace for optimal enjoyment and convenience.
6. Private Tours stop close to the Tour Attractions to minimize
excessive walking
Because private tours from Civitavecchia are conducted in small vehicles that have permits to access the historic center, your personal driver will take you as close as lawfully possible to the attractions that you visit to minimize excessive walking.
While on bus tours and DIY visits you can expect to walk excessively for many blocks at a time to access only a few sites, on our private tours you will be taken so close to the sites that the distance is very minimal (a block distance at most if traffic is restricted in certain pedestrian only areas).
Private Tours saves you time and energy, so you can SEE MORE in one day by car effortlessly.


BY LONELY PLANET: Rome banishes tourist buses from the city centre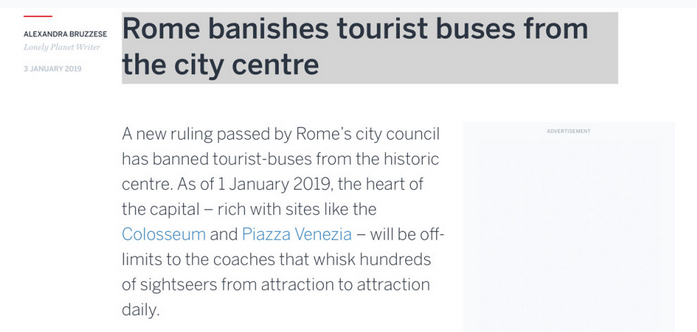 Private tours from Civitavecchia are ideal during super hot summer months, rain, or inclement weather when walking extensively can be difficult. Strong summer heat can leave cruisers depleted and exhausted. Touring in an air conditioned vehicle keeps you refreshed and energized.

In the spring and fall months when rains are more frequent, walking around Rome in the rain and soaking wet all day is NOT an enjoyable experience.
While winters are not harsh in Italy, it can feel rather uncomfortable being outdoors all day in the cold (often wet cold). Having a warm vehicle to keep you comfortable while you travel from site to site is a welcomed treat!
7. Private tours from Civitavecchia are flexible and customizable
to suit your interests and needs
For example, you may substitute the super crowded Colosseum with a more relaxing visit to the imposing Imperial Baths of Caracalla nearby!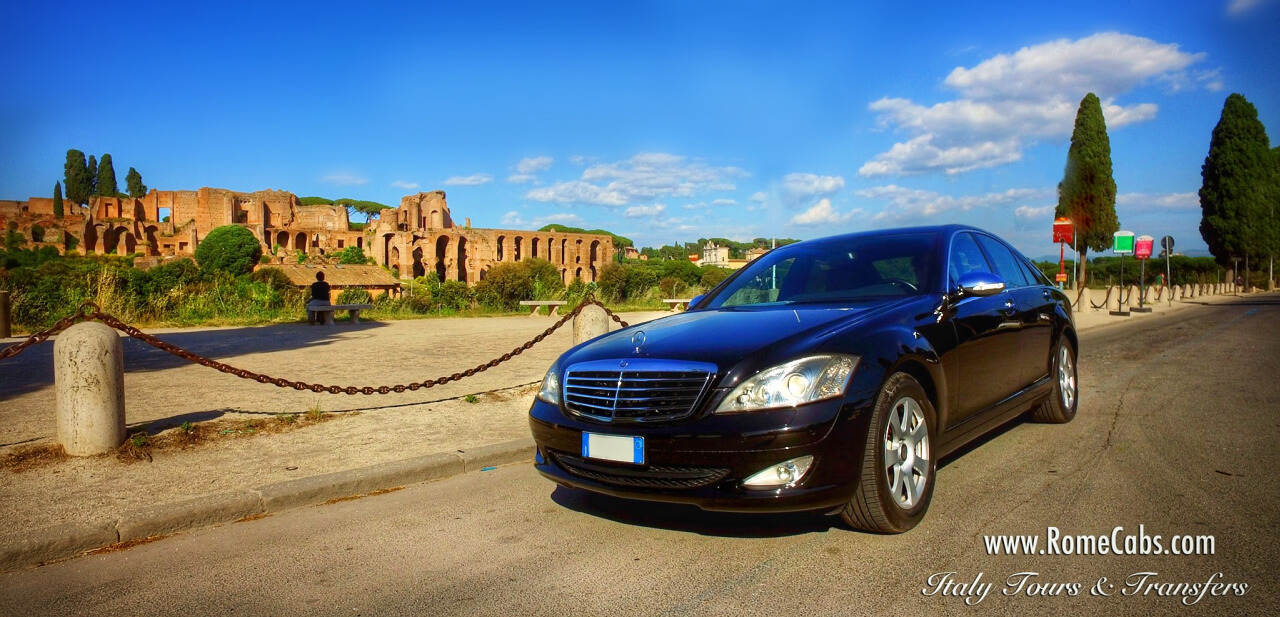 Whether you prefer to substitute some sites in the tour with others that interest you more, wish to skip overcrowded attractions, avoid places that may be too physically demanding for you and your group, or tour at your own pace, private tours from Civitavecchia are flexible to your needs, and customizable to suit your interests.


Unlike bus tours with fixed itinerary, on your private tour you are in charge and can adjust your tour to tailor your needs and interests.
8. Enjoy a traditional Italian lunch at a restaurant or trattoria
of your choice

On private tours from Civitavecchia, we don't take you to fixed menu tourist restaurants as it's standard on bus tours, and you will not have to figure out on your own where you can eat a decent lunch without overpaying at inferior tourist traps.
On our private tours, we welcome you to discuss your lunch preference with your driver if you have a desire for pizza, or pasta, or have any dietary needs. Your driver will be happy to offer recommendations for restaurants or trattorias that our many past clients enjoyed on our tours, so you will enjoy a delightful traditional lunch, in a nice relaxing location, and at fair prices.
Our tour drivers have conducted hundreds of tours for many years and they know al the great restaurants most enjoyed by our clients so your lunch will be a truly delicious experience.
9 . You will be well taken care of by your personal driver
for the duration of your Private Tour
On private tours from Civitavecchia you are not a seat number on a bus tour or left to fend for yourself on confusing public transportation in a foreign country where you don't speak the language.
Your personal English speaking Driver will be at your service for the duration of the tour so you will be well taken care of and looked after.
In case you experience any emergencies, you will have someone there to assist you and be there to help you. It is a great sense of comfort knowing that you have a local expert there for you at all times.
A few years ago while the Trevi Fountain was undergoing restoration and a metal "runway" ramp was in place for visitors to walk across the fountain during restoration, one member of the group in the tour fell and twisted her ankle.
Our tour driver quickly drove her to the nearest hospital that offered the quickest possible treatment, left her in the hands of hospital staff with the promise to return at a specific time to pick her up for her cruise departure, continued the tour with the rest of the group and then picked up the lady from the hospital in the afternoon to return to the ship.
Had this happened on a bus tour, the lady would have likely not have had the personal attention and care of a private driver to take her for emergency medical assistance, and if she were touring on her own DIY she would have had quite a difficult time trying to make her way back to the ship on foot, by public transportation (standing!), on the train to the city of Civitavecchia, then additional buses to her ship with a painful sprained ankle.
10. Private tours from Civitavecchia can COST LESS
than cruise ship bus tours and shared shuttle tours



The last of our "Why book private tours from Civitavecchia" is the price.
There is a common misconception that private tours are much more expensive than ship bus tours, or shuttle group tours (where you get stuck in a van full of strangers you may or may not like or having anything in common with).
We would like to debunk that myth and offer a common option used by thousands of cruisers each year who wish to enjoy the benefits of a private tour from Civitavecchia at the price of a shared tour.
It's very easy!
You simply organize your own privately shared group tours for up to 8 participants with fellow like minded cruisers from your cruise ship to share the expenses of your preferred tour. Just place an AD on Cruise Critic Roll Call and invite other like minded cruisers to share your preferred tour.


Here's HOW to easily create your own private shared tours from Civitavecchia:


Privately shared group tours are much more fun than generic shared tours as you are in charge of who joins your tour for optimal enjoyment as you will be touring with tour mates you know in advance and share similar interests. Privately shared tours have the enjoyment of private tours with the benefit of cost saving shared tours.
Privately Shared Tours from Civitavecchia are not much more expensive than DIY using public transportation!
When you consider the overall cost of ticket prices for trains, buses, metros, and also using Taxis to get around in Rome on DIY tours, for another approximately 30 EUROS per person more on a 8 person privately shared tour, you can enjoy a luxurious private tour in your private deluxe vehicle driven by your personal English speaking driver and have the fabulous opportunity to SEE MORE, in LESS TIME comfortably than navigating through the exhausting complex system of trans, buses, metros, and taxis to, from and in Rome. There's nothing better than having your own private Rome chauffeur at your service to show you the best of Rome in one day!
10 TIPS on Tour Sharing – your best Italy Shore tours Excursions!
Plus, when you book private tours from Civitavecchia you arrive back to your ship ON TIME for your ship's departure. You don't have to worry about the common risks of missing your train and arriving TOO LATE to the port (which sometimes happens with cruisers using public transportation between Civitavecchia and Rome).

Also when you book private tours from Civitavecchia, your shore excursion is NOT ruined by public transportation STRIKES which usually happens several times a year in Rome and Italy and affects trains, buses and metros, leaving thousands of cruisers stuck on their ship instead of enjoying Rome on their trip of a lifetime!
Thank you for reading our travel blog 10 Reasons WHY Book Private Tours from Civitavecchia
For more information about our Tours, as well as shore excursions from Italy's top cruise ports, to many of Italy's top destinations, please visit our website
Thank you very much and we look forward to showing you beautiful places in Italy!!
The RomeCabs Team