description

Buongiorno and welcome to Stefano's RomeCabs!
The excitement of your cruise continues on disembarkation day discovering the glories of Rome on our exclusive Civitavecchia Post Cruise Tours. On our debarkation tours, our personal English-speaking driver will meet you on the pier next to your ship, and take you directly to your hotel at the completion of your tour. Your luggage will travel with you secured in the luggage compartment of your vehicle.

Frequently requested as a Shore Excursion from Civitavecchia, consummate cruisers can also enjoy our Panoramic Rome Tour for Cruisers on their debarkation day in Civitavecchia. Delight in Eternal City's most vibrant squares and fascinating fountains, revel in the city's most imposing and iconic Ancient Roman monuments and visit one of Rome's most fascinating churches away from the huge crowds.
This tour does NOT include visits inside the Vatican Museum, Colosseum, or Pantheon


This Post Cruise Rome tour allows you to leisurely and comfortably experience Rome's highlights and avoids overly crowded attractions with long security lines and restrictive admission tickets that limit flexibility and sightseeing opportunities. We will pick you up on the Pier next to your Cruise Ship at 8:00 AM, and take you to your hotel in Rome at the conclusion of your tour at approximately 5 PM.


POST-CRUISE PANORAMIC ROME TOUR Prices:


For up to 4 Persons from Civitavecchia Cruise Port: 550 EUROS
For up to 6 Persons from Civitavecchia Cruise Port: 600 EUROS
For up to 8 Persons from Civitavecchia Cruise Port: 680 EUROS
* You may also do a QUICK PRICE CHECK using the Price Check & Booking form on the Right Side of this page. Once you receive the PRICE QUOTE based on the information you input, you may proceed to SUBMIT your Tour Reservation Request. The Booking Form is NOT to be used for inquiries. For inquiries, please send us an email.
** Tour Requests are confirmed based on availability.
*** Dates on the Booking Form Calendar that are NOT Selectable, are NOT AVAILABLE.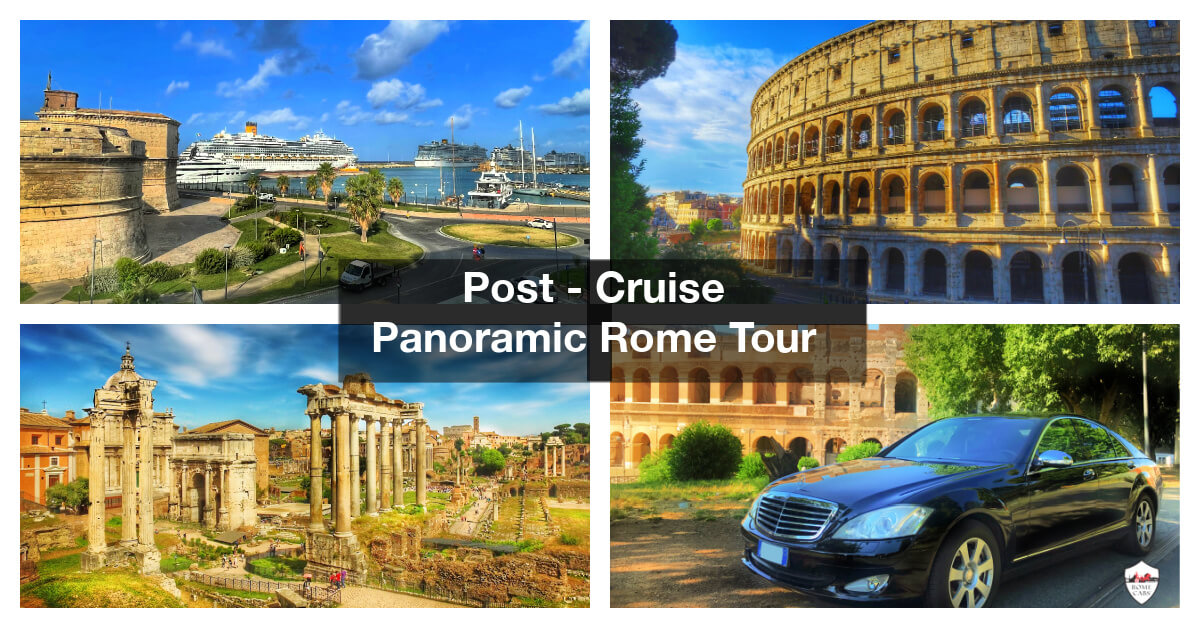 ROME'S FAMOUS SQUARES and ANCIENT MONUMENTS
Piazza della Rotonda - Rome's historic Square


Dominated by the huge Pantheon, the lively Piazza della Rotonda is a historic square that boasts a grand baroque fountain topped by a 20-foot ancient Egyptian obelisk. This ancient obelisk traces its origin back to ancient Egypt's Pharaoh Ramses II and his legendary Temple of Ra in Heliopolis.
Take a moment to marvel at the grandeur of the Pantheon, a true architectural wonder that dominates the square.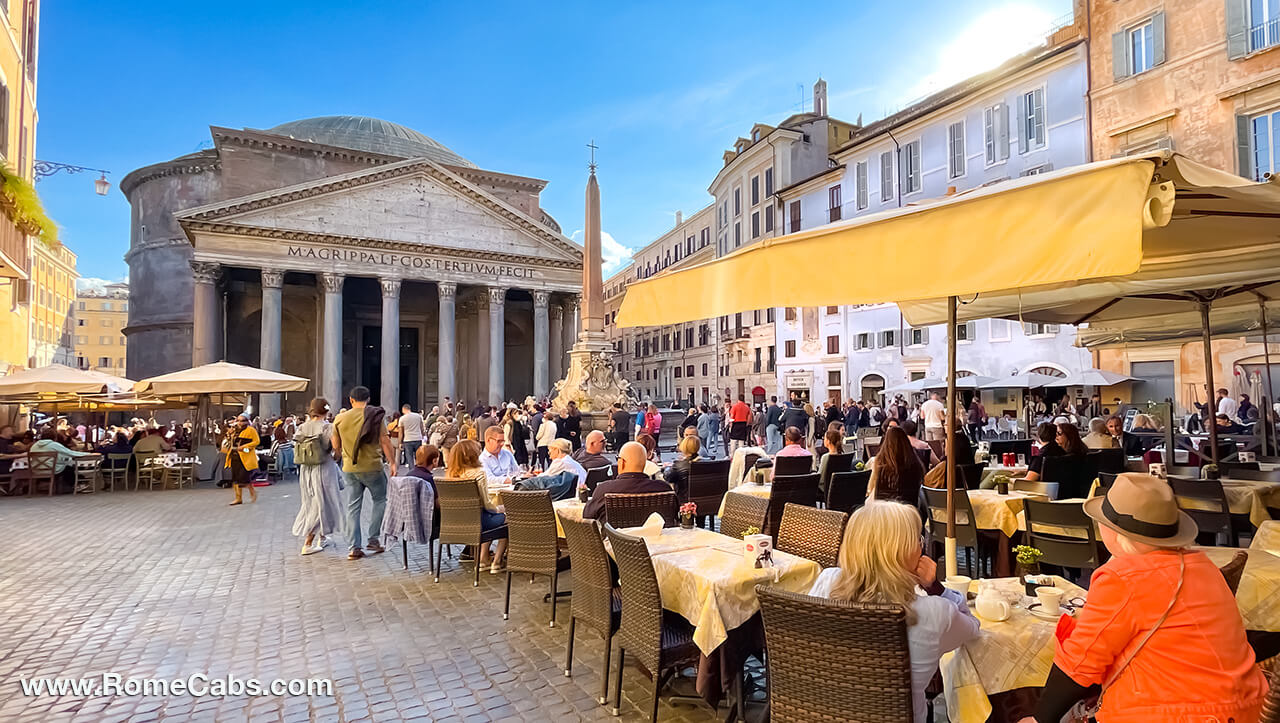 As you leisurely wander through this Piazza della Rotonda, you will be surrounded by the elegant facades of pastel-colored historical palazzi that surround the square. Meander around the Pantheon, immersing yourself in the captivating beauty of the ancient buildings that line cobblestone streets and browse inviting shops. Don't miss the opportunity to treat your taste buds to the ultimate pleasure of savoring Rome's finest gelato from one of the nearby gelaterias.
Allow yourself to be swept away by the magic of Piazza della Rotonda as you soak in its vibrant energy, marvel at its architectural wonders, and embrace the rich history and allure that this captivating square has to offer.


PLEASE NOTE: If you wish to visit the Pantheon, please note that Admission Tickets are 5 Euros Per Person, preferably booked online via Time Slot Tickets to avoid long ticket lines. Let us know and we will gladly provide you with the LINK to book your Time Slot tickets at a suitable time slot.
TREVI FOUNTAIN - the most famous Baroque fountain in Italy


You will hear the Trevi Fountain before you will see it with its soft melodic sounds of water gushing from Neptune the sea god riding a seashell chariot drawn by mythical sea horses carved out of marble.
The fountain is located at the junction of three roads (tre vie) marking the terminal point of the Renaissance-era Acqua Vergina (the restored 19 BC Aqua Virgo that supplied water to Ancient Rome). The water that flows from the aqueduct into the Trevi Fountain is collected from natural sources 10 km away from the city.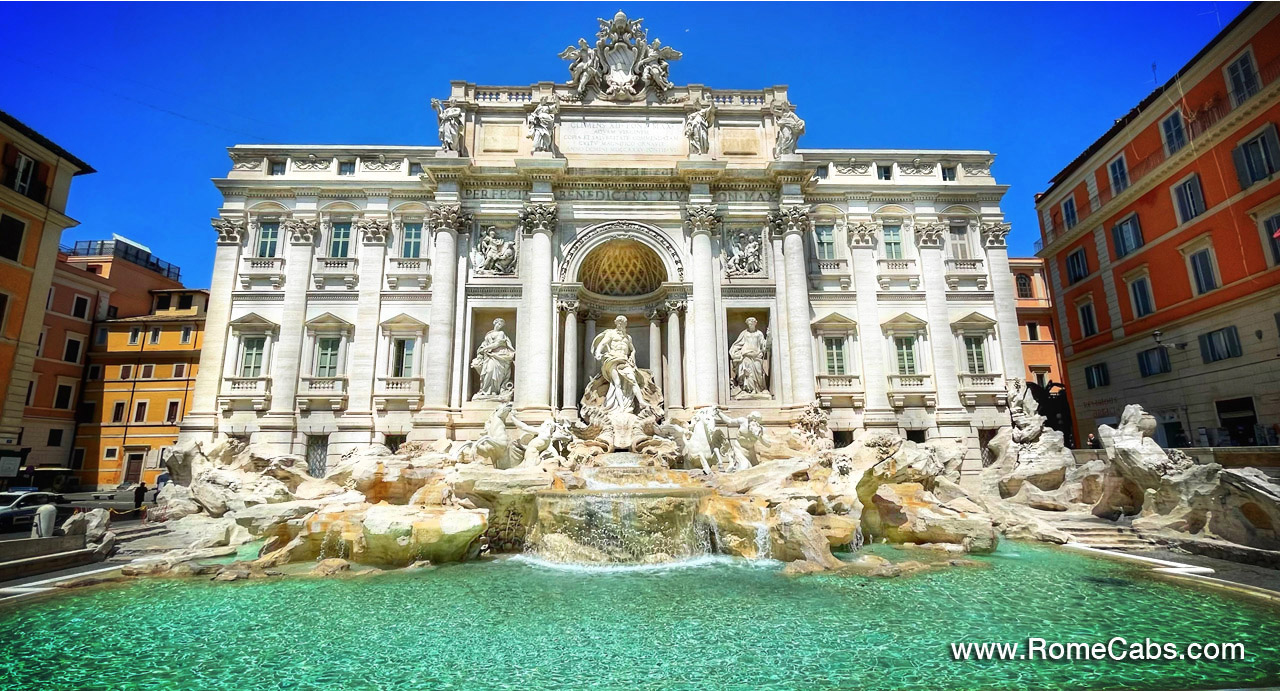 This fountain has been featured in popular classics: "Three Coins in A Fountain", "La Dolce Vita", and "Roman Holiday". Be sure to follow the tradition of tossing a coin over your shoulder into the fountain to ensure another visit to Rome. Tossing a coin in the Trevi Fountain is a highlight of many travelers and cruisers on tours of Rome.
SPANISH STEPS - Rome's most elegant staircase


As your post-cruise Rome tour continues, prepare to be captivated by the charming Spanish Steps (Piazza di Spagna), a true architectural masterpiece that is truly a testament to elegance and grandeur.
Delight in the opportunity to admire the picturesque Spanish Steps situated on a steep slope with an elegant stairway that unfurls to connect the obelisk and the Church of the Trinity on top with Fontana dell Barcaccia (Fountain of the Old Boat) below attributed to Pietro Bernini, the father of the famous Gian Lorenza Bernini.
Take a moment to absorb the vibrant energy of this square. It is here, on the right side of the stairway that the legendary English writer, John Keats, once called home.
PIAZZA NAVONA - Rome's uniquely charismatic square


The lively Piazza Navona is an oblong square embraced by earth-toned historic buildings, graced by 3 magnificent fountains, and made colorful by paintings and drawings exhibited by local artists and portraitists.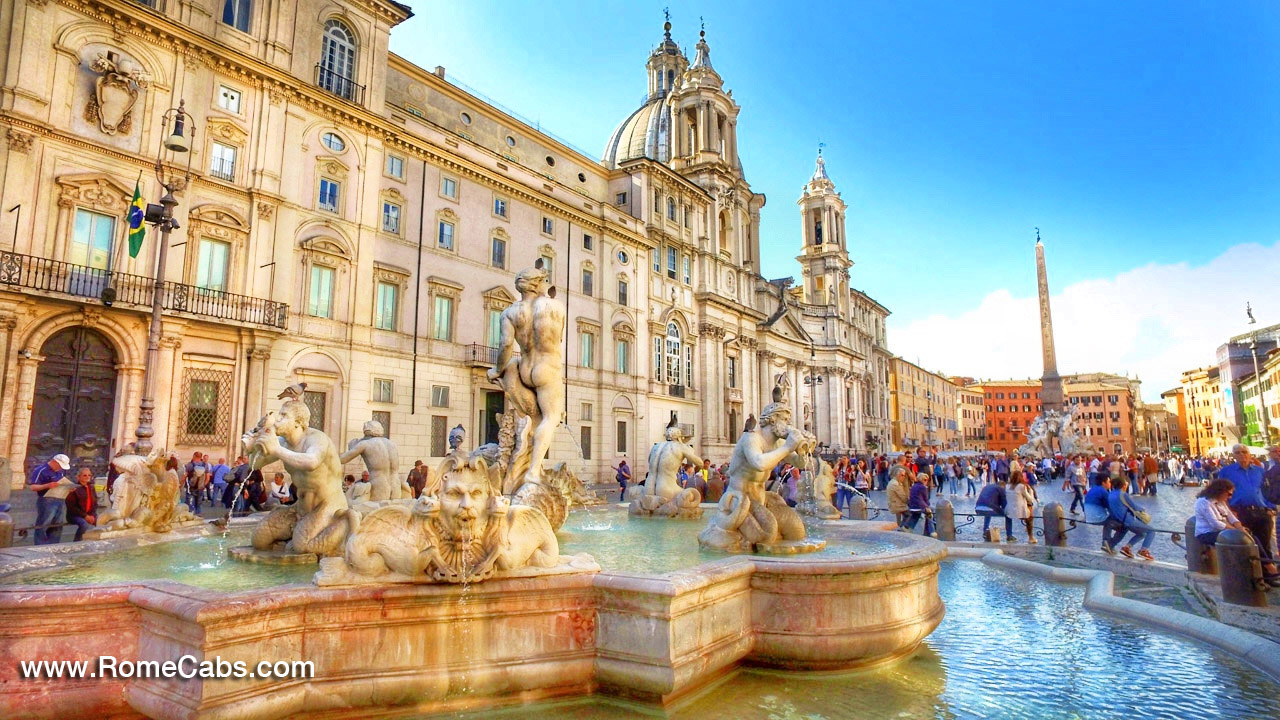 Piazza Navona takes its unique shape and name from the 1st century AD Ancient Roman stadium commissioned by Emperor Domitian in this location to host athletic competitions. The square rests over the interior arena of this ancient stadium. The name Navona is rooted in the ancient word for games, 'agones'.
The main fountain that dominates the square is the 17th-century Fountain of Four Rivers (Fontana dei Quattro Fiumi) created by Gian Lorenzo Bernini's representing the four major rivers of the four known continents of that time: Nile (Africa), Danube (Europe), Ganges (Asia) and Rio de la Plata (America). The fountain is topped by an ancient Egyptian obelisk commissioned by Pope Innocent X.
SAINT PETER'S SQUARE


Saint Peter's Square is one of Rome's most fascinating squares. Locating directly in front of Saint Peter's Basilica, this large elliptical square was designed by Gian Lorenzo Bernini to allow the greatest number of people to see the Pope give his blessings.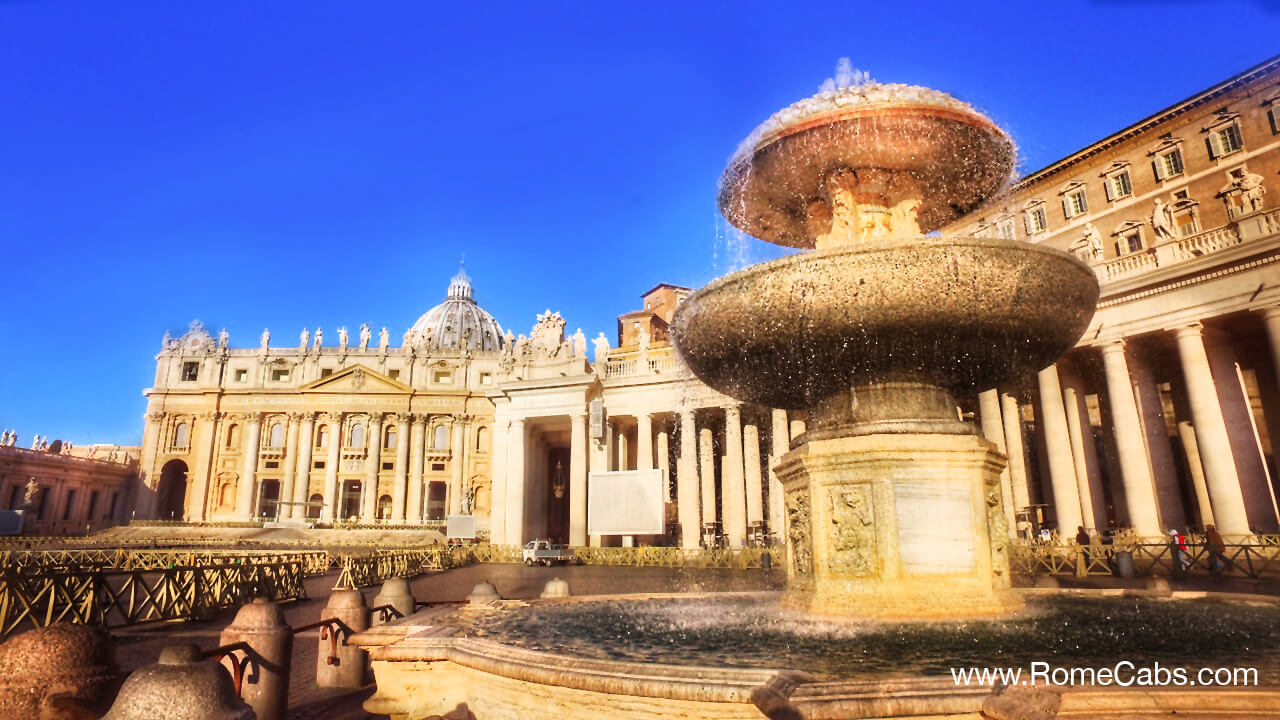 According to Bernini, the classic 4-column deep Tuscan colonnades with 140 statues of space embrace the visitors in the arms of the Mother Church.
The center of Saint Peter's Square is dominated by the 84-foot tall Egyptian obelisk from Heliopolis, Egypt, dating back to approximately 2500 BC. It was brought to Rome in 37 AD by Emperor Caligula.
EXPLORE THE WONDERS OF ANCIENT ROME
Admire the ROMAN FORUM from Capitoline Hill


A stop on top of Capitoline Hill will reward you with a stunning view of the Roman Forum below, Palatine Hill to the right, and the Colosseum in the distance with a stop on a unique terrace on Capitoline Hill. This picture-perfect view is one of the most photographed in Rome!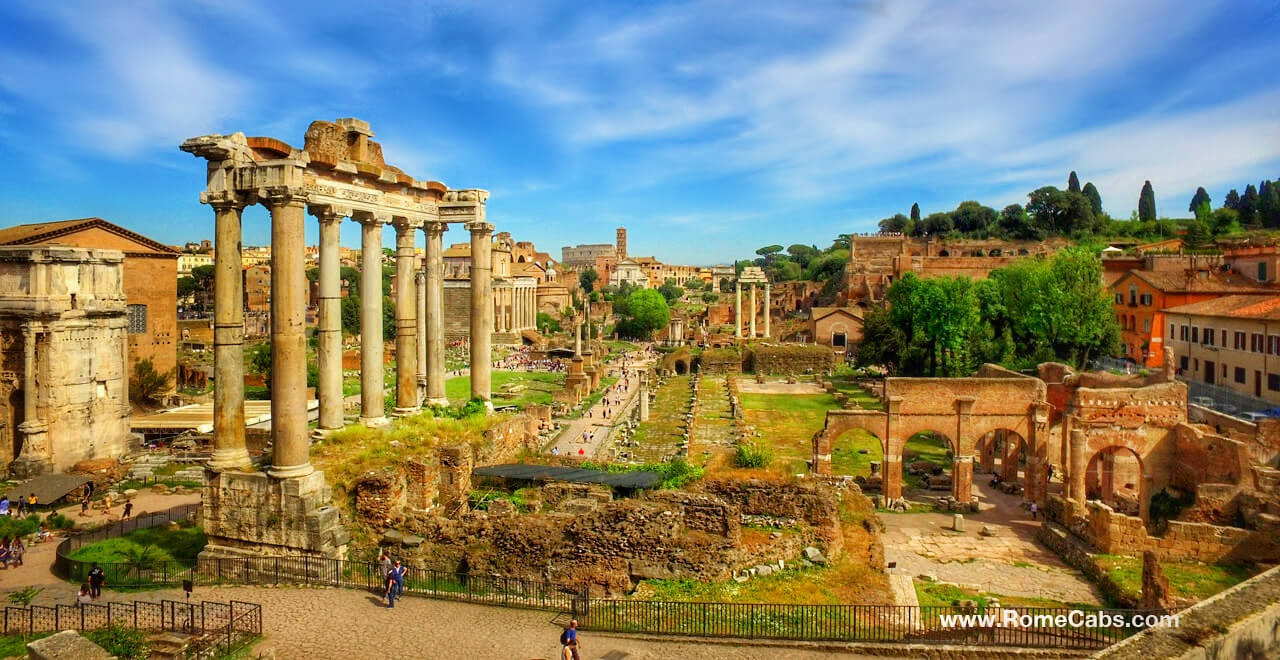 Immediately before you are grand remains of buildings and temples that once occupied the Roman Forum which was the political, judicial, religious, and commercial center of Ancient Rome.
The Roman senate, the tribunals, temples, government offices, and commercial activities, made this rectangular forum the Navel of the City of Rome (Umbilicus Urbis Romae). Ancient monuments of ancient Rome's glorious and influential past.
You can almost imagine the day-to-day life that took place here in ancient times: locals shopping the open-air markets, orators giving public speeches, gladiatorial matches, criminals on trial, devotees visiting temples and shrines, heated political debates, triumphal processions, and more.
COLOSSEUM SQUARE - View the majestic Colosseum and Arch of Constantine


Our Panoramic Rome Tour is not complete without seeing the Colosseum. Stroll the spacious cobble-stoned Colosseum Square and admire the imposing Colosseum - the iconic symbol of Imperial Rome and truly a wonder of the ancient world.
This oval amphitheater was built between 69-79 AD originally commissioned by Emperor Vespasian of the Favian dynasty. Hence, the amphitheater was named the Flavian Amphitheater. The amphitheater was nicknamed the "Colosseum" in the middle ages due to the large Colossus of Nero: a 98-foot-tall bronze statue created by Emperor Nero that once stood near the Colosseum.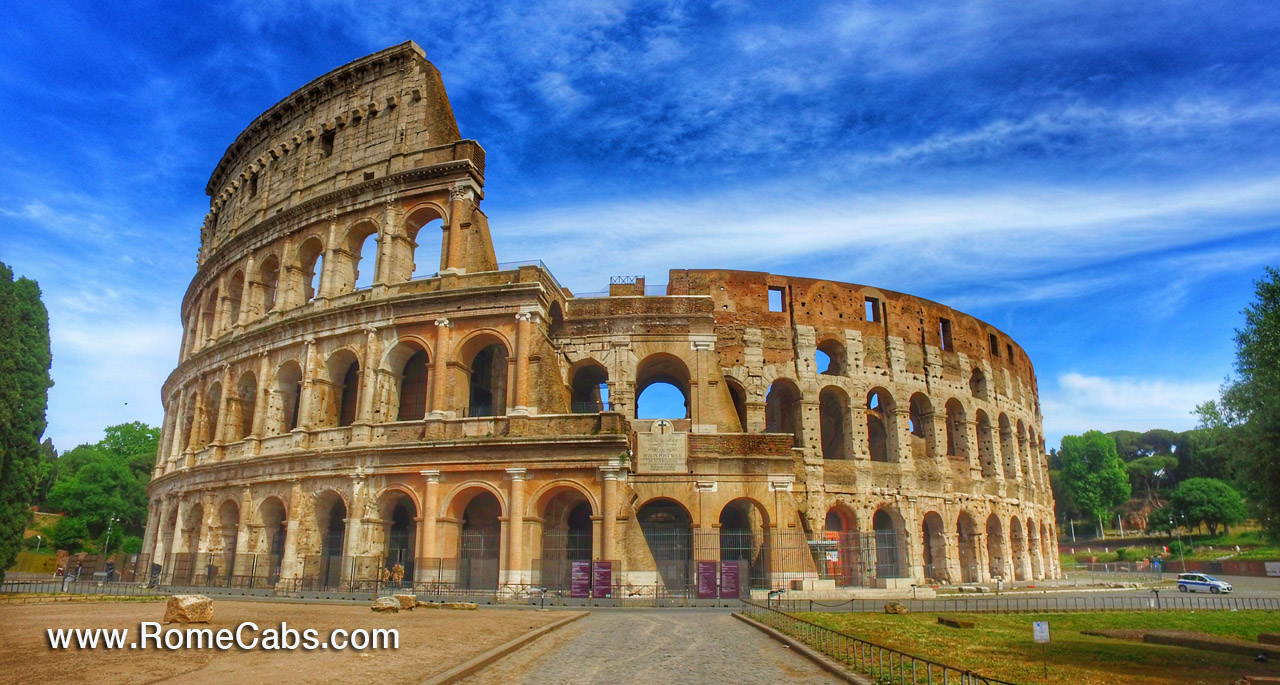 Built large enough to accommodate up to 65,000 spectators, the purpose of the amphitheater was entertainment. For over 500 years the amphitheater was sued for gladiatorial contests, re-enactments of famous battles, animal hunts, executions, and dramas based on Roman mythology.
The Colosseum's most magnificent feature is its partly ruined monumental facade made up of 4 arcaded stories - the lower 3 floors boasting 80 arches each. The amphitheater was clad in white marble with 160 larger-than-life statues placed inside niches within the arches.
Time, nature, and humans have taken their toll on this ancient monument. For centuries during the Medieval and Renaissance eras, the Colosseum was quarried for its precious marble and stones that were used as building materials elsewhere in Rome.
Nearby is the impressive Arch of Constantine - the large triumphal arch of Emperor Constantine the Great built to commemorate his victory over Emperor Maxentius at the Battle of Milvian Bridge in 312 AD. Emperor Constantine is regarded as one of ancient Rome's greatest emperors for having legalized Christianity during his reign.
CIRCUS MAXIMUS - Ancient Rome's chariot-racing stadium


Although only an outline of Circus Maximum remains, nonetheless it evokes images of riveting chariot races from epic movies such as Ben Hur, with tens of thousands of excited spectators shouting from the stadium seating. Built in the valley between Aventine Hill and Palatine Hill, Circus Maximus was the first and largest stadium in Ancient Rome.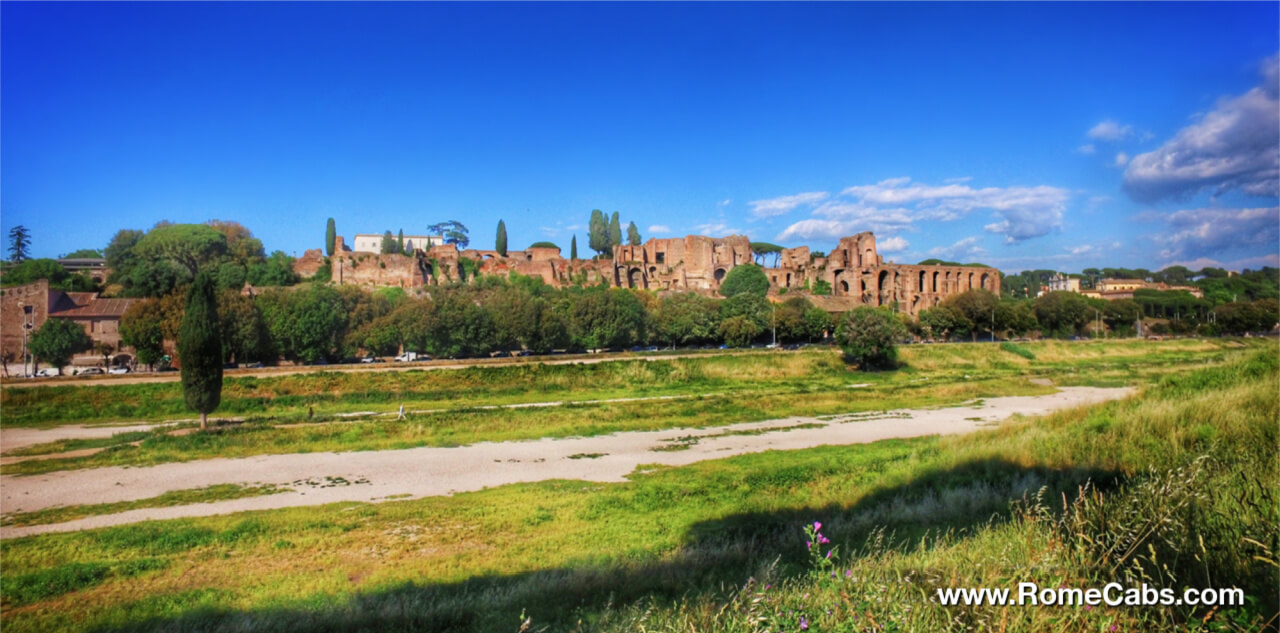 On the spina (spine) in the center of the stadium that served as a dividing barrier, once stood Obelisco Flaminio, the ancient Egyptian obelisk that was brought to Rome in 10 BC by Caesar Augustus. This obelisk currently graces the center of Piazza del Popolo.
The majestic view behind the Circus Maximus are ruins of grand ancient Roman villas on Palatine Hill where emperors and Rome's elite resided.
ST PAUL OUTSIDE THE WALLS - a revered Papal Basilica

Your Panoramic Rome Tour continues with a visit to the Basilica of Saint Paul Outside the Walls. It was given the name "outside the walls" as it was built outside the Aurelian Walls.
Built over the burial site of Saint Paul the Apostle by Emperor Constantine in the 4th century, this remarkable basilica is the second largest basilica in Rome, one of the four highest-ranking churches in Christendom known as Papal Basilicas and it is one of the top pilgrimage destinations for millions of Christians worldwide.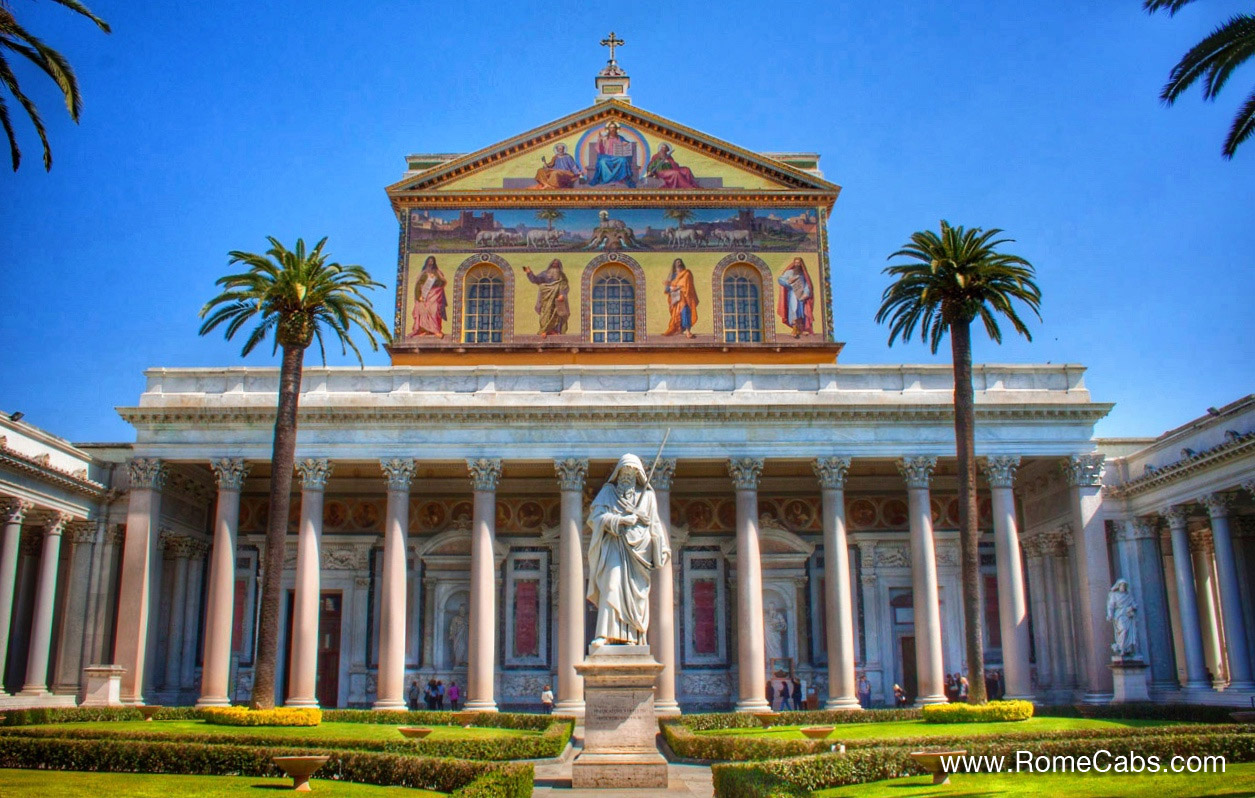 This stunning basilica was destroyed by fire in the early 1800s, but with the generosity of donors across the continents, the basilica was perfectly restored to its previous glory which can be admired today.
Aside from being an architectural masterpiece that rivals all major papal basilicas in Rome, St Paul Outside the Walls also possesses a graceful portico and cloister of the monastery and is more accessible to visitors than St Peter's Basilica where securely lines are unpredictably long and potentially exhausting.
From here your driver will take you directly to your hotel where your Post Cruise Panoramic Rome Tour concludes at approximately 5 PM.

Thank you very much for booking our Post Cruise Panoramic Rome Tour from Civitavecchia and choosing Stefano's RomeCabs for your Rome private tours. We look forward to showing you beautiful places in Italy!
Extend your adventures in Italy post-cruise with the following top-selling day tours from Rome:
Important Information

PLEASE READ THE INFORMATION BELOW AND ACCEPT THE TERMS OF SERVICE AND PRIVACY POLICY BEFORE BOOKING.


PAYMENT OPTIONS
Payment for this Tour can be made in EUROS directly to your driver on the Date of Tour, or prepaid in advance via PayPal or Credit Card online upon request. (See Cancellation policy below)
CANCELLATION POLICY
We kindly ask that cancellations be made via E-mail at least 7 days prior to Date of Service.
Cancellations are accepted only via E-mail so your cancellation is on record. We do not accept cancellations by phone, text message, or 3rd parties.
** Cancelations for PREPAID SERVICES will be refunded the Reduced Net Rate we receive from your prepayment. Reduced Net Rate: actual service price minus PayPal/Credit Card fees retained by PayPal/Credit Card as they do not reimburse us the fees they retain from your payment.


LUGGAGE
Car type vehicles priced for up to 2 persons can accommodate up to 2 standard check-in cases, and up to 2 small carryons in TOTAL. Please advise if you will be bringing extra luggage as you may require a vehicle size upgrade.
Deluxe Minivans can accommodate up to approximately 6 suitcases and 6 carry-ons in TOTAL. If you anticipate bringing luggage in excess of what the standard 8-seater vans can accommodate, please inform us prior to booking this service.
YOUR ROME TOUR DRIVER
Your Post Cruise Panoramic Rome tour includes a knowledgeable English-speaking driver who is NOT a licensed tour guide. Italy has strict laws protecting official licensed guides making it unlawful for Tour Drivers to provide guests commentary while outside the vehicle or accompany guests to sightsee on foot away from the vehicle.
Your driver will gladly offer basic touristic information while at the vehicle, however, in order to comply with Italian laws, Drivers are obliged to remain with the vehicle while you sightsee on your own (SELF TOUR) away from the vehicle unaccompanied by your Driver.
MEETING POINT FOR POST-CRUISE TOURS FROM CIVITAVECCHIA
Your driver will meet you on the Pier next to your Ship at your scheduled pick-up time holding a sign with the NAME in your reservation.

Please do NOT leave the ship area, and do NOT take a shuttle bus outside the port.

Look for the driver in the same area as ALL private drivers who will be waiting for their clients.


Pro Tips for visiting Rome's famous piazzas:
The areas around the Trevi Fountain, Spanish Steps, and Colosseum can become quite crowded, especially during the peak travel months. Please be aware of your surroundings and be mindful of your belongings and valuables at all times. Do not accept 'gifts' from street vendors or strangers approaching tourists. They may offer you roses, bracelets, or trinkets, but if you choose to accept, you will be expected to pay or give a tip to them.


Tips / Dress Code for visiting religious venues in Rome:
Please dress appropriately when visiting religious venues in Italy as many churches enforce modesty dress codes: no bare shoulders or bare knees. Capri-type pants are completely acceptable for ladies and men can wear shorts if they are long enough to cover the knees.

ROME TOURS TRAVEL TIPS and INFORMATION FROM OUR BLOG: