Buon giorno and welcome to Stefano's RomeCabs travel blog. We are dedicated to providing our clients with most useful information and quality services to make your holiday or cruise to Italy as enjoyable as possible!

Our clients often ask us:


What is there to do from Civitavecchia or from Rome if we've already toured Rome and would like to see something different without driving too far?


We've answered this question many years ago by offering our popular COUNTRYSIDE SPLENDOR (available on our website) where you have the wonderful opportunity to explore the countryside from Rome and Civitavecchia cruise port.

Explore the Countryside from Rome and Civitavecchia: What do see, What to do, Where to eat:


See the pristine volcanic Lake Bracciano
Stroll through the historic village of Bracciano
Visit the Renaissance Orsini- Odescalchi Castle (aka Bracciano Castle)
Enjoy lunch at a local family owned restaurant in the Medieval hamlet of Ceri
Explore the ancient Banditaccia Etruscan Necropolis in Cerveteri






BRACCIANO (Lake Bracciano, Bracciano Castle)


Our very popular Countryside Splendor Tour takes our guests on a historic journey to explore the city of the dead of an ancient lost civilization that once thrived in central Italy, experience the tiny medieval cliff-top hamlet where time stood still, and visit the imposing Renaissance castle that after 400 years it is still owned by the same family.
The distinctive Lake Bracciano indeed looks like the ancient volcanic crater that it is, formed millions of years ago when Italian peninsula was a hotbed of volcanic activity. The water in the clear lake is one of the most pristine in Italy.
Overlooking this impressive ancient lake is the imposing Renaissance era Orsini – Odescalchi Castle located in the village of Bracciano. The castle is also known as Bracciano Castle.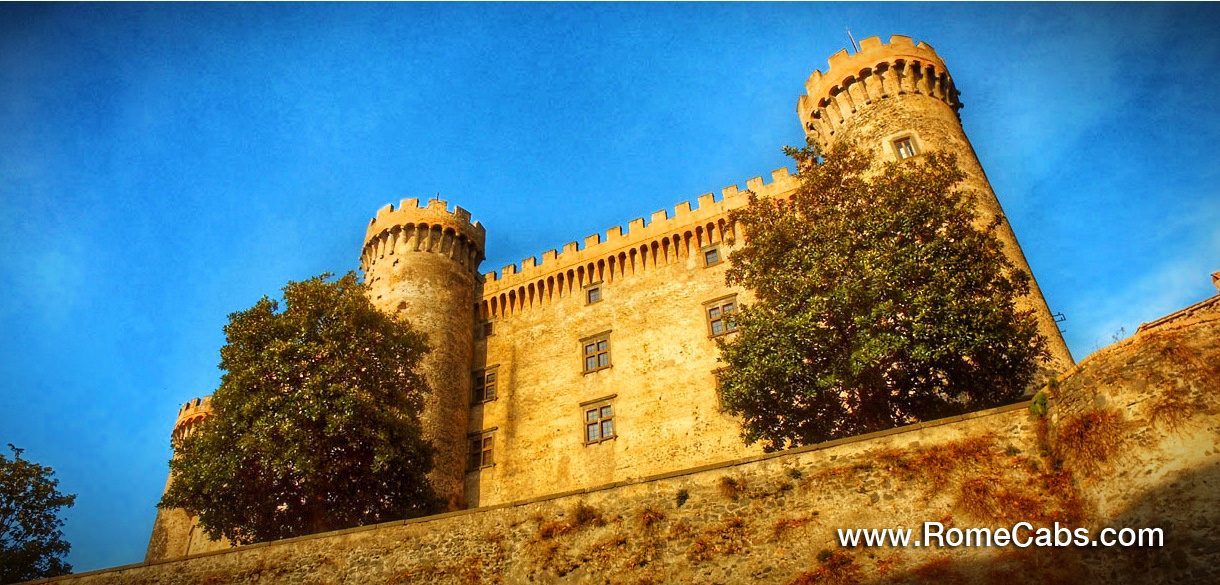 One of the best preserved castles in Italy, the castle was initially a tower built during the Medieval era as a fortress, and later was restructured as a residential castle and by early 1400's it belonged to the powerful Orsini family who developed Bracciano into a flourishing and proud town.
Eventually by mid 1500's the decline of the Orsini family and economic downturn resulted in the castle to be sold to Livio Odescalchi in 1696 – and it has remained in the Odescalchi family ever since.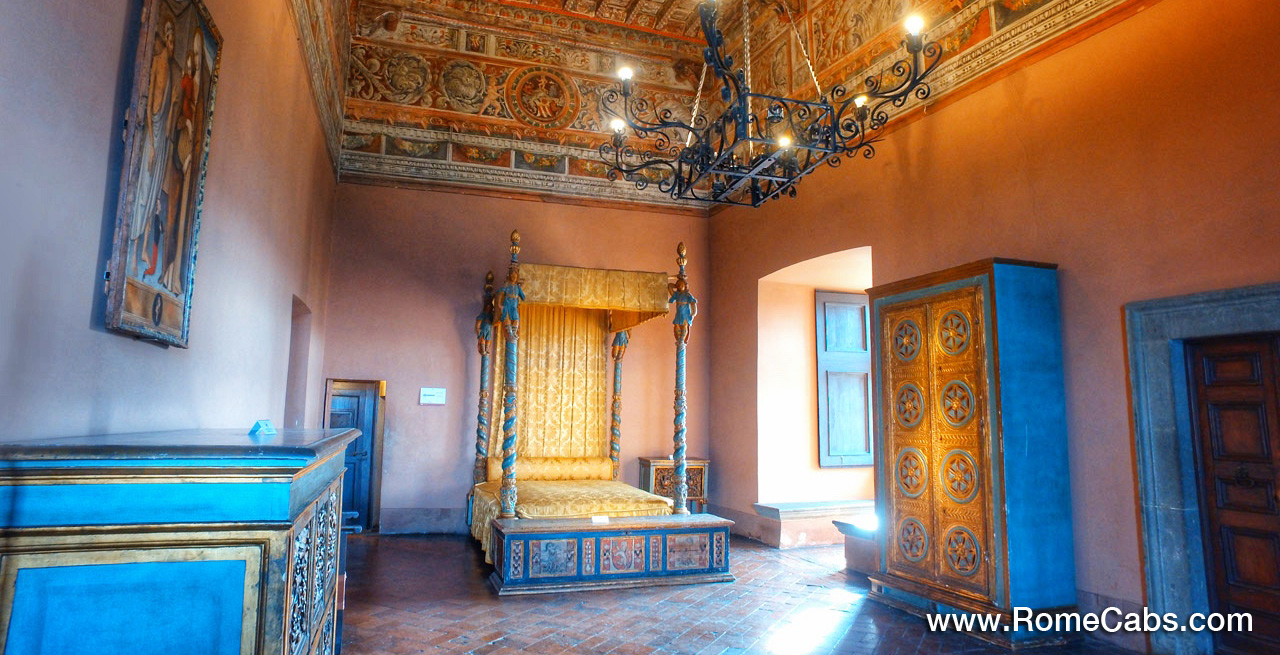 Today, Odescalchi Castle is a private estate that allows visitors to enter and explore the wonders contained within its powerful stone walls.
Two stories of great halls and private quarters where kings, queens, popes, lords and ladies have lived and slept over the course of centuries richly decorated with the original Renaissance furniture, paintings, frescoes, tapestries, and military weapons of the era.
The atrium outside leads you to a large Medieval / Renaissance kitchen with incredible stoves and fireplaces that fed the multitude who lived and worked in the castle.
The ramparts above the tall defensive walls offer guests a breathtaking view of Lake Bracciano and the beautiful countryside surroundings.
MEDIEVAL HAMLET OF CERI
A short drive through the rustic countryside will take you several centuries back in time to Ceri - an ancient Medieval clifftop hamlet that boasts some of the best local traditional cuisine in the region!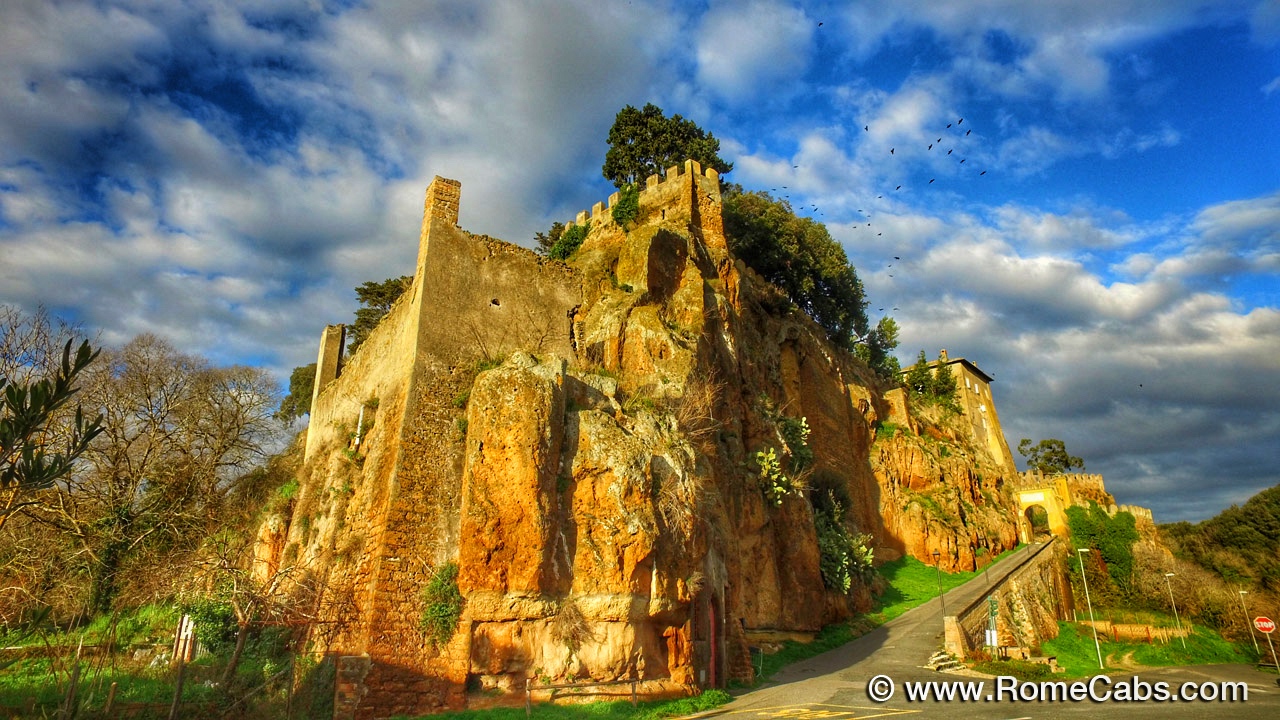 Ceri's beginnings precede the Medeival era as it was once settled by the ancient Etruscans as far back as 7th century BC.
Known as Caere Novum during the Medieval times, Ceri is a tiny hamlet perched up on a tuffa cliff is still ringed by ruins of its once fortified defensive walls. A narrow street leads visitors from the main entrance at the foothill to the only small square on top of the borgo.
The only street in the borgo is so narrow that just one vehicle can pass through at a time… how do they manage traffic? A traffic light at the bottom and one at the top allow traffic to pass one direction at a time.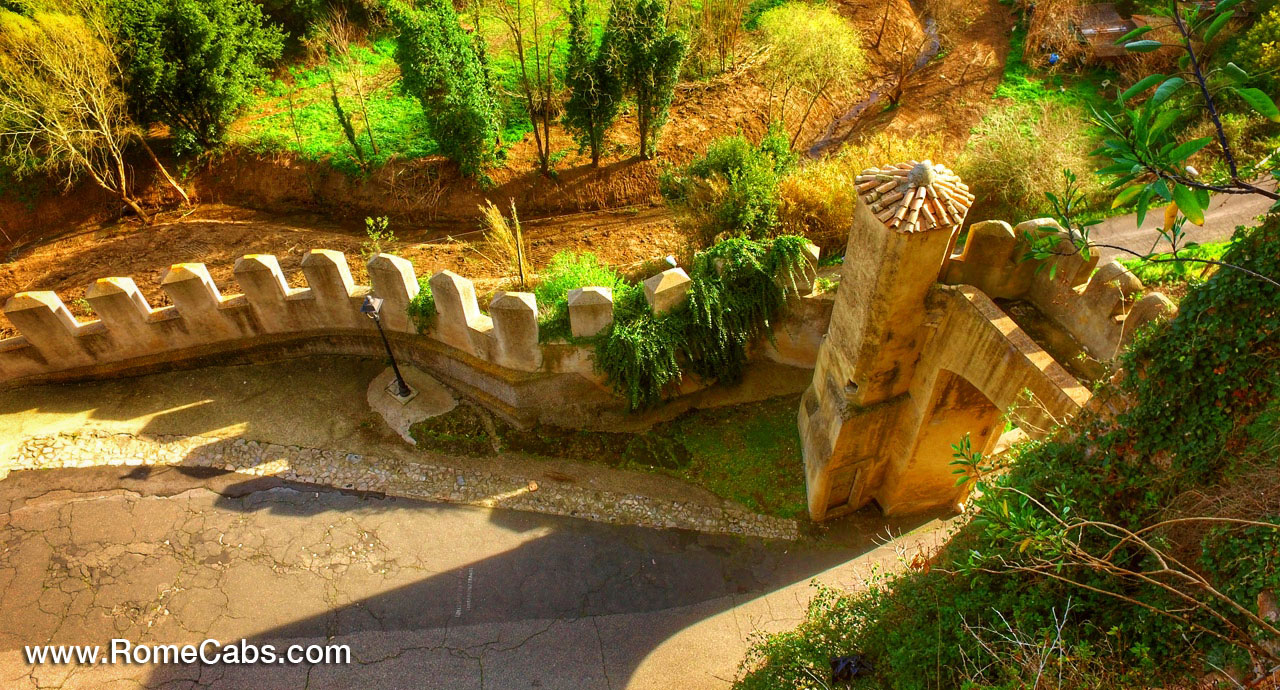 Not to miss (aside from the delicious food that brings many locals and visitors back for more!), is the Romanesque Church of Madonna of Ceri that was built on top of an ancient Etruscan / Roman temple dedicated to the goddess Vesta.
A restoration in 1980 revealed incredibly beautiful 12 century frescoes from floor to ceiling depicting scenes from the Old Testament decorating an entire wall.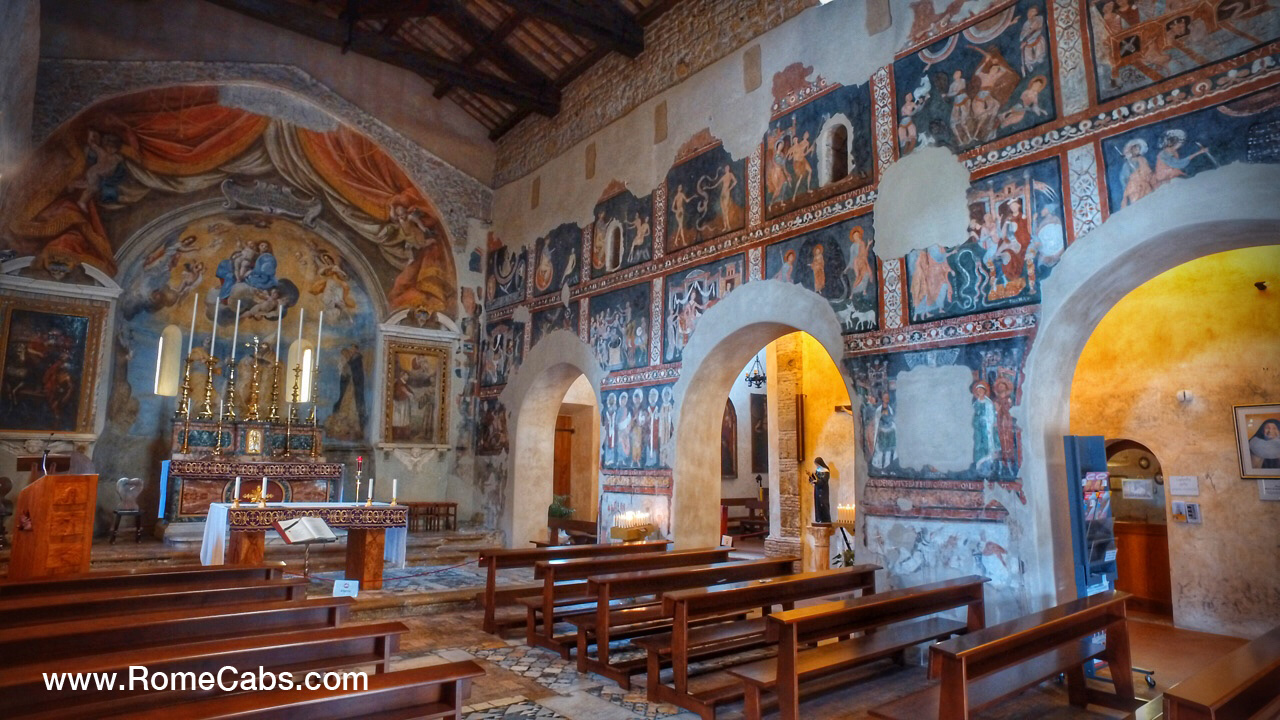 A little chapel to the side is another reason many Italians and those in the know return to this church – in this chapel prayers are asked of Mary to hear loved ones (you can see many pinned photos of loved ones prayed for on a bulletin board on the wall).
When prayers are answered, the recipients of Mary's grace hang a silver heart in gratitude. By the looks of the many hearts hanging on the walls, many prayers have been answered.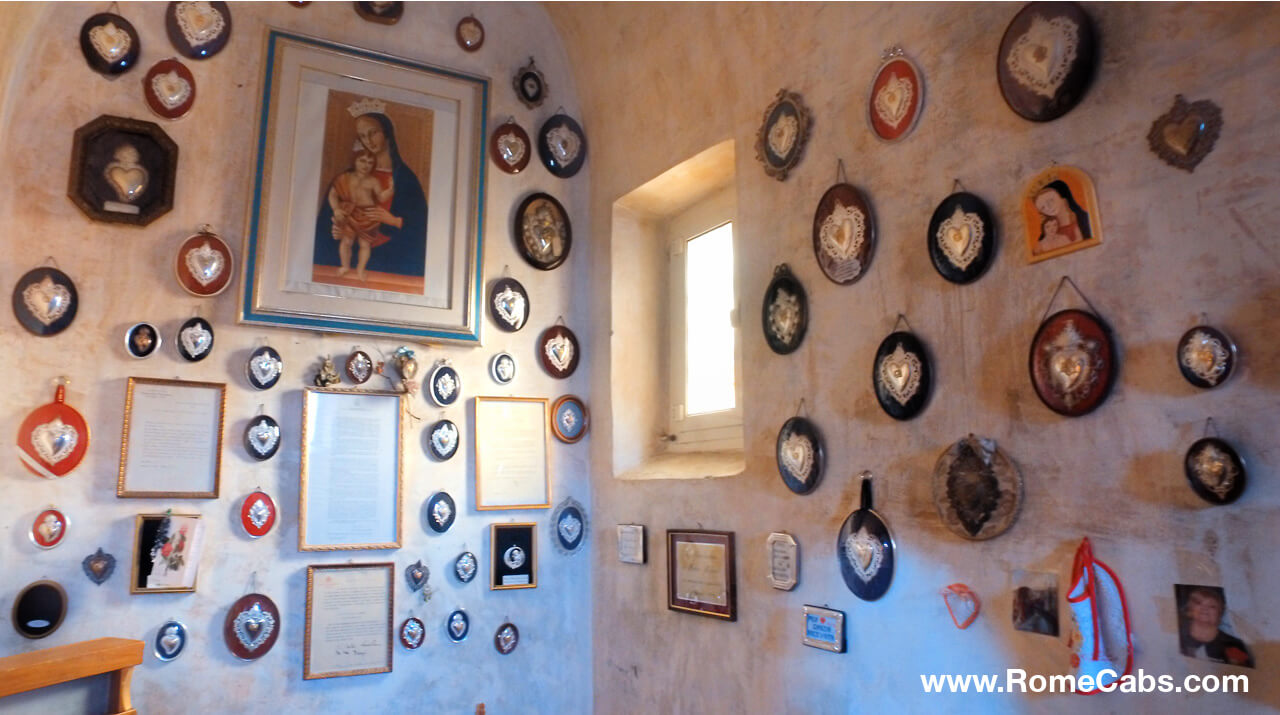 After a delightful lunch in Ceri, your adventures continue as you travel further back in time to the pre Roman era of the Etruscans as you explore the Banditaccia Etruscan Necropolis in Cerveteri.
BANDITACCIA ETRUSCAN NECROPOLIS - Cerveteri


If you've ever wanted to be Indiana Jones but had no tombs to raid (or at least visit), this is your chance! Of course you won't be raiding the tombs as their treasures have already been discovered and housed in museums in Cerveteri and Rome, but you will have the wondrous opportunity to enter and explore many of these ancient tombs that are as old as 2,500 years!
The necropolis itself is huge (no wonder, it's a city of the dead), however only a small portion of the tombs have been unearthed in Cerveteri – and even these are in the hundreds! This necropolis encompasses 700 years of Etruscan history.
The most primitive burial traditions that date back to 700 BC are small urns of various sizes in which the ashes of the deceased were placed. You can see many such urns throughout the necropolis. The shape of the urns also indicated if the deceased was a male or female.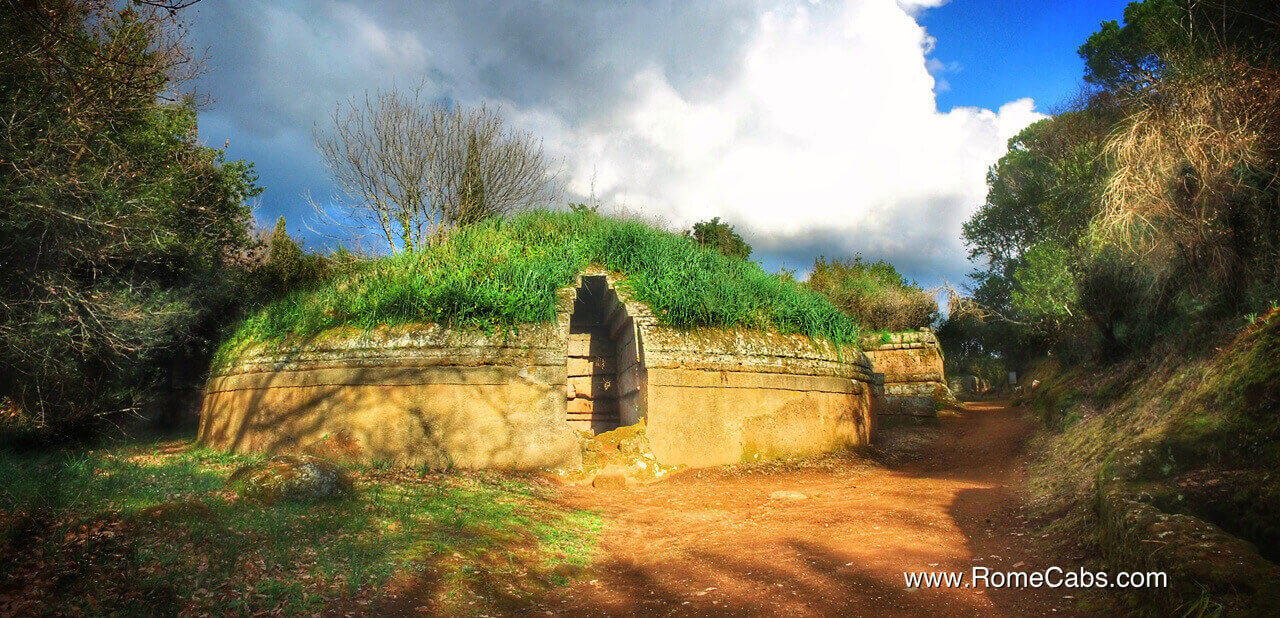 As the civilization evolved, so have their burial traditions and tombs. Many tombs are dome shaped as their interiors were carved out into actual "homes of the dead". Since no physical homes of the ancient Etruscans have survived because they were generally built of wood, the tombs themselves were carved to represent the homes of the deceased.
Entire families along with their personal treasures and everyday items believed they might need in the afterlife were buried inside these family tombs that had multiple chambers.
In more recent centuries such as 4th-3rd centuries BC, the tombs became more like city blocks with venues for funeral processions to pass, and tombs carved into large cubed blocks that gave the impression of modern city blocks with many door entrances side by side.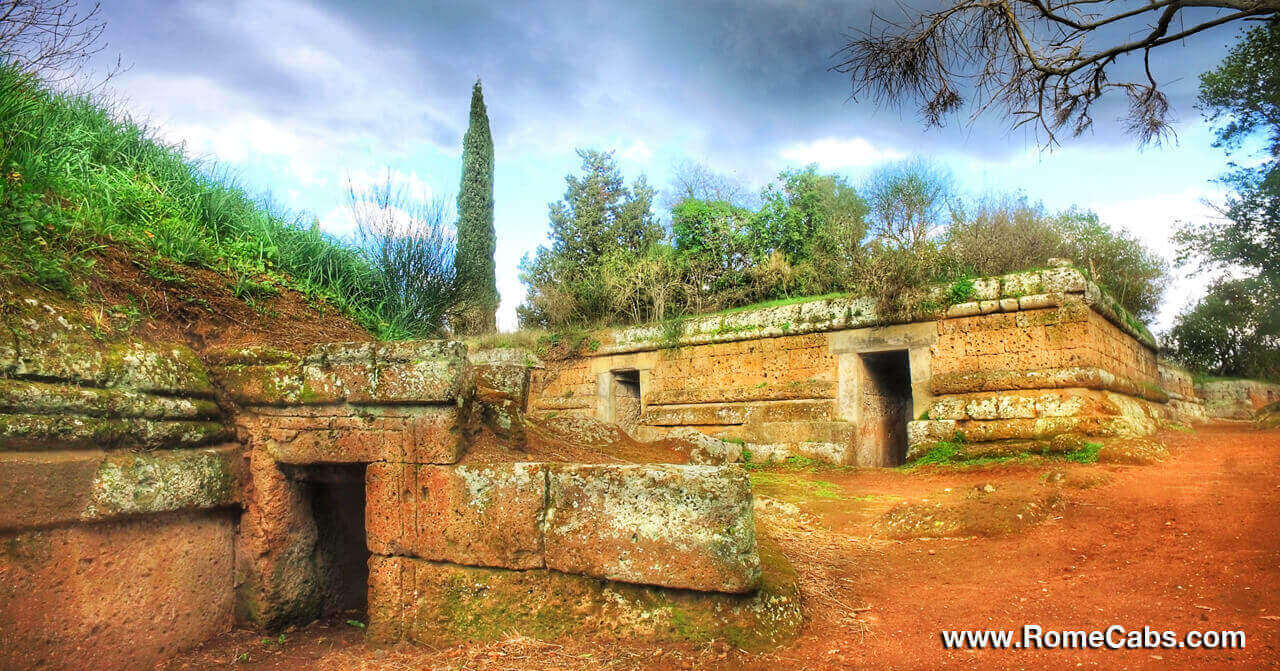 It's a profound feeling to walk through several centuries of this Necropolis and see how this ancient civilization progressed and advanced as you make your way through the many tombs. It's truly an unforgettable experience.


This marks the conclusion of our Countryside Splendor Tour as you explored the wondrous countryside from Rome and Civitavecchia. We invite you to see for yourself why it's one of the most popular tours as you explore the countryside from Rome and Civitavecchia cruise port.
If you love nature, history, architecture, and good homemade food, this tour is for you!
For more information and to book your own Countryside Splendor Tour from Rome or Civitavecchia, please visit our website below. We look forward to showing you beautiful places in Italy!


Warmest Regards,
Stefan's RomeCabs Team