Whether a Shore Excursion from the port of Naples, or a Day Trip from Rome, you'll enjoy an exciting journey into Italy's magnificent region of Campania to visit the ancient Roman city of Pompeii, taste the flavors of Sorrento, and experience the breathtaking seaside town of Positano in the comfort of your own private deluxe vehicle driven by a Rome Cabs knowledgeable English speaking Driver eager to help you have a most unforgettable experience in Italy.
Pompeii and Amalfi Coast are both UNESCO World Heritage Sites and among the most visited destinations in Italy. On this tour with Rome Cabs you'll see for yourself why!


Watch the amazing Pompeii, Sorrento and Amalfi Coast Tour Video: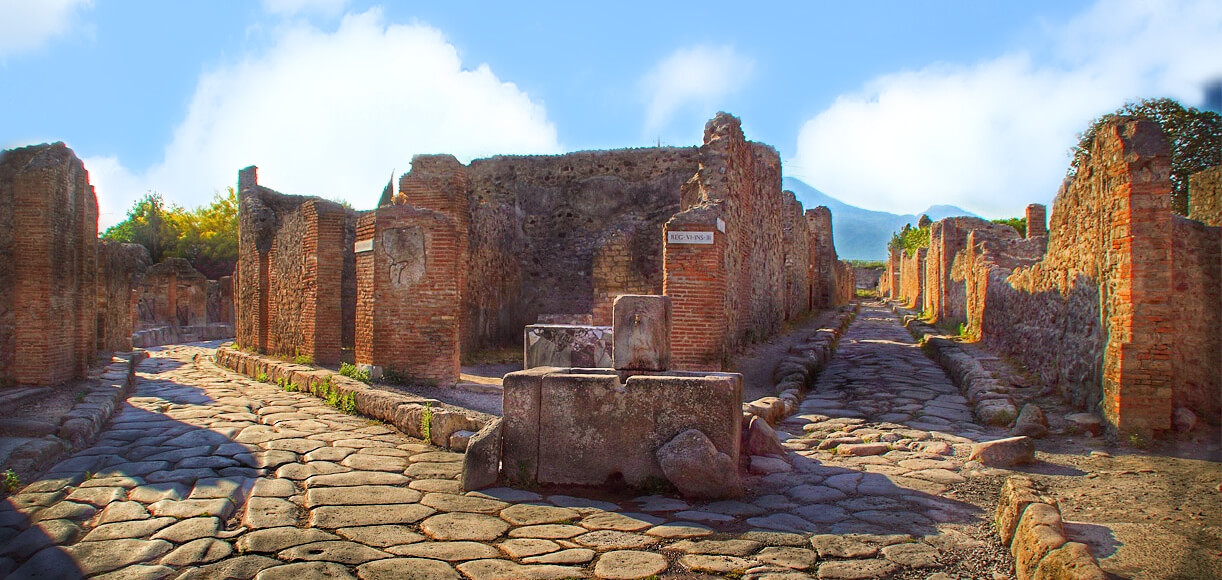 Pompeii was a former prosperous ancient Roman town that became entombed in volcanic mud when Mount Vesuvius violently erupted in 79 AD.
It wasn't until 1700 years later that first excavations began in Pompeii, and excavations continue even now. Here you can walk in the footsteps of the ancient locals along the distressed cobble stone streets through the well preserved ruins of once impressive villas with vivid frescoes, apartment buildings, bars and workshops. It's definitely a walk through ancient history.


To get the most out of your short visit to Pompeii, a local licensed guide with expert knowledge and detailed narrative will enhance your experience and understanding of this captivating ancient city….and you'll get to discover some hidden treasures you wouldn't otherwise have the opportunity to see without a licensed guide that knows where to take you so you don't miss the important stuff (while wasting your time in areas that are not so interesting).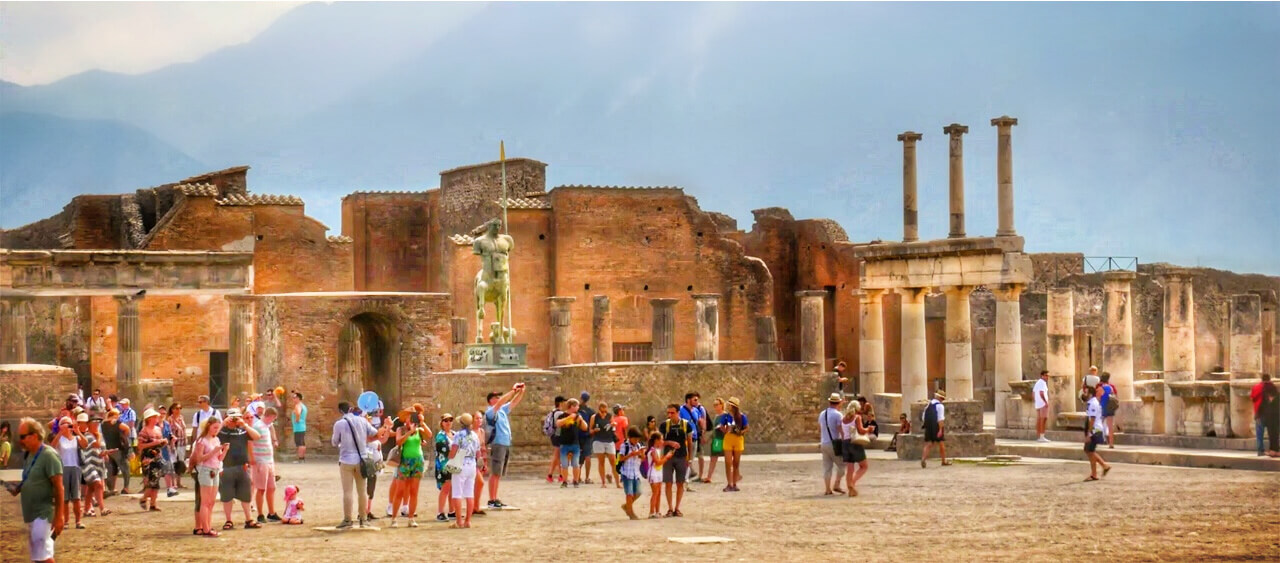 SORRENTO - the charming seaside town


From here we will drive to the splendid coast town of Sorrento for lunch at a local seaside restaurant. The beauty and charm of Sorrento has inspired films, books and music.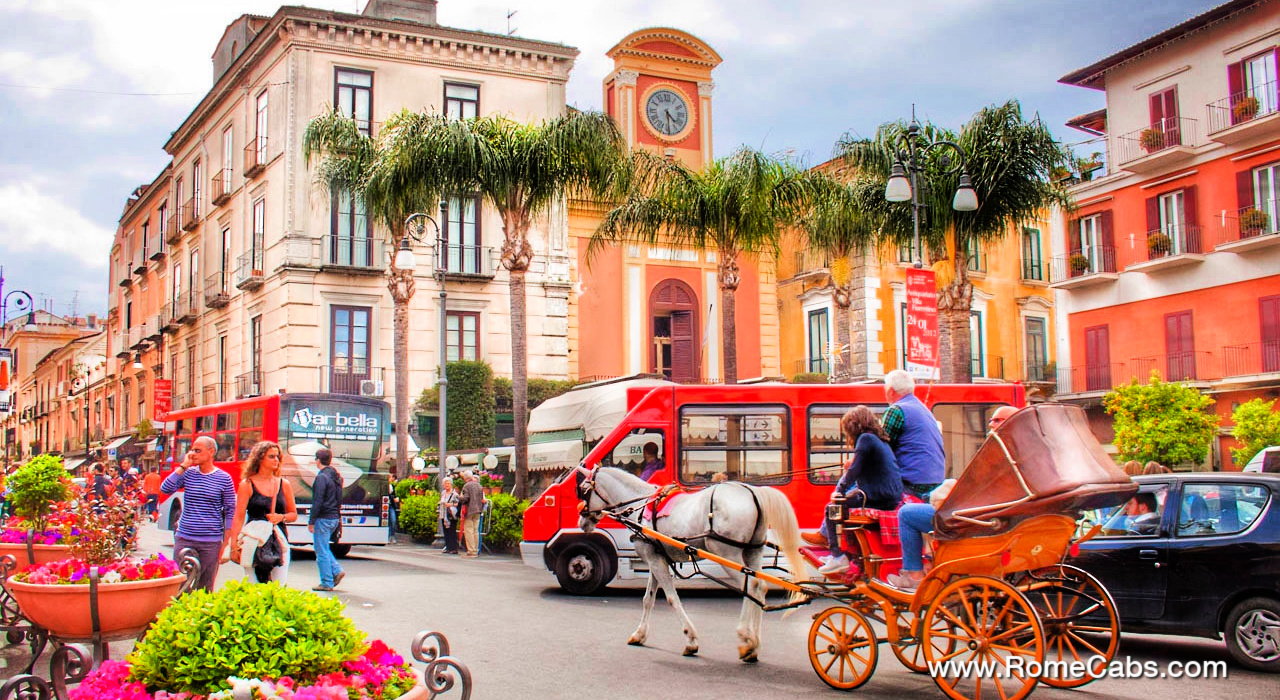 It's also where you will find the world famous traditional Limoncello, a delightful golden lemon liqueur made from the large perfumed lemons grown on the slopes of the region of Campania.
The lemons of Sorrento and Amalfi Coast are distinctive in their enormous size (in comparison to the usual store bought lemons), and their slightly gnarly peel. Some Amalfi Coast lemons grow the size of a pine apple! Locals often eat them sliced with a sprinkle of sea salt and sweet balsamic vinegar.
POSITANO - the jewel of Amalfi Coast


Your tour continues as we drive on the famous windy roads of the Amalfi Coast with stunning views of the blue waters and towering cliffs. These stunning cliffside roads have been made famous in many films, and they're characteristic of Amalfi Coast's driving experience. It's one of the more exciting and sceneic drives you may ever experience in Italy!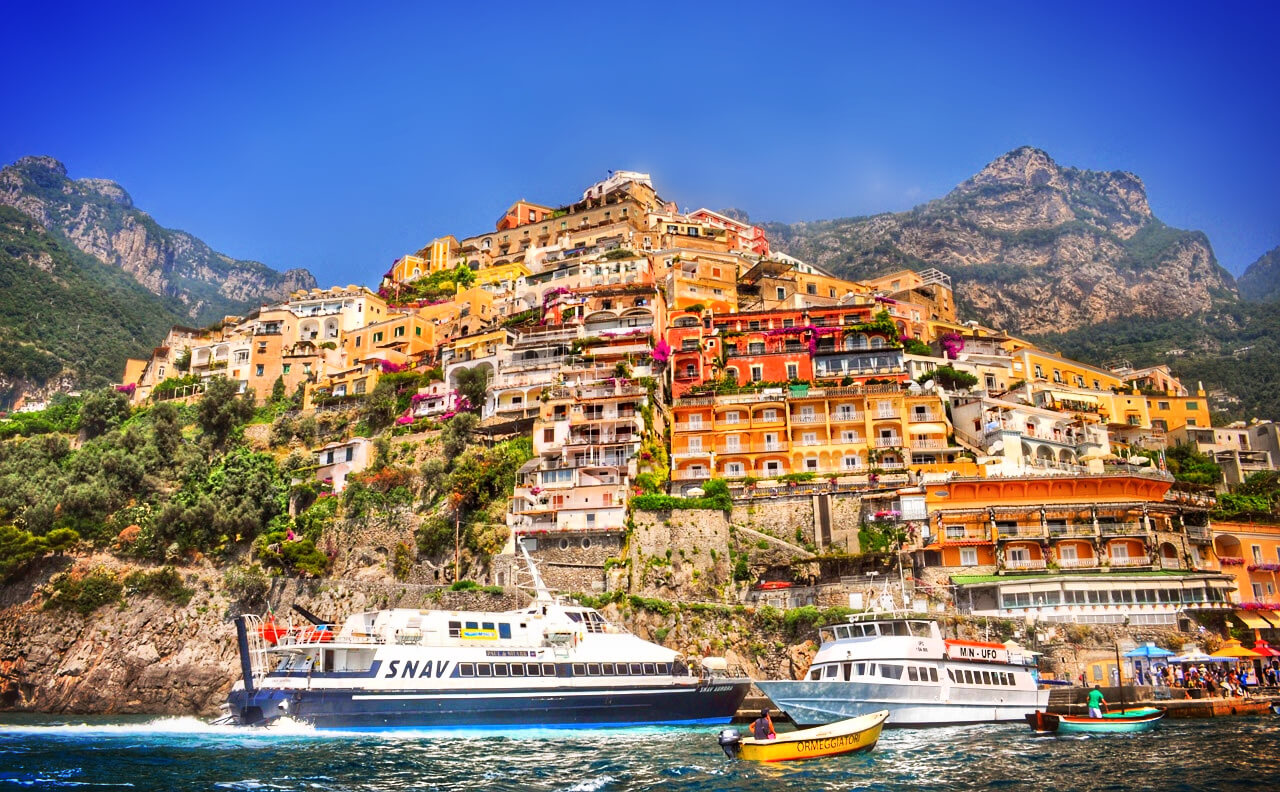 Soon you'll arrive in the colorful beach side town of Positano that sits impressively on the slope of a steep hill. Positano offers a splendid walk on the beach, a stroll through its charming windy lanes lined with cafes, boutiques, artisan shops and galleries.
World famous by its own right, Positano was also featured in the popular film Under the Tuscan Sun, which added some extra charm and romance to its fame.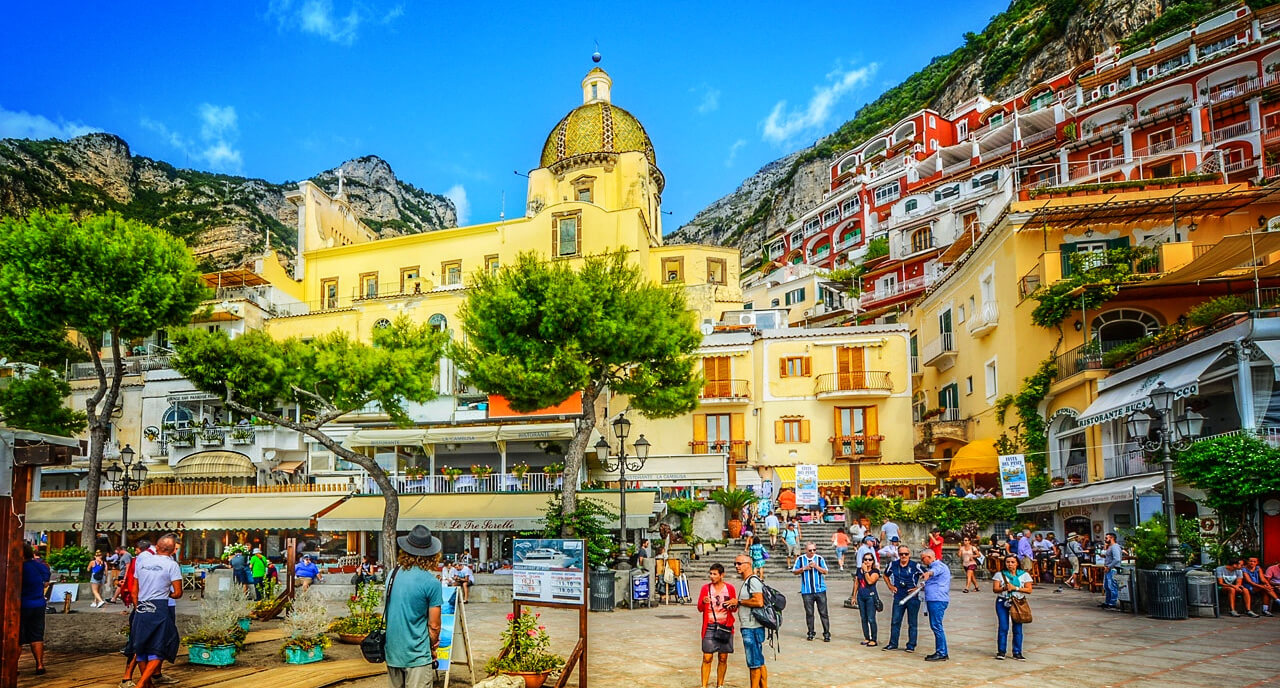 From here your driver will take you back to your hotel in Rome or port dock in Naples.

The breathtaking region of Campania is uniquely different from any place in the world….from a walk in the footsteps of ancient Romans in Pompeii…. to the seaside splendor of Sorrento…..and the pictures perfect hillside town of Positano.
For more information on Shore Excursions from Naples, Day tours from Rome, Airport Transfers from Rome's Fiumicino Airport and Civitavecchia Port Transfers, please visit our website.
Click below to book your Day Tour or Shore Excursion:


We invite you to also visit our sister company Stefano Rome Tours for an unforgettable Herculaneum and Mount Vesuvius tour that will take you to the top of the most famous volcano in the world!
We thank you for choosing Stefanos' RomeCabs for your transfers and tours in Rome and beyond. We look forward to hearing from you and seeing you soon in Italy!