Buon giorno and welcome to Stefano's RomeCabs, Rome's leading company for quality and reliable Civitavecchia Transfers, Day Tours and Shore Excursions in Italy.


In this article we included a 5 Travel Articles from our sister blogs to help make your Airport and Civitavecchia Transfers Easy, Efficient, and Enjoyable!


Click on the TITLES below to go directly to the original blog to read the article in full.
Helfpul Tips on Booking your Airport and Civitavecchia Transfers with RomeCabs
BLOG DESCRIPTION:
If you are planning cruise that departs or arrives at Civitavecchia Cruise Port, one of the many important decisions you will make is how to get to and from your cruise ship at the port.
Even though Civitavecchia port is regarded as the Port of Rome, it is about 1.5 hours away from Rome, and about 1 hour away from Fiumicino Airport .
During your cruise holiday that starts or ends in Civitavecchia, you may need various types of Transfers, and there are indeed the BEST times to book your transfers and the WORST times which can make or ruin your cruise holiday.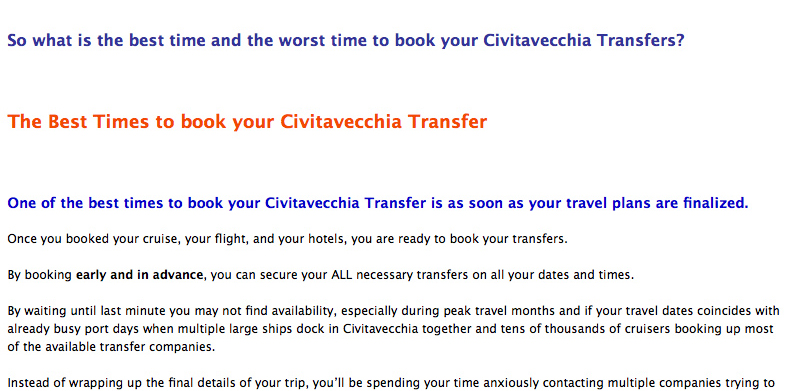 BLOG DESCRIPTION:
Our ultimate goal is to help make your trip to Italy the most memorable holiday of your lifetime!
In this article we offer you 10 reasons to book your Transfers and Tours with Stefano's RomeCabs, which are the reasons why tens of thousands of happy travelers have booked with us for more than 15 years straight and continue to recommend us to their friends, families, and other travelers.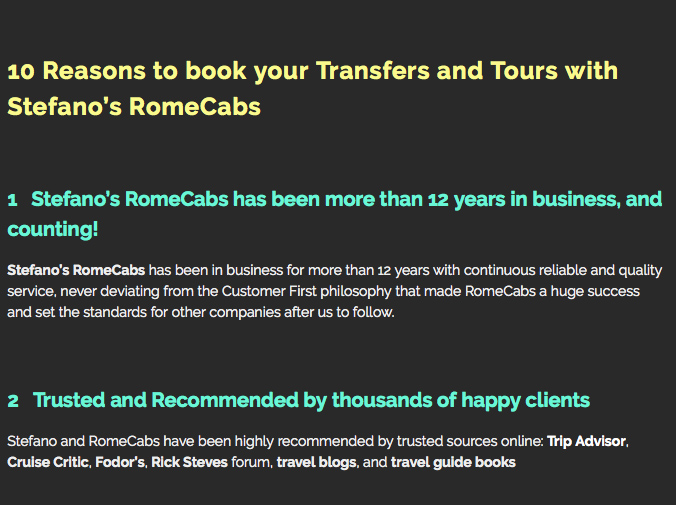 BLOG DESCRIPTION:
Booking your Civitavecchia Transfers with Stefano's RomeCabs is easy and secure.
This article offers you 10 Tips to help ensure your Civitavecchia Transfers are booked correctly and you provide the essential information required to for us to provide you with accurate service.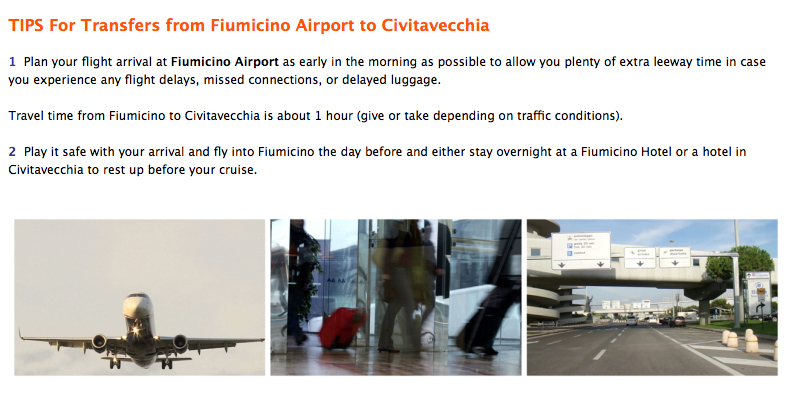 BLOG DESCRIPTION:
Whether you are traveling to Rome on land trip, or on a cruise, chance are you will need an Airport Transfer either from the Airport or to the airport.
This travel article will show you 5 Ways to book the perfect airport transfer so the start and end of your holiday will be seamless and enjoyable.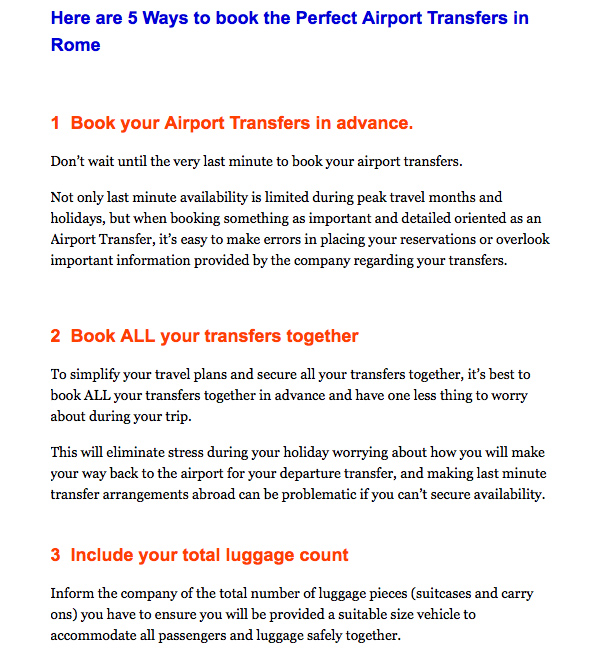 BLOG DESCRIPTION:
Whether you are traveling between Fiumicino Airport and Civitavecchia, or between Rome and Civitavecchia, Stefano's RomeCabs private transfers provides door to door service and deliver you and your luggage swiftly and efficiently to your final destination.
As though having your own personal driver at your service, traveling in the comfort of your private deluxe vehicle, never having to lift or carry your luggage, and travel to and from Civitavechia relaxed and comfortable is not perfect enough…. we'd like to make your Civitavecchia Transfers even better by enhancing your transfer with sightseeing opportunities along the way that turns your transfer into a TOUR!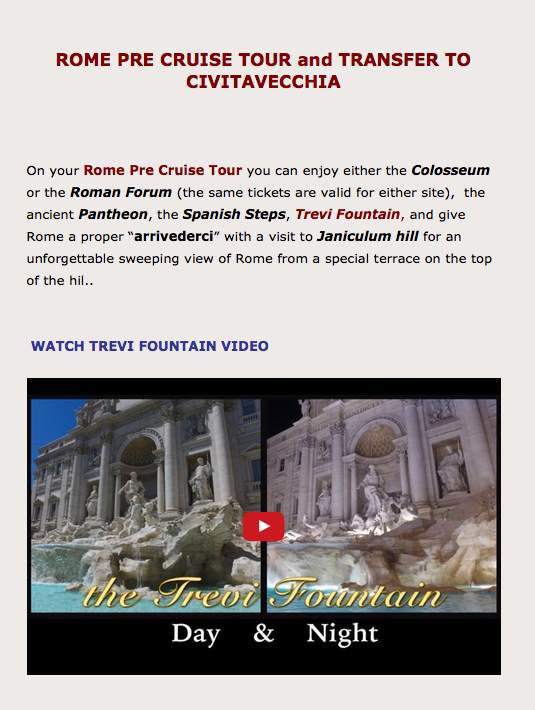 For more information about our Civitavecchia and Airport Transfers and to book yours online now. click on the options below:

Did you know we also offer LONG DISTANCE TRANSERS IN ITALY as well as ITALY SIGHTSEEING TRANSFERS? For example, you can book a direct Long Distance Transfer frmo Rome to Amalfi Coast, and also upgrade it to a sightseeing transfer with a visit to Tivoli or Pompeii along the way.
Thank you very much for choosing Stefano's RomeCabs for your Transfers and Tours in Italy.
Stefano's RomeCabs Team