Buongiorno and welcome to Stefano's RomeCabs, Rome's leading company for Rome private tour services and shore excursions from Civitavecchia.

Thinking of visiting Rome during Easter? If you've ever wondered what to do in Rome during Easter, this blog post is for you! From Easter celebrations and Easter delicacies to weather, day trips, travel tips, and information about things to see and do in Rome during Easter 2022 , here's what to know when you visit Rome during Easter.
WHAT TO DO IN ROME DURING EASTER 2022

Participate in Easter Celebrations in Rome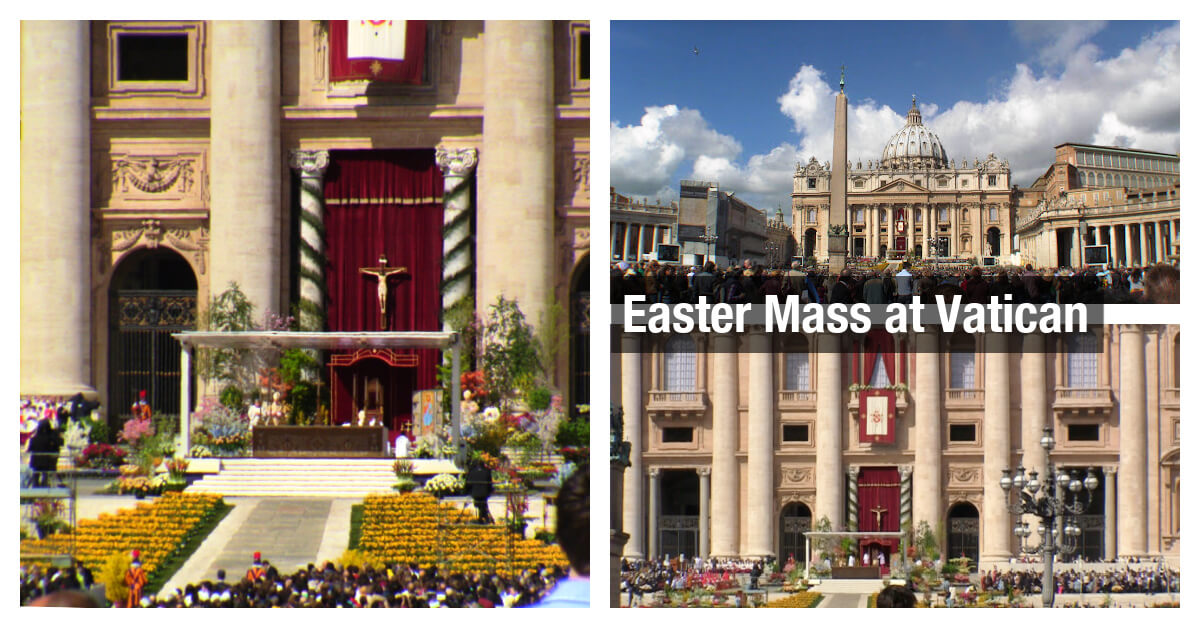 * March 1 - Ash Wednesday
This marks the first day of Lent, 46 days before Easter Sunday.

Church of Sant'Anselmo: 4:30 PM Lenten Station and Penitential Procession
Basilica of Santa Sabina: 5:00 PM Holy Mass, Blessing and Imposition of the Ashes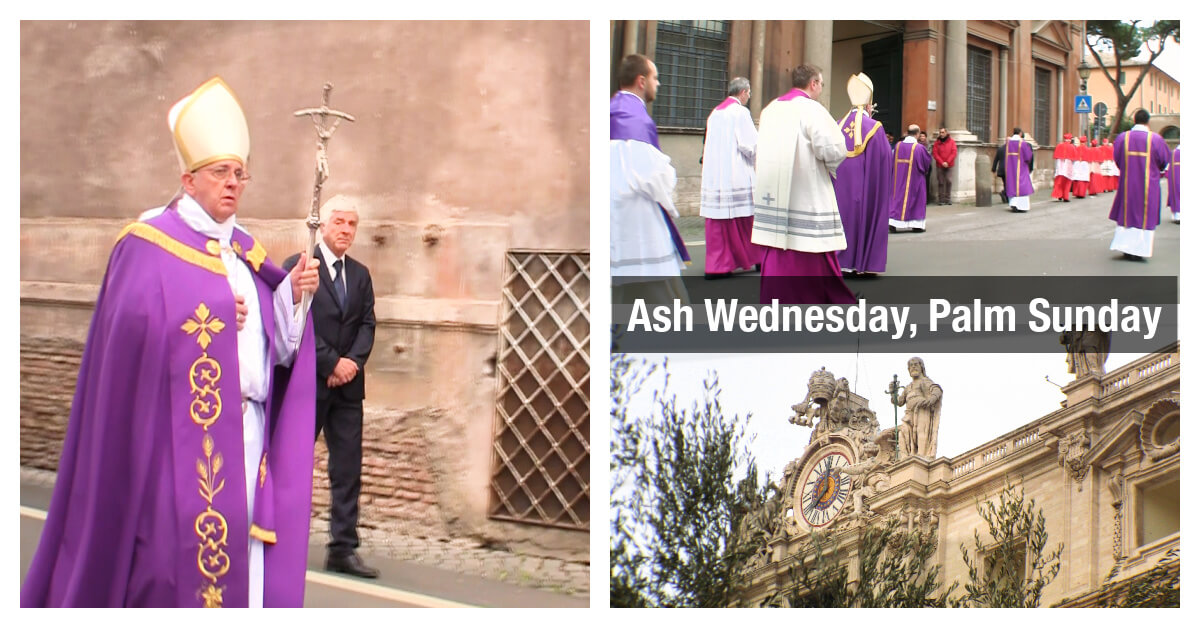 * April 10 - Palm Sunday
This day marks the beginning of Holy Week, commemorating Jesus Christ's triumphal entry into Jerusalem. It is associated with the blessing and procession of palm leaves. Morning Mass in Saint Peter's Basilica.
* April 14 - Maundy Thursday
This day commemorates Jesus Christ's institution of the Eucharist during the Last Supper with his apostles. Morning Mass in Saint Peter's Basilica during a special Mass presided over by the pope
* April 15 - Easter Friday or Good Friday
A holy day commemorates the Crucifixion and death of Jesus.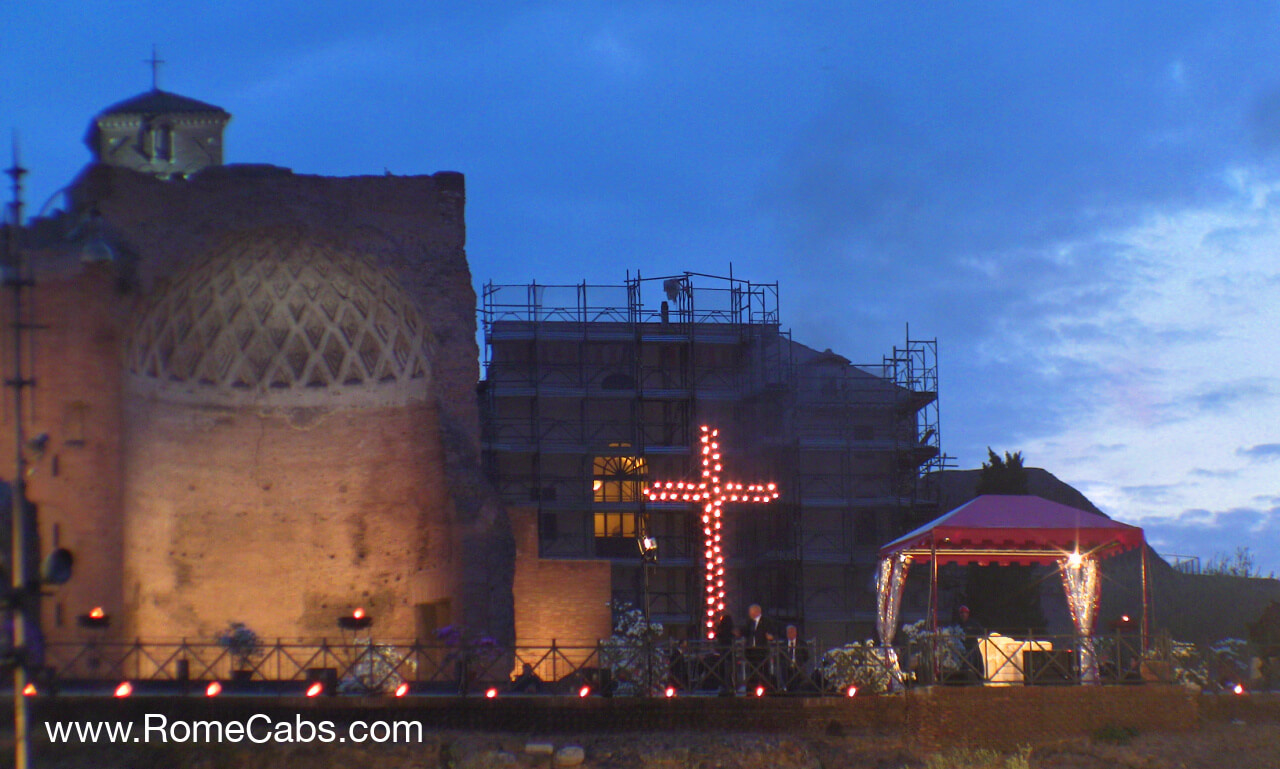 (photo taken before Covid)
Afternoon Mass in St Peter's Basilica followed by the pope leading the stations of the cross outside the Colosseum, a procession that commemorates the fourteen stages of Christ's passion. This 18th-century tradition emerged in honor of the martyrs allegedly killed inside the Colosseum in Ancient Rome when Christians were persecuted. (During Covid, this tradition might be substituted with the stations of the cross performed at the Vatican due to crowd controls).


April 16 - Holy Saturday
This religious observance ends the Lenten season and commemorates the day of Christ's death, which is traditionally associated with his triumphal descent into hell to save righteous souls. A late evening Mass is usually celebrated by the pope in St Peter's Basilica


April 17 - Easter Sunday
This is a holy day celebrating the resurrection of Jesus. Traditional Easter Sunday Mass is celebrated at 10 AM by the Pope in front of St. Peter's Basilica (you have to book tickets well in advance to attend).
At 12.00 noon, the blessing "Urbi et Orbi" will take place in Central loggia of the Vatican Basilica

April 18 - Easter Monday / Pasquetta
This is a public holiday in Italy when banks, government buildings, and many shops and restaurants are closed.

See the Pope in Rome at Easter

If you happen to be in Rome during Easter time, you can catch a glimpse of the Pope leading the Way of the Cross. Traditionally this has taken place inside the Colosseum on Good Friday. For the past couple of years during Covid, it was held at the Vatican.
At the time this blog was published, the Vatican had not yet finalized its Easter calendar of events for 2022.
Although Italy is reopening more and more after Covid, the Vatican has yet to solidify its events for April 2022. Check back and we will update it with NEW information as it's made available to the public, or visit the VATICAN CALENDAR OF ACTIVITIES OF THE HOLY FATHER POPE FRANCIS.


Tickets (free of charge) are required for a papal mass held by the Pope in St Peter's Square. If you can't obtain a ticket don't worry, you can still be present outside the perimeter of St Peter's Square as all the papal masses are screened live in the square in front of the Basilica that you can watch from the perimeters.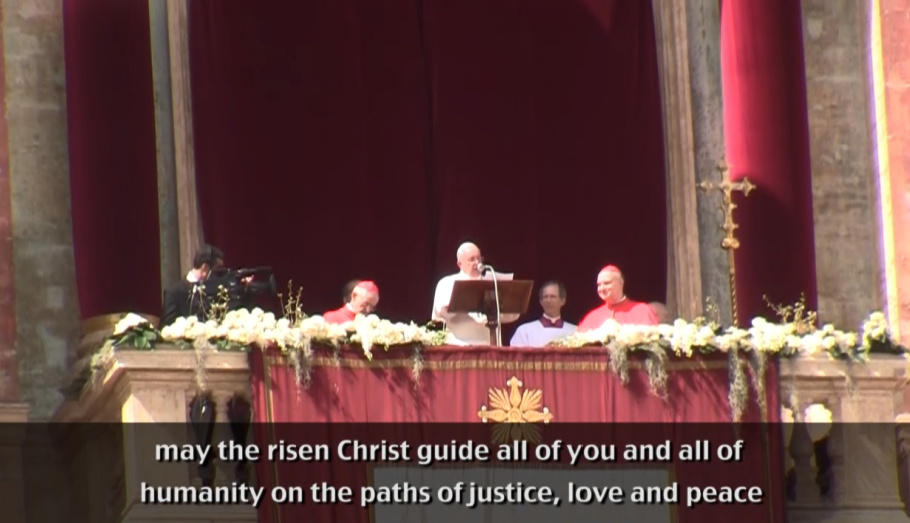 What is closed on Easter in Rome?
You can expect banks, many shops, and some restaurants to close on Easter Sunday and Easter Monday. Fortunately, many restaurants in the center that cater to tourists stay open during most holidays.
Banks, Post Offices, government offices, and most Roman shops are closed on Easter Monday as it's a national holiday.

If you choose to stay in a more local neighborhood outside the main historic center, you might find more businesses close for Easter Sunday and Monday as many locals leave for the weekend and it's not worth it to the local businesses to stay open during such holidays. Therefore, if you plan to visit Rome during Easter, choose accommodation in the historic center where most shops and restaurants stay open.

Vatican Museums are closed on Easter Sunday and Easter Monday.

What is open on Easter in Rome?

* Good Friday is not a holiday in Rome, therefore you can expect business as usual.

* Easter Saturday is also a normal day in Rome.

On Easter Sunday grocery stores, supermarkets, and most shops in the center of Rome (where tourists normally stay) are usually open on Easter Sunday and Easter Monday.
Which Rome Monuments and Museums are open during Easter?

You can visit top monuments and museums during Easter such as the Colosseum, Roman Forum, Palatine Hill, and Borghese Gallery.

What is the weather like in Rome during Easter?
Spring is the welcomed transformation from the wet and chilly winter months to hot and dry summer months. This transition makes for ideal weather that is not too cold and not too hot making it ideal for sightseeing in Rome (as well as enjoying day trips from Rome)

If Easter falls in mid-April, you'll likely find warmer and sunnier weather, but you can expect more rainy days in spring.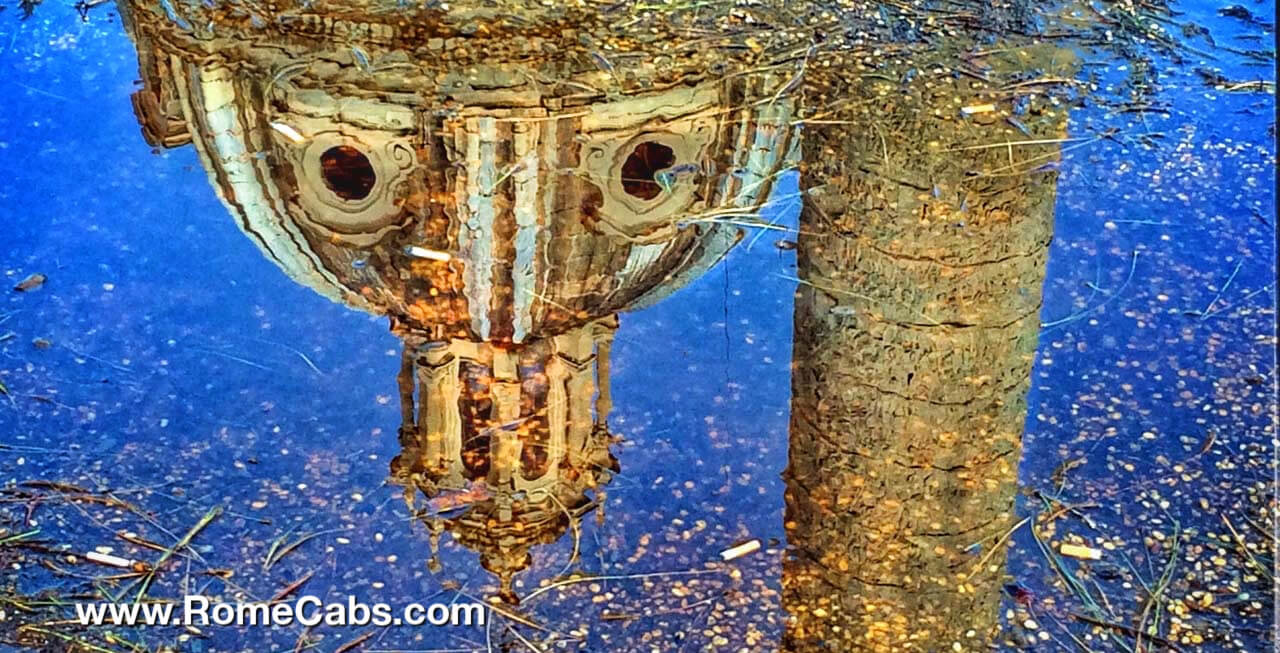 During the day the temperatures in mid-April can warm up nicely in the mid-60s where just a light jacket or sweater may be needed, but mornings and evenings can be chilly in the low 50s (and lower at night). It's recommended to dress in layers that you can peel off and put back on as the temperature shifts.

Scarfs are also highly recommended for ladies. They keep you warm, are fashionable to wear around your shoulder like a shawl, are light and easy to pack away when not being worn.

The most practical sweaters, jackets, or breaker jackets are those that you can wrap around your waist or stow in a small day bag or purse. Avoid carrying large backpacks as they may possibly hinder your access to monuments and museums that prohibit large backpacks or may require them to be placed in a locker.

Plan to bring a light travel-size umbrella with you in case you encounter spring showers or rainy days. Umbrellas are handy in case of rain or showers, and they provide you with shade on bright sunny days.

If you get caught in the rain, don't worry. There are many places in Rome to duck into to stay dry and to enjoy yourself. There are many cafes in Rome with sit-down tables so you may relish an Italian coffee, a sweet pastry, a tasty gelato, or a nice glass of wine. During lunch or dinner time, you will also find restaurants with indoor seating. With nearly 1,000 churches in Rome, you will find yourself not too far from a church you probably never visited before.
Is Rome crowded during Easter?

By April, tourism in Rome starts to pick up but it's nowhere near as crowded as in May or in the summer through early fall when most land travelers and cruisers visit Rome. Due to school holidays in Italy and Europe, you can expect Easter time to be relatively busy in Rome.


Should you visit Rome during Easter weekend?

Easter brings many pilgrims and religious figures to Rome, especially for festivities held at the Vatican. For many, it's a special holiday held dear.
If your trip to Rome is Easter-related, then you should definitely visit Rome during Easter weekend to enjoy the Easter festivities as well as tour Rome.

If your spring vacation to Rome coincides with Easter, don't worry. There is much to see and do in Rome that will not be impacted b the Easter holiday.


What to do in Rome during Easter 2022 if not celebrating Easter?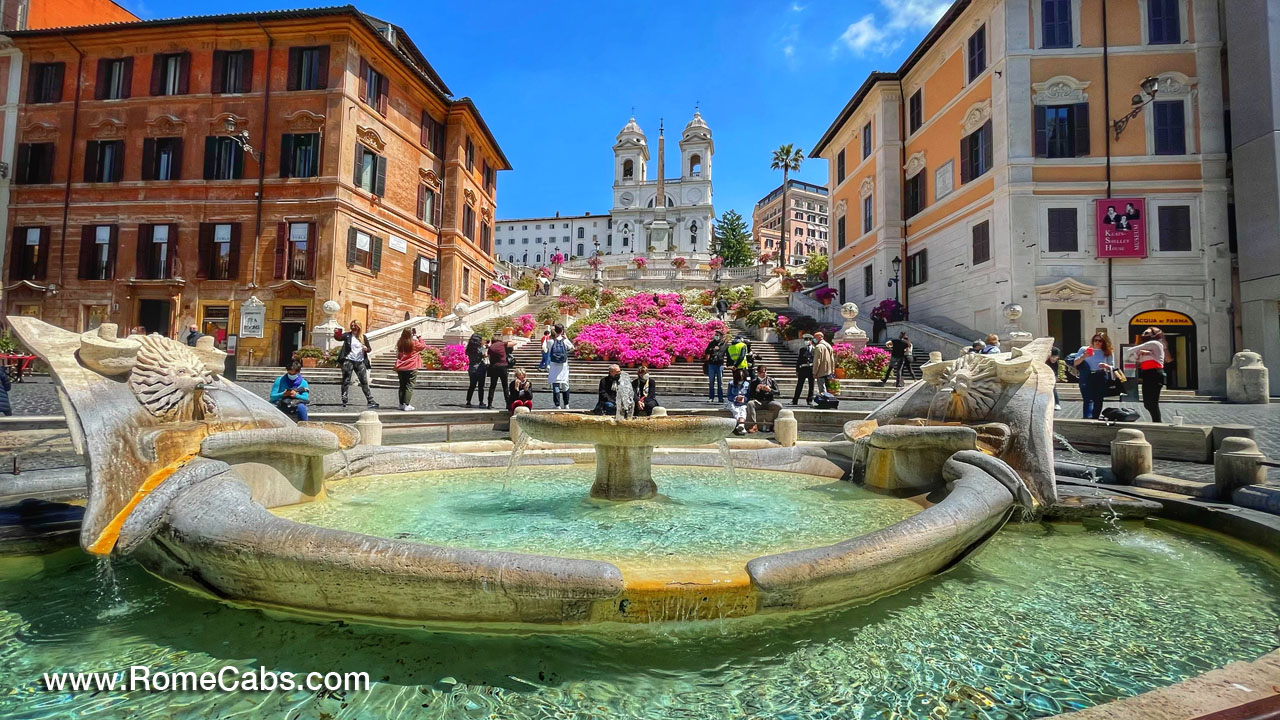 Here are some tips for visiting Rome during Easter
Book everything in advance to secure availability. This means hotels and accommodations, transfers, tours, monuments, museums, trains, and even popular restaurants.
Enjoy the spring weather and the flowers in bloom
Dress for the season
Visit local parks
Plan day trips from Rome
Delight in Easter delicacies and in-season specialties
Read on….
Enjoy Easter Food and Springtime specialties

Foodies would delight in visiting Rome during Easter for a delicious combination of springtime and Easter specialties to indulge in. Here are some delicacies to look forward to in Rome during Easter.


CHOCOLATE EASTER EGGS (Uova di Pasqua)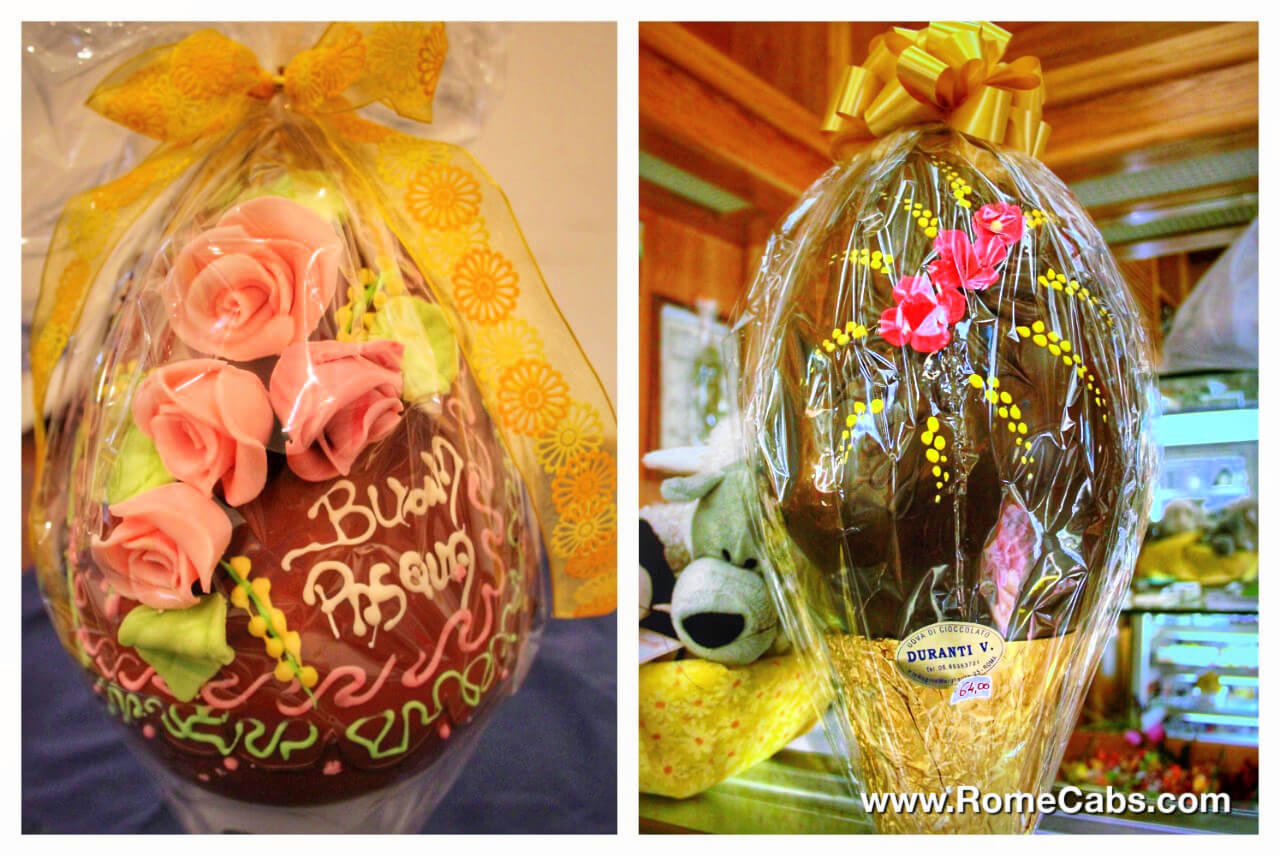 Chocolate Easter eggs are no small thing in Rome during Easter. In fact, you will discover Easter eggs to be large and beautifully decorated from simple to ornate. You will find the best Easter chocolate eggs at pastry shops throughout Rome.



COLOMBA DI PASQUA (Easter Dove)




Similar to the Christmas panettone, this delicious Easter version is fashioned in the shape of a dove. Its soft tasty dough is made with flour, eggs, sugar, natural yeast, butter and often contains candied peel and topped with pearl sugar and almonds before being baked. You can find these at local pastry shops and supermarkets.
DELIGHT IN SPRINGTIME SPECIALTIES AT EASTER

In-season fruits and vegetables are the highlights on Italian menus - Italians even host festivals celebrating certain seasonal foods! So why not try some spring specialties such as Roman artichokes, green fava beans, and pecorino cheese.
ARTICHOKES:



Artichokes are among the most popular in-season vegetables to enjoy in the spring (and around Easter). Delight your tastebuds with Jewish Artichokes (alla Carciofi giudia), a specialty in the Jewish Quarter. The entire artichoke is deep-fried to a crisp golden brown bloom, with its outer leaves crunchy like potato chips and the heart tender and delicious.

The Roman artichokes (carciofi alla Romana) is a highly popular local appetizer offered at local Italian restaurants. These artichokes are simmered with olive oil, fresh herbs, and garlic for an absolutely delightful and healthy appetizer or side dish.

PUNTARELLE:
Another local unique spring specialty is the "puntarelle", a variant of chicory. These fresh and tender puntarelle shoots have a mildly bitter flavor and are served with a light
dressing of just the right combination of anchovy, garlic, vinegar, and salt.



FAVA BEANS AND PECORINO CHEESE: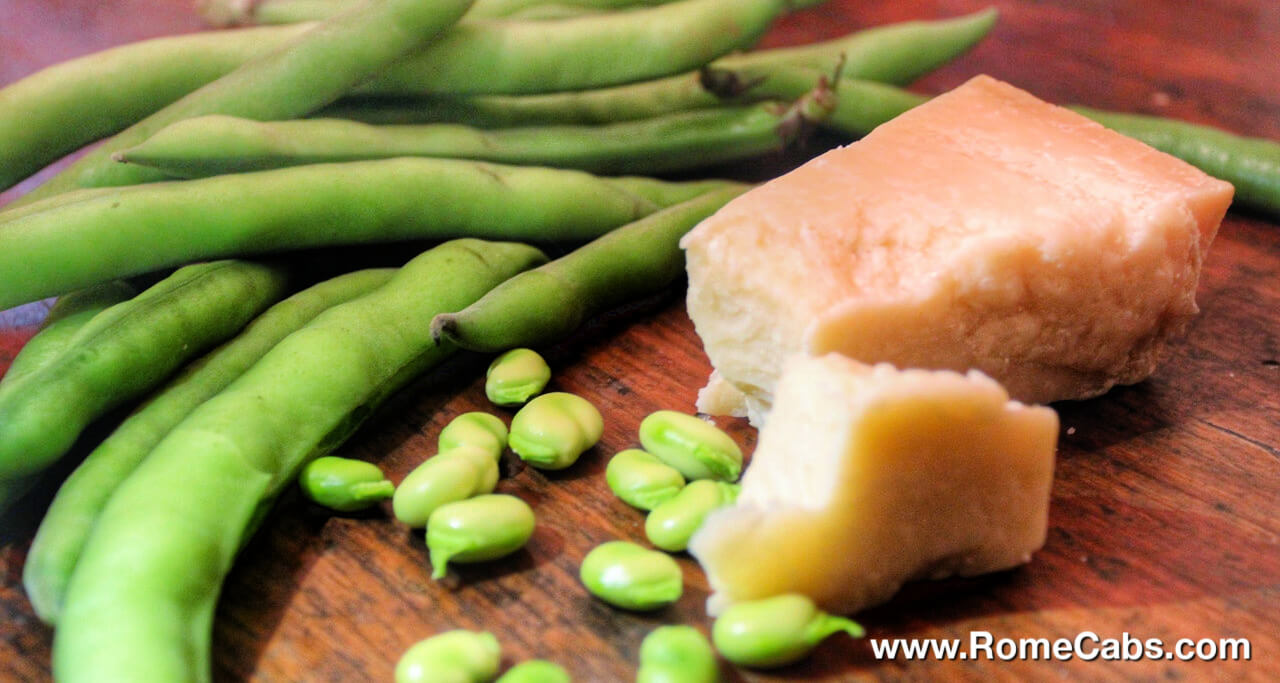 One particular Italian culinary tradition that heralds spring and can be enjoyed around Easter time is young tender fava beans fresh right out of the pod eaten together with aged pecorino cheese (cheese made from sheep's milk). This simple pairing is perfect to take on picnics as there's virtually nothing in particular to prepare. You can find fava beans in their pods sold at outdoor markets and supermarkets along with aged pecorino cheese.
EAT GELATO IN ROME:
Gelato has nothing to do with spring or Easter (as it can be enjoyed year-round in Italy), but this delicious frozen treat is particularly special in spring to celebrate the promise of sunny summer days to come.
* LOCAL TIP: When visiting the Pantheon, go straight to Cremeria Monteforte. Located on the right side of the Pantheon (if you are facing the Pantheon), this gelateria is favored by the locals for decades for its fresh and delicious artisan gelato.




SEE SPRING FLOWERS BLOOMING IN ROME AROUND EASTER


Spring has always been associated with flowers, and in Rome, you come to expect it. In mid-April, wisteria blooms and fills the air with its delightful fragrance.


When you find yourself near the Spanish Steps, stroll along Via Margutta where wisteria grows abundantly in spring.
Via Margutta is quite famous in Rome as it's the home address of Joe Bradley (played by Gregory Peck) in Roman Holiday (Vacanze Romane). Our sister company Stefano Rome Tours offers a Vacanze Romane / Roman Holiday tour for Rome that's quite popular with movie buffs.

Look for more pretty hanging wisteria near Vittorio Emanuele Monument next to Capitoline Hill, Roman Forum, and in other quaint neighborhood areas in Rome.

VISIT PARKS IN ROME DURING EASTER
BORGHESE GARDENS

The most famous park in Rome is the Borghese Gardens where you will also find Villa Borghese which is one of the top museums in Rome. Here you will find secret gardens, classical temple structures, fountains, an artificial lake with rowboats, a zoo, cafes, and stations to rent bikes and segways. The grounds of this magnificent park are shaded by characteristic umbrella pine trees for a perfect setting to enjoy a picnic.


PINCIAN HILL

Above Piazza del Popolo you will discover Pincio (Pincian Hill). This is an ideal location to access the gardens if you don't mind the steep path upward. From the top of Pinciean hill, you will be rewarded with beautiful views of Rome's skyline, domes, and the square below.
VILLA DORIA PAMPHILI

Location: Via Aurelia Antica
Situated on Gianicolo hill in the Monteverde neighborhood of Rome, Villa Doria Pamphili is the city's largest landscaped public park. The mid-17th century villa is not open for visits, but the lovely Renaissance-style gardens with tree-lined pathways, fountains, lush green grass, and panoramic terrace views rank this as one of the top parks to enjoy in Rome.
ORANGE GARDEN ON AVENTINE HILL

Location: Via di Santa Sabina
The official name of the Orange Park (giardino degli aranci) is Savello Park.
This charming garden on top of Aventine Hill is named for the orange trees inside the park, the lovely terrace of view of Rome, and shady benches. In spring it's particularly splendid when the orange blossoms are in bloom with their delightful perfume.
A short walking distance away is Piazza of the Knights of Malta with the Secret Keyhole that you don't want to miss. Don't know what that is? Show up and follow everyone else who is peeking through the keyhole and be surprised! Or, you can read more about the Secret Keyhole here.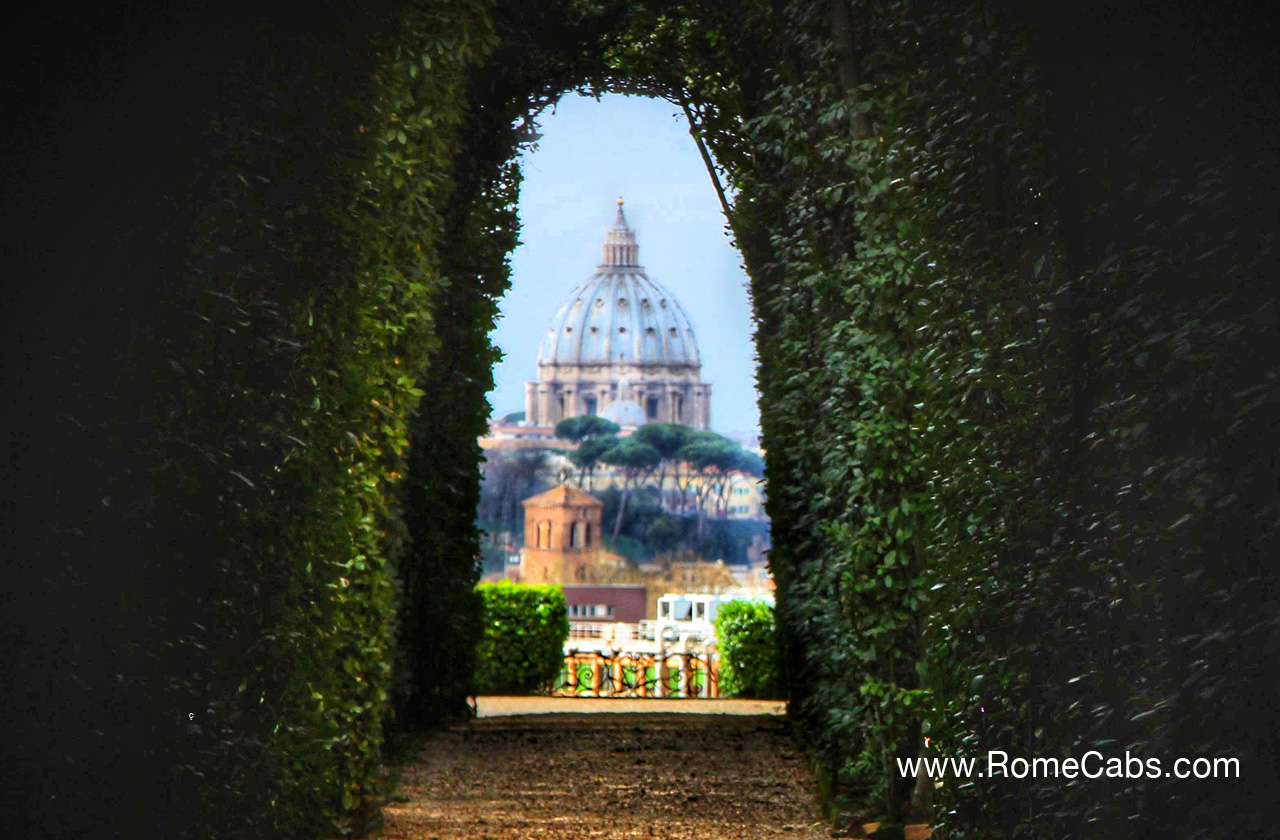 PARK OF THE AQUEDUCTS

Location: Via Lemonia, 256
Located on the outskirts of Rome in a suburban area, is the Park of the Aqueducts, named after the ancient Roman aqueducts that fed natural spring water to ancient Rome.
This is a rustic unofficial park without the fanciness of Borghese Gardens or Villa Pamphili, but when you gaze upon these imposing ancient wonders of Ancient Rome while contemplating the engineering feats of 2,000 years ago, you will not be disappointed. This local park is enjoyed by locals who come here to have a picnic, jog, stroll among the ruins, read, play music, or walk their dogs. You might even find a flock of grazing sheep in the far distance.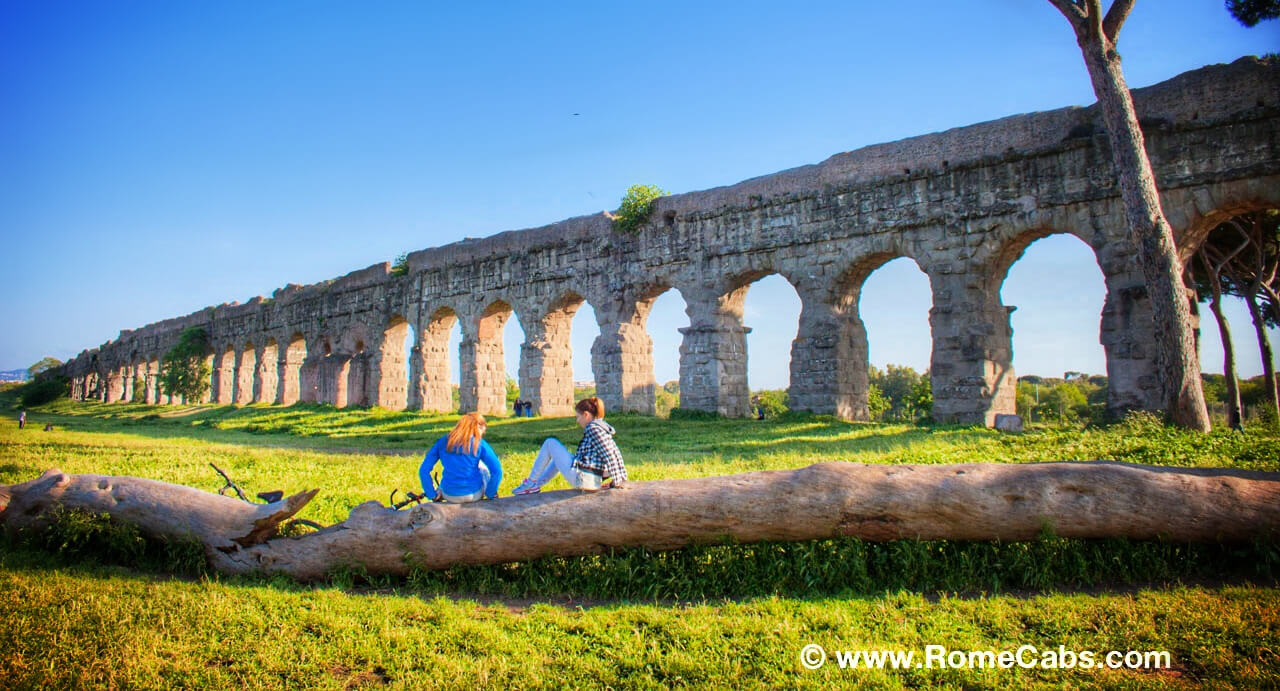 PLAN DAY TOURS FROM ROME DURING EASTER

While in Rome during Easter, why not dedicate a few days for day trips from Rome to Tivoli, Tuscany, and Amalfi Coast which are most delightful in spring.

In Tivoli's Villa d'Este and Hadrian's Villa, you will find a variety of beautiful spring flowers in bloom.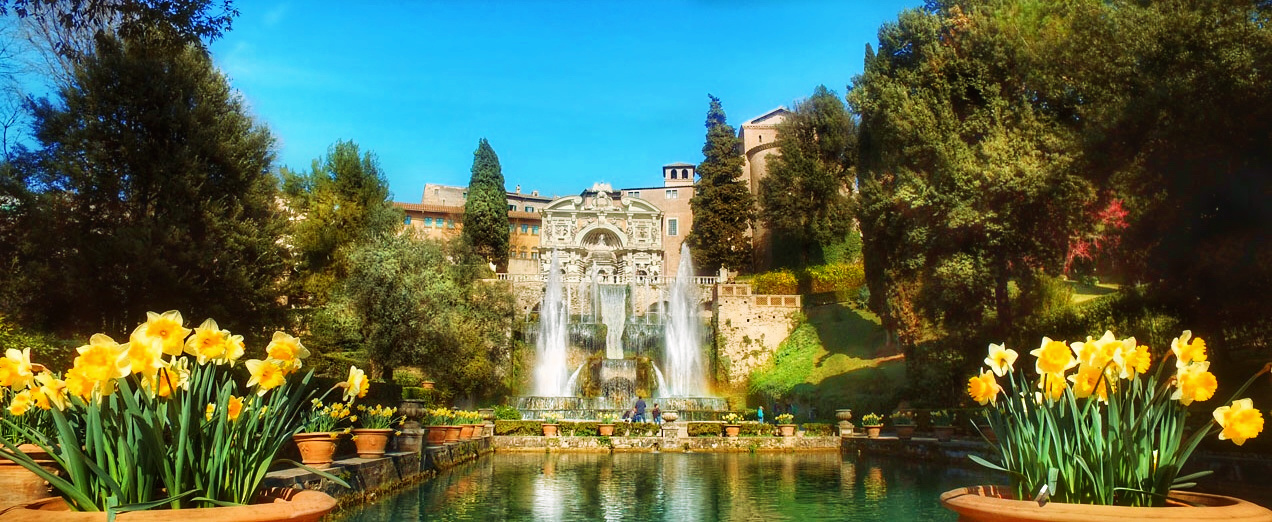 In Tuscany, spring is celebrated with velvet green landscapes sprinkled with pastel field flowers.

Amalfi Coast is enticing in spring with warm sunny days but without the usual huge summer crowds.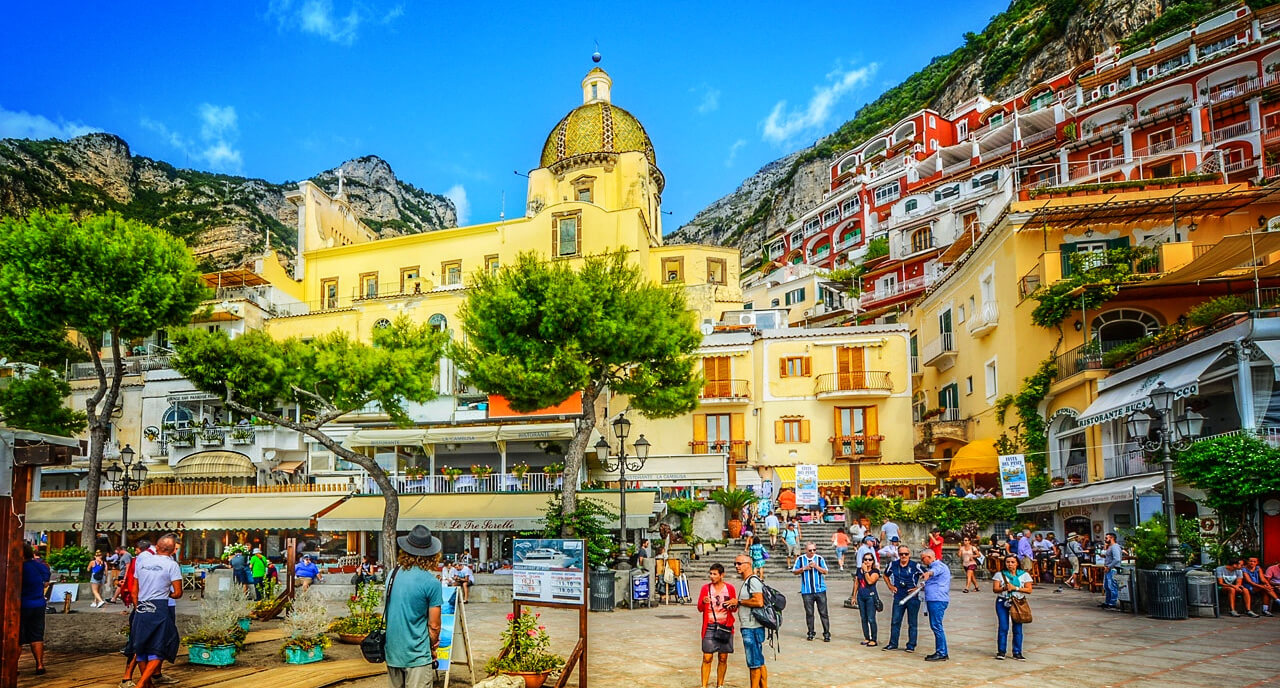 We hope this travel blog helped shed some light on what to do in Rome during Easter 2022. We invite you to visit our website for Rome Tours, Private Airport Transfers, Civitavecchia Transfers, Shore Excursions from Italy's top cruise ports, and Day Tours from Rome to many of Italy's top destinations in Tuscany, Umbria, the Italian Countryside and Amalfi Coast.
We look forward to welcoming you to Rome and to showing you beautiful places in Italy!
Find us online also on: