Buongiorno and welcome to Stefano's RomeCabs, a leader in transportation services in Rome, Italy.
We have provided private transfers (as well as private tours) for more than a decade and a half and served hundreds of thousands of visitors and cruisers.
In spite of economic downturns and turmoils, PRIVATE Transfers (and private tours) have remained in high demand with visitors and cruisers when offered other options such as train, bus, or shared shuttle services.
7 Reasons to Book Private Civitavecchia Transfers

Below is some information to help you decide if a private Civitavecchia Transfer is for you.
1. YOU ARE IN CHARGE OF THE DETAILS OF YOUR TRANSFER

The first of our 7 reasons to book private Civitavecchia Transfers is having full control of your transfer service.
When you book your private transfer, you are in charge of the time you wish to be picked up.
There are no train schedules to follow….no buses to wait for and switch…. No preset pick-up times for shared shuttle services.
There is a great deal of peace of mind for many travelers to know in advance their precise pickup times so they can anticipate their final destination arrival times and organize their days accordingly.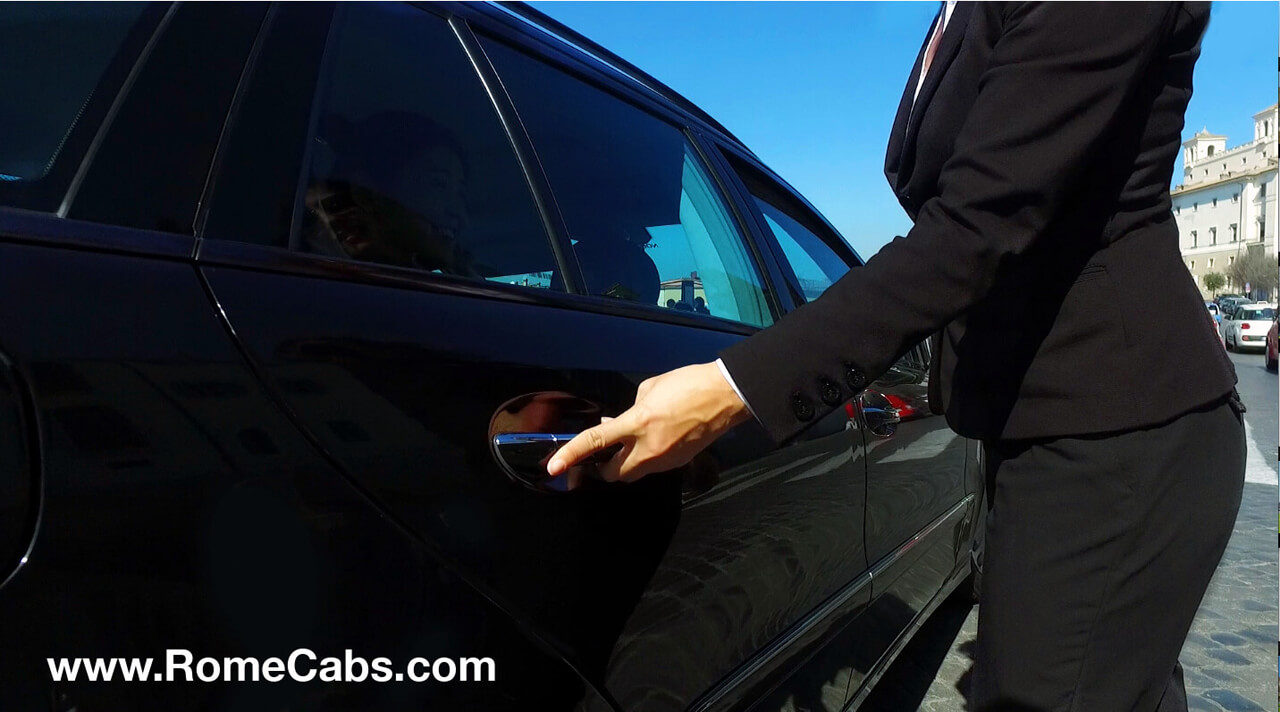 2. FLEXIBILITY

If your travel itinerary changes, you can quickly change your pick-up times even 1-3 days before your scheduled services.
For transfers from the Airport to Civitavecchia, this is very important when fights are sometimes delayed or missed resulting in new arrival times.

You don't have to worry about missing the train (or worse: missing the final train going to Civitavecchia to deliver you on time!), or missing your shuttle pick-up time and having to wait until the next available shuttle arrives back from other scheduled pickups.
The same applies to delayed luggage. It's not unheard of for luggage to be delayed (or even lost) at Fiumicino Airport. This often happens when connection flights are made with minutes to spare.
You have the reassurance that your private transfer driver will wait for you and will NOT leave because the other passengers on the shuttle service arrived on time and can't wait for you.
On private transfers, you have the flexibility to make changes if your flight or luggage is delayed and not worry about making alternative plans to arrive at your ship safely.
3. CONVENIENCE AND EASE


There is nothing more convenient than to exit the baggage claims area, make your way to the designated Meeting Point, and be met by your personal driver to whisk you away to Civitavecchia and drop you off conveniently next to your ship.
This is most welcome after long overnight flights when you are jetlagged and tired and the last thing you want to do is carry your luggage on buses and trains, or wait for other passengers to fill up the van.
When picked up from Civitavecchia, your RomeCabs driver will meet you right on the pier next to your ship.
No need to take buses and No need to take trains or No need to wait for shared shuttles to fill up.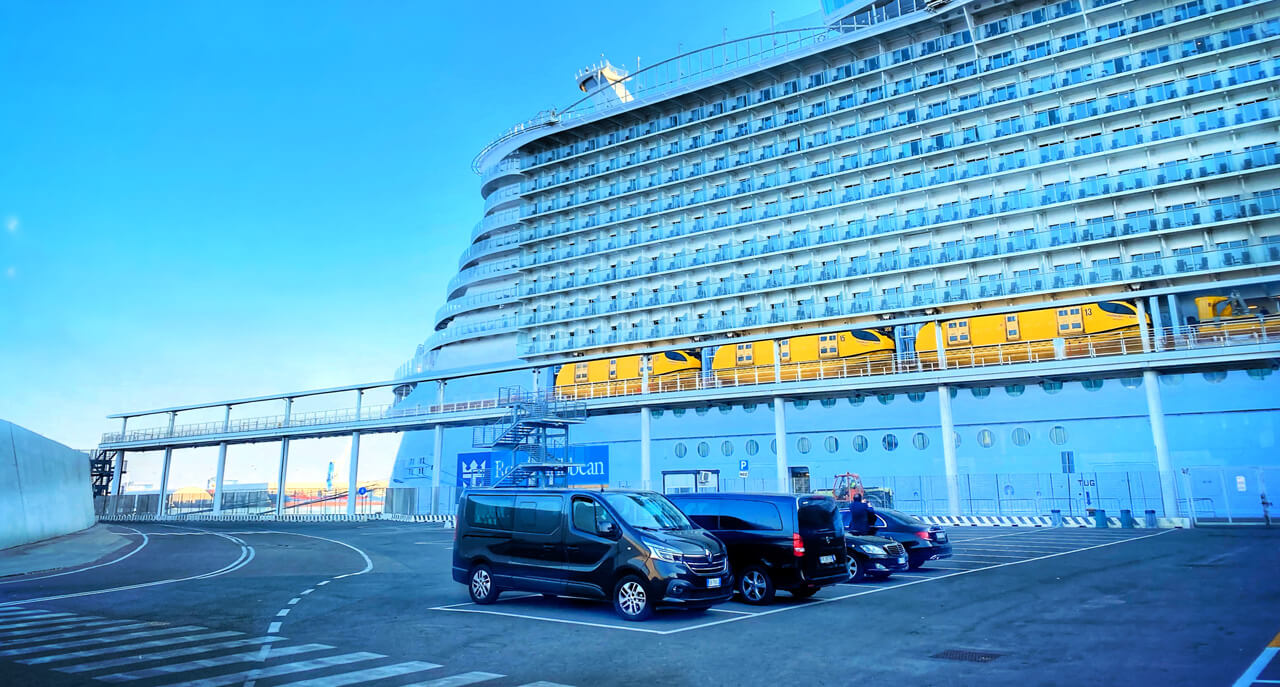 You are off to Rome to make the most of your day in the Eternal City, or swiftly taken to the Airport without further delays for an easy transfer to catch your flight.
4. COMFORT OF PRIVATE CIVITAVECCHIA TRANSFERS


Next on our 7 reasons to book private Civitavecchia Transfers is what most travelers enjoy: comfort!
Depending on the number of persons in your party and the amount of luggage, you will be provided with a vehicle suitable for your needs.
You will travel comfortably in the privacy of your own vehicle without rubbing elbows in a crowded van with other strangers. And no worries about carrying luggage in your lap if other passengers bring more luggage than the van luggage compartment can accommodate.



5. PREDICTABILITY OF SERVICE


On our private Civitavecchia transfers, when you schedule your pick-up time you can anticipate your arrival time at your final destination. It makes your transfer schedule predictable which adds peace of mind to many travelers – especially when they have a ship or plane to catch or a tour booked in Rome post-cruise.
On our private Civitavecchia transfers, there are no other pick-ups or stops to make as with shuttle services making your actual departure and arrival times unpredictable and often stressful.
There are many risky unknowns related to public transportation travel when delays and Transportation Strikes can put a break on your transportation plans.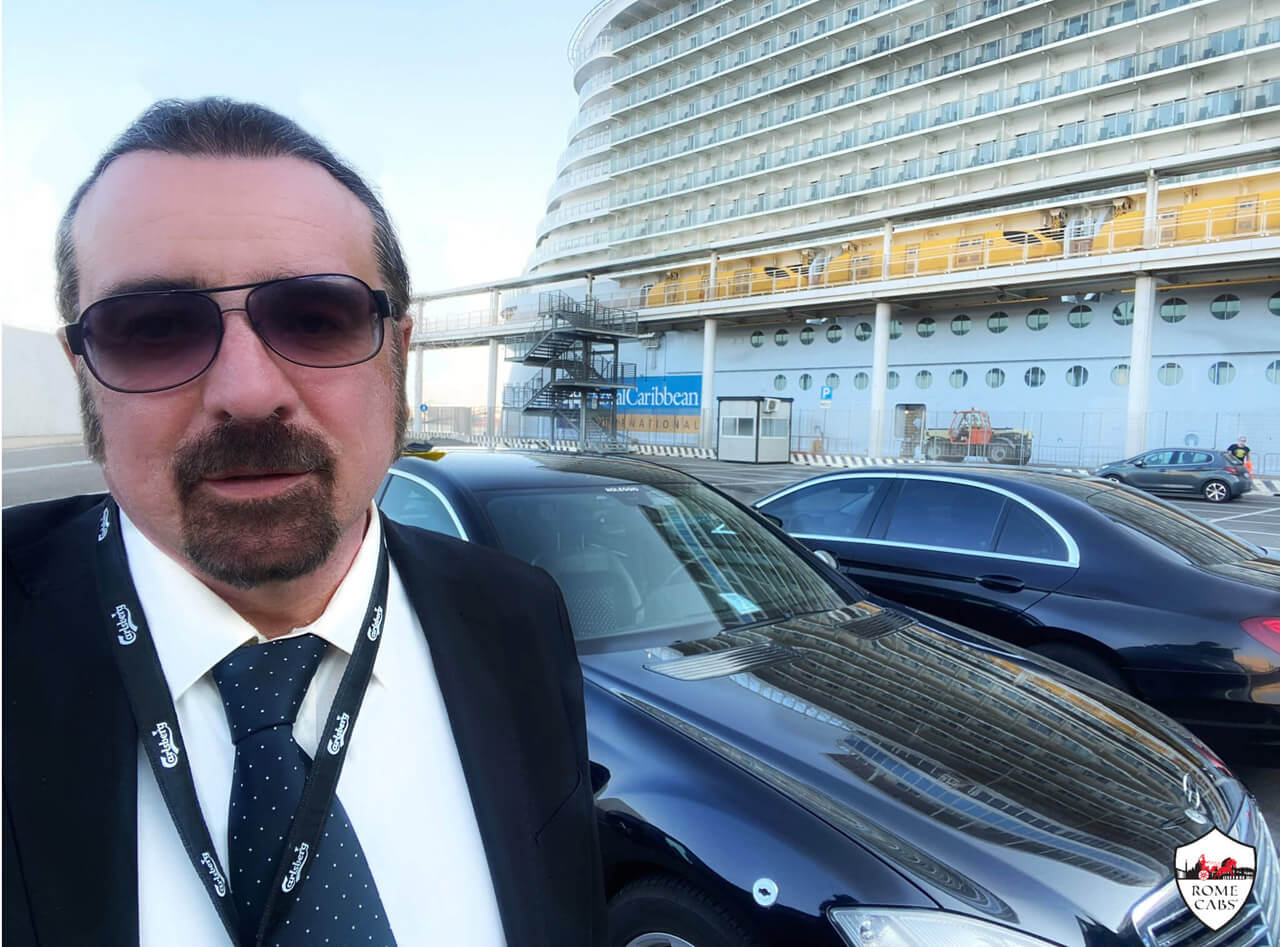 It is common that at least a few times a year public transportation in Italy and especially Rome strikes – and when they happened, hundreds (if not thousands) of cruisers who planned to take the train between Civitavecchia and Rome were left stranded.
Transportation Strikes ruined the vacation for those who looked forward to their once-in-a-lifetime opportunity to visit Rome by train from Civitavecchia and were left stranded at the port all day instead.

6. FIXED PRICES OF PRIVATE CIVITAVECCHIA TRANSFERS


Our prices are always published on our website so you know in advance your transfer costs.
Taxis can charge different rates, and shuttle services can charge some passengers more than others making their pricing unpredictable and unfair across the board.
7. CREATE YOUR OWN PRIVATE SHARED TRANSFER
…and save money without sacrificing any of the 1-6 above.

The last of our 7 Reasons to book Private Civitavecchia Transfers is also a MONEY SAVINGS TIP!
If you still wish to share your Civitavecchia Transfers with other fellow cruisers to save on costs, you can STILL do so without sacrificing control, flexibility, convenience, comfort, predictability of service, or risk some passengers paying less than others.



Take shared transfers to a whole new level of convenience!



Enhance your Private Civitavecchia Transfer and turn it into a Pre Cruise tour! Find out why you should book a Rome Pre-Cruise Tour to Civitavecchia and never have a boring transfer again!
Thank you very much for visiting our site and for reading our 7 Reasons to Book Private Civitavecchia Transfers blog.
For more information about our Airport and Civitavecchia Transfers, Day Tours and Shore Excursions in Italy, please visit our website.
For more tours and shore excursions in Italy, please also visit our sister company STEFANO ROME TOURS.
We look forward to welcoming you to Italy and showing you beautiful places!


Warmest Wishes,
Stefano's RomeCabs Team

Twitter @RomeCabs
RECOMMENDED BY CRUISERS ON CRUISE CRITIC