Buongiorno and welcome to Stefano's RomeCabs, Rome private transportation and the best Rome shore excursions company.
For more than 18 years we've also provided thousands of Pre Cruise Tours to Civitavecchia, Post Cruise Tours from Civitavecchia, and Civitavecchia Private Transfers, and established a strong expertise in this area of tourism offering cruisers the opportunity to enjoy more of Rome in less time, comfortably and effortlessly.

In this travel blog, we will discuss why you would book a Rome Pre Cruise Tour to Civitavecchia to maximize your sightseeing opportunities in Rome (or the Roman countryside) with the benefit of hassle-free transfers to Civitavecchia.


We pioneered Rome Pre Cruise Tours to Civitavecchia more than 18 years ago to help optimize Rome and Roman Countryside sightseeing opportunities in the morning prior to cruise departures.
We understand that many cruisers are in Rome prior to their cruise for just a limited time, and we explored ways to make our cruising clients' short stay in Rome an unforgettable pre-cruise experience. Our solution has been so successful that it's been duplicated by other companies as well who have looked to us for inspiration to enhance travelers' experience in Italy.

Many cruisers arrive in Rome the day before they embark on their Mediterranean cruise from Civitavecchia, and we searched for convenient, efficient, and hassle-free ways for them to enjoy Rome and the Roman countryside during their brief time in Rome.

From the airport, we created our VIP Airport Transfers that paired our trusted Private Rome Airport Transfers with our private Rome tours by car to offer 1 Hour, 2 Hour, and 4 Hour Rome tours by car straight from the airport on the way to the hotel.
Our 4-Hour Rome Tour option from the airport offered many cruisers the opportunity to enjoy a taste of Rome on their very first day. This way, you can squeeze in more of the wonders of Rome during your brief stay.

However, some cruisers arrived in Rome too late in the day to enjoy the benefit of a Rome tour by car from the airport. This left them with only the morning of their cruise departure available to enjoy some sightseeing on their way to the cruise ship.
And so our Rome Pre-Cruise Tours to Civitavecchia were born, followed by our other popular Rome Countryside Pre-Cruise Tours to Civitavecchia. More exciting pre-cruise tours are in the works, so be sure to visit our website before your next cruise from Civitavecchia.
Why you should book a Rome Pre-Cruise Tour to Civitavecchia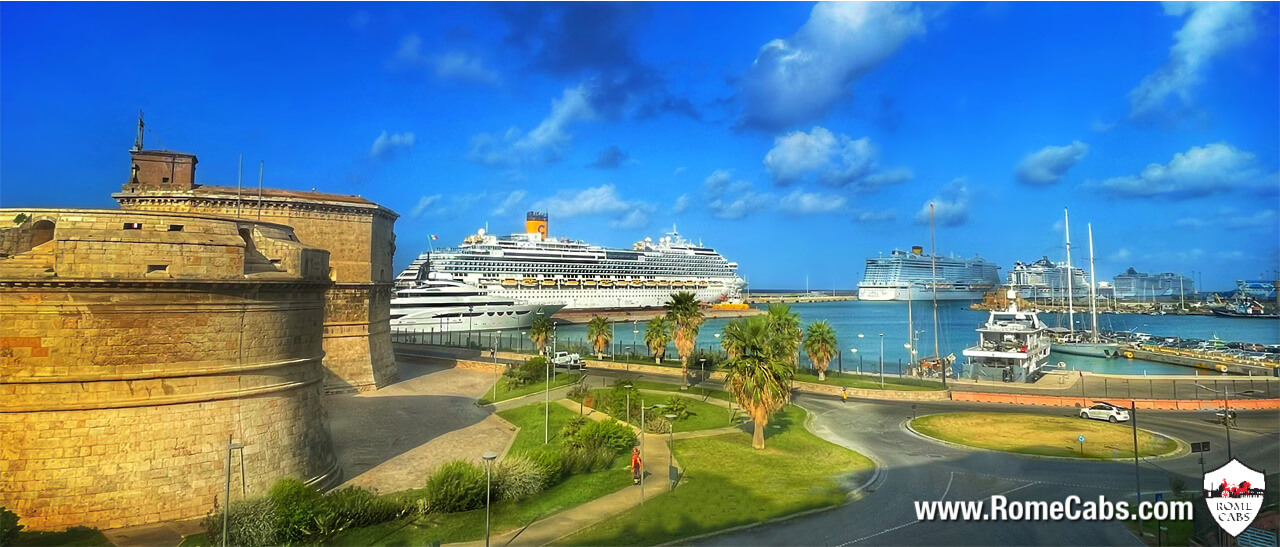 What is a Rome Pre-Cruise Tour to Civitavecchia?
What can you see on a Rome Pre-Cruise Tour?
Why should you book a Rome pre-cruise tour to Civitavecchia?


Our Rome pre-cruise tour to Civitavecchia includes a morning hotel pick-up in your private deluxe vehicle driven by your personal English-speaking driver who will take you on a fun-filled 4-Hour tour by car of Rome's top attractions, followed by a relaxing transfer to Civitavecchia with a convenient drop-off on the Pier next to the cruise ship.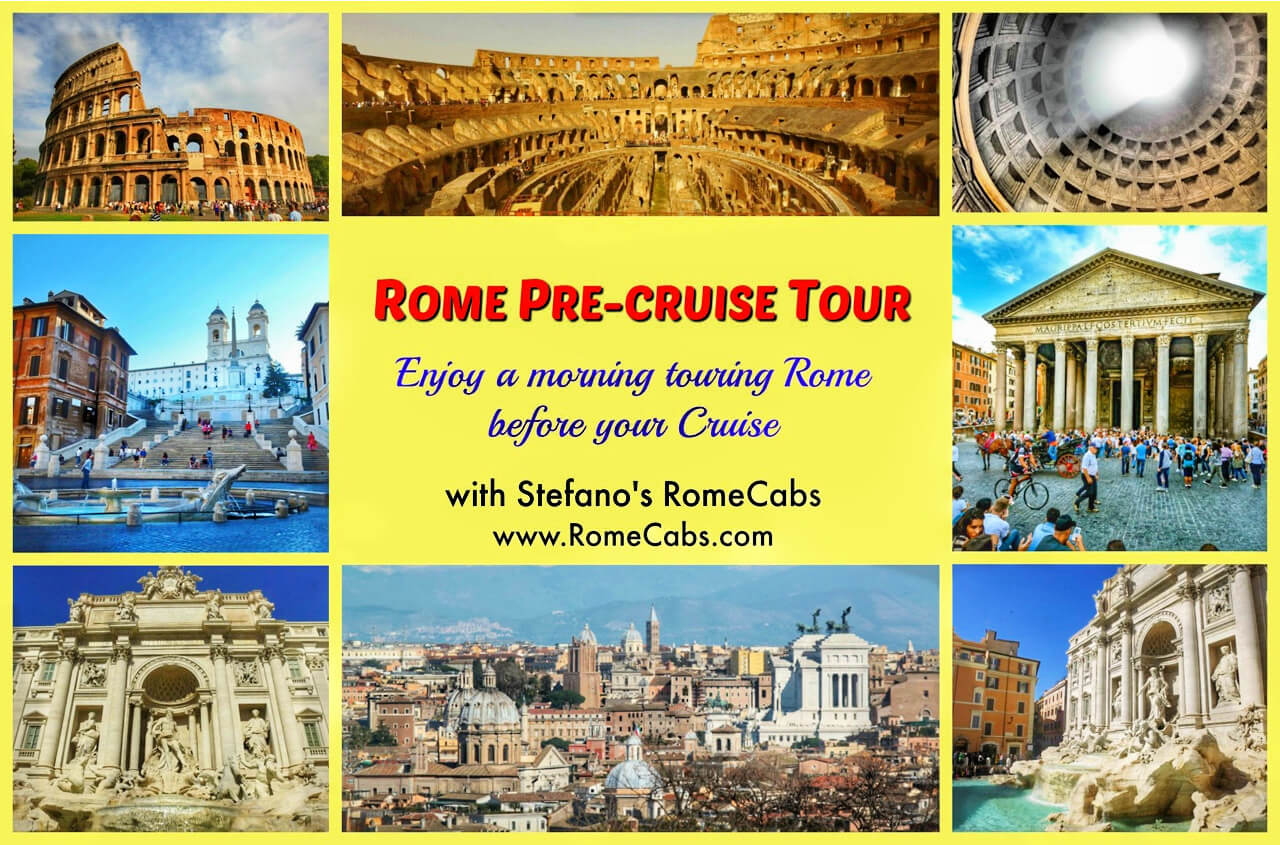 On our Rome pre-cruise tour you have the opportunity to visit the Pantheon, the ancient Roman pagan temple that's truly a wonder of Ancient Rome. Not to be missed is the Colosseum Square surrounded by wondrous Ancient Roman monuments.
Bask in the grandeur of the Colosseum, stroll to the Arch of Constantine, and admire the surrounding vestiges of Ancient Rome. Nearby, you will stop for a quick view of Circus Maximus, a mere outline of the once formidable horse chariot racing track with Palatine Hill as its glorious backdrop.
Delight in Rome's lively squares with visits to the elegant Spanish Steps and Trevi Fountain (don't forget to keep up with tradition and toss a coin into the Trevi Fountain to be assured a future return to Rome!).
After your whirlwind morning tour of Rome, you will enjoy a restful journey to your cruise ship in Civitavecchia where you will be conveniently taken directly to the pier next to your cruise ship. Your luggage will travel safely inside your vehicle's luggage compartment for a hassle-free experience.

Why should you book a Rome pre-cruise tour to Civitavecchia?
Most cruise ships depart from Civitavecchia at approximately 5 PM with embarkation time by approximately 2:00-2:30 PM. This allows for a morning full of sightseeing opportunities to be enjoyed before you embark on your voyage. So why just book a boring Civitavecchia Transfer and waste a beautiful morning when you can make the most of it exploring the Eternal City?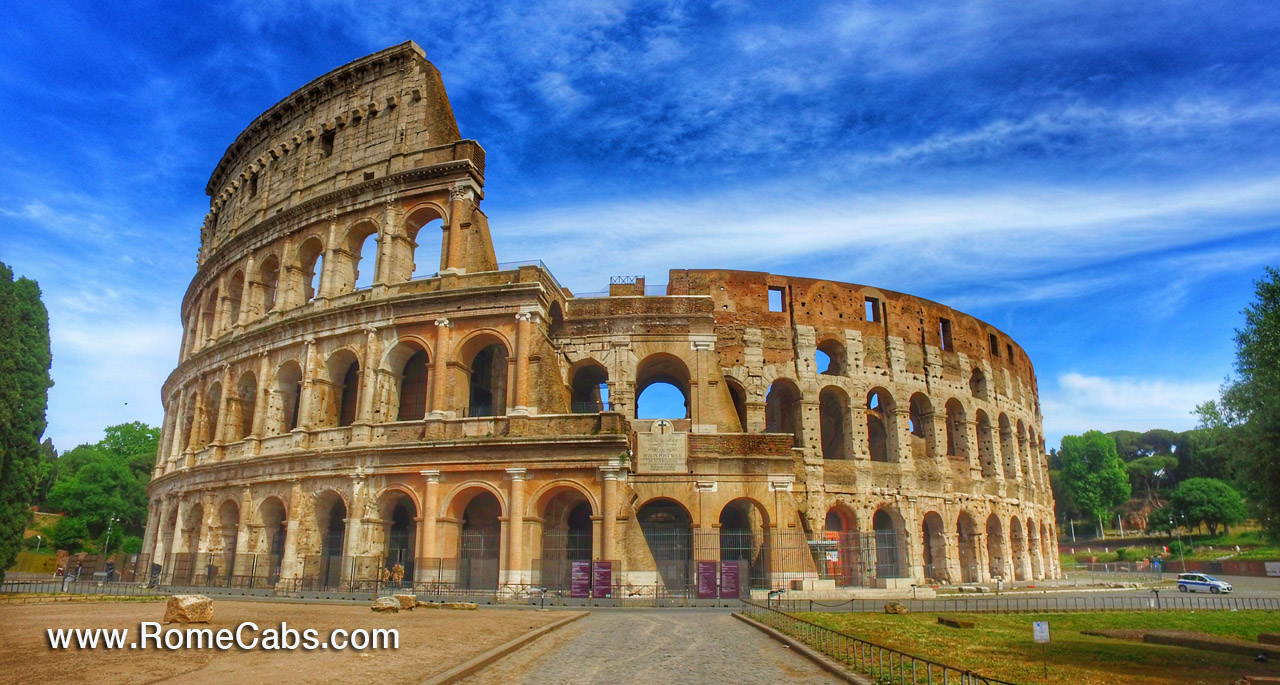 Whether it's your first time in Rome and you wish to experience Rome's top highlights, or if you've been to Rome many times and wish to re-visit your favorites, explore new places, or visit places that are best reachable by car, you can use your morning pre-cruise to squeeze in as much sightseeing as possible.
When you tour by car, not only is your luggage traveling with you for optimal convenience, but you can see MORE of Rome in LESS time by car! Your personal driver will take you as close as lawfully possible to each site you visit to minimize walking distances and maximize sightseeing opportunities.
You can see more of Rome in a 4-hour tour by car than the whole day on your own, saving you time and energy. At the conclusion of your Rome tour, your transfer to Civitavecchia is taken care of for a stress-free door-to-door service.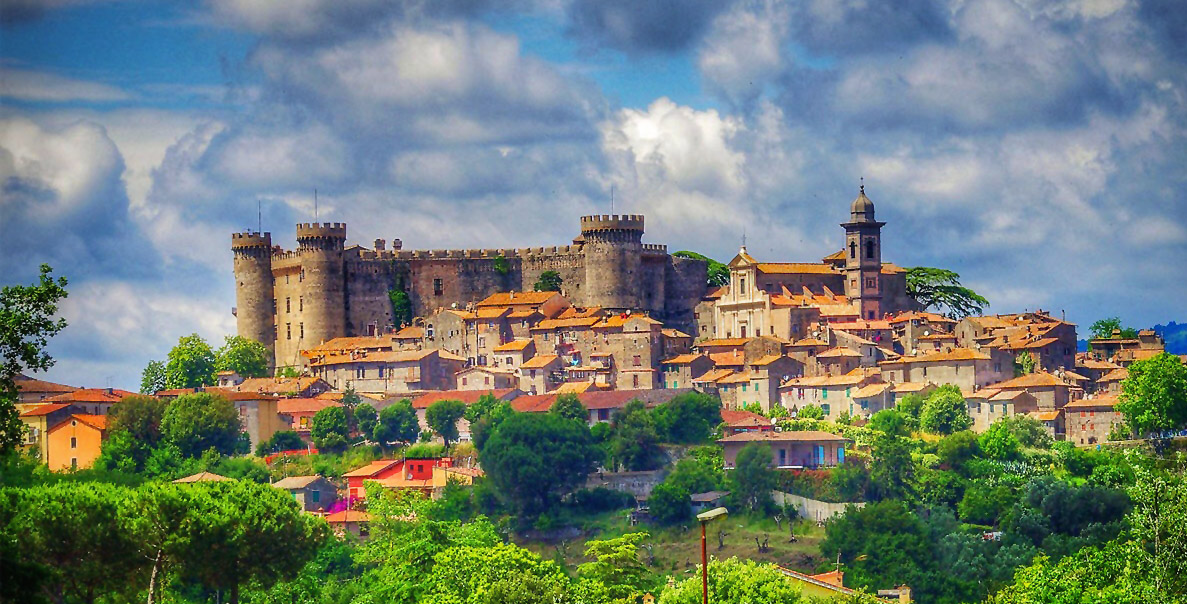 Why you should book a Rome Countryside Tour to Civitavecchia



What is a Rome Countryside Pre-Cruise Tour to Civitavecchia?
What can you see on a Rome Countryside Pre-Cruise Tour?
Why should you book a Rome Countryside Pre-Cruise Tour? Or an Ostia Antica Pre Cruies Tour?
If you've already visited Rome and wish to explore more of Italy, why not venture to the glorious Roman countryside?

Our Rome Countryside Pre-Cruise Tours to Civitavecchia include a morning pick-up at your Rome hotel or accommodation, followed by a relaxing journey into the Italian countryside about 50 minutes outside of Rome.
Touring the Roman Countryside offers a more relaxing experience filled with opportunities to visit majestic castles, medieval villages, and ancient sacred sites, and enjoy delicious Italian cuisine for lunch. After lunch, you will journey again through the Italian countryside directly to Civitavecchia where you will be conveniently taken next to your cruise ship.

Our Pre Cruise Rome Countryside Tour includes a visit to Castello Orsini-Odescalchi (commonly known as Bracciano Castle) an imposing Medieval-Renaissance era lakeside castle in the historic town of Bracciano, followed by lunch in the charming medieval clifftop hamlet of Ceri that makes you feel as though you've been transported back in time a thousand years.



After a stroll through this beautiful hamlet, you will enjoy a delectable lunch at one of the local family-owned restaurants that are renowned throughout the region for their delicious local Italian cuisines made fresh from local seasonal ingredients and using secret recipes passed down from generation to generation of Italian grandmothers. Eating in Italy just doesn't get better than this!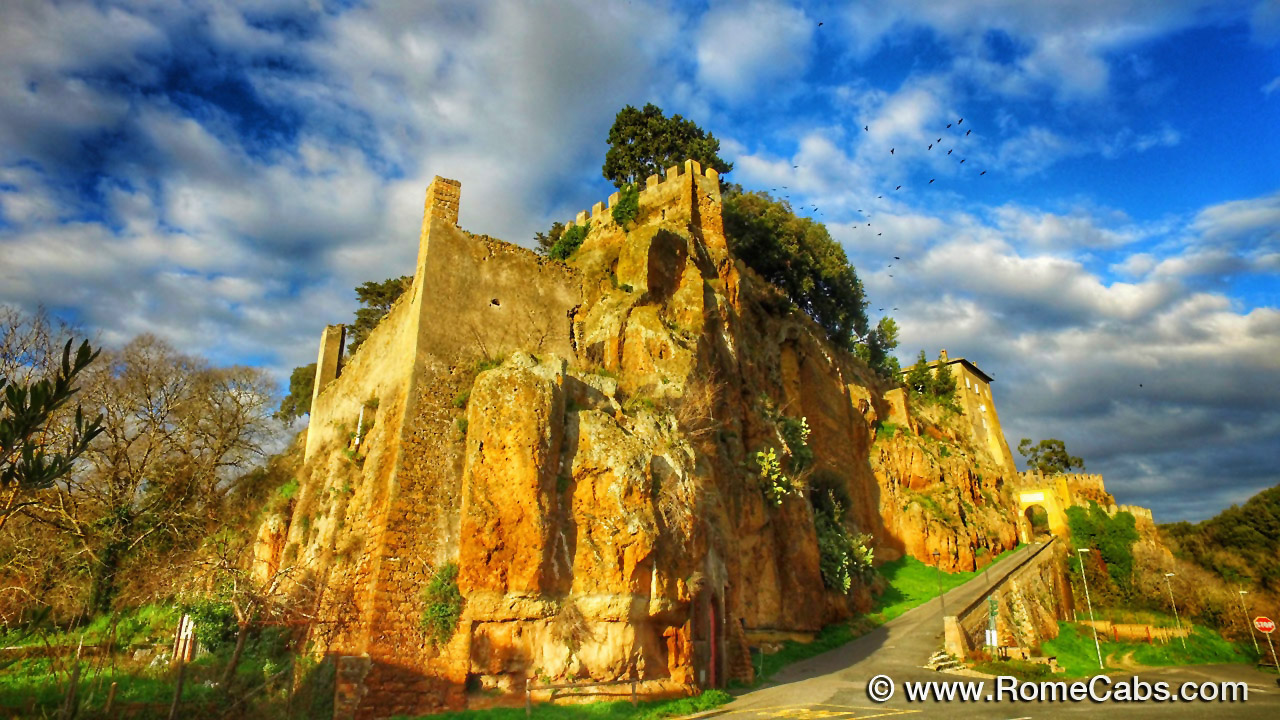 Due to popular demand, we also included a pre-cruise tour from Rome to Ostia Antica with drop-off at Civitavecchia. Walk in the footsteps of real Romans in this ancient Roman city that rivals Pompeii (much smaller but beautifully preserved). After 2 hours of compelling discoveries in Ostia Antica, you will enjoy a tasty lunch nearby before you journey to your cruise ship in Civitavecchia.



Roman Countryside pre-cruise tours can also be customized to include other top countryside destinations.
Our sister company Stefano Rome Tours features a Charming Lakeside Villages Pre-Cruise Tour that includes a visit to Bracciano and its magnificent Castello Orsini-Odescalchi, and the charming medieval lakeside villages such as Anguillara and Trevignano.
In Anguillara enjoy a stroll along the beautiful lakeside promenade that boasts a stunning view of the medieval village of Anguillara that enjoys its reflection in the still waters of the volcanic crater Lake of Bracciano.
Trevignano also boasts an inviting lakeside promenade with gorgeous views of Lake Bracciano, but don't miss the hidden medieval hamlet tucked away within the town's walls like a treasure waiting to be discovered.




MORE Pre-Cruise Tours from Rome to Civitavecchia


On pre-cruise tours from Rome to Civitavecchia, history lovers can also enjoy exploring the unique in the world ancient Etruscan Necropoli in Cerveteri or Tarquinia (both UNESCO World Heritage Sites), visit the evocative Santa Severa Castle on the seashore, or delight in a stop in the charming medieval village of Tuscania that boasts views which inspired poets. Contact us for more information, or visit our website's Pre Cruise Tour page and browse through our ever-growing collection of tours.





Staying in Rome at the end of your cruise? We also offer Full Day Rome Post Cruise Tours from Civitavecchia to Rome.
If you are flying from Fiumicino Airport in the evening of your debarkation day, we can also customize a tour from Civitavecchia with drop-off at Fiumicino Airport. Just contact us for more information.


* Italy Private Shore Excursions


If your cruise ship docks in other ports in Italy, we also offer Tuscany Shore Excursions from Livorno, private excursions from La Spezia, and private shore excursions from Naples.
* Italy Share Shore Excursions:


Share the FUN and the EXPENSES! Why not share a shore excursion from Civitavecchia, Livorno, La Spezia or Naples? Visit our TOUR SHARING page on our website and learn how you can create your privately shared shore excursions in Italy.
You may even share Rome pre-cruise tours, and Share Debark Post Cruise Tours from Civitavecchia.

Thank you for reading our travel blog and for choosing Stefano's RomeCabs for your Italy private excursions and transfers. We look forward to showing you beautiful places in Italy!
Find us online also on: