Buon giorno and welcome to Stefano's RomeCabs, Rome's leading company for Civitavecchia Excursions, Pre-Cruise, and cruise Tours, as well as Day Tours from Rome and Shore Excursions from Italy's top cruise ports.
Millions of cruisers begin their cruise or end their cruise at the Port of Civitavecchia, the port that serves Rome and its environs.
If your cruise starts and/or ends at Civitavecchia, we have some exciting options for you to enhance your trip, maximize your sightseeing opportunity, and make the most of your limited time in Rome pre-cruise and post-cruise.
Best of all….enhance your pre-cruise and post-cruise touring in the comfort of your private deluxe vehicle with your personal English-speaking Driver for optimal comfort, style, and convenience.
Civitavecchia Excursions – Pre-Cruise, Post-Cruise Tours
STAYING IN ROME PRE-CRUISE
Why book a Pre Cruise Tour with RomeCabs?


Instead of wasting your morning waiting for your transfer to Civitavecchia, you can spend this special limited time exploring some of the many wonders of Rome, or discovering amazing places in the Roman Countryside that you never knew existed!

Your personal driver will pick you up at your hotel, your luggage will conveniently travel with you for optimal ease, and after comfortably touring in the morning and traveling to the cruise port, your driver will drop you off right on time on the pier next to your ship for optimal door to door convenience. You will NOT have to worry about your luggage at all the entire time!





On our tours by car, you will be taken as close as lawfully possible to the many attractions and monuments you will visit, and your driver will wait for you with your vehicle to return from sightseeing on your own. Getting from site to site quickly and efficiently by car, you MAXIMIZE your sightseeing opportunities, while MINIMIZING your walking distances. You will begin your cruise refreshed, not tired.

You can make your Pre Cruise Tour more affordable by inviting other like-minded cruisers from your cruise ship who are also staying near you in Rome to share your pre-cruise tour by creating your own privately shared tour! It's a wonderful way to save money, share your fun with tour mates you get to know in advance, and make new friends. Find out HOW to create your own privately shared tours: TOUR SHARING

If you will be staying in Rome before your cruise, we have 3 fantastic Pre Cruise Tour options that includes pick up from your accommodation in Rome, touring by car to exciting locations in Rome or in the Countryside, and drop off right on the pier next to your ship for optimal door to door convenient service.


CLICK ON THE TOUR TITLES to arrive at the Tour Pages for detailed information, prices, and options to book your preferred tour directly online!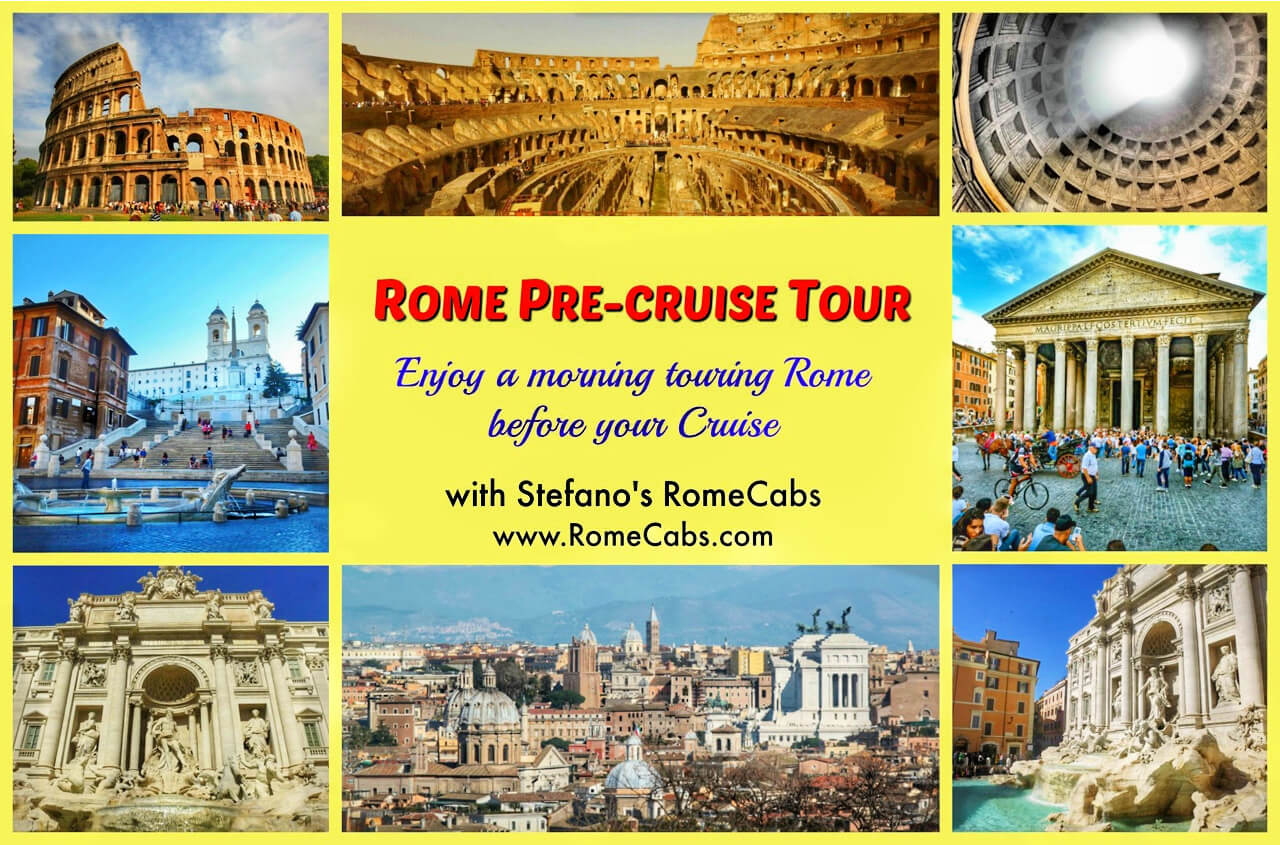 If your stay in Rome is very short and you wish to enjoy more of the Eternal City before your cruise starts, we offer a Rome Pre Cruise Tour that takes you on a 4-hour tour before departing to Civitavecchia.
Your morning begins with visits to popular squares like Trevi Fountain, Piazza Navona, Piazza della Rotonda, and Spanish Steps, and enjoy a splendid panorama of Rome's skyline that unfolds before you from a special terrace on top of Janiculum Hill. There is no better way to say Arrivederci Roma than making your last stop in Rome on Janiculum Hill.
From here, you will enjoy a leisurely drive out of Rome and through the countryside to your ship in Civitavecchia.
If you have already visited the Colosseum or any of the sites suggested in our Pre-Cruise Tour do not worry!
You may simply substitute sites you've already visited with new sites that you have not yet seen that you would like to. Your driver will be delighted to show you as much as possible for the duration of the time you have in Rome before departing for Civitavecchia Port.