Buon giorno and welcome to Stefano's RomeCabs, Rome's leading company for Transfers, private tours in Italy, and Shore Excursions from Italy's top cruise ports.
Rome is one of the most popular destinations in Italy (and Europe!) for travelers and cruisers, and we offer several exciting itineraries to explore Rome in a Day Tours from Rome hotel and Shore Excursions from Civitavecchia.


We included 5 most popular tours of Rome based on most frequently booked by travelers and cruisers over the years.
5 Most Popular Tours of Rome – with RomeCabs
ROME IN A DAY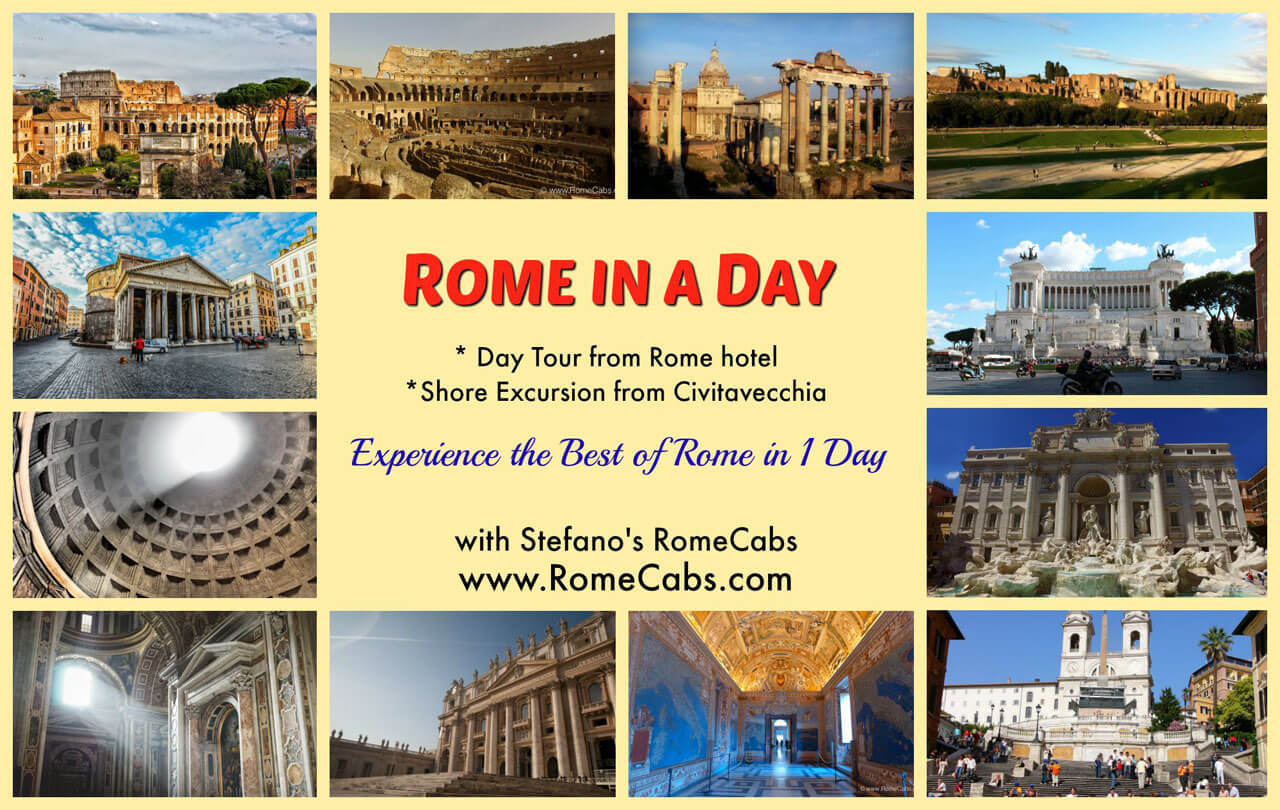 Rome in a Day Tour has been our first tour of Rome for more than 15 years, and it remains the most frequently booked tour as well for good reason (many good reasons in fact!).
Rome in A Day takes you on a fun-packed day starting with "Ancient Rome" to visit Colosseum Square and Pantheon, a postcard-perfect view of the Roman Forum from a secret terrace on Capitoline Hill, and a stop to admire the outlined ruins of what once used to be the formidable Circus Maximus (ancient Roman chariot race arena).
Enjoy a taste of La Dolce Vita with visits to the Spanish Steps and Trevi Fountain.
After a delicious lunch, you will have the opportunity to explore the smallest country in the world: Vatican City with visits to the Vatican Museums, Sistine Chapel and St Peter's Basilica.
This tour is enjoyed as a Day Tour from Rome hotel, Shore Excursion from Civitavecchia, and Post Cruise Tour (starting from Civitavecchia and ending at your Rome hotel)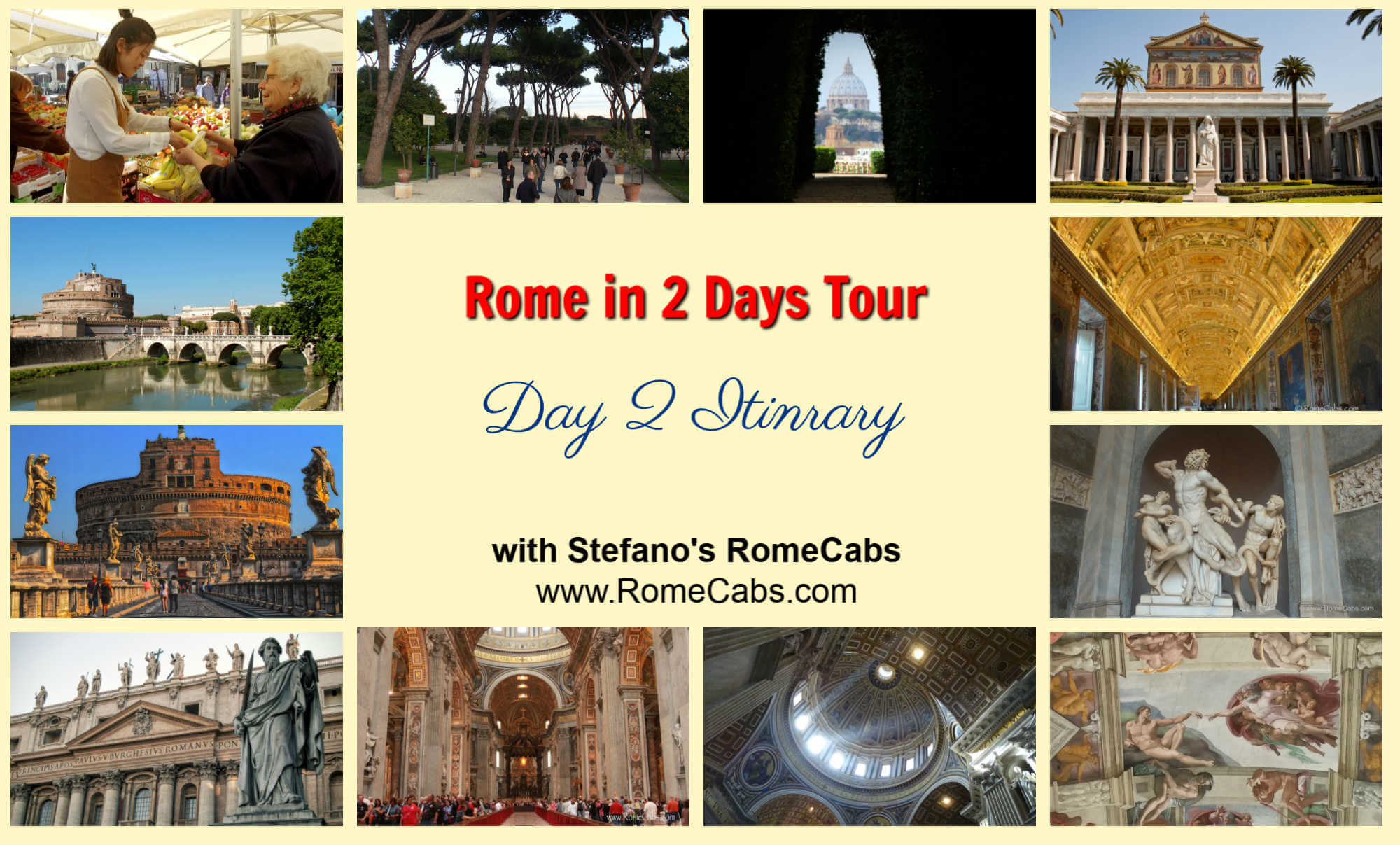 For Rome lovers who can't get enough of Rome and wish to explore beyond just one day, we created the next popular tour: Rome in 2 Days.
This exciting tour includes the same popular locations as Rome in One Day, with additional visits to other top attractions such as the Roman Forum, Ancient Appian Way, Christian Catacombs, Piazza Navona, Campo dei Fiori, Aventine Hill to stroll through the Orange Garden and peek through the Secret Key Hole, St Paul Outside the Walls, and Castel Sant'Angelo.
This tour is most commonly booked by travelers staying in Rome. However, it can also be modified with Day 1 starting from Civitavecchia as Post Cruise Tour, and Day 2 starting from your Rome hotel (* price will differ for tours starting from Civitavecchia).
PANORAMIC ROME TOUR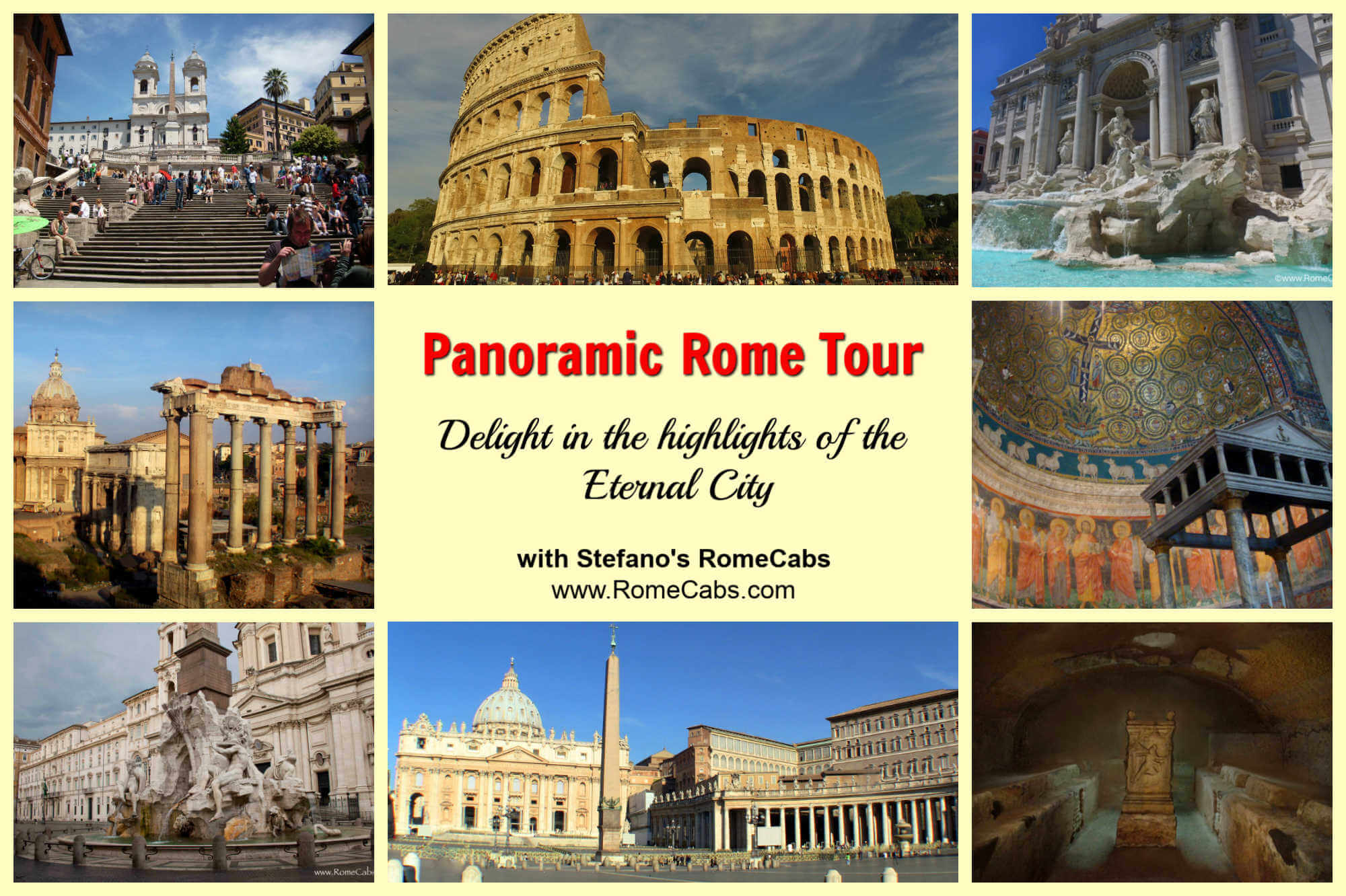 Our Panoramic Rome Tour was created in response to increasing requests from travelers and cruisers who expressed an interest to avoid super crowded places (such as Colosseum and Vatican), and have flexibility without visiting sites that require advance purchased non-refundable tickets at specific time slots.
Panoramic Rome Tour is also a perfect option on the First Sundays of the Month when the Colosseum has Free Entry (and therefore mobbed with visitors taking hours to get through the lines without actual tickets) and Vatican Museums are closed.
Panoramic Rome Tour takes you to visit the Pantheon inside Piazza della Rotonda, enjoy Rome's lively squares such as Piazza Navona, Spanish Steps and Trevi Fountain, and visit St Peter's Square that seems to embrace its visitors for a remarkable glimpse of St Peter's Basilica from the outside.
Further into Ancient Roman area, the Roman Forum will amaze you with a glimpse from the strategic terrace on Capitoline Hill and you will stop in Colosseum Square to enjoy a photographic view of the imposing Colosseum.
Your tour will conclude with a visit to the 12th century Basilica of San Clemente with an unforgettable visit underground to explore 2 layers of ancient Roman ruins of a previous 4th century church upon which the current one was built, and a 3rd century AD Roman house with an ancient Mithraic pagan temple.
SEVEN WONDERS OF ANCIENT ROME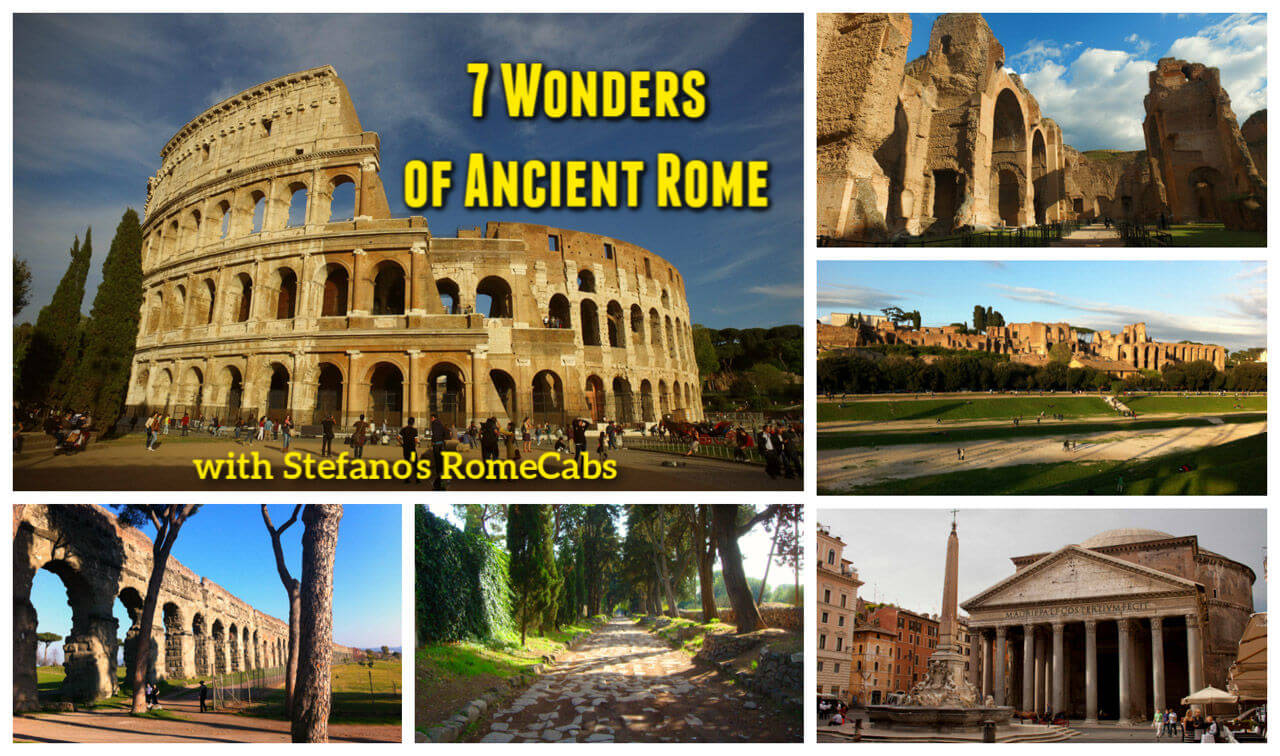 Our Seven Wonders of Ancient Rome because an instant success with history lovers and Ancient Rome buffs as it takes you on a journey to Rome's most incredible architectural and engineering wonders of the ancient world: Colosseum, Circus Maximus, Baths of Caracalla, Via Appia (Ancient Appian Way), Park of the Aqueducts, Pantheon and Trajan's Forum.
This tour also takes you to some unique locations such as Park of the Aqueducts and Ancient Appian Way that is out of Rome's center and is best reached by car.
ROME AT NIGHT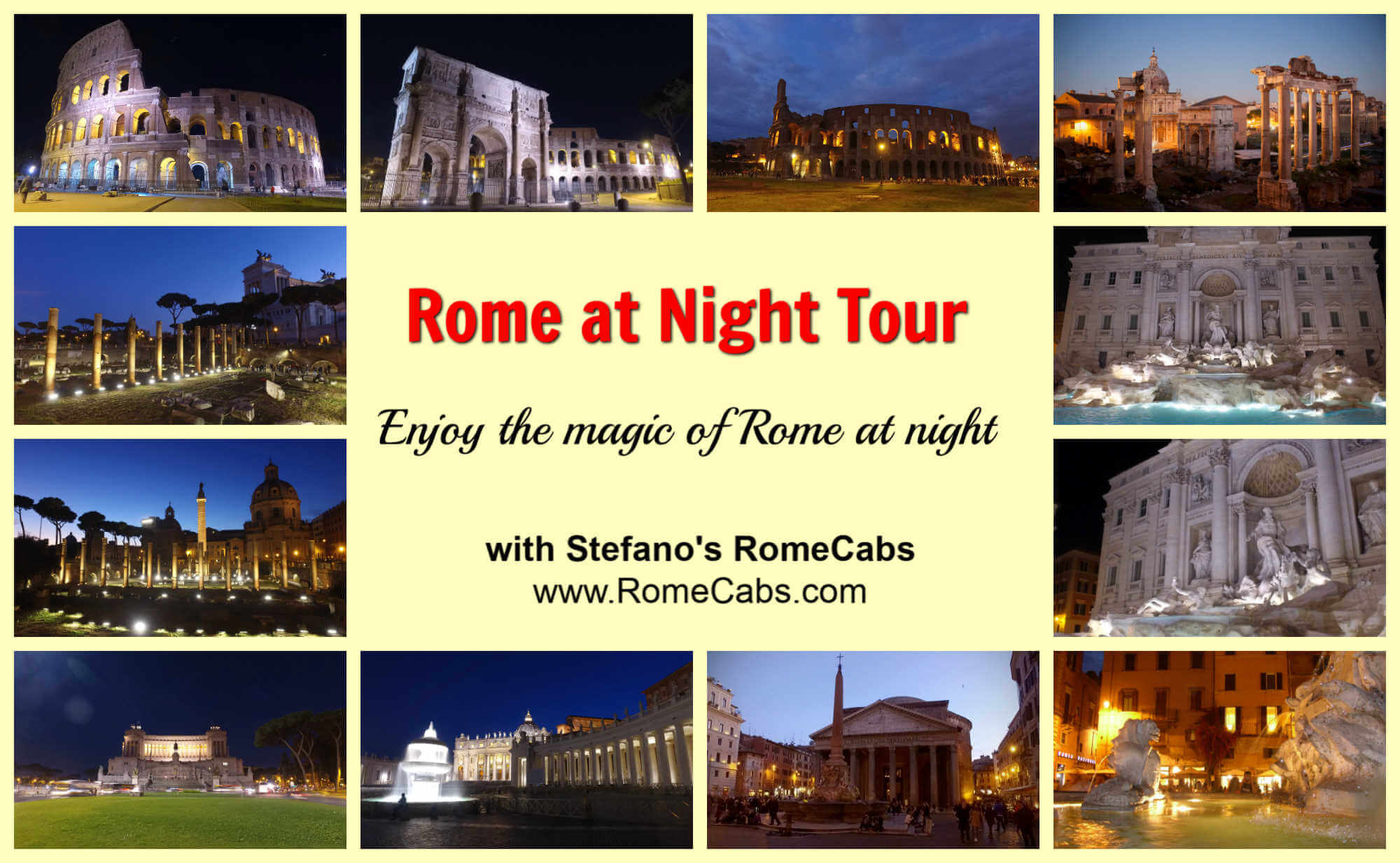 If you've seen Rome during the day, you would be delighted at how magical it looks at night under the stars when the atmosphere changes entirely during our very popular Rome at Night Tour.
Some monuments and squares are strategically lit to showcase their beautiful structures and outlines, adding to the wondrous ambience of the Eternal City at night.
The best locations to see at night, which are included in the tour is the Colosseum Square (from outside only), Via dei Fori Imperiali with outside view of Trajan's Forum and Column, drive by Piazza Venezia to admire the massive white marble Monument of Vittorio Emanuele II, the Trevi Fountain, view of the Roman Forum from Capitoline Hill, the romantic Spanish Steps, outside view of the Pantheon in Piazza della Rotonda, St Peter's Square with a view of the awe inspiring St Peter's Basilica from the outside, and an overview of Rome under the starry sky from top of Janiculum hill. There are NO Inside visist into any monuments or churches during the Rome at Night Tour as they are CLOSED at night.
For more information about our Rome Tours, as well as sightseeing Day Tours from Rome to many of Italy's top destinations, please visit our website and also browse through our travel blog for more travel tips and advice.
Thank you very much and we look forward to showing you Rome!

The RomeCabs Team