Buon giorno and welcome to Stefano's RomeCabs, Rome's leading company for Airport and Civitavecchia Port Transfers, Day Tours from Rome, and Shore Excursions from Italy's top cruise ports.
Rome is one of the most popular destinations in Italy cruisers filled with ancient history, culture, architecture, beauty, and charm. The cruise port that serves Rome is Civitavecchia (about 1,5 hours away from Rome)
We included 5 Top Rome Shore Excursions from Civitavecchia that you can enjoy from your Cruise Ship.
Your personal English speaking Driver will meet you right on the pier next to your ship in the morning for optimal convenience, take on on a driven tour of Rome to enjoy many of the Eternal City's highlights. In the afternoon, you will enjoy a leisurely drive through the countryside back to your ship in Civitavecchia.
Some of the Rome Shore Excursions included are offered by our sister company Stefano Rome Tours that specializes only in tours and Italy excursions.
You may CLICK on the TITLES of the tours to arrive at the actual TOUR PAGES where you will find detailed information about each tour, price lists, and option to book your preferred Rome Shore Excursions from Civitavecchia.
5 Top Rome Shore Excursions from Civitavecchia

WATCH our Rome in A Day Tour - 5 Top Rome Shore Excursions from Civitavecchia
The first of the top 5 Rome Shore Excursions from Civitaecchia is the most frequently requested tour of all Rome Tours and Rome Shore Excursions is our very popular Rome in a Day – a top favorite for more than 15 years! And for good reason.
Rome in A Day takes you on a journey exploring the "Ancient Rome" area of the city to admire Colosseum from Colosseum Square and visit the Pantheon, be awed by a picture perfect panorama of the Roman Forum (with a bit of the Palatine Hill and Colosseum for a breathtaking view) from a special terrace on Capitoline Hill. Nearby, you will make a quick stop to admire the outline of what once used to be the magnificent Circus Maximus (ancient Rome's chariot race arena).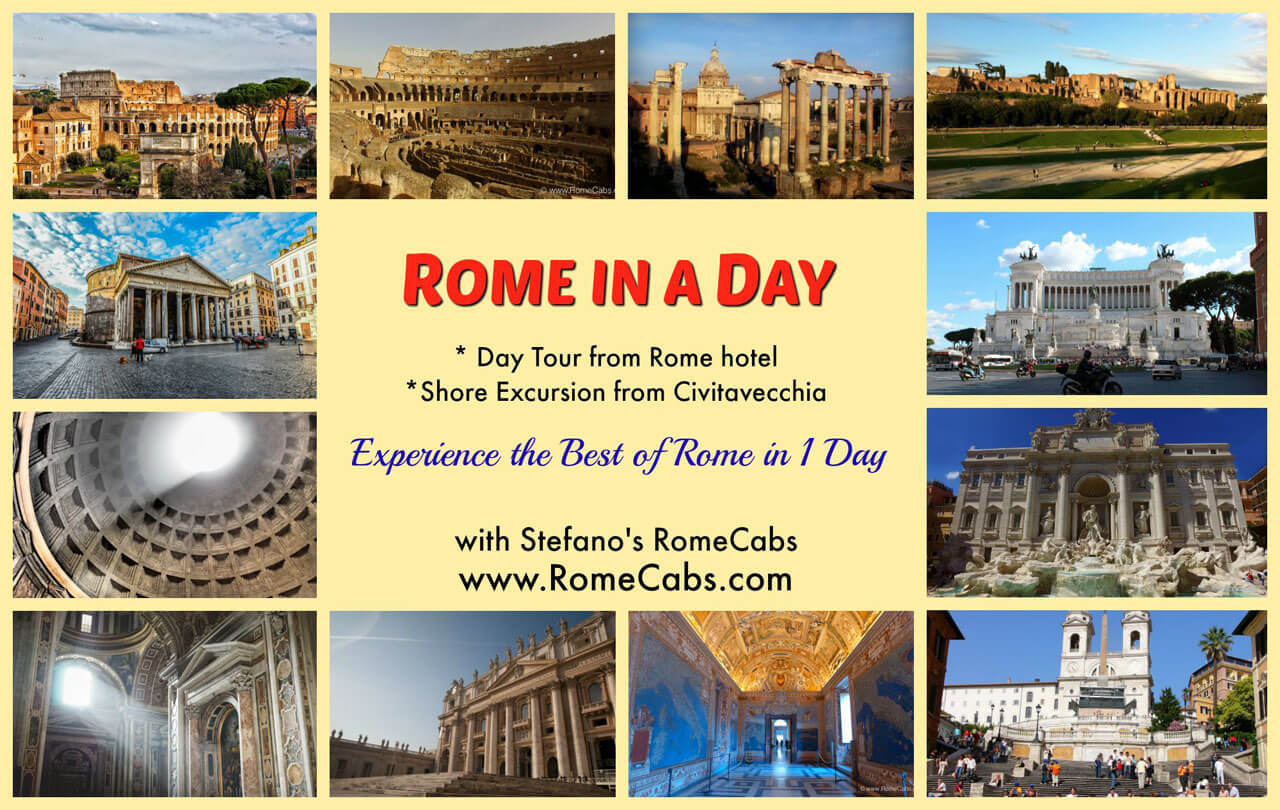 After you leave Ancient Rome, you will enjoy a taste of La Dolce Vita with visits to the lively squares and fountains of the Trevi Fountain and the Spanish Steps.
After a delicious lunch at a local restaurant or trattoria of your choice, you will have the wonderful opportunity to visit the smallest country in the world: Vatican City that houses the artistic treasure trove inside the Vatican Museums, the sacred Sistine Chapel with Michelangelo's masterpiece frescoes, and St Peter's Basilica – the most important church in all of Christendom.
At the end of your tour, your cameras full of memorable photos and your heart filled with joy, you can relax as your personal driver takes you back to your cruise ship.



WATCH our Panoramic Rome for Cruisers Tour - 5 Top Rome Shore Excursions from Civitavecchia
We created our Panoramic Rome Tour due to high demand from cruisers who preferred to enjoy a more slow paced flexible tour, avoid super crowded places such as at the Colosseum and Vatican, and flexibility of not having to purchase in advance non-refundable tickets at specific time slots as required by the Vatican Museums and Colosseum.
The Panoramic Rome Tour is also a preferred option on the First Sundays of the Month when the Colosseum has Free Entry (and thus incredibly crowded with visitors in hours long lines to enter the monument) and when the Vatican Museums are closed.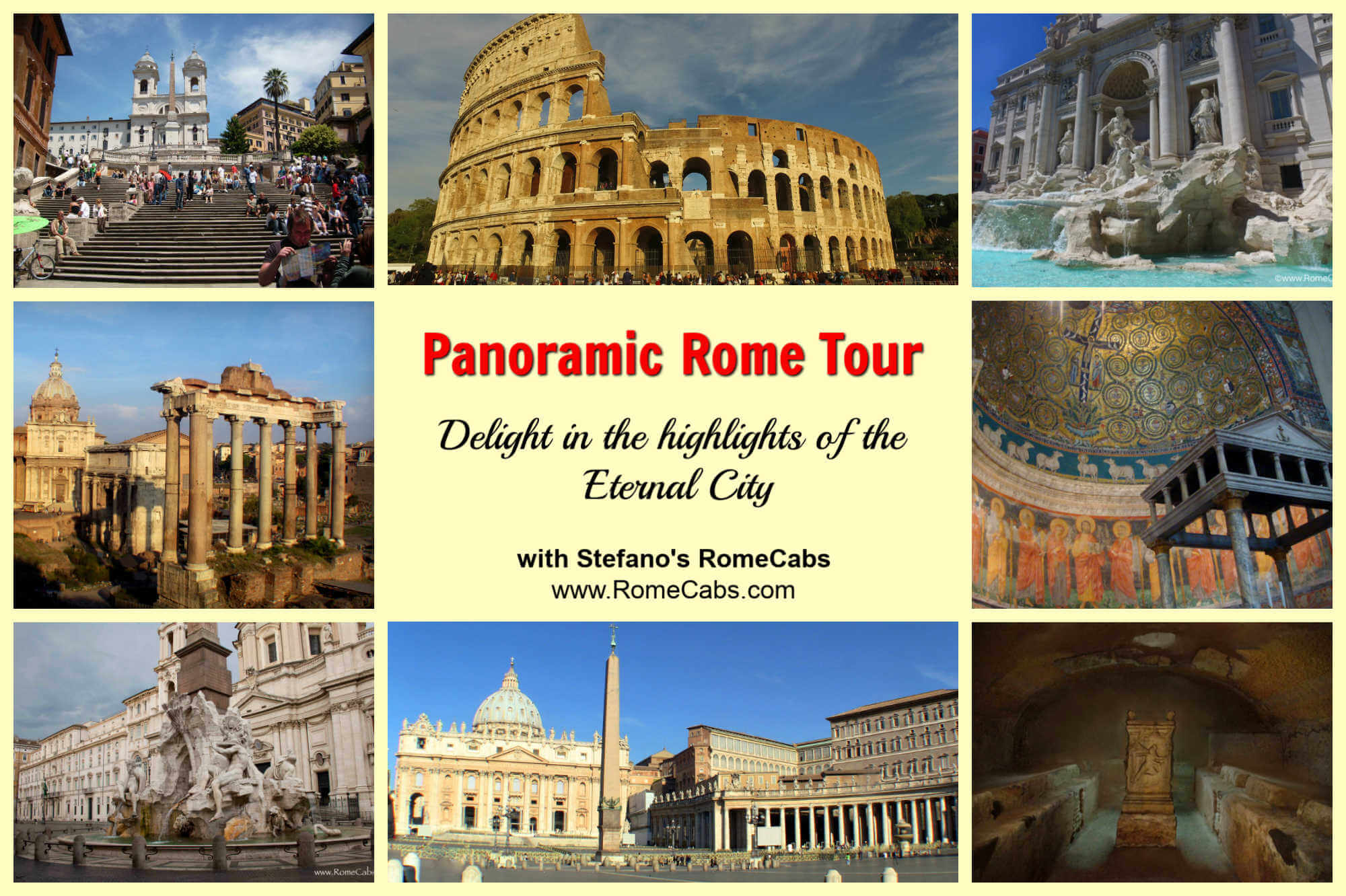 On our Panoramic Rome Tour you will enjoy a visit to the magnificent ancient Pantheon inside Piazza della Rotonda, stroll through Rome's lively squares: the elegant Spanish Steps, the oblong and entertaining Piazza Navona, the symphony of gushing waters at the Trevi Fountain, and St Peter's Square that appears to embrace visitors with its vast colonnades for a remarkable view of St Peter's Basilica from the outside.
After lunch you will explore the ancient Roman area of the city with a panoramic view of the Roman Forum (as well as a glimpse of the Palatine Hill and Colosseum) from the strategic terrace on Capitoline Hill. You will also stop in Colosseum Square to enjoy a photographic view of the imposing Colosseum.
Your final destination on this Panoramic Rome tour will be the 12th century Basilica of San Clemente where you will descend below the streets of Rome for a remarkable visit underground to explore 2 layers of ancient Roman ruins: an early 4th century church upon which the current church was built, and a 3rd century AD Roman house that features an ancient Mithraic pagan temple.

WATCH our Seven Wonders of Ancient Rome Tour - 5 Top Rome Shore Excursions from Civitavecchia
Our Seven Wonders of Ancient Rome is a very special tour for lovers of Ancient Roman architecture, history and culture as it takes you on a journey to Rome's most incredible architectural and engineering wonders: the Colosseum, Circus Maximus, Baths of Caracalla, Via Appia (Ancient Appian Way), Park of the Aqueducts, Pantheon and Trajan's Forum.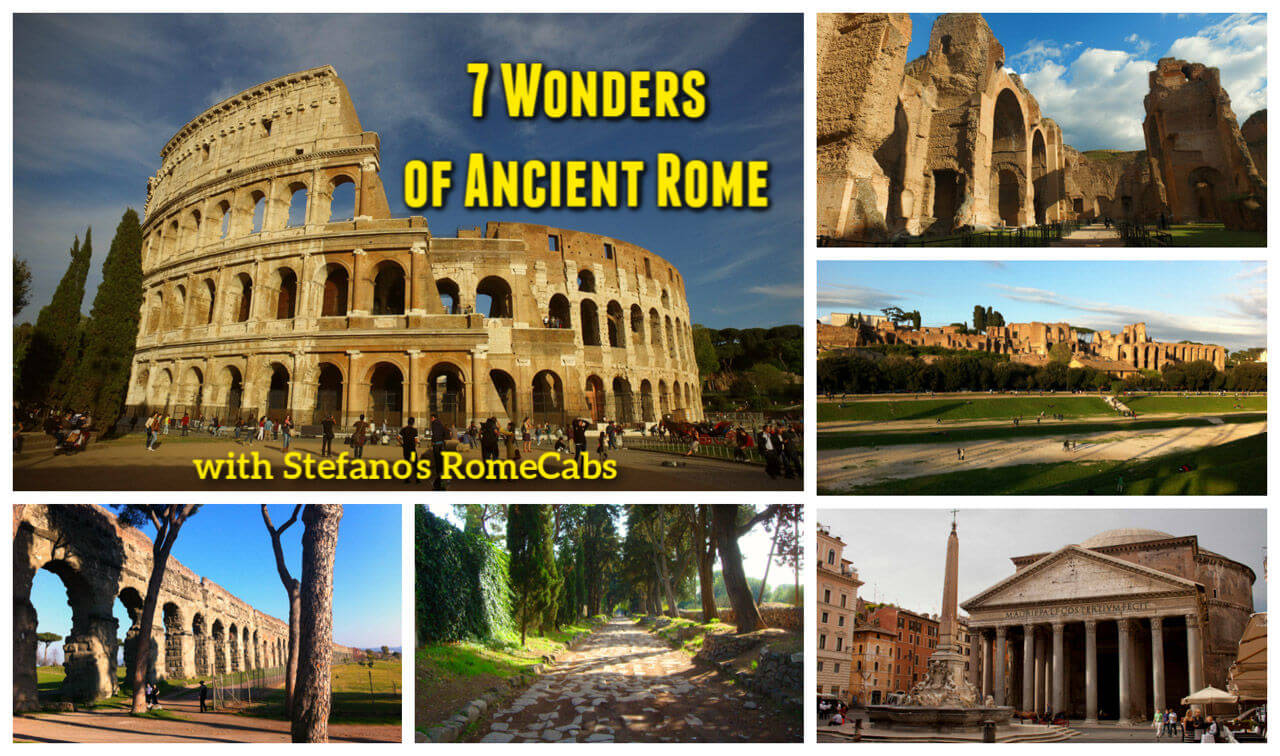 On this tour you will enjoy some unique locations outside of the city center such as Park of the Aqueducts and Ancient Appian Way for a more relaxing experience.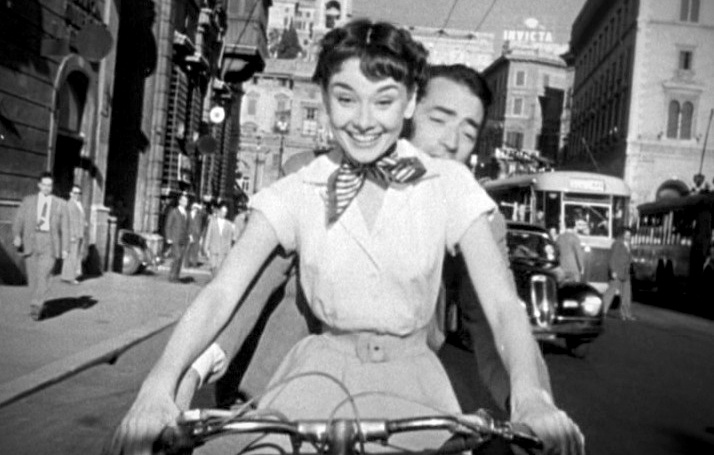 Vacanze Romane / Roman Holiday Tour is offered by our sister company Stefano Rome Tours, and inspired by the classic movie by the same name, starring Audrey Hepburn and Gregory Peck.
For decades this delightful romantic comedy has inspired so many world wide with beautiful locations in Rome that added to the romance and charm. The beautiful iconic couple have been immortalized on souvenirs everywhere! Of all the Rome shore excursions, this is one the most fun ways to enjoy the Eternal city!
This tour will take you to the top locations in Rome where Vacanze Romane movie was filmed: a visit to the Colosseum, a drive along Piazza Venezia, Teatro di Marcello and Palazzo Barberini, a stop on Capitoline Hill to view the Roman Forum, the Mouth of Truth (try it for yourself, and be sure to tell the truth or else!), a stop to enjoy the view of the imposing Castel Sant'Angelo, a stop on the elegant Spanish Steps, a stroll along Via Margutta where Gregory Peck's character lived, and the ancient Roman monument – the Pantheon.
Vacanze Romane / Roman Holiday tour by Stefano Rome Tours was also RECOMMENDED by TRAVEL & LEISURE as one of the WORLD'S GREATEST DREAM TRIPS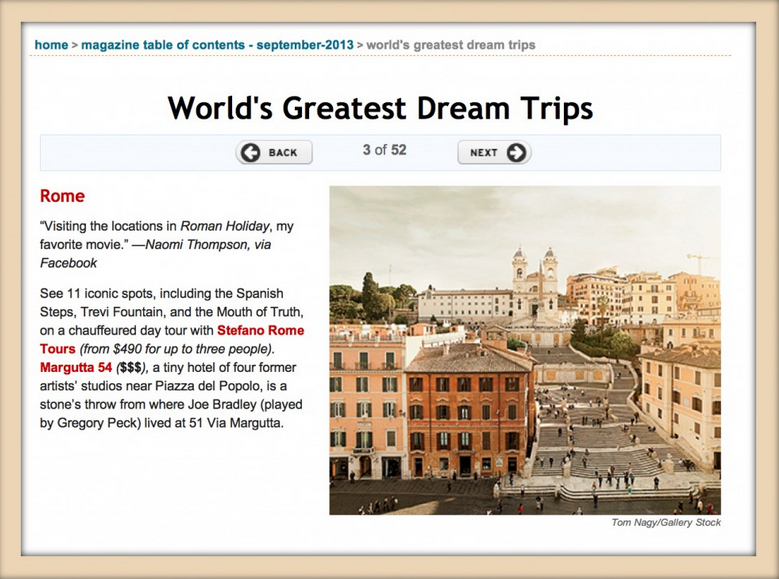 The last but not least of top 5 Rome Shore Excursions from Civitavecchia is another exciting tour from Stefano Rome Tours is Angels and Demons – hugely popular when the book and movie came out, and it remained popular over the years because this tour includes some of Rome's most fabulous locations that are worth seeing and visiting – with or without inspiration from Dan Brown's book and film.
The Angels and Demons tour is groped based on the Four Elements: Earth, Fire, Water, and Air, along with other additional sites mentioned in the book and shown in the film.




The places included in the Vacanze Romane / Roman Holiday tour are:
EARTH: Santa Maria del Popolo Church that features the famous Chigi Chapel (one of Raphael's most important architectural masterpieces), and the paintings by the famous Caravaggio inside the Cerasi Chapel: Conversion of St Paul and Crucifixion of St Peter
FIRE: Santa Maria della Vittoria is a relatively small highly ornate church that features Gian Lorenzo Bernini's Ecstasy of Saint Teresa sculpture
WATER: Piazza Navona is a lively and entertaining oblong square that takes the shape of the ancient stadium of Emperor Domitian upon which it was built. The square is dominated by the Fountain of Four Rivers by Gian Lorenzo Bernini that represents the rivers through the four known continents of the 1600's: Nile, Danube, Rio and Plate. The fountain is topped by a very tall Egyptial obelisk crowned with the symbol of Pope Innocent X who commissioned the fountain.
AIR: the Vatican. The smallest country in the world, Vatican City houses the remarkable Vatican Museums that holds a treasure trove of artistic masterpieces from as far back as the classical era, the Sistine Chapel with Michelangelo's famous frescoes, and St Peter's Basilica.
The other locations that you have the opportunity to visit that are featured in the novel and film are the Pantheon and Castel Sant' Angelo
Unlike Robert Lange, you can enjoy all these famous and magnificent places in Rome at your leisure without having to save the world.


Thank you for reading our travel blog 5 Top Rome Shore Excursions from Civitavecchia.
For more information about our Rome Tours, as well as Day Tours from Rome to many of Italy's top destinations, please visit our website below.
Thank you very much and we look forward to showing you Rome!


The RomeCabs Team