Buongiorno and welcome to Stefano's RomeCabs, Rome's leading company for private transfers and tours in Italy. We've provided thousands of transfers and tours from Rome to Tuscany since our company opened in 2004. Tuscany is, by far, one of the most sought-after destinations in Italy, and easy to reach from Rome.

Among all the famous cities, towns, and villages in Tuscany, Cortona ranks among the top towns to visit in Tuscany. In fact, our Cortona and Arezzo Tour is one of our most popular Tuscany tours from Rome.

Although already well known, Cortona became even more famous following the popular book and movie Under the Tuscan Sun. Many visitors have flocked to Cortona to catch a glimpse of the Bramasole villa, and see locations mentioned in the book.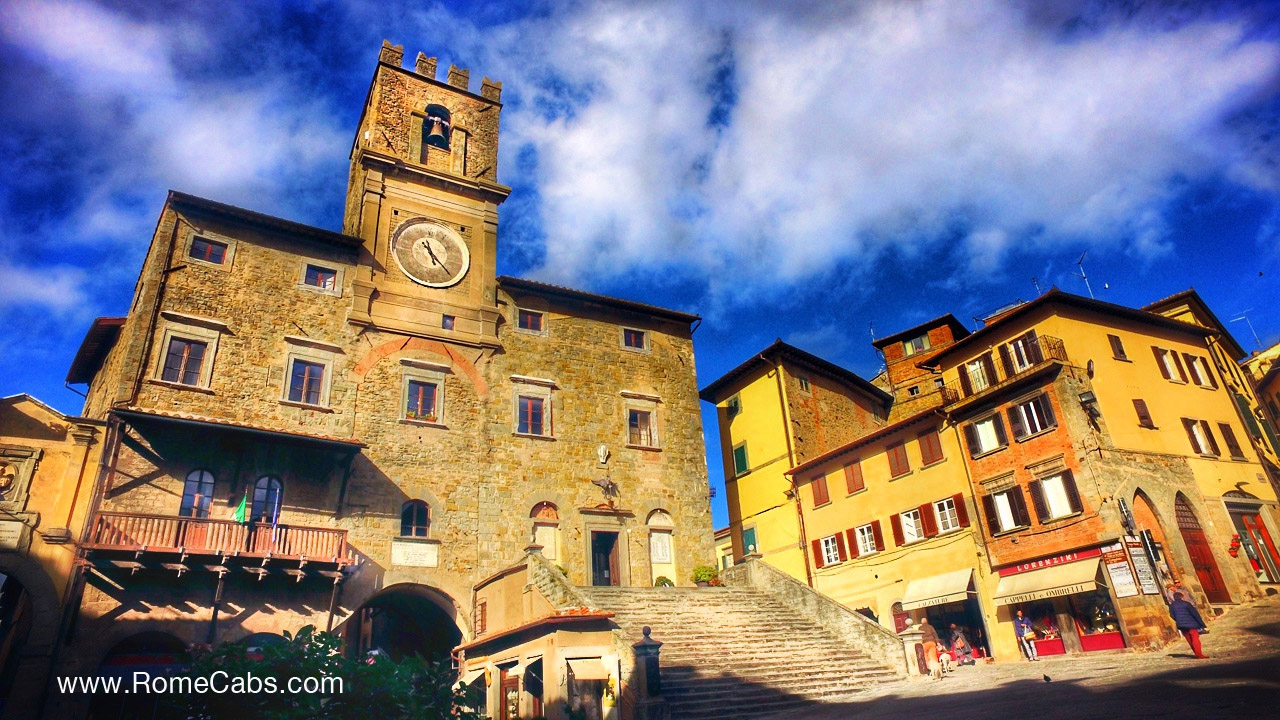 Many travelers coming to Italy ask:

How far is Cortona from Rome?

Cortona is just about 200 km (about 125 miles) from Rome in the heart of Tuscany.

This leads to the next question:
How do you get from Rome to Cortona?

There are a few ways to reach Cortona from Rome depending on your budget, time, and sense of adventure. We will include them here for you.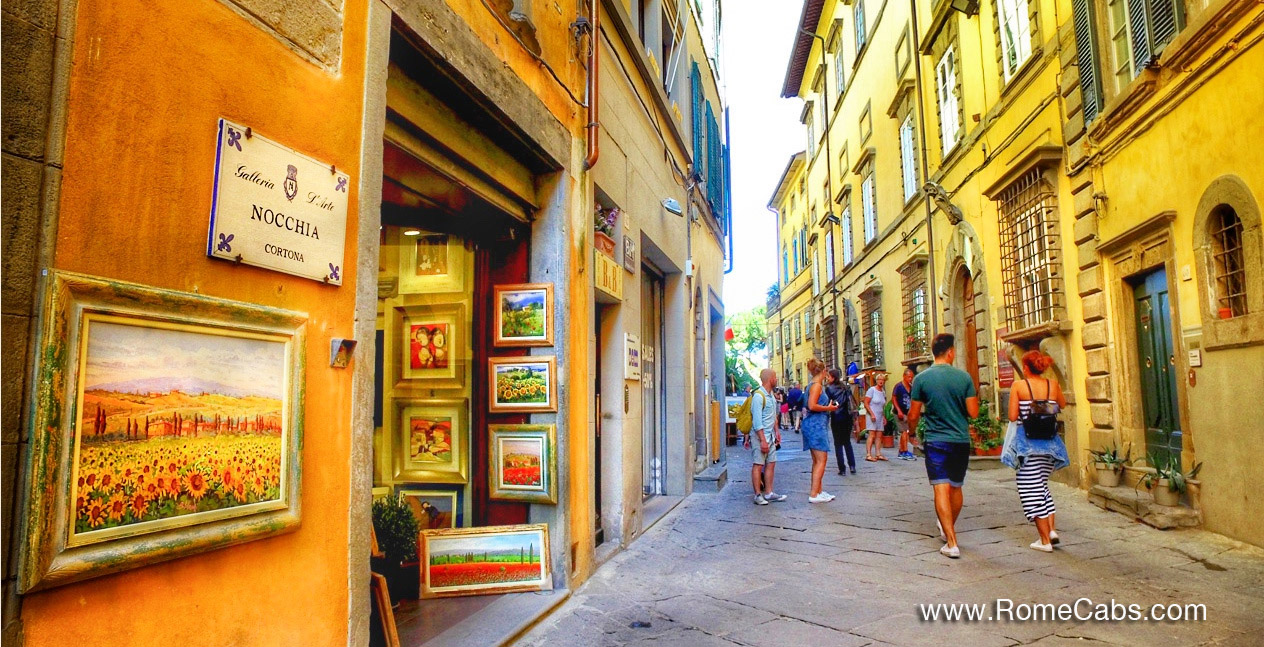 Getting from Rome to Cortona by train

If you are on a budget, not traveling with a lot of luggage or small children, and have lots of time for this journey, you may rely on public transportation such as trains and/or buses.

Cortona is not directly connected by train. From Rome, you would need to take a train from Termini Station to Camucia-Cortona, which is located in the valley below the hilltop town of Cortona.

When you look at some train schedules, it can show that the travel from Rome to Camucia-Cortona takes about 2.5 hours or so. Not so fast! You could be looking at a half-day adventure making your way to Cortona from Rome by train and bus.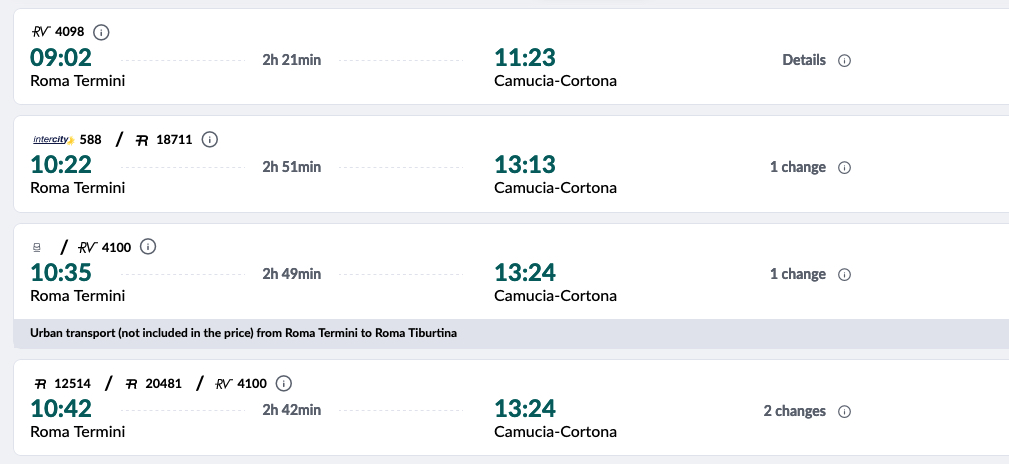 First, consider you still have to reach Termini Station from your accommodation in Rome. You should consider heading to Termini Station at least about 45-60 minutes before your train departure time. How quickly you can reach Termini Station depends on how close to the train station you are staying, and if you will be taking a Taxi, a Bus, or a Metro.

Some train routes also require changing trains, which adds to your overall trip time. Once you arrive at Camucia-Cortona station, you will have to figure out a way to get to Cortona.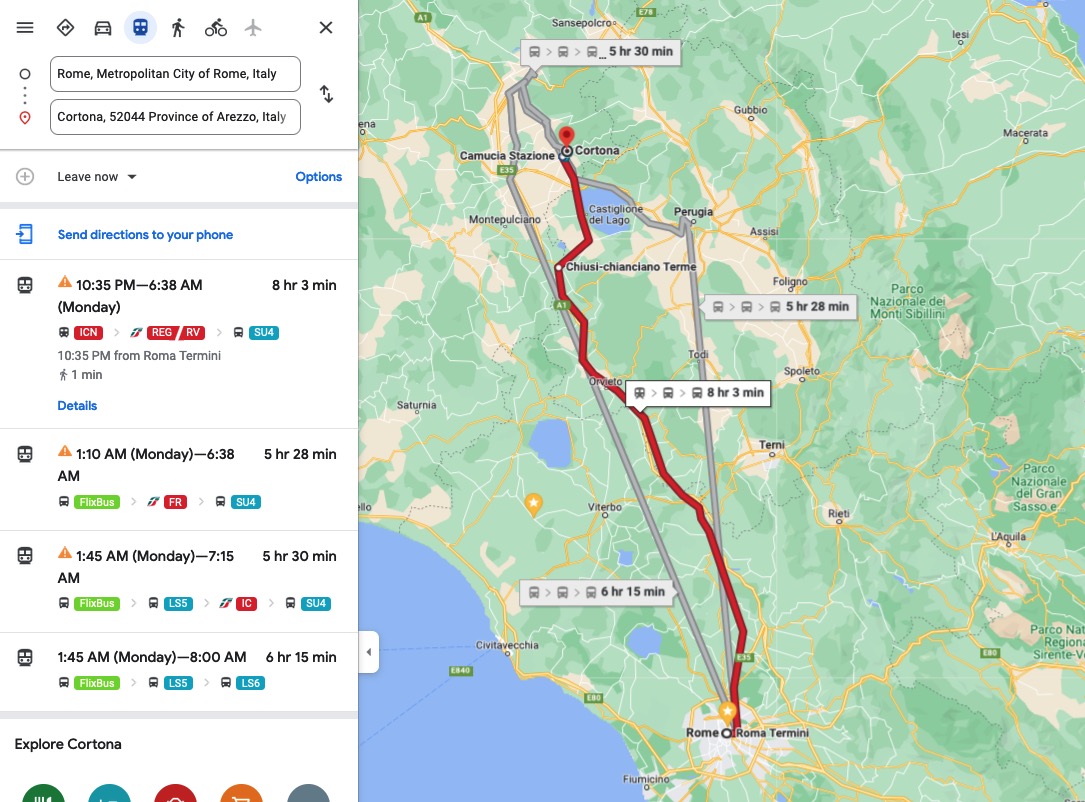 Camucia is about 2.5 kilometers (1.5 miles) from Cortona. One way is to wait for the local bus between Cortona and Camucia that departs every 30 minutes. The journey is about 12 minutes. The train station is simple and quiet, there are no taxi ranks like at Termini Station. You might have to call a local Taxi to pick you up.

While Cortona is walking distance from Camucia (30-40 minutes), if you are traveling with luggage it might not be a good idea up the hill on the windy road without suitable sidewalks.




Private Transfers from Rome to Cortona

If you prefer an easier, direct, fast, and comfortable way to reach Cortona from Rome, you may consider a Private Transfer from Rome to Cortona (or vice versa) for convenient door-to-door service. We offer long-distance transfers from Rome to Italy's top destinations.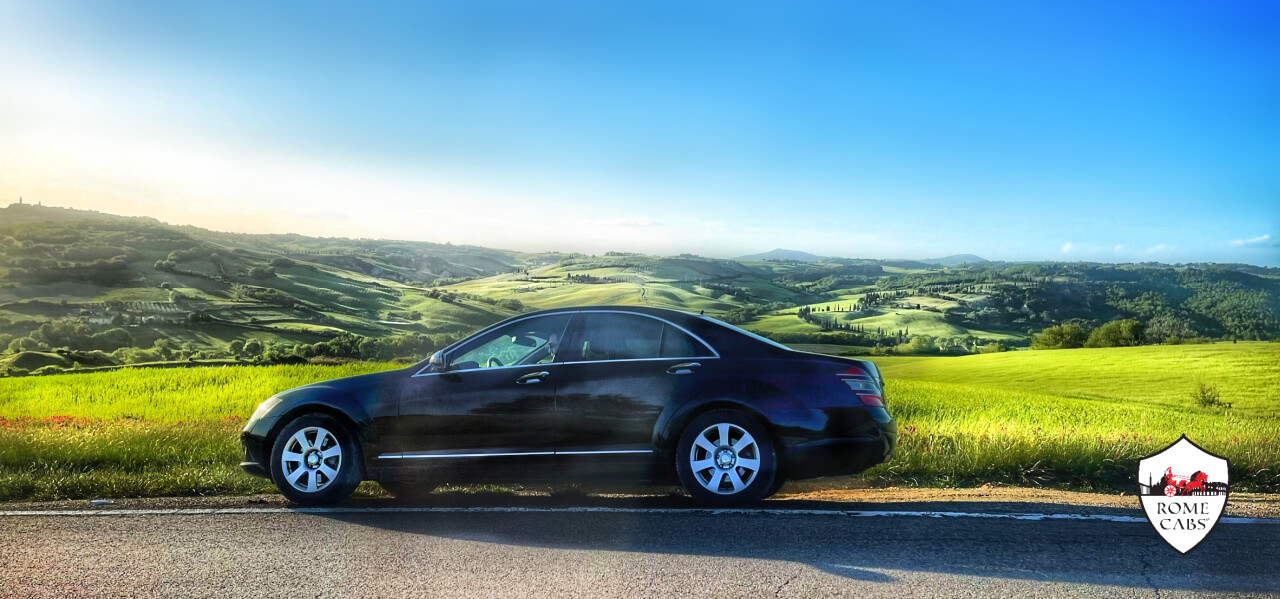 Your private driver will pick you up from your hotel or vacation rental in Rome, and whisk you off on a journey through the Roman Countryside, Umbria, and Tuscany to your final destination in Cortona.

Your journey from Rome to Cortona by car takes just about 2 hours. You simply relax and enjoy the scenery throughout your journey. No worries about getting to and from train stations, train tickets, train schedules, buses, or dragging luggage around.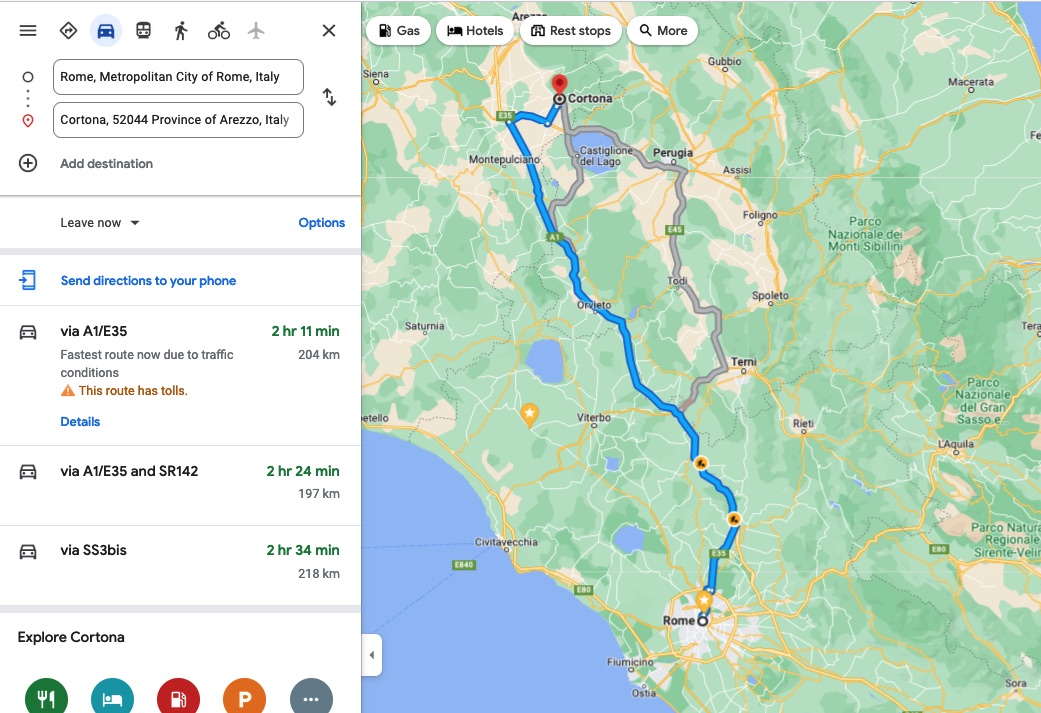 Private Transfers from Rome to Cortona are ideal for families with young children, senior travelers, travelers with mobility concerns, travelers with a lot of luggage, and discerning travelers who wish to travel through Italy comfortably and safely.



Turn your Transfer from Rome to Cortona into a Sightseeing Adventure!

If you wish to maximize your sightseeing opportunities in Italy, you can turn your long-distance transfer from Rome to Cortona into a Sightseeing Adventure with a stop to visit Orvieto in the heart of Umbria, or a stop to visit Montepulciano which overlooks the entrancing Valley of Chiana (Val di Chiana).
We've been offering Italy Sightseeing Transfers for more than a decade enhancing our clients' journeys between Rome and other major cities. Sightseeing Transfers are possible from Rome to other major Tuscany cities like Florence and Siena.






Renting a Car from Rome to Cortona

Rome is chaotic with notorious traffic that, for the uninitiated, can seem like a jungle of mayhem and bad drivers. Probably for this reason, along with space and convenience for air travelers, most car rental companies are located at Fiumicino Airport.

From Fiumicino, you can quickly reach the highway which is significantly easier (and safer) than trying to navigate through the traffic mayhem of Rome. Using Google Maps or your preferred navigation system, you can easily reach Cortona from Fiumicino.

Renting a car from Rome Fiumicino to Cortona makes sense if you plan on venturing through Tuscany from your base in Cortona. From Corton, you can explore Arezzo, Siena, Monteriggioni, Montalcino, Montepuciano, Pienza, Bagno Vignoni, Perguia, and more!
Whenever renting a car, be sure to plan for any roadside emergencies such as vehicle issues or flat tires. It happens! We've received many calls from travelers stranded on the highway due to a vehicle malfunction, and a new replacement vehicle was hours away.
Also read up on traffic regulations in Italy (such as parking, ZTL - Limited Traffic Zones, and travel speeds) so you don't have to deal with expensive traffic tickets when you get back home. These are NOT the type of souvenirs you wish to bring back from Italy.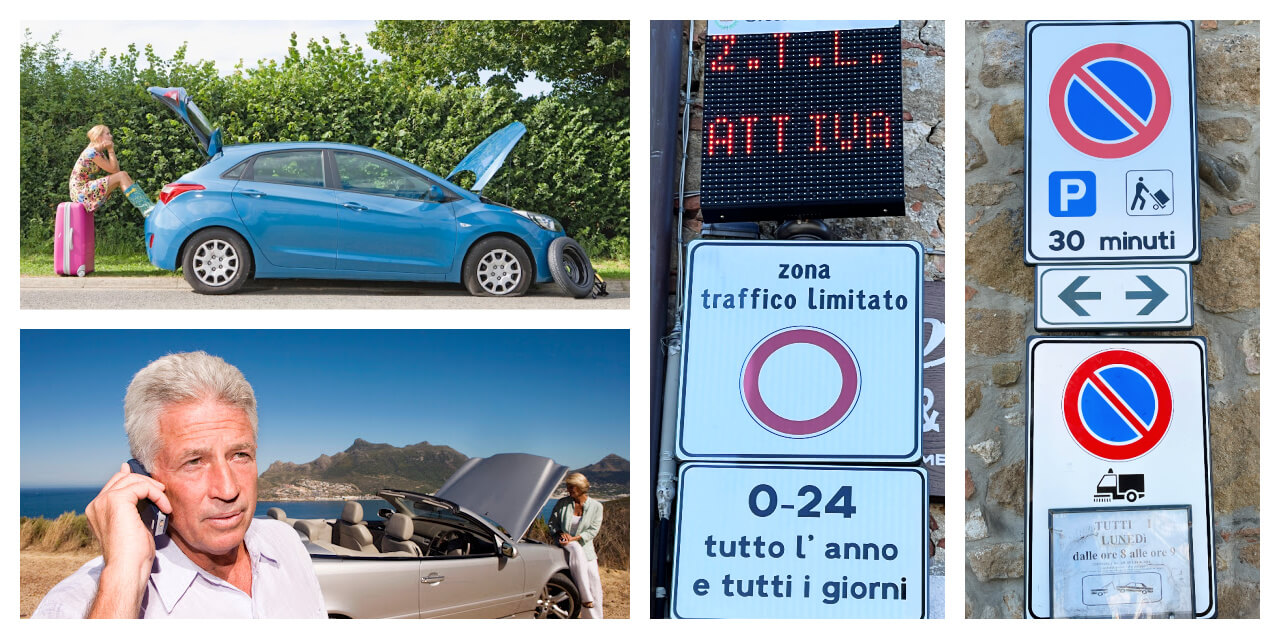 How about a day trip to Cortona to Rome?

Cortona is an amazingly beautiful town to spend a portion of your Italy vacation, however, not every traveler has the time on their Italy trip to dedicate to a long stay in Cortona.
If you really want to visit Cortona but only have 1 day, you can certainly book a Tuscany Tour from Rome to Cortona and Arezzo.

While Cortona was featured in the wildly popular film and novel, Arezzo was also featured in the 1997 acclaimed Italian film "Life is Beautiful" starring Roberto Benigni. Both towns are rich in historical architecture, culture, and Tuscan charm. Our sister company Stefano Rome Tours created the first Under the Tuscan Fun tour to Arezzo and Cortona, and it is such a huge hit that we are now also offering this exciting Tuscany tour from Rome.


What is a private tour from Rome to Cortona and Arezzo?


Simply, your personal English-speaking Driver will pick you up at your hotel or accommodation in Rome, and take you on a day trip to visit Cortona. After exploring Cortona for a couple of hours, your journey will continue through Tuscany to Arezzo. Following another couple of hours of sightseeing in Arezzo, you will return back to Rome with your camera full of photos and your heart full of wonderful memories.

We hope this information helps plan your visit to Cortona from Rome. Whether you wish to enjoy a sojourn in Cortona and need reliable and easy transportation, or if you just have a day to enjoy a taste of Cortona from Rome, we have you covered.

Thank you very much for choosing Stefano's RomeCabs for your Rome Private Transfers and Italy Tours. We look forward to showing you beautiful places in Italy!


ALSO READ from our popular Italy Travel Blogs:

Find us online also on: