Buongiorno and welcome to Stefano's RomeCabs, Rome's leading company for luxury tours in Italy. For more than 18 years we've taken our guests on exciting day tours to Tuscany from Rome or from Florence, as well as on Tuscany shore excursions from Livorno and La Spezia.


Our clients have often asked us:

Are there UNESCO World Heritage sites in Tuscany?

How many Unesco heritage sites are there in Tuscany?

Where are the UNESCO World Heritage sites in Tuscany?

Can we visit UNESCO World Heritage sites in Tuscany?

In this travel article, we will answer all the above questions.

And YES, you can visit UNESCO World Heritage sites in Tuscany. In fact, we offer various day tours from Rome to UNESCO World Heritage Sites in Tuscany. We also offer Shore Excursions from Livorno or La Spezia to Tuscany where you can visit many of these remarkable sites on your Mediterranean cruise to Italy.
From 1982 to the present, the United Nations Educational, Scientific and Cultural Organization (UNESCO) added 8 locations in Tuscany to their extensive list of World Heritage sites. In fact, Tuscany is one of the fortunate regions with the most UNESCO heritage sites in the world!
Below we will include all Unesco World Heritage Sites in Tuscany you can visit on our tours, along with travel tips (plus one BONUS site too!)
Visit 7 Unesco World Heritage Sites in Tuscany on our Tours
1. FLORENCE - the historic center

Florence is one of Italy's iconic cities, the cradle of the Renaissance, and the symbol of cultural and artistic rebirth. Florence rose to economic and cultural prominence under the influence of the Medici family in the 15-16th centuries, but its pre-Renaissance greatness is still on full display in the 13th century Santa Maria del Fiore Cathedral (the Duomo) and Basilica of Santa Croce.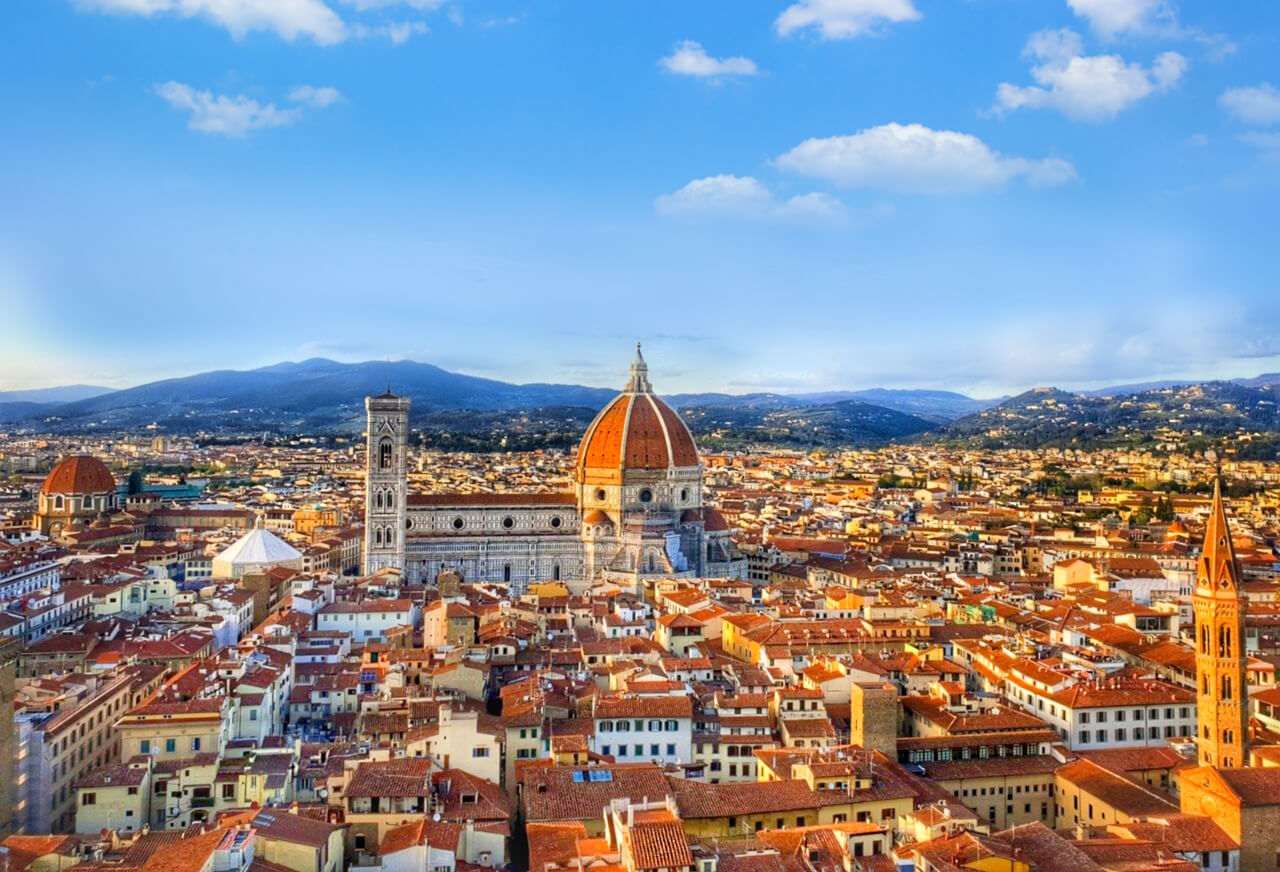 Piazza del Duomo boasts a concentration of remarkable buildings that include the aforementioned Cathedral, Giotto's Bell Tower, and Baptistery of Saint John among other lesser-known buildings and palaces.
As the city progressed into the Renaissance era of the mid 16th century, Florence saw the construction of the Pitti Palace, the Uffizi, and many other buildings and churches of immeasurable worth. The artistic work of the great masters from the medieval Giotto and Brunelleschi to Renaissance Botticelli and Michelangelo can be seen everywhere in Florence.
The remarkable buildings that comprise the historic center of Florence remain almost untouched over the centuries of urban development, creating a synergy of historical and aesthetic characteristics. In 1982 the Florence historical center was declared a UNESCO World Heritage Site.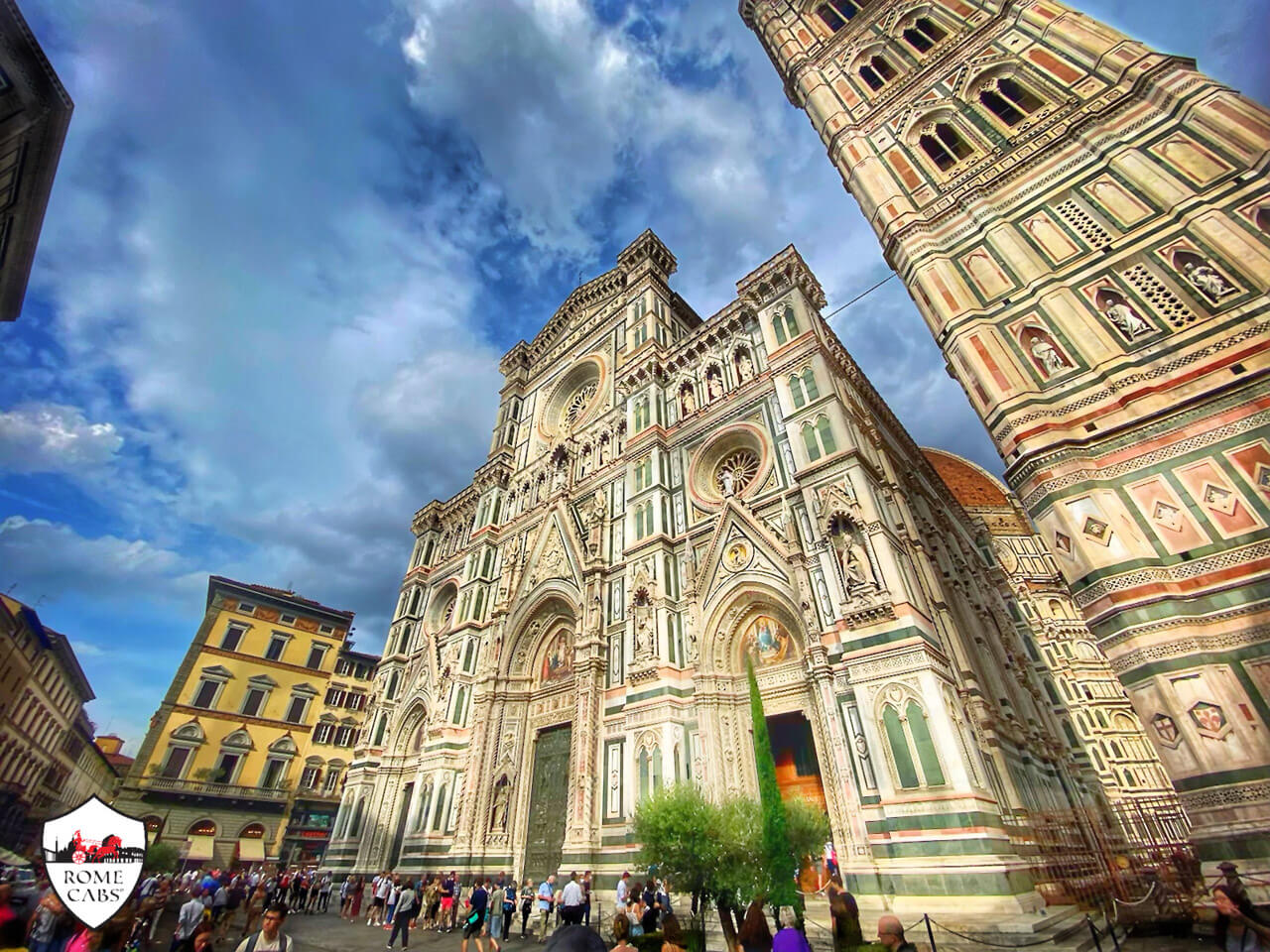 Must-See sites in Florence historic Center:


Piazza del Duomo: Cathedral, Baptistery, Giotto Bell Tower
Piazza della Signoria: Palazzo Vecchio, Loggia Langi?
Uffizi Gallery (be sure to book your tickets in advance if you wish to visit the gallery)
Ponte Vecchio
Basilica Santa Croce


We offer Tuscany Tours that take you to Florence to experience its magnificent historic center: Best of Florence Tour from Rome.

If you will be staying in Florence on your vacation, we also offer private Transfers from Rome Airport to Florence and back for the ultimate convenience of getting around Italy.
2. PISA - Piazza del Duomo / Piazza dei Miracoli
Pisa is known throughout the world for its famous bell tower nicknamed the Leaning Tower of Pisa. As much of a "tourist attraction", this leaning tower has become, together with the other medieval monuments in Piazza del Duomo (or more commonly known as Piazza dei Miracoli / Square of Miracles) is recognized as an important center of European medieval architecture, and one of Italy's most remarkable sample of Pisan Romanesque style.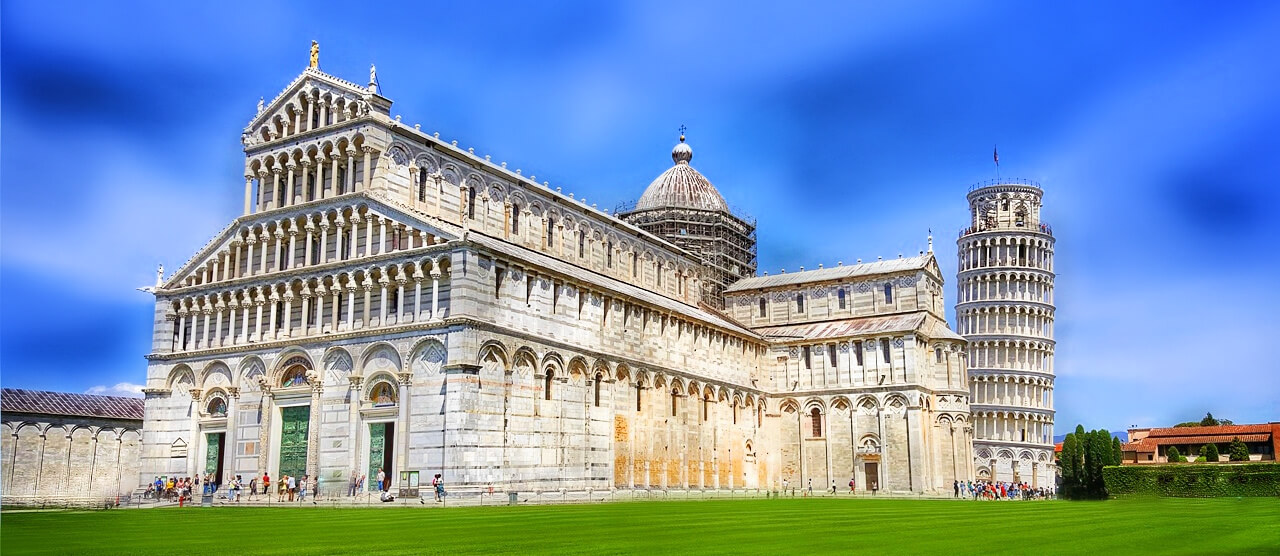 The four masterpieces that make up this architectural complex built between the 11th and 14th centuries are the Pisa Cathedral, the Pisa Baptistery, the Campanile (the leaning bell tower), and the Camposanto Monumentale (monumental cemetery).
In 1987 the entire square was declared a UNESCO World Heritage Site.


Why is the leaning tower of Pisa leaning?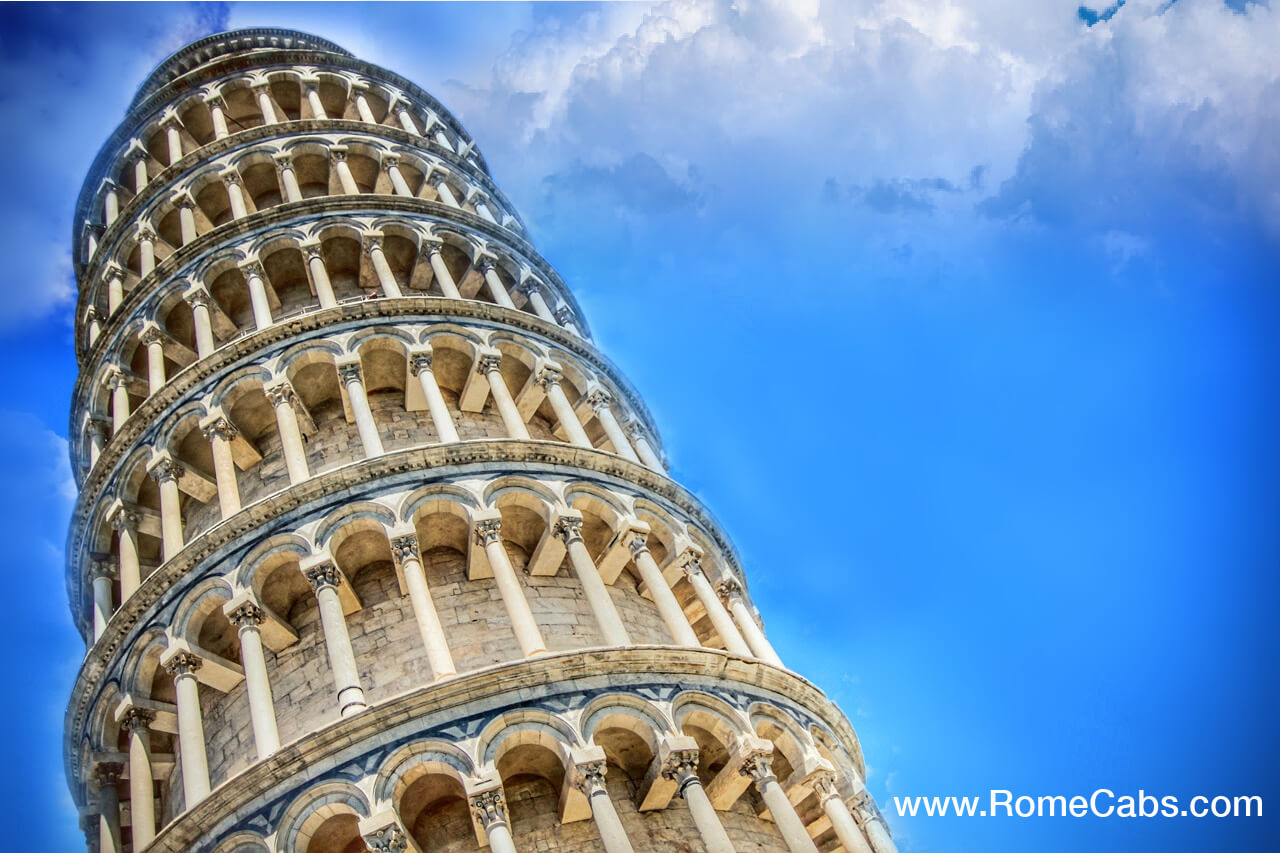 The leaning tower of Pisa is so famous for this "design flaw", that one can't imagine it standing in the perfect position without losing its charm.
The Tower of Pisa leans nearly four degrees due to an unstable foundation. The tower began to lean even during its construction in the 12th century when the construction progressed to the 2nd level due to soft unstable soil below that could not properly support the tower's heavyweight.
Construction then halted for almost a century before it resumed again. Ongoing battles between the Pisans and Genoa, Lucca, and Florence disrupted major construction projects on more than one occasion. Fortunately, this time allowed the underlying soil to settle enough for construction to resume and for the tower to not topple.
By the time it was completed almost 200 years later, (1173-1372) it tilted 5.5 degrees. Between 1993 and 2001 restoration work reduced its tilt to 3.97 degrees.
Did you know this about the Leaning Tower of Pisa?

On the low side, the tower stands at 55.86 meters (183 feet 3 inches) ground up, and on the high side 56.67 meters (185 ft 11 in)
The weight of the tower is estimated at 14,500 tons
The tower has about 295 steps
The Tower has 7 floors
The bell tower has 7 bells, one for each musical note on the scale
Tips for visiting Pisa's Piazza del Duomo (Square of the Miracles):


You don't need to dedicate all day to visit Pisa. You can enjoy this square just by passing through, and spend an hour or more exploring the square and its monuments.
If you wish to climb the bell tower, be sure to purchase your tickets in advance at a specific time slot.
Yes, DO take photos propping or pushing the leaning tower of Pisa, why not? Make your photo the most memorable ever!


Shore Excursions Tours that take you to Pisa:
3. SAN GIMIGNANO - historic center
Originally an Etruscan and then a Roman hilltop settlement overlooking the beguiling Valley of Elsa (Val d'Elsa), San Gimignano is the embodiment of a medieval town. It is also universally recognized for its many fine towers that gave it an impressive skyline which earned it its nickname of the "Medieval Manhattan". Originally there were 72 towers in San Gimignano, today only 14 towers survive.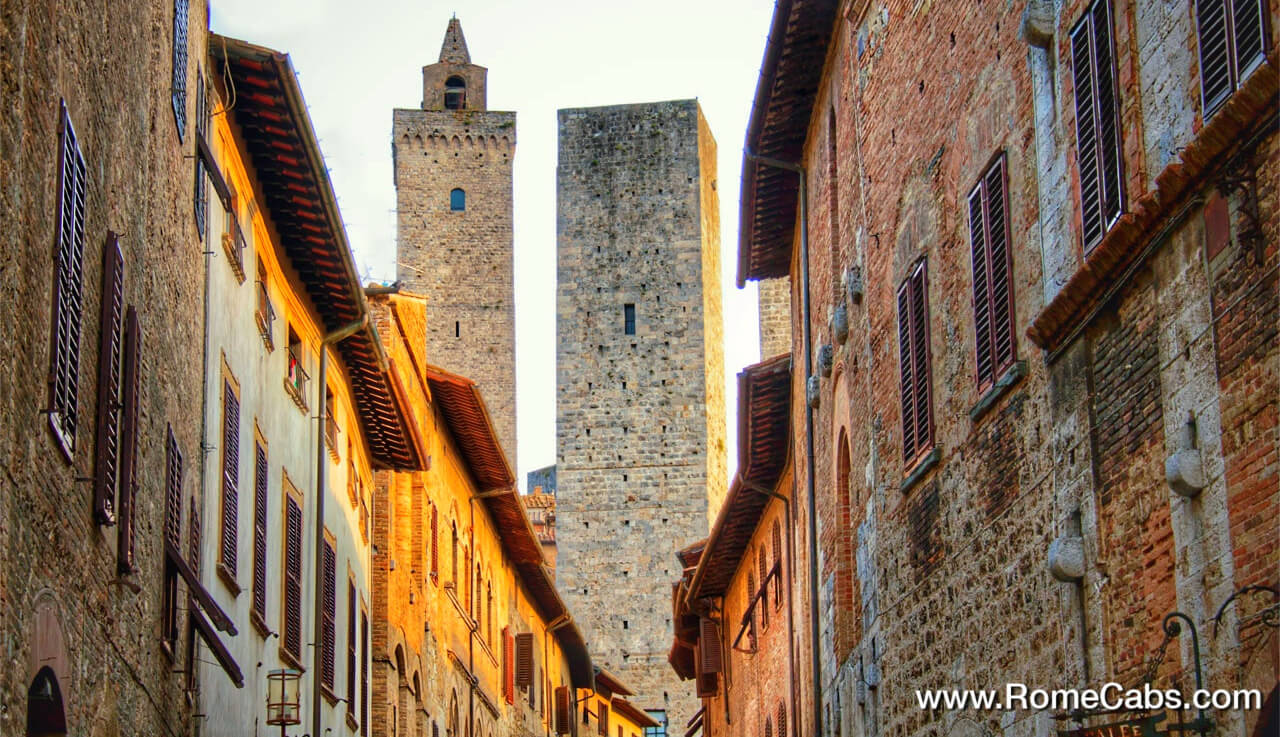 The fortified tower houses were largely erected between the 11th-13th centuries by noble families and wealthy merchants establishing their wealth and powerful status. The taller the tower, the more important and wealthier its owners were.
Unlike other Tuscan towns that have undergone urban renewals after the Middle Ages, San Gimignano's decline after the mid-14th century helped it retain its spellbinding feudal appearance and medieval atmosphere that makes visitors feel as if they've stepped back in time a thousand years.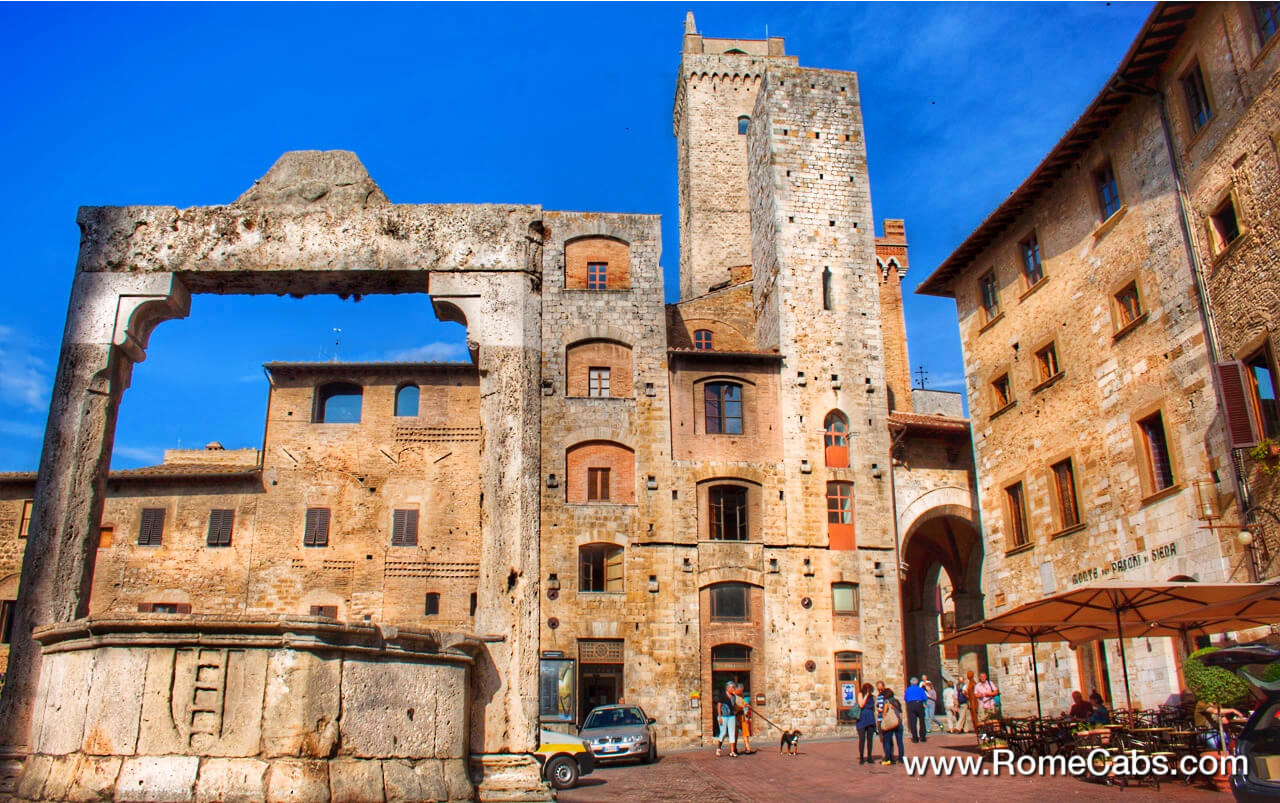 San Gimignano's most important square is Piazza della Cisterna boasting an ornamental well in its center, surrounded by significant historical buildings, palazzi, and towers.
In the 18th century, San Gimignano was "rediscovered" by Grand Tour travelers, and since then they never stopped making San Gimignano one of the most visited towns in Tuscany.
San Gimignano's international fame is not limited just to its architectural uniqueness, but also for the richness of the land surrounding it which produces the celebrated local Vernaccia white wine that visitors can sample and purchase at wine shops throughout the town. San Gimignano's Vernaccia wine was the first white wine in Tuscany to receive the coveted DOCG certification in 1993.
The historic center of San Gimignano was designated a UNESCO World Heritage Site in 1990.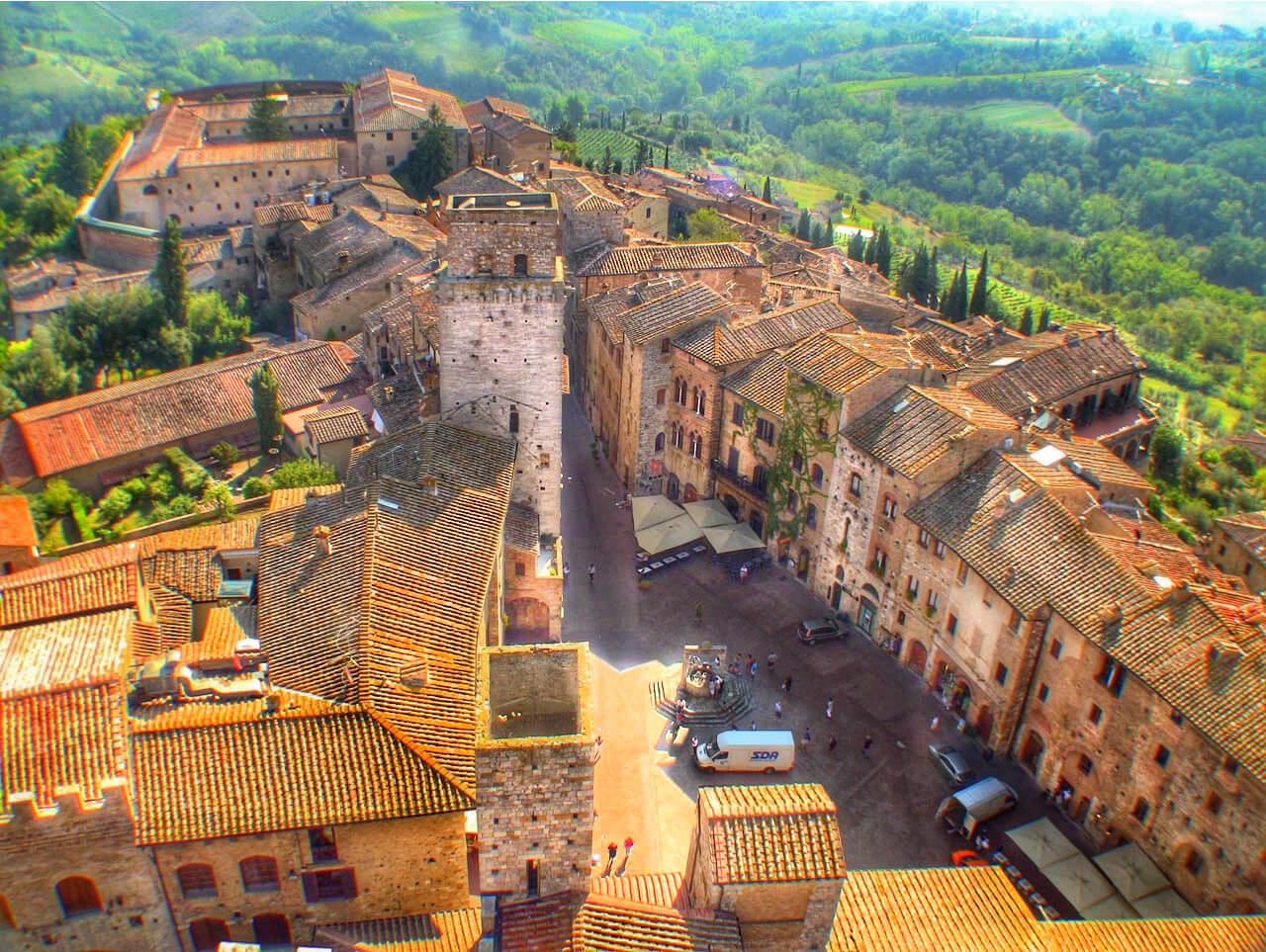 TIPS for visiting San Gimignano:

If physically fit, climbing a tower in San Gimignano will reward you with spellbinding views of the town below and the surrounding countryside into the horizon. Torre Grossa (or Big Tower) is the highest tower in San Gimignano, and a ticket to the Civic Museum includes Torre Grossa, Palazzo Comunale, and La Pinacoteca.
Wine lovers should not miss wine shops for their chance to sample the local Vernaccia and purchase their favorite white along with other locally produced delectables.
In San Gimignano, you will also find gorgeous hand-painted Tuscany-style ceramics that you can purchase as souvenirs or have them professionally shipped by the shop owners. The high quality of goods made and sold in San Gimignano makes this town also a shopper's paradise!


Shore Excursions and Day Tours to San Gimignano:


On day trips from Florence and on Shore Excursions from Livorno, San Gimignano is usually paired with the next UNESCO World Heritage Site in Tuscany: Siena.


Siena and San Gimignano Tuscany Tour from Florence
4. SIENA - historic center


A rival of Florence for centuries during the middle ages, Siena is a fine example of Medieval Gothic architecture and appearance. Siena acquired this distinctive Gothic style, especially the classic Sienese arch, between the 12th-15th centuries that was introduced to the city from the East during the Crusades. This remarkable medieval city had considerable influence on art, architecture, and city planning during the Middle Ages in Italy and Europe as well.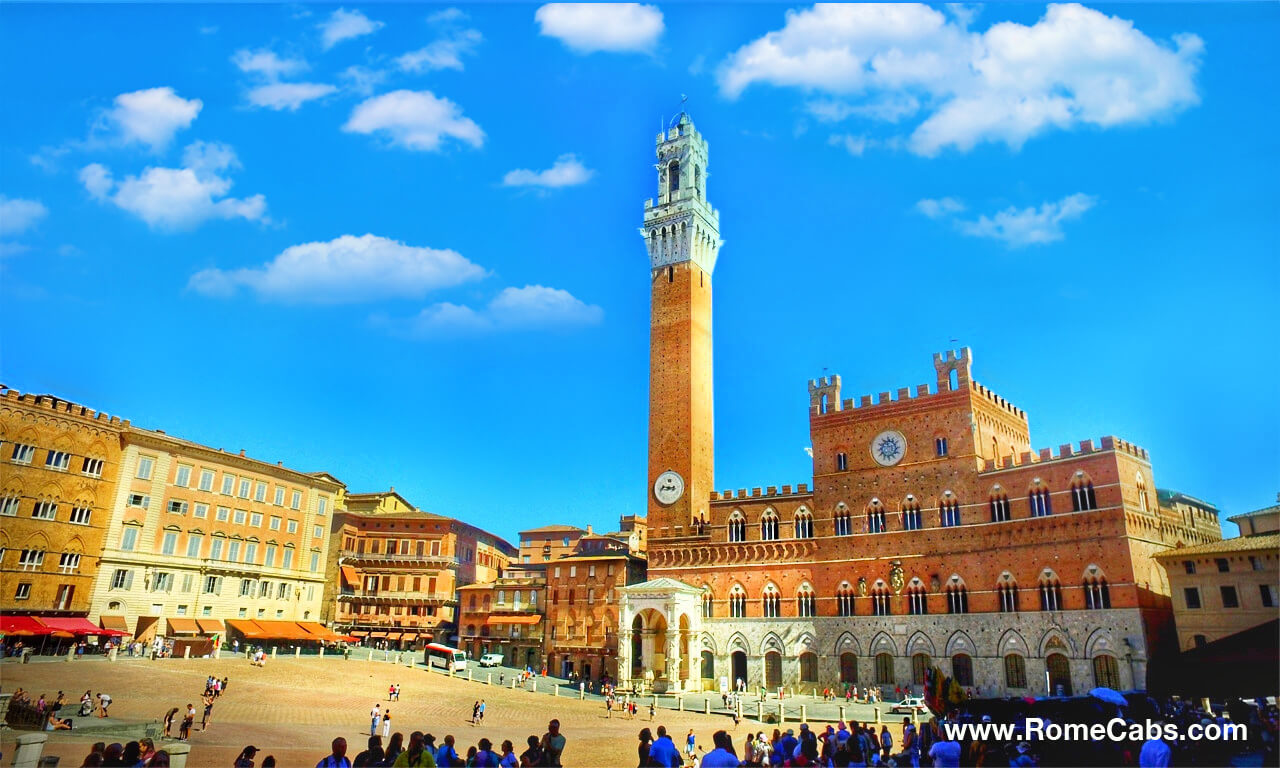 The legend of Siena has it that the city was founded by Senius, the son of Remus. Remus was the legendary brother of Romulus, the founder of Rome. For this reason, Siena's emblem is the she-wolf that suckled the infants Remus and Romulus which is also the symbol of Rome.
The heart of Siena can be found in its central square, Il Campo. Considered to be one of the largest medieval squares in the world, the shell-shaped square rests on a gentle slope encircled by magnificent historical buildings and is dominated by the brick-colored Palazzo Pubblico and its tower Torre del Mangia. Il Campo also hosts the Palio, the world-famous horse race held in this square twice every summer on July 12 and August 16.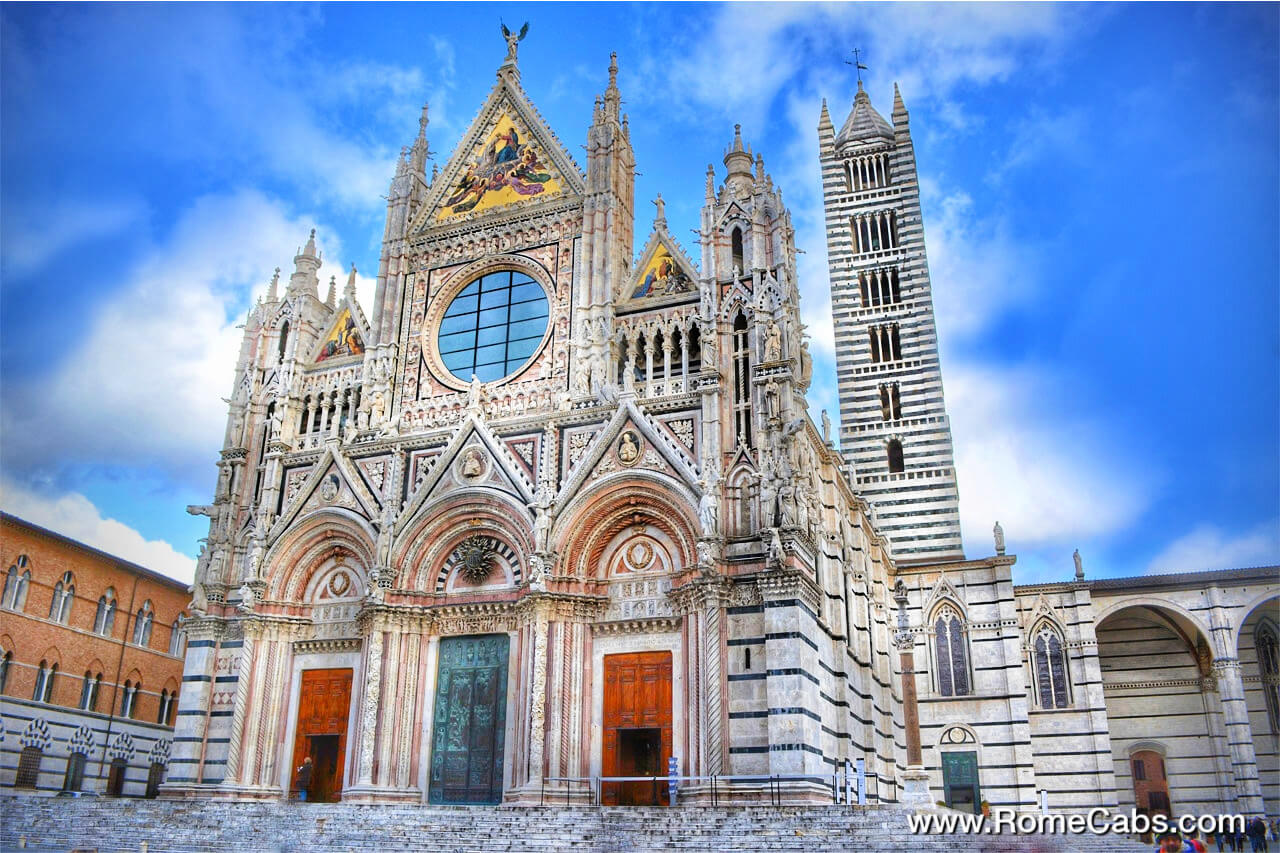 Also not to be missed in Siena is its 13th-century medieval Cathedral (Duomo di Siena) dedicated to the Assumption of Mary. This stunning cathedral was constructed of white and greenish-black marble in alternating stripes symbolizing the white and black official colors of Siena, with additional red marble adorning its intricate facade.
Siena continued to preserve its characteristic Gothic elements throughout the centuries from the 17th to the 19th centuries as the city underwent urban renovations.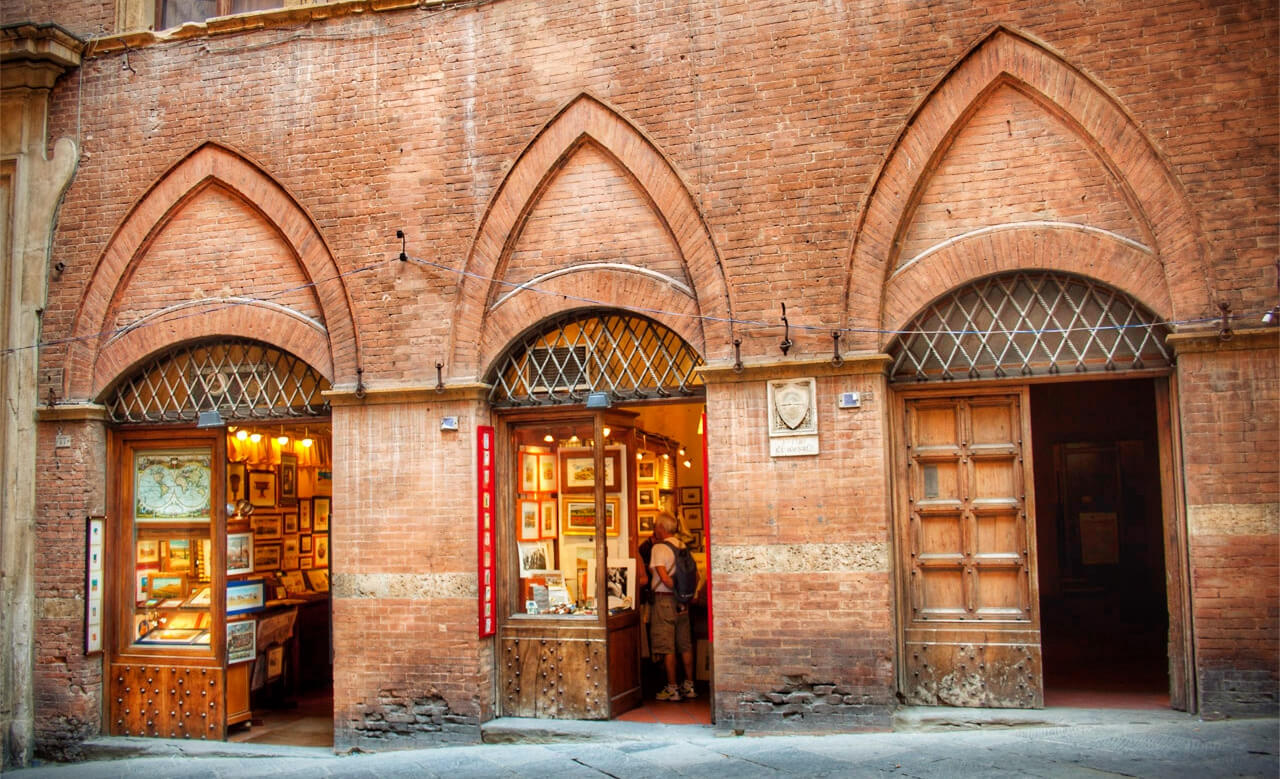 Tips for visiting Siena for the day:

If you enjoy people-watching, grab a table at any of the outside cafes along the Il Campo square, and order a drink or a snack for one of the most delightful ways to enjoy some well-deserved rest after strolling through the city's enticing streets lined with shops and boutiques.
Even if you don't plan to visit inside the Cathedral complex (which requires entry tickets and you can encounter lengthy lines), don't miss the opportunity to bask in the glory of this magnificent Duomo.
Meander the medieval streets of Siena's historic center and you will appreciate the graceful Gothic architecture with its characteristic pointed archways. Window shopping will also offer opportunities for unique purchases for yourself or as gifts.
The historic center of Siena was designated a UNESCO World Heritage Site in 1995.

If you plan to sojourn in Siena, we offer private Transfers from Rome Airport to Siena and back to make your trip to Italy easy and comfortable.
5. PIENZA - historic center
Pienza is another entrancing hilltop town with an advantageous view of the surrounding Val d' Orcia.
Initially, Pienza was a quaint Medieval town known as Corsignano when locally born Enea Silvio Piccolomini became a leading humanist before being elected as Pope Pius II in 1458. As pope, Pius II planned to develop Corsignano as his summer court and was instrumental in the town's revival applying the Renaissance Humanist concept of urban design in the construction and reconstruction of some 40 buildings transforming this once medieval town into an Italian Renaissance utopia that inspired cities across Italy and Europe.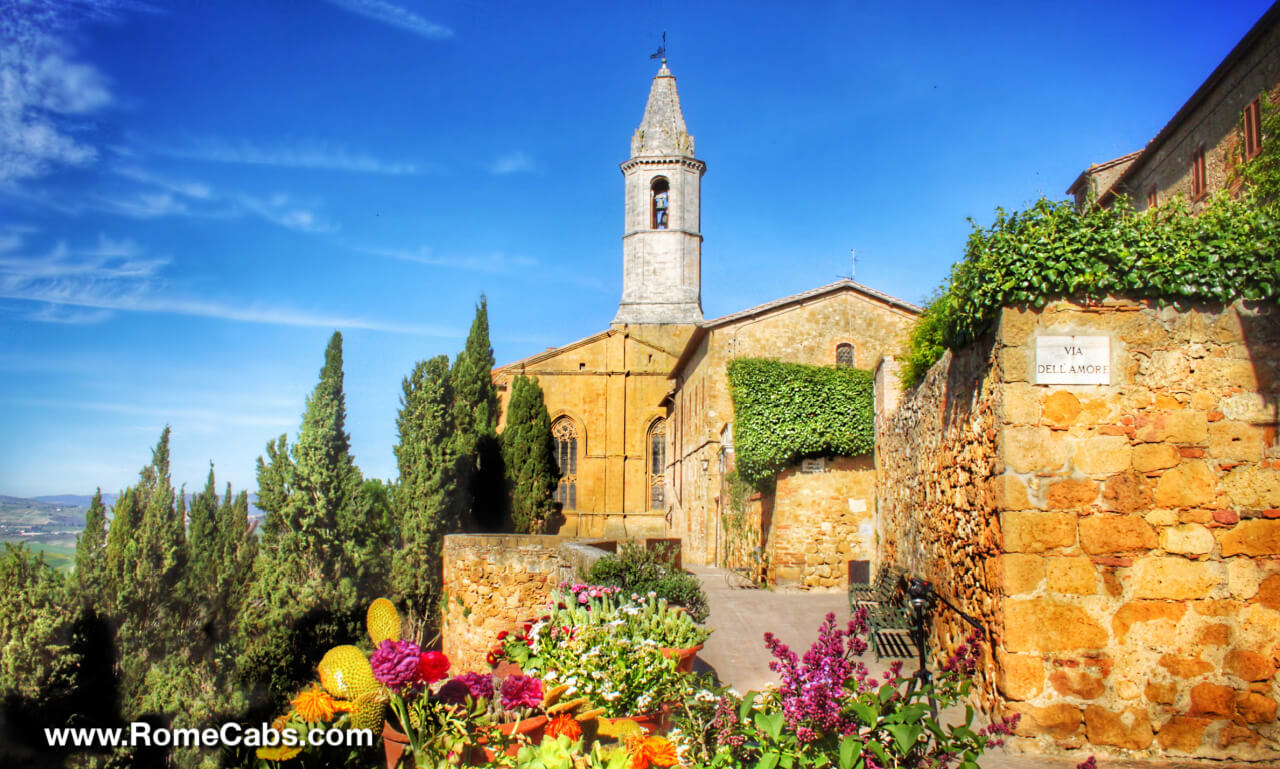 Corsignano was then renamed Pienza in honor of its homegrown Pope Pius II. You will recognize the pope's birth name Piccolomini in reference to the Piccolomini Palace, as well as his papal chosen name in Piazza Pio II.
Pienza's claim to fame is not only for being a fine example of Italian Renaissance utopia but also for its delectable Pecorino di Pienza. Its flavorful local pecorino cheese of Pienza is made from the milk of sheep that graze freely upon the surrounding pastoral meadows. Pecorino cheese comes in a wide variety from aged to soft and creamy. Once you taste it for yourself at any of the local shops that sell them in town, you'll understand why this award-winning cheese is sought after worldwide.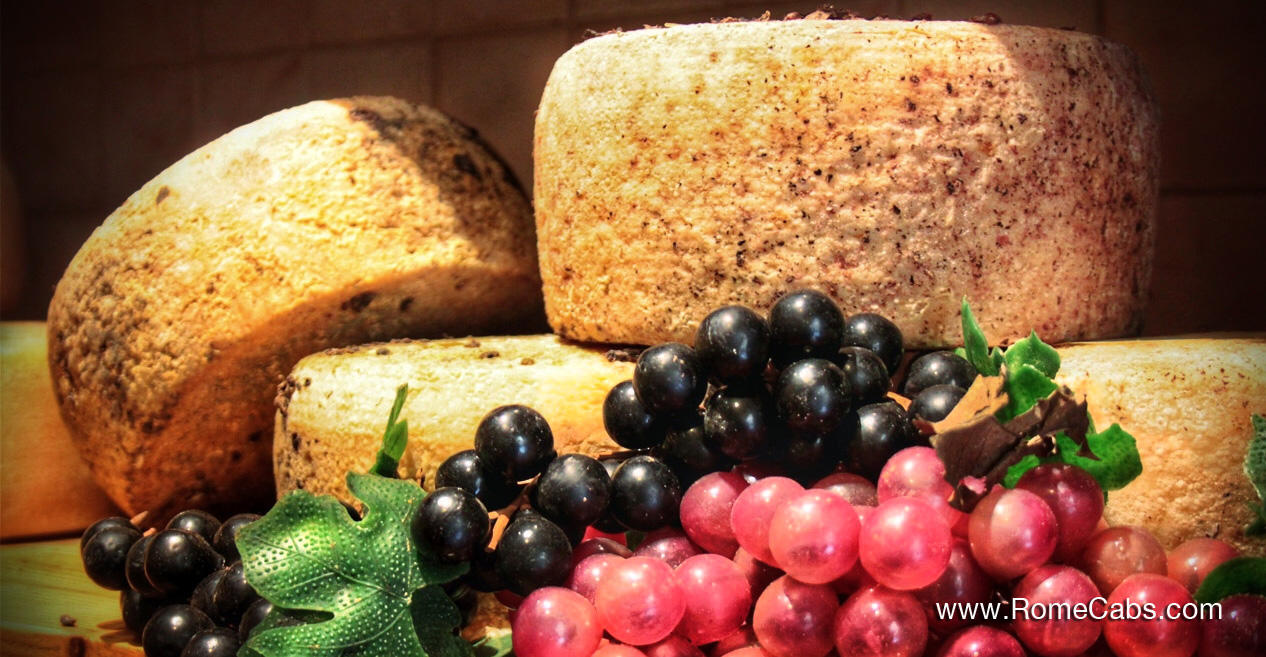 This "ideal town" is also one of the most charming and romantic Tuscan villages with narrow alley streets names such as Via del Amore (Love Street), Via del Bacio (Kiss Street), Via della Fortuna (Fortune Street). All these narrow alleys lead to a most spectacular view of the celebrated Val d'Orcia (the next UNESCO World Heritage Site).
Tips for visiting Pienza: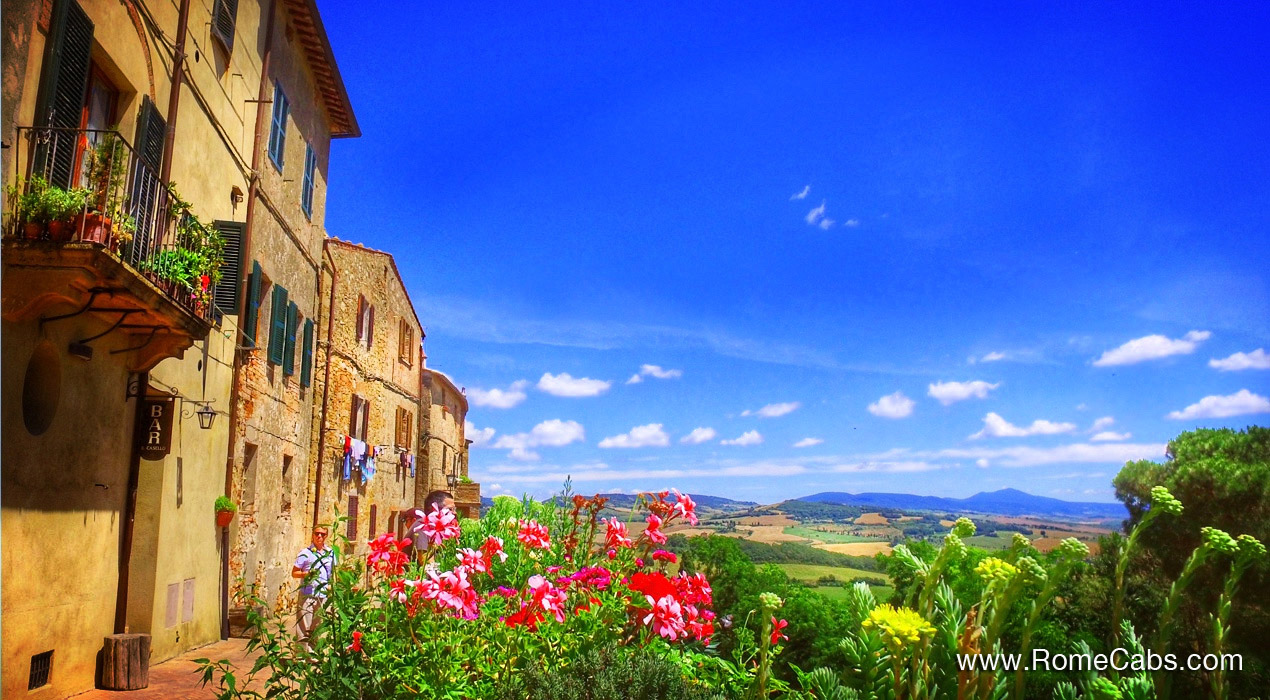 Locate the charming alleys with unique names and treat yourself to a breathtaking view of Val d'Orcia from the village's perimeter fortified walls.
You haven't lived until you've tasted the Pecorino of Pienza. Hard cheeses can be vacuumed packed by shop owners for travelers to take home with them.
Pienza also makes an ideal place for lunch serving up delicious Tuscan cuisine at charming restaurants and some with outdoor tables overlooking Val d'Orcia. Advance reservations may be required to secure the best tables at preferred restaurants.
Day Tours from Florence and Rome to Pienza:


We currently offer two exciting Tuscany tours from Rome to Pienza, paired with other remarkable Tuscan towns.


6. VAL D'ORCIA


Settled upon for thousands of years by the ancient Etruscan and Roman civilizations, the entrancing Val d'Orcia (Valley of Orcia) in southern Tuscany has evolved to become an iconic landscape reworked since the Renaissance era to reflect the ideals of good governance and to create aesthetically pleasing landscapes celebrated by painters and artists for hundreds of years from the Renaissance era to today.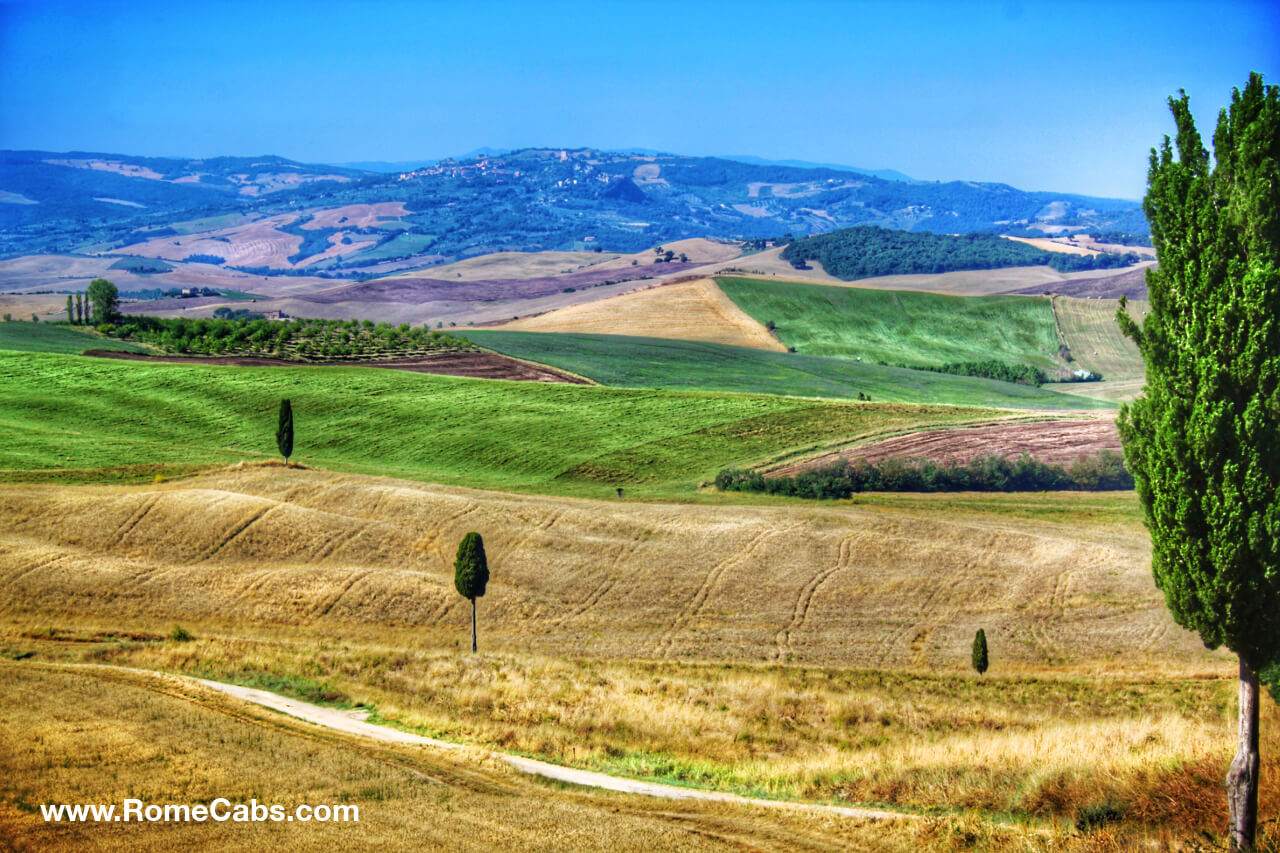 The distinctive aesthetics of Val d'Orcia exemplify the beauty of well-managed Renaissance agricultural landscapes comprising a network of farms, vines, olive orchards, grain fields, woodlands, and pastoral meadows interspersed with hilltop villages and towns reflecting Renaissance agricultural prosperity.
The vast landscape of soft conical hills and exuberant valleys over time emerged as perfect alchemy of postcard-worthy panoramas of fortified medieval villages, alluring cypress trees, and a collage of delicate hues that change with the seasons bestowing on this valley a different look throughout the year.
In the early spring months, the valleys are cloaked in a vibrant velvety green that transforms into a golden extravaganza during the early summer months when the wheatfields ripen and the meadow grasses dry under the Tuscan sun.
During the late fall and winter months, the gentle slopes once again cover themselves with a soft green and umber layer and wait for warmer spring months to reflourish again. Val d'Orcia will captivate and amaze you with its changing appearance any time of the year!
Val d'Orcia is among the most photographed and filmed valleys in Tuscany gracing postcards, calendars, picture books, and blockbuster films. It was also featured in the movie The Gladiator representing the "Elysian Fields" (an ancient pagan expression for Paradise) when the main character, Maximus, famously glided his hand through the ripe golden wheat field towards the end of the movie.
Val d'Orcia has enjoyed its UNESCO World Heritage Site status since 2004.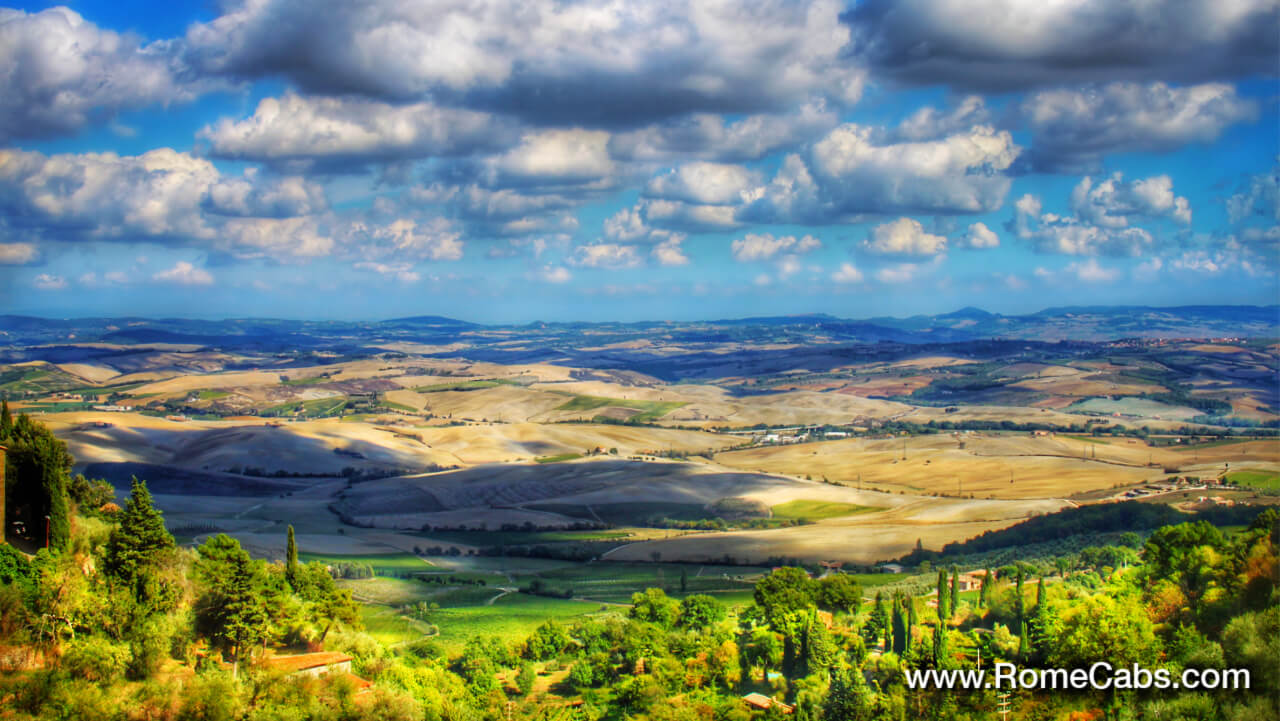 Tips for visiting Val d'Orcia:

* If you choose to book our Valley of Paradise Tuscany Tour from Rome or from Florence, we can take you to the famous "Elysian Fields" film location shot in the movie The Gladiator. But please know it's a bit of a hike on a downward dirt road that requires sturdy footwear suitable for hiking and a certain level of fitness.




* If you will be booking our Valley of Paradise Tuscany Tour, we can also take you to the famous "Windy Road" in Montichiello for that postcard-perfect photo. It's not easy to find as it's tucked away off the main road, but we know how to get you there on our tour.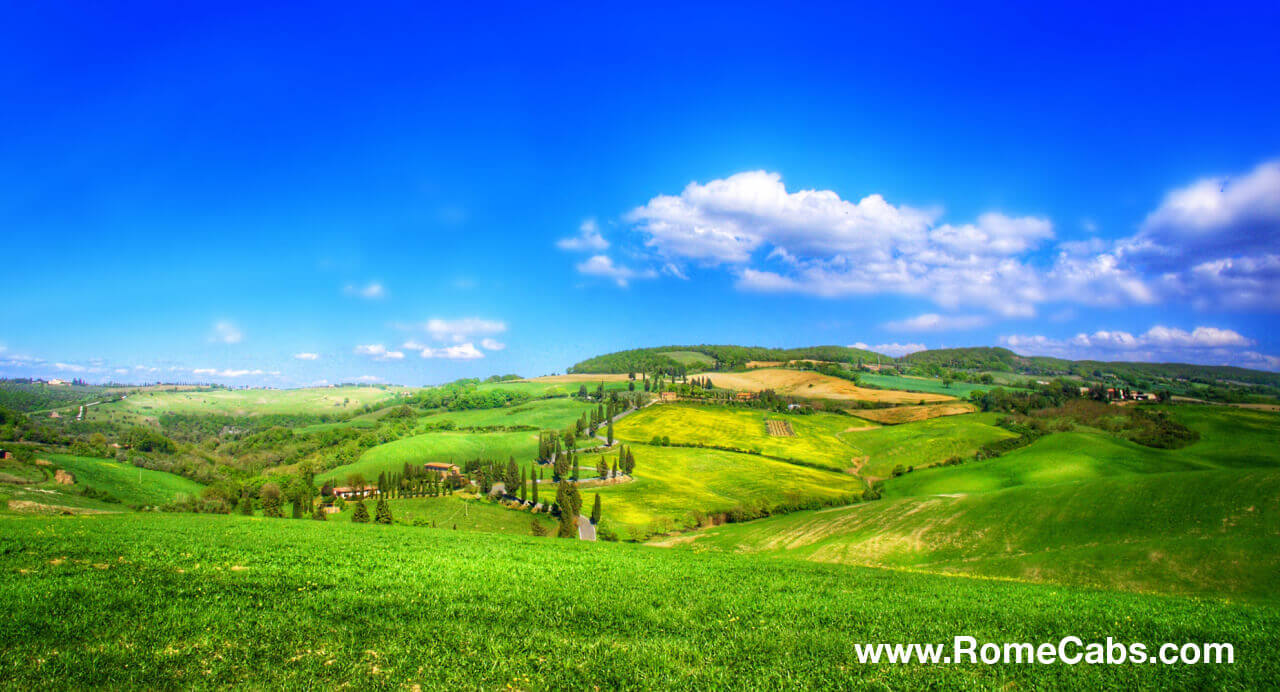 * Make sure your camera batteries are fully charged with plenty of memory cards as you will be taking LOTS of photos and videos with a picture-perfect view around every corner.
Day Tours from Florence and Rome to Val d'Orcia in Tuscany:


The following Tuscany Tours from Rome and from Florence take you to Val d'Orcia to visit many of its celebrated towns and villages.

7. Medici Villas and Pleasure Gardens
Despite there being 27 Medici villas spread across Tuscany categorized in primary and secondary villas, only 12 villas and 2 gardens have been included in the UNESCO list.
The Tuscan banking family and political dynasty, the Medici first began to reach prominence under Cosimo de' Medici in the Republic of Florence during the mid-1400s. Although the Medici dominated the political landscape and Florence's government, produced four popes of the Catholic Church and two queens of France, the Medici remained citizens rather than monarchs until the 16th century when they were elevated to the Grand Duchy of Tuscany until 1737 when their power diminished along with its wealth.
During their reign supreme for decades a powerful and wealthy family, the Medici influence over contemporary culture exerted far and wide. The Medici were a catalyst for an extensive amount of art patronage including famous Renaissance artists such as Leonardo da Vinci, Michelangelo Buonarroti who was supported by the Medici from the time he was a young artist, and Sandro Botticelli who was raised by the Medici family. The well-cultured Lorenzo de' Medici was among the most prolific patron of the arts.
Testimony of de Medici's power and wealth is still apparent across Tuscany with 27 villas built between the 15th - 17th centuries that represent the Renaissance and Baroque innovative system of architecture in harmony with nature, devoted to leisure, the arts, and knowledge. Although many of the villas appear severe, they were leisure resorts that include recreational spaces such as courtyards, loggias (balconies), and pleasure gardens developed in appreciation of landscapes that were characteristic of Renaissance Humanism.
The 12 villas along with the 2 gardens included in the UNESCO World Heritage Site in 2013 are:

Boboli Gardens (Florence) *
Villa de Cafaggiolo (Barberino in Mugello)
Villa del Trebbio (San Piero in Sieve)
Villa de Careggi
Villa Medici in Fiesole
Villa de Castello
Villa de Poggio a Caiano
Villa de la Petraia
Villa de Cerreto Guidi
Palazzo di Seravezza (Lucca)
Pratolino Gardens (Vaglia)
Villa di Artimino (Carmignano, near Prato)
Villa La Magia (Quarrata, near Pistoia)
Villa de Poggio Imperial





* The Boboli Gardens in Florence conceived for the Grand Ducal Palazzo Pitti can be visited upon request on our Florence Tours from Rome and Florence shore Excursions from Livorno and La Spezia to Florence cruise tours.
* (bonus) 8. Montecatini Terme

The last and the newest of the UNESCO World Heritage sites in Tuscany is Montecatini Terme which was included in the transnational serial site of "The Great Spa Towns of Europe" in 2021.
The 56th Italian site on the UNESCO World Heritage list, Montecatini boasts thermal waters that were already appreciated by the ancient Romans. The baths were built in the late 18th century (between 1773-1783) by the Grand Duke of Tuscany Pietro Leopoldo, and later became one of the city's symbols.
The sites included in the "The Great Spa Towns of Europe" list are significant as they represent a unique example of urbanization around a medical practice that became a European phenomenon from 1700 to the 1930s, creating a new urban typology of unprecedented form, function, and particular architecture.
While this location is not part of our Tuscany Tours, it merits a visit for its exceptional universal value that granted it the coveted UNESCO recognition.
ALSO READ:

Thank you for reading our Visit 7 Unesco World Heritage Sites in Tuscany on our Tours travel blog, and for choosing Stefano's RomeCabs for your Tuscany Tours from Rome and from Florence, and for your Tuscany shore excursions from Livorno and La Spezia. We look forward to showing you beautiful places in Italy!

* Find us online also on: