Buongiorno and welcome to Stefano's RomeCabs, Rome's leading company for private Tours and Excursions. We are pleased to show you the best things to do in Sorrento whether you are staying for a few days or on our Sorrento Tour from Rome.

In ancient Greek mythology, Sorrento was the home of sirens, half-human sea maidens who lured sailors onto the rocks with their alluring voices. Sorrento continues to lure and tempt travelers with its alluring seaside vistas, sunshine, sumptuous food, Renaissance palazzi, and atmospheric streets that radiate from the town's bustling main square.

We are listing the best things to do without overdoing assuming you will be in Sorrento either for the day, visiting on a Tour from Rome, or basing yourself in Sorrento to also enjoy day trips to Pompeii, Herculaneum, Positano, or Naples.

We could easily squeeze in a ton of things to do in Sorrento, but not everyone is interested in coral museums and cooking classes. The best things to do in Sorrento are conveniently concentrated in the center of Sorrento and you can easily achieve all of them (or at least most of them) spontaneously even on our Amalfi Coast Tours from Rome.
The Best Things to do in Sorrento, Italy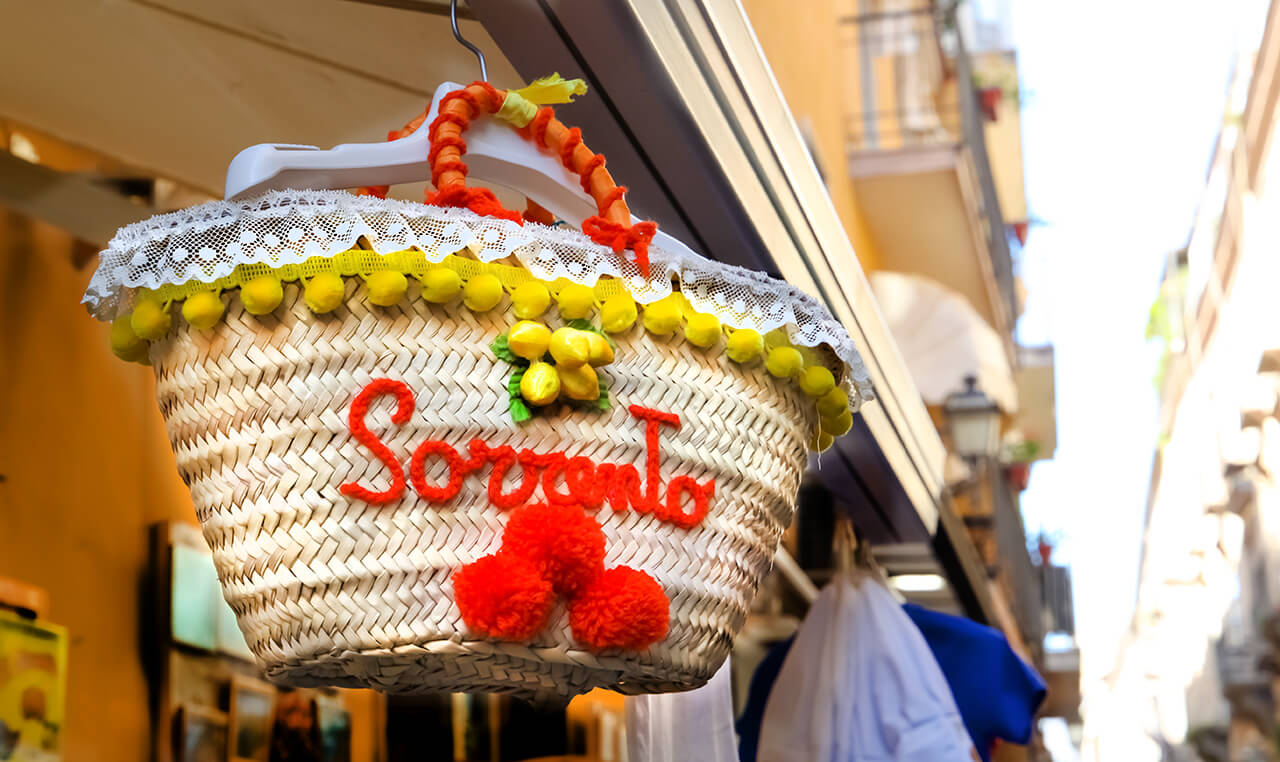 Sip Limoncello in Sorrento


It goes without saying that when in Sorrento, drink Limoncello.
Limoncello might as well be the beverage mascot of Sorrento, and there's no better place to savor this bright yellow liquor than in Sorrento where its special native lemons grow to produce this exquisite elixir.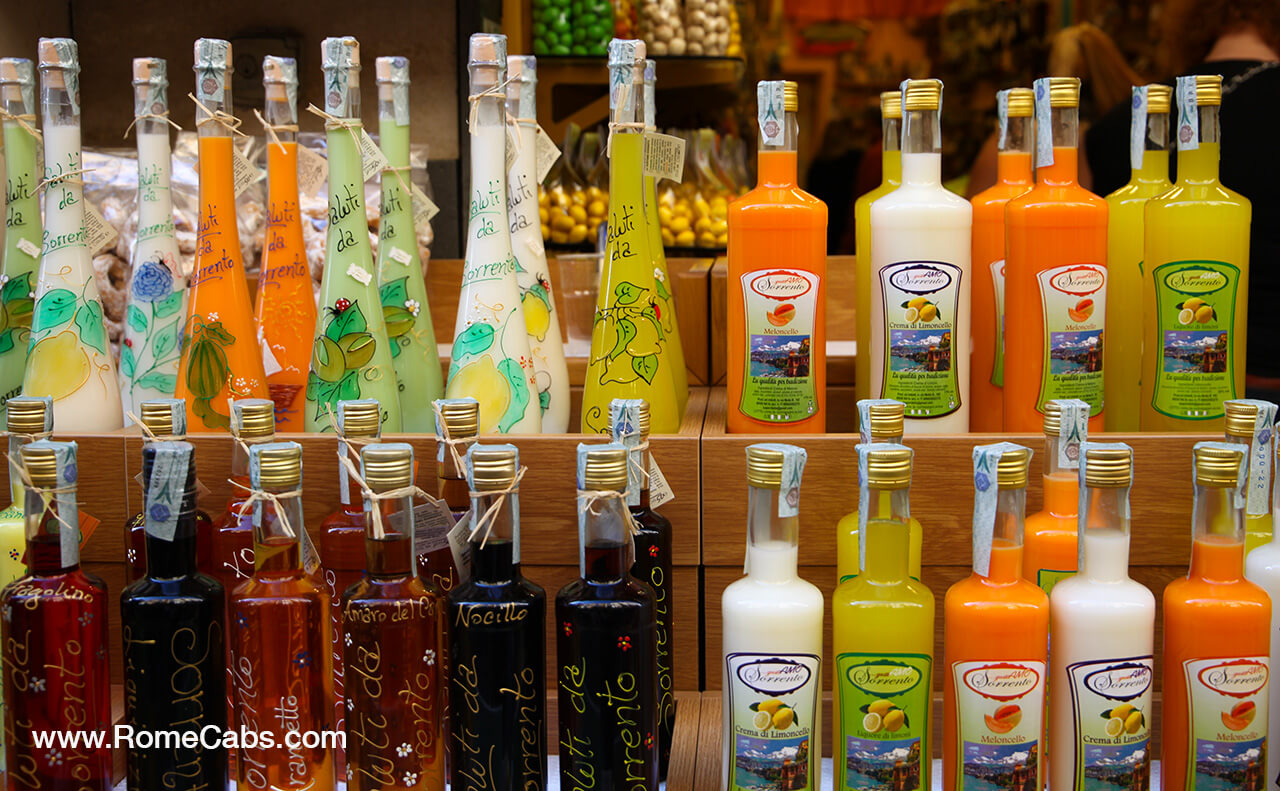 It is said that at the beginning of the 20th century, it was customary for wealthy Sorrentines to treat their most distinguished guests to a taste of limoncello.
Today, everyone who visits Sorrento can delight in Limoncello that's sold throughout the city at various shops and served at local restaurants and cafes.
Toast your visit in beautiful Sorrento with a glass of limoncello and drink in Sorrento's beguiling scenery.


Relax in Piazza Tasso

The late 19th-century Piazza Tasso is the beating heart of Sorrento, a bustling intersection surrounded by pastel-colored palazzi, restaurants, cafes, and shops.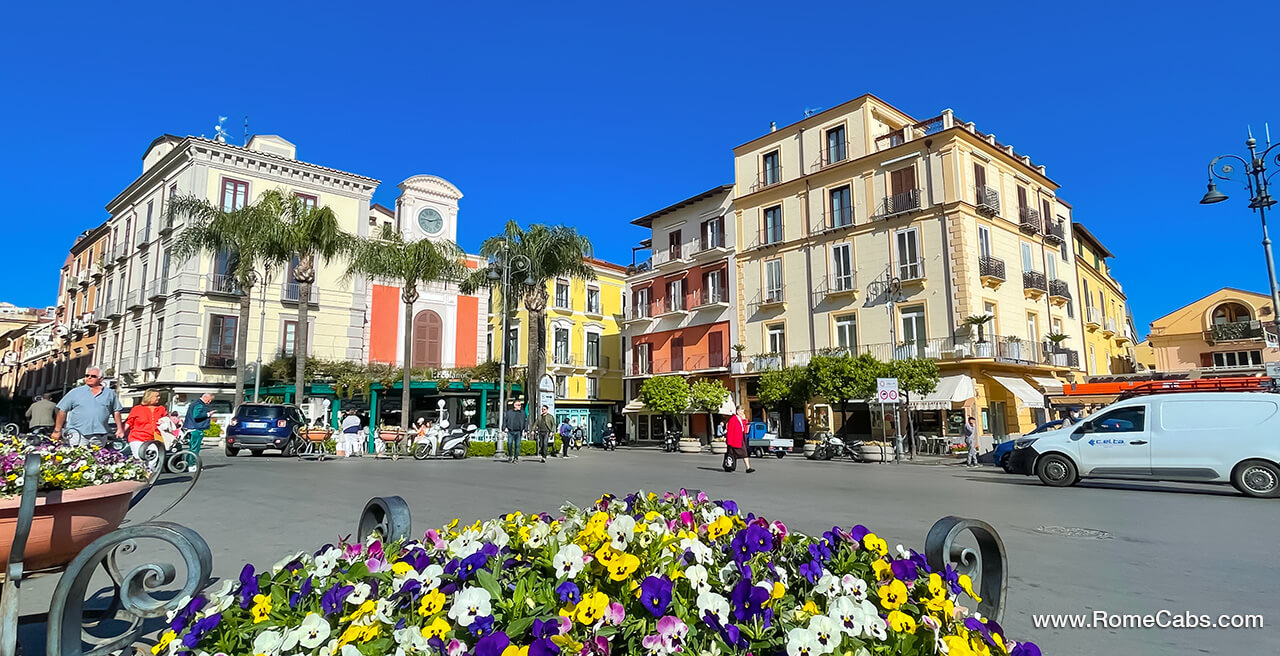 The charming Piazza Tasso is named after the local Renaissance poet Torquato Tasso (1544-1595) whose statue stands proud on one of the corners of the square. A statue of Sant'Antonio, the patron saint of Sorrento who took refuge here during the invasion of the Lombards, graces the center of the square.

Grab an outdoor table at one of the local cafes such as Bar Fauno, order an aperitif or a preferred beverage, and relax watching the symphony of colors and activities around you.
Stroll the lanes of Old Sorrento

Wander through Sorrento's most characteristic venues are the vicoletti, the narrow inviting lanes through the colorful historical center that are filled with local shops, cafes, boutiques, fruit markets, and restaurants.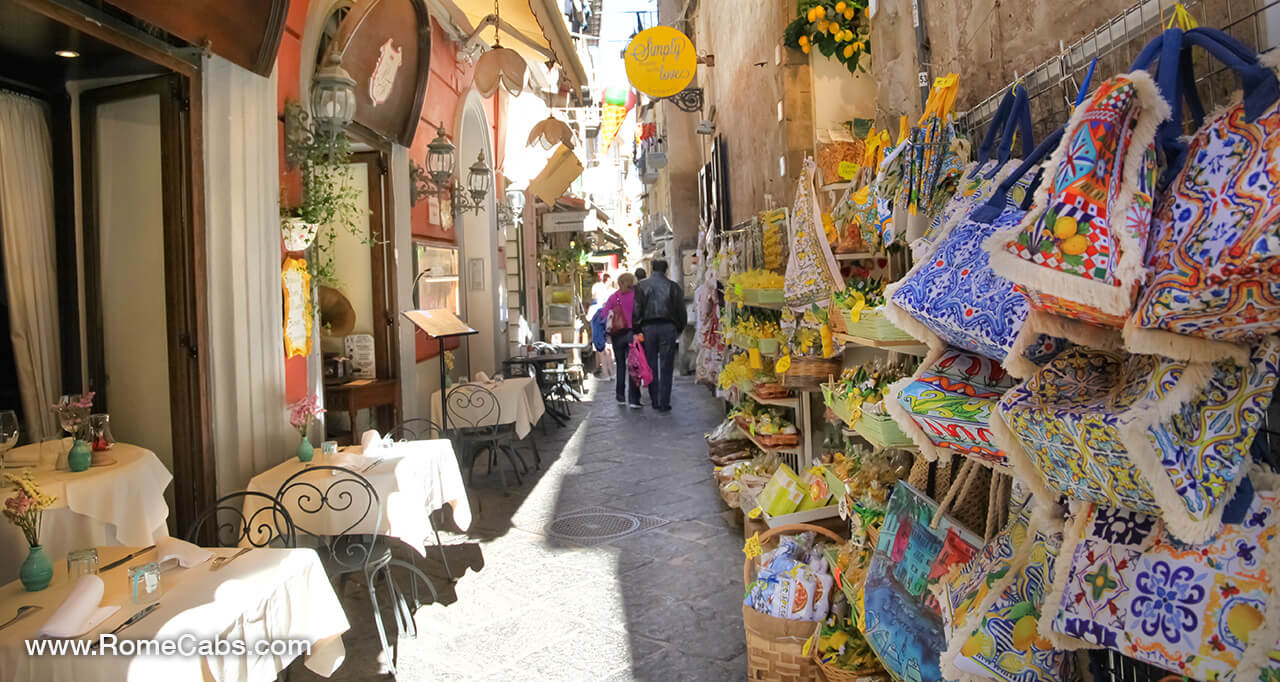 Just off Piazza Tasso, venture along Via San Cesaro and immerse yourself in this charming world of the Sorrentines and discover the hidden treasures of Sorrento.
Shop for a unique gift, savor a limoncello gelato, rest at a sidewalk cafe with a refreshing beverage, splurge on Sorrentine fashion, or buy a special pair of handmade summer sandals that are famous in Sorrento.
Visit an intarsia shop with inlaid wood mosaics

Sorrento's greatest craft is intarsia, gorgeous mosaics of inlaid wood that's been a noble tradition of marquetry woodworkers of Sorrento for more than 5 centuries.
From small souvenir items to intricate pieces of furniture this traditional craftsmanship produces gorgeous works of art perfect for modern as well as traditional home decor.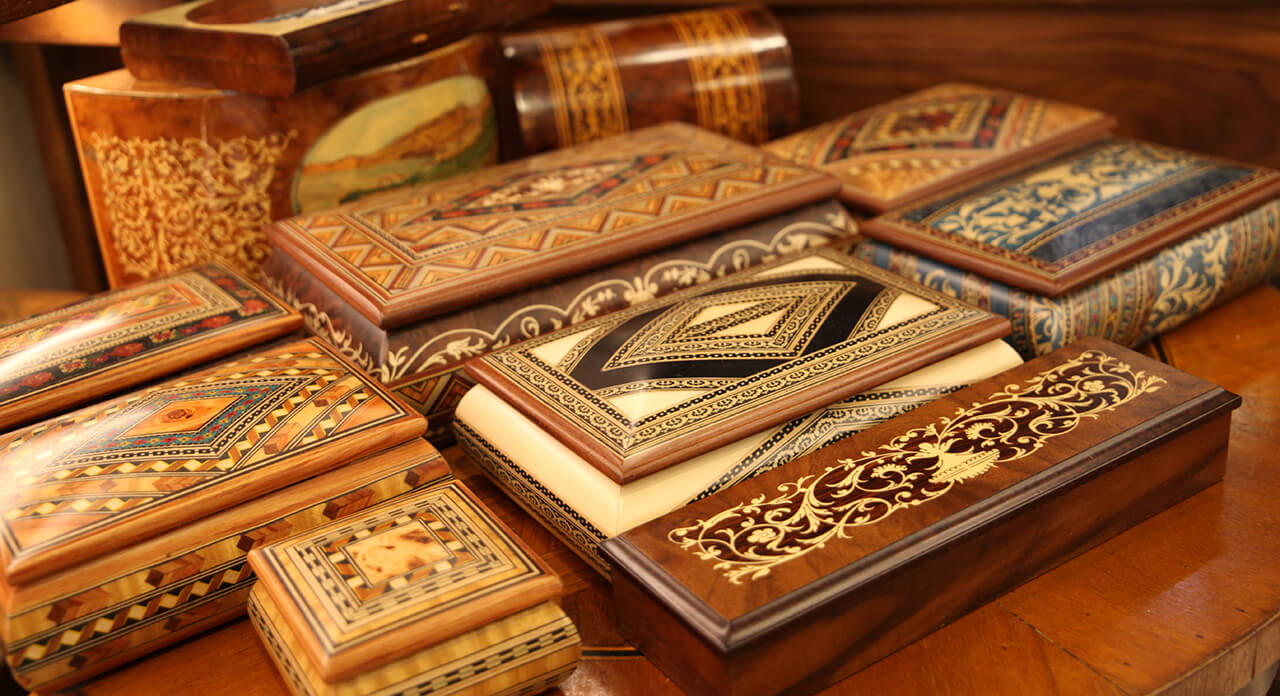 Discover local workshops where local generational artisans and intarsia masters create a variety of traditional and contemporary marquetry pieces. There is probably no better memento or treasured gift to be purchased in Sorrento (apart from limoncello) than a hand-crafted intarsia piece from a local artisan.

The art of intarsia is not only ancient but quite difficult as the composition is achieved by cutting, inserting, and placing together many different colors of wood to create a special design using traditional methods. The cut wooden "mosaic" pieces range in size depending on the composition and design, but they can also be as small as a pinhead.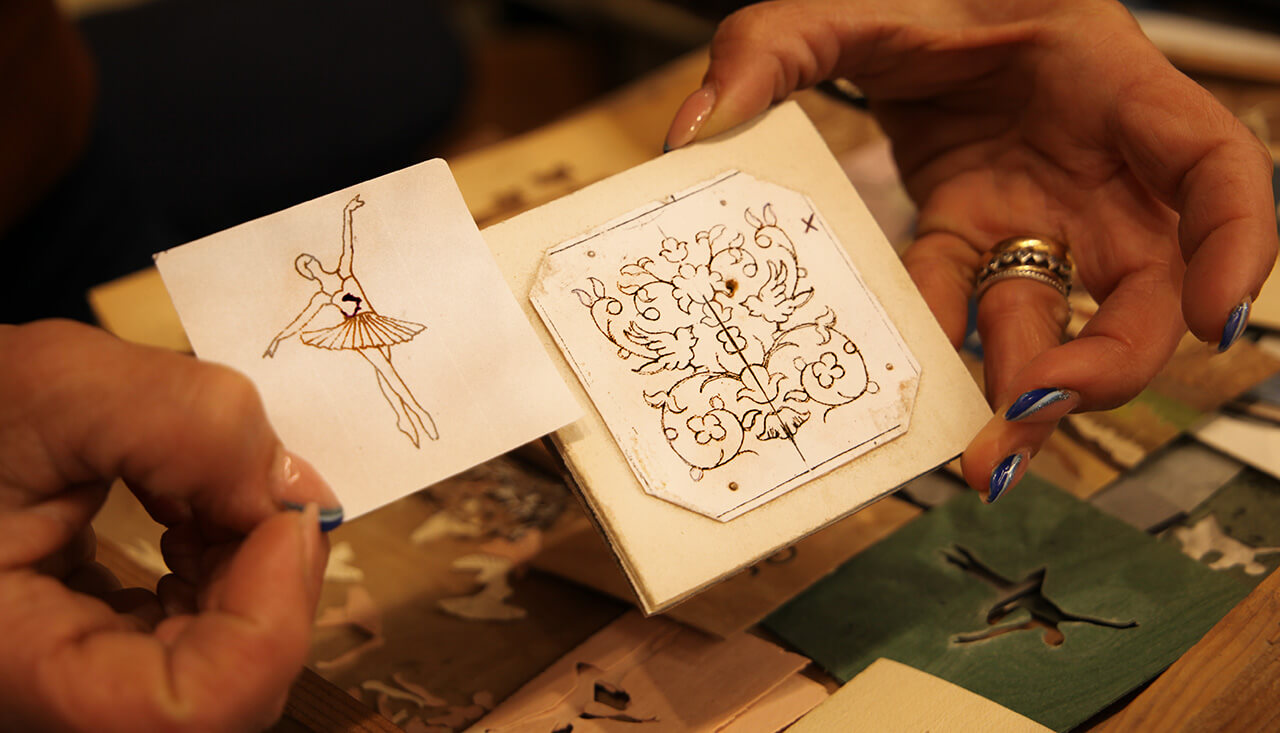 The quality of the final product is regarded by the refinement of the design, the selection of wood, the intricacy of the craftwork, and the standard of execution of the final stages in order to achieve the finest quality of an inlaid wood mosaic.

We always stop at Augusto & Luca Workshop on Via Fuoro, 50, the Botega that has been in the same family of intarsia masters for generations. Augusto is the 3rd generation, and his son Luca is the 4th generation of skilled artisans in the art of hand-crafted inlaid woodwork.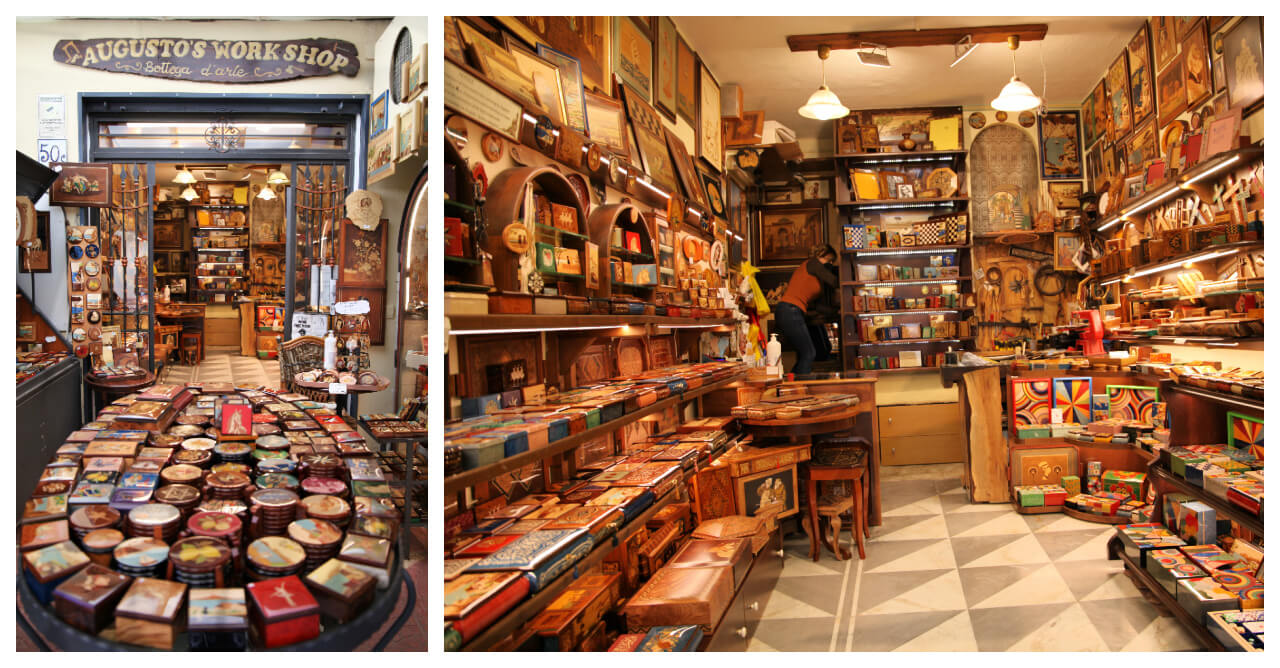 Their pieces range from stunning small and affordable hand-crafted souvenir boxes to luxurious masterpieces that are truly priceless. Their intarsia music boxes are truly treasured works of art!
Shop local ceramics and lemon-themed souvenirs

Another charming tradition in Sorrento is vibrant ceramics of brilliant blue and yellow hues, many with characteristic Sorrentine lemon motifs that will add a delightful charm to your home and make lovely gift ideas.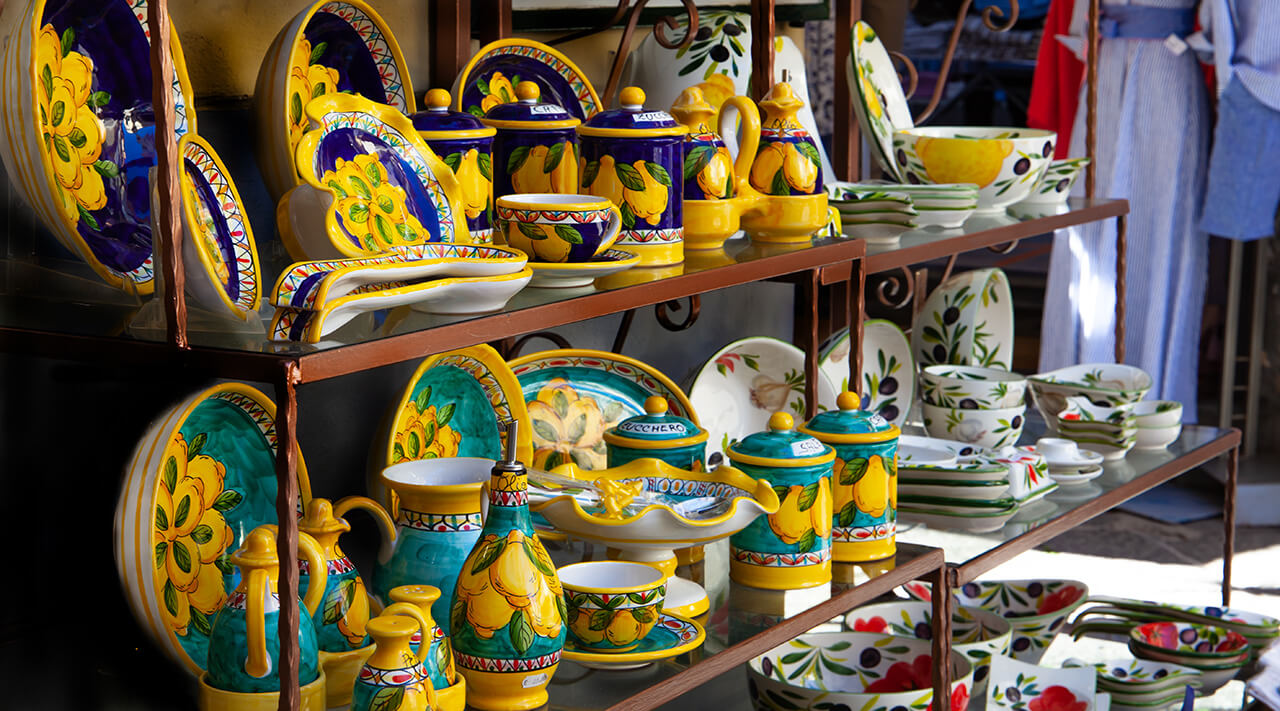 Browse the many inviting shops that adorn their display windows with an effervescence of brightly painted ceramics for all occasions.


Feast on local seafood and delicacies

Delight in local fresh seafood in the ever-popular spaghetti vongole (spaghetti with clams) or any other succulent seafood dish your tastebuds desire.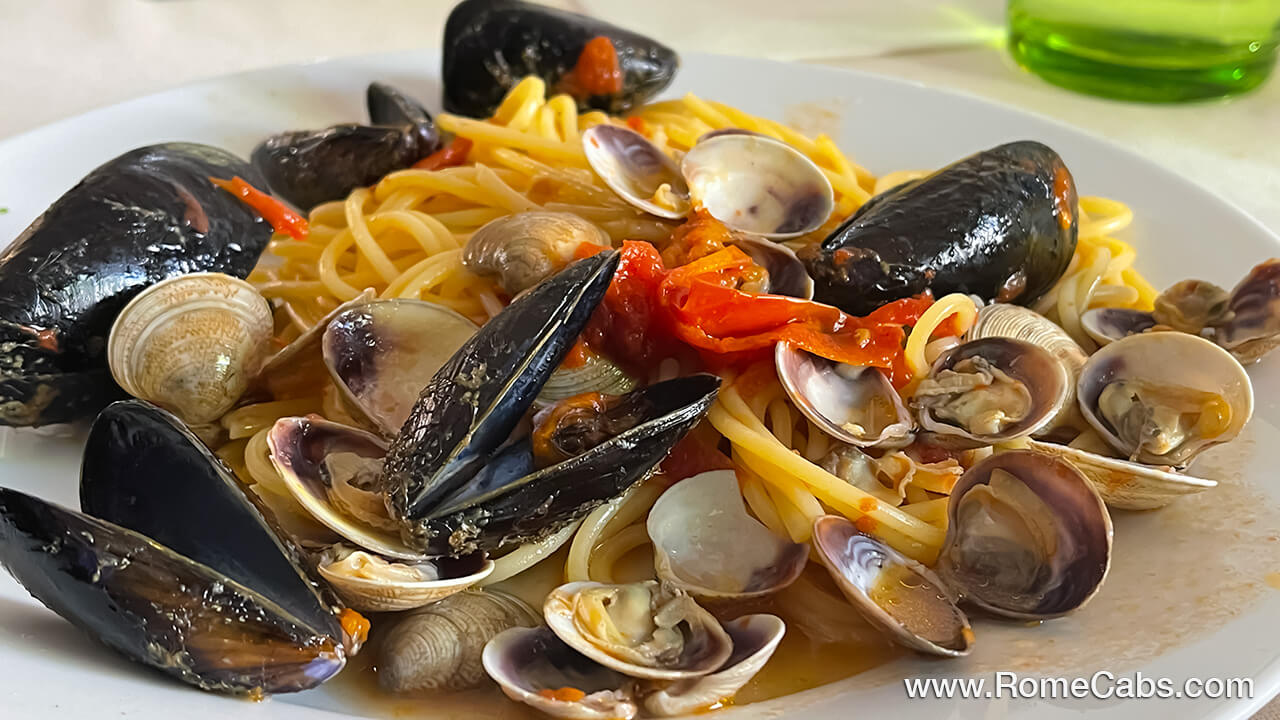 You may also relish the classic local dish: Gnocchi alla Sorrentina, a simple traditional dish made with potato gnocchi, tomato sauce, and fresh basil leaves.

Make your lunch or dinner extra special by enjoying your meal under a canopy of lemon trees at restaurants such as O'Parruchiano La Favorita (located on Corso Italia, 71).
Eat Naples-style pizza in Sorrento

Did you know you don't have to go all the way to Naples to savor authentic Naples-style Pizza?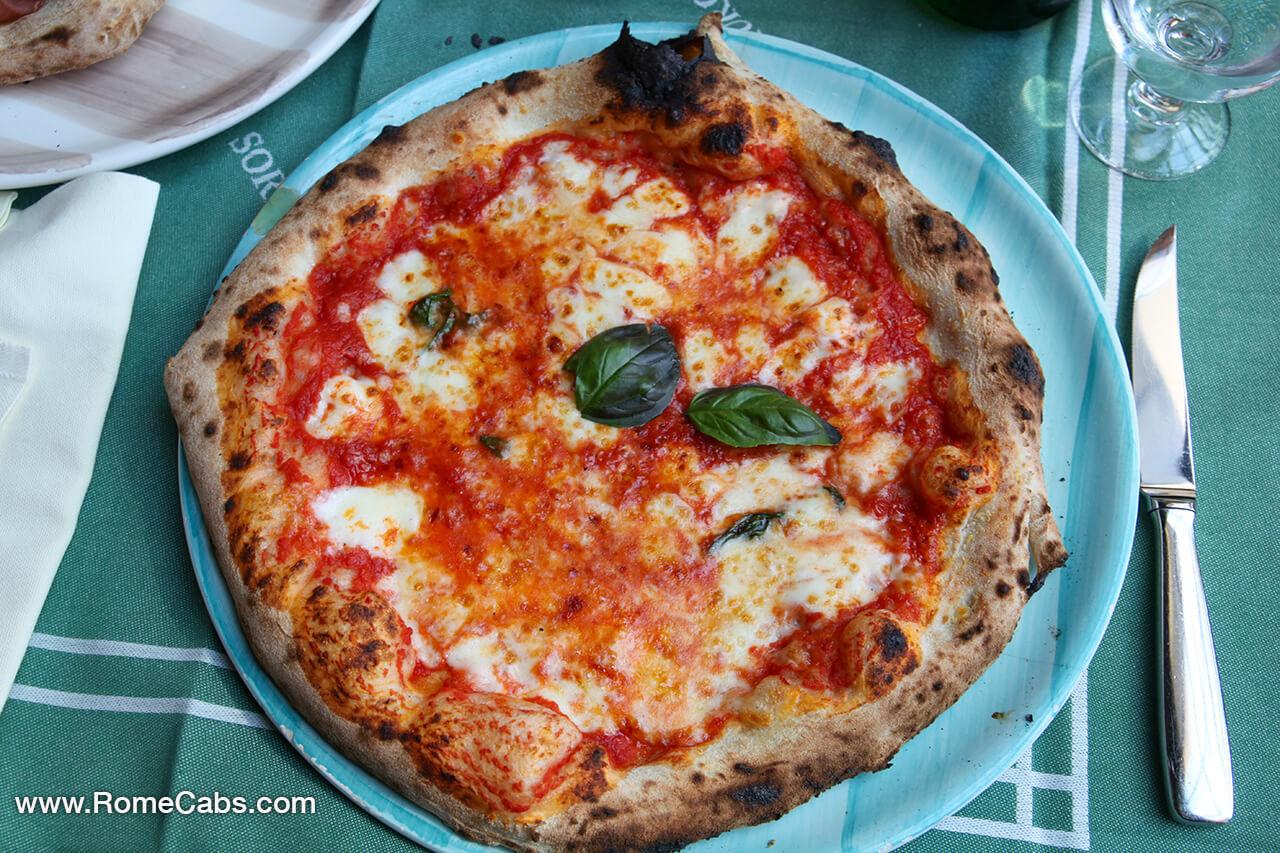 On our day trips from Rome to Sorrento and Amalfi Coast, our guests can lunch on traditional Naples-style pizza right in Sorrento at local restaurants such as Pizzeria Aurora located right in Piazza Tasso where you can enjoy your pizza and the lively Sorrentine atmosphere.

Learn more about Naples Pizza on our foodie blog: THE HISTORY OF NAPLES PIZZA
Visit Sorrento's Cathedral and Churches


A short walk from Piazza Tasso is the Cathedral of Saints Philip and James (also known as the Sorrento Cathedral) is an 11th-century church with a refurbished Romanesque facade where the famous local poet Torquato Tasso was baptized. It is said the church was built on top of an ancient pagan temple dedicated to Zeus / Jupiter.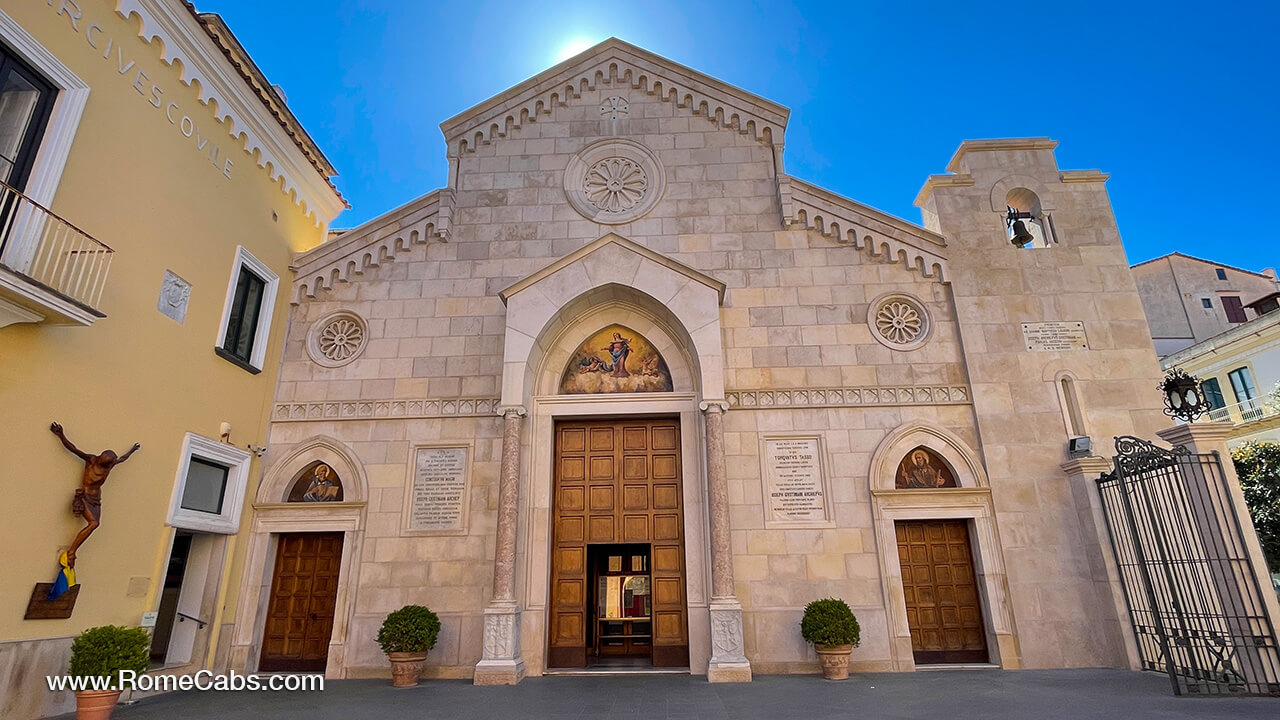 The nearby cathedral's bell tower is three stories tall and decorated with a clock. The base of the bell tower dates back to the Roman Empire. The main doors of the cathedral are from 11th-century Constantinople.

Another noteworthy church in Sorrento is the 11th-century Basilica di Sant'Antonino just a short walk from Piazza Tasso. This beautiful church is a mix of Baroque and Romanesque styles
Relax at Big Marina / Marina Grande

Despite its name, Marina Grande / Big Marina, this is not a very big marina. It's a charming marina with a small beach surrounded by colorful buildings along the water's edge.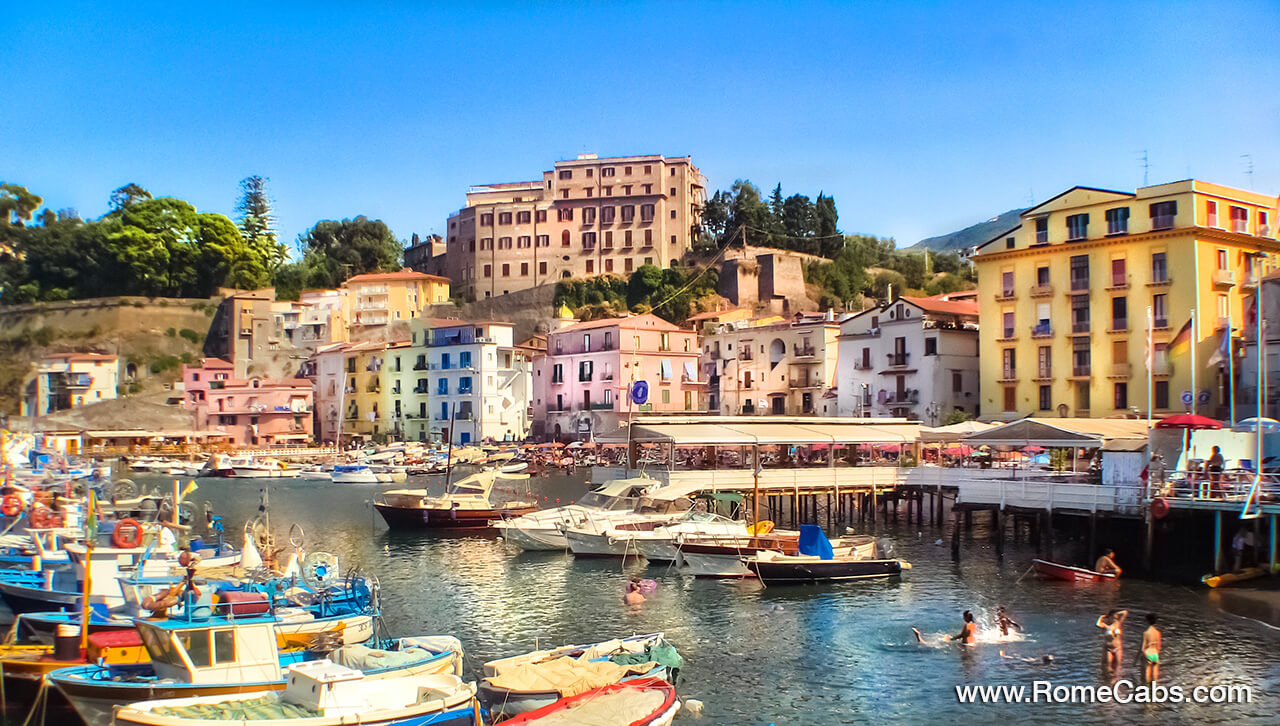 As the marina is still a working fishing village, you might see fishermen unloading their morning catch ready to be prepared for a seafood lunch and dinner at the local restaurants.

If you happen by during lunch, grab a table on the terrace for a tasty lunch with gorgeous views across the bay of imposing Mount Vesuvius rising from the horizon.
Thank you for visiting our Travel Blog and for choosing Stefano's RomeCabs for your private tours to Sorrento and Amalfi Coast.


* Find us online also on: