Buon giorno, and welcome to our RomeCabs travel blog.

Rome is full of so much history, architecture, beauty and charm that a lifetime doesn't seem long enough to discover all of its fascinating secrets and hidden treasures.
Considering Rome is 2,700 years old, it accumulated a LOT of things to see and do…. and with so little time to see and do everything on a single visit, you want to make sure that you don't miss out on what makes Rome so Eternally exciting!
In our travel video and blog, we will show you the Top 10 Must See places in Rome! And many of which you won't mind seeing over and over again.


Watch the "TOP 10 MUST SEE PLACES IN ROME" Video
THE COLOSSEUM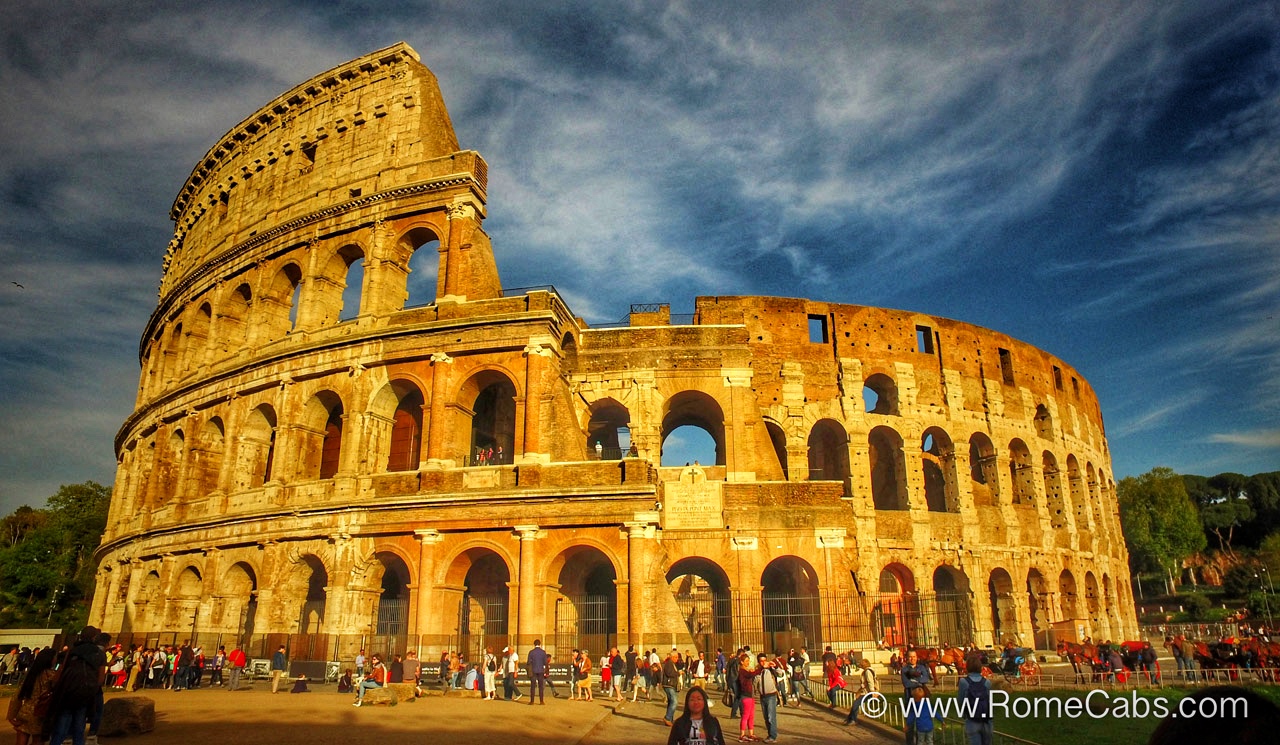 First in the Top 10 must see places in Rome: The Colosseum is the iconic symbol of Rome, and for 2,000 years it has served as a reminder of Ancient Rome's architectural ingenuity and engineering advancements.
One of the ancient Wonders of Ancient Rome, the Flavian Amphitheater, as it was formally named, is an imposing 4 story elliptical arena that entertained more than 50,000 spectators at a time with heart stopping gladiatorial fights, mock sea battles, exotic animal hunts, and many other bloody events for more than 400 years until after the Roman empire fell.
Although what we see today is a shell of it's former glory due to centuries of damage inflicted by fire, earthquakes and mankind, this majestic ancient structure never ceases to amaze and inspire the world.
THE ROMAN FORUM



Just across from the Colosseum is the Roman Forum, the ancient hub of the Roman empire…. the Navel of the City of Rome. This was Ancient Rome's financial, judicial, political, commercial, and religious center.
The vast Roman Empire was ruled from this grandiose public space.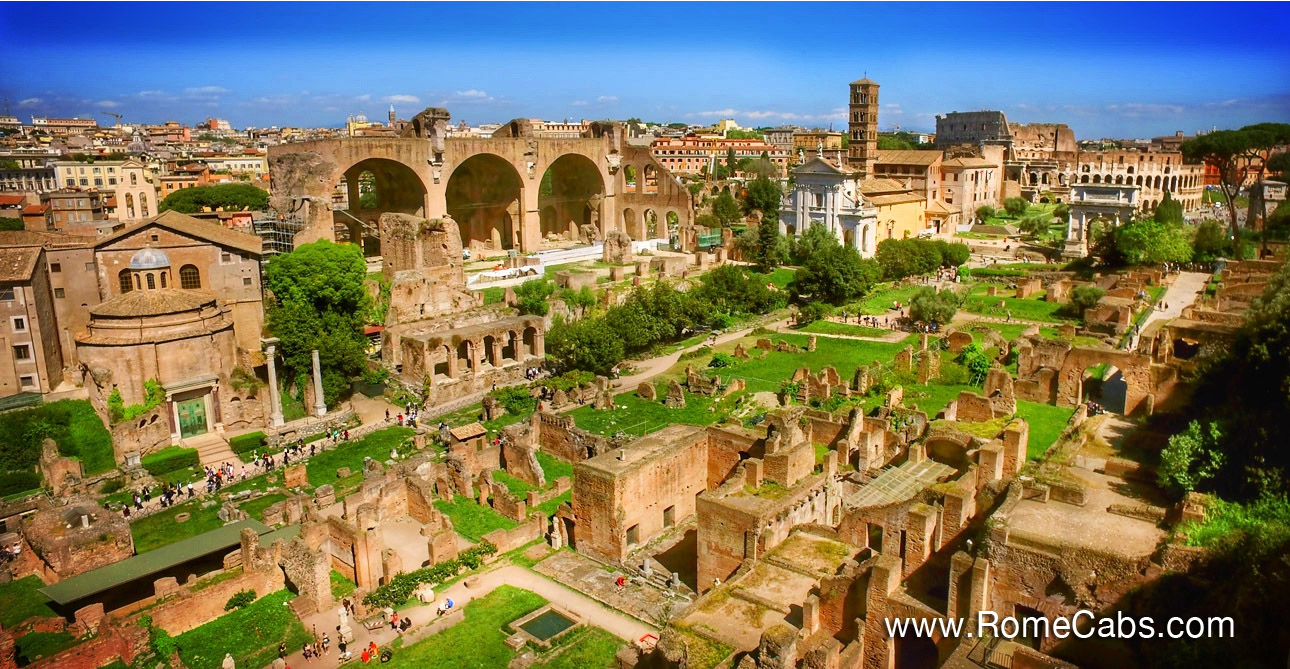 Through the impressive remains of ancient roads, temples, archaic shrines, basilicas, and monuments, you will walk in the footsteps of ancient Romans who once lived, ruled and thrived here.
Emperors, Senators, Poets, Generals, and Roman citizens who once lived, ruled and thrived here.

VATICAN MUSEUMS

Next in our top 10 must see places in Rome is the Vatican.
There are few museums in the world as famous as the Vatican Museums, making this one of the must see museums in Italy.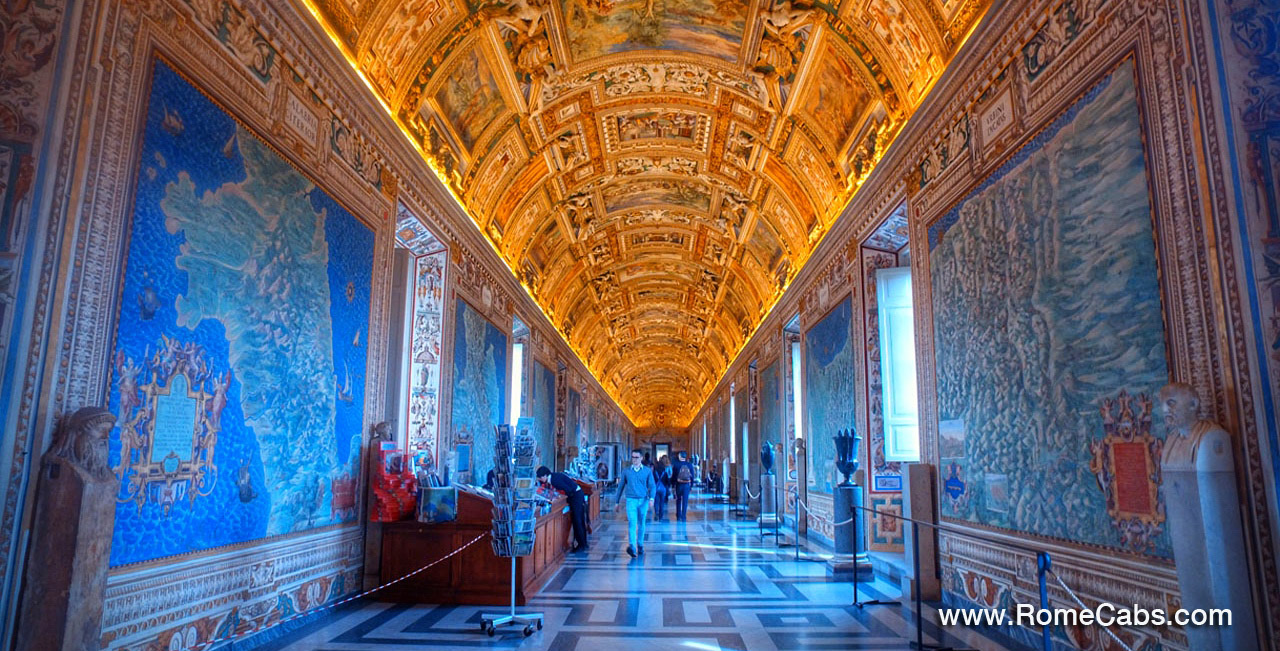 Founded in the 16th century and located inside the Vatican City, the museum boasts 54 galleries that displays many of the world's most precious works of art including many by the most celebrated artists like Michelangelo, Raphael, Leonardo da Vinci, Caravaggio, Titian, and more.
Among most notable collections not to be missed are Roman and Greek antiquities including the sculptures of Laocoon, Apollo of Belvedere, and the Belvedere Torso…. masterpiece paintings in the Pinacoteca gallery, and stunningly beautiful frescoes like the Gallery of Maps, Raphael Rooms and the Sistine Chapel.
The Vatican Museums and its vast impressive collections offer you the unique opportunity to admire in person the masterpieces otherwise only read about in art and history books.

ST PETER'S BASILICA
The greatest of all churches in Christendom, St Peter's Basilica was built on top of what was believed to have been the burial site of Saint Peter, the first Pope and Bishop of Rome. The construction of the current basilica to replace the original 4th century basilica built by Emperor Constantine, started in 1509 and ended 1626.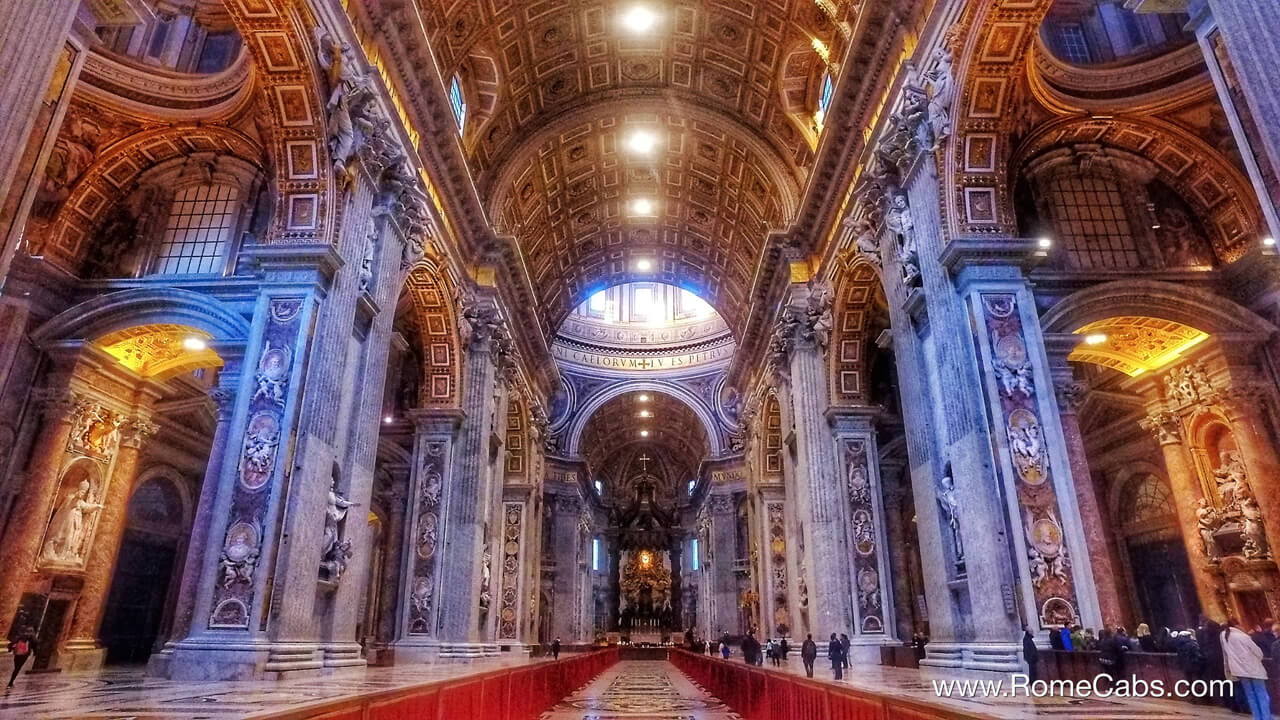 Designed by Renaissance masters like Bramante, Michelangelo and Bernini, St Peter's Basilica is one of the largest and most majestic churches in the world rich in impressive architectural and artistic masterpieces such as Bernini's bronze canopy that towers over the papal altar, Michelangelo's spectacular dome that soars above the canopy, and his famous Pieta that he sculpted at only 25 years of age and placed him on a path to greatness.
St Peter's Basilica welcomes and offers an unforgettable experience to millions of pilgrims and visitors each year.
PANTHEON


Originally an ancient Roman pagan Temple dedicated to all gods, the Pantheon later became a Church and a burial tomb for Italy's Kings Umberto and Vittorio Emanuele II, Queen Margherita and illustrious artists like Raphael.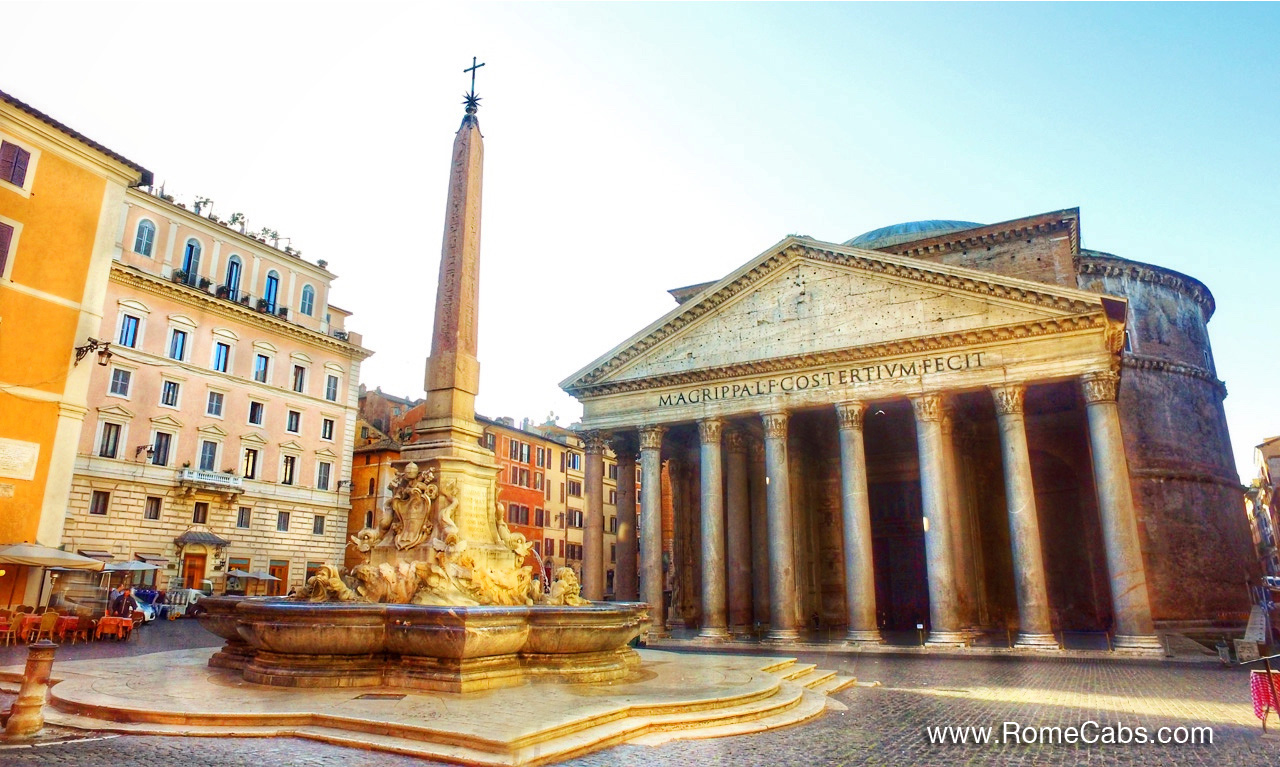 Rebuilt by Ancient Roman Emperor Hadrian in 126 AD in its current form, the Pantheon is the oldest standing domed structure in Rome as well as the only building in continuous use throughout it's extensive history.
When entering this fascinating monument, look up and see the famous coffered dome ceiling with the oculus in the center. It's always been open to the elements, allowing both sunshine and rain to come through.
Curious to know more about the Pantheon? Here are 10 Unique Facts about the Pantheon you probably didn't know about
CASTLE SANT ANGELO


Just near the Vatican along the banks of Tiber River is Castel Sant' Angelo ( or Castle of the Holy Angel)
Previously the Mausoleum of Roman Emperor Hadrian and his family, Castel Sant Angelo has, since the fall of the Roman Empire, been converted into a military fortress that provided refuge to Popes when enemies sieged Rome.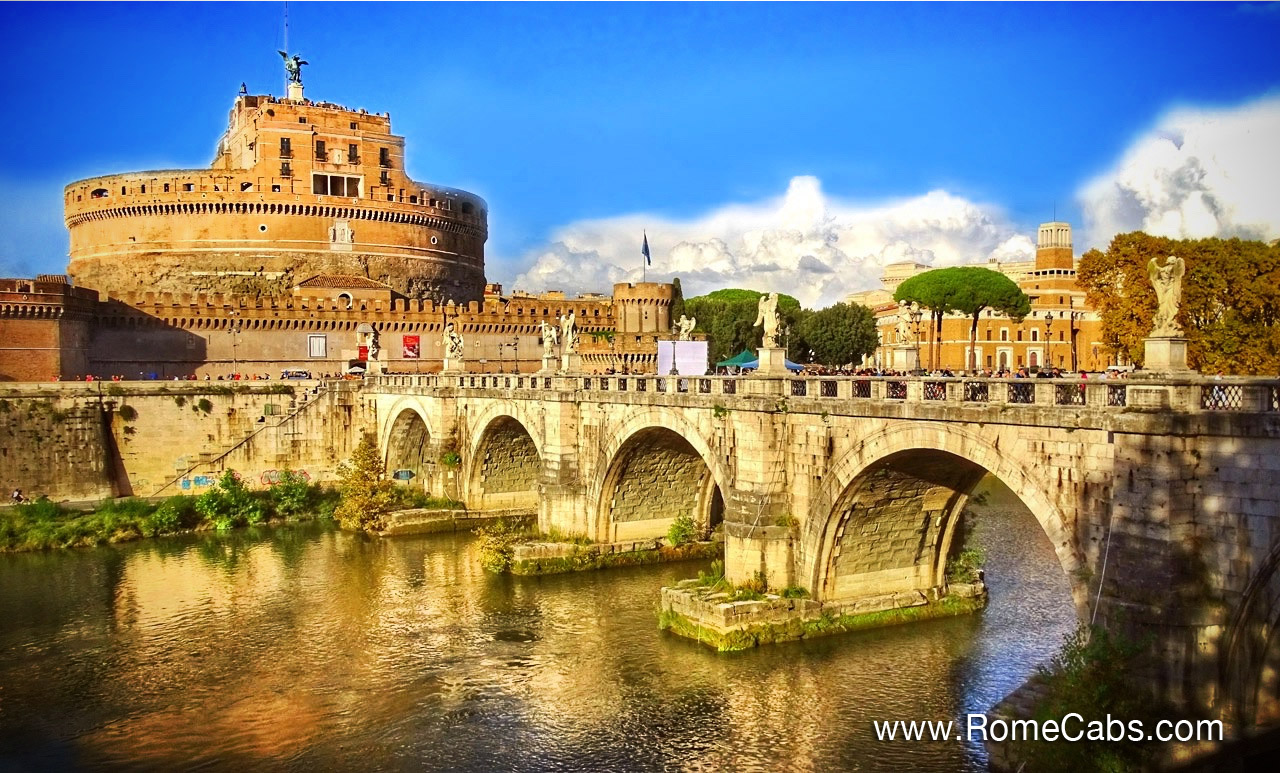 This imposing structure was also also a prison…. a castle….and now a Museum. The Passetto connects the castle to St Peter's Basilica and it served as quick passage to safety whenever the Popes were in imminent danger.
The castle takes its name from Archangel Michael, who, according to one of the many Legends, appeared above the castle sheathing a sword heralding the end of a long plague.
In front of the Castle, Ponte Sant' Angelo, the pedestrian bridge that spans the Tiber River, is lined with large sculptures of 10 angels holding the instruments of the Passion.
PIAZZA DI SPAGNA and the SPANISH STEPS

One of Rome's most elegant squares is Piazza di Spagna. This wide staircase unfurls to connect the Trinita dei Monti church on top with the Baroque Fountain of the Old Sinking Boat below in the square.
This imposing early 18th century staircase got its name, The Spanish Steps, from the nearby Palazzo di Spagna, the Embassy of Spain to the Holy See.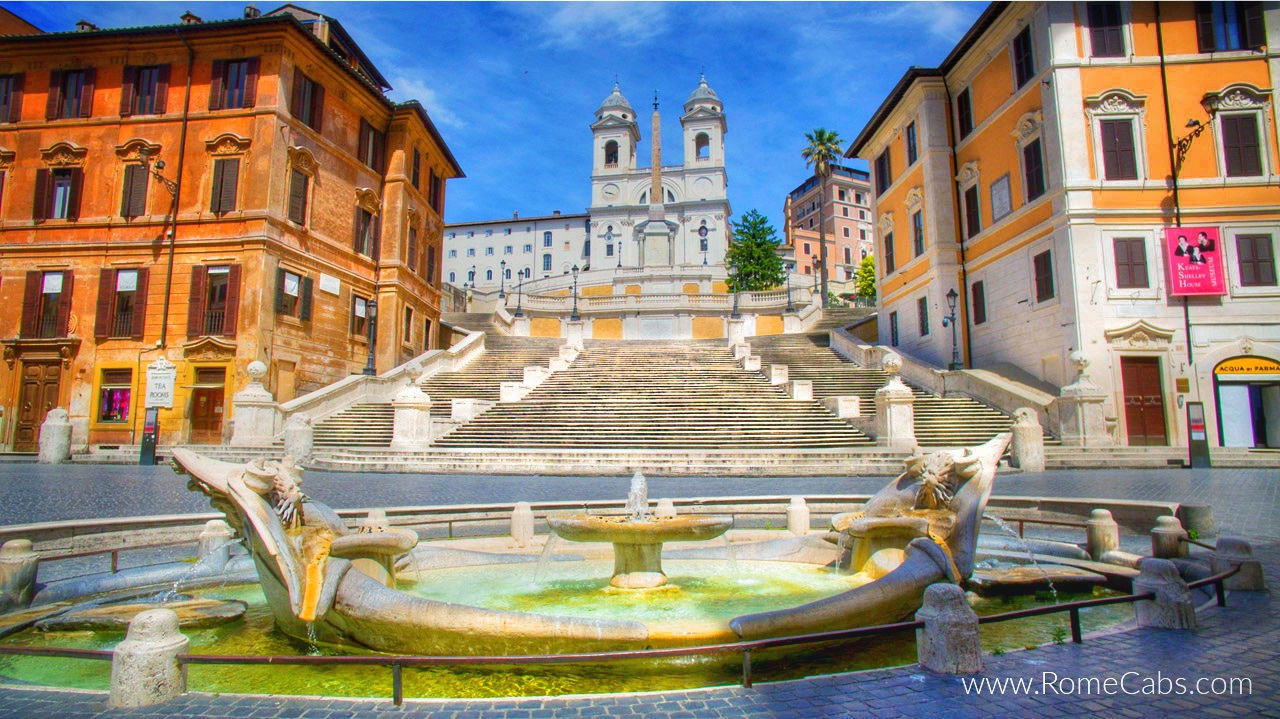 You will likely see these famous steps full of tourists and locals taking advantage of the perfect opportunity to have a seat and people watch.
Nothing says La Dolce Vita like the Trevi Fountain with its impressive nautical sculptures and gushing fountains that pour into a pool of water into which millions of visitors have tossed their coins in hopes that the legend is true and it will ensure them a future return to the Eternal City.
Featured in classic films like La Dolce Vita, 3 Coins in the Fountain, as well as countless other movies, the Trevi Fountain is one of the most well recognized fountains in the world, and possibly the most visited in Rome!
So embrace tradition and toss a coin into the fountain on your next visit in Rome… you never know!
PIAZZA NAVONA
This lively and spacious square takes its unique elliptical shape from the outline of the ancient Roman stadium of Emperor Domitian upon which it stands.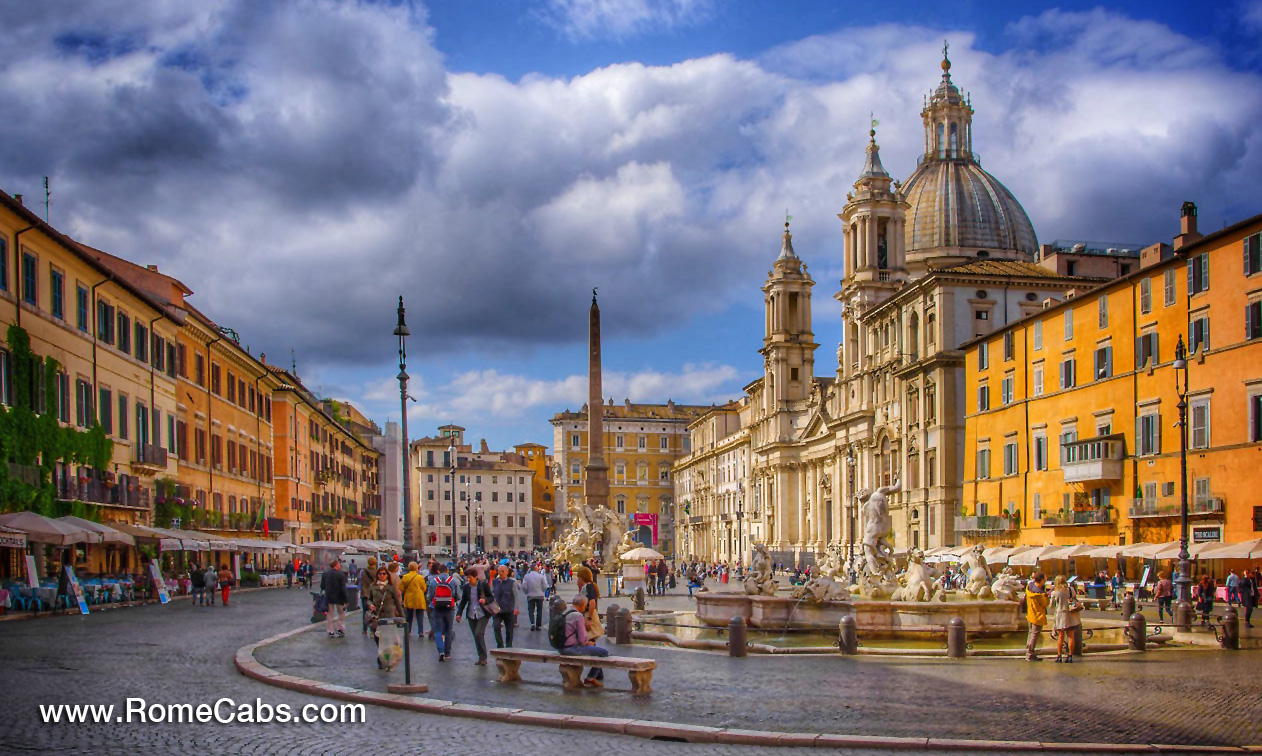 The center of the square is dominated by Bernini's famous Fountain of the Four Rivers topped with an ancient Egyptian obelisk.
Populated by artists, musicians, street performers, and surrounded by cafes and restaurants, Piazza Navona is one of Rome's most entertaining squares enjoyed by both visitors and locals.
TRASTEVERE

If you'd like a taste of Old World Rome, go no further than across the Tiber river to Trastevere, one of Rome's most characteristic neighborhoods.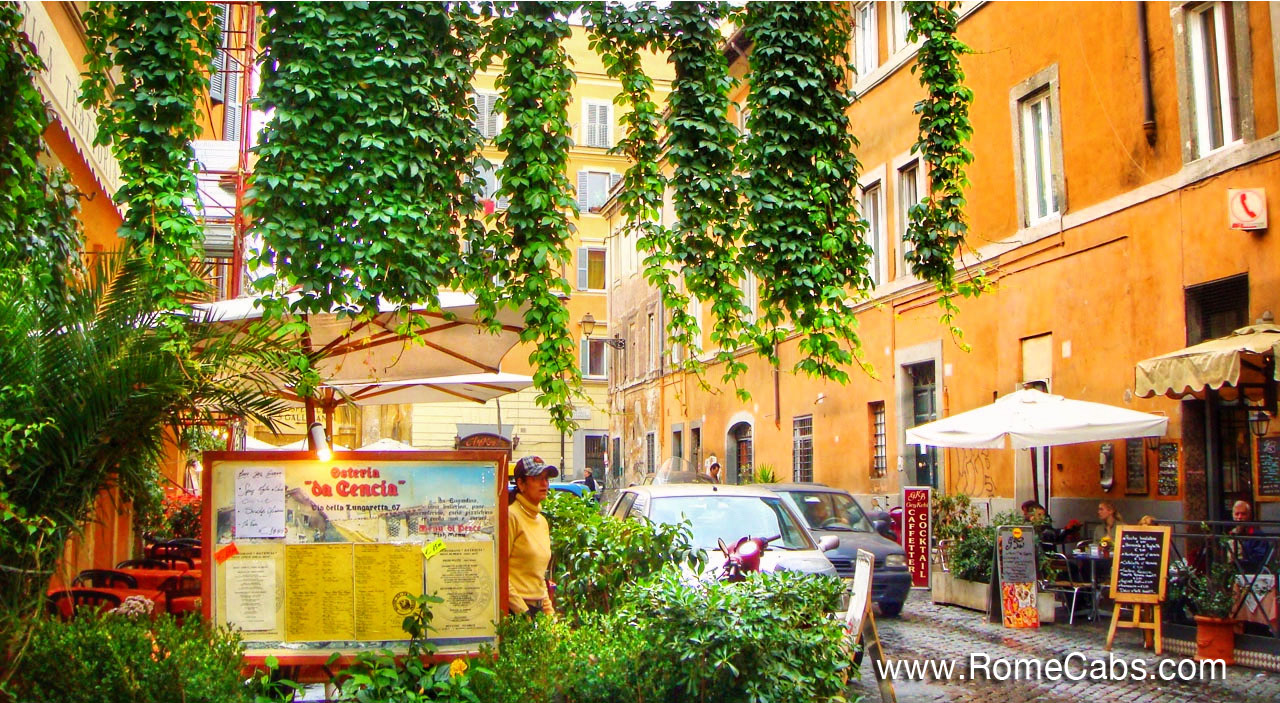 Along its narrow picturesque cobblestone streets lined with charming old buildings with earthy facades adorned with hanging ivy, you will discover impressive churches, quaint cafes, fabulous restaurants, local eateries, and unique shops.
Trastevere represents a distinctive local culture and authentic atmosphere found nowhere else in Rome.
We hope you enjoyed these Top 10 Must See places in Rome.
You can find these amazing places in Rome in our following Day Tours and Shore Excursions from Civitavecchia:

For more ideas of other exciting places to visit in Rome, or to find a perfect tour or shore excursion in Rome and beyond, please visit our website and browse through our tour itineraries and discover what Rome and Italy have to offer! We'd love to hear from you.
Also be sure to visit our sister company Stefano Rome Tours for exciting tours and itineraries in Rome and beyond!
Thank you for watching and we look forward to see you soon in Italy!
The Rome Cabs Team~