Buon giorno and welcome to Stefano's RomeCabs, Rome's trusted company for Civitavecchia Transfers, Day Tours from Rome, and Shore Excursions from Civitavecchia. In this blog posts, we present to you some interesting options to explore the countryside on your way to or from Civitavecchia Cruise port.
The Roman Countryside is one of the most diverse regions in Italy in terms of history and landscape. From ancient Etruscan Necropoli to Medieval hamlets and Renaissance Castles, pristine volcanic lakes and delicious local cuisines, the Roman countryside is one of the secret destinations outside of Rome that is often overlooked due to its more famous neighboring regions of Umbria and Tuscany.
Thousands of our cruising clients have enjoyed exploring this exquisite region either as a Shore Excursion from Civitavecchia, a Pre-Cruise Tour to Civitavecchia, a Post Cruise Tour from Civitavecchia, or as a Day Tour from Rome during their stay prior or after their cruise.
Here are the 4 more popular countryside tours possible to and from Civitavecchia.


NOTE: It's important to note that the Full Day tours are NOT available on Mondays as the archaeological sites and museums featured in these tours are closed on Mondays.
BEST CIVITAVECCHIA TOURS TO THE ROMAN COUNTRYSIDE
* FULL DAY SHORE EXCURSIONS, POST CRUISE TOURS, DAY TOURS FROM ROME
The most popular countryside tour is COUNTRYSIDE SPLENDOR featuring the signature itinerary of Stefano Costantini, the owner of Stefano's RomeCabs and an avid connoisseur of Italian history and culture.


Watch our COUNTRYSIDE SPLENDOR Tour Video: Best Civitavecchia Tours to the Roman Countryside
Suggested Itinerary:


Bracciano Castle
Medieval hamlet of Ceri
Banditaccia Etruscan Necropolis in Cerveteri



This tour takes you on a journey dating back to the pre-Roman Etruscan civilization when the region was once named Etruria to visit the Banditaccia Etruscan Necropolis in Cerveteri (a UNESCO World Heritage Site).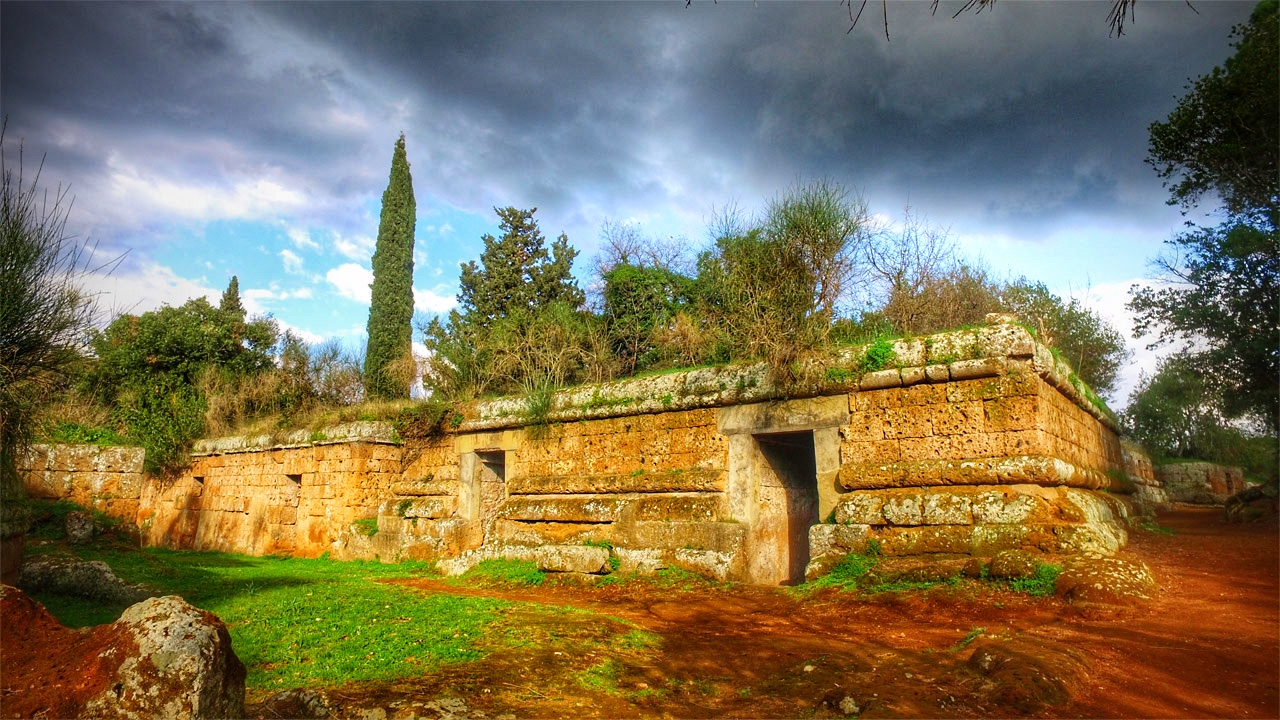 This ancient "city of the dead" spans across several centuries from the start to the end of this once thriving civilization that met its end at the hands of the Romans who conquered all the Etruscan city states (including Cerveteri that was once known as Cisra by the Etruscans and Caere by the Romans) one by one and absorbing the Etruscan culture and people into their own.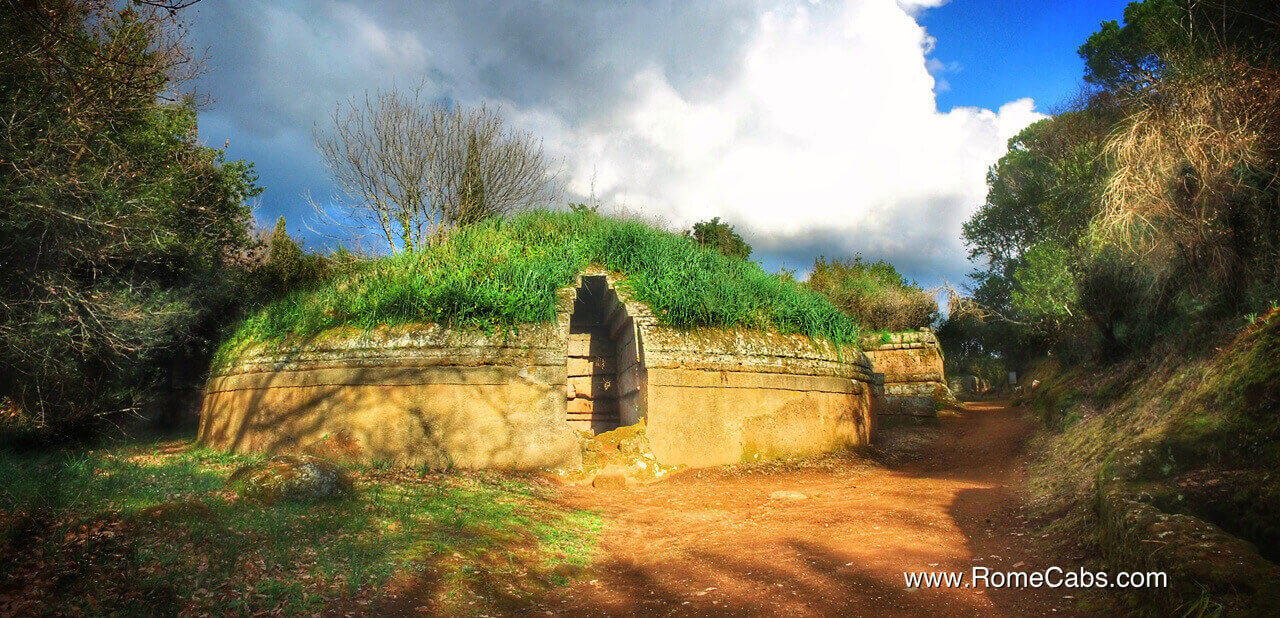 More advanced than the Romans were at the time the Etruscans were conquered, many of the amazing inventions we contribute to the Romans (arches, gladiatorial fights, togas, sewer systems, and more) were actually Etruscan inventions further developed and often improved upon by the quickly expanding Romans.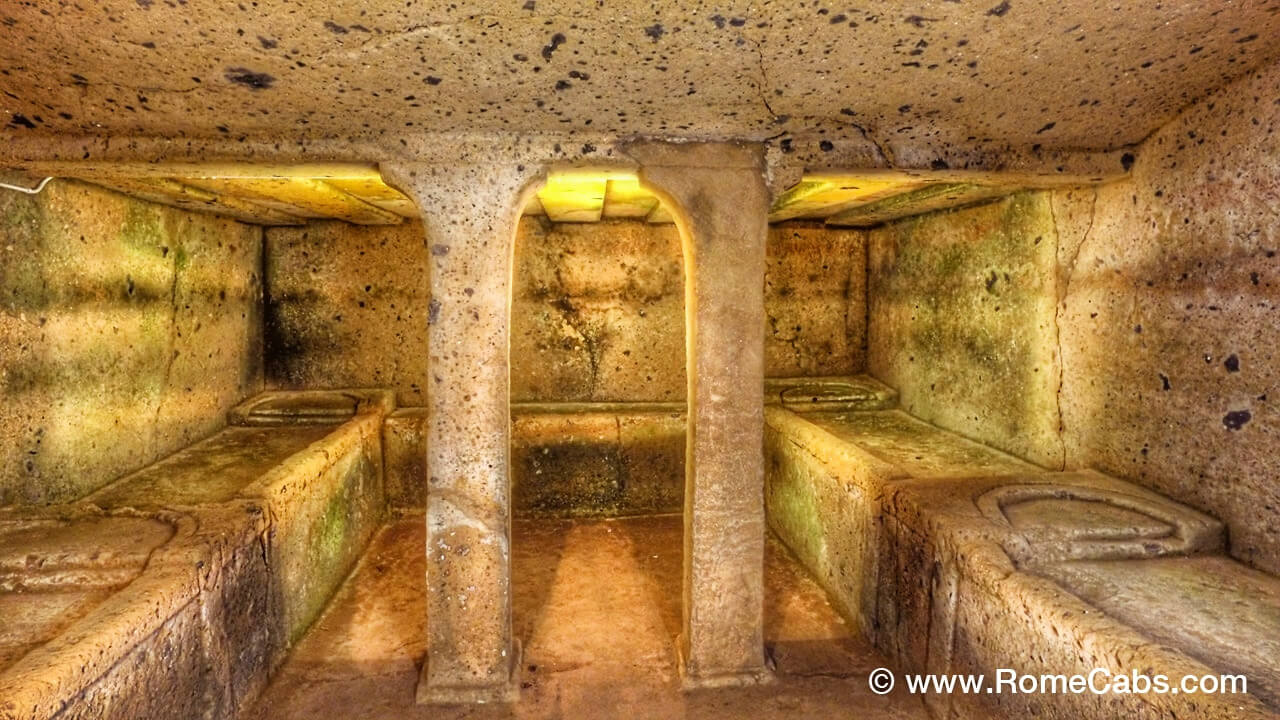 At the Cerveteri Necropolis you have the opportunity to venture through the hundreds of tombs that date from 7th century BC – 3rd century BC.
The tombs were carved into the living rock and the interior represented the homes of the deceased giving us a glimpse of what Etruscan homes may have looked like inside. The more ancient tombs are shaped like circular mounds, and more "modern" ones were built into a city-like planning with cube-shaped blocks where tombs were carved side by side.


Lunch will never be the same after enjoying a home style traditional cuisine at a local family owned restaurant in the Medieval hamlet of Ceri. The ancient fortified fortress has faithfully rested for a thousand years on a steep cliff, only ruins of its once formidable fortified walls remaining as vestiges of its former glory.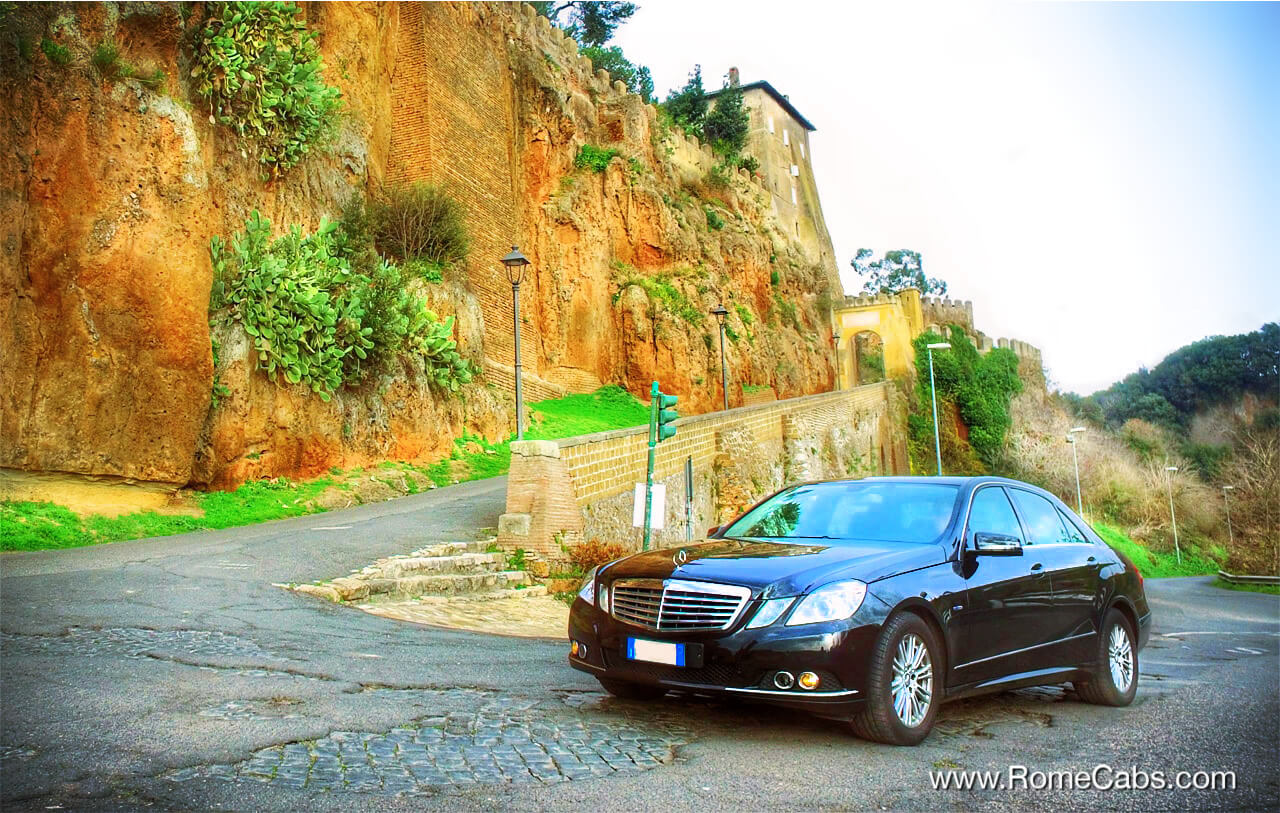 The single vehicle lane leads starting at the base of the cliff leads visitors to the one and only square at the top where historic soft colored buildings with weathered facades welcome its visitors. Being here gives one the impression that (aside from the parked vehicles and modern people about) they've stepped back in time a thousand years.
Ceri is also renowned for the local family owned restaurants that serve some of the best traditional homemade cuisine in the region. Ceri will enchant you with its charm and delight your palette with its delectable cuisine.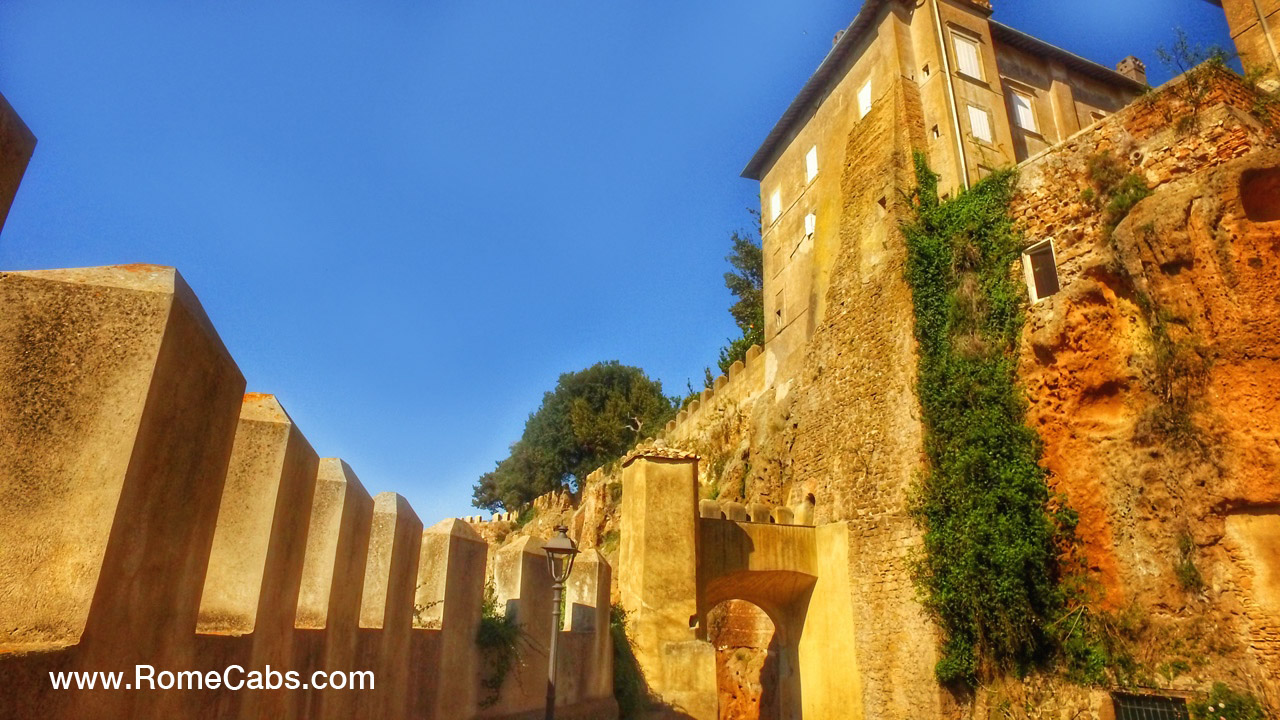 Further along in time…… you will arrive in Bracciano to visit the imposing Renaissance Castle of Odescalchi. Still kept in the same Odescalchi family for 400 years, this private castle and open to visitors to enjoy a fairy-tale visit to one of the best preserved Renaissance castles in Italy, still furnished with the original furniture, wall art, and paintings. Famous international celebrities like Tom Cruise have been married here.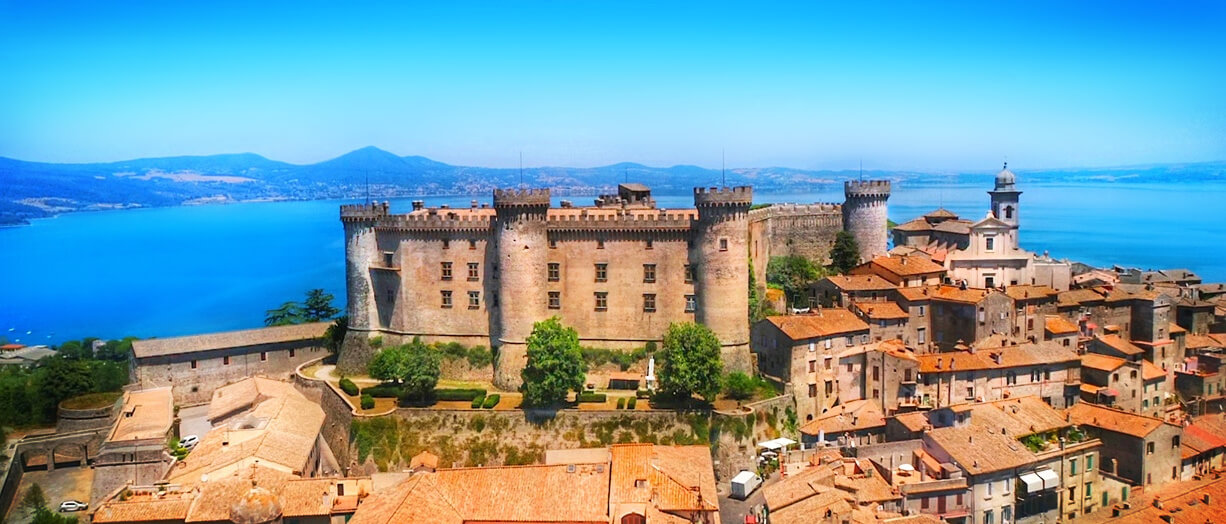 Overlooking the castle is the pristine Bracciano Lake that is actually a volcanic crater millions of years old!
With so many breathtaking sites to visit and enjoy, no wonder this is the most popular countryside tour from Rome!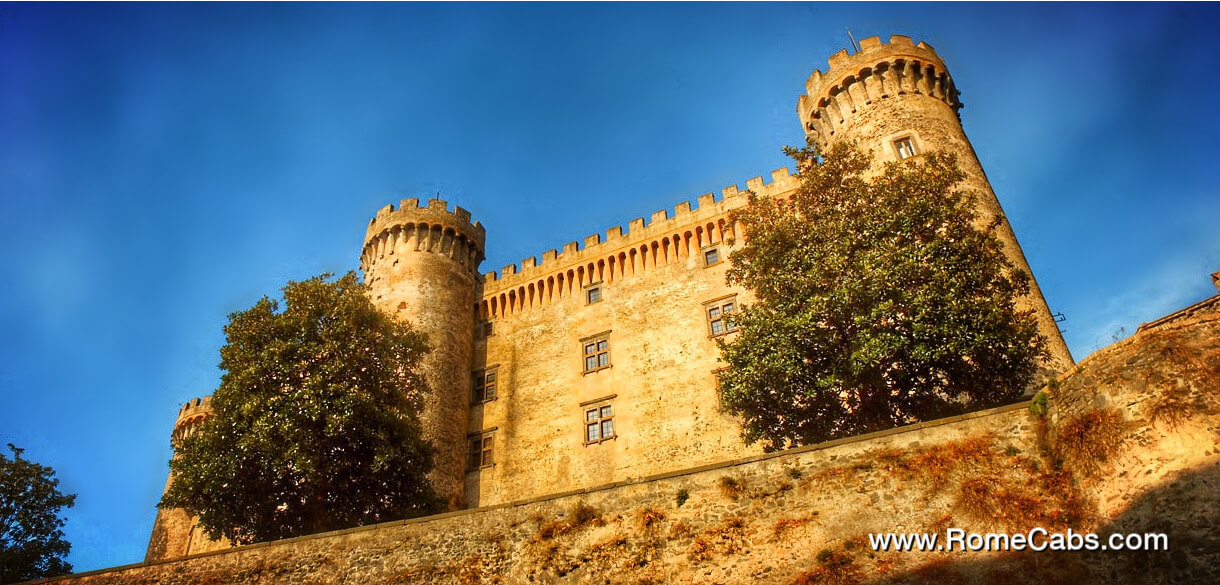 Watch: Etruscan Mystery Tour Video: Best Civitavecchia Tours to the Roman Countryside
Suggested Itinerary:


At the Monterozzi Necropolis in Tarquinia (a UNESCO World Heritage Site) visitors can enjoy exploring the one of its kind underground tombs adorned with vibrant frescoes of ancient Etruscans celebrating, eating, performing everyday duties, hunting, dancing, playing music and more. These are the only painted Etruscan tombs of its kind in the world and can only be seen in person here.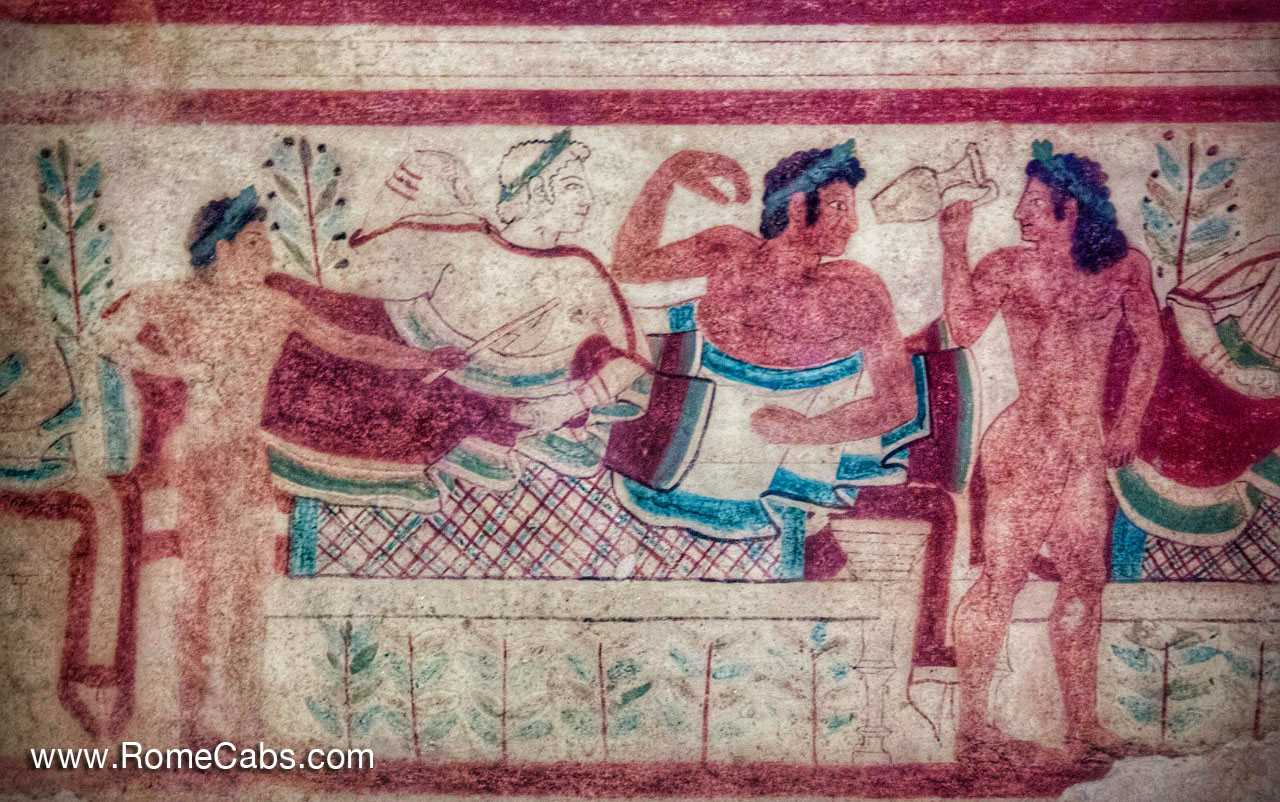 Originally about 6,000 underground tombs located in this ancient city of the dead that dates back to 7th century BC to 3rd century BC, only about a dozen tombs are open to visitors at a time.
The interior of the painted tombs are preserved in a climate and humidity controlled environment and sealed off by a glass wall.
When visiting you press a button to turn on the light to admire the ancient masterpieces. The light automatically turns off after a period to further preserve the fragile paintings. The openings of the tombs alternate in order to preserve their delicate paintings are thousands of years old. For repeat visitors this can mean entering tombs that were previously closed.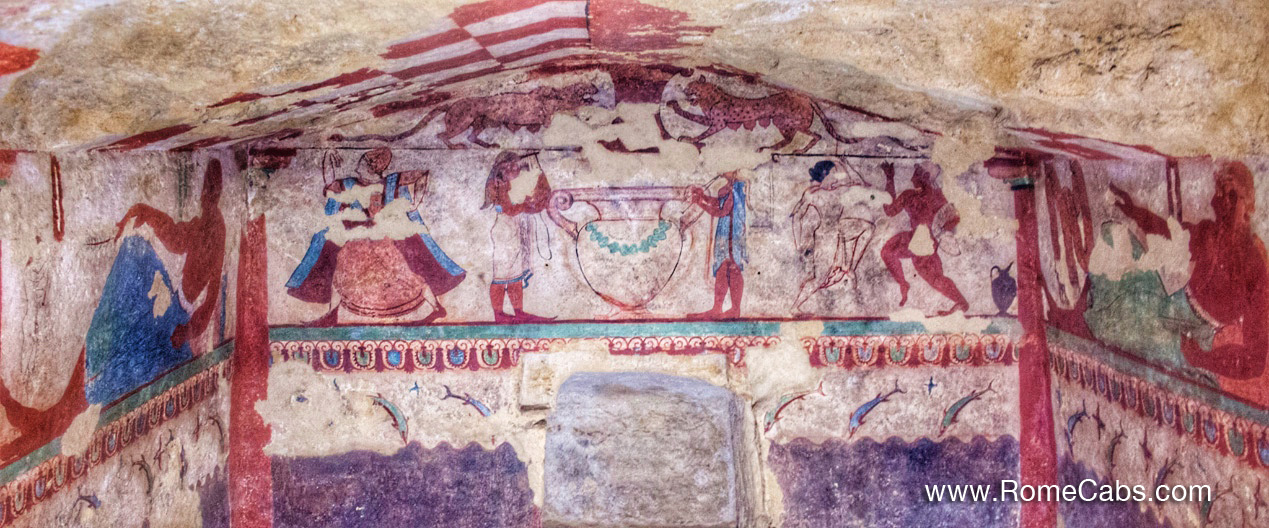 Near the Etruscan Necropolis is the town of Tarquinia, named after the ancient Etruscan King Lucius Tarquinius Superbus (Tarquin the Proud) that once reigned over Rome from 534-510 BC until the popular uprising of Rome in 509 BC that deposed of the King and became a Republic.
The National Museum of Tarquinia located inside the 15th century Palazzo Vitelleschi houses a vast collection of Etruscan sarcophagi, pottery, coins, jewelry, frescoes, sculptures, and various artifacts discovered inside the many tombs during archaeological digs.
The Etruscans buried a wealth of personal belongings and treasures of the deceased inside the tomb. Often multiple family members shared the same tomb and their personal belongings were buried with them. Most of what we know about Etruscans are from the finds inside their tombs that painted a picture of their lives and history.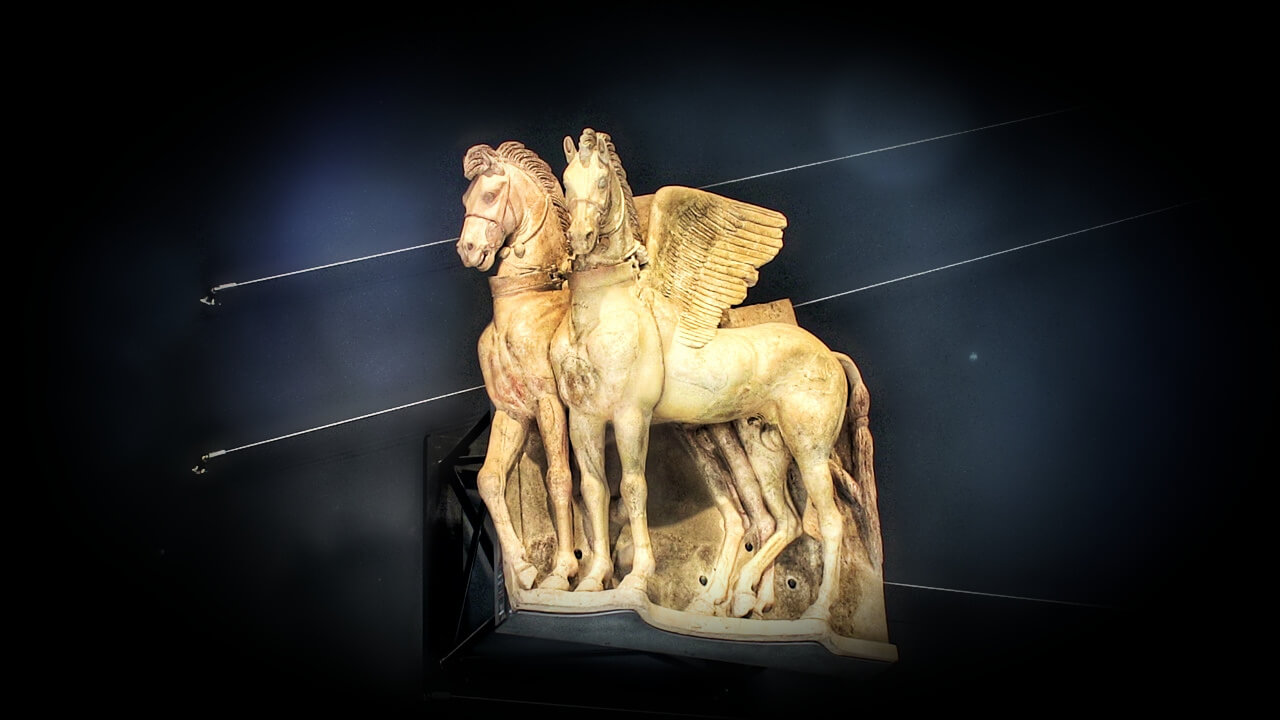 Not far from Tarquinia is the historic town of Tuscania (not to be confused with the region of Tuscany)
According to legends, Tuscania was founded by Ascanius – son of Aeneas, a Greco-Roman demigod Trojan hero and mentioned in Homer's Illiad, and later considered the ancestors of Romans after he traveled to the Italian peninsula. Among the many legends of Ascanius' origin, one legend according to Livy, Ascanius may have been born in Italy. Another legend attributes Tusco – the son of Hercules and Araxes – as the founder of Tuscania.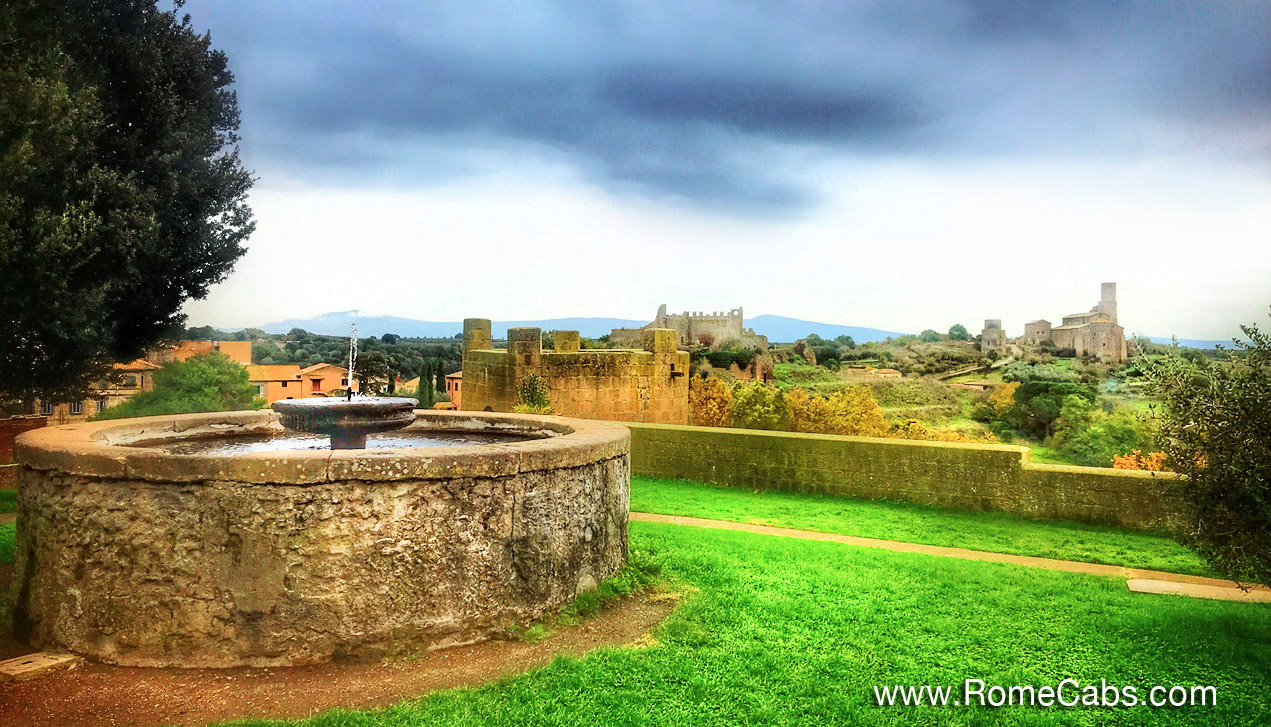 In Italy, there is never a shortage of legends and mysteries surrounding its ancient towns, but one thing we know for sure is that it's been around since the Neolithic age (roughly 12,000 years ago), and Tuscania played an important role in Etruria and became a maritime trade center due to its strategic position. Eventually in around 280 BC Tuscania was absorbed by the Romans and became a Roman town in 88 BC.
The famous churches that dot the valley of Tuscania San Pietro and Santa Maria Maggiore were built in around 8th century. San Pietro was built on top of the acropolis of the once ancient town surrounded by the grassy fields.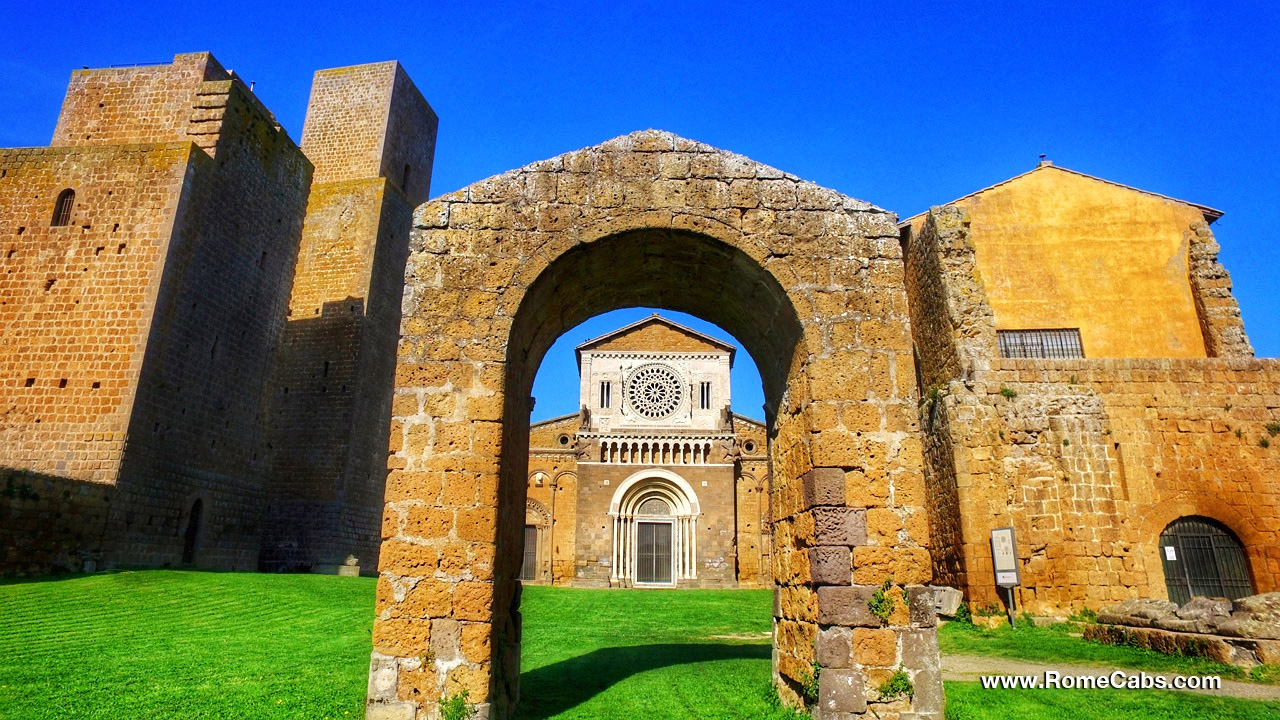 Authentic local cuisine, beautiful Medieval churches, remnants of ancient city walls, and a valley that was described by the poet DH Lawrence as "the most beautiful valley in all Italy, the Etruscan valley of Tuscania".
On this exciting tour you have the opportunity to explore and imagine what the ancient beginnings of these amazing places must have been like thousands of years ago.


PRE CRUISE TOURS TO CIVITAVECCHIA
Visitors who arrived in Rome prior to their cruise date and would like to make the most of their pre cruise free time can enjoy a half day countryside tour with morning pick up at their hotel in Rome and drop at their cruise ship at the completion of the tour.
Below are 2 popular options to choose from that also includes destinations featured in the Full Day Countryside Splendor Tour.

This Countryside Pre Cruise Tour takes you to visit the Renaissance Odescalchi Castle in Bracciano and enjoy lunch in the medieval hamlet of Ceri before returning to your ship to embark on your cruise.



Watch our COUNTRYSIDE PRE CRIUSE TOUR Video: Best Civitavecchia Tours to the Roman Countryside
Suggested Itinerary:


Town of Bracciano
Bracciano Castle (Odescalchi Castle)
Medieval hamlet of Ceri
This fun countryside tour takes you to 3 charming historic villages that surround the volcanic Bracciano Lake.


CHARMING LAKESIDE VILLAGED PRE CRUISE TOUR: Best Civitavecchia Tours to the Roman Countryside
Suggested Itinerary:


Bracciano (with option to visit the Bracciano Castle)
Anguillara
Trevignano

Relaxing lakeside promenade on spacious walkways, strolling through medieval hamlets, and enjoying a relaxing lunch by the lake is a wonderful way to begin your cruise!
Anguillara is especially unique as the medieval hamlet rests on a small promontory that reflects onto the still water of Lake Bracciano. The historic village and its black volcanic beach strips are highly popular with Italians that make this one of their favorite weekend getaway.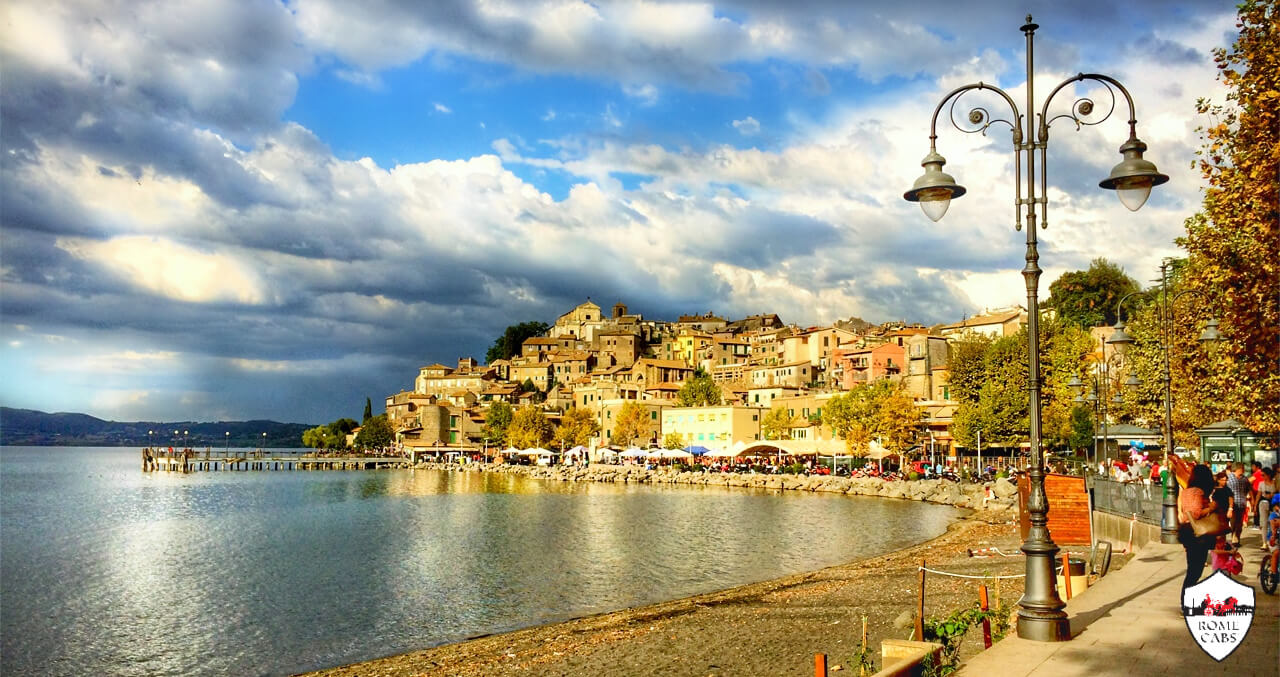 Trevignano is quite unique as visitors can enjoy strolls along the modern lakeside promenade lined with lovely vacation homes and residences, restaurants and outdoor cafes, and then enter into a distant past to explore its charming medieval hamlet with narrow lanes and historic buildings hidden behind protective walls and newer buildings.
You might even find some of the many resident swans that have made Lake Bracciano their home come to the shore for a splendid encounter. Occasional Sunday markets make Trevignano popular all year around.



** On this Charming Lakeside Villages Pre Cruise Tour you have the option to also include a visit to Bracciano Castle by extending your tour by 1 hour, otherwise enjoy the lovely lakeside villages that are highly sought out by Italians are their idea getaway from the chaos of city life in Rome.
For more information on Shore Excursions, Day Tours, and Civitavecchia Transfers please visit our website below for complete information.
We look forward to showing you beautiful places in Italy!
Sincerely.
Stefano's RomeCabs