Buon giorno and welcome to Stefano's RomeCabs, Rome's leading company for luxury private tours of Rome, as well as private shore excursions from Civitavecchia.
Our Rome limousine tours are an affordable luxury with your comfort and safety in mind. Be the envy of all the guests at your hotel when your personal driver pulls up to pick you up in your private luxurious black Mercedes to whisk you off on a day of wonderful adventures in Rome.
While most other travelers will be figuring out confusing public transportation, navigating crowded sidewalks carrying guide books while fussing with city maps, you will be having the time of your life feeling like a celebrity on your Rome limousine tour.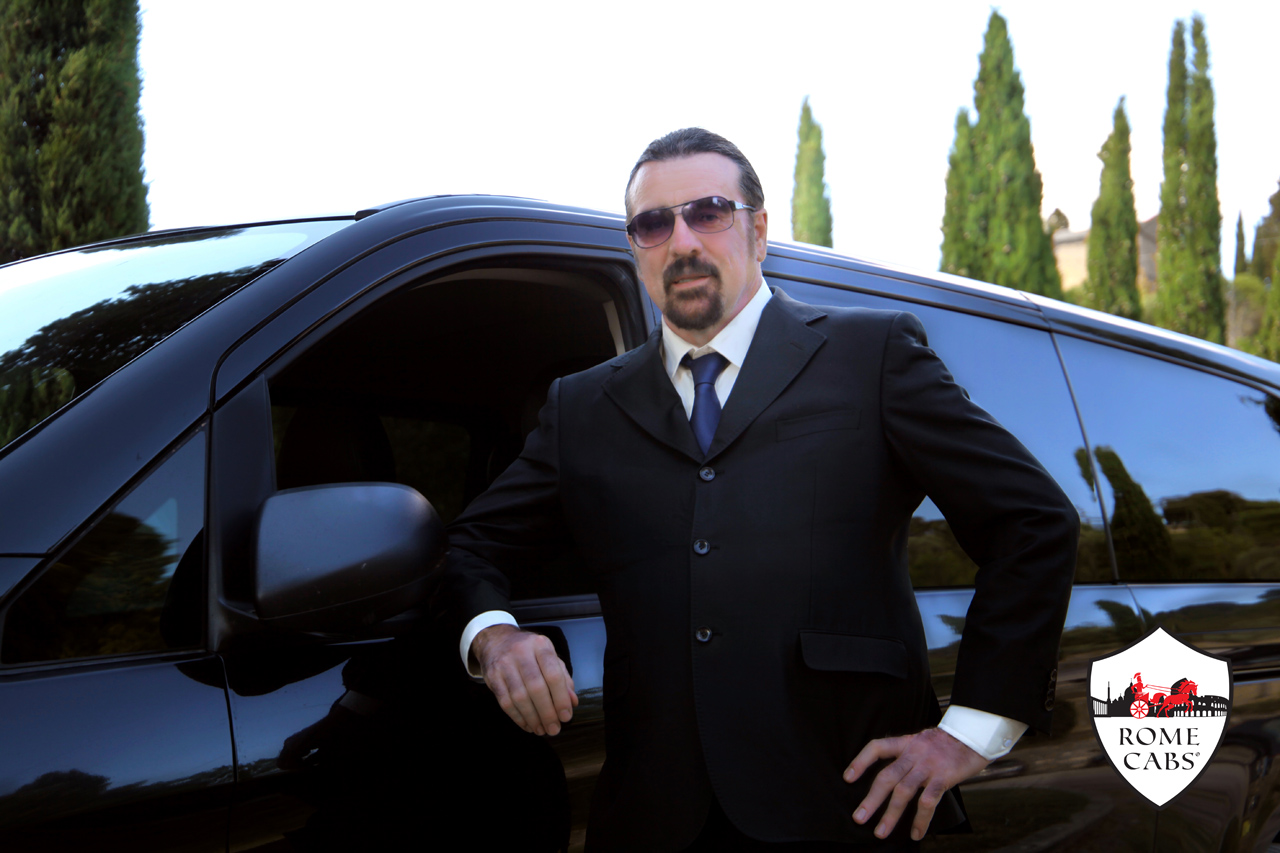 For more than 18 years, we have specialized in private chauffeur driven tours for reliable, yet affordable, luxurious alternatives to bus tours and organized group tours. We make independent travel easy by maximizing efficiency, comfort, and ease.
Stefano's RomeCabs offers luxury tours of Rome starting from your Rome hotel accommodation, or private Rome Shore Excursions from Civitavecchia. At the conclusion of your private tours of Rome, your personal driver will either take you back to your hotel in Rome, or enjoy a relaxing journey in your limo from Rome to Civitavecchia.

Choose your favorite luxury private tours of Rome and enjoy the wonders and glamor of the Eternal City.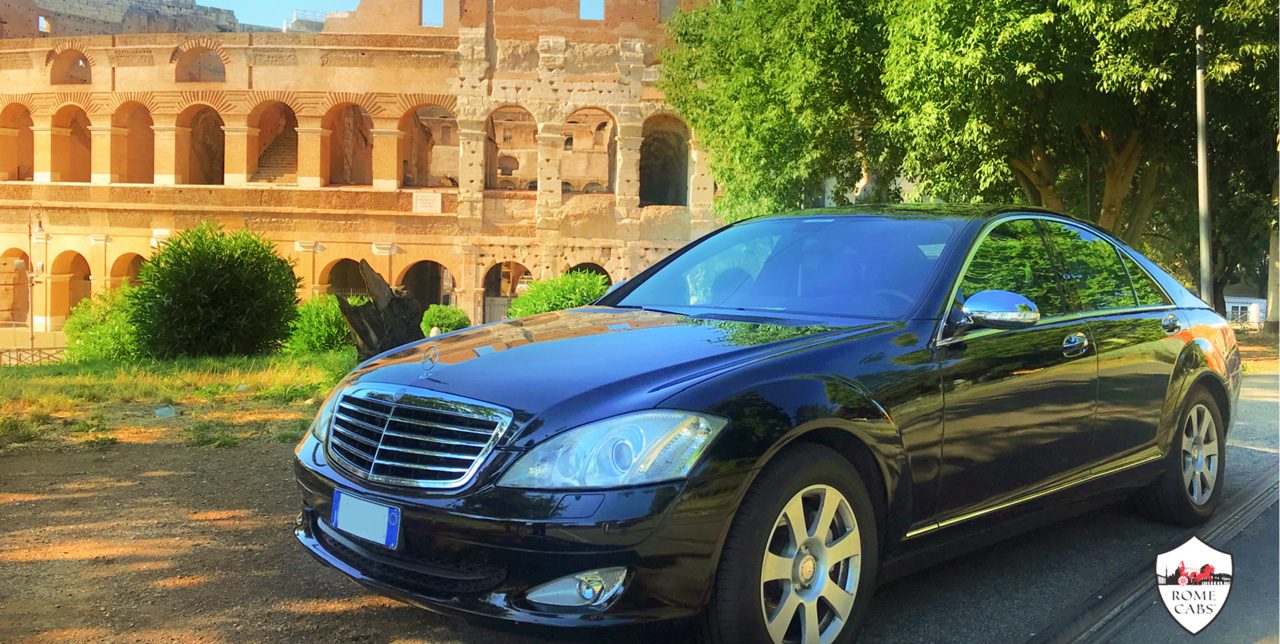 What makes our Rome tours a luxury tour?


It's not just one thing that makes our Rome tours a luxury tour, but many contemporaneous elements that work together to create a harmonious synergy. Below are 9 elements that contribute to our luxury private tours of Rome.
1. Our Private Rome Tours are just for you and your party
All our Rome tours are private just for you and your party. This means you will never have to share your personal space in your private vehicle with strangers. This affords our clients privacy and comfort for a superior Rome tour experience. You will have your private driver's undivided attention and enjoy a higher level of personal attention and flexibility.
Having your own private vehicle is also the most comfortable way to tour. You won't need to share your personal space with strangers or feel cramped. Just sit back, relax and enjoy yourself!

For health safety such as during Covid or cold and flu season, private tours are the safest way to enjoy Rome on your day tours or shore excursions. Our drivers follow the highest health standards in Italy, and our vehicles are properly sanitized. By not sharing your personal space, not using crowded public transportation, and not navigating crowded streets means you will have minimal exposure to the public when booking private tours by car.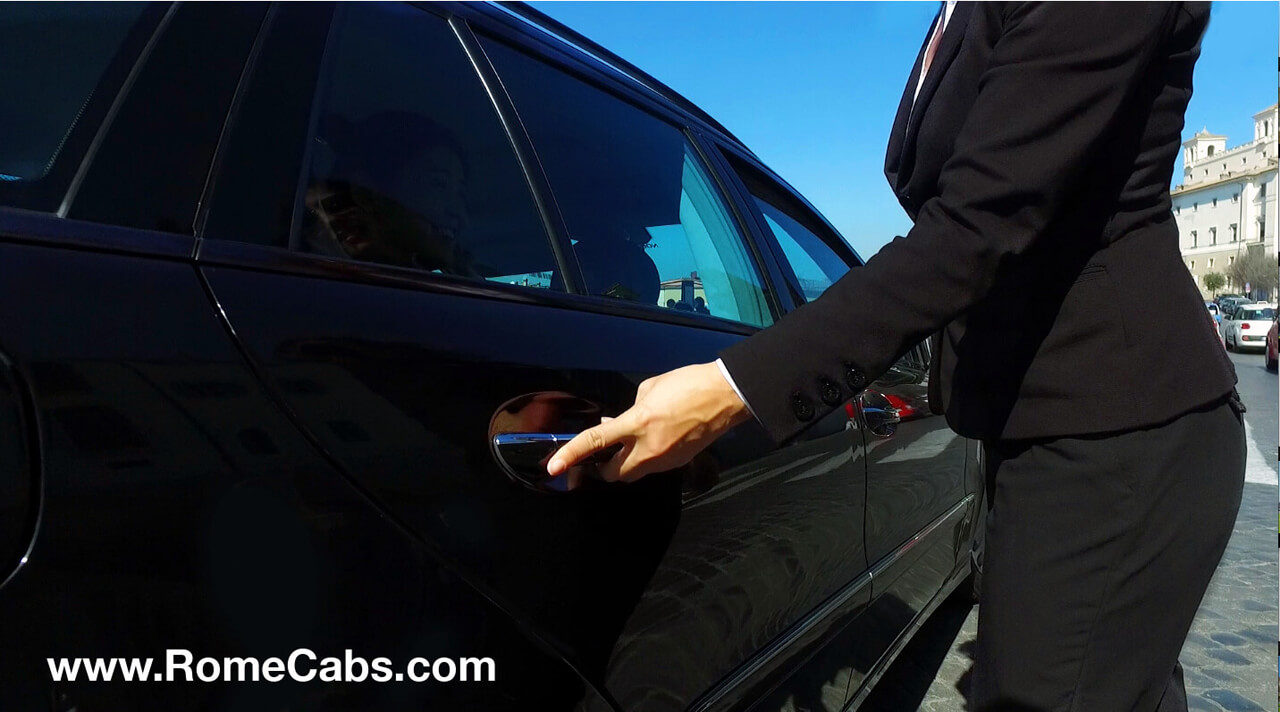 2. Elegant black Deluxe Mercedes vehicles for luxurious comfort
Your Italy trip is special, and so should your experience in Rome. Make a grand entrance and journey through Rome in style. Arrive at the historical monuments you visit in your elegant black Mercedes vehicle, with your personal driver waiting for you as a chauffeur would a celebrity.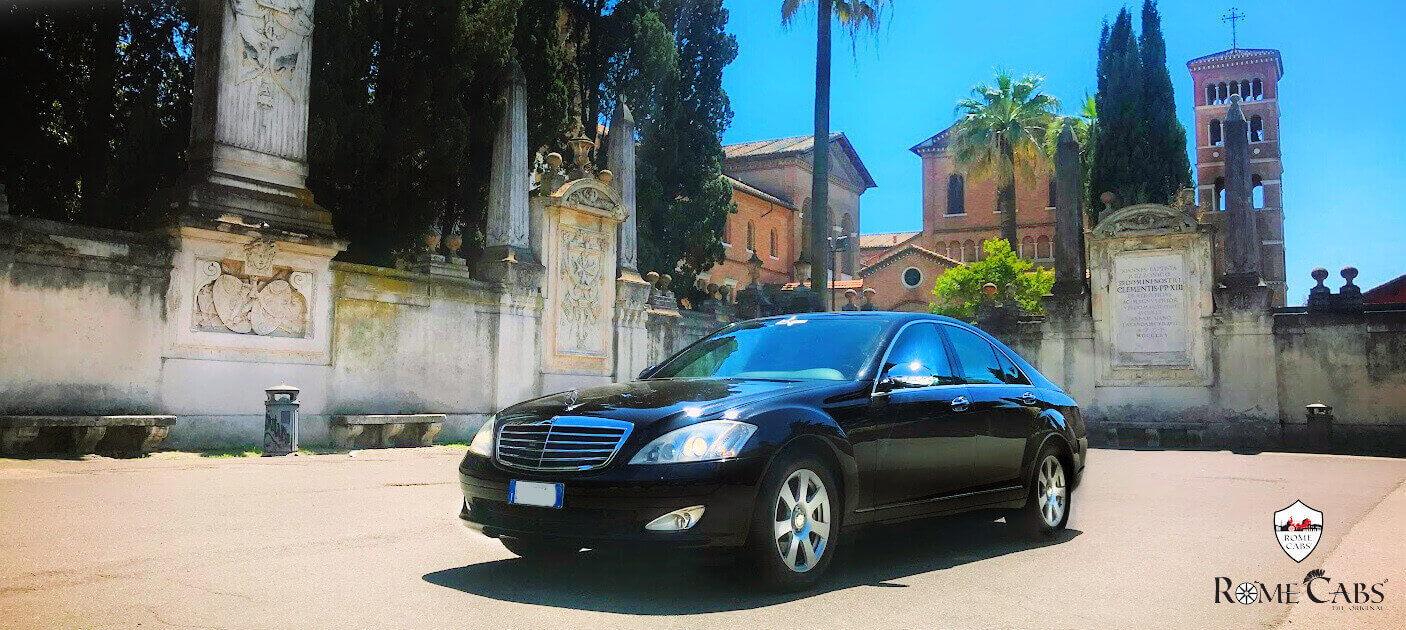 Our fleet of deluxe stylish black Mercedes sedans and deluxe minivans ensure a luxurious, comfortable, safe and reliable best-in class tour experience.
When it comes to vehicle safety, we never cut corners. Our vehicles are late models, regularly maintained at Authorized Mercedes Service Centers, and fully insured to the maximum. Consider our vehicles your own safe space on wheels.
When touring Rome with us, you will tour confidently knowing that your safety is always our top priority.
3. Enjoy your own Personal English speaking Driver at your service
Our English-speaking Tour Drivers are professionally licensed and trained limo drivers, experienced in conducting chauffeur-driven tours of Rome.
With their comprehensive experience of conducting hundreds of private Rome tours, our Tour Drivers have the hands-on skill, training, and insights to ensure your day tours in Rome will be executed with precision.
Navigating Rome's chaotic roads and notorious traffic is often left to the experts: our Stefano's RomeCabs professional Tour Drivers.
4. You will be driven close to the attractions to minimize walking distance and maximize sightseeing opportunities
Our vehicles have the proper license to access Rome's historic center where you enjoy the world's most famous attractions from the magnificent ancient Roman ruins, to renowned squares and the glorious Vatican.
On our luxury tours of Rome in your elegant private Mercedes vehicle, you will arrive at your destination in a manner that would make Caesar proud.
Your private driver will take you off as close as lawfully possible to world-famous attractions you visit such as the Pantheon, Spanish Steps, Trevi Fountain, Colosseum, and Vatican. While you enjoy sightseeing Rome's grand monuments, your private driver will wait for you with the vehicle.
On our luxury tours of Rome, you won't have to maneuver through crowded streets, risk crossing chaotic roads, figure out confusing maps or worry about getting lost through the labyrinth of streets and alleys. You will be conveniently taken directly to the sites you visit for your optimal enjoyment of Rome.
Tour buses are prohibited from accessing the historic center, therefore tourists on bus tours are required to walk up to a mile from the bus to each attraction, resulting in extensive walking distances (regardless of rain or sun), and limited sightseeing opportunities.
On our Rome private tour by car, our guests can enjoy on average twice as many attractions in Rome than on a bus, in the comfort and style that our luxury tours of Rome offer.
5. Private Licensed Rome Tour guides can be booked for places of interest on our Rome Tours
While our English speaking private drivers are knowledgeable and experienced to offer general information about the places you visit during your tour by car, they are, of course, first and foremost professional limousine drivers whose top priority is your personal safety and comfort.
For our guests who are eager-to-learn travelers, we can also arrange for a professionally licensed English-speaking tour guide to personally guide them through culturally, historically, artistically and architecturally significant locations.
For travelers who prefer an in-depth tour experience, a personal licensed tour guide can also be reserved for the day to accompany you in your vehicle throughout your tour for ongoing informative commentary, and personally guide you to all the sites in the tour.
6. Enhance your Mediterranean cruise to Italy with our private luxury tour of Rome from Civitavecchia
Why struggle on crowded ship bus tours from Civitavecchia to Rome when you can be the envy of your cruise mates enjoying a luxury tour of Rome? Your personal driver will conveniently meet you on the pier next to your cruise ship proudly holding a sign with your name waiting to whisk you away on your fun-filled luxury cruise tour to Rome.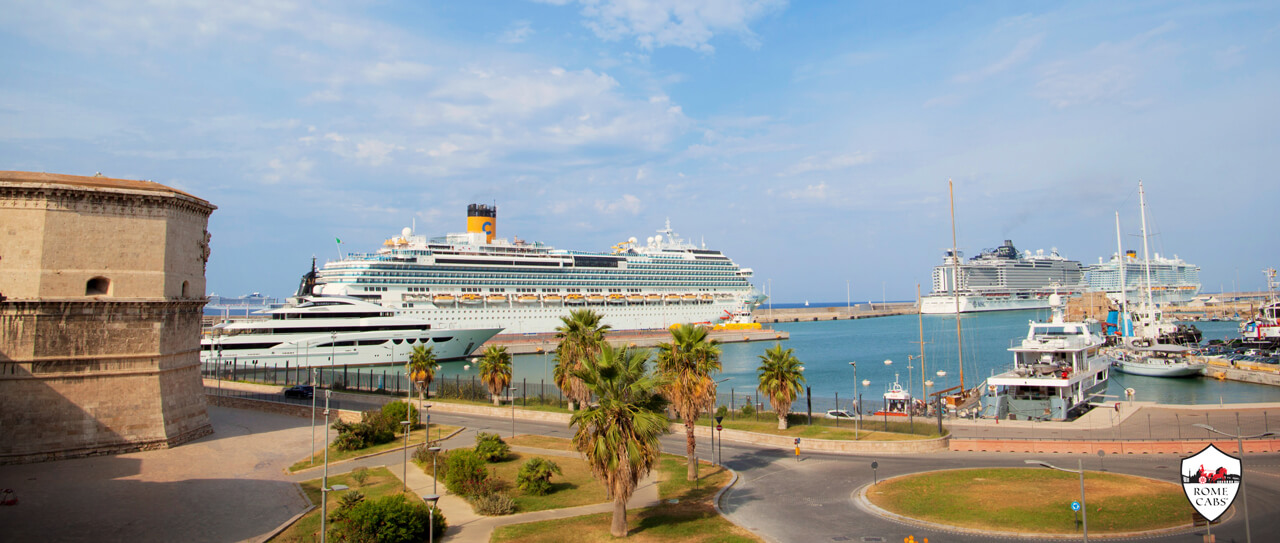 By the time your cruise mates on bus tours even get on their bus, you will already be well on your way to the Eternal City, enjoying the countryside landscapes as your journey through the picturesque lands of ancient Etruria in the comfort of your deluxe vehicle just for you and your party.
While bus tours can only fit approximately 3 visitable sites in their itinerary due to the restrictions of buses in Rome that result in extensive walking distances (in some cases advertised as up to 1 mile), on our luxury tours of Rome from Civitavecchia our guests enjoy on the average 8 must-see locations that include historical monuments, squares, museums, and churches.
Instead of following a group guide through the crowds and keeping up with your bus tour group, on our private luxury tours of Rome cruisers enjoy a higher level of personal attention from your driver (and tour guide should you wish to reserve one), and welcomed flexibility that is not possible on cruise bus tours or organized group tours.
Your perfect day in Rome will conclude with a relaxing journey through the Italian countryside in your private limo from Rome to Civitavecchia Port.
7. We can customize your Rome tours (and Rome Shore Excursions) to suit your tastes and interests

While we expertly crafted a wide variety of Rome tour itineraries to satisfy different interests and preferences, we gladly customize luxury tours of Rome tailored to our guests' wishes.
Whether you wish to spend more time visiting preferred sites, have a wish-list of places to visit in Rome, have mobility concerns, or wish to create a special day for your family and travel companions, we can make it happen!
Our experienced office staff are both fluent in English and mother tongue English speaking


Communication is key, and corresponding with someone in perfect English who clearly understands our clients' needs makes communicating with us via phone or email reassuring.
Our knowledgeable office staff members have years of experience in our industry, are detail-oriented, and possess a strong dedication to accuracy. Each tour reservation receives our personal attention to details.
Just book your preferred luxury tours of Rome, and enjoy!


Browse through our collection of Rome tours for the perfect itinerary for you and your family.
Relying on our extensive experience as a tour company, we crafted numerous Rome tour itineraries to please diverse interests and tastes to fit in a fun-filled day tour from your Rome accommodation or from your cruise ship in Civitavecchia.
We invite you to visit our website and browse through our luxury tours of Rome for an unforgettable Italian vacation that awaits you.
Our top-selling tour, Panoramic Rome Tour, includes the most sites to see and visit in Rome. It's the most frequently booked tour by travelers staying in Rome and by Cruisers on their shore excursion from Civitavecchia.
Our signature Seven Wonders of Ancient Rome are ideal for discerning travelers who are history buffs, interested in exploring Rome's most remarkable ancient monuments that are nothing short of ancient Roman engineering feats. Bask in the grandeur of monumental architectural legacies of the Roman Empire, walk along the ancient Appian Way, visit the Park of the Aqueducts, explore the remains of the staggering Colosseum and Imperial Baths of Caracalla, and more!

With too much to see and do to squeeze in just one day, we created the popular Rome in 2 Days. This 2 day luxury tour of Rome adds more not-to-be-missed historical monuments, museums, squares and churches for an enhanced experience of Rome's majestic wonders.
Travelers staying in Rome for a few days can enjoy our Rome in 3 Days luxury tour so you won't leave out anything that's really worth seeing and visiting. This Rome luxury tour is ideal for selective travelers who wish to make the most of their short time in Rome effortlessly in comfort and style.
On our newest Rome Town & Country Tour combines a morning visit to Rome's most renowned squares with an afternoon in the enchanting Italian countryside renowned for magnificent historical castles and Medieval villages.
Along Rome's Empire Roads tour follows two important ancient Roman roads that lead to incredible places that are sure to please sophisticated travelers with a fondness of the ancient world. While ancient Roman emperors and caesars traveled by carriage, you will travel the same roads in your luxurious modern black Mercedes limousine.
Our Rome at Night tour puts the Roma in Romance with a luxurious night tour of Rome when the city becomes tranquil covered by a blanket of stars, and select historical monuments are softly lit for an extraordinary ambience quite contrary to the chaotic daytime city life. Upon special request, we can also arrange for a romantic prosecco toast (Italian champagne) overlooking the Eternal City. The magic of Rome at night is not to be missed!
Thank you for choosing Stefano's RomeCabs for your Rome Tours and Transfers. We look forward to welcoming you to Italy and to show you beautiful places in Rome!
* Find us online also on: