Buongiorno and welcome to Stefano's RomeCabs, Rome's leading company for private reliable transfers, day tours, and shore excursions in Rome and beyond.
Will you be cruising through Italy's mainland and considering your shore excursion options? We at Stefano's RomeCabs have been providing private shore excursions in Italy to tens of thousands of happy cruisers over 12 years, becoming one of the most trusted, reliable, and recommended companies in Rome.
Whether you wish to book a shore excursion for you and your travel companions, or are interested in sharing your tour with other cruise mates, you can count on us, and here's why:
1 You don't need to research what to see and do on your shore excursions.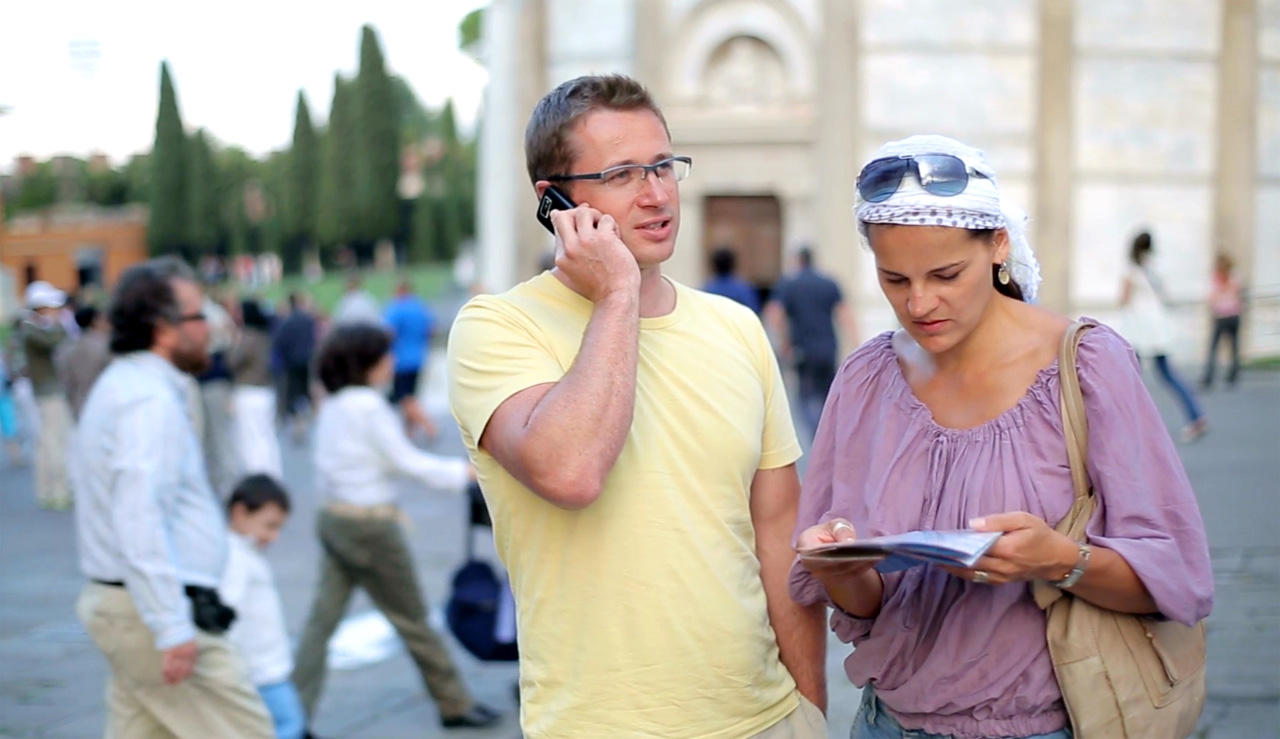 When you book your shore excursions with Stefano's RomeCabs, there is NO need for maps, NO need for bus / train schedules, guide books, researching, planning, and organizing your sightseeing possibilities.
We take care of everything for you!
Our exciting tour itineraries are specially crafted to include the best Italy has to offer in the most time-efficient way possible for your maximum enjoyment.
As local experts, we are intimately knowledgeable of the most unforgettable places Italy has to offer its visitors, and are designed to optimize your sightseeing opportunities so you can see as much as possible in as little time as possible.
We have various tour itineraries from Civitavecchia, Livorno, and Naples to satisfy a variety of our clients' interests. Additional shore excursion itineraries are also available from our sister company Stefano Rome Tours.
2 Convenient pick-up and drop-off from the cruise ports.


On a private shore excursion, we pick you up and drop you off so you don't have to worry about transportation. Civitavecchia and Livorno Port allow pier-side service, Naples Port has nearby parking for all drivers to meet their clients.
Naples Port has designated a parking area where all drivers wait for their clients to arrive from their ships.
If you are among the few that book cruises that dock in La Spezia, it's important to know that although this small port does not allow any vehicles to enter, they do provide a convenient shuttle to the main gate where you will be met by your driver.
Pier-side service is very important in large cruise ports like Civitavecchia and Livorno, and our drivers and vehicles have the necessary license and security clearance to access all piers.


READ: What do See and Do in Civitavecchia (Travel Tips for Cruisers)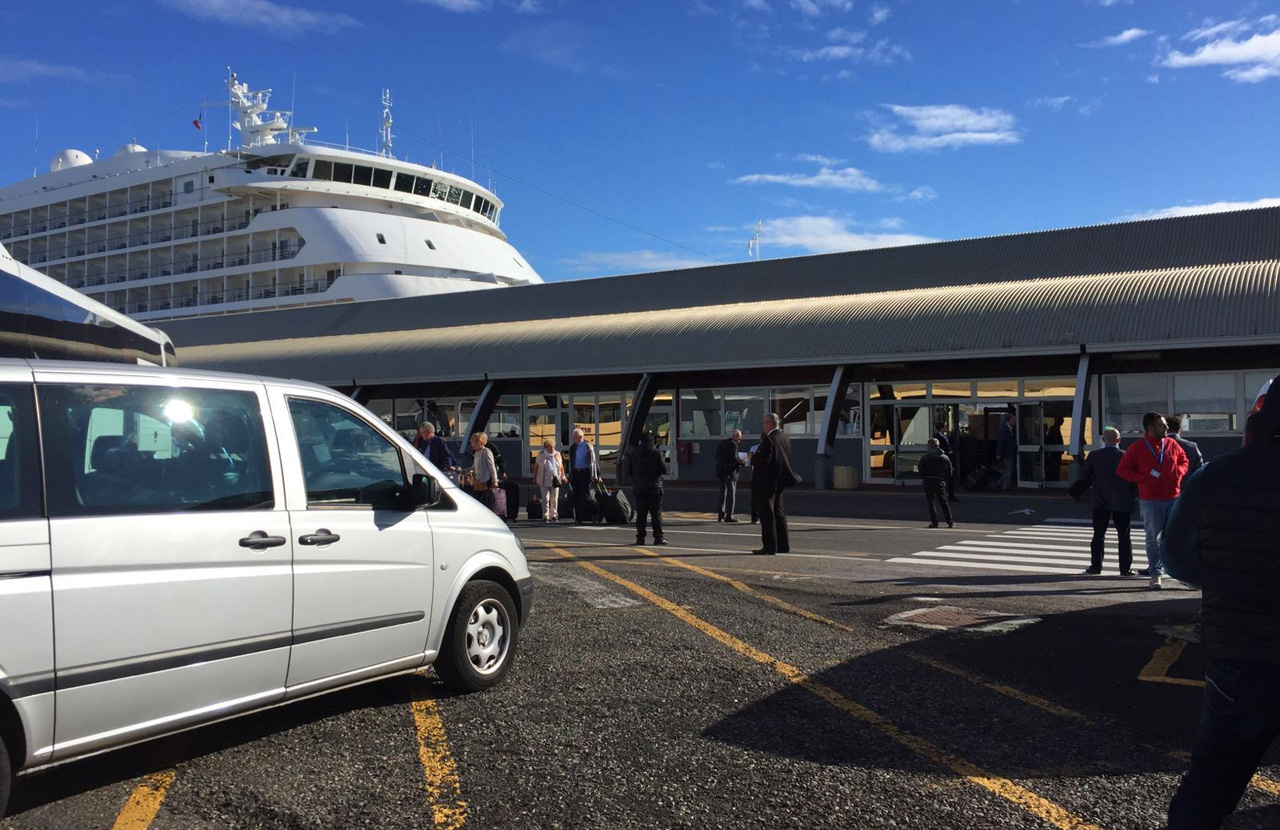 3 You see more in one day by car than by self-touring and relying on public transportation.

We offer shore excursions to popular destinations that not only allow you to see more by car than DIY and relying on public transportation, but many of our tours take you to exciting destinations that are not even accessible by public transportation.
Because the travel between Civitavecchia and Rome is faster by car, and because your driver will drop you off as close as lawfully possible to each site you visit, you will be able to squeeze in MORE things to see and do in your day.
For our guests for whom visiting Rome is a once-in-a-lifetime opportunity, seeing as much of the Eternal City as possible and as comfortably as possible on our private Rome shore excursions enhances their experience, enjoyment, and fond memories created.
Unforgettable countryside destinations such as in our very popular COUNTRYSIDE SPLENDOR, are either too difficult or impossible to reach by public transportation from Civitavecchia.
Cruisers docking in Livorno can enjoy the famous Pisa and Florence, or venture into Tuscany and Chianti where public transportation from the cruise port is not possible.
Cruisers docking in Naples can enjoy an exciting day to Pompeii, Herculaneum, Sorrento and Amalfi Coast that can only be achieved in a day by car.
4 No worries about public transportation strikes.


One often unexpected issues with public transportation are strikes that halt buses, trains and metros for large portions of the day leaving you stranded at Civitavecchia or in Rome.
Public Transportation strikes have left thousands of cruisers stuck at the port instead of enjoying Rome. For many, it deprived them of the once-in-a-lifetime chance to see Rome.
Public transportation strikes also impact those who were traveling from Rome to Civitavecchia by train for their departure and left them frantically scrambling to find last-minute transportation which is very difficult to come by on public transportation strikes since taxis and car service companies are in much greater demand than usual.
5. Touring by car is less tiresome.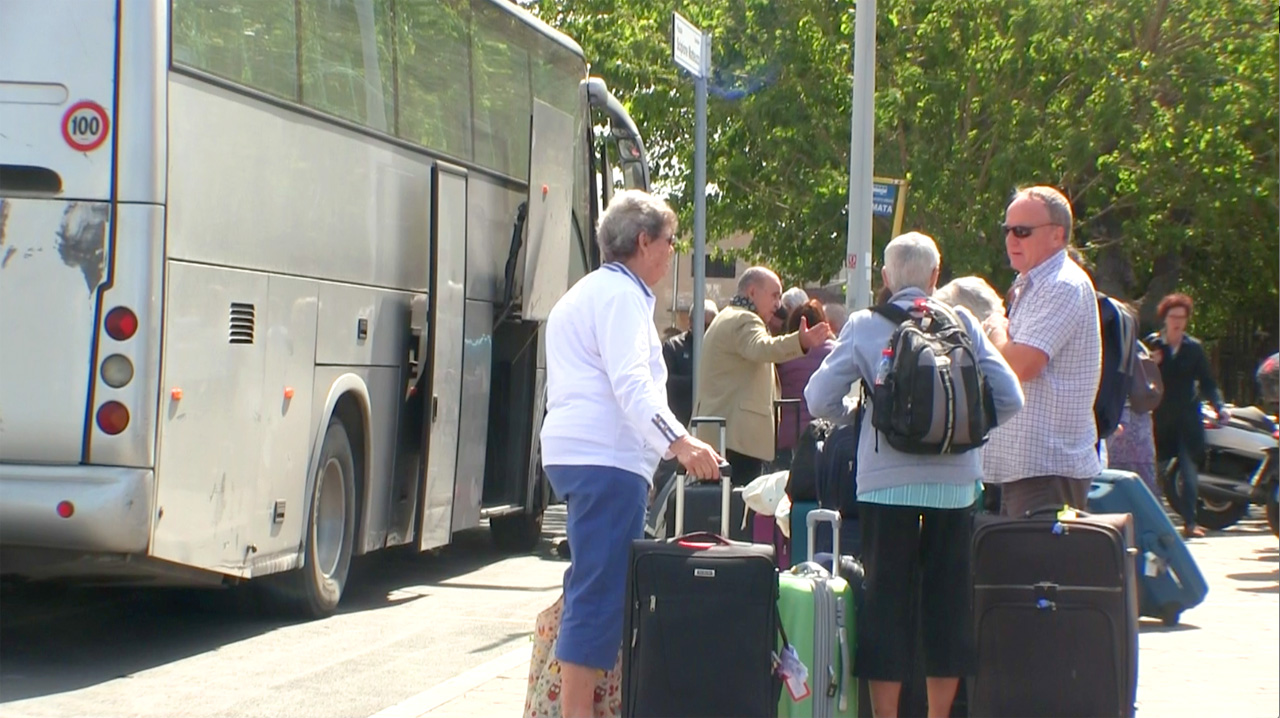 With as little walking as possible (except when visiting monuments, museums, and other places where you can enjoy a leisurely walk), you will not return to your ship worn out and exhausted.
When self touring there would be a great deal of walking from place to place, which can be somewhat minimized by using public transportation (which is slow and requires wait times for buses and metros) and taxis. Knowing how to navigate public transportation requires being well informed and advance preparation to ensure you are taking the correct train, bus, and metro without getting lost.
Self-touring can be a very tiresome adventure for many people, especially if your ship is docking at a different port each day.
Touring by car helps make your cruise more enjoyable when not exhausted.
A special treat is a relaxing afternoon drive back to your cruise port in the comfort of your private deluxe vehicle where you can take an afternoon nap.
6. You see more by car than by Cruise bus tours.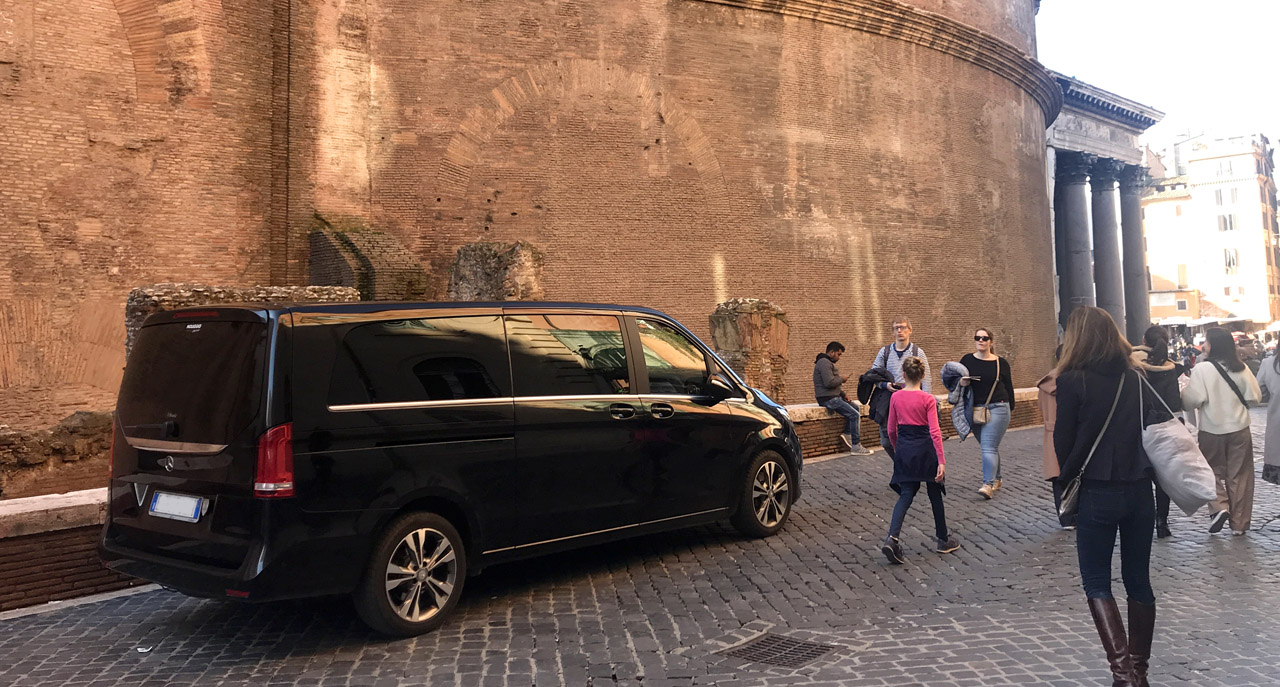 When you book a private tour with us, there are no unnecessary wait times at the port for the bus to fill up. Many local bus tour companies don't have access to the piers inside the cruise port, therefore passengers have to take a port shuttle to the main gate where they board the tour bus, and then repeat the same process upon return.
Our vehicles and drivers have all the required permits and clearance to access all piers in the ports of Civitavecchia and Livorno – the main ports in Italy that allow vehicles to access the piers. As soon as you meet your driver on the pier next to your ship, you board your private deluxe vehicle you are on your way to a fun-filled day.
Buses also cannot access the historic center to take you to many of the sites. Tour buses can only stop at the perimeters of the historic center leaving passengers having to walk up to several blocks to the few attractions they can visit.
For example, if you wish to visit Rome you would miss out on seeing many important sites in the heart of Rome's historic center, and not have the opportunity to be driven by so many beautiful places that enhances one's visit to the Eternal City.
Our vehicles can access the historic center and take you directly to the sites you visit. This minimizes walking and maximizes sightseeing so you enjoy MORE of Rome… on average, more than TWICE as much by car than by bus.
For all the foodies and visitors looking forward to enjoying a traditional Roman dish or Tuscan cuisine for lunch, on our private tours by car you have the flexibility to lunch at a restaurant of your choice close to the main attractions. Your driver will be happy to offer you suggestions based on what our previous clients have enjoyed.
7. Touring by car affords you the flexibility to be in charge of your tour.


Because cars and minivans can access city centers, you can choose to substitute certain sites offered on our tour itineraries to include personal favorites.
On your private tour, you can choose to spend more time at one site and less at another, and have the tour go according to YOUR pace.
Tours by car can also offer a greater variety of destinations and customizable tours based on your interest.
Bus tours have limited in itineraries that also cannot be customized to suit your personal interests. Itineraries on bus tours are also strict and you may have to visit places that are of little or no interest to you – wasting your valuable time and money, and missing out on your personal favorite Must See places.
With large bus tour groups passengers are obliged to keep up with the group and the tour schedule, you cannot tour at your own pace.
On our private tours from the Cruise Ports, you have the freedom of itinerary choice and personal flexibility that enhance your tour experience.

8. On our tours by car, you can choose from our many tour itineraries based on your interests.


We created different itineraries to suit different interests and visit various exciting destinations from Civitavecchia, Livorno (and La Spezia upon request), and Naples.
Whether you wish to explore Rome, Roman Countryside, Florence, Tuscany, Chianti, or the Amalfi Coast region, you have many exciting tour options to choose from. Many of the popular destinations we feature are not offered by bus tours, and cannot be accessed by public transportation.
And since our drivers and vehicles can access the sites you visit with close proximity, you will be able to see and do a whole lot more than on bus tours that have restricted access.

9. Excellent option for families with children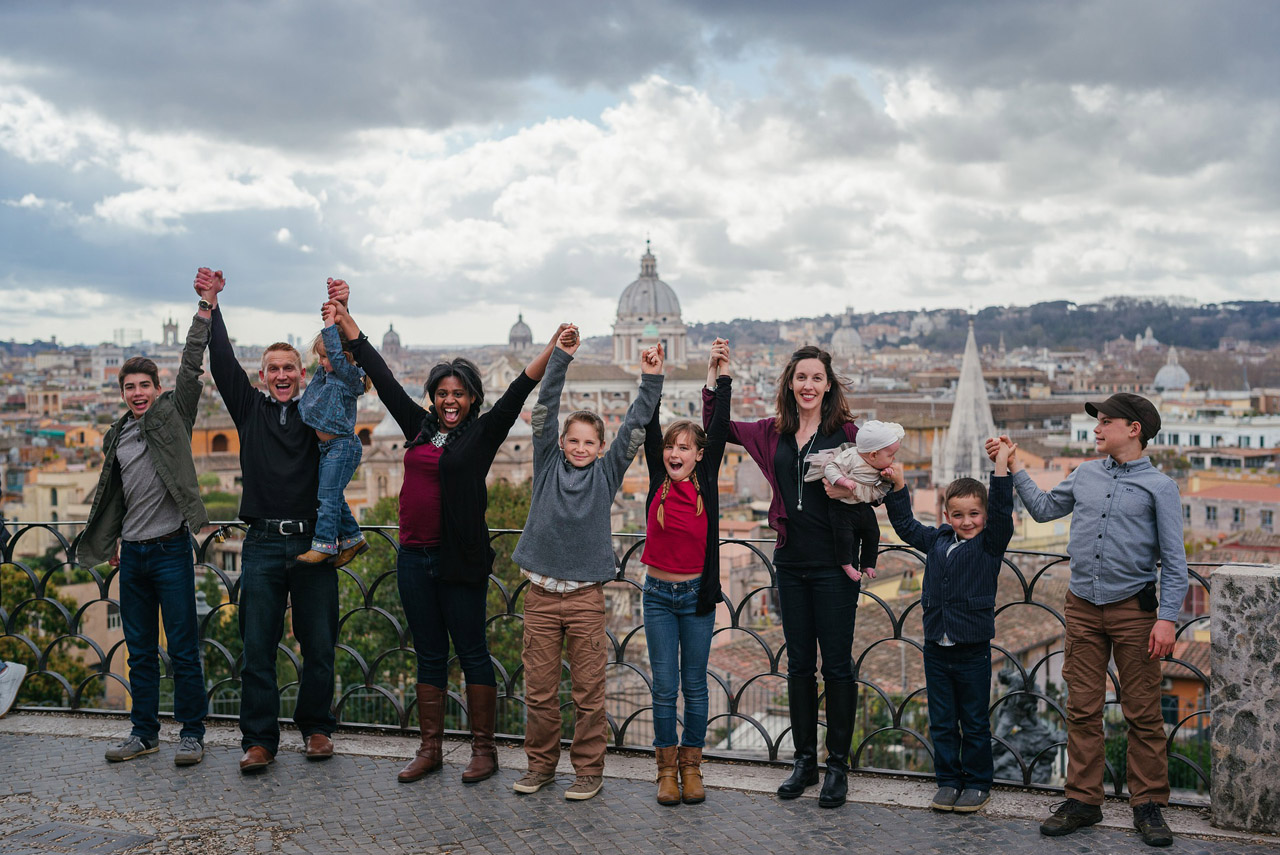 Our private tours by car are highly recommended for families so you can enjoy Italy together safely, comfortably, and hassle-free for fun-filled family excursions.
On our tours you have the opportunity to enjoy Italy at your family's pace without the need to keep up with strangers on a tour bus, worrying about safety and hassles on public transportation or having to find your way around on a map with young children.
When you book your shore excursions with Stefano's RomeCabs, you will have a knowledgeable and caring driver dedicated to your enjoyment and safety on your tour.
Without these unnecessary worries, distractions, hassles, and risks, you can better enjoy your family time together and create unforgettable memories you will cherish forever.
If you are traveling with young children, we also provide appropriate child seats upon request at no extra charge.
10. Peace of mind knowing you are in the caring hands of a local expert.

Whenever traveling to a foreign country, especially for the first time, many travelers feel a bit apprehensive: they don't speak the local language, they don't know their way around, don't understand the public transportation system enough to feel confident, or not know what to do should they experience any problems or emergencies.
It is always more reassuring when you have a local expert with you that speaks the local language, knows exactly where to take you, offers you safety tips, and most importantly be there for you.
Whether you forget your wallet at a shop don't remember where the shop was located, have a mishap that requires medical attention, forget to bring enough memory cards for your camera, or your smartphone didn't charge overnight (some of the incidents experienced by our guests), it's a huge relief to have someone knowledgeable and capable to quickly assist you and minimize the problems otherwise experience if left to your own devices in a foreign country whose language you don't speak.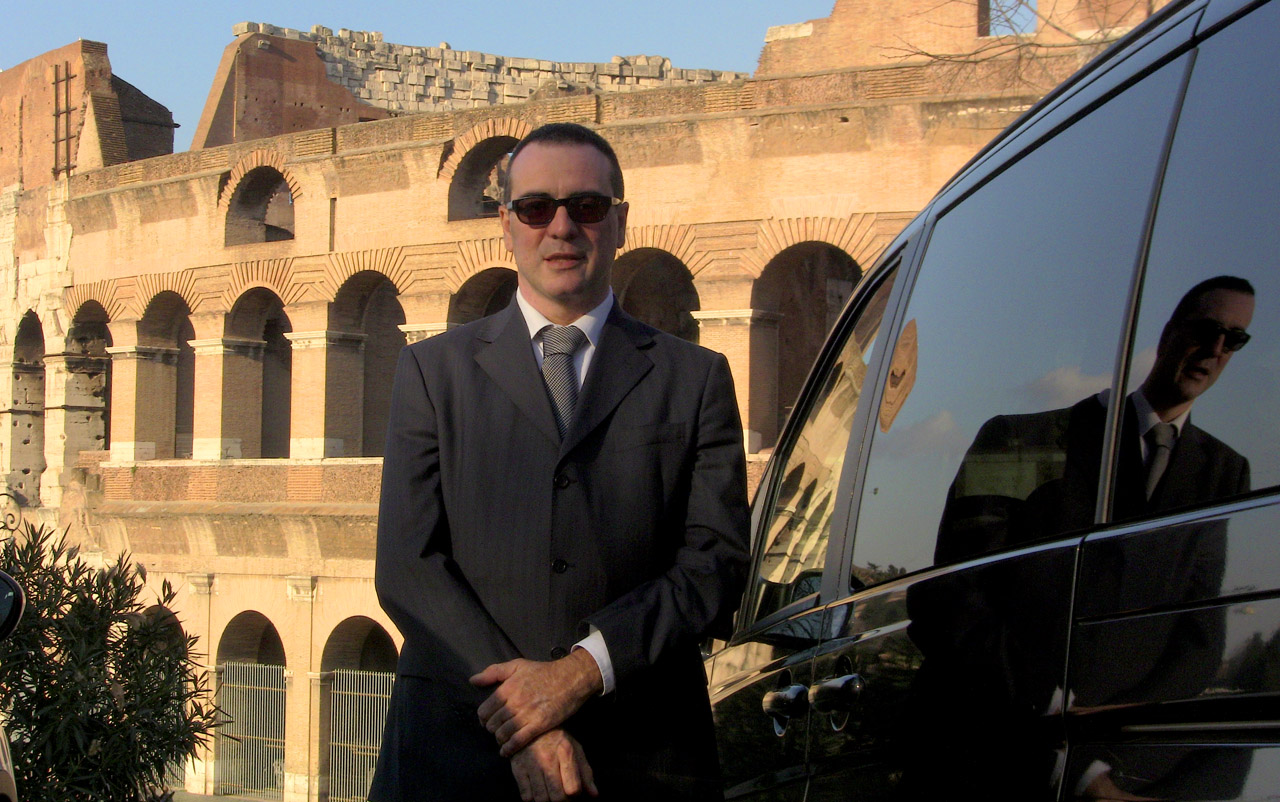 Thank you very much for reading our 10 Reasons to book your Civitavecchia Shore Excursions with RomeCabs blog and choosing Stefano's RomeCabs for your Shore Excursions in Italy.
We invite you to also visit our sister company Stefano Rome Tours for a wider variety of shore excursions that you, your family, and your friends are sure to enjoy.
We look forward to welcoming you to Italy and showing you beautiful places!
The RomeCabs Team
RomeCabs Flickr Photo Gallery
Stefano's RomeCabs FaceBook
Twitter: @RomeCabs
Recommended by Cruisers on CRUISE CRITIC