Buon giorno and thank you for visiting Stefano's RomeCabs, Rome's leading company for private Day Tours, Shore Excursions, and Transfers in Rome and beyond.
For many of the millions of visitors each year, exploring Italy and its magnificent places is a once in a lifetime opportunity and a dream come true.
It can also be overwhelming and time consuming to research, plan, and organize a visit to Italy in hopes of not missing out on the "must see places".
We at Stefano's RomeCabs can save you hours (and even days!) of combing through the internet and guidebooks for information, and help make your time exploring Italy an easy, enjoyable, relaxing, comfortable, and a convenient experience with opportunities to see as much as possible in as little time as possible.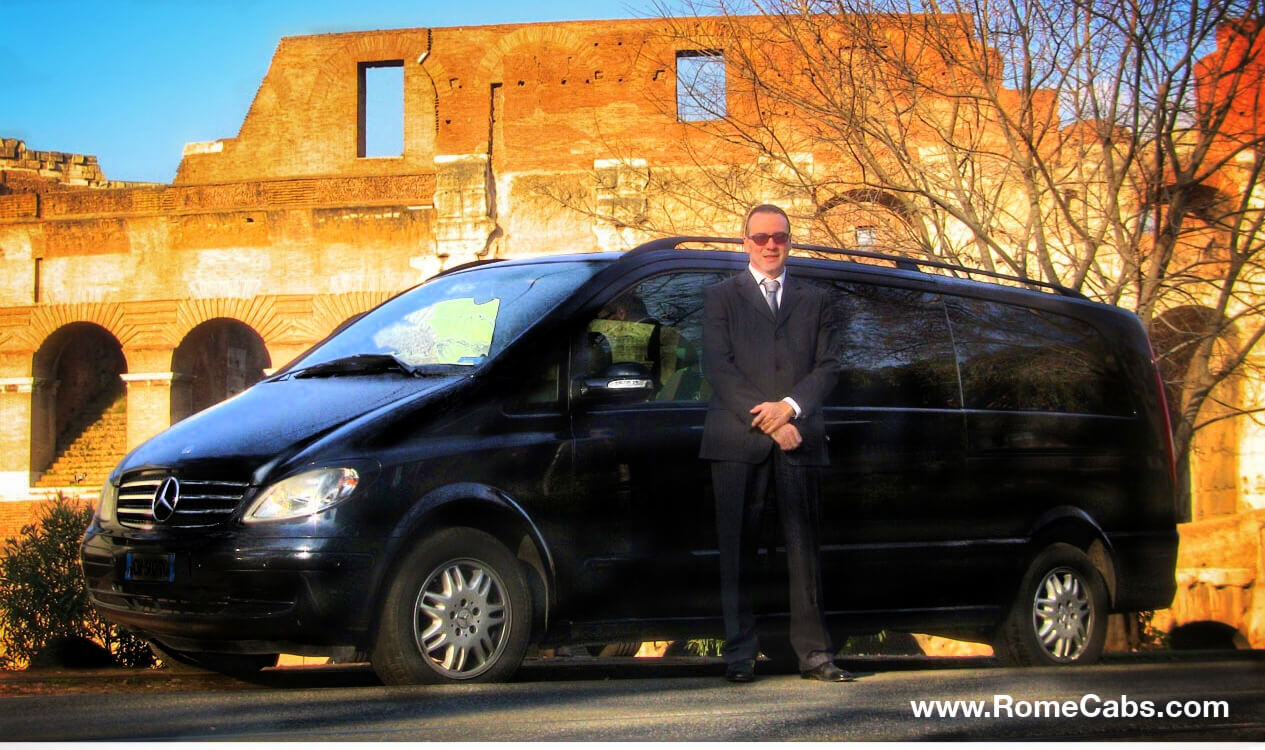 Even a visit to Rome demands quite a bit of time in research, planning, organizing, and actually seeing and visiting the most important sites. It's a very complex city with more than 2,000 years of history to sort through. Many of our clients have told us that on our popular Rome in One Day Tour alone they saw more in one day than they would have on their own in 2 or even 3 days – PLUS without having to plan, research, or organize anything in advance.
Our guests quickly and easily booked the tour of their choice and their museum tickets online in advance, and everything was all set prior to their trip with nothing further to worry about.


Thinking of booking a tour of Rome and beyond by car?


Here are 10 Great Reasons to Book a Tour by Car in Rome with RomeCabs and let us help you turn your visit in Rome into a vacation of a lifetime!
10 Great Reasons to Book a Tour by Car in Rome with RomeCabs


1. No need to research, or plan what to see, or do in Rome and beyond

We at Stefano's RomeCabs have done all the work for you. We've created various exciting tour itineraries that include many of the Must See and Visit places in Rome and other popular destinations in Italy that are possible to achieve on a day tour from Rome.
WATCH our Rome in 2 Days Tour Video: 10 Great Reasons to book a tour by car in Rome

Whether you want to book our Rome in A Day, or immerse yourself in our Rome in 2 Days Tour or Rome in 3 Days Tour, we've already taken care of everything for you and chose the most fascinating and unforgettable places in Rome to maximize your enjoyment and eliminate time consuming hassles and worries.
Wish to visit Florence for a day? Pompeii, Sorrento and Amalfi Coast? No problem! We can take you there and once you book your tour online there is nothing left to do but enjoy your adventures in Italy.
2. No need to bring a map with you on our Rome tours of Rome


Your tour is already planned out and conducted by our knowledgeable and experienced Tour Drivers, there is no need to bring a map to figure out where you are, where to go, and how to get there. Just enjoy the scenery around you without distracting glances at a map or guidebook.
Your personal English-speaking driver is happy to answer your questions and will drop you off as close as possible to each site and wait for you to return.
It's so easy, you don't have to do anything except have a fabulous time in Rome!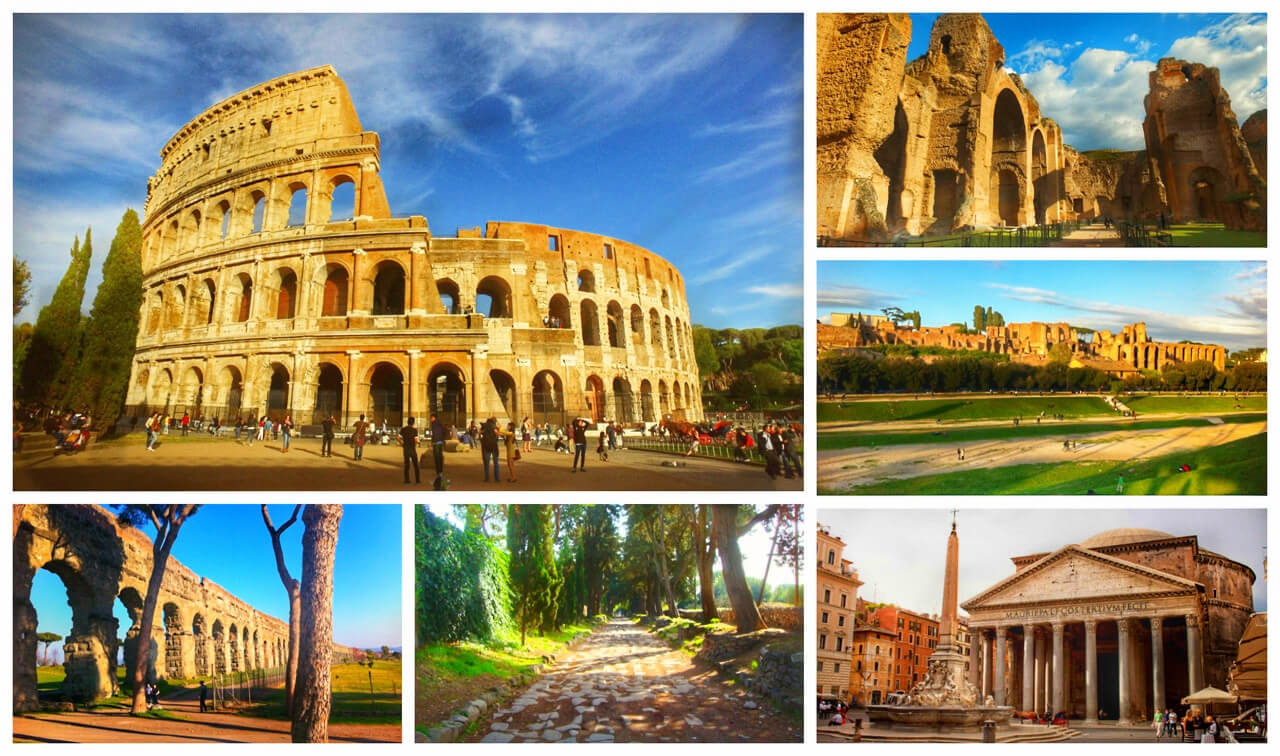 3. Enjoy a hassle-free way to tour in Italy on our private tours by car!


On our tours by car, there are no trains to figure out, no slow crowded, and infrequent time-consuming buses and metros to take, no taxis to negotiate, no exhaustive walking with maps and guidebooks, or risks of getting lost along many unknown narrow and windy back streets and alleys.
You will tour all day comfortably and safely inside of your private climate-controlled deluxe vehicle with your personal Driver at your disposal to ensure a wonderful day touring through Italy.
WATCH: Countryside Splendor Tour Video:

4. On our Rome private tours we also arrange for private tour guides for you


Certain ancient monuments, archaeological sites and museums offered on our tours are so complex and rich in history and culture that a private licensed tour guide is often necessary to bring these often ancient and complicated places to life.

Tour guides are mostly recommended and requested for the Colosseum and Roman Forum, Vatican (Vatican Museums, Sistine Chapel and St Peter's Basilica), and Pompeii.
Upon request, we make all the necessary arrangements with local professional licensed tour guides for a private tour coordinated with your tour schedule.


5. You will not feel exhausted touring Rome by car


Touring complex cities like Rome on your own all day can take a toll on many visitors (especially jet-lagged travelers, young children, elderly visitors, and those with mobility issues).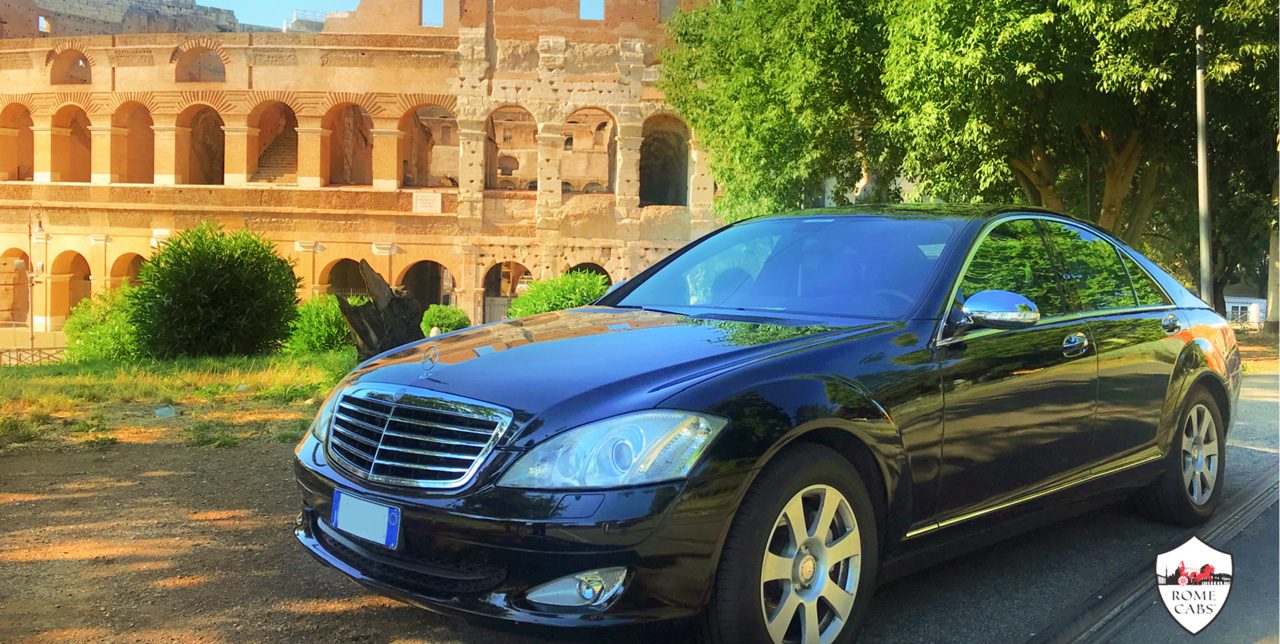 Walking extensively on cobblestones, dealing with traffic, slow public transportation, and weather elements (summers can be too hot to be out all day, and winters too cold or wet to be outdoors all day) can take a toll on travelers – and their tired feet.
When touring with us in our comfortable climate-controlled vehicles, you will arrive at your hotel in the late afternoon happy and refreshed, as opposed to exhausted after walking all day self-touring Rome.
Touring by car leaves you energized to enjoy Rome at night afterward and rested to explore more the next day!


6. Touring Rome by car with your personal driver is the SAFEST way to experience and explore Rome


When touring on your own, you have to rely on crowded buses and metros that are unfortunately notorious for pickpockets and other nefarious elements that take advantage of tourists. Most large cosmopolitan cities that attract many visitors have their share of pickpockets and scam artists that prey on tourists.


It's easy to get lost along Rome's narrow and windy streets and alleys and not know who to trust to ask for directions (especially if you don't speak Italian thus limiting your options of persons to ask for information and assistance).
Your knowledgeable and experienced driver is there for you with helpful information so you are safe while enjoying Rome and other large cities in Italy.
In case of emergency, you have your private vehicle and personal local driver at your disposal to take care of you. When you book your tours with us, you are not alone to fend for yourself.


7. Italy private tours are an excellent option for families with children


Our tours by car are highly recommended for families so they can explore Rome (and beyond) together safely, comfortably, and hassle-free for a fun-filled family day enjoying Italy.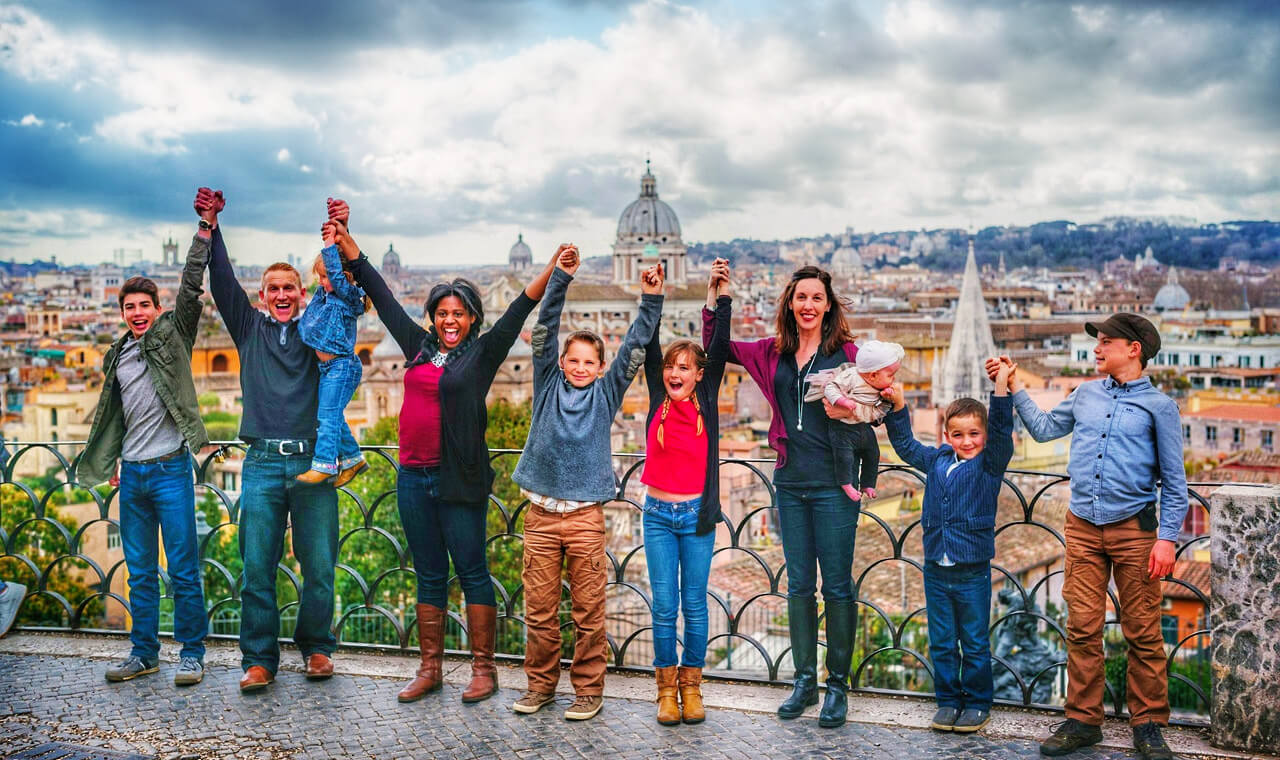 On our private tours, you have the opportunity to enjoy your tour at your family's pace without the need to keep up with strangers on group walking tours or shared tours. You don't have to worry about the safety and the hassles of using public transportation or relying on finding your way around on a map with young children to care of.
Without these unnecessary worries, distractions, and hassles, you can better enjoy your family time together and the wonderful experience of exploring some of the most amazing cities in the world.
If you are traveling with young children, we also provide appropriate complimentary child seats upon request.


8. Save time and money when you book your Rome private tours!


By seeing more in less time (and fewer days) you not only experience more of Italy and create more memories but by doing it in less time (and days), saving money on extra hotel stays and daily expenses necessary to explore Italy on your own that would naturally take longer than touring by car.

WATCH our Rome in 3 Days Tour Video
If a longer stay in Rome is already in your plans, touring by car allows you extra time (days) to travel to other exciting places in Italy that are on your Must See list.
Our popular Rome in 3 Days Tour by car can take up to 1 week to self tour relying on walking, public transportation, and taxis (minus the days spent researching sites to visit and organizing your sightseeing days).
When you consider decent hotels in Rome's historic center can charge upward 200-300 Euros per day, with additional restaurant meals each day, you can save money by seeing MORE of Italy in fewer days.


9. Explore exciting day tours from Rome around Italy

From Rome it's possible to enjoy day tours to other regions of Italy in Tuscany, Umbria, the Roman Countryside, and the Naples / Amalfi Coast region.
While some destinations can be accessed by train from Rome if you have ample time to spend in Italy, many destinations are not possible to visit in a single day or possible using public transportation.

WATCH: Jewels of Umbria and Tuscany Tour Video


Many of our clients whose trip to Italy was a once in a lifetime opportunity made the most of their trip visiting all their favorite destinations during their short stay in Rome.
Touring Rome, Florence and Pompeii, Sorrento and Amalfi Coast in just 3 days would not have been possible on a DYI trip relying on trains and buses.
If you are short on time, don't want to pack and unpack for short trips outside of Rome, if you wish to maximize your sightseeing opportunities in Italy, or visit places that are not accessible by public transportation, we can take you on exciting day journeys some of Italy's most outstanding destinations.
Our sister company Stefano Rome Tours that specializes only in Tours, can offer you an even wider variety of day tours to picturesque Tuscany, the wine region of Chianti, verdant Umbria, the majestic Roman Countryside, and the lovely southern region that includes Amalfi Coast, Sorrento and more.


WATCH: Enchanting Chianti Tour Video
10. Rome Private Tours by Car are ideal for Cruisers in Rome Pre-Cruise or Post Cruise
Many of our clients are in Rome for just a short time prior to their Cruise, and/or after the completion of their cruise in Civitavecchia.
With such limited time to explore Rome and with so much cruise planning ahead of time, it's easy to overlook all the excitement you can experience in Rome during your short stay.
We can help you make the most of your brief time in the Eternal City on our Pre Cruise Tours and show you many of the "Must See" places you've dreamed of visiting.

WATCH: Pre Cruise Rome Tour Video - 10 Great Reasons to book a tour by car in Rome with RomeCabs

Arriving in Rome the day before your cruise?
You can enjoy a short tour of Rome directly from the airport, and the following morning a Pre Cruise tour of your choice: a half-day tour of Rome and Transfer to Civitavecchia, or a half-day tour of the fabulous Roman Countryside and Transfer to Civitavecchia:
WATCH: Ostia Antica Pre Cruise Tour Video - 10 Great Reasons to Book a tour by Car in Rome with RomeCabs

WATCH: Pre Cruise Countryside Tour Vide0 - 10 Great Reasons to book a tour by car in Rome with RomeCabs

WATCH: Charming Lakeside Villages Pre-Cruise Tour Video
Staying in Rome for a night post-cruise?



We offer a variety of exciting Post Cruise Tour of Rome and the Countryside. We pick you up right by your ship, take you on a fun-filled day tour, and then deliver you and your luggage directly to your hotel at the conclusion of the tour.


WATCH our Post Cruise Rome in a Day Tour

The best part?
You squeeze in more fun sightseeing opportunities, no worries about transportation to / from the Airport or Civitavecchia Cruise Port, no worries about your luggage, no pre-planning and research required, and you don't overexert yourself before or after your cruise leaving you relaxed and happy prior to your cruise, or prior to your return journey home.
The great thing about post-cruise tours is that any Shore Excursion from Civitavecchia can be converted into a Post Cruise Tour. The only difference is that instead of going back to your ship, you will be taken to your hotel accommodation in Rome.
Thank you very much for choosing Stefano's RomeCabs for your transfers, day tours, and shore excursions in Rome and beyond. We look forward to welcoming you to Rome and showing you beautiful places in Italy!
Sincerely,
Stefano's RomeCabs Team