Buon giorno and welcome to Stefano's RomeCabs, Rome's premier company for private Rome Tours, Private Italy Tours, Shore Excursions from Civitavecchia, Livorno, La Spezia and Naples, as well as airport and Civitavecchia Transfers.
When people think of a private tour or shore excursion in Rome, they think of three main categories: Ancient Rome, the Vatican, and Rome's popular piazzas (squares).
PRIVATE ROME TOURS IN ENGLISH
Stefano's Rome Cabs and our sister company Stefano Rome Tours provide numerous tours in Rome to satisfy travelers' variety of interests and curiosities, in the comfort and privacy of your own vehicle driven by an English-speaking driver-guide.
You will visit more sites in one day and cover more areas than on foot or public transportation while avoiding the summer heat that makes walking long distances in Rome uncomfortable.
If you are looking for highlights of the best the Eternal City of Rome has to offer, the ever-popular Panoramic Rome tour and shore excursion aim to please. On this tour, you sample everything: Ancient Rome, Rome's most popular piazzas. Here are some other top Rome landmarks you can see in Rome.
ANCIENT ROME

Rome in A Day Tour allows you to explore the ins and outs of the world's most famous amphitheater and the iconic symbol of Rome: the Colosseum.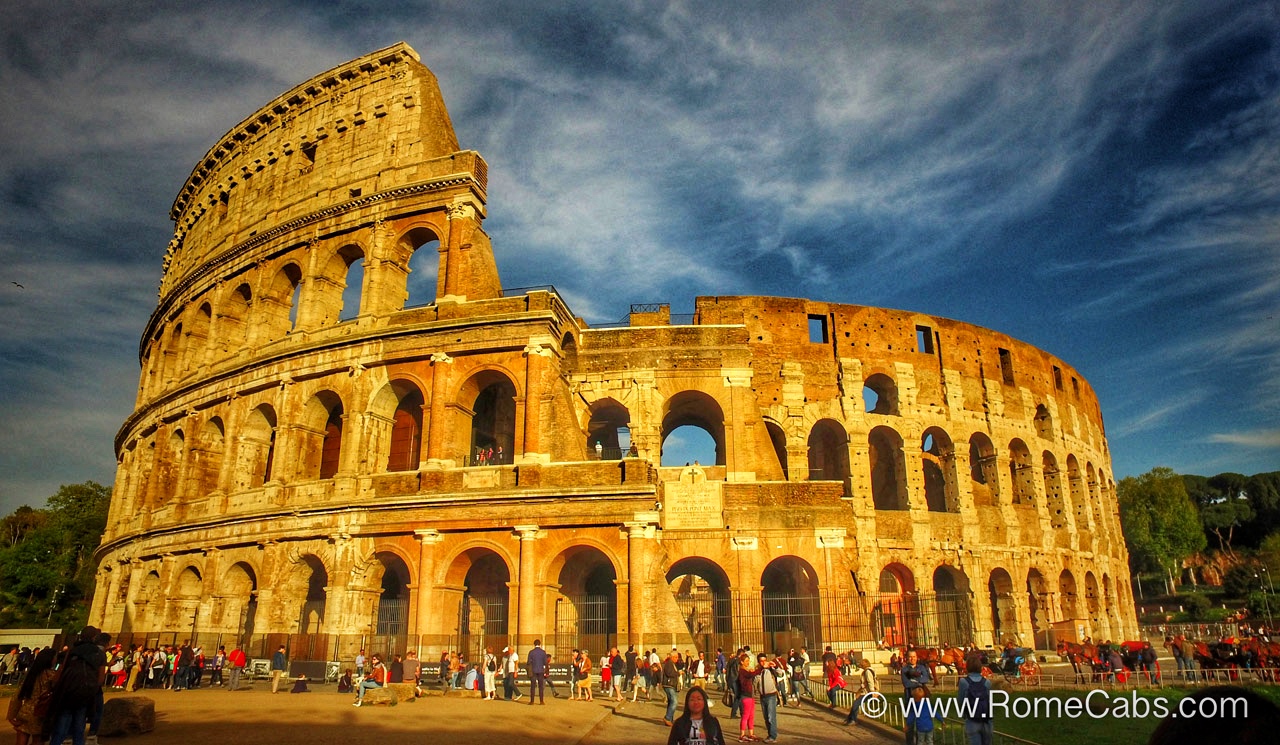 Even though its once glorious facade has been damaged by earthquakes and the elements of time, and quarried and used as a building material for many construction projects in Rome throughout the centuries, the Colosseum continues to stand erect and proud and invite millions of visitors each year to see where 2,000 years ago impressive gladiatorial games and other spectacled entertained more than 50,000 of Rome's ancient population.
The Circus Maximus nearby is a testament to ancient Rome's passion for live sporting events, and you can still see the outline of this once formidable arena for chariot races and other combative sports.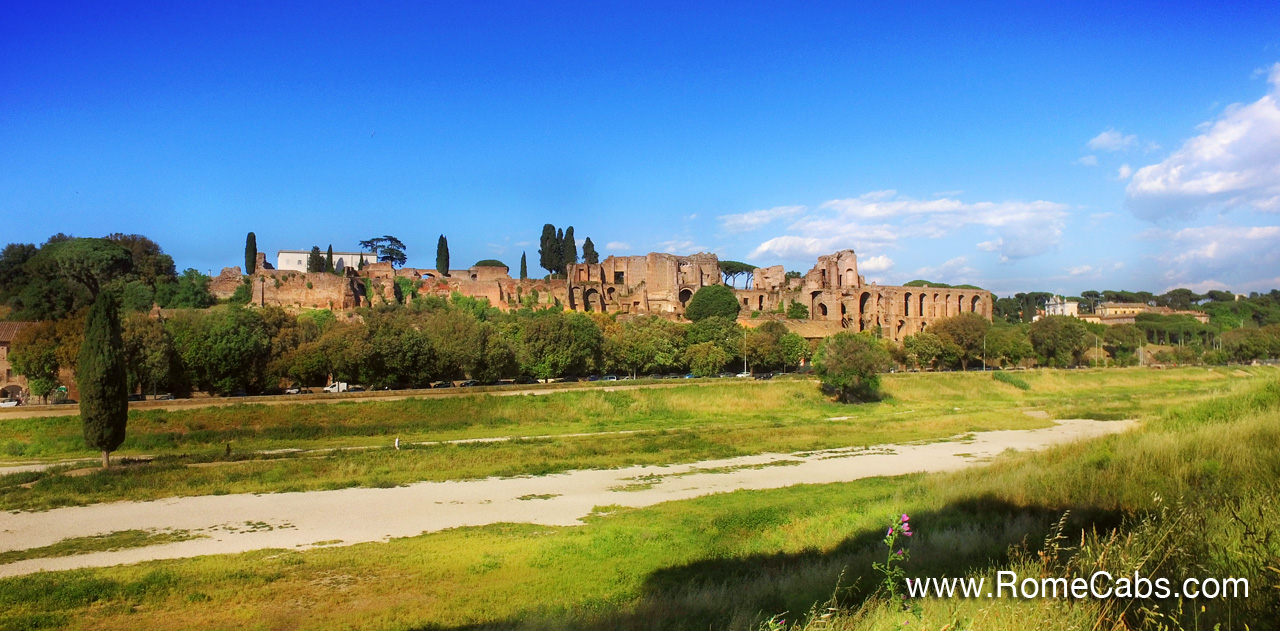 The Roman Forum was once the navel of the once-great city of Rome, and it served as the political, financial, legal, and religious center of the Roman Empire.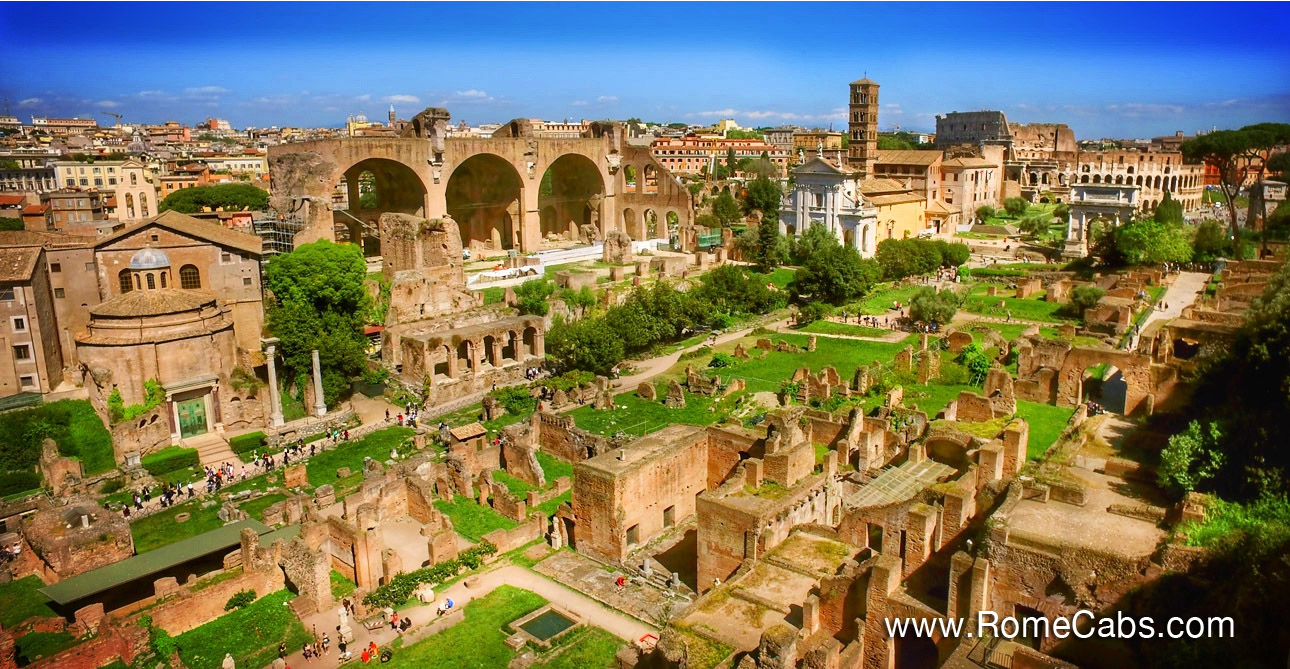 The Pantheon's unique architecture of its famous dome has inspired architects throughout history and can be seen utilized in many domes from the Renaissance era to modern.
The Pantheon's claim to fame is that it's among the best-preserved ancient monuments of its time and the longest in continuous use. What saved this ancient pagan temple dedicated to all gods from being destroyed was its conversion to a Christian church by the name of St Mary of the Martyrs in the 7th century AD. Inside you'll discover tombs of Italy's most illustrious: King Vittorio Emanuelle II, King Umberto I and his Queen Margherita, and the ever-famous artist, Raphael.
Tips for visiting Ancient Rome:

* In the summer bring a bottle of water and wear sunglasses, a hat to protect your head and face, and sunscreen when outdoors and inside the Colosseum.
* If it happens to rain on your tour, watch the rainfall gracefully through the open oculus of the Pantheon and onto the marble floor, and into the underground drainage system.
ROME'S FAMOUS SQUARES

Stepping out of Ancient Rome and into exciting lively piazzas allows for a taste of La Dolce Vita.

On the Spanish Steps, you can enjoy its elegant curved stairs.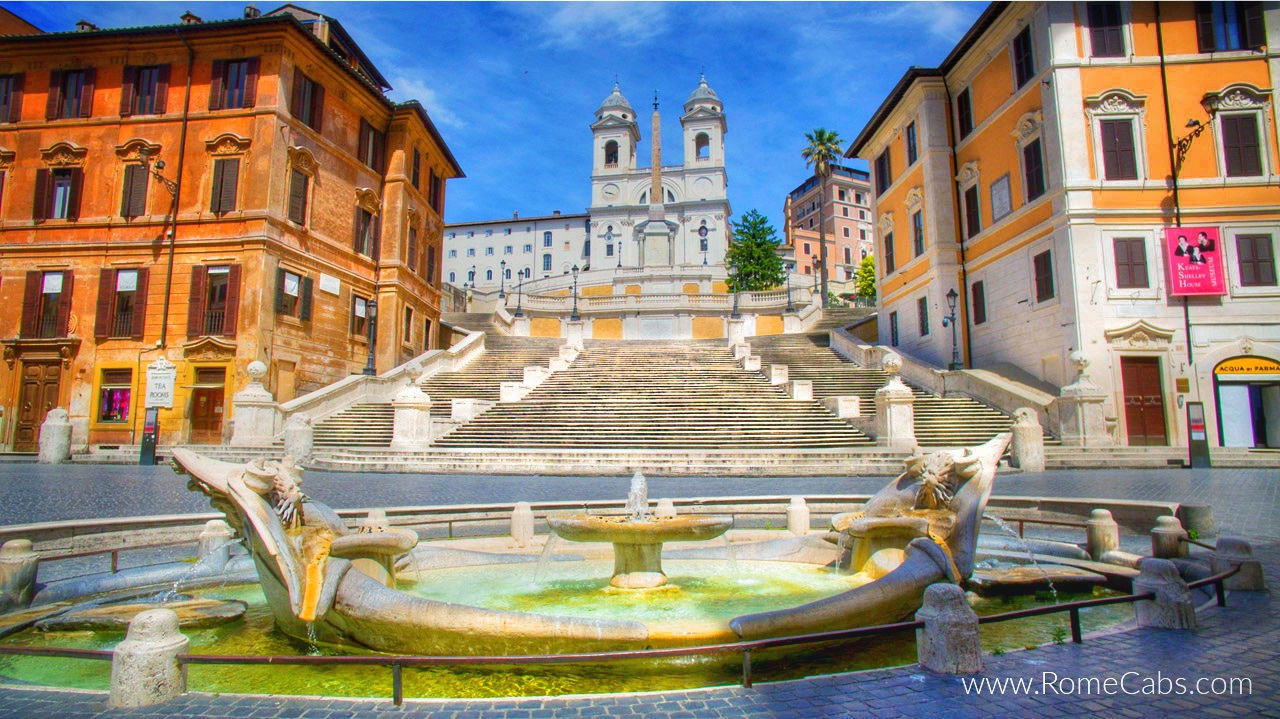 And don't forget to throw a coin in the Trevi Fountain!
Legend has it if you throw one coin you will be granted another visit to Rome, two coins you will have a romantic interlude in Rome, and three coins a marriage proposal.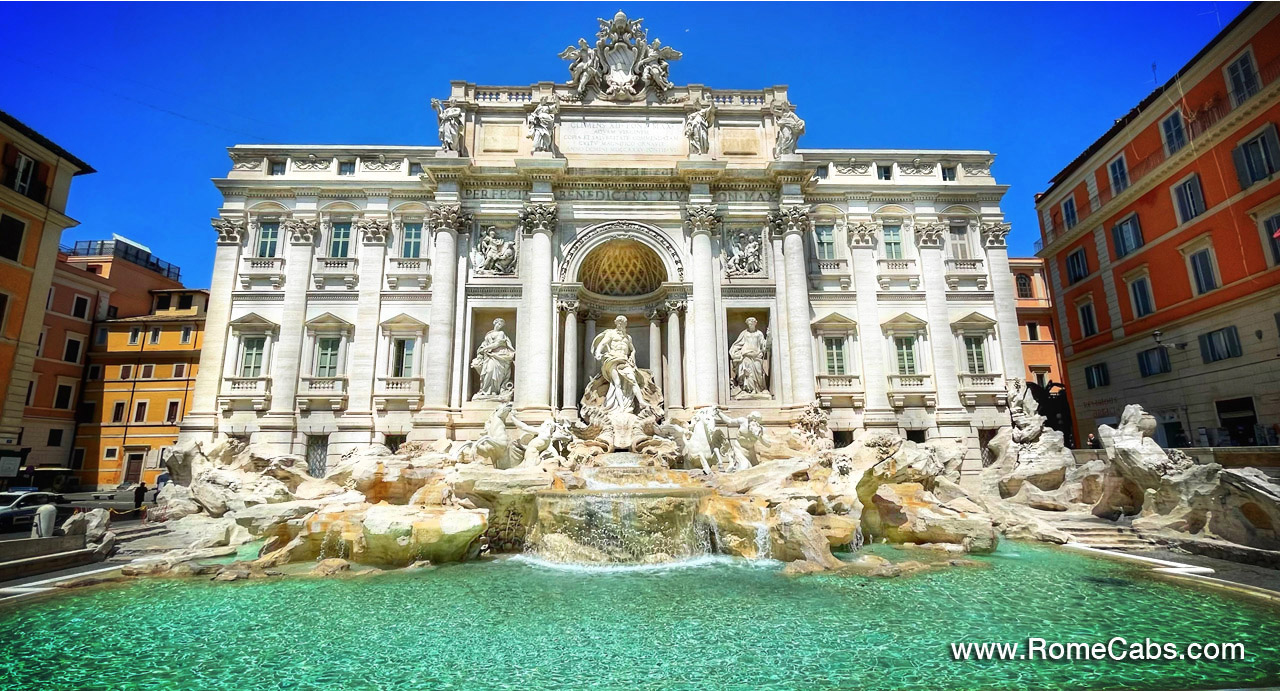 You will see many people throwing coins and having their photos taken of that precise moment for posterity. Does it work? Well, all of our returning guests have told us it does.
Tips for visiting Rome's famous piazzas:
The areas near the Trevi Fountain and Spanish Steps are often very crowded, especially during the peak travel months, so always be aware of your surroundings and keep your personal belongings close to you to avoid being targeted by pickpockets.
Do not accept 'gifts' from street vendors approaching tourists. They may offer you roses or other gifts, but if choose you to accept, you will be expected to pay or give a tip to them.
THE VATICAN


When visiting the Vatican you literally step out of Italy and cross the border into another country. The world's smallest country, that is. You'll be going into Vatican City.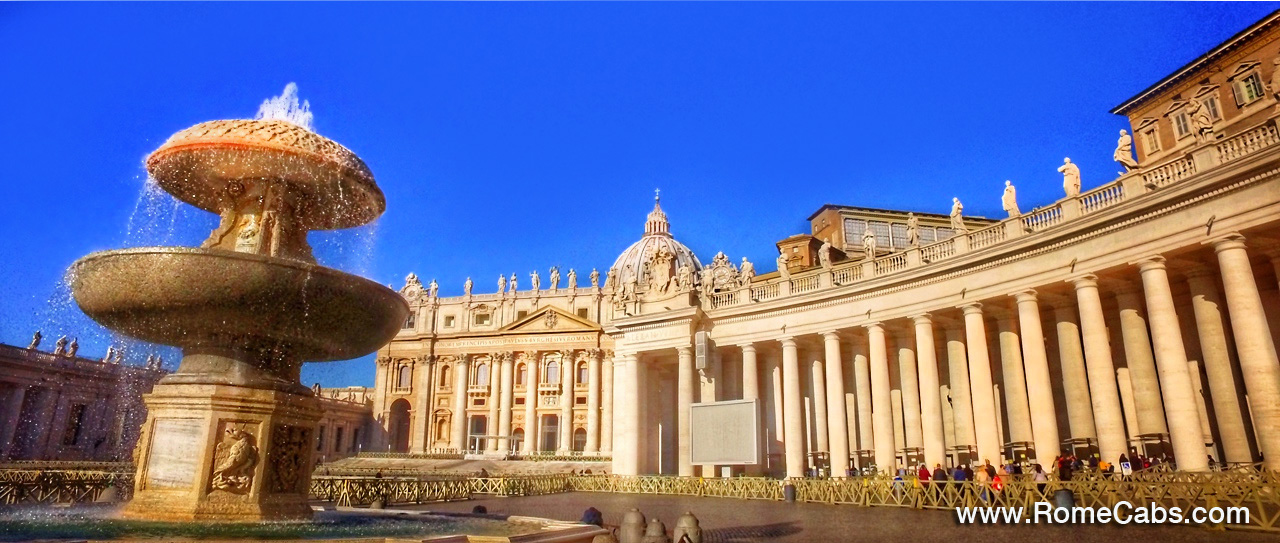 Your visit will comprise of a visit to one of the world's greatest museums, the Vatican Museums, where you can admire priceless works of art from paintings to sculptures, tapestries, mosaics, and the splendor of murals that cover ceilings and walls. When you consider the marble floors, there is not a single spot in all of the halls and galleries that make up the museum that hasn't been stunningly adorned.
Your next stop will be the sacred Sistine Chapel where popes are elected. But that's not the reason why millions of people visit each year: it houses the most famous frescoes in the world: Michelangelo's Sistine Ceiling and the Last Judgment.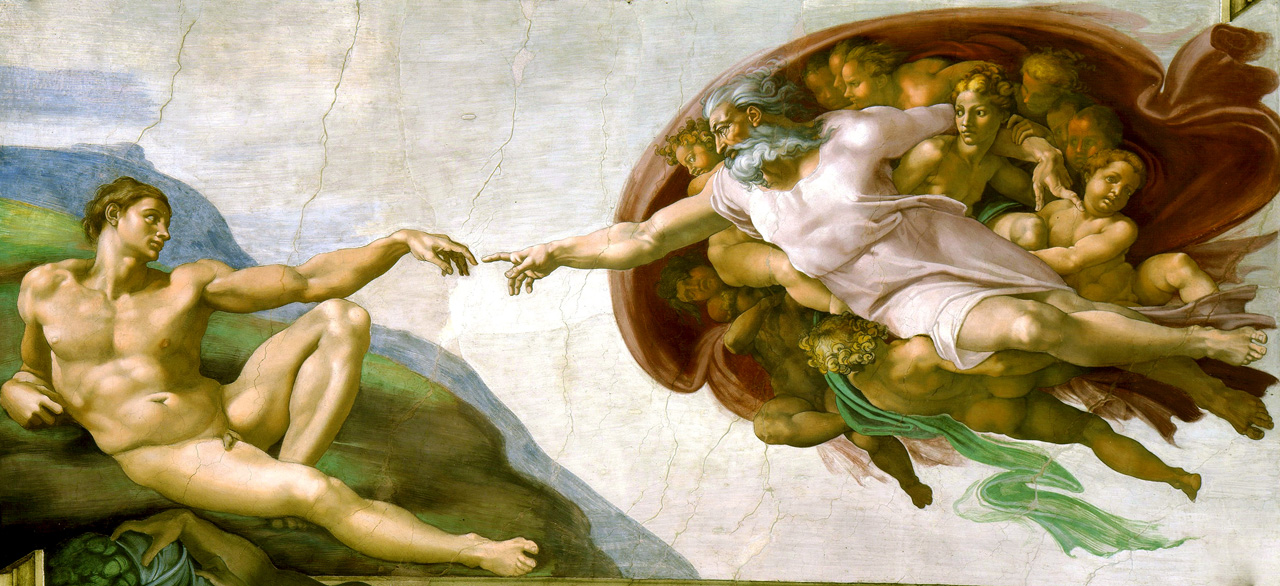 The final stop will be the greatest church in Christendom, St Peter's Basilica. Originally built by Emperor Constantine in the 4th century on the site where Peter was martyred and his tomb was believed to have existed, it was then re-built by Pope Julius II in the 1600s with the help of Great Masters such as Michelangelo, Bramante, Giacomo della Porta, and Bernini into the glorious and awe-inspiring church we see today.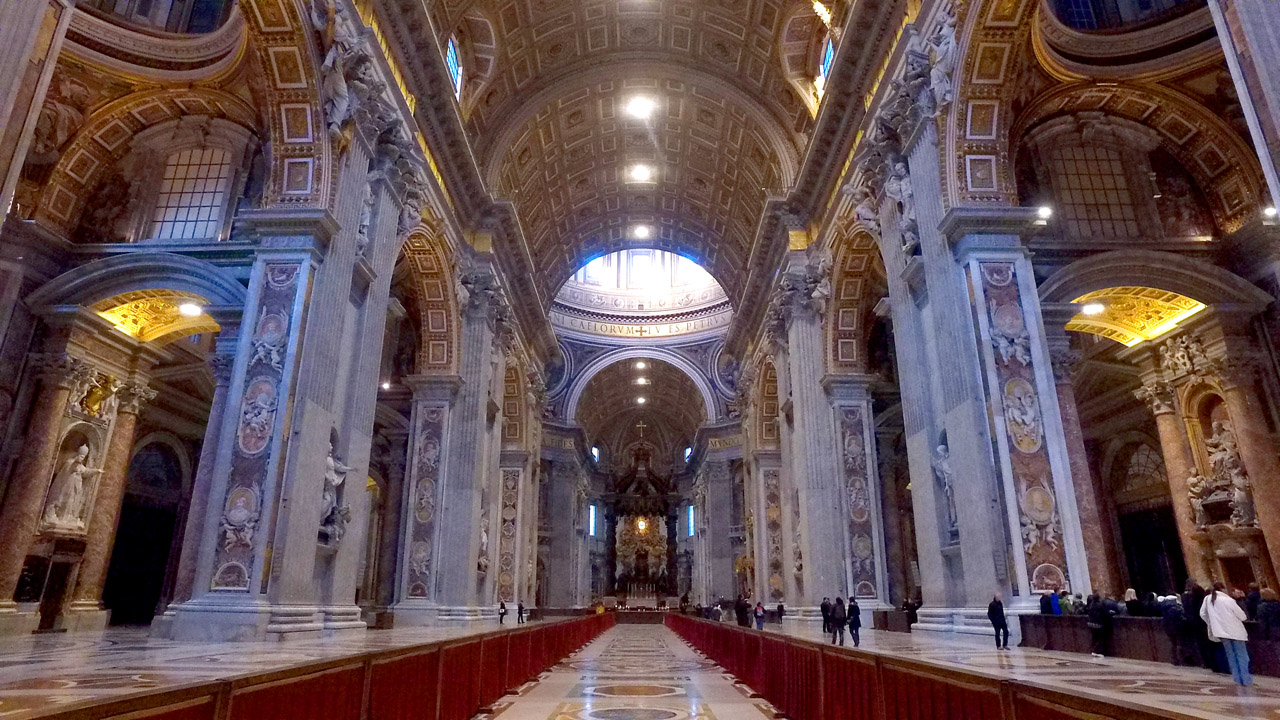 On your visit, you will have the opportunity to admire among many things Bernini's bronze Baldacchino that stands above the altar and below the dome, and Michelangelo's famous sculpture the Pieta.


Tips for visiting the Vatican:
There is no dress code enforced for visiting the Vatican Museums, but there is a modesty dress code enforced to enter the Sistine Chapel and St Peter's Basilica.
So be sure to have your shoulders and knees covered on this tour.
Capri pants, skirts, and shorts that cover the knees are allowed.
Ladies can cover their shoulders with shawls or scarves in the summer if you plan to wear sleeveless tops.
Failure to follow these modesty dress codes will render you unable to enter the Sistine Chapel and St Peter's Basilica.
Photography and videography are allowed throughout Vatican Museums, except in sensitive areas where flash photography is not permitted.
You may use flash photography and videography freely inside St Peter's Basilica because the paintings are actually mosaics that are not affected by light and flash cameras.
Photography and videography are strictly forbidden inside the Sistine Chapel, and silence is enforced.
Private Guided Tour of the Vatican with a Licensed Tour Guide:

To get the most out of your visit to Vatican City, we strongly suggest utilizing a professional tour guide for your visit as he or she will provide valuable information on the most significant works of art in the museum and St Peter's Basilica, many of which you may actually miss without guidance.
The Vatican Museums is among the three largest museums in the world with an expansive network of labyrinthine galleries and halls that can be very confusing to a first-time visitor. It is also only accompanied by a licensed tour guide that you may benefit from the convenient and time-saving shortcut from the Sistine Chapel to St Peter's Basilica.
For more information on this Rome in A Day Tour and Shore Excursion, and more exciting tours and shore excursions, please visit our website or our sister company Stefano Rome Tours. We will be very happy to assist you in transforming your visit to Italy into the vacation of a lifetime!


While in Rome, consider fun-filled day trips from Rome! Delight in the Italian Countryside on our COUNTRYSIDE SPLENDOR or TIVOLI TOUR from Rome, enjoy exploring ORVIETO for a day, or venture to southern Italy on a day trip to POMPEII AND SORRENTO or HERCULANEUM, SORRENTO and POSITANO on Amalfi Coast.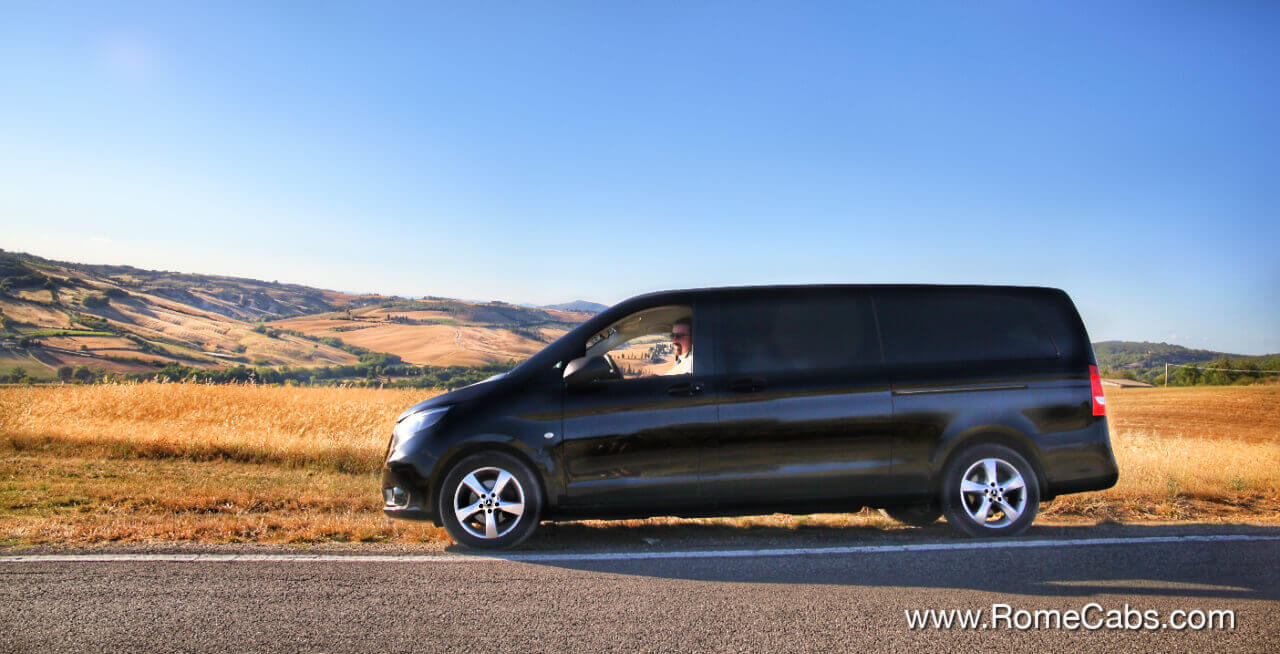 YOUR PRIVATE ITALY TRANSFERS


In addition to offering a more luxurious alternative to Rome taxi services from the airport to Rome, and Transfers from Civitavecchia Port, we also offer private long-distance transportation services in Italy.
We offer car service from Rome to Florence, as well as private transfer from Florence to Rome or from Florence to Rome Airport.
If you are staying in Capri, we offer car service from Rome to Naples Port from where you may catch the ferry to Capri. If you will be vacationing on the Amalfi Coast, we also offer private transfers from Rome to Amalfi Coast, or from Rome to Sorrento.
If your Italy vacation takes you to Tuscany, you can count on our Roma limousine car service to take you on a private transfer from Rome to Siena, Rome to Cortona, Rome to Montepulciano, Rome to Montalcino, and anywhere in Tuscany.
If you prefer a luxurious and relaxing sojourn at the thermal baths of Saturnia, we also offer car service from Rome to Terme di Saturnia resort.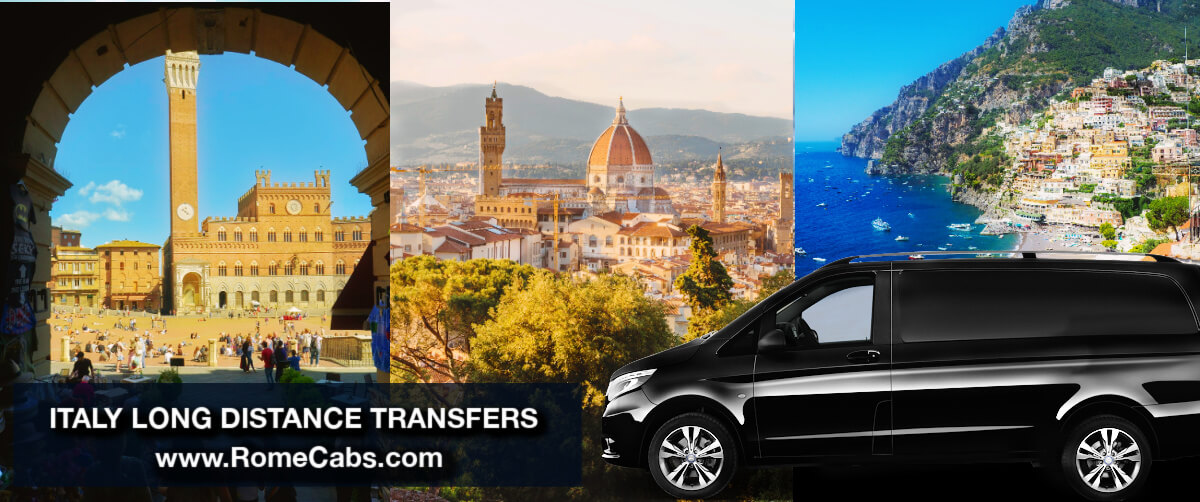 If you are short on time and wish to maximize your sightseeing opportunities, you can turn your Italy Long Distance Transfers into exciting day trip adventures on our Italy Sightseeing Transfers between Rome and Florence, Sorrento, and Amalfi Coast. Explore the ruins of Pompeii from Rome to Sorrento or Amalfi Coast, or visit Siena and San Gimignano, Orvieto, or Assisi from Rome on your way to Florence. Your Rome chauffeur is always there for you!
For more photos of our tours in Rome and beyond, please visit our Flickr Photo Gallery.
For more videos of our tours in Rome and beyond, please visit our YouTube Channel.
We look forward to seeing you soon in Rome!
~ The Rome Cabs Team
Find us online also on: