Buongiorno and welcome to Stefano's RomeCabs, Rome's top-rated company for transfers in Italy.
When planning a cruise departing from Civitavecchia Port, one of the key considerations is how to get from Rome to the port efficiently, timely, and comfortably.
Civitavecchia Port is the primary gateway to the Mediterranean, serving as the embarkation point for countless cruise ships. To ensure a smooth start to your cruise vacation, choosing the best transfer from Rome to Civitavecchia Port is essential.
Consider your options for getting from Rome to Civitavecchia:


In this blog, we will explore five transportation choices for traveling from Rome to Civitavecchia, providing you with various options to consider:


Option 1: Train - A Budget-Friendly choice with constraints


Option 2: Cruise Line Transfers - Streamlined, but with certain conditions


Option 3: Shared Shuttle - Cost-Efficient with caveats


Option 4: Taxi - Convenient, but consider limitations


Option 5: Private Transfer Service - The Ultimate in convenience and personalization
Let's Discover the Best Transfer
from Rome to Civitavecchia Port
Option 1: Train - Budget-Friendly with Limits


Taking the train from Rome to Civitavecchia may initially appear as a budget-friendly option, and indeed, it does have some advantages:


Affordability of taking the train from Rome to Civitavecchia
Train tickets are typically more budget-friendly than private transfers, making them an appealing choice for travelers looking to save on transportation costs.


Trains run on regular schedules between Rome and Civitavecchia, offering flexibility in selecting your preferred departure time.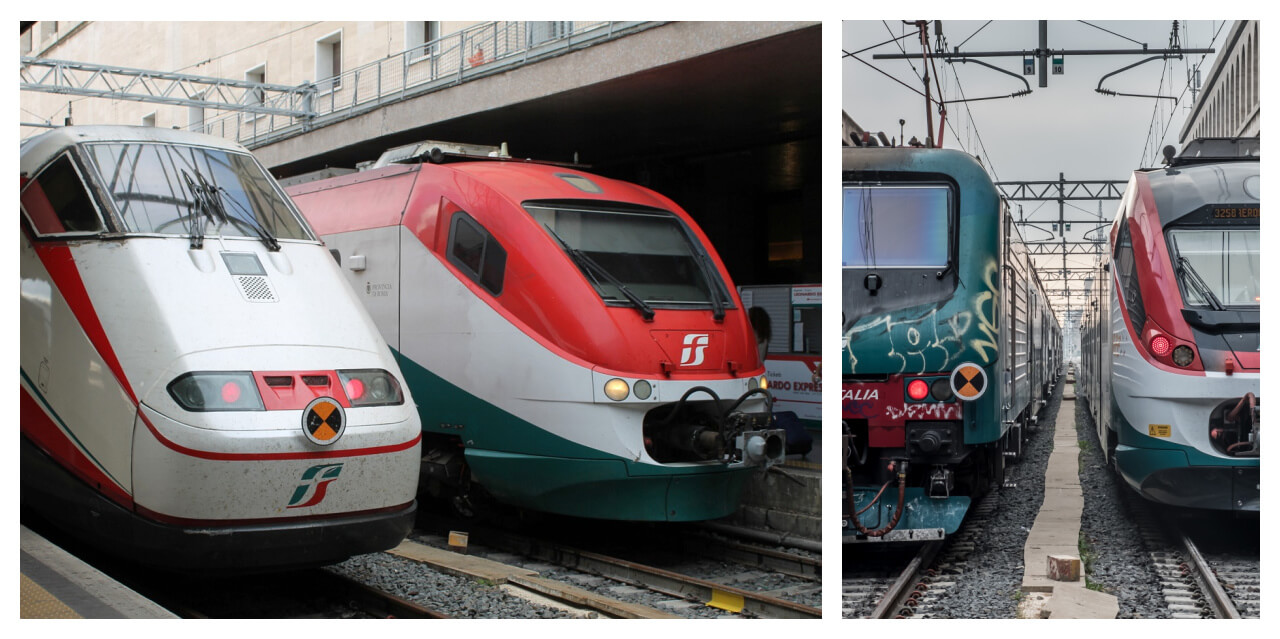 However, it's crucial to consider several significant factors when opting for the train as your mode of transportation from Rome to Civitavecchia:


Additional Transportation Hurdles:
To arrive at the train station (mainly Termini Station), you would need to make your way to the train station, depending on how far your hotel or accommodation in Rome is.
Extensive walking within train stations and navigating stairs at Civitavecchia Train Station can be particularly cumbersome for passengers with luggage or reduced mobility.
Once you arrive at Civitavecchia Train Station, you'll still face the challenge of reaching the cruise terminal. Namely, Civitavecchia Train Station lacks elevators or escalators.
Depending on the train track your arrival platform is situated on, you may find yourself descending a flight of stairs to traverse the underground train track area, followed by climbing another flight of stairs to exit the station. All of this must be accomplished while lugging your luggage along, which can add a layer of inconvenience to your journey.

Once you exit the train station in Civitavecchia, you can either walk 20-30 minutes to the port gate, carrying your luggage with you or rely on further public transportation options within Civitavecchia, such as buses, followed by a port shuttle that stops at various cruise ships inside the port.
When using buses and shuttles, you'll also need to handle your luggage.
These additional steps may not be convenient, especially if you're short on time, traveling with family, carrying substantial luggage, or if you have senior travelers or individuals with limited mobility in your group.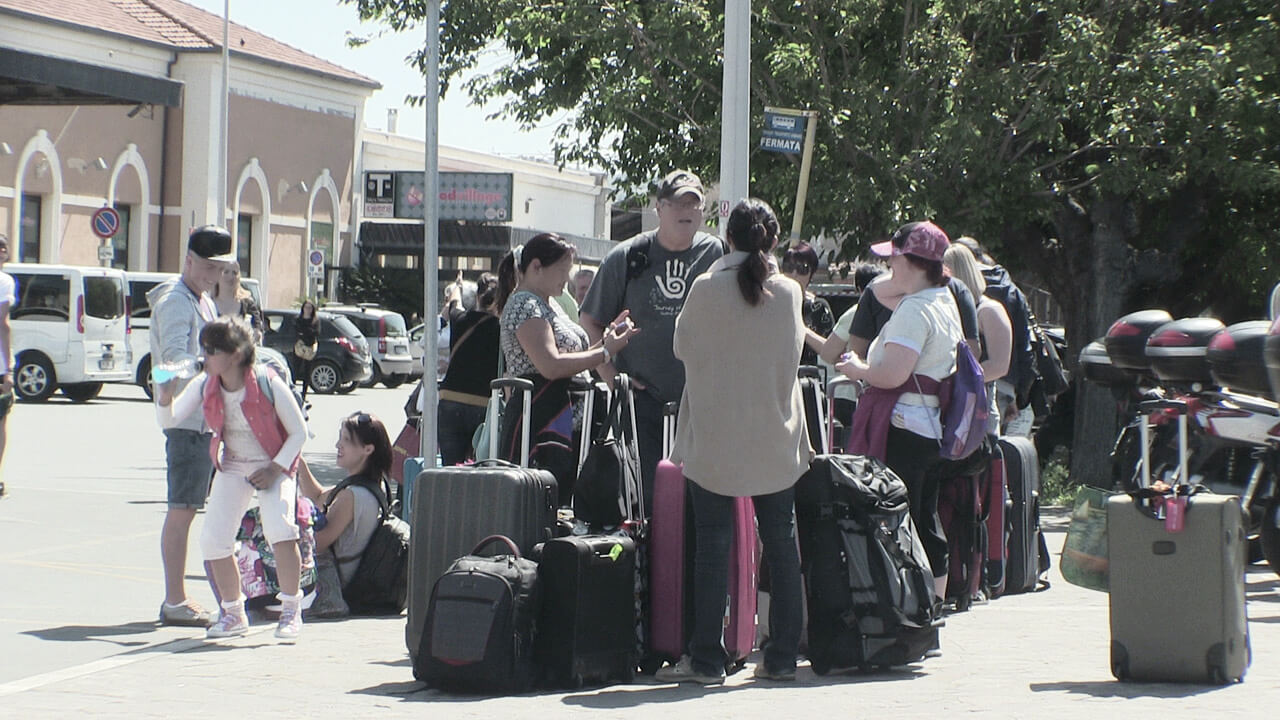 Train Travel "Hidden Cost" of Lost Time


Certainly, while the train ride from Rome to Civitavecchia takes about 1.5 hours, it's important to consider the "hidden costs" in terms of time.
First, reaching Termini Train Station in Rome from your hotel requires additional time, whether by walking, taxi, bus, metro, or tram. Depending on your hotel's distance from Termini, allocate 15 to 30 minutes or more for transportation.
Arriving at Termini Station at least 30 minutes before your train departure is advisable to purchase tickets and reach the train track for the regional train to Civitavecchia. The regional train platform is typically situated quite far within Termini, approximately 400-500 meters away, necessitating several minutes of walking.

This additional hour should be considered adding to your overall train travel even before reaching Civitavecchia.
Upon arrival at the Civitavecchia Train Station, you'll need to reach the port gate either by bus or on foot. Once at the Port Gate, you'll await the port shuttle bus to make its rounds to the ships inside the cruise port. You can expect to add approximately 40 minutes to this leg of your journey.
While the actual train ride duration rivals that of driving from Rome to your ship, the extra time required both before and after your train ride can potentially double your overall travel time, leading to an unforeseen delay in reaching your ship. Instead of the usual 75-90 minutes it takes by car, the train option might extend your journey to up to around 3.5 hours.

Limited Schedule and Transportation Strikes in Italy:


Regional trains tend to have limited schedules on Sundays, on national holidays, and in August when many Italians take their annual summer vacation. Hence, you may expect fewer trains with limited schedules.
It's important to be aware that transportation strikes in Italy occur several times a year, impacting train services to and from Civitavecchia. Italy Train strikes ruined the cruise for thousands of cruisers as strikes can disrupt travel plans, leaving cruisers in a challenging situation when trying to reach their ships on time.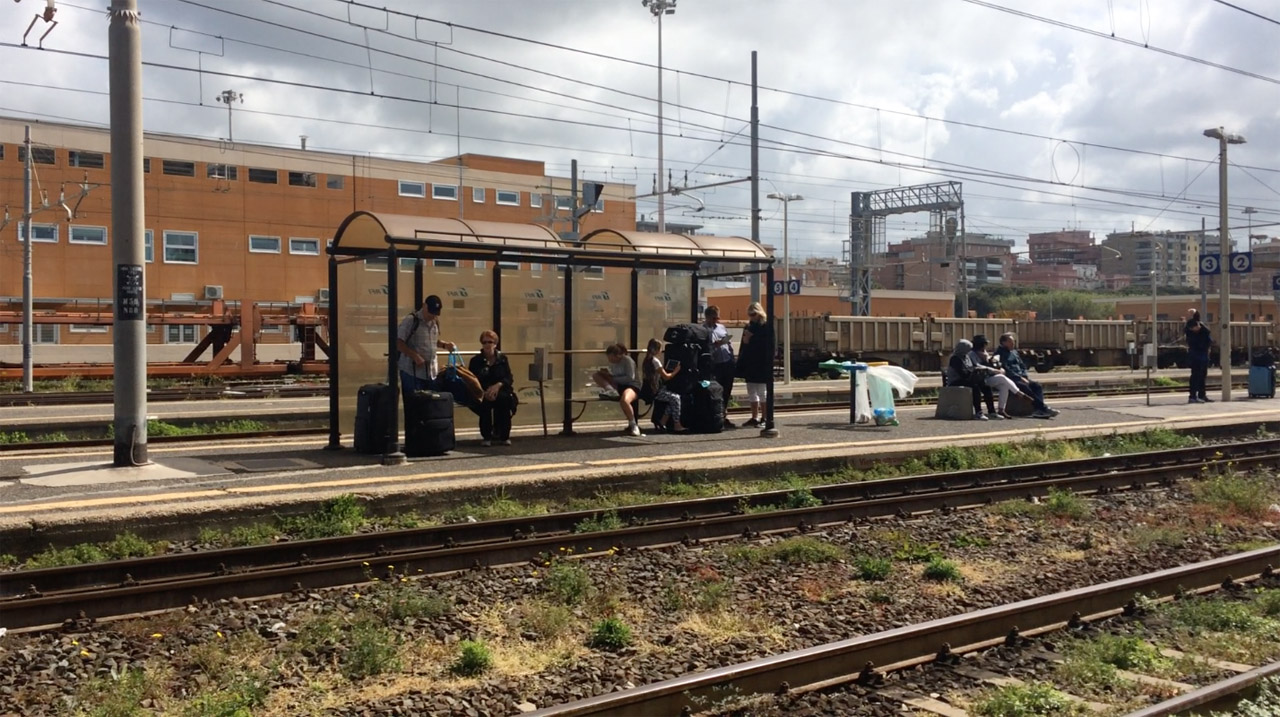 Trains are not be suitable from Rome Airport to Civitavecchia

If you are flying into Rome's Airport in Fiumicino and thinking about taking the train to Civitavecchia, there are certain inconveniences to consider: Taking the train from Fiumicino Airport (FCO) to Civitavecchia is not a straightforward option, primarily due to the lack of direct train routes from the airport to Civitavecchia.
Cruisers would first need to reach Rome's Termini Station, which can be challenging when carrying luggage, as train compartments have limited space for large bags. And from there, it's the same scenario as taking a train from Rome to Civitavecchia.
Option 2: Cruise Line Transfer - Streamlined but Limited


Cruise lines often provide their coach bus transfer services for cruisers traveling from designated points in Rome to the Civitavecchia cruise terminal. While these transfers can be straightforward, there are important factors to keep in mind:


Cruise line transfers offer a way to get from Rome to the cruise terminal, particularly if you've booked your cruise directly with the line. They typically include services such as baggage handling.


Another advantage of cruise line transfers is that you'll likely be accompanied by cruise staff throughout the journey.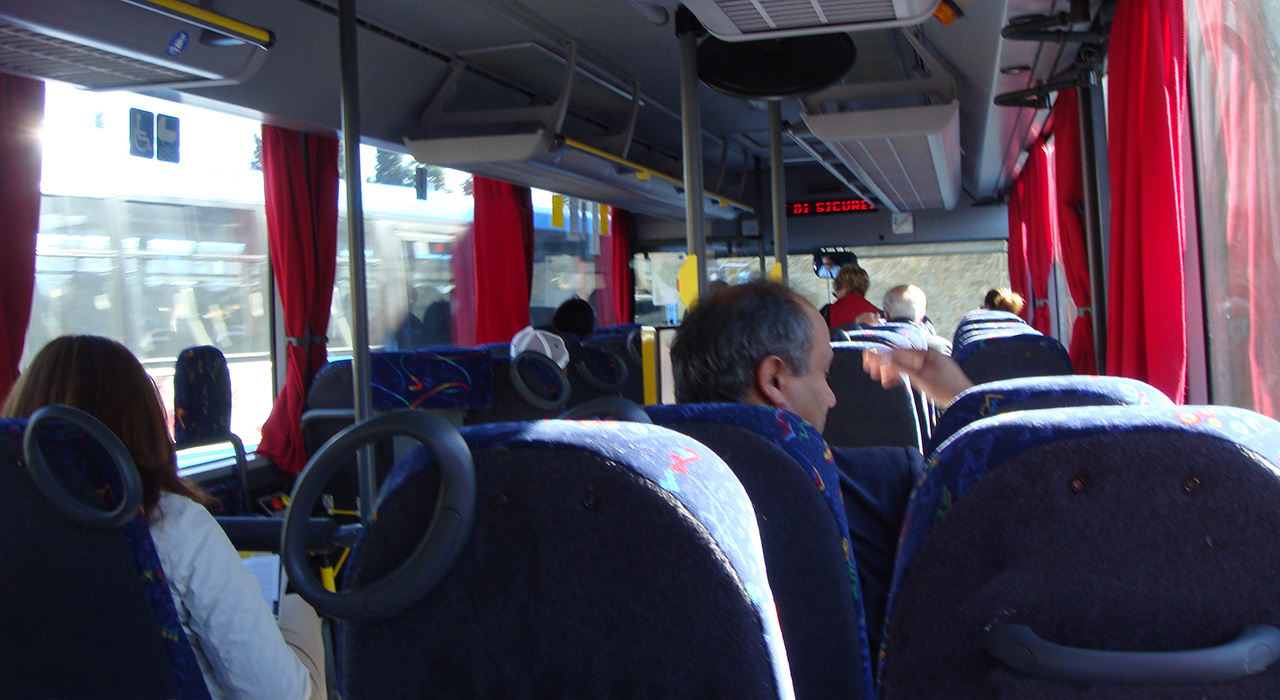 However, it's crucial to be aware of some limitations associated with cruise line transfers:


Limited and Specific Bus Schedules:
Cruise line transfers often operate on fixed schedules that must be adhered to. This means you'll need to plan your departure according to the specified transfer time, leaving little room for flexibility. Missing the scheduled transfer can result in delays and having to struggle to find an alternate way to get to the cruise ship without advance research.


Limited Pick-Up Locations:
Cruise line transfers usually have designated pick-up points, often at major transportation hubs like Termini Station or other train stations.
While these locations are convenient for some travelers, they may pose challenges for others.
Travelers with a significant amount of luggage, mobility issues, or uncertainties about navigating Rome's public transportation or taxis to reach the designated pick-up point might find this option less suitable.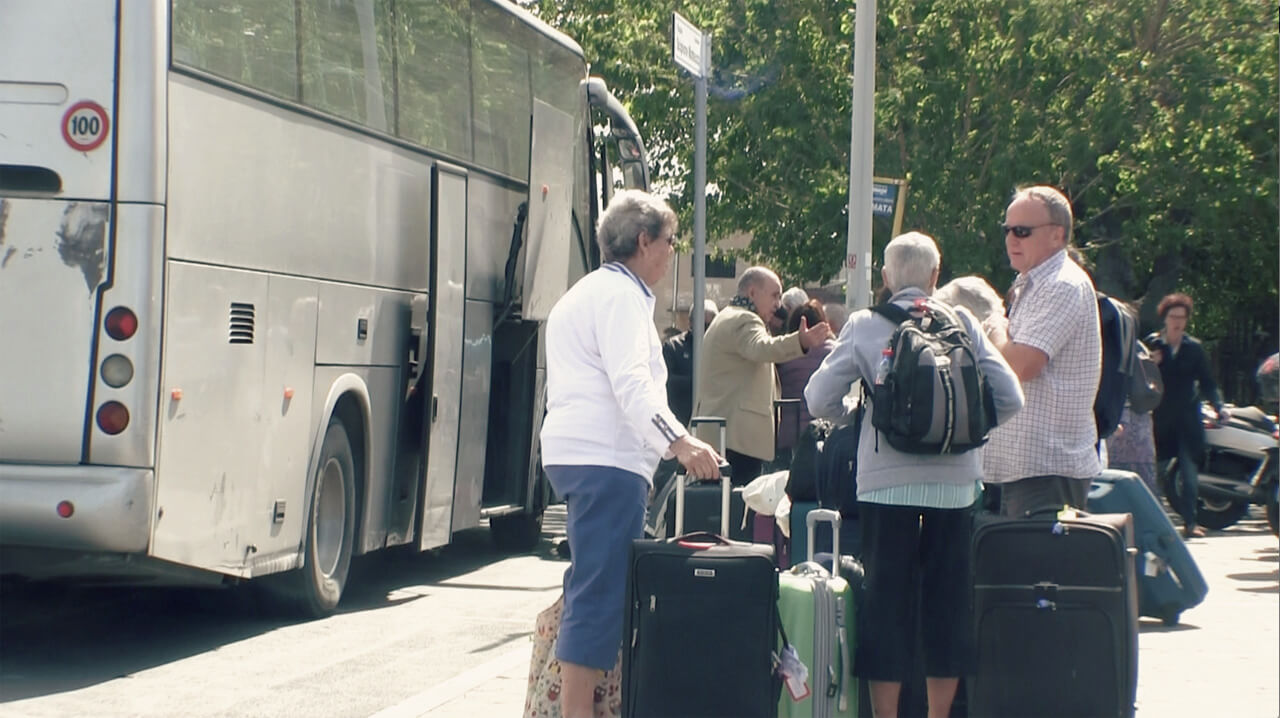 It's worth noting that cruise line transfers can be relatively expensive per person, especially when compared to private transfers.
Cruisers have mentioned in the past they were charged the equivalent to 100 Euros Per Person, which for a couple cruising together that would add to a whopping 200 Euros. For a private transfer, this would be the price for a family or group of 5 or 6 traveling together.
These high costs do not always align with the level of convenience provided, particularly as cruise line transfers do not offer door-to-door service or the same level of efficiency and convenience as private transfers.
Option 3: Taxi - Convenient, But Consider Limitations



Taxis in Rome are easily recognizable by their white marked vehicles, complete with official badges recognized by the city as authentic taxis. Here are some important considerations when opting for a taxi:


Taxis are a go-to choice for cruisers who haven't yet made transportation arrangements or if you need a quick way to get to the cruise port should their original plans fall through.
Taxis can be found at official Taxi Ranks scattered throughout Rome, or you can request a Taxi by phone and have it dispatched to your location. Alternatively, your hotel can assist in calling a taxi for you, ensuring a hassle-free experience.


Taxis have a fixed rate from Rome to Civitavecchia, but it's important to confirm the fare with the driver before starting your journey to avoid any surprises.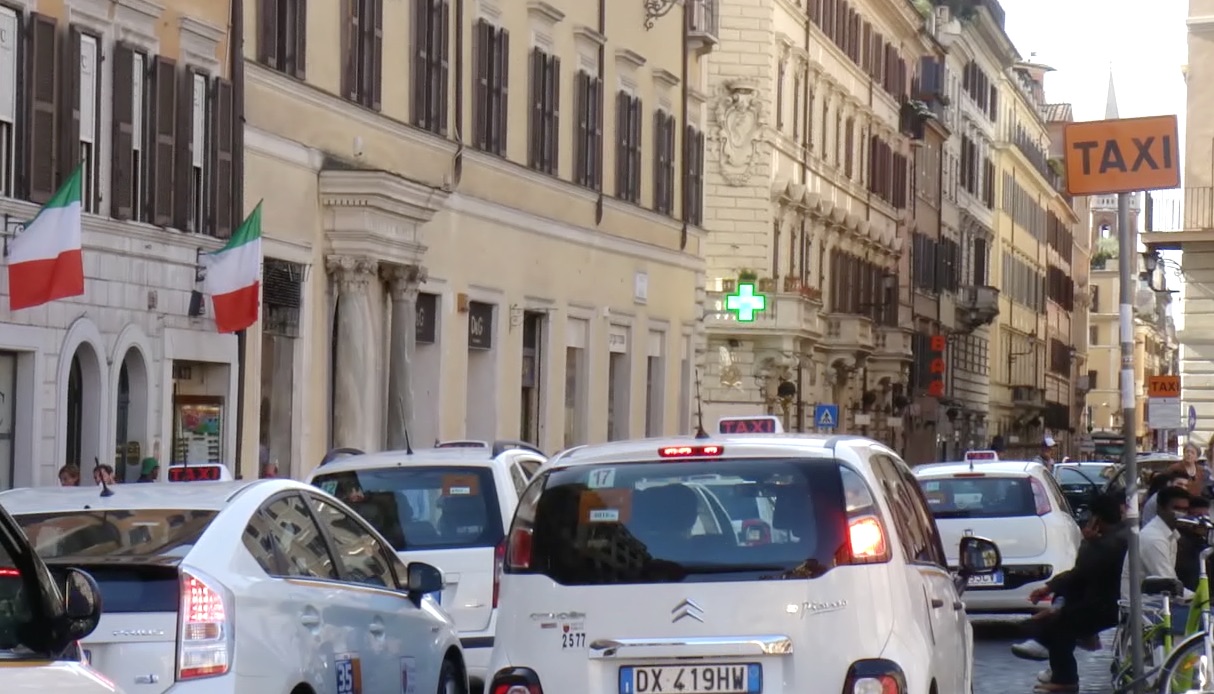 However, it's essential to be aware of certain limitations associated with taking a taxi from Rome to Civitavecchia:


Limited Passenger and Luggage Space:
Most Rome taxis are small economy cars designed to accommodate up to 3-4 passengers with limited luggage space. This may not be suitable for larger families or travelers with extra luggage.


For families traveling with small children that require child safety seats, it's important to know that Taxis do not provide them.


Possibly NO access into the Port with a Rome Taxi:
Most Rome Taxis do not have security clearance to access the interior of the port to drop off passengers by their ships.
Consequently, passengers will be dropped off at the main gate of Civitavecchia Port. From there, passengers must navigate their way to the cruise ship, typically by locating and boarding a port shuttle bus. This additional step can extend the overall travel time and add some logistical complexity to your journey.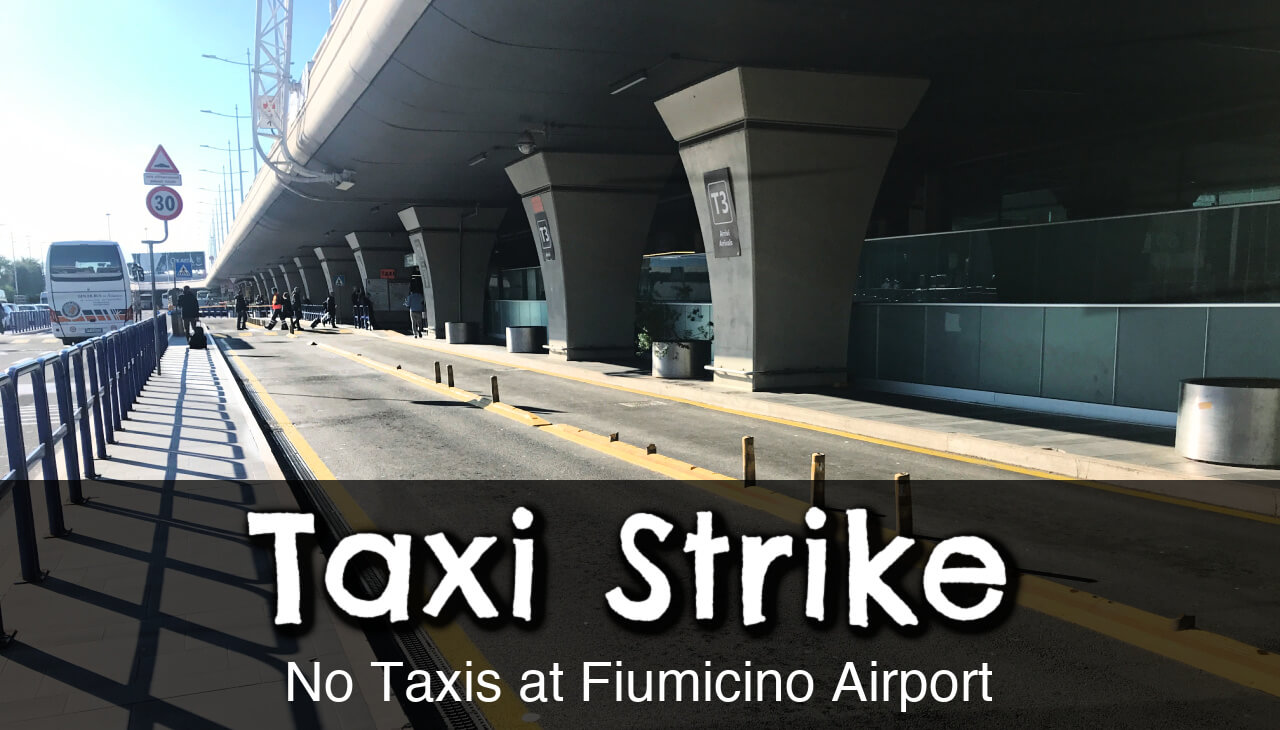 Taxi availability can be unpredictable, especially during peak travel months in the summer or during transportation strikes when both locals and tourists are more likely to rely on taxis for transportation in Rome. Finding an available taxi may be challenging in such circumstances.
Also, it has been known from time to time even Taxis go on strike leaving travelers and cruisers with one less option to get from Rome to Civitavecchia.

Option 4: Shared Shuttle - Cost-Efficient with Considerations
For travelers seeking a budget-friendly option when traveling from Rome to Civitavecchia Port, shared shuttles can be a practical choice. However, it's essential to consider both the advantages and limitations of this option:


Shared shuttles are generally more budget-friendly compared to private transfers, making them an attractive option for budget-conscious travelers, especially when part of a larger group.


If you're journeying with a group of fellow travelers, shared shuttles allow you to stick together during the transfer, ensuring everyone arrives at the port simultaneously.

However, it's essential to be aware of the following considerations when opting for shared shuttles:


Lack of Predictable Pick-Up Times:
Shared shuttle transfers may not provide you with control over your pick-up time. Your departure and transfer duration can depend on other passengers' pick-up stops and unforeseen delays caused by various factors.


Luggage Space Constraints:
Shared shuttles have limited luggage space, and if multiple passengers bring an abundance of luggage, it may not all fit comfortably within the vehicle. This can lead to a cramped and less comfortable journey, particularly if you are traveling with extra baggage.


Multiple Stops and Longer Travel Times:
Shared shuttles often involve multiple stops to pick up passengers, potentially extending the overall travel time compared to private transfers. These stops can add to the duration of your journey and may not be ideal if you're looking for a swift and direct transfer.


Not suitable for travelers who prefer privacy
Shared Transfers may not be suitable for travelers who value their privacy and private space. Shuttle vans are often filled to the capacity to maximize profits, and with seats small and limited personal space inside the vehicles, it can seem pretty crammed inside.
What is the Best Transfer from Rome to Civitavecchia Port?
Option 5: Private Car Service - Convenience and Personalization
For travelers who appreciate efficiency, comfort, and a tailor-made experience, a private car transfer is the ultimate choice when heading from Rome to Civitavecchia Port. Here's why it stands out: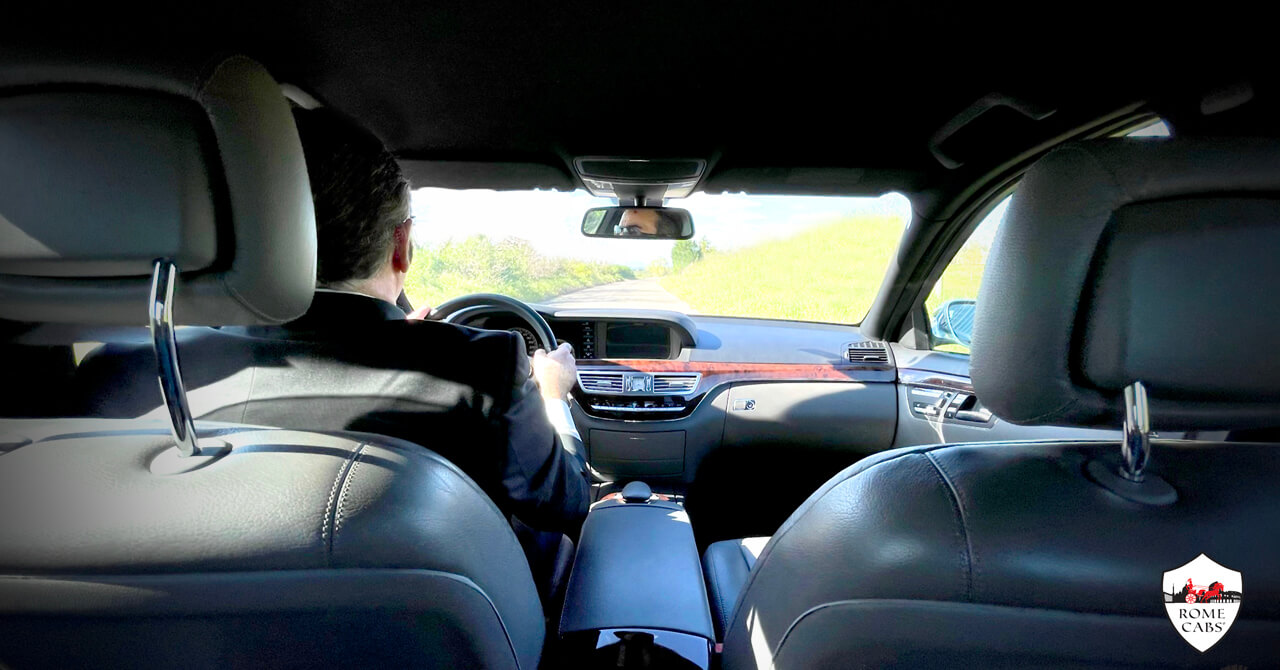 Efficiency Beyond Compare:


Private car services redefine the concept of efficiency. With door-to-door service, you won't need to worry about dragging your luggage through crowded streets or navigating complex public transportation systems.
Instead, your journey begins at your accommodation in Rome and concludes with a seamless drop-off right on the pier next to your cruise ship at Civitavecchia Port. It's a hassle-free experience that allows you to focus on enjoying your cruise from the very beginning.
Swift Rome Port Transfer Without Unnecessary Delays:


One of the hallmark features of private car transfers is their swift and direct nature.
Unlike shared shuttle services, private transfers don't make multiple stops to pick up other passengers around Rome. Your journey is streamlined and optimized for your convenience, ensuring you reach your destination swiftly without any unnecessary detours.
Cruisers also have the option to create their own privately shared Civitavecchia Port Transfers to benefit from both the lower costs of transfer sharing and the benefits of a private transfer.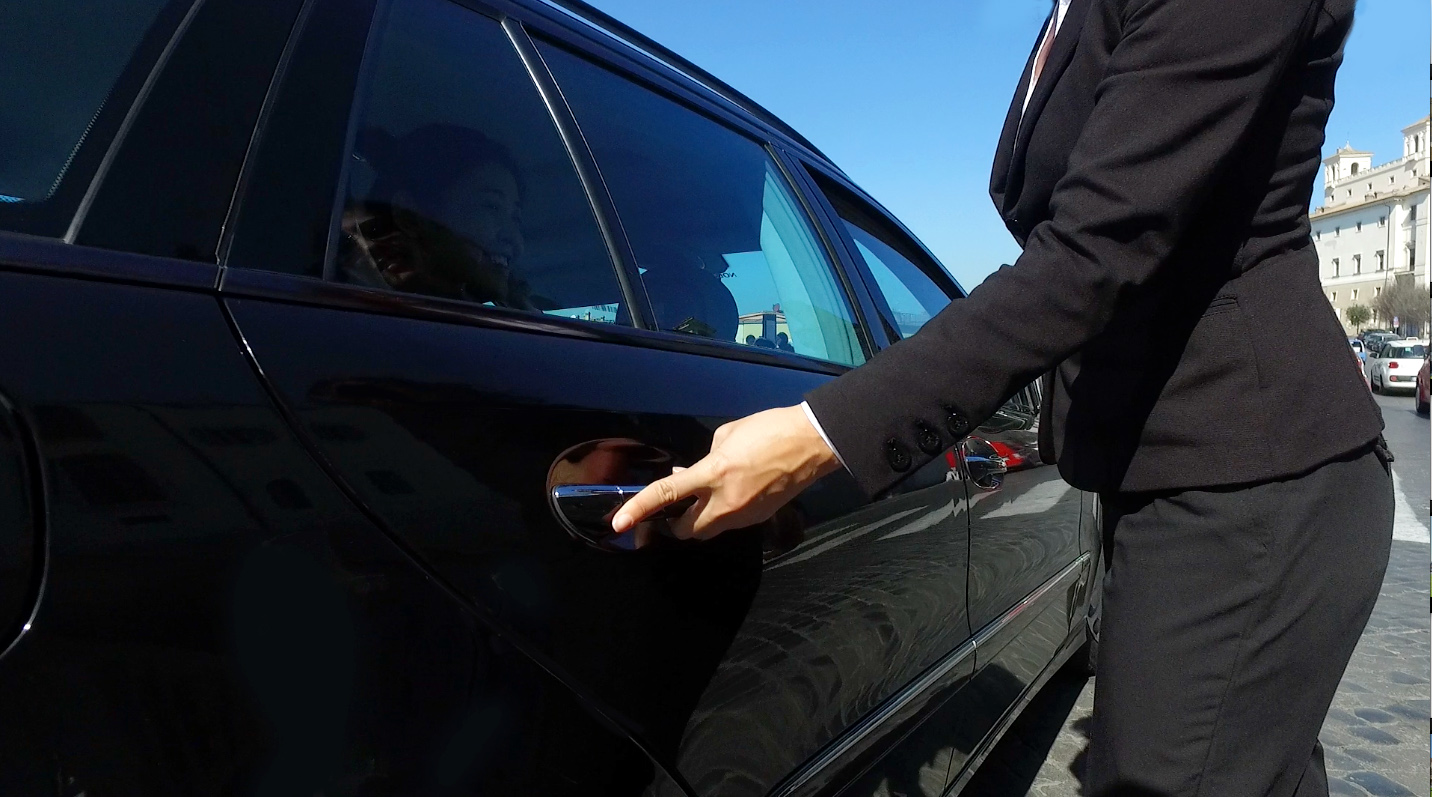 You're in Control of Your Pick-Up Time from Rome to Civitavecchia (and back):


Flexibility is a key advantage of private transfers from Rome to Civitavecchia. You have the freedom to choose your pick-up time based on your preferences and cruise embarkation schedule. Whether you prefer an early morning departure or a later start to your day, your reserved private transfer will be there when you book it.

Private Transfers are Ideal for Airport to Civitavecchia Transfers:


There are many types of Rome sea port transfers to consider. Private transfers are especially advantageous when traveling from Fiumicino Airport to Civitavecchia.
Private transfers from Rome Airport to Cruise Port are customized based on your flight arrival time. As it's a private transfer, you won't need to wait for other passengers to land, ensuring a prompt departure from the airport.
Moreover, your private driver will monitor your flight for delays, a service not possible with shared shuttles or fixed bus or train schedules. This added level of convenience and reliability ensures a stress-free transition from your flight to your cruise.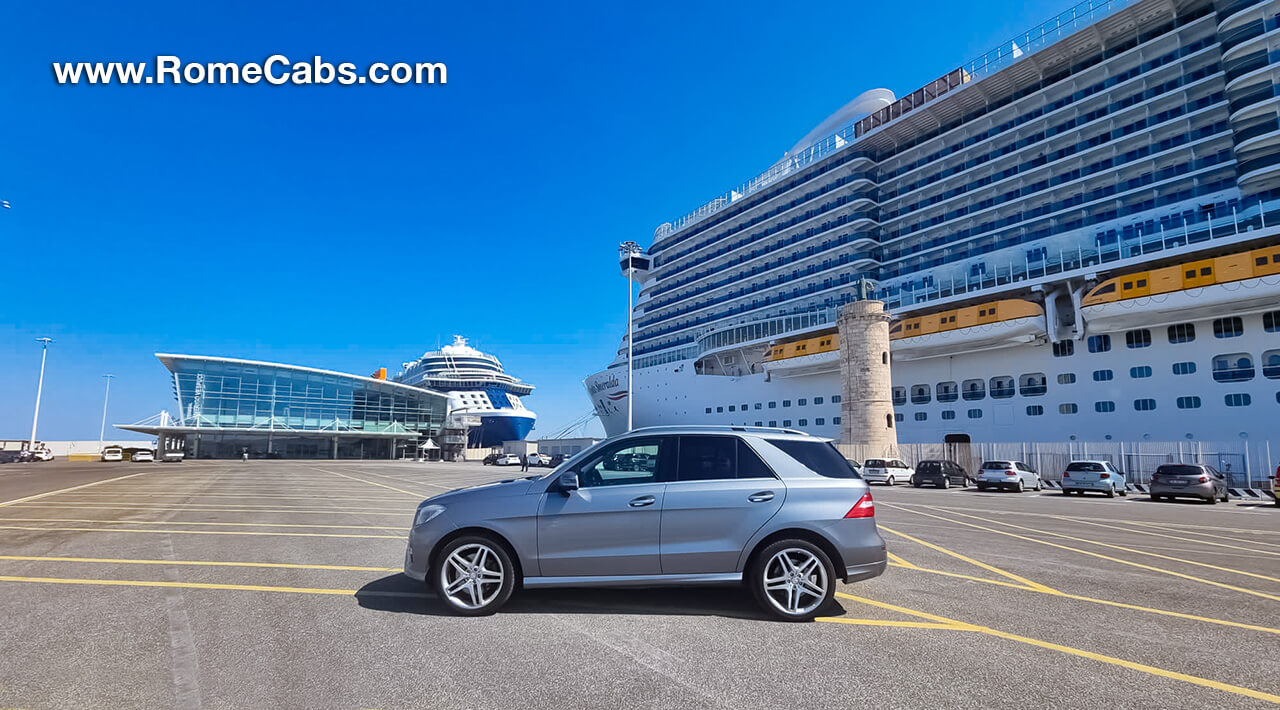 Private Transfers: Your Shield Against Italy Transportation Strikes


Private transfers offer an invaluable safeguard against public transportation strikes that can disrupt travel plans in Italy. While train strikes ruined the cruise for thousands of cruises in Civitavecchia, those who have arranged private transfers can rest easy, knowing that their journey remains uninterrupted.
This added assurance allows cruisers to avoid the stress and uncertainty often associated with relying on public transportation during labor strikes, a situation that also impacts the availability of taxis.
By choosing private transfers from Rome to Civitavecchia, travelers ensure a smooth and worry-free transfer to their cruise ship regardless of the challenges posed by strikes and taxi shortages.
Sightseeing Tours from Rome to Civitavecchia (Pre Cruise Tours)
Private car service companies like Stefano's RomeCabs redefine the travel experience, taking personalization to a whole new level providing cruisers with the option to sprinkle their journey with captivating sightseeing stops along the way.
Our Pre Cruise Tours are not just a transfer; it's an immersive experience that sets the stage for your cruise adventure. It's a journey that combines the magic of Rome or the Roman Countryside with the allure of the sea, creating a seamless transition from one chapter of your vacation to the next.
ROME Pre Cruise tour:
For instance, consider our exclusive Rome Pre Cruise Tour, a bespoke experience crafted to infuse your voyage with unforgettable memories. It all begins in the heart of Rome, where you'll find yourself strolling through the city's famous squares in the morning light. The historic beauty of Piazza Navona, the iconic majesty of the Spanish Steps, the timeless elegance of the Trevi Fountain, and the grandeur of the Colosseum – these iconic landmarks become the backdrop to your adventure, creating snapshots that will adorn your photo albums and your heart. Your driver in Rome will take you as close as lawfully possible to each site you visit.
At the conclusion of your Rome tour, your transfer from Rome to Civitavecchia seamlessly blends into your voyage, serving as a delightful bridge between the wonders of Rome and the promise of your cruise. No wonder Rome pre-cruise tours are better than Civitavecchia Transfers!
Rome Countryside Pre-Cruise tours:
For those who have already explored the wonders of Rome, our Rome Countryside Pre-Cruise Tour goes beyond the ordinary, offering you the chance to delve into the heart of Italy's countryside.
Picture yourself standing before the majestic Bracciano Castle, a symbol of medieval power and allure. Its towering walls and timeless elegance invite you to step back in time, where tales of knights and nobility come to life. Explore its historic halls, wander through cobblestone courtyards, and let your imagination transport you to an era of grandeur and chivalry.
Your journey continues with a culinary delight in the charming village of Ceri. Here, nestled amidst rolling hills and ancient walls, you'll savor a delectable Italian lunch that tantalizes your taste buds with authentic flavors. Following your visit and lunch in Ceri you will continue to your cruise ship excited to embark on your new adventures at sea.
So why settle for an ordinary Civitavecchia Transfer when you can embrace the extraordinary on a Rome Countryside Pre-Cruise Tour to Bracciano Castle and Ceri where history and legends come to life?



Explore Ostia Antica on Pre Crusie Tours:
For the adventurous souls seeking to unearth the mysteries of history, our Pre Cruise Tour to Ostia Antica offers a journey that transcends time itself.
Step into a world frozen in time, where ancient streets pave the way to discovery, and echoes of bygone civilizations resonate in the air. Ostia Antica is not just an archaeological site; it's a portal to the past, a place where history comes to life. The ruins and relics tell stories of trade, commerce, and community, painting a vivid picture of the bustling Roman port city it once was.
Comparable to Pompeii in its historical significance, Ostia Antica offers a journey back in time that's nothing short of captivating. This isn't just a Pre-Cruise Tour; it's a voyage through time itself. It's a chance to connect with the past, to walk in the footsteps of ancient Romans, and to carry their stories with you as you embark on your modern-day cruise
After your time-traveling adventure through Ostia Antica, your cruise journey awaits, allowing you to bridge the gap between history and the present day in a way that's nothing short of magical.
So, why limit your transfer to a mere journey when it can be a remarkable part of your cruise adventure?
With private Civitavecchia transfers, your voyage begins well before you board the ship, promising a travel experience that transcends the ordinary.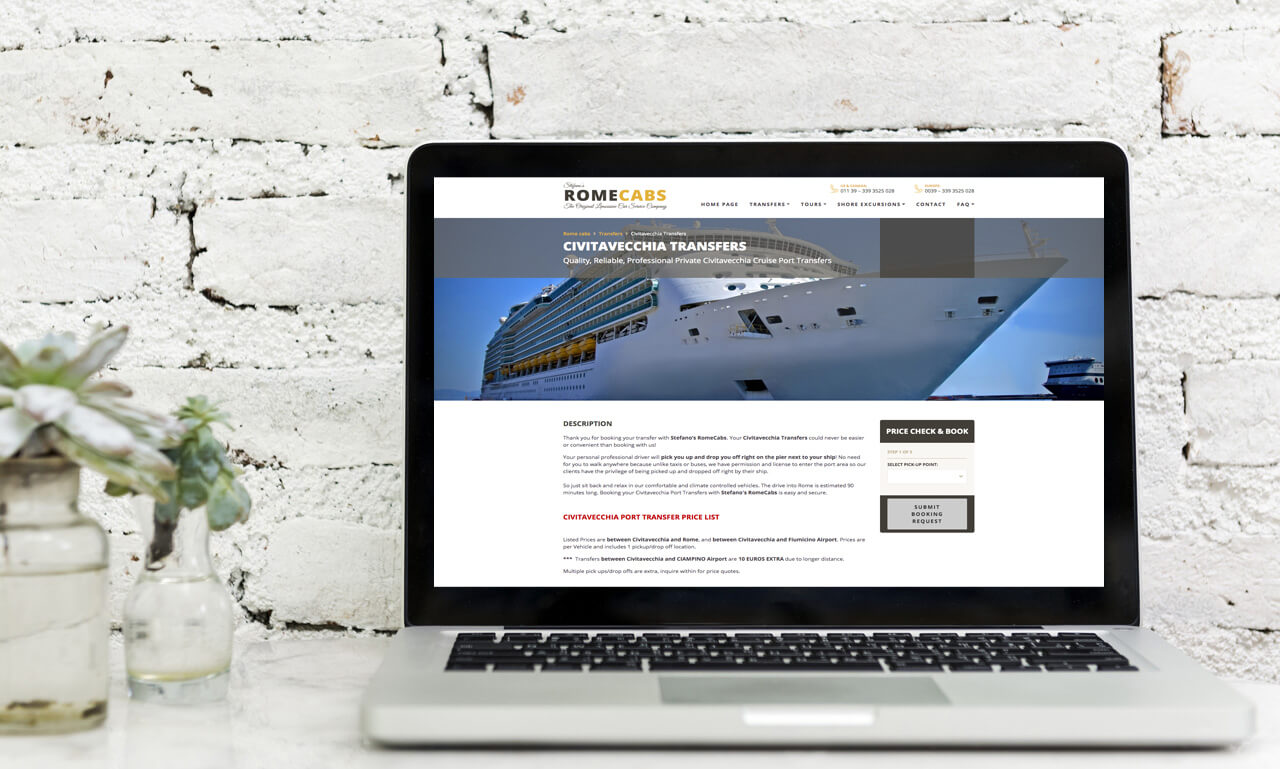 When embarking on a memorable cruise adventure from Civitavecchia, careful planning starts well before you set foot on the ship. One crucial aspect of your journey is securing a reliable transfer from Rome to Civitavecchia.
There are some important things to know before booking Civitavecchia Transfers. To ensure a seamless start to your cruise, consider these valuable tips for booking your transfer:
1. Know Your Cruise Embarkation Time:
Before booking your transfer, it's essential to check your embarkation time if specified by your cruise line. This information will help you select the ideal pick-up time in Rome, preventing you from arriving at the port too early or cutting it too close.
Otherwise, if you don't have a fixed embarkation time, based on cruisers' experiences, the period between 11:00 AM and 1:00 PM is a popular choice for transfers from Rome to Civitavecchia. This time frame strikes a balance, ensuring you reach the port neither too early nor too late for your cruise.


2. Book your Transfer from Rome to Civitavecchia in Advance:
The early bird gets the worm, especially when it comes to securing your transfer. Booking well in advance is crucial, especially on busy cruise ship days when last-minute availability may be limited.


3. Review Cancellation Policies:
Before finalizing your booking, familiarize yourself with the cancellation and refund policies of your transfer to Civitavecchia. This knowledge can prove invaluable should unexpected changes to your travel plans arise.


4. Double-Check Booking Details:
Ensure all critical details are accurately provided during the booking process. Verify that the date, pick-up hotel, address, ship name, luggage quantity, and pick-up time are correct to prevent any reservation discrepancies.


5. Consider Luggage Needs:
Traveling with extra baggage?
Inform the transfer provider about your luggage requirements in advance. This allows them to arrange a vehicle with adequate storage space for your convenience.



6. Traveling with children?


For safety inside the vehicle, all passengers are required to be seated and secured in their own passenger seat, including young children. If you are embarking on a family cruise with kids under the age of 8 and won't be bringing your own child safety seats, it's essential to make a request in advance for a child safety seat to be provided when booking your transfer.
Be sure to provide details such as the child's age and weight to ensure the provision of an appropriate child safety seat for a secure and comfortable journey. Your safety and peace of mind are paramount.
7. Verify Your Civitavecchia Transfer Confirmation Voucher Accuracy:
Upon receiving your booking confirmation, double-check that all the details on your voucher are accurate and comprehensive.
If you discover any errors in your reservation, contact your transfer provider via email immediately with the corrections needed.


8. Keep Contact Information Handy:
It's wise to keep a digital copy of your transfer voucher accessible on your device (smartphone, tablet), as it contains vital transfer-related information.
Always have the contact information of your transfer provider readily accessible. In case you need to reach them for any reason during your journey, you'll have the necessary details at your fingertips.


9. Promptly Communicate Changes in your Civitavecchia Transfer Reservation:
Maintaining open communication with your transfer provider is essential. If your travel plans change or unexpected delays occur, notify them promptly. This allows for adjustments to the pick-up time, ensuring a smooth transition.


On the day of your transfer, punctuality is key.
Be ready and waiting at the designated pick-up location at the agreed-upon time. Being on time contributes to a smooth and timely journey to Civitavecchia Port, setting the stage for a stress-free embarkation onto your cruise ship.
By following these tips, you'll be well-prepared to book your Rome to Civitavecchia transfer and embark on your cruise adventure with confidence and ease.


Thank you for reading our travel blog and for choosing Stefano's RomeCabs for your transfers in Italy.

* Find us online also on: