Buon giorno and welcome to Stefano's RomeCabs, Rome's leading company for Civitavecchia Cruise Port Tours and Transfers, Italy Tours, and Rome Airport Transfers.
Over the 20 years that we've provided Civitavecchia Cruise Port Tours we've received tens of thousands of questions, and in this travel blog, we will include the top 10 Civitavecchia Cruise Port Tours Questions with answers.
Top 10 Civitavecchia Cruise Port Tours Questions Answered
1. What are the most popular destinations for Civitavecchia Cruise Port Tours?
By far the most popular tour destination from Civitavecchia Cruise Port is Rome.
Our PANORAMIC ROME TOUR FOR CRUISERS is the most popular Shore Excursion of Rome, and takes you on a fun-filled day of Rome's highlights that include: Colosseum view from Piazza Colosseo, Pantheon, Trevi Fountain, Spanish Steps, Piazza Navona, view of Roman Forum from Capitoline Hill, St Peter's Square, and Basilica of Saint Paul Outside the Walls.
Visitors who have already visited Rome, book the COUNTRYSIDE SPLENDOR TOUR instead and enjoy a relaxing day visiting historic towns, Renaissance castles, medieval hamlets, and explore an ancient Etruscan Necropolis. Or, experience the medieval wonders on our MEDIEVAL MAGIC Countryside Tour.
Can't choose between Rome and the Countryside? We created the perfect combination of the best of Rome and the most popular destinations in the Roman Countryside on our very popular ROME TOWN & COUNTRY TOUR.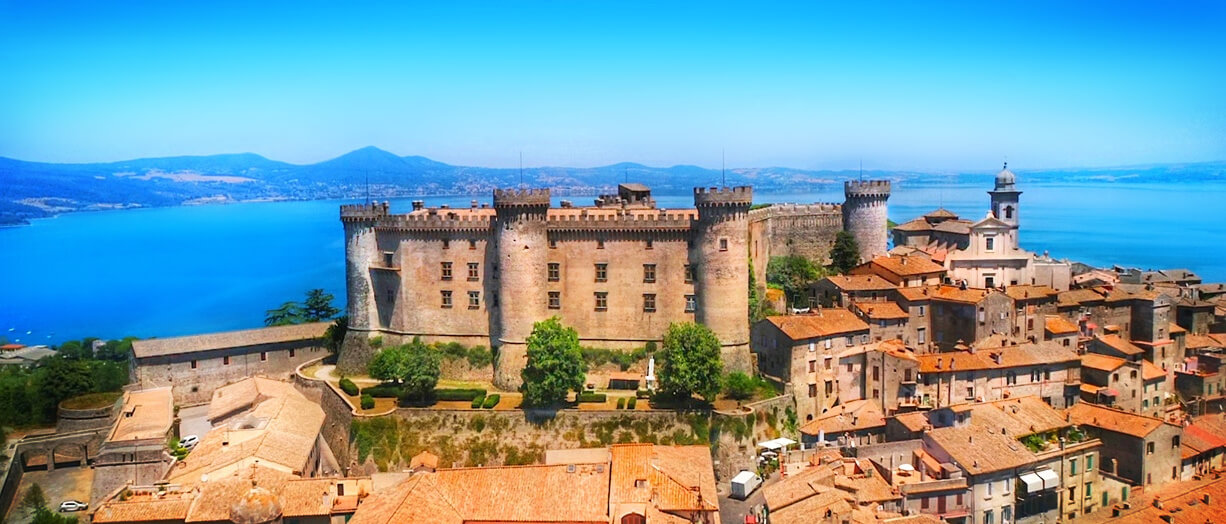 2 What are some off-the-beaten-path destinations and tours from Civitavecchia Cruise Port?

Some of the most popular off-the-beaten-path destinations for Civitavecchia Cruise Port Tours are the following:
ETRUSCAN MYSTERY TOUR offered by our sister company that takes visitors on an amazing day exploring the painted tombs inside the Monterozzi Etruscan Necropolis in Tarquinia as well as the Etruscan Museum that houses the treasures discovered inside the tombs, and Tuscania – a quiet historical town with impressive churches and architecture, and amazing valley views that inspired poets.
ORVIETO AND CIVITA DI BAGNOREGIO tour also offered by Stefano Rome Tours is farther away from Civitavecchia, and offers visitors the opportunity to visit famous Umbrian town of Orvieto, and the incredible Medieval village of Civita di Bagnoregio that appears to be suspended on a tall cliff surrounded by steep ravines and accessed only via a narrow footbridge that's truly unlike anything you've ever seen!
Wine Lovers delight in our ORVIETO WINE TASTING TOUR FROM CIVITAVECCHIA with a visit to a certified organic winery estate in the Umbrian hills and free time on your own for lunch and sightseeing in Orvieto.
If you dream of Tuscany, we can take you into the heart of Tuscany's wild Maremma region for a Tuscany Shore Excursion from Civitavecchia to PITIGLIANO AND SOVANA.
History loves have also enjoyed OSTIA ANTICA AND CERVETERI which takes you on a journey through the distant times of the Etruscan era and later Ancient Rome as you explore the vast number of tombs inside the Banditaccia Etruscan Necropolis in Cerveteri, and walk in the footsteps of the Romans through the ruins of Ostia Antica that rivals Pompeii.
You will also enjoy an unforgettable lunch in Ceri - the tiny cliff-top medieval village in the countryside.
POPULAR CIVITAVECCHIA TRAVEL ARTICLES:


* Rome Sea Port - Helpful Tips, Info for Civitavecchia Transfers, Tours
* How to Be in Control of your SHARED CIVITAVECCHIA Transfers
* Top 10 Rome Tours and Shore Excursion FAQ Answered

3. What are the best tours for families from Civitavecchia Cruise Port?


The most popular Civitavecchia Cruise Port tour for Families with children is TOUR ROME AS ROMANS DO as it does not include super crowded places like the Colosseum and Vatican, and it's a more leisurely and flexible tour that can be adjusted to families' own pace.
Another popular tour for families is the COUNTRYSIDE SPLENDOR Tour with the "fairytale" castle visit in Bracciano (Odescalchi-Orisni Castle), and children have enjoyed pretending to be "Indiana Jones" exploring the ancient tombs inside the Banditaccia Necropolis in Cerveteri. The clifftop medival village of Ceri is also a delightful hamlet children find endearing – and the restaurants in Ceri cook homemade meals like grandma!
The countryside tour is also closer to Civitavecchia, minimizing overall driving time so children would not become bored traveling too long inside the vehicle.
4. Can we book a driver to take us where we want to go in Rome without an itinerary?

Many of cruisers are either repeat visitors who wish to revisit favorite sites or discover new off-the-beaten-path locations, or first-time visitors that have something special in mind that does not include a specific itinerary.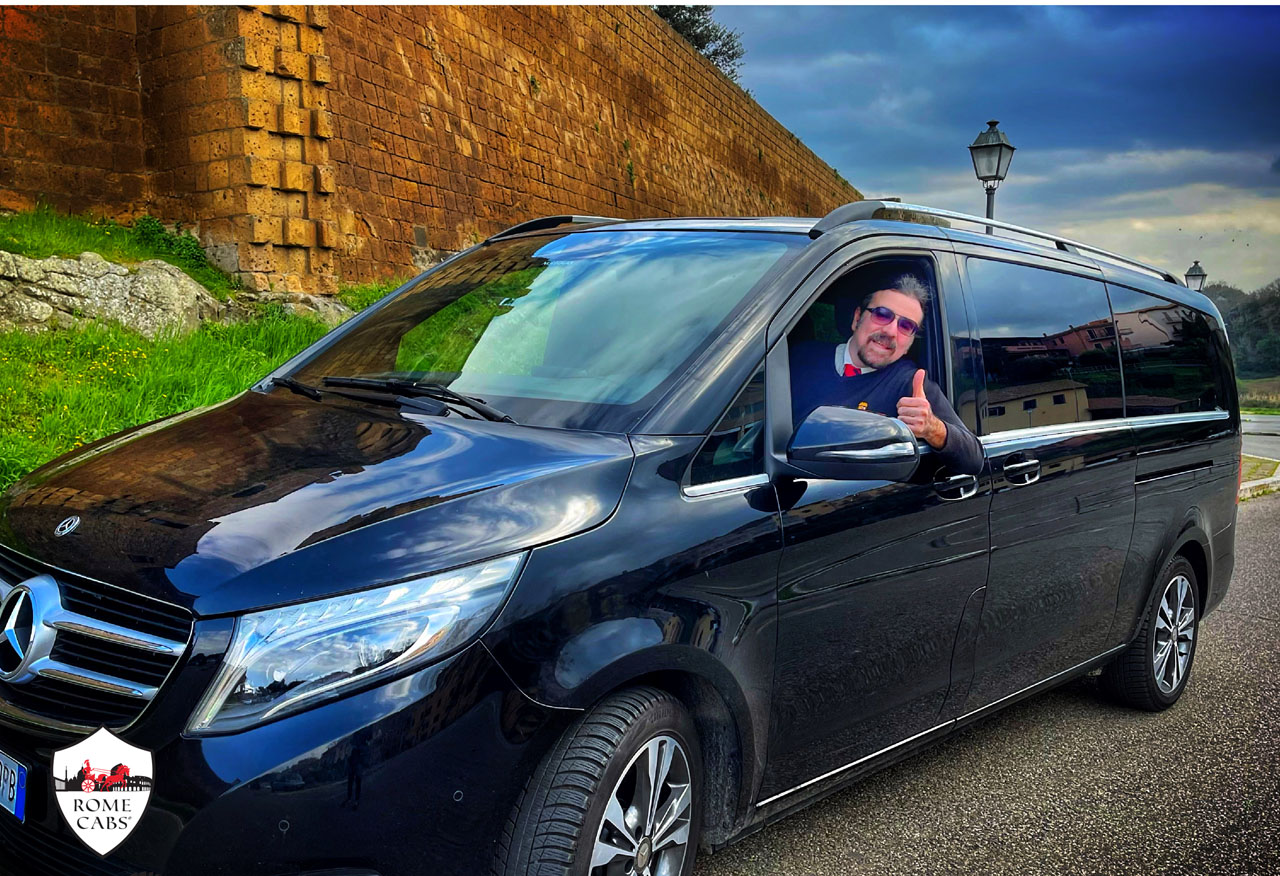 In this case, you may easily book a personal English-speaking driver and private vehicle to take you anywhere you wish to go in Rome without a specific itinerary.
When booking, it helps to provide us with an idea of the places you wish to see and activities you wish to do so your driver will have an idea in advance to help you organize your day. As always, it is also encouraged to discuss your wishes with your driver when you meet at your cruise ship inside the Civitavecchia Port and plan your day in Rome together.
5 Can we share our Civitavecchia Cruise Port Tours with other cruisers / TOUR SHARING?
The best possible way to share your Civitavecchia Cruise Port Tours ( as well as tours from Italy's cruise ports) to do what thousands of expert cruisers have done for years: create your own small privately shared tour with fellow like minded cruisers from your ship to share the fun and the costs of your preferred tours from the cruise ports.

WHY are privately shared tours more enjoyable than standard "bus tours" or "generic shared tours" where you are squeezed in a big van with complete strangers?
YOU are in charge of who shares your tours for a more enjoyable experience with like minded cruisers who share your interests


YOU are in charge of the number of total passengers in the vehicle so you would not be squeezed to the max if you prefer to have more personal space and comfort inside the van (6 person tour is more comfortable than 8 persons as the large 8 passengers van have smaller seats with less space).


You have the wonderful opportunity to know your tour mates in advance, make new friends, and have a much more enjoyable experience touring with friends as opposed to complete strangers.


Tour sharing is very easy, and we show you how in our helpful article:


** TOUR SHARING: How to create your privately shared tour


6. What happens when an attraction suggested in a Rome tour is closed?


On tours that include attractions that close on certain days such as the Vatican (closed on most Sundays), or Museums and Archaeological parks that close on Mondays, you may either choose another preferred tour that does not include the closed attractions, or wherever possible you may substitute those closed attractions with other places of interest. Our tour experts can assist you with options of places to choose from that can fit within the time frame of the visit to closed attractions.
7. Can drivers pick us up by ship for our Shore Excursion from Civitavecchia?
All our vehicles and drivers have all the required licenses and security clearance to access the cruise port for pick up and drop off right on the Pier next to your ship.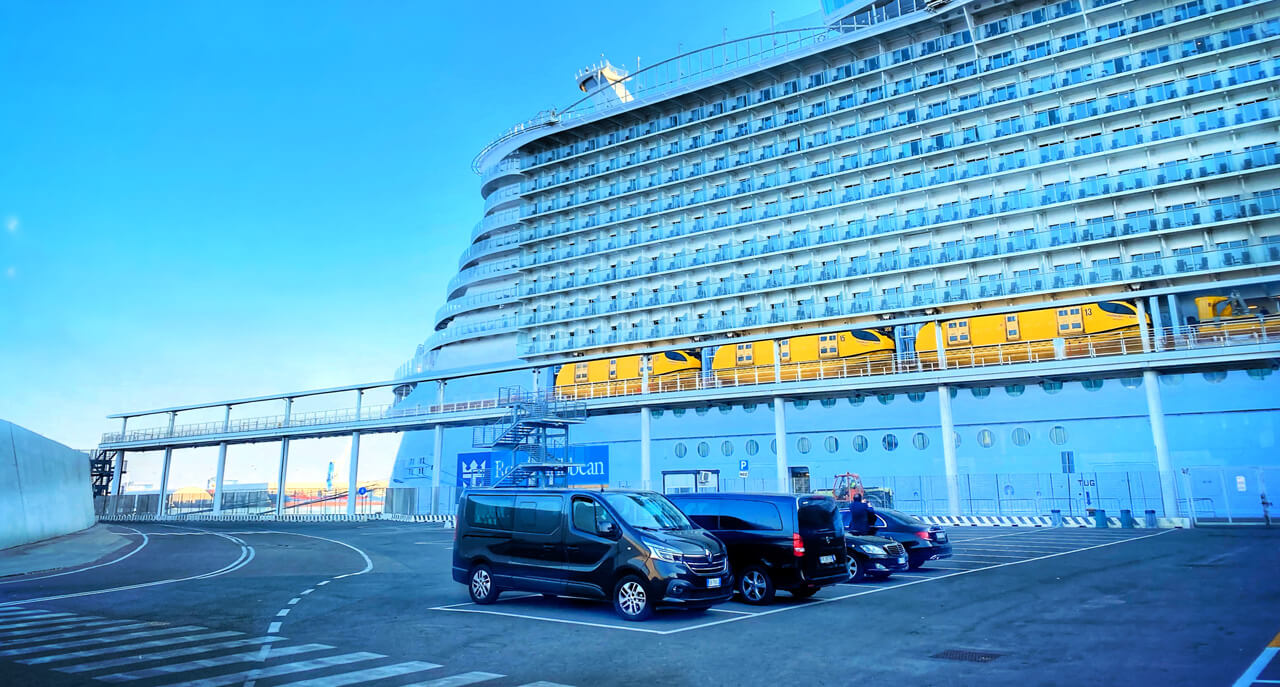 When you book with us (whether Civitavecchia Cruise Port Tours, or Transfers), you do not have to worry about taking shuttles or buses to exit Civitavecchia Cruise Port, we'll pick you up right next to your ship for optimal time-saving convenience.
This is especially beneficial if you are traveling with luggage as in pre-cruise tours, post-cruise tours, and port transfers.
8. Can private Rome tour drivers & vehicles access sites in Rome's historic center?


Unlike buses that are restricted from accessing central Rome, our private vehicles are licensed to access the historic center so your driver can take you directly as close as lawfully possible to each attraction to minimize walking.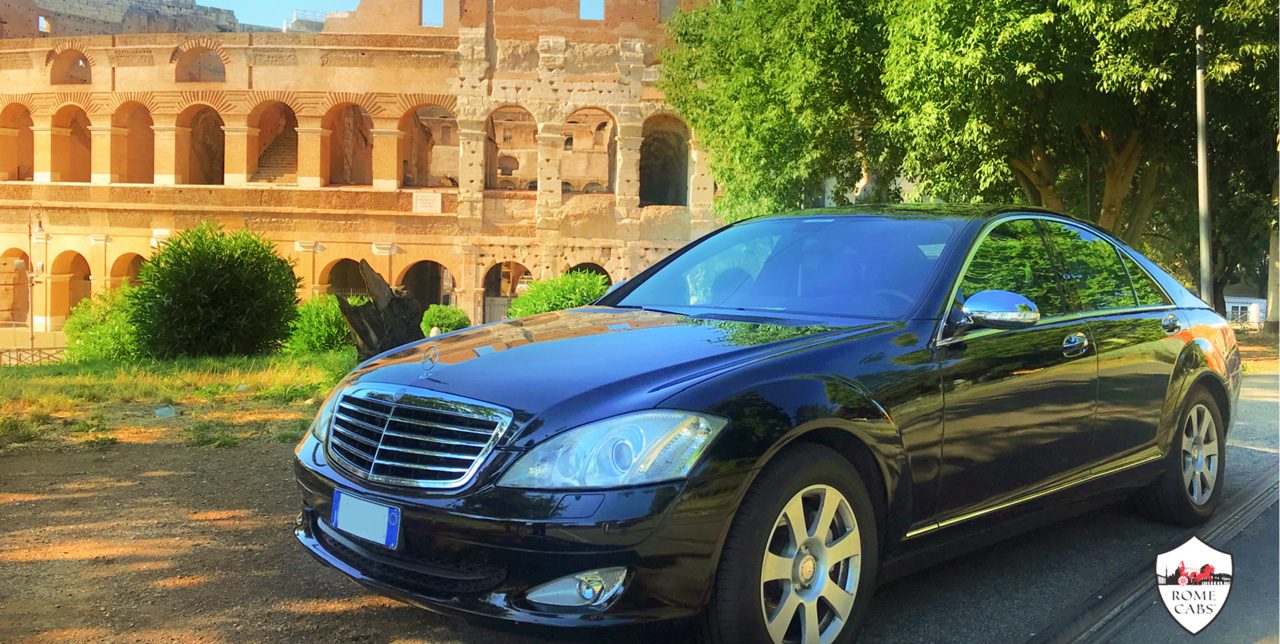 You can expect to be taken into the center of any town or village on our Civitavecchia Cruise Port Tours (unless there is a general vehicle access restriction such as Civita di Baginoregio or villages that have streets too narrow for large vans to enter)
While some areas are security restricted to ALL forms of vehicle traffic (Colosseum, St Peter's Square, Trevi Fountain, Spanish Steps), your driver will stop as close as lawfully possible – often less than a block distance – so your walking is kept to the smallest minimum possible.
9. Can we book a Post Cruise Tour from Civitavecchia that ends at a Rome hotel?


Many cruisers end their cruise in Civitavecchia, and have at least a day if not more to enjoy the Eternal city before departing from Italy to return home.
Most cruisers choose either ROME IN A DAY POST CRUISE TOUR or POST CRUISE CASTLES AND LAKES TOUR - 2 of the top day tours and shore excursions offered as post cruise options.
Cruisers have even more options! Any Civitavecchia Cruise Port Tour can be converted into a "Post Cruise Tour" option at the same price as a cruise port tour because it includes a port pick up.
Visit our Civitavecchia Shore Excursions page on our website, as well as our sister company Stefano Rome Tours, and browse through the tours offered from Civitavecchia and select your preferred tour that you can enjoy post cruise.
10. Do you recommend a tour guide for your Rome tours?


For most of the locations in Civitavecchia Cruise Port Tours, tour guides are not required.
However, while a knowledgeable English speaking Driver offers sufficient general information about the places visited in the tour, there are some sites where a tour guide is recommended:

VATICAN (Vatican Museums, Sistine Chapel, St Peter's Basilica)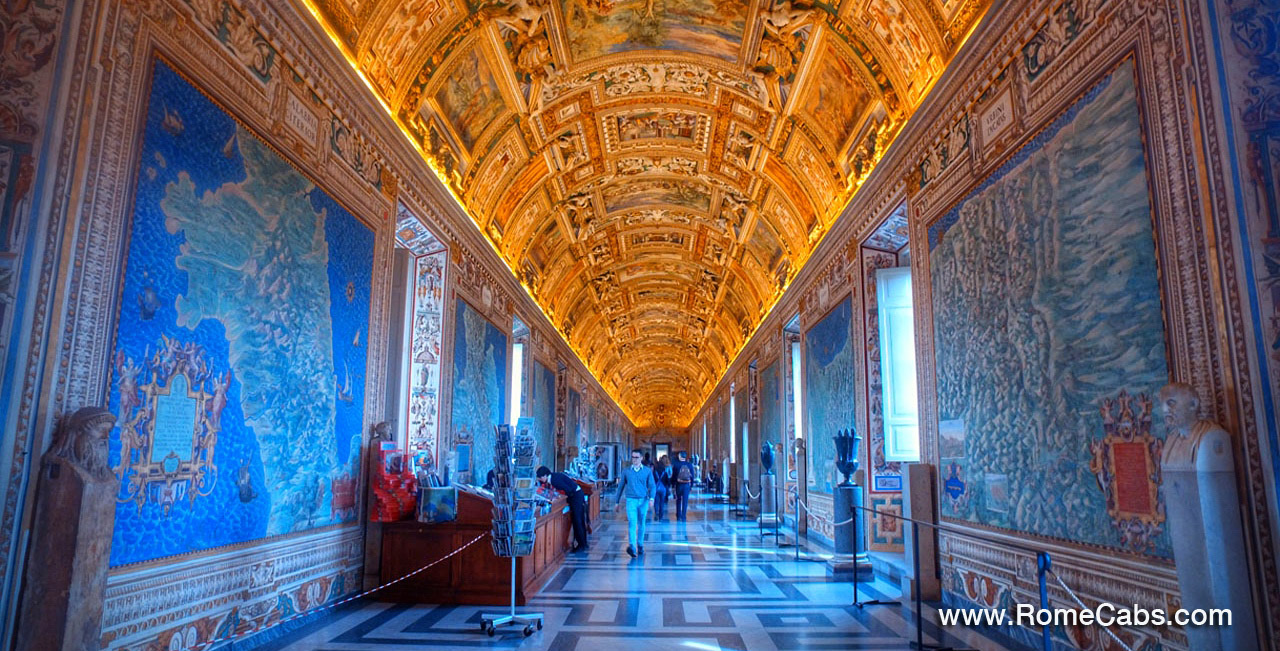 The Vatican is a vast multi level labyrinth of halls and galleries (often super crowded with visitors!) that makes it very easy to get lost, and miss the most important works of art. A licensed tour guide will take you on a guided visit to see the highlights of the Vatican Museums, the Sistine Chapel, and take you through a special backway entrance designated for "Guided Visitors" only – visitors accompanied by a licensed tour guide – to quickly access the St Peter's Basilica.
Without a tour guide the Security Guards inside the Sistine Chapel currently DENY you access through this Guided Visitors entrance, and you would need to then exit the Museums, call your driver to take you around the Vatican to St Peter's Square where you may enter through there.
Unfortunately, due to security checkpoints, potentially LONG security lines often occur in the square, and if you run out of time you may miss your opportunity to visit the Basilica all together (as you are required to depart from Rome at a specific time to arrive back to your ship in time to embark).
COLOSSEUM and ROMAN FORUM


If you love ancient Roman history, architecture, and culture, you would benefit from hiring a private guide for a 2 hour guided tour of the Colosseum and the nearby Roman Forum.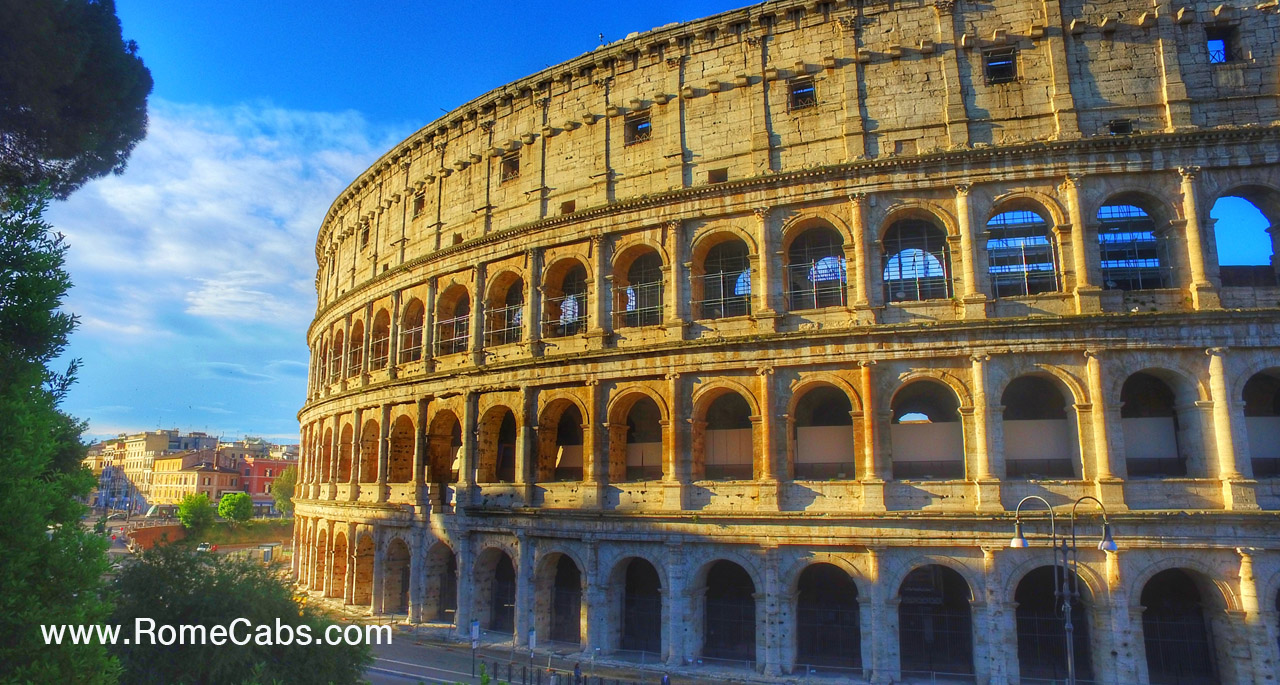 In the heart of Ancient Rome, the Colosseum and its nearby Roman Forum are two of the most remarkable ancient Roman architectural wonders. Rich in history and architecture, a visit to the Colosseum and Roman Forum is enriched by a knowledgeable licensed tour guide who will no less help bring this ancient world to life!



BANDITACCIA ETRUSCAN NECROPOLIS IN CERVETERI

Banditaccia Etruscan Necropolis in Cerveteri is part of our Countryside Splendor Tour.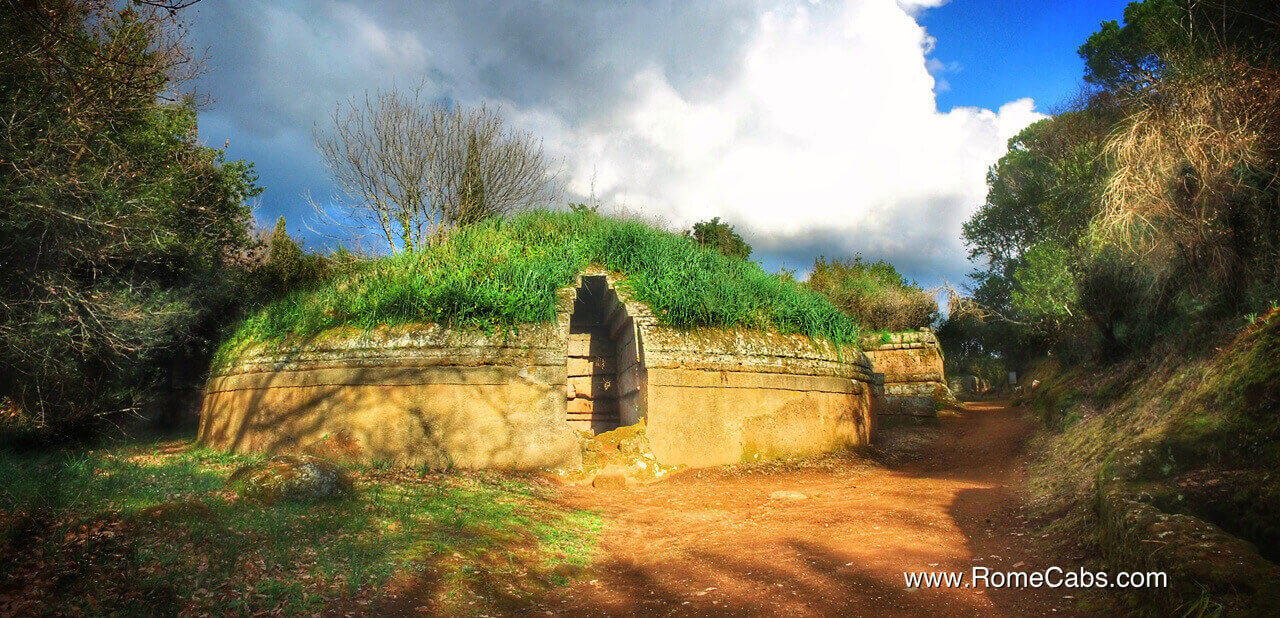 This vast archeological park includes hundreds of ancient tombs, many of which are open to visit and explore.
A licensed tour guide is very helpful in explaining the complex and fascinating history of the ancient Etruscan civilization that preceded the Romans, and the evolution of their 800 year civilization that can be observed in how how increasingly complicated and modernized their necropolis has become as their civilization rose to become one of the most advanced of their time.


MONTEROZZI ETRUSCAN NECROPOLIS IN TARQUINIA
The most wonderful thing about the Monterozzi Etruscan Necropolis in Tarquinia (visit included in the ETRUSCAN MYSTERY TOUR), is that you have the unique opportunity to see nearly a dozen tombs beautifully frescoed by the ancient Etruscans – some 2,500 years ago!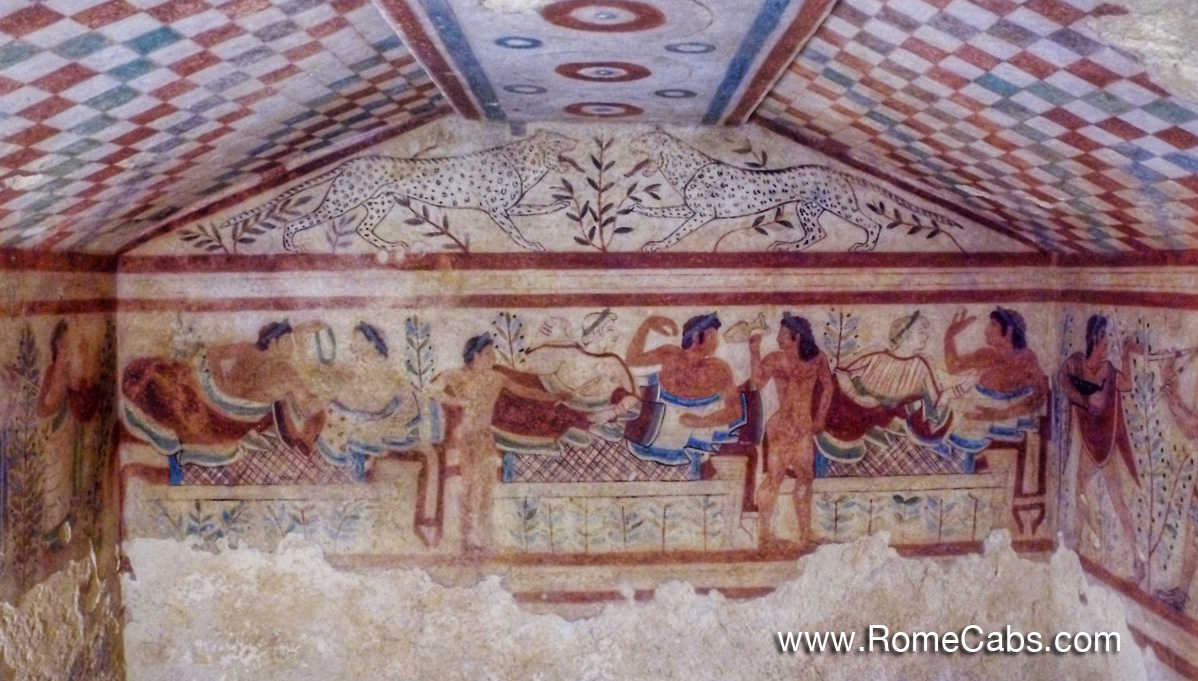 A private licensed tour guide would take you on a journey through these many wondrous tombs as you learn about the ancient Etruscan culture, life, religion, sports, architecture, symbolism, and how in many ways they were very much like us today!


POMPEII (Shore Excursions from Naples Cruise Port)
For our clients who book us for shore excursions from Naples Cruise Port, Pompeii is one of the TOP visitor destinations in southern Italy where a private guide is quite beneficial.
Pompeii is quite vast and it would take a day if not more to see all of it. With only a couple of hours available on a shore excursion, it's important not to miss the "Must See" ruins and places of interest inside Pompeii, which are often difficult to find if you are not familiar with the archaeological park.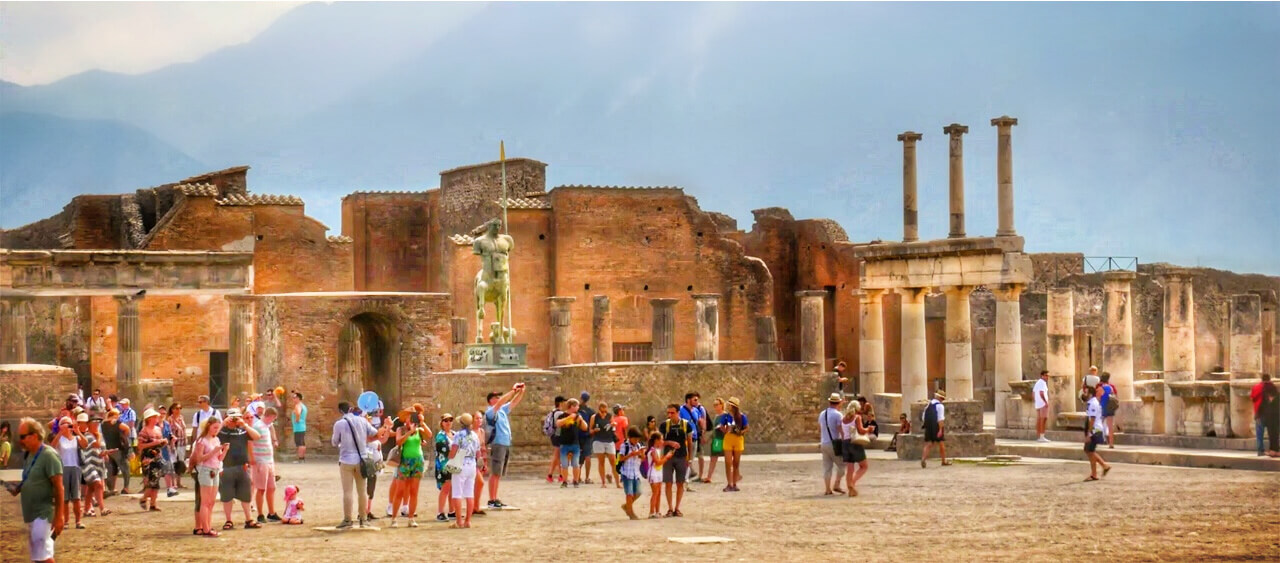 Also, you are surrounded by so many ruins that you would not know what you are looking at… and you could be walking by something of great importance and never know. An expert tour guide will take you on a 2 hour guided tour to the most important sites possible to visit within your time frame, and explain the architecture, history, and culture of Pompeii and help bring the ruins back to life.
Is it Worth Paying More for a Private Tour from Rome Sea Port? – RomeCabs
10 Reasons to book your Transfers and Tours with Stefano's RomeCabs
Thank you for reading our Travel Blog Top 10 Civitavecchia Cruise Port Tours Questions Answered.
If you have any unanswered questions about your Civitavecchia Port Transfers, please contact us via E-Mail or visit our website below.


We look forward to meeting you in Italy!
The RomeCabs Team

Stefano's RomeCabs Facebook